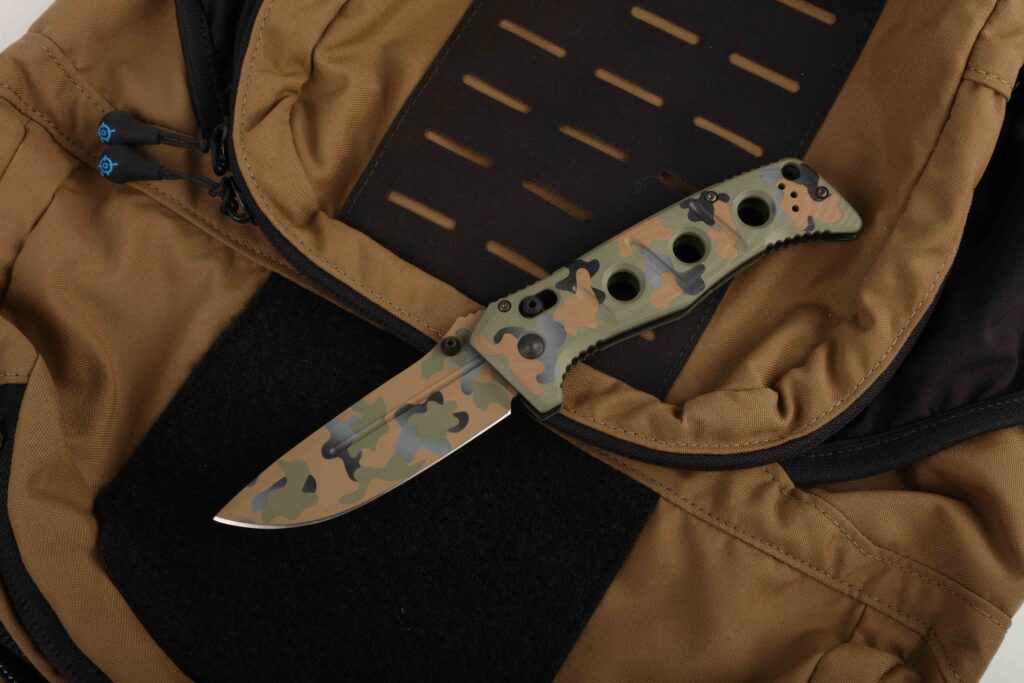 Ever since George was a child, he has had an interest in all sorts of tools—knives especially. It all started when he was given a Swiss Army Knife for his tenth birthday. Since then, he has always carried an instrument with which he can cut or pry. His first custom pocketknife was a Buck 110 with his name engraved on it.
Many years later, while he was in the service, he needed a tough and reliable folder and found the original Benchmade Adamas. At almost 9 inches in length and weighing a respectable half-pound, it was one of the beefiest folders that Benchmade produced. That knife survived years of cutting and prying during his service, and then in construction work after he returned to civilian life.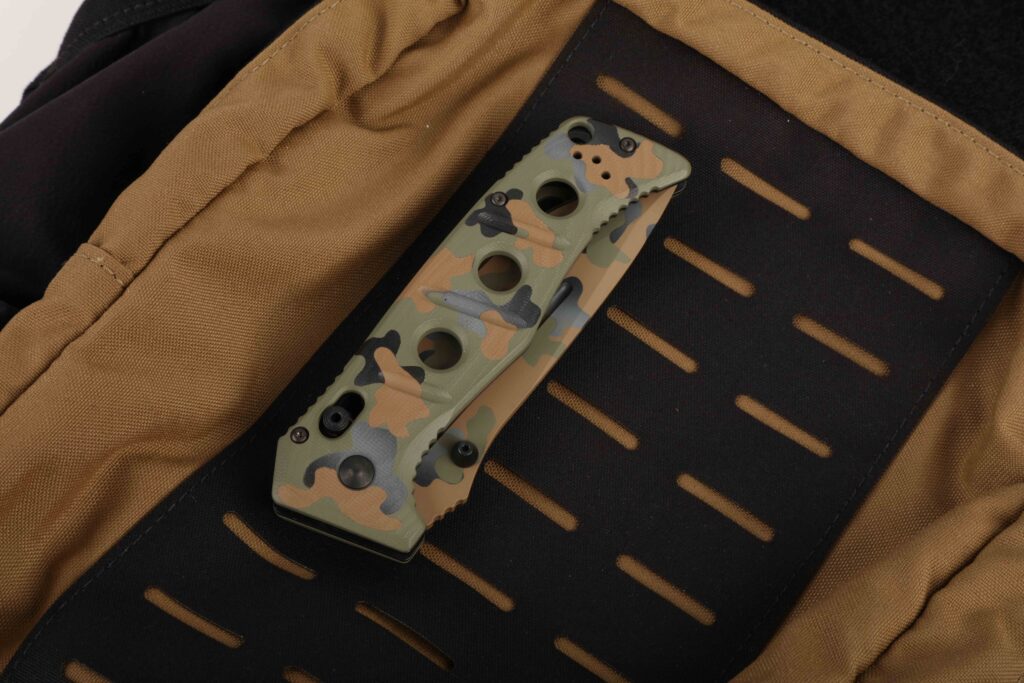 It's been a few years since Benchmade made the Adamas, so when George heard that the company was re-releasing the Adamas series, he knew he had to purchase the newest version of his favorite do-everything tool.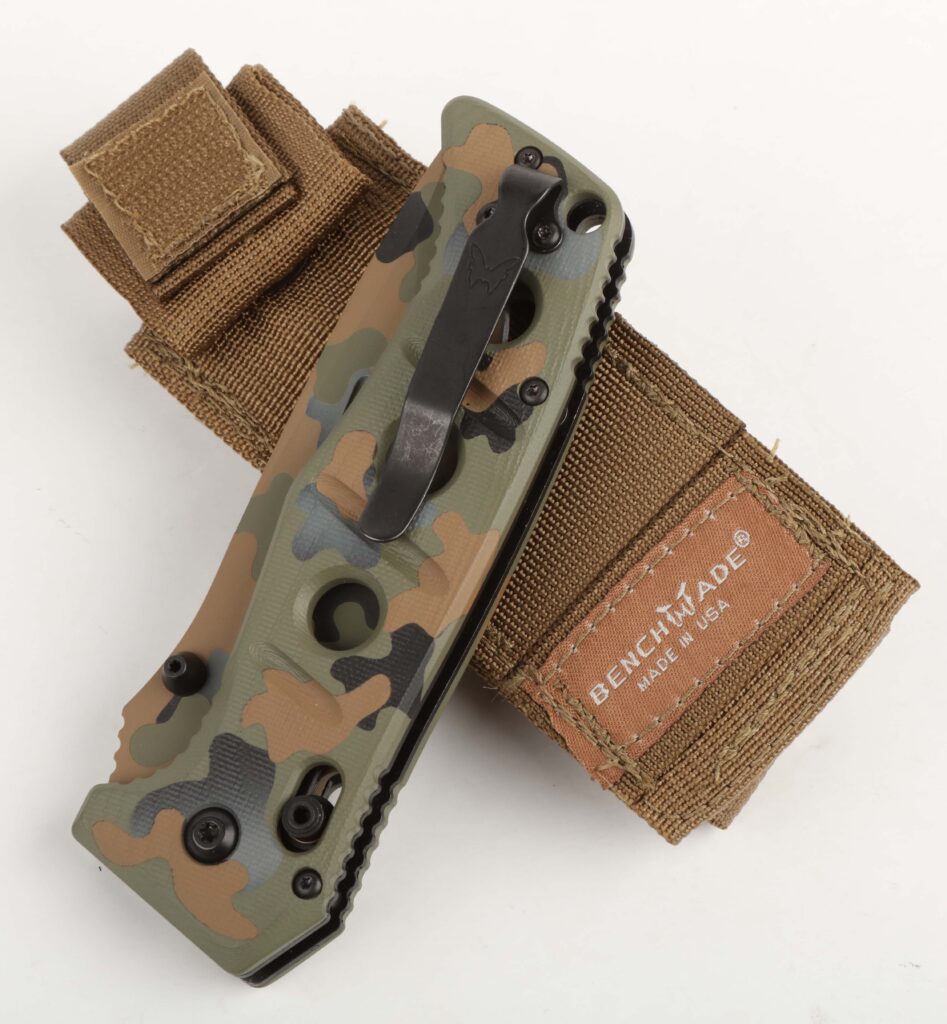 The new Adamas stays true to the original Benchmade design with small and subtle dimensional changes, the biggest being that the blade is now made with Crucible Industries' CruWear tool steel. This is certainly a step up from his original's D2 blade.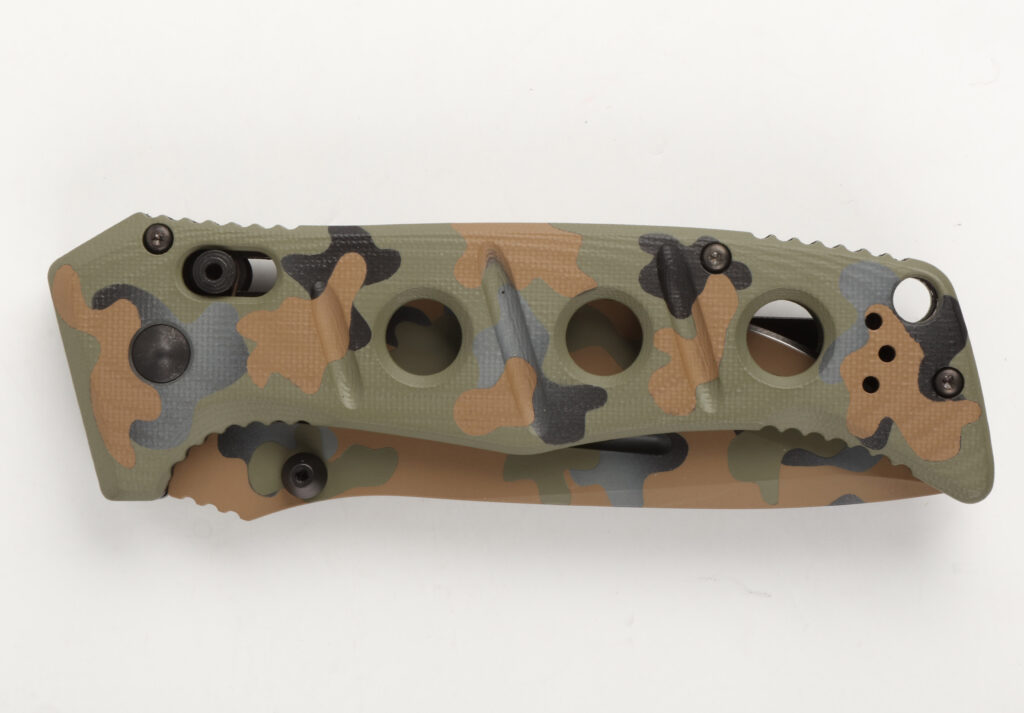 CruWear is an air-hardening tool steel that possesses an excellent combination of high wear resistance and toughness. The steel exhibits minimal distortion in hardening and excels in applications that require higher wear resistance than D2 and greater toughness than M2 high-speed steel. "I was glad to know that this blade is tougher and longer-lasting than the one in my original Adamas," George says. "It should last me a lifetime."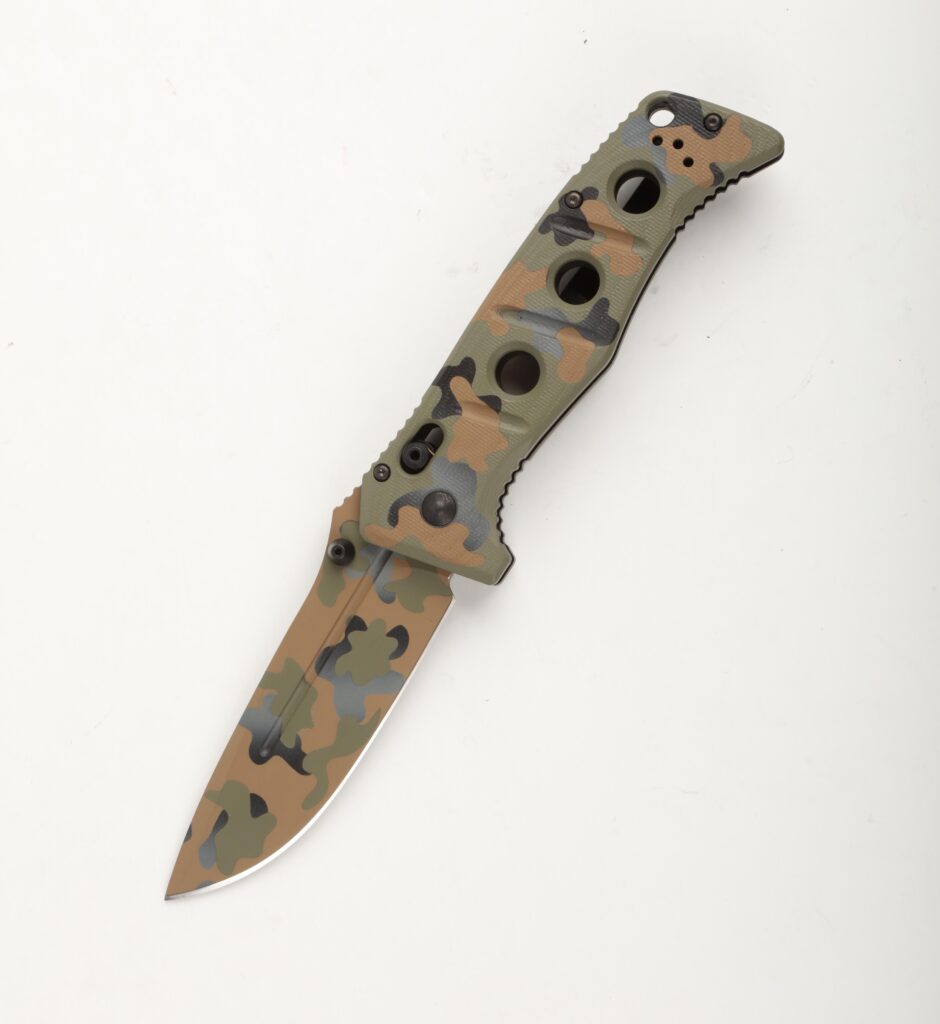 Living in Southern California, George is a frequent customer at a local favorite gun and gear shop in Huntington Beach called Rifle Supply. He tells us that every time he visits the shop, he drools over their inventory of custom Cerakoted guns. He even started following them on IG @riflesupplycerakote to gawk at their bespoke Cerakote jobs.
Wanting to customize his newly purchased EDC knife with a coat of custom Cerakote, he contacted Rifle Supply's chief Cerakoter, Charles, who proceeded to come up with the custom camo and color pattern that you see here.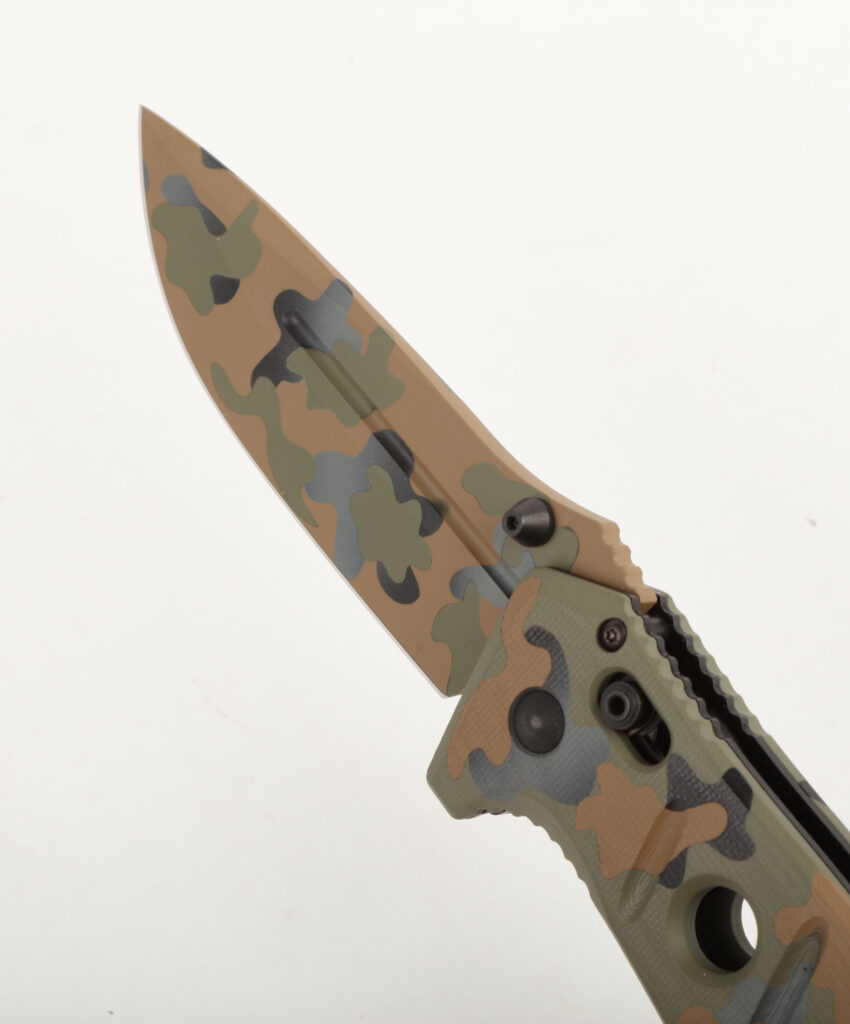 With his new knife all dolled up, most people would rather stare at it than use it. It does look even more like a work of art now after the Cerakoting, doesn't it? For his part, George looks forward to testing the knife's toughness, as he regards it more as a hard-use tool than an art piece.
Text by Chris Lee and Images by Michael Grey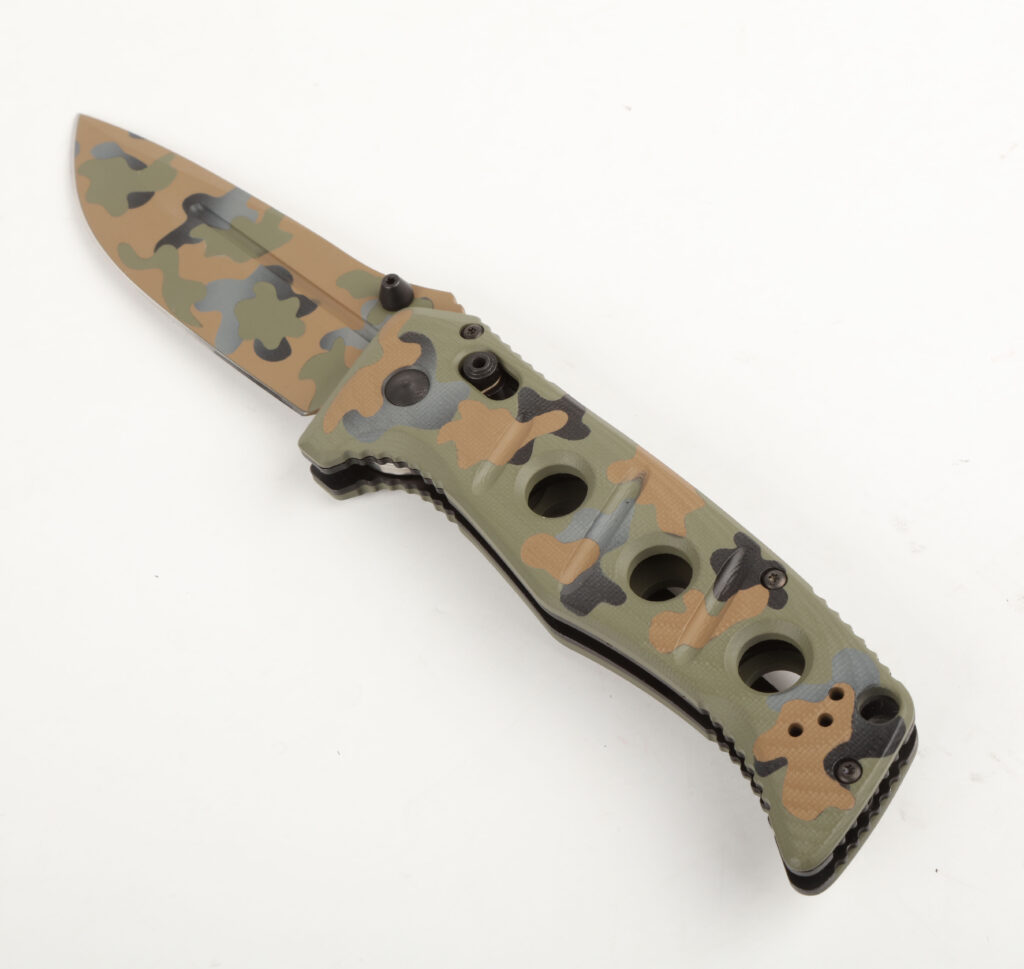 Specs
Personalized Benchmade Adamas
Owner: George Miller
Cerakote: Charles/Rifle Supply @riflesupplycerakote
Benchmade
Model: Adamas
Model Number: 275FE-2
MSRP: $280
benchmade.com