Purpose built for hog hunting
Chambered in .300 BLK
Based on a Daniel Defense MK18 Pistol
It's no secret that feral hogs are a favorite target of many hunters nowadays, especially for those who hunt using semi-automatic firearms. As big as hogs can get, they really can move and being able to get quick shots off can be helpful. These nocturnal animals are an aggressive and invasive species that are responsible for billions of dollars in property damage every year.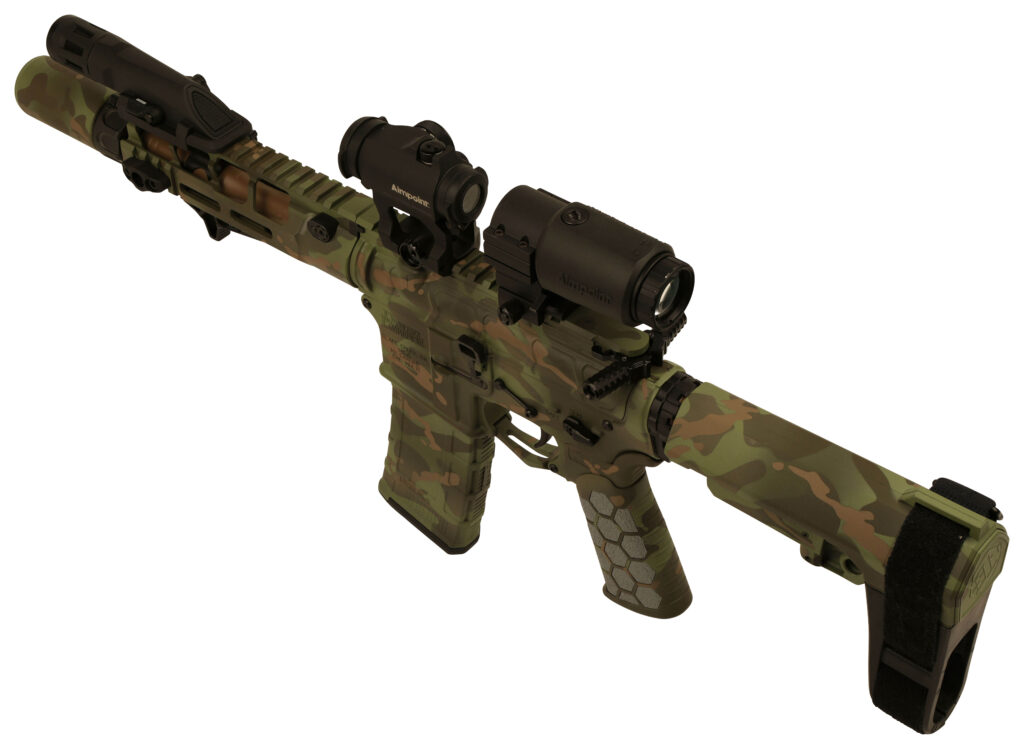 The hog epidemic gets a helping hand thanks to Taylor Daniel, structural engineer by day, hog hunter by night. Taylor is a casual hunter who usually hunts hogs and occasionally coyotes. Based on his past experiences while on hog and coyote hunting trips, he learned early on that hogs (as well as coyotes) are nocturnal animals, coming out in numbers at night.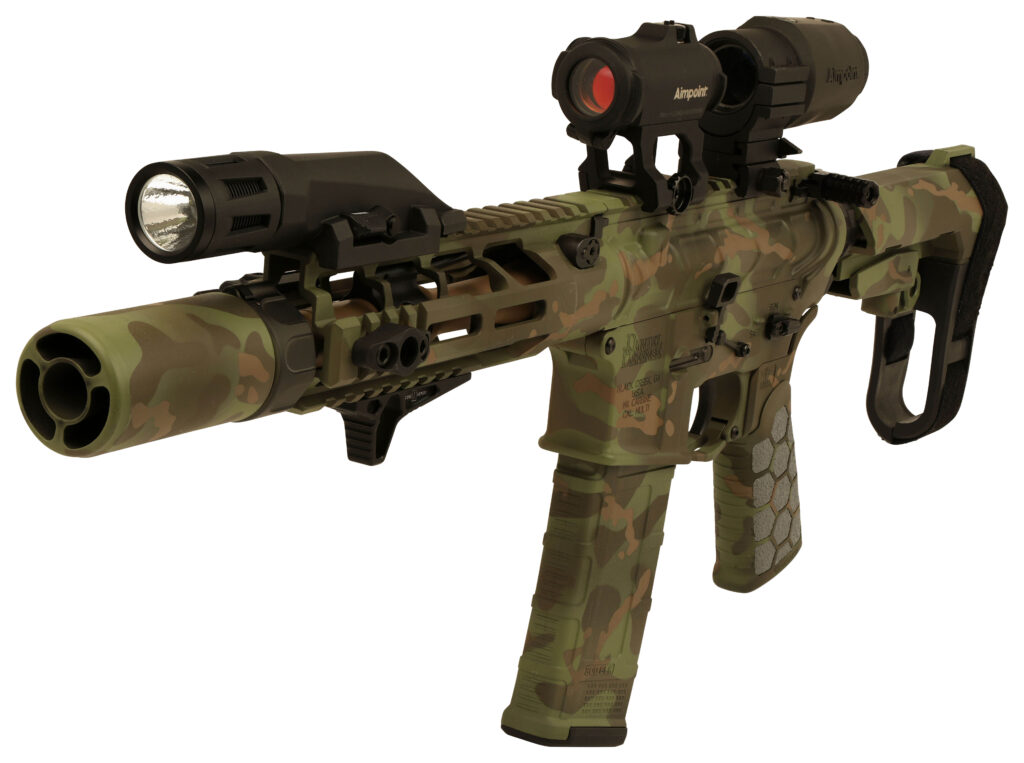 After going on a few hunts with 16- and 18-inch-barreled AR-15s and even an AKM, Taylor decided that he was done with the weight and length of a traditional carbine and wanted a more agile gun that was lighter in weight, too. When he decided to build a dedicated hog hunter, his thoughts immediately went to the AR-15 pistol.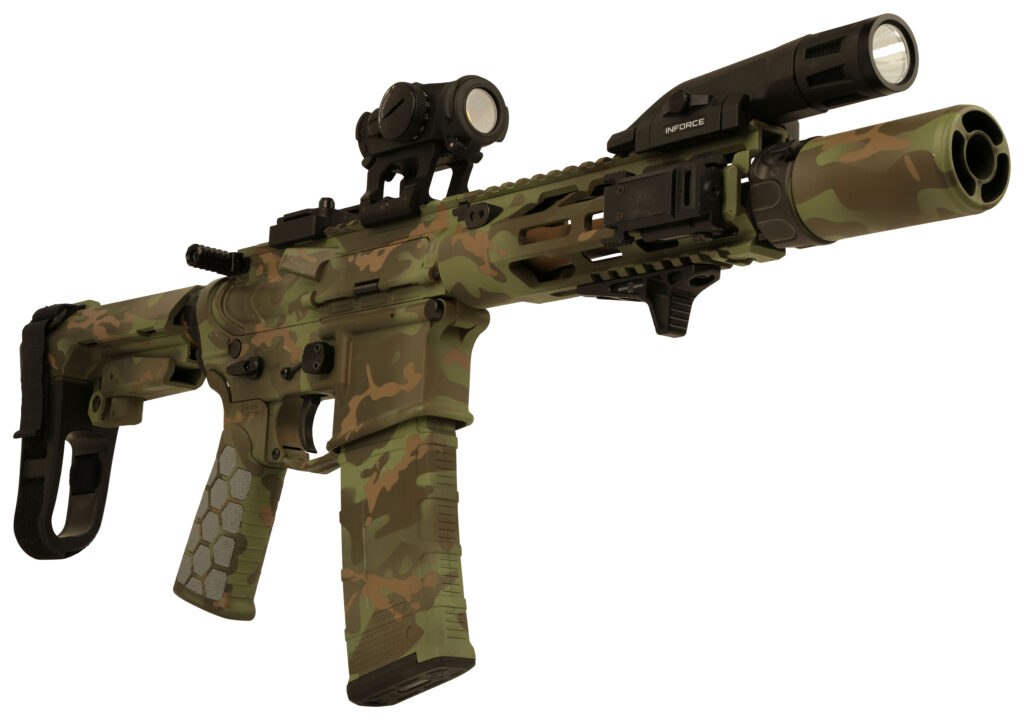 Taylor's main points for his hog gun are that it is something that is lightweight, short, setup for night shooting and packs a punch to take down wild hogs. "I don't want to sit in a blind all day and night," he says. "Rather, I like to walk and stalk." He figured, AR-15 pistols are short in length but still use a rifle-caliber round, which is almost a requirement when hunting hogs with their thick hides. AR pistols tend to be maneuverable as well, which isn't a requirement out in a field, but helps when you're humping around uneven ground in the pitch black of night.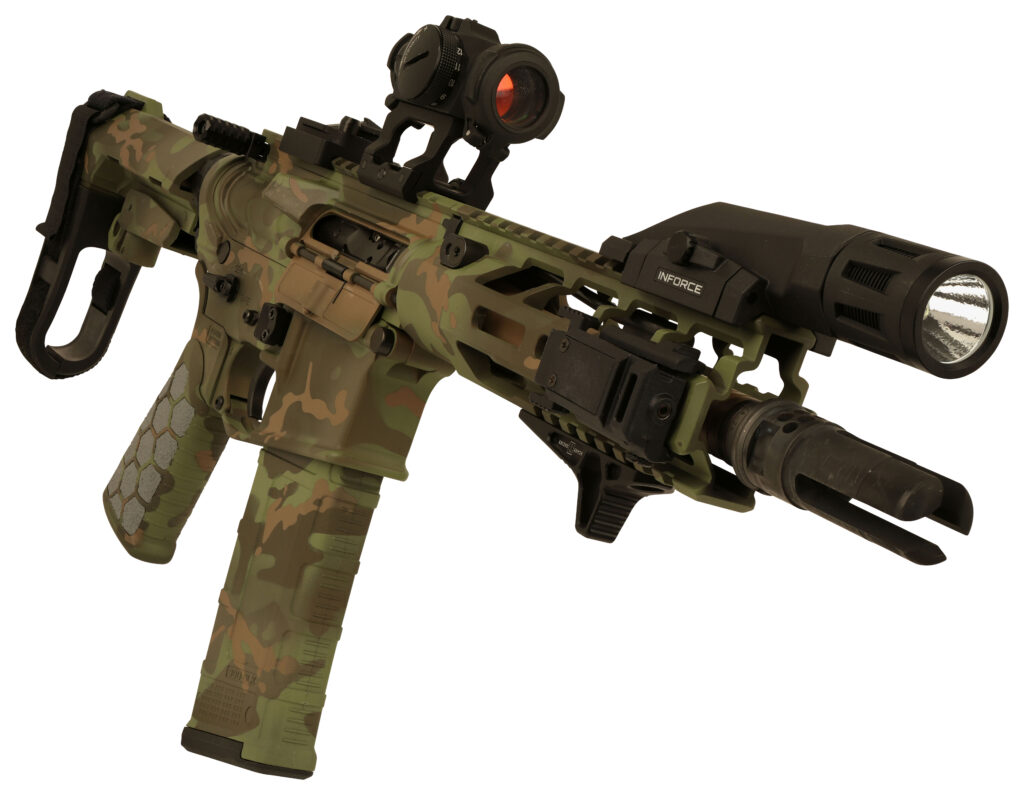 When it came time to choose a caliber, he immediately looked towards .300 BLK. He was on a hunt with a buddy who was shooting suppressed subsonic rounds with great success and he wanted to have that same setup. A suppressed .300 BLK subsonic round is very quiet, yet still has the accuracy and punch to take down a pig at typical hog-hunting distance. Taylor's chronograph numbers come in at around 850 to 900 feet per second using SIG Sauer 220-grain Elite Match Grade OTM ammunition, all while suppressed.

Taylor says that a PVS-14 mounted on helmet is a must for walking around, but when it comes to shooting a hog, a good IR laser and light combo is his personal preference. He doesn't bother attaching the PVS-14 to his gun and just leaves it on his helmet. He aims by pointing the IR laser directly on the target while viewing it through the PVS-14 that is mounted on his head. Taylor explains: "Sticking the night vision monocle on the gun gives you tunnel vision and takes away the advantage of your head's natural movements. If I want to look at something with NODs on my head, I simply just look. If the PVS were stuck on my gun, I'd have to swing it around, which is slower and not always safe to do."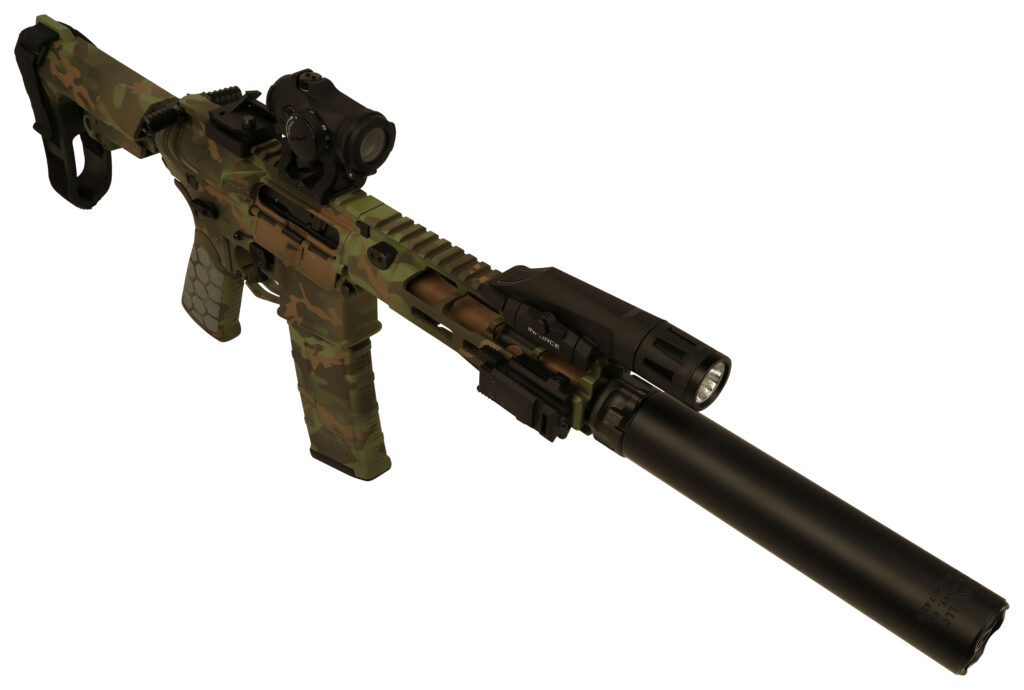 Because he isn't using a night vision device on his AR-pistol, he decided to go with the less expensive Aimpoint Micro H-2 red dot, which does not have a night vision mode. He explained this is because he rarely uses the red dot with night vision behind it. The $100 savings over the night-vision-capable T-1 model was spent on other parts of his pistol's setup. The optic sits in a superb Scalarworks LEAP/MICRO mount. This mount weighs a scant 1.6 ounces and is guaranteed to return to zero on every re-installation of the optic. We can't say enough about this mount; check it out if you get the chance. Taylor points out that the mount's tool-less thumbscrew attachment method is nice to have in the field.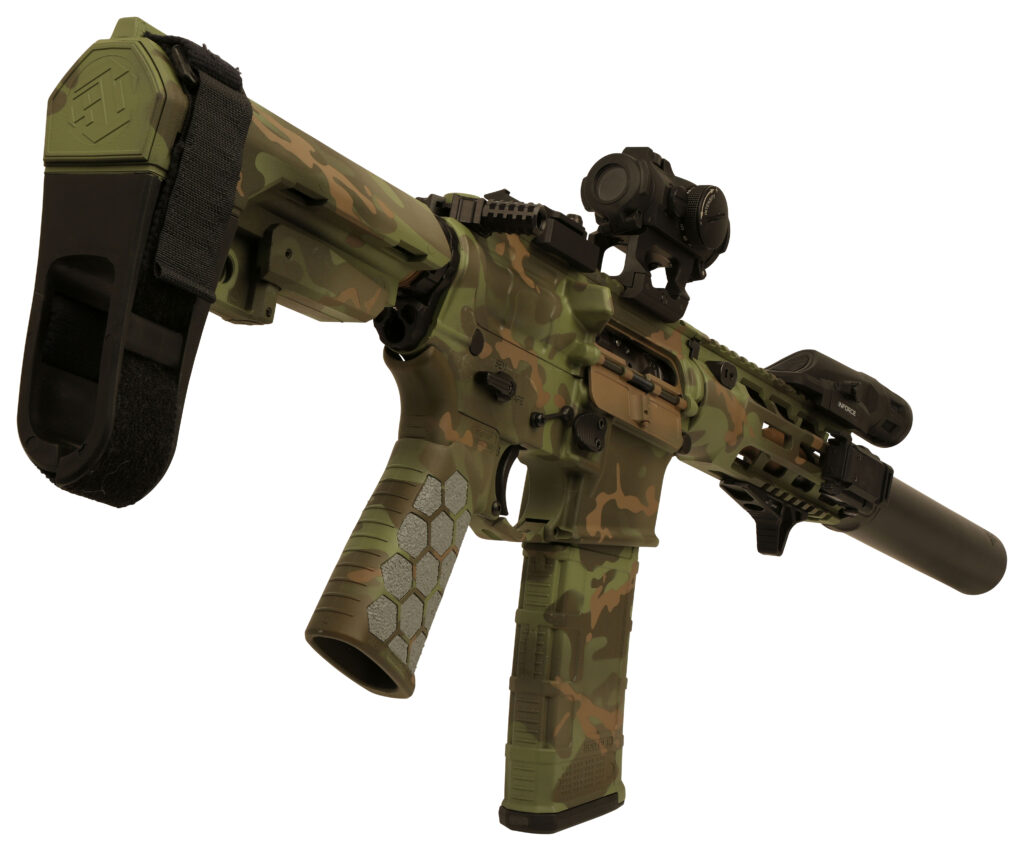 Taylor didn't need to buy a new pistol; he repurposed one that he already had. His hog hunter started life as a complete Daniel Defense MK18 AR pistol. He explains: "I had enough fun with the MK18 upper and sold it to help fund this build. It may sound funny to some, but I kept the lower since my last name is Daniel and the lower receiver's logo says Daniel Defense on it. Also, Daniel Defense does not sell their lower receiver separately so I wanted to have something different for a custom build. If you look on gunbroker.com, Daniel Defense lowers can sell for as much as $500 and even more. I'm holding on to this one."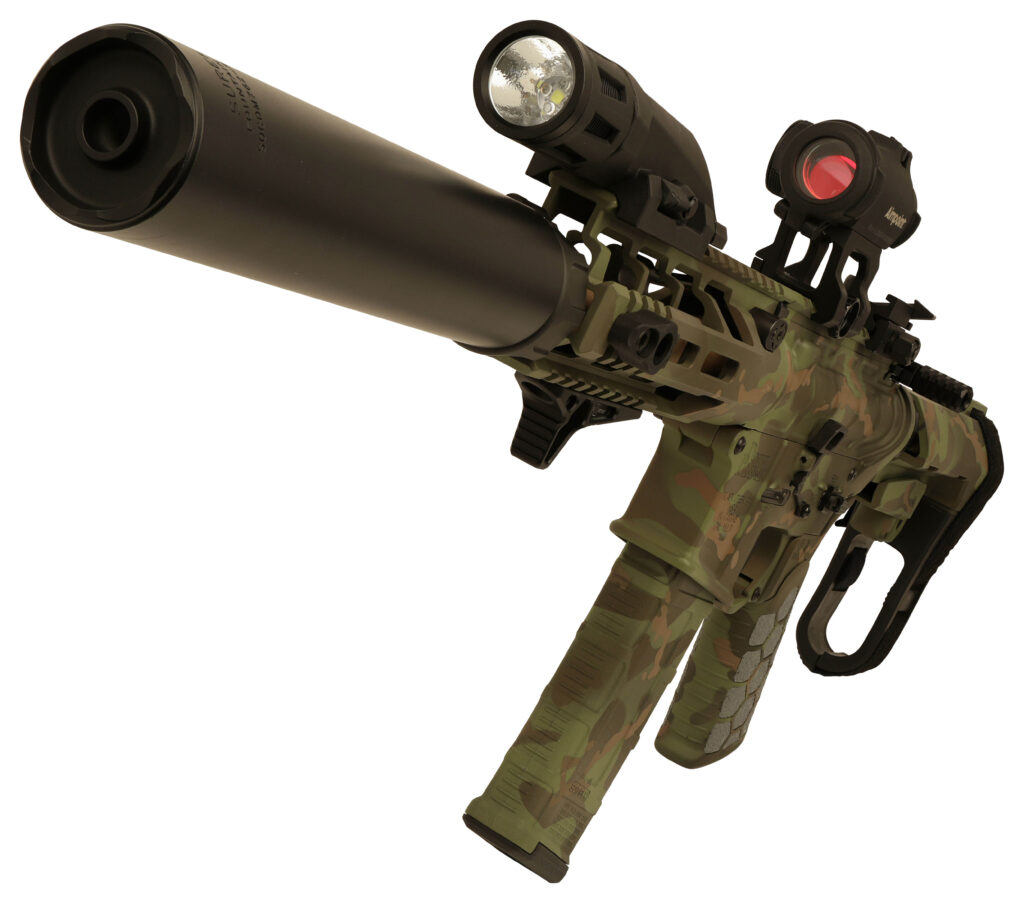 Completing the lower receiver assembly are a host of aftermarket parts including a Rise Armament RA-140 Super Sport Trigger. Ensuring the drop-in trigger stays in position are KNS precision Gen 2 Mod 2 pins. He chose the pins because they not only keep the trigger in place, but because they also match the lines of the Bootleg upper receiver. For the grip, he selected the Hexmag Advanced Tactical Grip. "The Hexmag grip allows for multiple angles to be chosen," he says. "I think options are great. Also, the Hexmag grip tape helps with my sweaty palms on those hot and humid Texas hog hunt nights."

To keep the pistol light, he chose to install a host of titanium parts from V Seven Weapons Systems including the Ti Mag Catch, Ti AR-15 Pivot and Takedown Pins, Extended Mag Release Button, and even their Titanium Buffer Retainer. Every point of an ounce helps, we suppose. Other control parts that help Taylor get the most out of his pistol include Ascend Armory's 50 Degree STA Safety Selector, which allows for a short throw and is also available in titanium. A large, skeletonized bolt catch, also made by Ascend Armory, not only looks cool, but is functional as well.

At the rear of the lower receiver you'll undoubtedly notice a SB Tactical SBA3 AR-pistol stabilizing brace. The brace greatly assists in stabilizing the AR-pistol for accurate shots. Taylor likes its minimalist design and wanted the adjustability that it has. Unlike many other pistol braces, the SBA3 can be adjusted up to five positions. It also has an ambidextrous QD socket for sling attachment on either side of the brace. Ascend Armory's great-looking QD end plate and matching castle nut help lock the brace in place.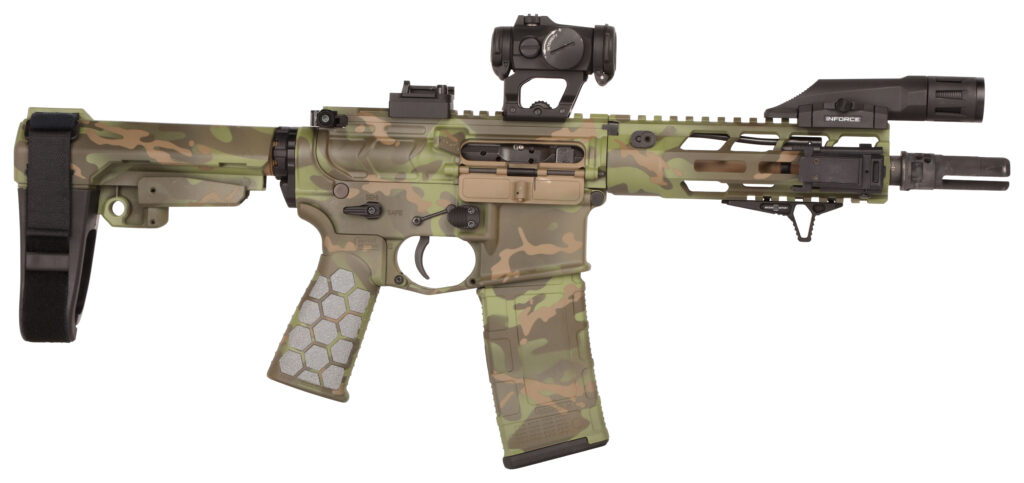 Since he sold his upper, he decided to build one from scratch. He started with a Bootleg Upper Receiver that weighs a mere 6.2 ounces stripped. He mated that receiver with a matching Bootleg Piclok 7-inch handguard. Of the handguard, he says, "I love the dual function of M-LOK and Picatinny rail in a slim profile handguard. I didn't know this before owning it, but the handguard also has threaded holes to directly screw accessories on instead of having to mess with M-LOK back nuts. Also, the lines of the upper receiver are unique from standard plain upper receivers."
Mated to the receiver and housed inside the hanguard is a 7.5-inch Faxon Firearms Gunner barrel. The pistol-length gas system barrel has three set screws on the gas block, which makes it unlikely that the gas block would come loose, especially so after Taylor drilled three corresponding dimples in the barrel for an even more secure gas block seating. Taylor splurged on the 2A Armament Bolt Carrier Group. The BCG gives you the ability to adjust the gas level by adjusting a setscrew on the face of the bolt carrier itself though the open ejection port door. This ease of adjustment means that running both subsonic and supersonic ammunition while suppressed or non-suppressed is a cinch.
Speaking of suppressors, Taylor opted for a SureFure Warcomp mainly because he wanted to be able to use the SureFire SOCOM762-RC2 suppressor he already has. The Warcomp is a quick-attach interface for his SureFire suppressor and the combination of it being a flash hider and muzzle rise eliminating comp made it a natural choice. He realizes that the optimal SureFire sillencer to use for this setup is the SOCOM300-SPS; hopefully that will come in the future. To be less obnoxious around his friends, he also shoots with a SureFire Warden blast diffuser when not running suppressed. The Warden directs concussive blast forward of the pistol without venting gas and debris to the side. He's so thoughtful, isn't he?
Because stomping though the prairie can be an all-night affair, Taylor changes his Magpul MS4 sling setup throughout this hunting sessions. His sling is configured so he can go from two-point to single-point with the help of a Midwest Industries QD sling adapter at any time while walking and stalking or resting. "It's nice to have options," Taylor adds. "This AR pistol is all about adapting to any scenario."
For nighttime fun, he chose to utilize the new Inforce WMLx White/IR Gen 2 weaponlight. The light can change between white and IR light with just a simple flip of a switch. It's useful to be able to switch between white and IR light throughout the night. The LaserMax Infrared Uni-Max laser is a very affordable and lightweight option for a dedicated IR laser. Here, he mounts it on the pistol at the three-o'clock position.
As mentioned before, at least $100 was saved by him going with an Aimpoint H-2 instead of the night vision capable T-2 red dot. He applied those savings to a 3X-C magnifier, also made by Aimpoint. The 3x magnifier sits in a twist mount and is usually carried in his pack and not on his gun. He carries it just in case he needs it, but most of his hog shots are taken at about 50 yards or less so a magnifier isn't needed for most of his hunts. On Coyote trips, however, the magnifier can be much more useful.
While most any 5.56mm magazine can be used to feed .300 BLK, Taylor decided to go the extra mile and buy .300 BLK specific Magpul PMAGs. Magpul calls them "PMAG 30 AR 300 B Gen M3 (300 BLK)." According to the company, using .300 BLK in a magazine intended for 5.56mm rounds can compromise its reliability, since 300 Blackout comes in a wide variety of bullet weights and profiles. The dedicated PMAG fixes this issue.
We've gotten this far and we still haven't addressed what is probably the most noticeable feature on this pistol yet. Shame on us. The custom Cerakote camouflage job was done by Blowndeadline Custom. As you probably know already, we're big fans of their work and you can tell from the pictures on why we are. A muti-layered, MultiCam Tropic inspired Cerakote scheme was applied to the pistol, as well as accessories such as the SB Tacitical brace, Hexmag grip, and the Magpul mags. It's a killer look in our opinion.
We asked how the pistol has faired in Taylor's recent hog hunts. "I wouldn't know yet," he says. "I only just completed the pistol and sent it off to you for the article. I'll let you guys know though, I can't wait to take it on my next hunt."

If it shoots as good as it looks, we think it will serve very well.
Text by Martin Anders and images by Michael Grey
Taylor's Hunting AR-Pistol

Caliber: .300 BLK
Length: 24.5-27 in.
Barrel: Faxon Firearms 7.5" Gunner Barrel, Pistol-Length
Weight w/o Magazine: 5 lbs., 13 oz.
Upper Receiver: Bootleg Inc. Upper Receiver
Finish: Cerakote by Blowndeadline
Lower Receiver: Daniel Defense Lower Receiver
Featured Accessories:

Optic: Aimpoint Micro H-2 / Aimpoint 3X-C
Optic Mount: Scalarworks LEAP/MICRO (Lower-Third) / Aimpoint Twist Mount
Handguard: Bootleg Inc. 7-inch PicLok Handguard
Brace: SB Tactical SBA3 Pistol Stabilizing Brace
Magazine: Magpul PMAG 30 AR 300 B Gen M3 (300 BLK)
Suppressor: SureFire SOCOM762-RC2
Parts & Accessories: Faxon Firearms .750" Ultra Low-Profile Gas Block, Brownells AR-15 Gas Tube Black Nitride, 2A Armament Titanium Regulated BCG, SureFire Warcomp, SureFire Warden, Rainier Arms Modified Trigger Guard, Rainier Arms Avalanche MOD2 AR-15 Charging Handle, Rainier Arms Avalanche MOD2 Hex Handles, Ascend Armory Angled Foregrip, Magpul MS4 Dual QD Sling Gen 2, Midwest Industries QD Sling Adapter (M-LOK), Magpul PMAG 30 AR 300, Lasermax Infrared Uni-Max Laser Rifle Value Pack, Inforce WMLx White/IR Gen 2, Ascend Armory AR-15 Enhanced Skeletonized Bolt Catch, Ascend Armory 50 Degree STA Safety Selector Kit Mod 2 (6AL-4V TI), Ascend Armory QD End Plate Mod 2, Ascend Armory Enhanced Castle Nut (303 SS), Rise Armament RA-140 Super Sporting Trigger, KNS Precision Gen 2 Mode 2, SB Tactical SBA3, Stag Arms Extra Heavy Buffer Assembly (H2), David Tubb's AR-15 Stainless Steel Buffer Spring, Hexmag Advanced Tactical Grip, Hexmag Tactical Grip Tape, V Seven Ultra-Light AR-15 Port Door (Air), V Seven Ti Buffer Retainer, V Seven Extended Mag Release, V Seven Ti Mag Catch, V Seven Ti AR-15 Pivot/Takedown Pins

About the owner:

Name: Taylor Daniel
Occupation: Structural engineer
Special Thanks: My wife and kids.