Compact Pistol Comparison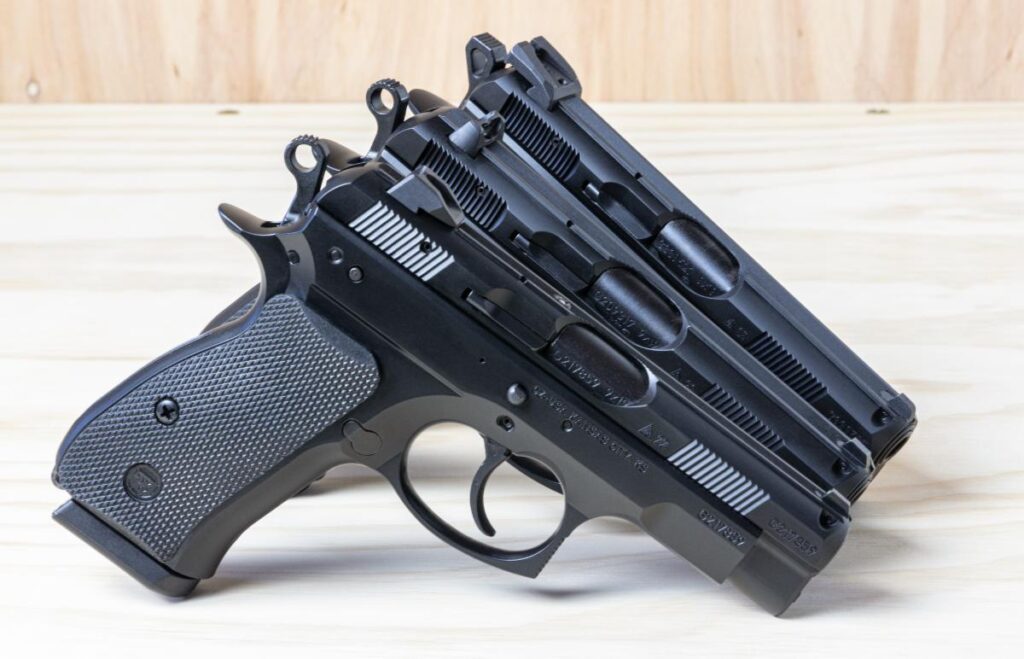 CZ-USA continues to build three compact 75-Series pistol models, each with a unique feature set tailored to individual shooting needs. All models are double-stack high-capacity 9mms and share a common magazine size.
For nearly five decades, CZ built several pistol models around the esteemed CZ 75 design—a lineage carried forward in these modern compact models. The CZ 75 is renowned for its comfortable grip, smooth factory trigger system, and distinctive slide-in-frame design. The current compact versions of these pistols include the 75 Compact, 75 PCR, and 75 P-01.
They inherit the best features of the CZ 75 design as outlined above—grip, trigger, slide-in-frame design. The main differences between models are their overall weight, whether or not they carry an accessory rail, and whether they use a thumb safety or a de-cocking lever.
The CZ 75 Compact is a smaller version of the classic double-action CZ 75. It retains the steel frame of its bigger brother with a shorter barrel and grip, making it more concealable while maintaining most of the full-size model's weight for recoil reduction. It utilizes a manual safety and features fixed metal three-dot sights for a sharp sight picture and fast target acquisition. Compared to the CZ 75 B, the trade-off for its smaller size is a reduced overall capacity (15+1).

CZ 75 PCR is named for the "Police Czech Republic" and is designed for law enforcement and military use. The PCR retains the basic design of the 75 Compact but features a quarter-pound lighter forged alloy frame. CZ beefed up the frame to enhance its strength, which gives it a slightly wider profile. A more significant departure from the 75 Compact is the switch to a de-cocking lever in place of the thumb safety. The PCR includes a snag-free rear sight and a loaded chamber indicator on its features list. A set of forward slide serrations give extra gripping surface to rack rounds into the chamber, which is helpful on the low profile of the CZ 75's slide-in-frame design.
The CZ 75 P-01 stemmed from the CZ tactical pistol development program. CZ added an accessory rail and a frame dust cover to enhancing its performance and reliability. It uses a forged alloy frame and a de-cocker system like the PCR. The snag-free sights are replaced with fixed three-dot sights.
When deciding between models, shooters will consider several factors. Those who wish to mount a light or laser will want to choose the P-01. The 75 Compact's steel frame adds weight that soaks up recoil and will be very familiar to those who run the full-size CZ 75. The PCR is the lightest and least bulky pistol in the compact line and makes for an excellent concealed-carry pistol.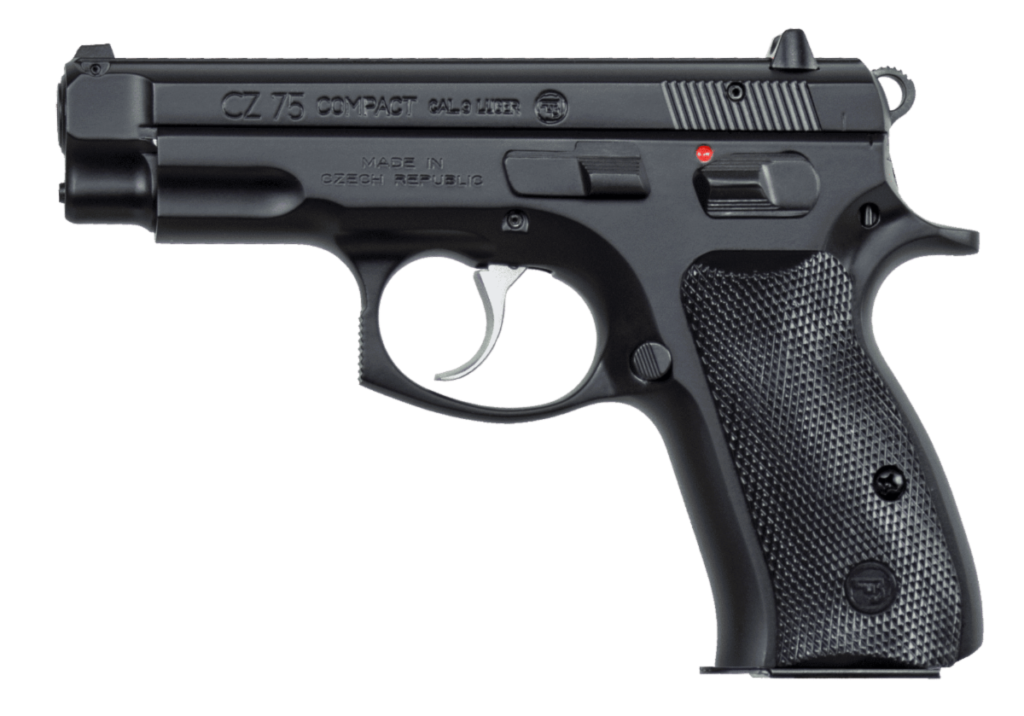 Specifications
CZ 75 Compact

SKU: 91190
Caliber: 9mm Luger
Frame: Steel
Trigger Mech: DA/SA
Sights: Fixed
Barrel: Cold hammer forged
Barrel Length: 3.75 in.
Height: 5.03 in.
Width: 1.38 in.
Overall Length: 7.24 in.
Weight: 32.8 oz.
Safety: Manual safety, safety stop on hammer, firing pin block safety
MSRP: $649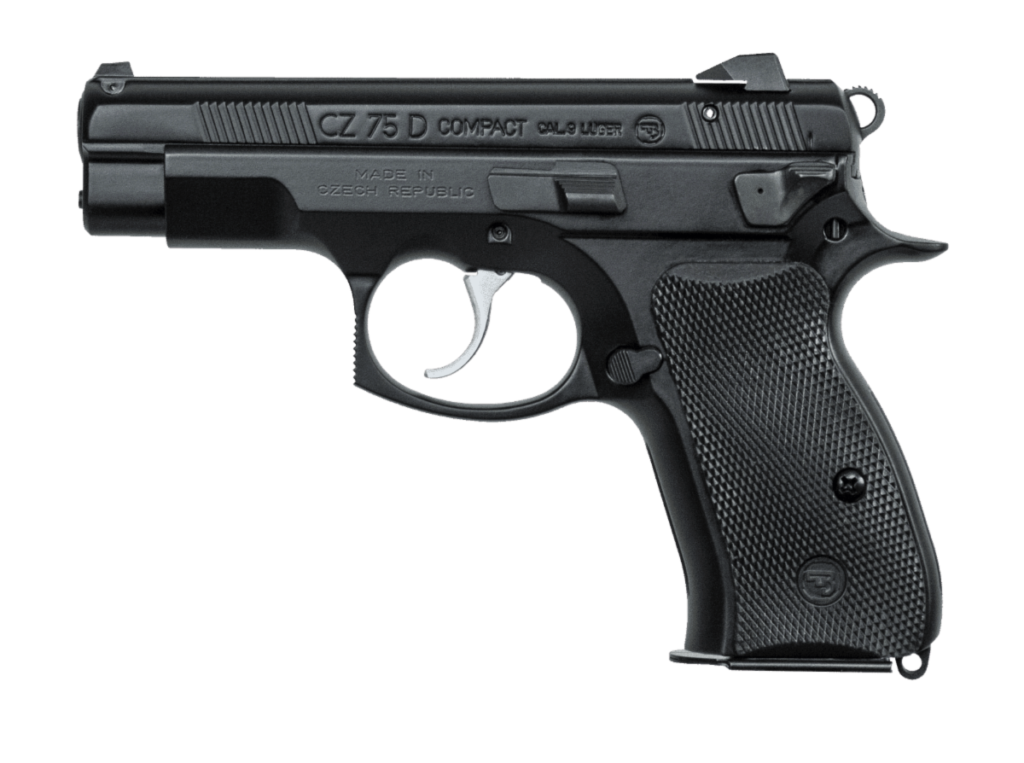 CZ 75 PCR

SKU: 91194
Caliber: 9mm Luger
Frame: Aluminum (7075-T6)
Trigger Mech: DA/SA
Sights: Snag-free fixed 3-dot
Barrel: Cold hammer forged
Barrel Length: 3.75 in.
Height: 5.03 in.
Width: 1.38 in.
Overall Length: 7.24 in.
Weight: 27.5 oz.
Safety: Decocking lever, safety stop on hammer, firing pin block safety, loaded chamber indicator
MSRP: $649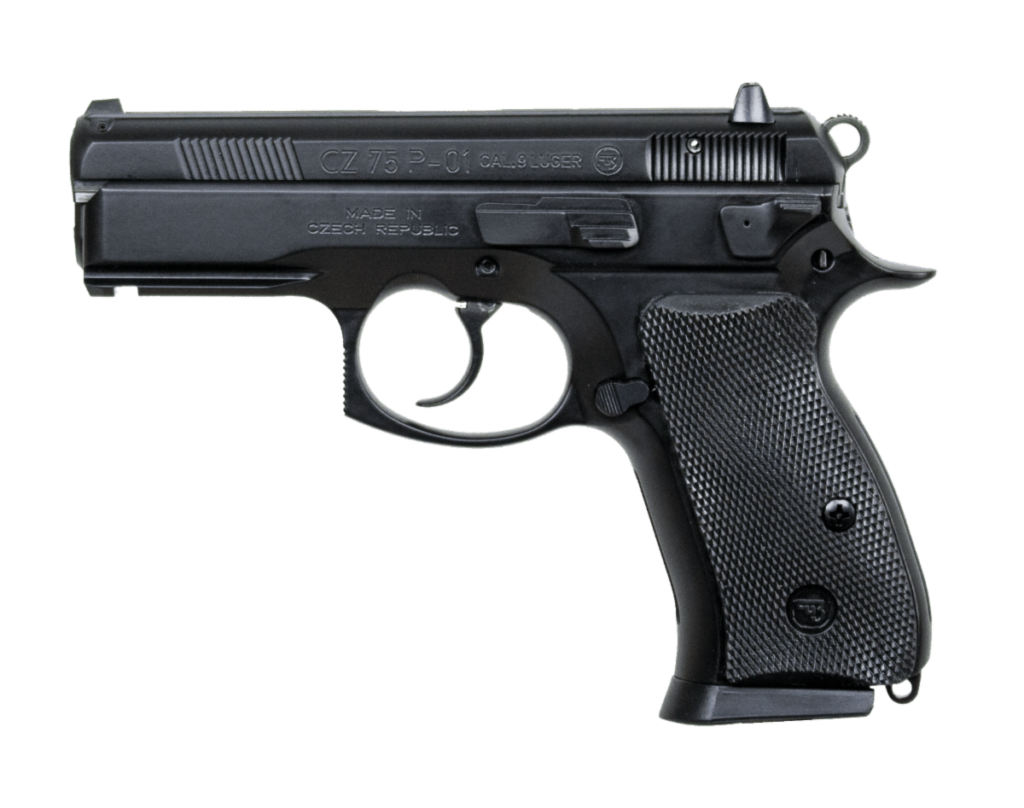 CZ 75 P-01

SKU: 91199
Caliber: 9mm Luger
Frame: Aluminum (7075-T6)
Trigger Mech: DA/SA
Sights: Fixed
Barrel: Cold hammer forged
Barrel Length: 3.75 in.
Height: 5.03 in.
Width: 1.38 in.
Overall Length: 7.2 in.
Weight: 28.1 oz.
Safety: Decocking lever, safety stop on hammer, firing pin block safety
MSRP: $649