High Performance Pistol Caliber Shorty
Based on an Iron City Rifle Works receiver set
Livery inspired by Japanese automotive tuning company, HKS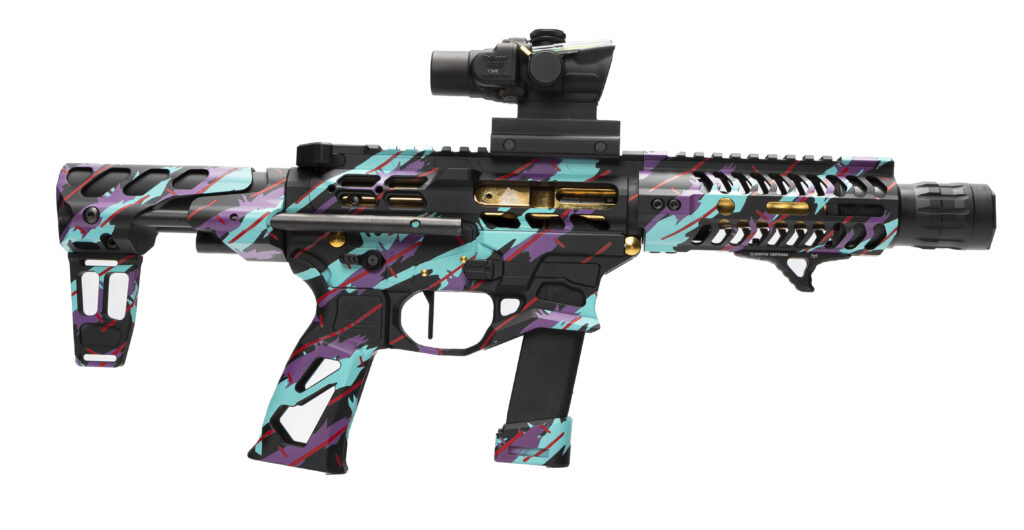 Those of us who are intensely passionate about our firearms can be quite spirited about other interests, too. In fact, there seems to be a crossover of interests that many shooters share, such as numerous outdoor activities or even off-roading and overlanding. Another common ground that many of us find ourselves on is located in the automotive realm.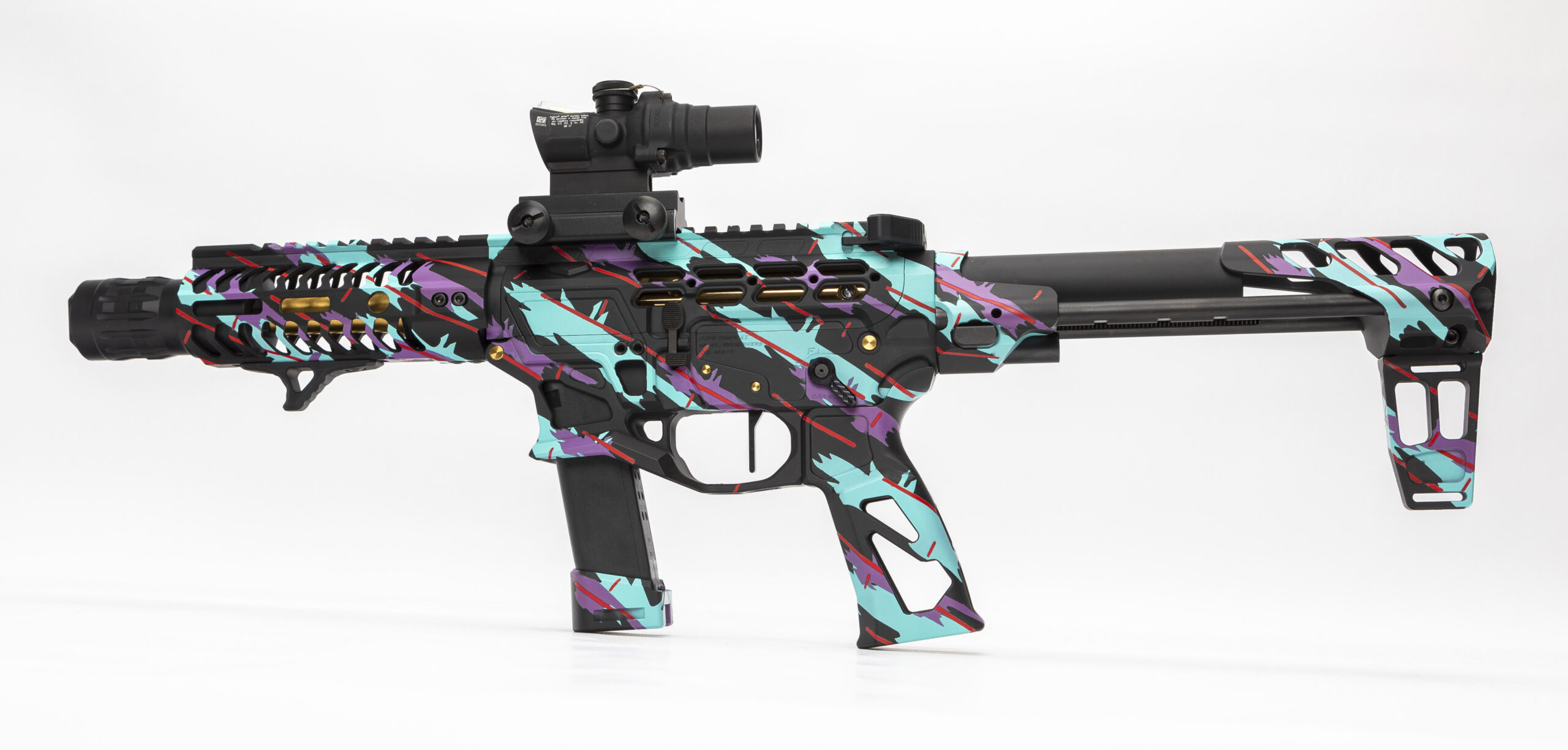 Our impulse to upgrade and personalize our vehicles is similar to the same impulse with our guns; we simply can't leave anything factory stock. Whether you're lowering your car, lifting your truck, or dropping in a crate motor to up the power of either, we love modding our rides as much as our firearms. How many designers, engineers, machinists, creative thinkers, and garage tinkerers have hooked up their cars as well as their guns? We'll venture a guess and say the answer is a strong "plenty."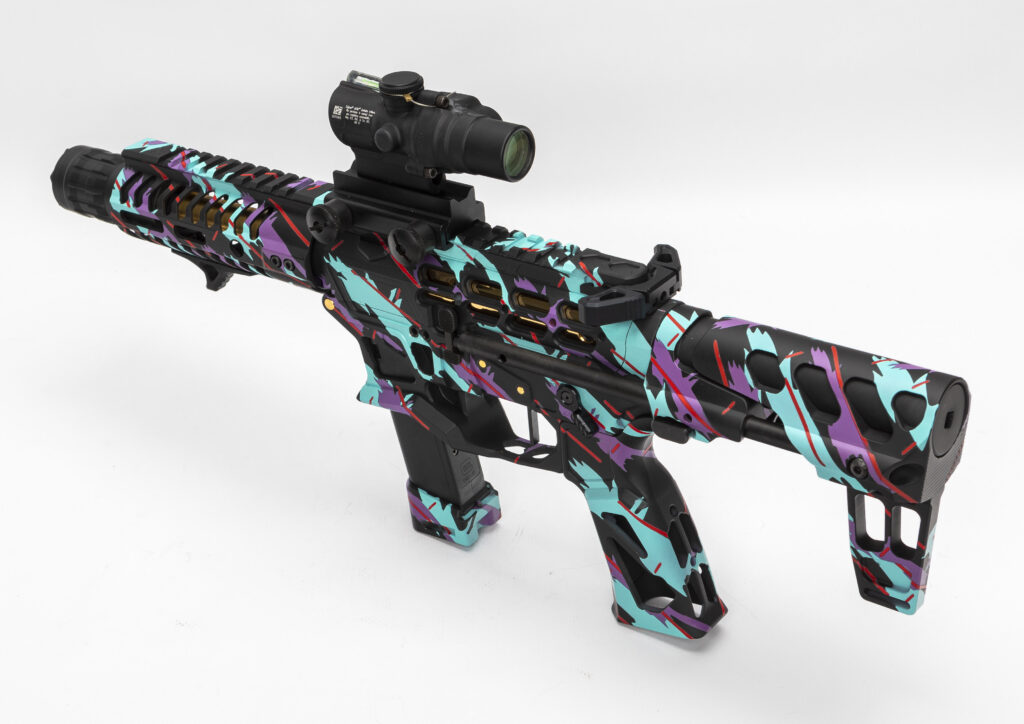 When you stop to think about it, the overlap between the high-performance automotive and the firearm industries makes plenty of sense. Making vehicles faster and perform better than how they come from the factory is directly relatable to shooters and gun customizers alike. Photographer and custom firearms creative Jay Canter began his career in the automotive industry, snapping pictures at racetracks across the globe. His love for cars and of motorsport led him into the personal garages of automotive tastemakers and the paddocks of many race teams. Early on, he fell in love with Japanese sports cars such as the Nissan Skyline GT-R. Back in the '90s, these cars were near unobtanium here in the States, so getting to see one up close was an exciting thing.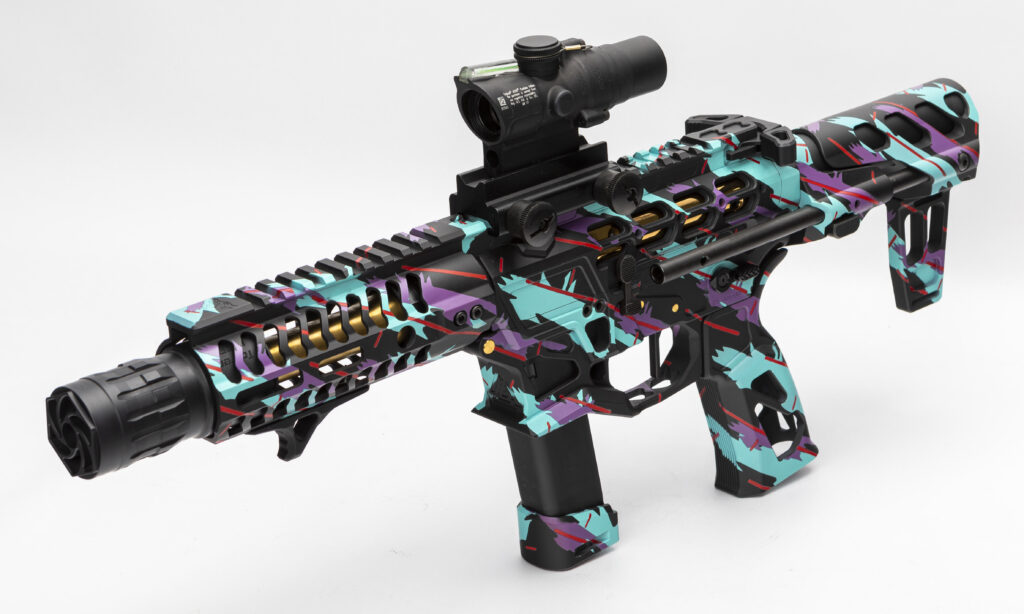 One of the most recognizable racing GT-Rs was campaigned by a high-performance Japanese aftermarket parts company called HKS. Based in Shizuoka, Japan, HKS raced an R32 GT-R version of the Skyline in the All Japan Touring Car Championship (JTCC) Group A during the 1992 and 1993 seasons. The car's colorful "splash" livery was based on the packaging of the company's line of Super Oil products. This unique color scheme has since become iconic, even being applied to HKS racecars up to the current day.

Canter's latest creation pays homage to his crossover of industries and interests; his custom AR9 pistol's splashy look (please forgive the pun) should be readily recognized by any JDM aficionado. For the uninitiated, JDM stands for Japanese Domestic Market, which refers to a type of car or style of modification that mimics the cars and modifications that are done in the Japanese home market. The AR9's colorful look was applied by the artisans at Koted Arms of Mesa, Arizona. The eye-catching work gives us a foreshadowed glimpse into the high-performance theme of this AR9, which has been unofficially dubbed by us as the HKS-9.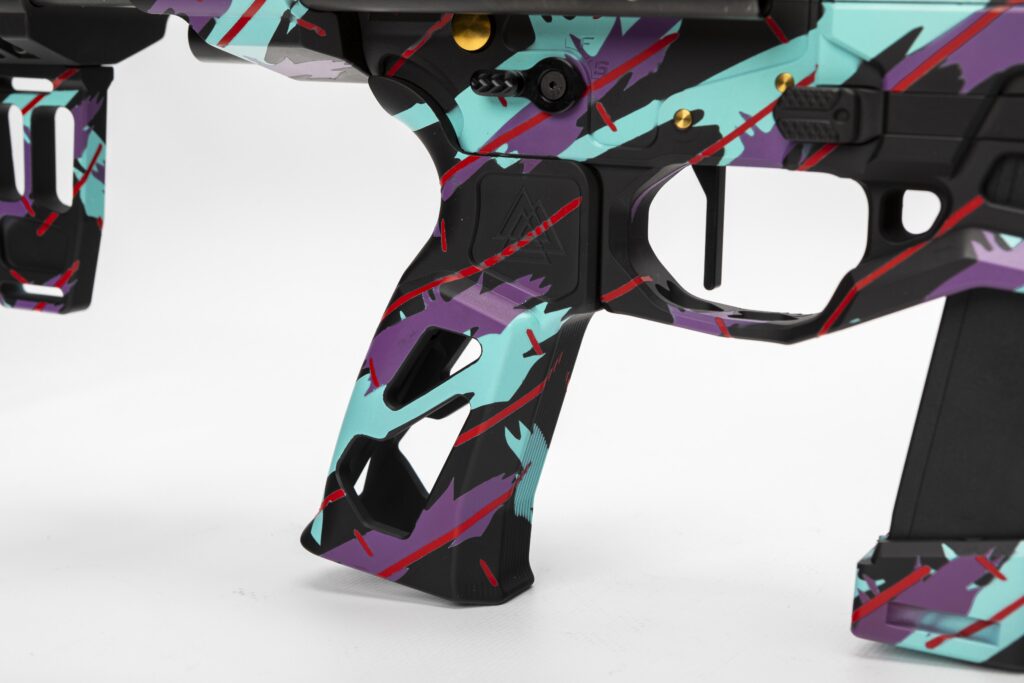 Canter explains what inspired him to create HKS-9. "Inspiration can be found virtually anywhere if you look for it," he says. "I have been involved in the auto industry since the mid-1990s and HKS has been a staple in the high-performance import vehicle world since long before that. But HKS might be most well-known for their very distinctive and massively popular livery pattern that has been used on numerous race and show vehicles. The unique pattern that looks like something straight out of an '80s pop art painting actually derives from their motor oil." Mixing one's past and present interests can certainly make a passion project take off.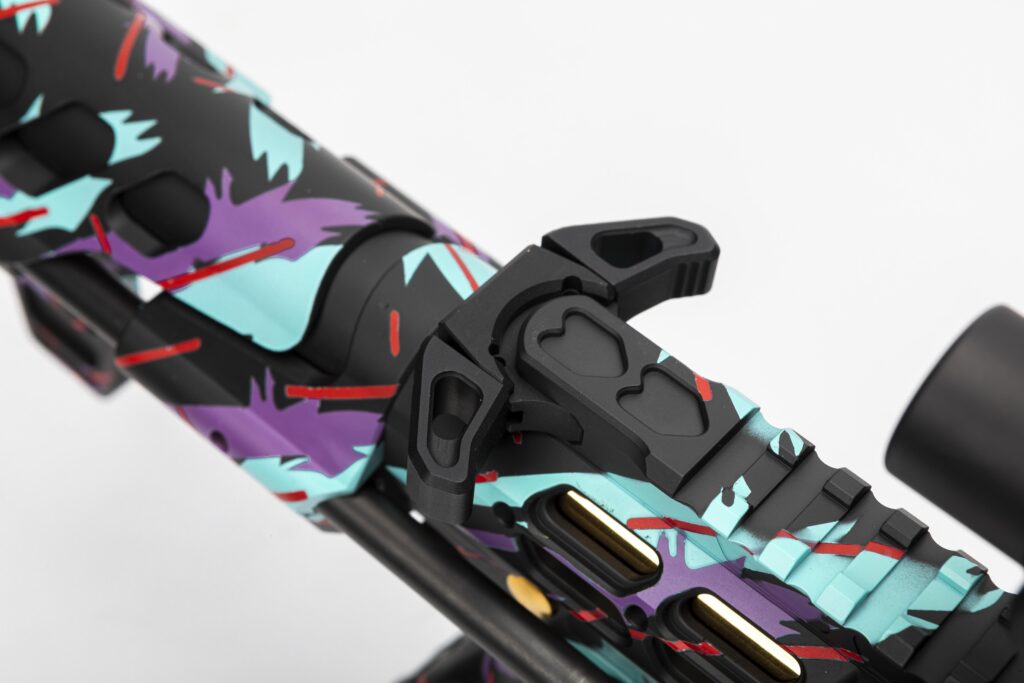 Canter goes on to fill us in on why he chose to build an AR9 pistol. "AR pistols are of course a very popular segment of the firearms world due to virtually unlimited available parts selection. And who doesn't already have a stack of Glock magazines laying around?" Good point. We bet it's because AR9s are fun to shoot, too.
The HKS-9 is built on the foundation of an Iron City Rifle Works Berserker Nine PCC upper and lower receiver set. The skeletonized receivers are milled from tough 7075 aluminum. The upper receiver hosts an Odin Works 5-inch barrel that's fashioned from hand-lapped 416R stainless steel. It features a calibrated chamber ramp designed to eliminate feed issues. The barrel has been TiN electro-plated, which is what gives it its gold hue. A TiN-plated Iron City Rifle Works Redmohawk 3.0 C4V bolt carrier group (BCG) is also located inside the upper. The slick BCG is optimized for reliability.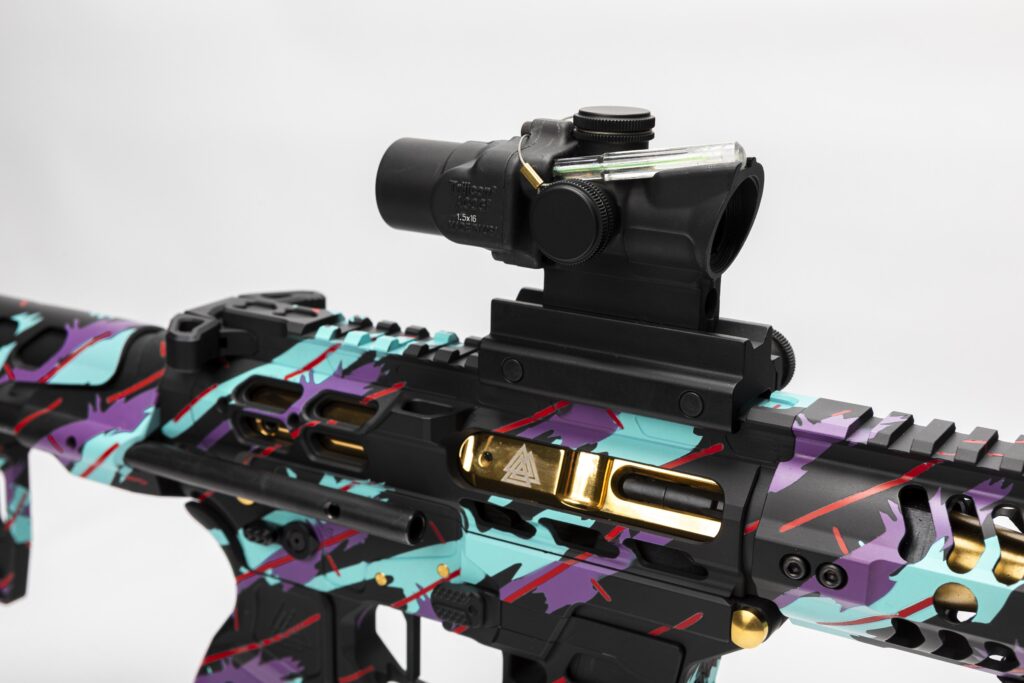 Wrapped around the barrel is an Odin Works 5.5-inch length m-lok forend, and hanging on its 6 o'clock position is a Quentin Defense finger stop. Charging the BCG is a POF-USA Strike Eagle ambi charging handle. The twin oversized charging latches make charging the gun and clearing malfunctions with either hand a breeze.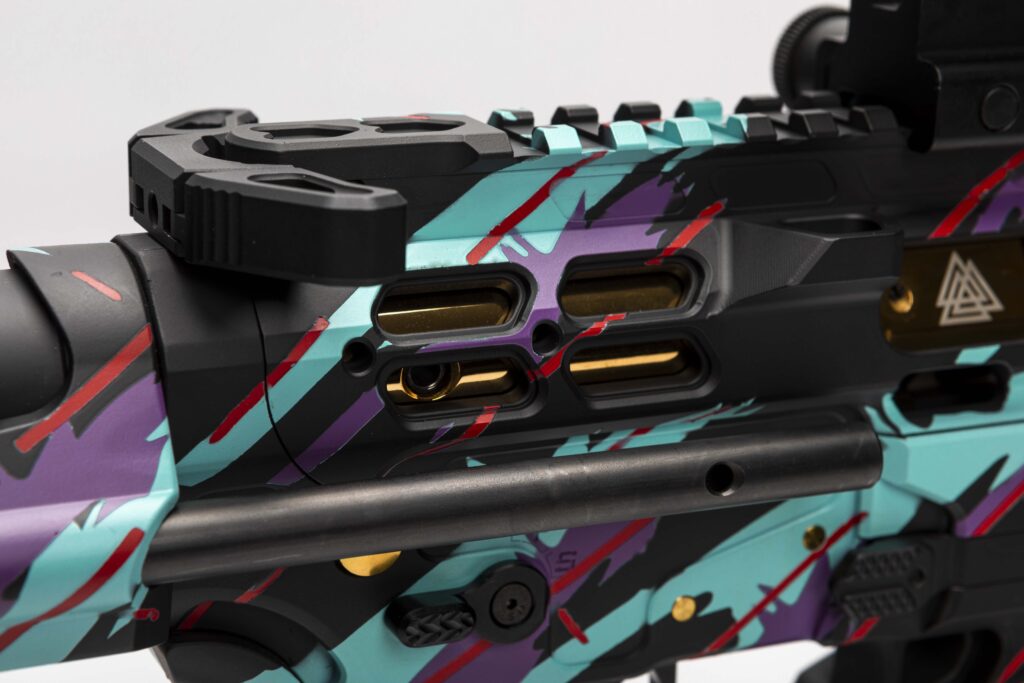 At the tip of the gun, you'll notice a Torrent Suppressors Hades Ti Blast Diverter, which is mounted on the barrel by way of a Yankee Hill thread adapter. The blast shield allows muzzle blast to be channeled forward, directing virtually all blast blowback away from the shooter. The Hades is further designed to disrupt gas flow and reduce the vertical flash signature, making for a more pleasant shooting experience. It's said to be most useful in a gun with a short barrel like this one.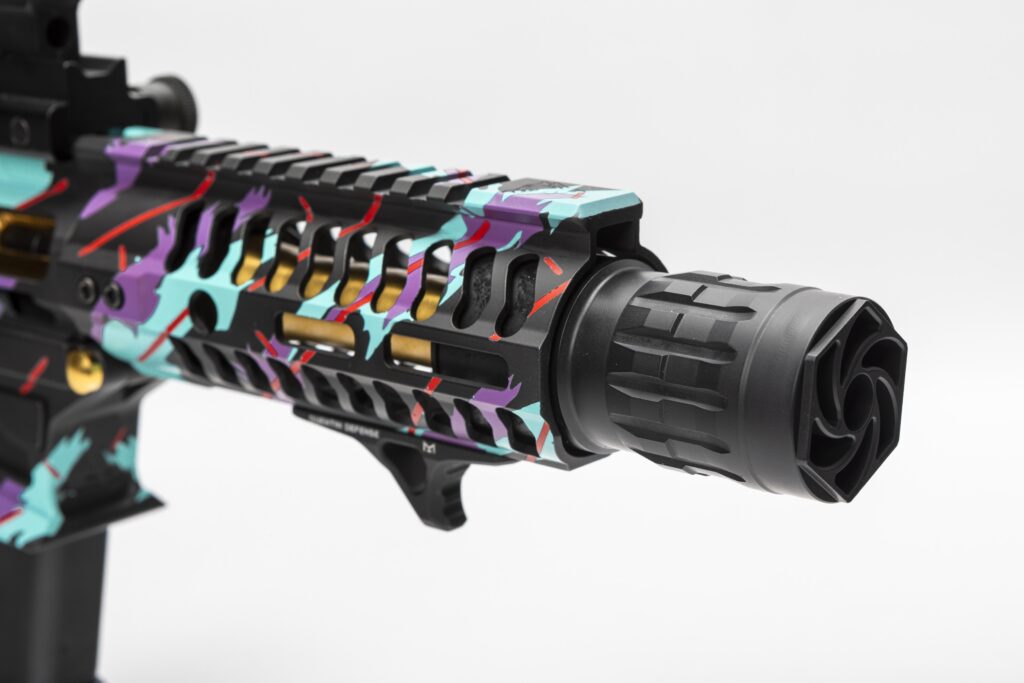 On a whim, Canter decided to throw a Trijicon ACOG 1.5x16S on the HKS-9. Why? Because it's the littlest ACOG on his littlest AR. Besides, the ACOG 1.5x16S is a great optic for short builds like AR pistols. It offers the widest field of view of all the ACOGs and offers a quick-targeting circle-dot reticle. The version on his gun is configured with a green reticle and 2-MOA dot. The Iron City lower receiver hosts plenty of aftermarket upgrade parts, such as titanium trigger and takedown pins and a Timney Impact AR-ST drop-in trigger, which boasts a 3- to 4-pound straight pull rating, giving this AR9 quick and precise shooting characteristics. An Odin Works Close Quarter pistol brace serves to stabilize the HKS-9. The eye-catching brace can be adjusted for five different lengths and incorporates a slot for a strap that makes adjusting it to your arm a cinch. It uses a compact 3-ounce micro buffer to keep things as short as can be.

Any number of 9mm Glock magazines can be fed into the HKS-9. To keep things at their most compact, it's shown here with a factory Glock 17 17-round magazine with a Springer Precision plus-five-round basepad attached that bumps the capacity to 22. If more ammo is required, an extended big-stick 33-round mag can be used instead.
You'll undoubtedly notice how the skeletonized pistol grip matches the receiver set perfectly. This is because the grip, like the receivers, is also made by Iron City Rifle Works. It's called the Iron Grip, but no, it's not made of iron, but of billet aluminum. Its shape features a grip angle that's stated to improve comfort and control by keeping a wider profile on the bottom of the grip and a narrow profile at the top around your trigger finger. The skeletonized contours provide a positive grip surface even with wet or gloved hands.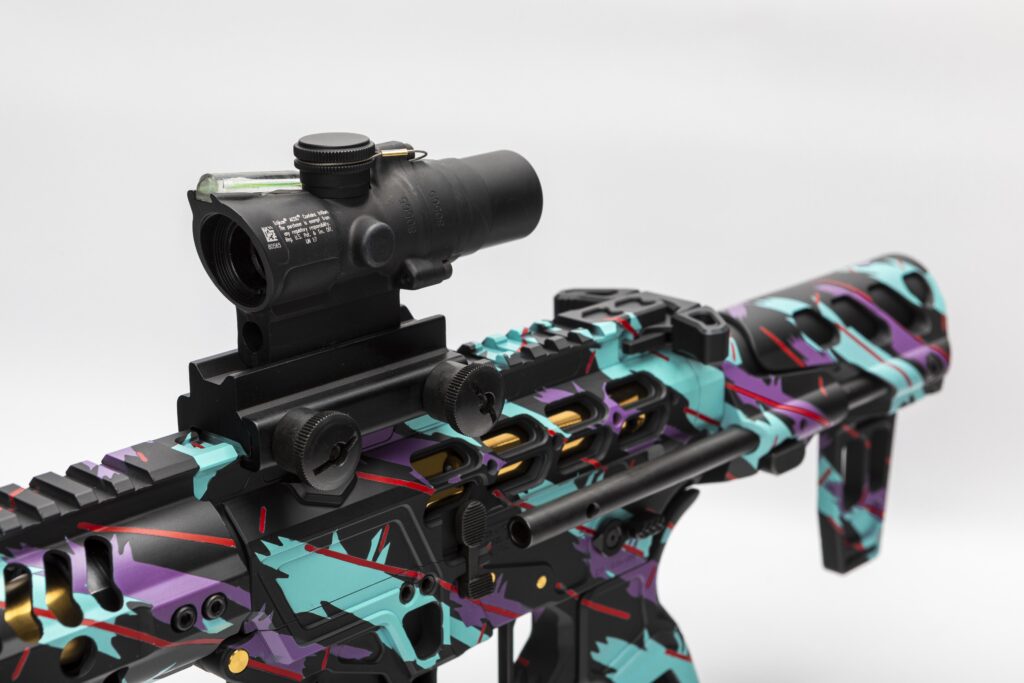 Thanks to its good looks, it'd be understandable if you thought that the HKS-9 was built solely to be a garage queen, but much like its JTCC race-winning HKS Skyline GT-R muse, it's a real performer. By incorporating lightening cuts throughout, along with a wide selection of lightweight parts, the pistol is well balanced and quick to point. Canter chose parts that are focused on reliability for consistently trouble-free operation, which make it a talented performer at local shooting competitions and the perfect backpack gun.
We're inspired by Canter's build that combines his love for motorsports and firearms. We look forward to seeing more themed builds of this nature. As petrol heads ourselves, our imaginations are now running wild with other possible automotive themed builds. Perhaps we'll get to see more of them in the future.
Text by Jerry Tsai and images by Jay Canter
Build Sheet
HKS-9
Specifications
Caliber: 9mm
Capacity: 22+1
Minimum Length: 20 in.
Maximum Length: 24 in.
Weight Unloaded: 6 lbs, 4 oz.
Receivers: Iron City Rifle Works Berserker Nine PCC set
Barrel: Odin Works 5.0-in. 416R, 1:10 twist
Coating: Cerakote by Koted Arms
Featured Accessories
Trigger: Timney Triggers Impact AR-ST (3-5 lb)
Optic: Trijicon ACOG 1.5x16S (TA44-C-4001-40)
Handguard: Odin Works 5.5" m-lok Forend
Muzzle Device: Torrent Suppressors Hades Ti Blast Diverter
Brace: Odin Works CG-B Closed Quarter Pistol Brace
Parts & Accessories: Iron City Rifle Works Redmohawk 3.0 C4V Bolt Carrier Group, Quentin Defense Finger Stop, POF-USA Strike Eagle ambi charging handle, Iron City Rifle Works Iron Grip, Yankee Hill 1/2×28 Thread Adapter, Iron City Rifle Works Titanium trigger pins, Iron City Rifle Works titanium takedown pins, AIM Surplus ambi safety, POF-USA bolt catch, 2A Armament lower parts kit, Springer Preicison Plus 5 9mm basepad
About the Owner
Name: Jay Canter
Occupation: Photographer, firearms creative
IG: Violent Art Firearms & Jay Canter Photography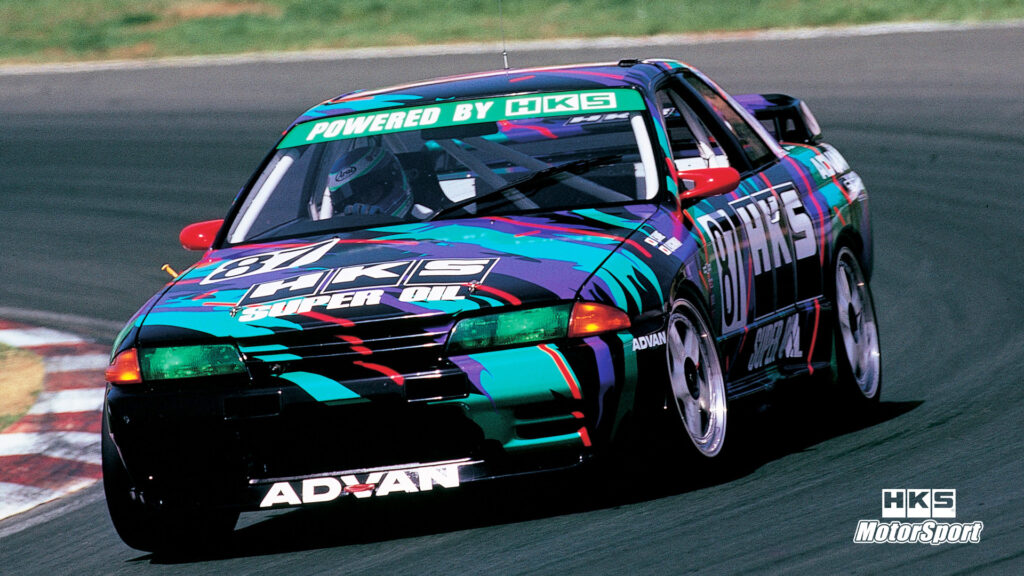 HKS Super Oil Skyline R32 GT-R Group A
Japanese aftermarket performance company HKS participated in All Japan Touring Car Championship (JTC) Group A racing during the 1992 and 1993 seasons. JTC Group A was the premier touring car series in Japan at the time. Operating as an underdog, the independent HKS team campaigned its R32 GT-R head-to-head against factory works teams, eventually securing its first victory in the third round of the 1993 season. The HKS Super Oil livery has become a favorite of Japanese motoring enthusiasts ever since its debut on that R32.