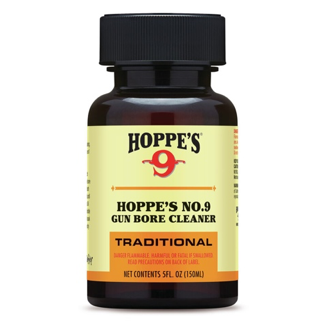 Hoppe's No. 9
This original formula (introduced in 1903) has been a favorite with hunters, competition shooters, and recreational shooters for more than a hundred years. No. 9 bore cleaner can be used on any pistol, rifle, and shotgun bore. It's formulated to effectively penetrate and remove carbon, powder, and lead fouling. It also helps loosen abrasive debris to help mitigate wear and tear on your firearm. And that nostalgic smell!
MSRP: $10 (16 oz. @ Brownells), brownells.com
URL: hoppes.com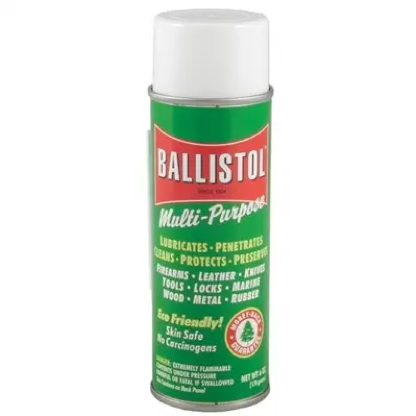 Ballistol Multi-Purpose CLP
Developed circa 1904 for the German Imperial Army, Ballistol was formulated by Friedrich and Helmut Klever, a professor of chemistry at the Technical University of Karlsruhe. It was intended as a multipurpose oil that could be used to clean and maintain metallic parts while also protecting wooden components. It is considered eco-friendly, being biodegradable and non-carcinogenic, and its aerosol propellant is a propane/butane blend that contains no CFCs.
MSRP: $18 (16 oz. @ Brownells), brownells.com
URL: ballistol.com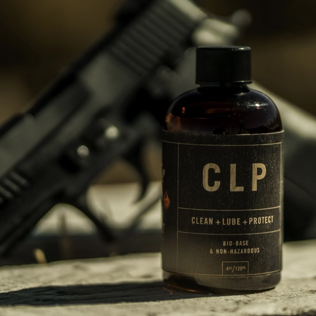 The company claims this is the most advanced gun cleaning solvent on the market. It's formulated as a high-penetration solvent that infiltrates surfaces at a microscopic level for deep cleaning of carbon, lead, and copper fouling. It also lubricates the bore and moving parts, provides heat dissipation and anti-static properties, and enhances corrosion resistance on surfaces to which it is applied.
MSRP: $33 (4 oz. @ Sage & Braker)
URL: sageandbraker.com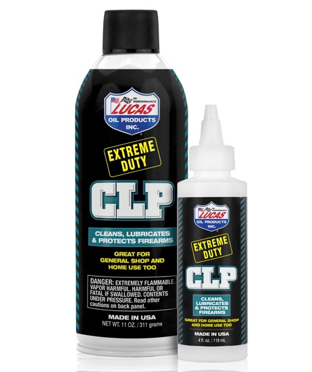 Lucas Extreme Duty CLP
Lucas CLP contains high-grade additives to dissolve powder residue, old lubrication, and other contaminates. It also penetrates deep into rust to help free corroded parts and actions and help rejuvenate neglected firearms. Used by various firearms manufacturers to coat their products prior to shipping, it contains a unique drying agent that will leave your gun clean and protected without any gummy residue.
MSRP: $10 (11 oz. @ Brownells), brownells.com
URL: lucasoil.com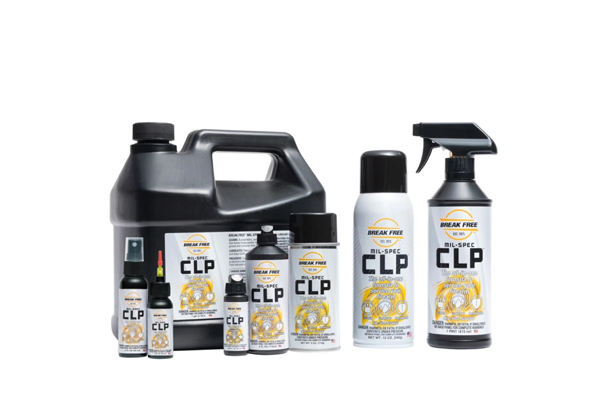 Break Free Mil-Spec CLP
According to the manufacturer, Break Free CLP was the first to pass the U.S. military's MIL-L-63460 specification for lubricants, cleaners, and preservatives for weapons systems. It is formulated to clean burnt powder and other fouling materials from firearm bores, moving parts, and exteriors, as well as reduce operating friction and shield against corrosion. It's engineered to perform in extreme environments, in temperatures ranging from -65 to 475+ F, and after immersion in salt water.
MSRP: $27 (16 oz. @ Safariland)
URL: safariland.com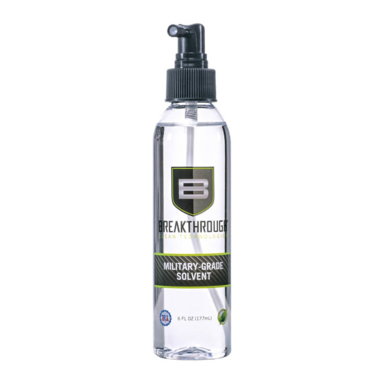 Breakthrough Military-Grade Solvent
This is a multipurpose cleaner and degreaser designed to removed oil, grease, and carbon buildup to impart a no-residue clean surface. It will not stain wood, plastic, or polymer components and is safe to use on Cerakoted and hydro-printed surfaces. It's formulated to be odorless, benzene-free, non-corrosive, and pH-neutral, and is made in the USA.
MSRP: $27 (16 oz. @ Breakthrough Clean Technologies)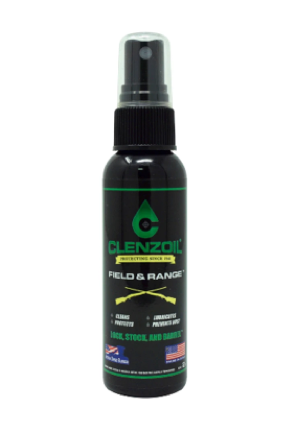 Clenzoil Field & Range
Designed as a high-quality one-step cleaner, lubricant, and rust preventative, Field & Range is formulated to neutralize oils, dirt, copper, lead, and other contaminants from firearm components. It provides a thin, non-greasy coating that helps prevent rust and lubricate moving parts. It also nourishes, preserves, and protects wood and leather and will not harm polymer or other synthetic materials. Not recommended for painted surfaces.
MSRP: $17 (8 oz. @ Clenzoil)
URL: clenzoil.com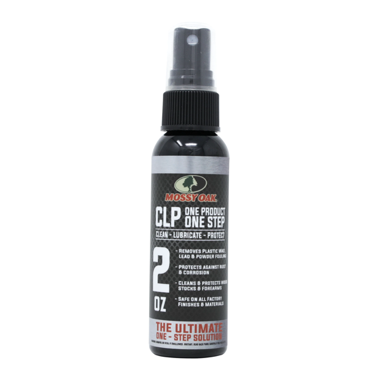 Mossy Oak CLP
Another high-quality one-step cleaner that acts as a solvent, lubricant, and rust preventative for all firearms. It's effective in removing oils, dirt, copper, lead, and other contaminants from firearm surfaces and leaves behind a thin, non-greasy coating to lubricate and protect. It's also formulated to nourish and protect wood and leather components like stocks or slings. Not recommended for painted surfaces.
MSRP: $18 (8 oz. @ Mossy Oak)
URL: mossyoakclp.com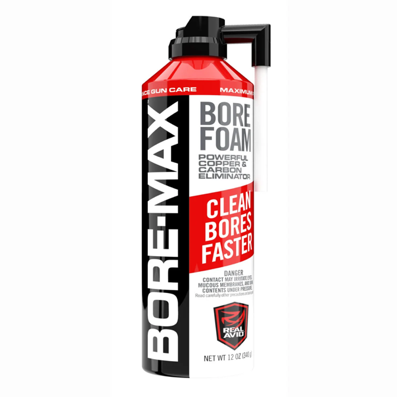 Real Avid Bore-Max
This is a powerful gunmetal-grade solvent formulated to expand and penetrate rapidly to dissolve copper and powder fouling in your firearm's bore. Note that it should be used exclusively inside the bore and should not be applied to rubber, polymer, wood, or dipped finishes.
MSRP: $13 (12 oz. @ Real Avid)
URL: realavid.com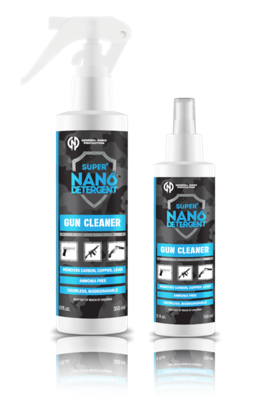 GNP Super Nano Detergent
GNP solvents are formulated in the Czech Republic. The formula is non-flammable, ammonia- and alcohol-free, and devoid of abrasive solids. It's suitable for all types of firearms and leaves behind a thin layer of protective oil to help protect surfaces from corrosion. It will not damage wood, painted or ceramic-coated surfaces, rubber, or plastic.
MSRP: Contact mfr. (info@gnpse.com)
URL: gnpforgun.com