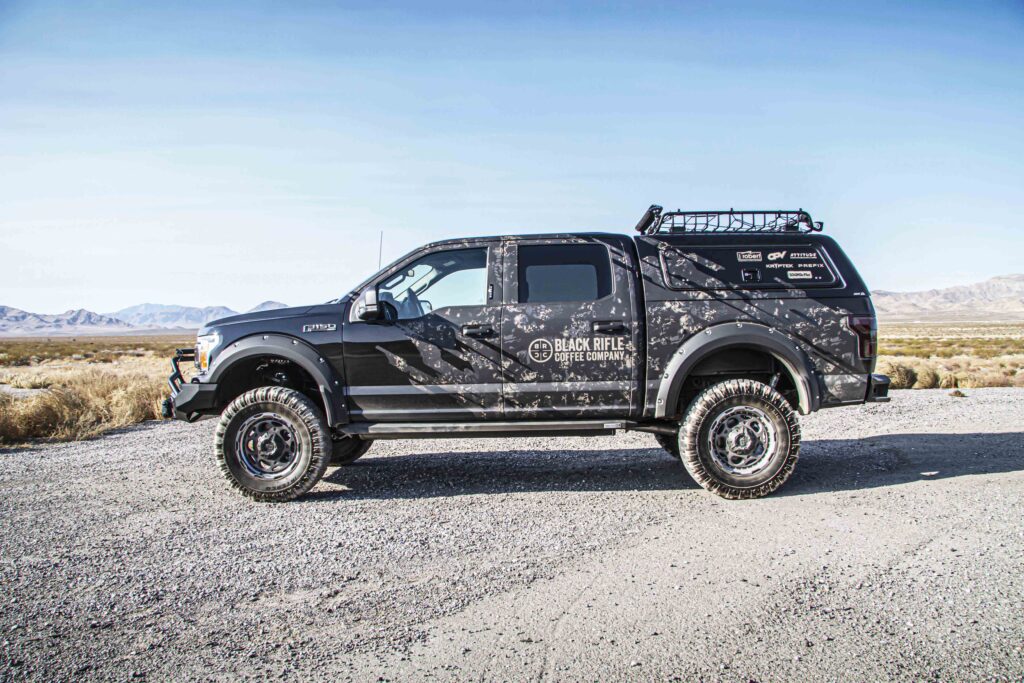 The Specialty Equipment Market Association Show—SEMA for short—is the world's largest automotive aftermarket tradeshow. The annual industry-only event takes place in Las Vegas, where it encompasses the entire convention center grounds and even spreads out through the city. Each year thousands of builders, shops, and brands debut their custom creations in the form of unique project vehicles that often take countless man-hours to create.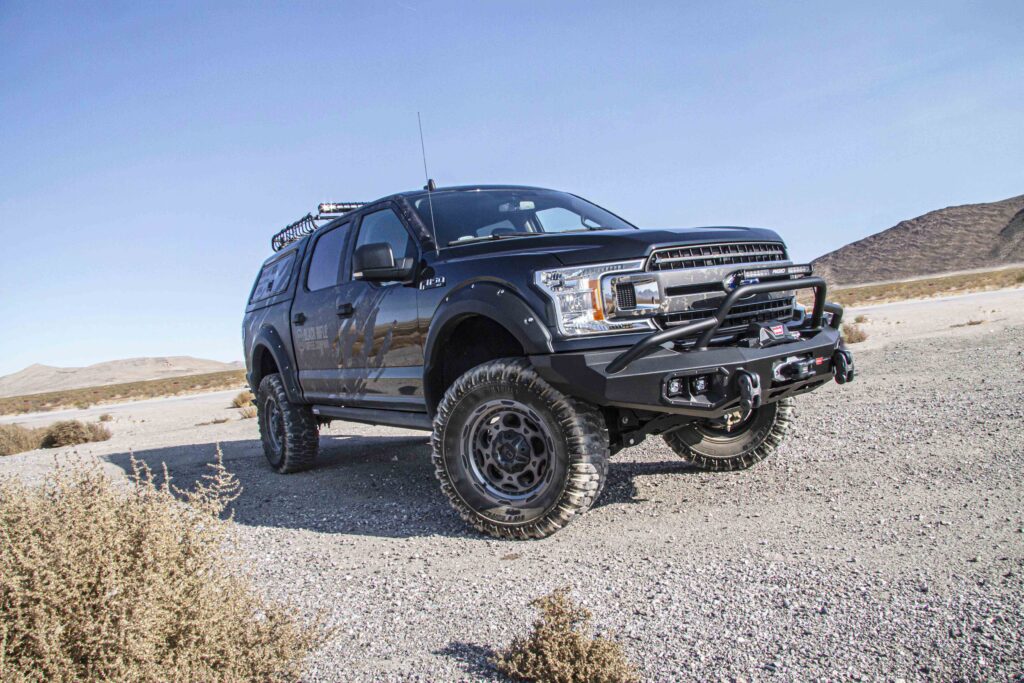 With booth space being both expensive and limited, it is an honor for individual builders to have their projects selected for display. Only a handful of manufacturers will work with independent builders and provide a coveted spot within their show booths.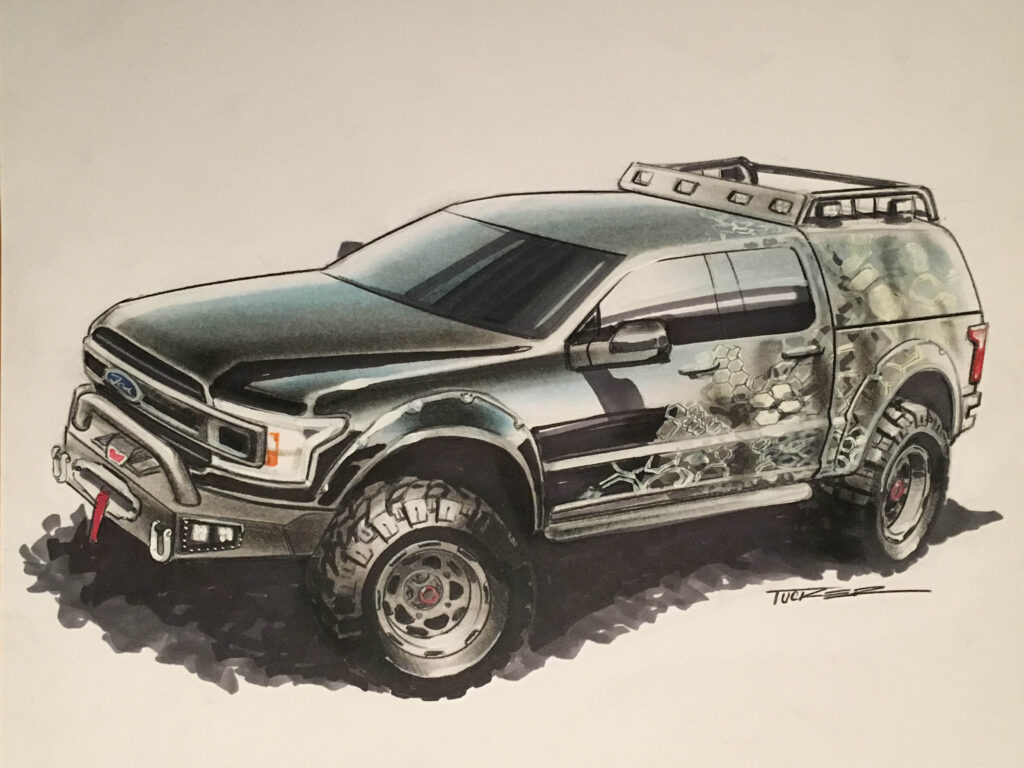 One of those manufacturers is Ford, which receives hundreds of proposals annually to showcase vehicles prominently as part of its SEMA display. For Jhan Dolphin, it's become a common occurrence to have his projects displayed at SEMA. He designed his first promotional vehicle in 2003. Since then, he's been involved in a number of high-profile builds with brands and personalities to include the NRA, Kryptek Outdoor Group, magician Criss Angel, rock band Cheap Trick, Dairy Queen, and Maui Jim. Many of his projects have also been featured on television shows like Carbon TV, Pure Hunting, and Intrepid Outdoors.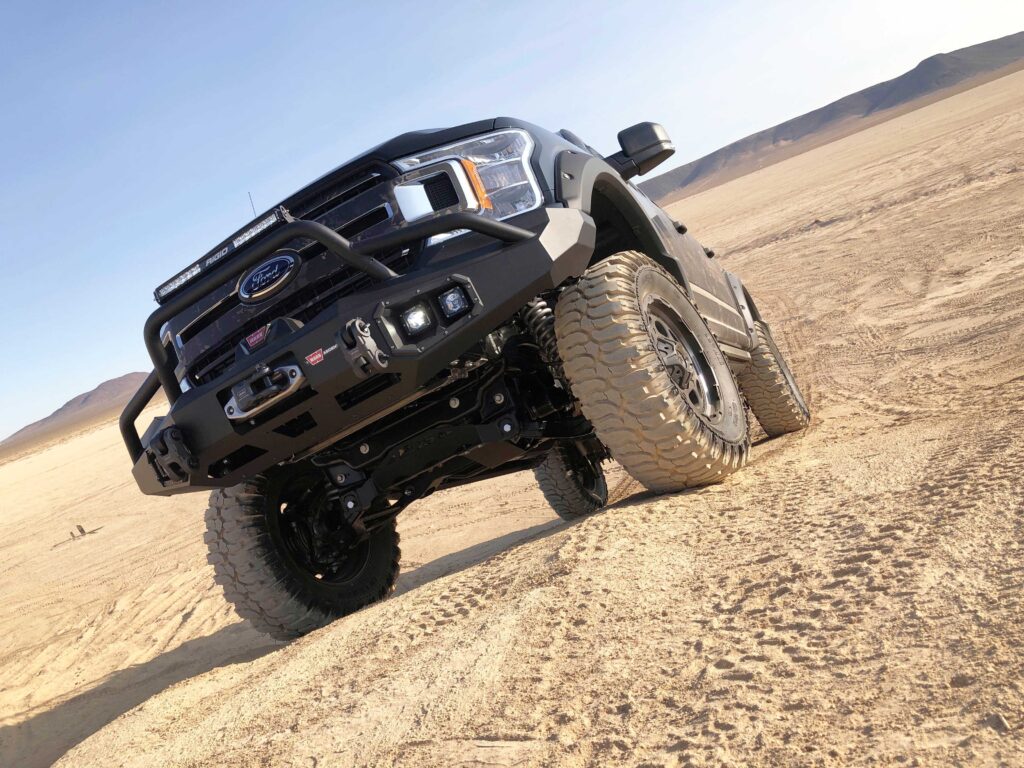 Through this experience, Dolphin was introduced to Black Rifle Coffee Company by his friend Butch Whiting at Kryptek Outdoor Group. Black Rifle Coffee Company is a veteran owned and operated premium small-batch coffee company that's been globally recognized for its cutting-edge, energetic, and unapologetically edgy marketing campaigns, as well as its philanthropic efforts. When Dolphin was awarded a 2019 Ford F-150 for display inside the Ford booth at the 2019 SEMA Show, it made complete sense for him to partner with Black Rifle Coffee Company on the build.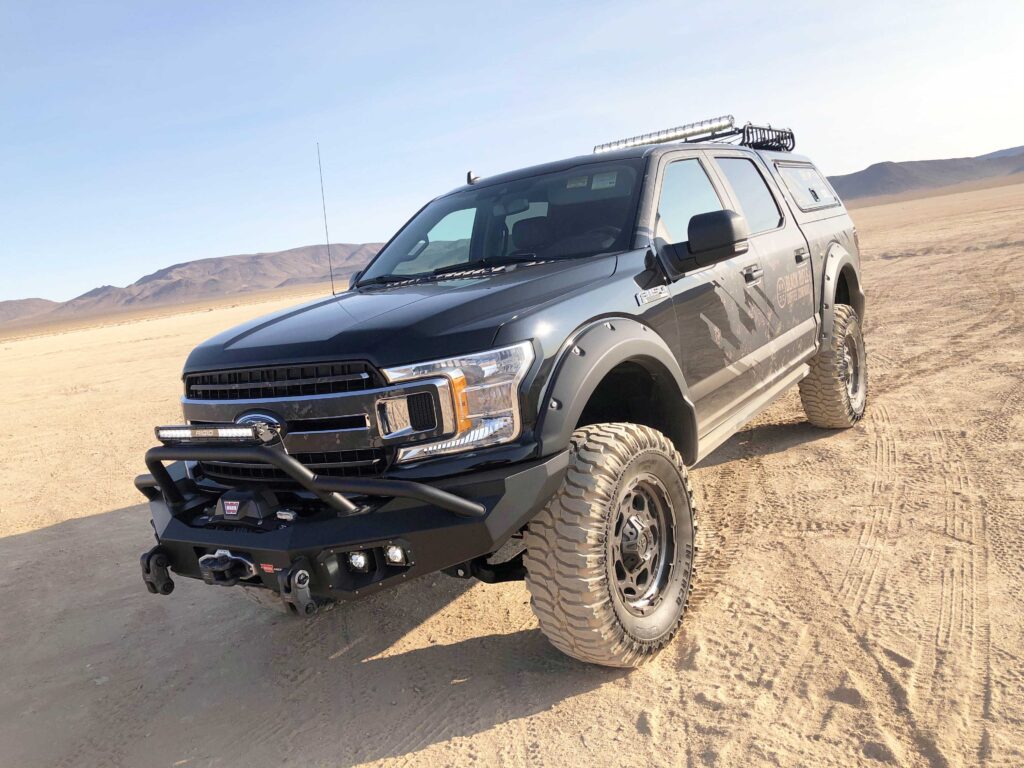 "The real fun starts when you align the vehicle's design and custom features with the emotions connected with an engaging brand," Dolphin says. "For anyone who knows anything about working with Black Rifle Coffee Company, they'll understand that this is about as fun as it can get."
Many of Dolphin's projects are centered around a theme. He's found that it's more fun for the audience when the vehicle has a story behind it. He was inspired by his son's service in the U.S. Army and is passionate about the needs of veterans and the challenges that many of them face when returning home. So he decided to work with a patriotic brand that's actively involved in making a difference.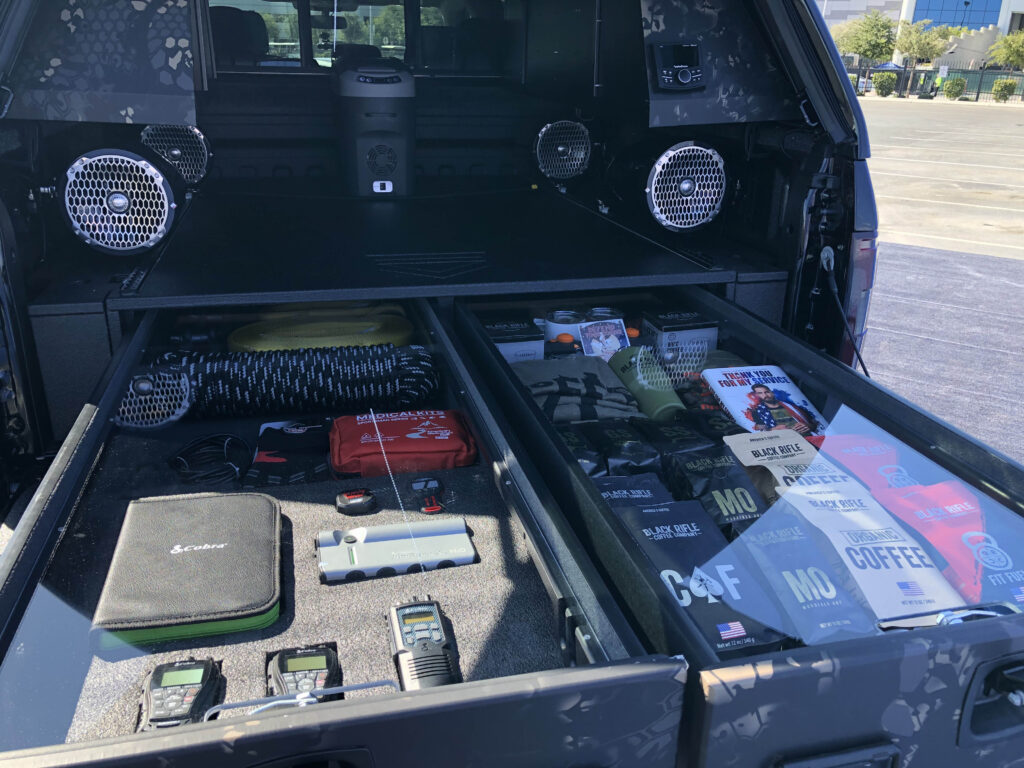 "We only focus on areas where we have passion and experience—sports and fitness, motorsports, and outdoor/adventure," he says. "These are the same things we enjoy during our own personal free time, so we can speak enthusiastically and intelligently about all of these markets."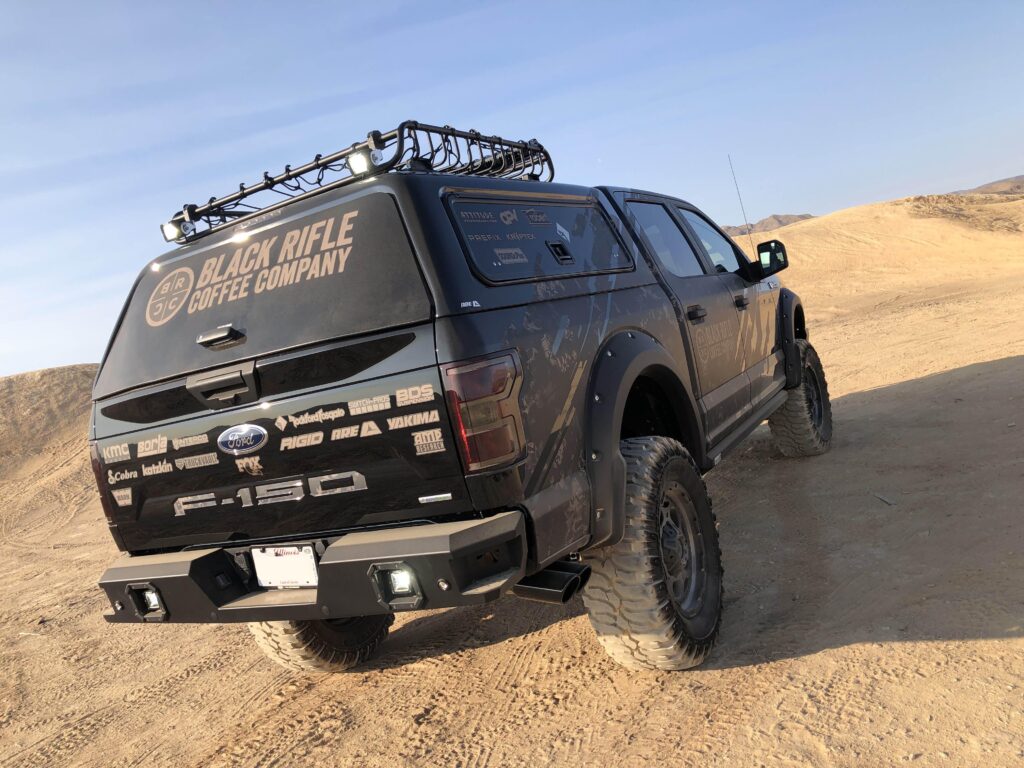 With all of this in mind, the collaboration on Black Rifle Coffee Company's "Back Country Access" Ford F-150 began in earnest. Dolphin assembled a who's-who list of custom builders and vendors to help. These specialists included Matt Dinelli from Attitude Performance in Arlington, Illinois, and his 17-year-old son, Jake, who took the role of project lead.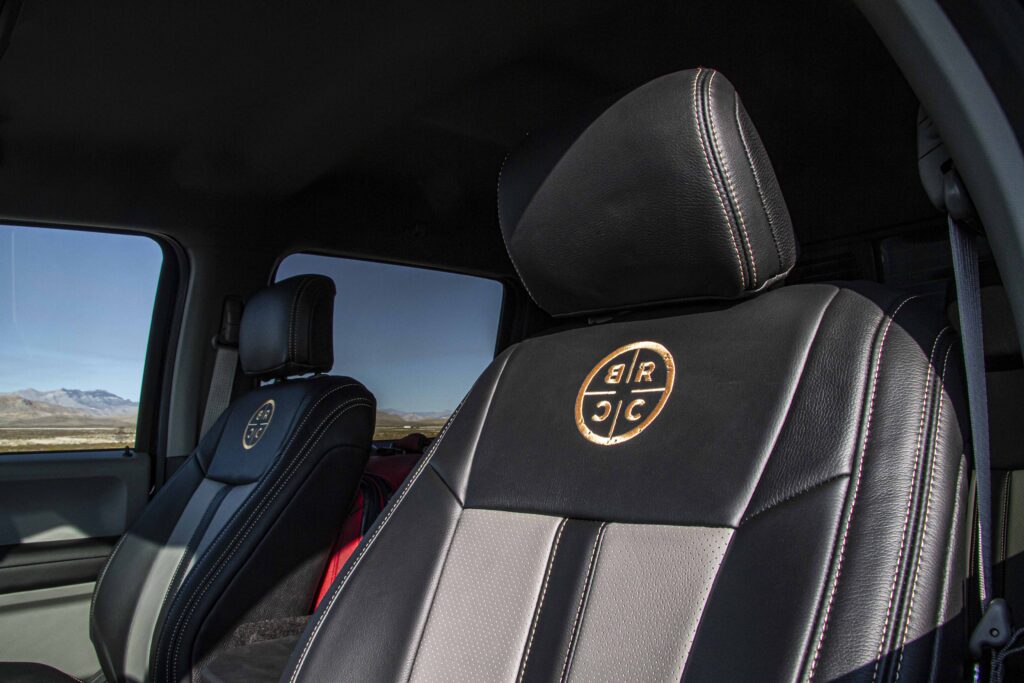 Attitude Performance began the build by outfitting the truck with a BDS 6-inch coilover lift kit with Fox shocks in the front and upgraded springs and Fox shocks in the rear. Larger fender flares were added to the body to help fit the big 20-inch KMC XD Demodog wheels wrapped with Interco Super Swamper M16 37×13.50-inch tires. For protection on the trails, the team at Attitude installed a set of front and rear Warn Ascent bumpers with Baja tubes. For peace of mind on the trails, a Warn 97600 9.5sct-s winch was also installed. The truck's EcoBoost V6 was equipped with a Borla exhaust for added performance.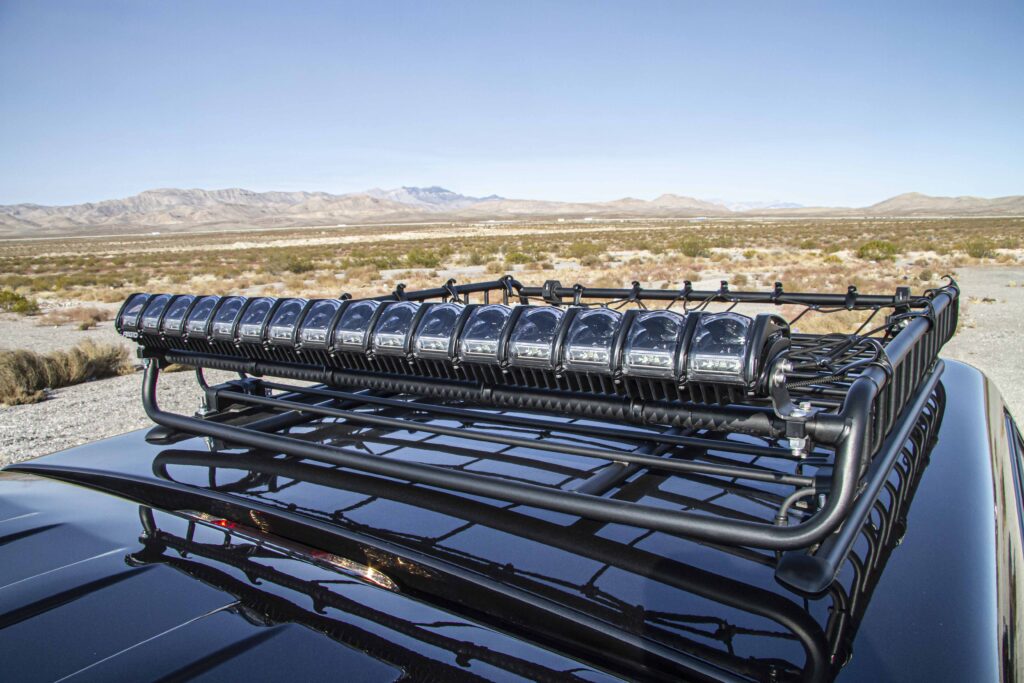 One of the best ways to stand out at SEMA amongst the thousands of vehicles is with an eye-catching graphic treatment. For this, Dolphin turned to the team at CPV Paint and Graphics in Franksville, Wisconsin, known for their work with Harley-Davidson. The team worked with Kryptek Outdoor Group to design an all-new camo pattern called Obskura Nox and applied the satin-finish vinyl to complement the truck's gloss black paint.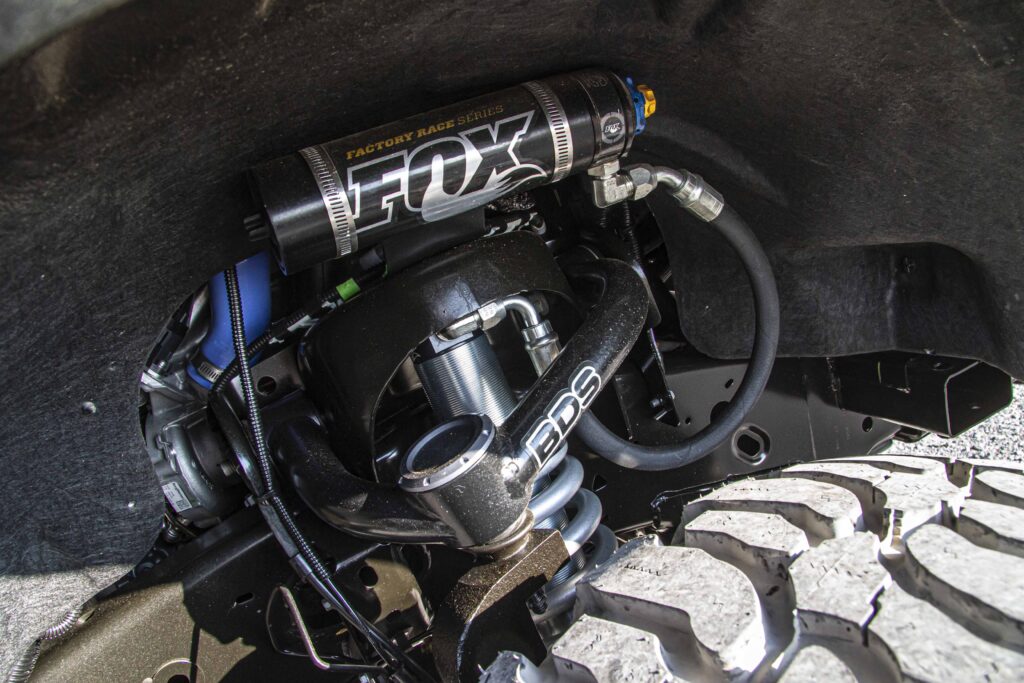 Not one to leave his vehicle's interior stock, Dolphin opted to upgrade the upholstery with two-tone Katzkin leather complete with the Black Rifle Coffee Company logo embroidered on the headrests to match the black, gray, and tan colors of the Obskura Nox-patterned exterior. For communications, a Cobra Electronics 75 WX ST CB radio, handheld 50 WX CB, and MR HH450 All-Terrain radios were also installed inside the cabin. A Cobra Road Scout radar-detector/dashcam was also installed, along with a Cobra power inverter. A Switch-Pros 8-panel power system was added to help control the Rigid LED exterior lights.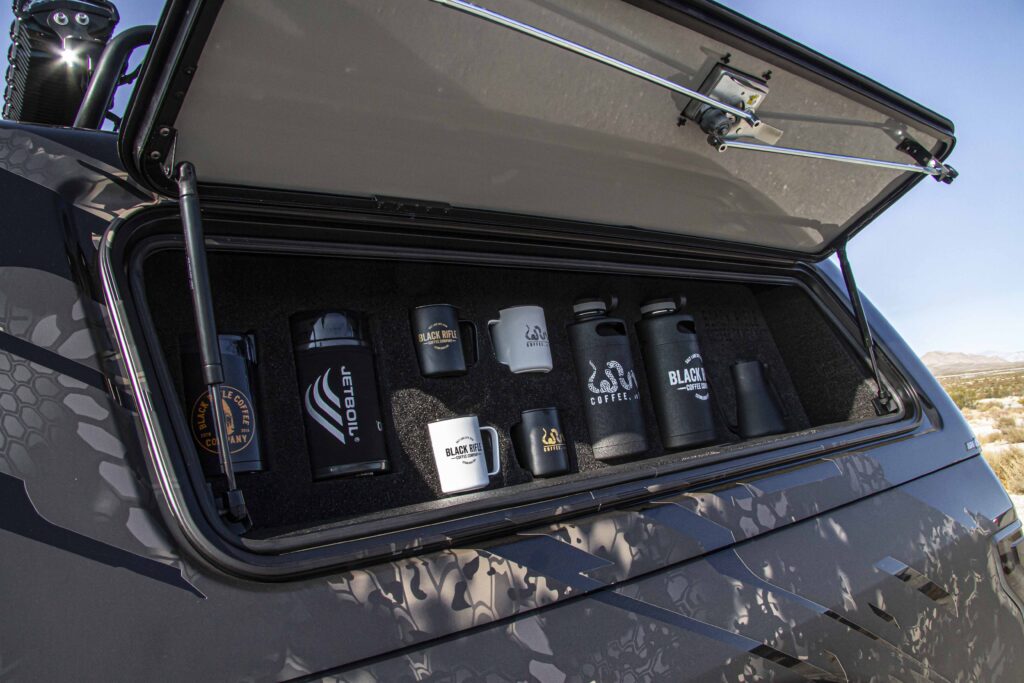 A custom Rockford Fosgate sound system built by Soundz Plus rounds out the interior. The factory speakers were replaced with Rockford Fosgate units, along with the addition of two 10-inch subwoofers under the rear seat. There's also a second sound system with four Rockford Fosgate can speakers, which can be controlled by a smartphone, located in the bed of the truck.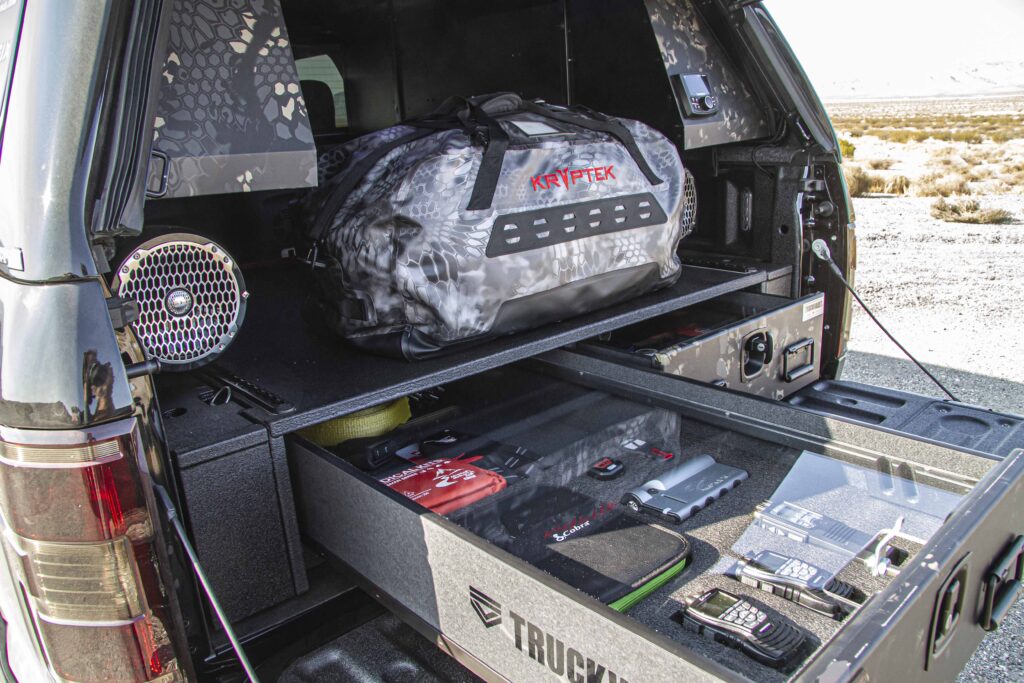 Storage and organization were also key points for the build, so Dolphin turned to TruckVault for a bed storage system. The dual-drawer configuration features lockable storage to help protect valuables when on the road. Additionally, the storage area served as the perfect place to show off Black Rifle Coffee Company's collection of craft beans and merchandise at SEMA.
An ARE HD Truck Cap provides extra storage over the truck's bed; it was modified to display all of the coffee brewing equipment needed to make the perfect cup of joe—even while spending time off-grid. A Yakima Load Warrior basket roof rack and accessories sit on top of the shell. To help keep food and beverages cold, an Indel B refrigerator was also added to the bed area.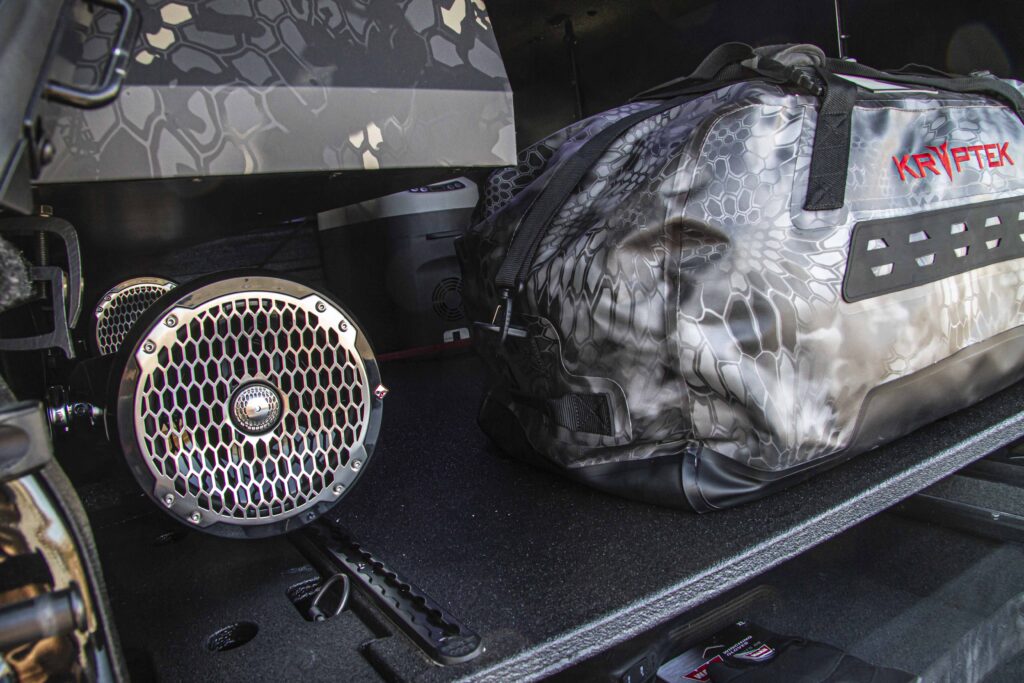 Anyone who's worked on a SEMA project knows the build timeline can be quite tight, and countless hours are spent ensuring the final product is up to spec. Dolphin surrounded himself with a solid team and built relationships with many brands to help make this project come to fruition within three months.
With the SEMA show now in its rearview mirrors, the truck will be put to use and taken on future adventures with family and friends, as well as showcased at various events with Black Rifle Coffee Company. "Too often we see vehicles that are so over-customized that they no longer perform well or are even close to reliable," Dolphin says. "Ours was built to be driven! We weren't interested in building a trailer queen."
Text by John Pangilinan and Images by J. Robert Marketing