DISCLAIMER: The John Wick III Vault depicted in this article was a preproduction sample. For final details on what is included, firearm modifications and upgrades, please visit: bigdaddyunlimited.com.
Inspired by the highly anticipated film
Includes replica guns from John Wick: Chapter 3—Parabellum
Extremely limited, only 10 sets available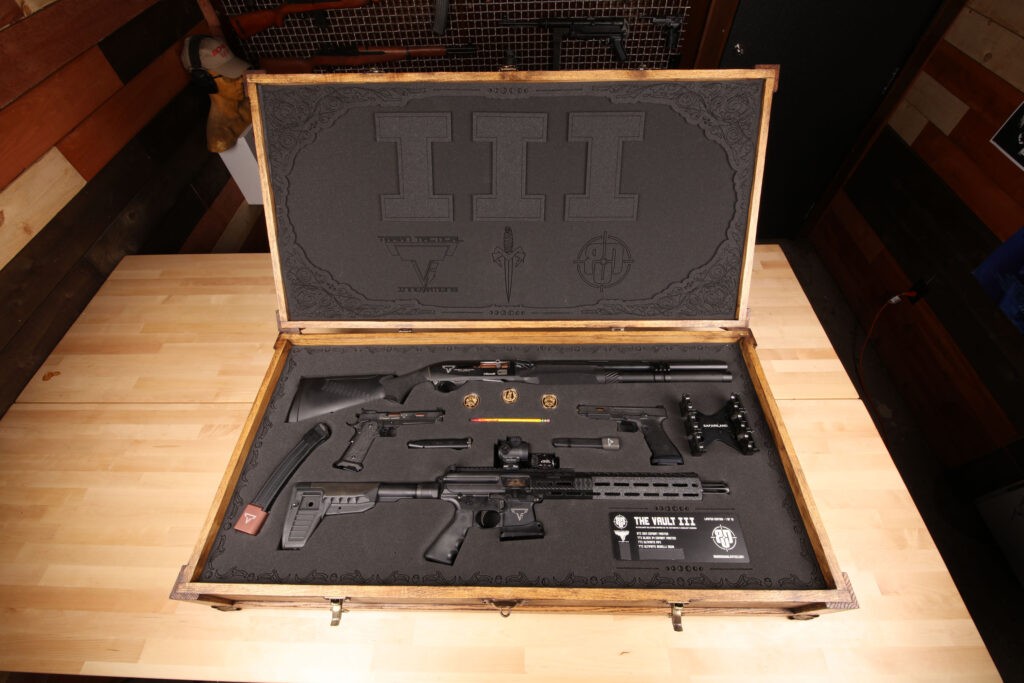 There's little question that John Wick's fresh take on a mixture of martial arts and gunplay made it an instant favorite of action movie fans everywhere. The intense action scenes and highly stylized look have injected the action movie genre with an infusion of creativity that's been needed for quite some time. Count us in as fans; we can't wait for the next chapter to be released.
If you're a die-hard John Wick fan (like us) and have the financial means (unlike us), you too can be one of a few select people to own a John Wick III Vault. This limited and carefully curated collection of weaponry is produced by Big Daddy Unlimited (BDU) in conjunction with Taran Tactical Innovations (TTI) and is intended for the John Wick über-fan.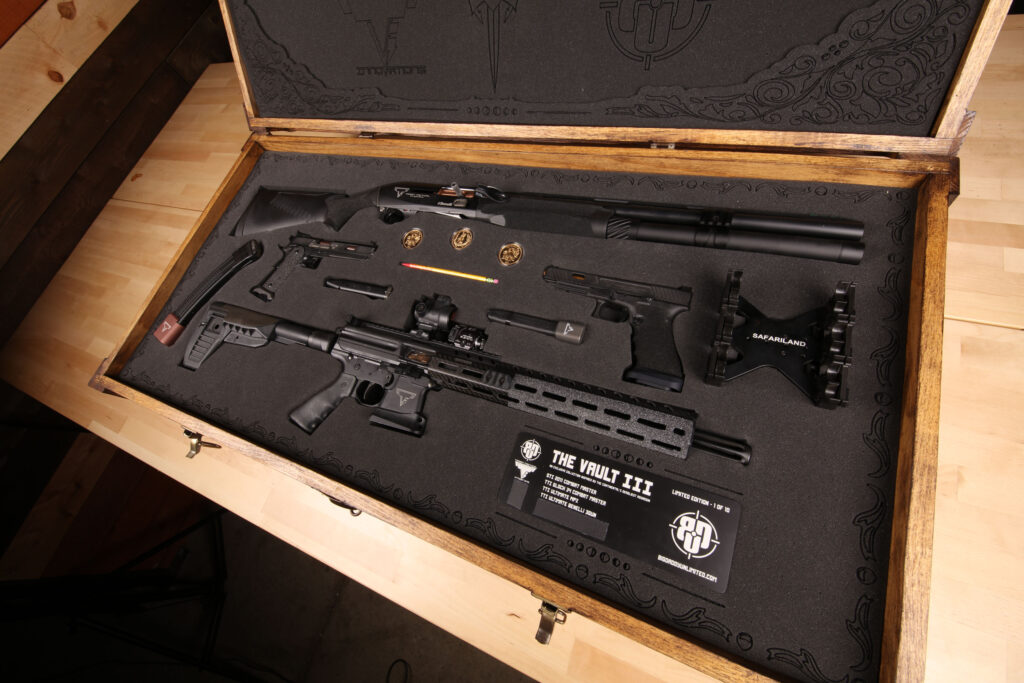 We were fortunate to get an early sneak peak at BDU's upcoming John Wick III Vault when they recently busted out their sledgehammers and dug it out of a basement floor. Bear in mind that elements of what we got to see and feature here are subject to change by the time the finalized collection is made available.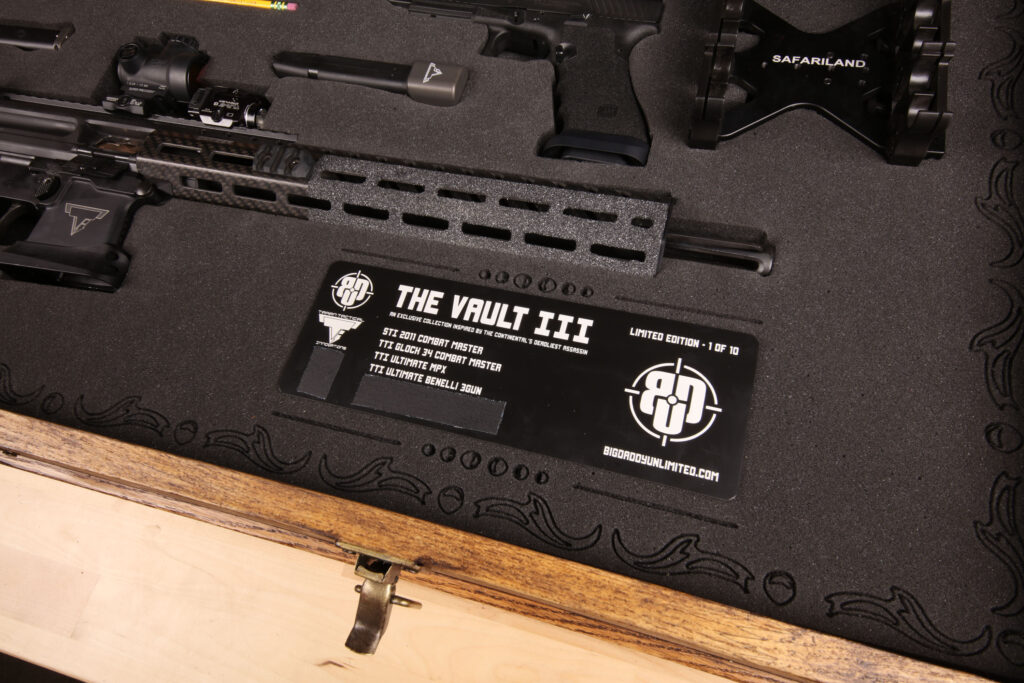 The John Wick III Vault includes working replica firearms that are patterned off the guns that were used in the latest film in the franchise, John Wick: Chapter 3—Parabellum. The collection is encased in a custom-constructed wood trunk that looks a lot like the trunk that Wick retrieved from under the floor of his room in the first movie.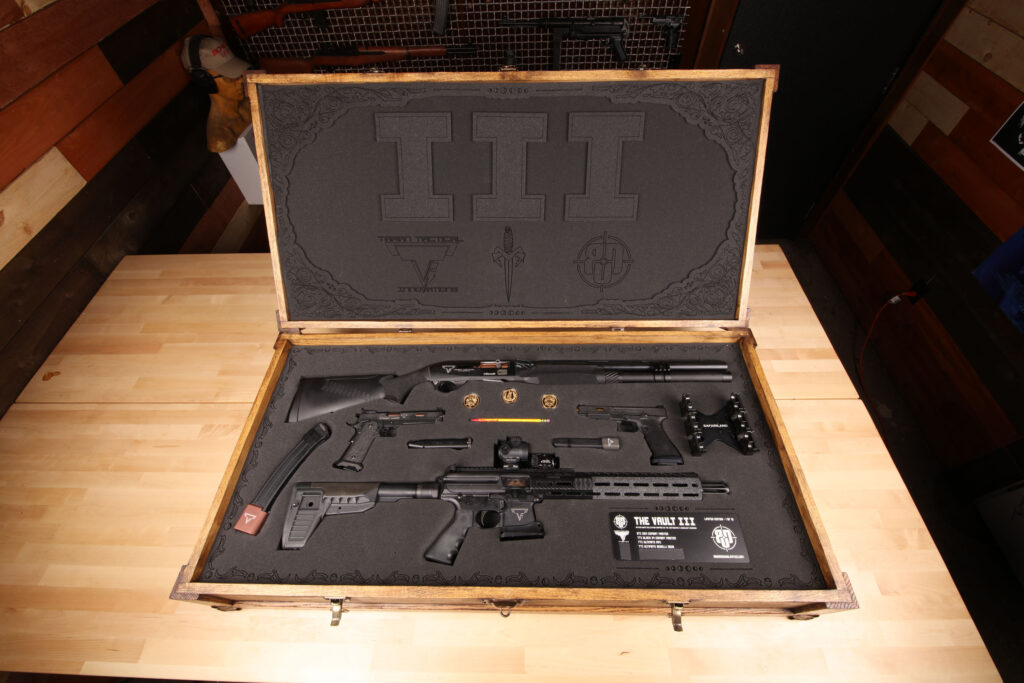 Opening the trunk is an exhilarating experience. Lifting the heavy red oak lid to reveal what's inside makes you feel like you're in a scene from one of the movies. In fact, you may even feel like Wick himself.
At the heart of the vault, you'll find a SIG Sauer MPX PPC that is configured by the expert crew at TTI to closely match how the carbine was outfitted for the film. As you can infer from its pedigree, this gun isn't only built for looks. TTI is manned by serious shooters and they will not put a gun out that only looks pretty—although we must admit, it is mighty pretty.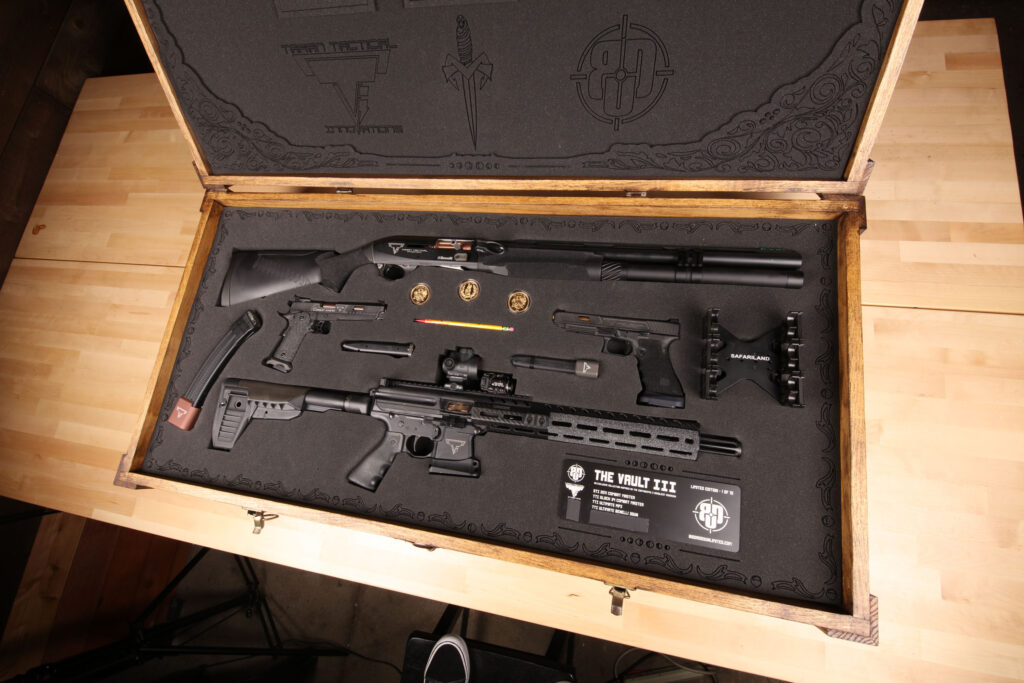 The 14.5-inch-barreled carbine is decked out with everything a guy in Wick's line of work would want, including an Ion-Bonded Bolt Carrier Group for increased reliability and ease of cleaning, as well as a Radian Raptor MPX Charging Handle for ambidextrous weapons charging and malfunctions clearing. The 14.5-inch barrel features a pinned TTI Muzzle Device to give it a 16-inch overall length; this helps it avoid being an NFA-classified weapon. The throttle of the gun is a Hiperfire 24 Reflex drop-in trigger that has been further tuned to enhance performance.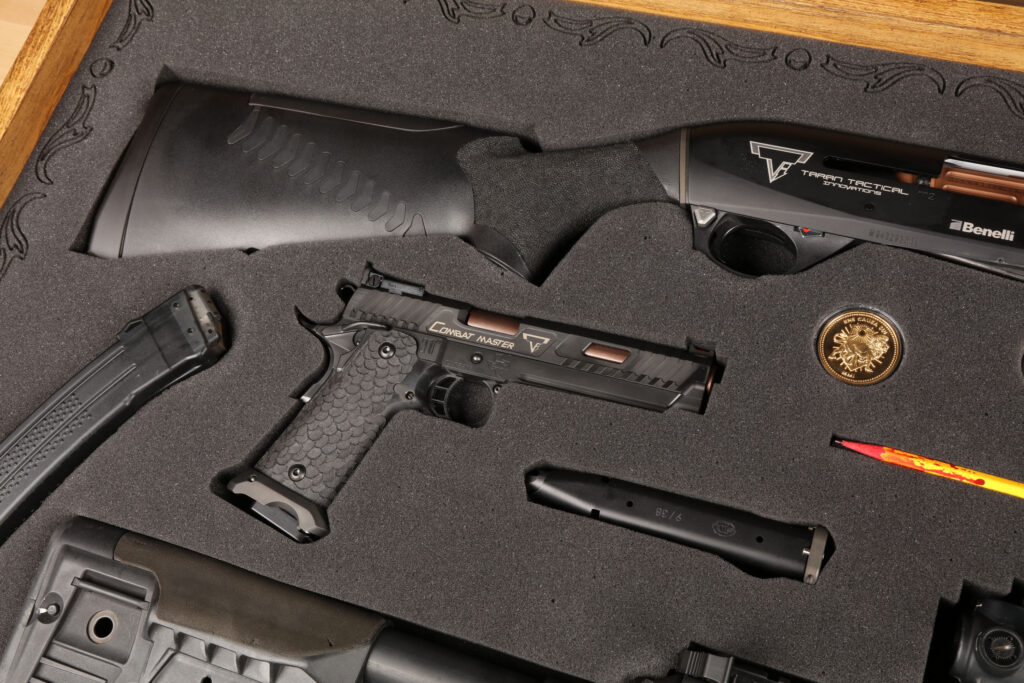 Like the gun used in the movie, the front end features a Lancer 14-inch Carbon Fiber Rail that had the TTI Grand Master Grip Texture applied to it. The carbide-like texture adds plenty of grip to the underside of the rail. A TTI Ultimate MPX Magwell was installed as well for lightning-fast reloads. Up top, you'll find a Trijicon MRO red dot optic in a Geissele Automatics mount. Sitting in front of it is a Streamlight TL – 8 Light/Laser. Capping off the rear end of the MPX is a TTI Stock Adapter that plays host to a BCM Carbine Buffer Tube and BCM Gunfighter SOPMOD Stock.
But that's not all… we're just scratching the surface.
The set also includes a 20-inch-barreled Benelli M2 3-Gun that has had all the TTI bells and whistles installed and applied to it. The 12-gauge semi-auto shotgun features a TTI Enhanced Barrel, TTI Bolt Carrier, TTI Trigger Job, and an enlarged and polished loading port, among a host of other upgrades.
To smooth out the M2's action, TTI's gunsmiths gave the shotgun a full action job, which includes tuning and polishing the shell and carrier latches. They also deburred and polished the carrier window notch and applied TTI's 3-Gun stippling package to it. What you end up with is one of the smoothest-shooting M2s you've ever had the pleasure of handling.
There's no longer a need to debate whether or not your next pistol will be a fully done-up Glock or STI 2011, this collection's got both, and they're both marvelous. Both patterned after the TTI Combat Master pistols that can be seen in the movie, the Glock is made from a competition-length G34. Known as the John Wick G3 Combat Master, the Gen 3 Glock gets the competition pistol treatment, including TTI Combat Master Slide Cuts, an Ion-Bonded bronze barrel, competition trigger job, full rap stipple, and more.
On the STI side of the trunk, you'll find a pistol that's called the John Wick STI Combat Master. The double-stack 2011 is fitted with a FDE DLC-coated, 5.4-inch match-grade bull barrel for incredibly accurate shots. Chambered in 9mm, the pistol gets TTI's Combat Master slide cuts and an Extreme Engineering fire control group. The trigger pull is estimated to be between 1.75 to 2.5 pounds. Fiber-optic front and adjustable rear sights along with a TTI grip job are a few more modifications on the long list of the John Wick-inspired upgrades.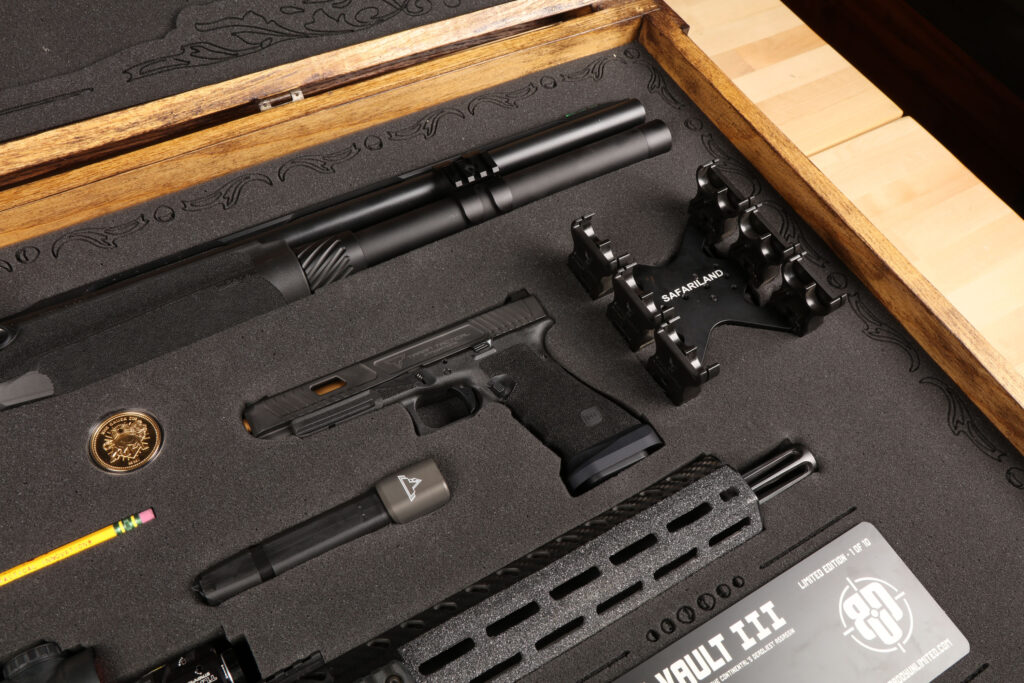 As if the guns weren't enough to get you to buy in already, the impressive Wick collection is presented in The Vault III Trunk, which is handcrafted from solid red oak. It features brass hardware and includes custom foam inserts made by Carolina Custom Foam to securely hold the trunk's contents. This display is a pretty epic conversation piece if you ask us.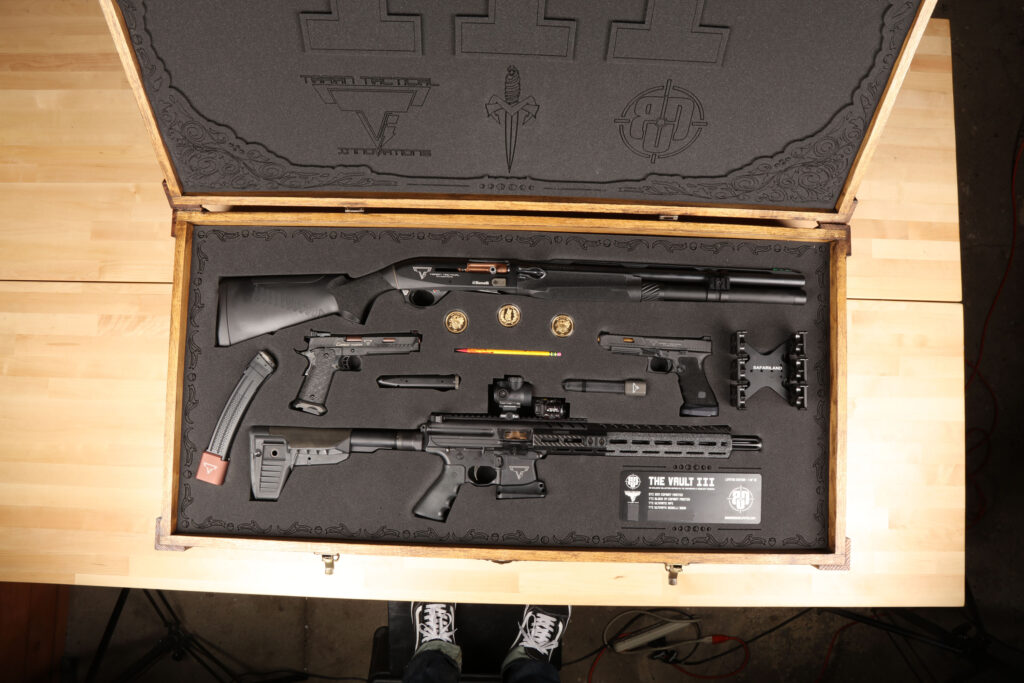 Big Daddy Unlimited and Taran Tactical Innovations went out of their way to do Wick fans justice. To top off the entire collection, the vault also includes prop reproductions from the trilogy that include a trio of 24-karat gold-plated "Continental Coins," as well as what looks like a "used" Number 2 pencil. If you're not quite sure what the coins and pencil are about, we suggest a re-watch of the Wick movies.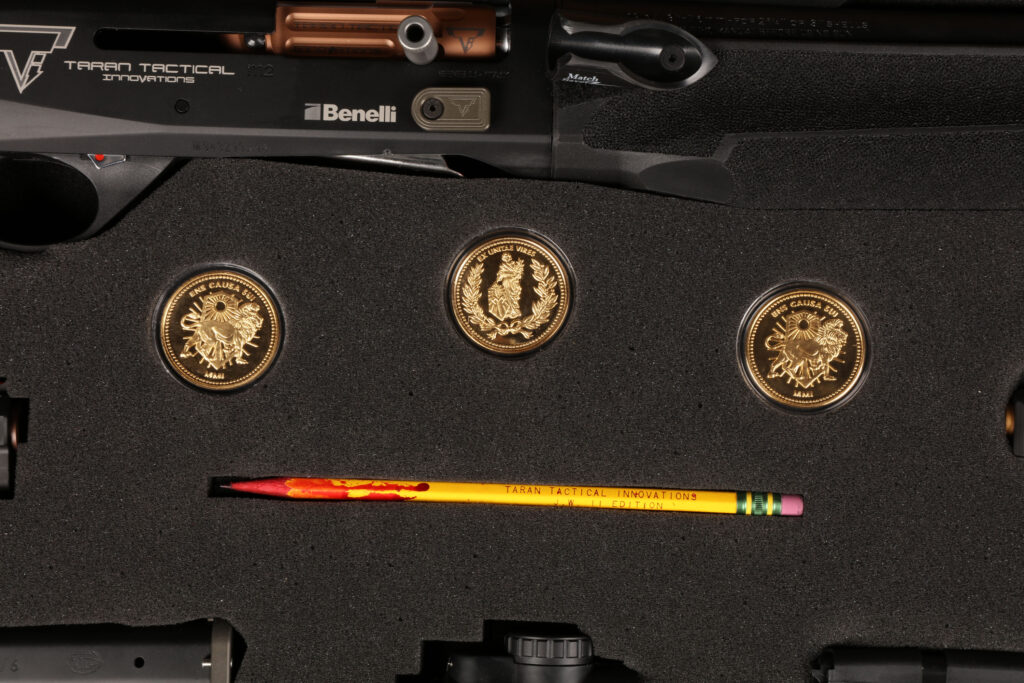 At press time, it's reported that the John Wick III Vault will retail for a cool 18 grand and will be limited to a production run of only ten sets. If you're interested in being one of the lucky few, we suggest you hurry to Big Daddy Unlimited (bigdaddyunlimited.com) to lock your set in.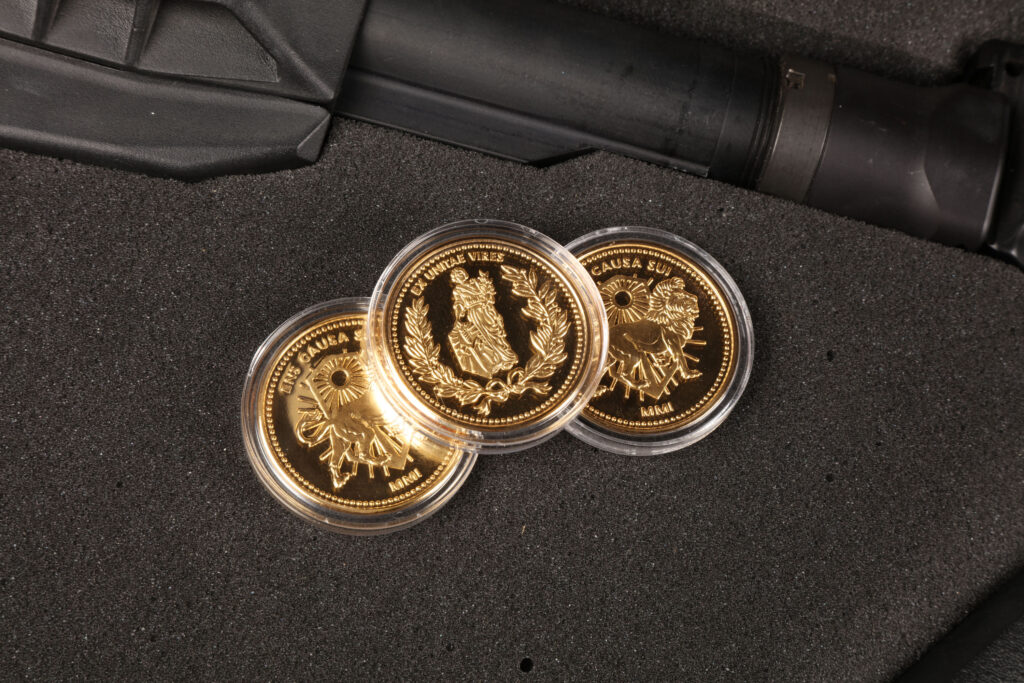 If don't have enough golden Continental coins saved up but you've got your eye on a particular firearm, don't worry. Each of the TTI built John Wick guns will be offered individually as well. But if you do end up with a John Wick III Vault, will you display it or bury it under your basement floor? We'd proudly display it—but then again, we're not John Wick.
Big Daddy Unlimited
The John Wick III Vault is being sold exclusively through Big Daddy Unlimited (BDU). BDU is a paid-membership, web-based firearms and accessories retailer. Think of them as the Costco of guns and gear. Membership has its privileges and the perks are drastically reduced prices on a massive list of items. Visit them at bigdaddyunlimited.com.
Text and Images by Jerry Tsai