Boba Fett themed AR-based PDW
Custom built by 2A Tactical, LLC
Chambered in 5.56mm
With "The Mandalorian" now streaming and the final movie covering the Skywalker saga dropping soon, one can't help but be drawn into the fascinating world of Star Wars. Elements of the epic sci-fi space opera seem to be everywhere you turn, now even in the firearms domain. When we first caught a glimpse of this AR-based, Boba Fett themed blaster, we knew that our inner sci-fi geek and gun nerd both needed to take a closer look.
Many of us growing up during the '80s and '90s can remember the first time we saw the mysterious masked bounty hunter called Boba Fett. For some it was on the big screen; for others it might have been in a comic book, on a trading card, or as an action figure. No matter where you first encountered him, the likely reaction was to think that he's a badass. Decked out with a cool T-visor helmet, rocket pack, and a bunch of gear, there's something about his sinister look that many of us seemed to be drawn to.
We had a similar reaction when we got to check out Steve Gonos's Fett Blaster. Gonos is the owner of 2A Tactical LLC, which is a specialized laser engraving and firearm customization shop as well as a Class 07 / SOT 2 dealer based in Gilbert, Arizona.
Gonos's Fett Blaster is based on AR-15 architecture and is built from a Quentin Defense receiver set. The inspiration for the build started out as a creative itch that Gonos wanted to scratch. He wanted to make his own rendition of Boba Fett's gun and wanted to have it completed before the series premier of "The Mandalorian." For those who may not already know about Fett and the new series, allow us to get you caught up.

The history of Boba Fett is a convoluted one and can become quite complex, but suffice it to say he is an enigmatic yet highly respected bounty hunter famous for donning what is known as Mandalorian armor. In Star Wars lore, Mandalorians are a people who are deeply rooted in warrior culture. Enough Star Wars history for now—let's move on to what we're really interested in.
The blaster is based on a Slick Side Quentin Defense ARQ-15 receiver set. We find that the layered angles of the upper and lower receivers lend themselves quite well to match the angular look of Fett's armor. Quentin Defense engineered some unique features that make their receiver set stand apart from run-of-the-mill Mil-Spec offerings. The receivers can accept takedown and pivot pins from either side and an ambidextrous bolt release is included. They are also available in the customer's choice of either 7075-T6 or 6061-T6 billet aluminum. A large mag well opening with proprietary ARQ radius mag well ramp is designed into the lower.
The upper half is outfitted with a Faxon Firearms Gov't/SOCOM 5.56 NATO barrel. The 7.5-inch barrel features a pistol-length gas system and is tipped with an eye-catching Strike Industries Cookie Cutter compensator. The idea behind the design of this comp is that its shape creates a large reflection area that assists in eliminating recoil. The company claims that this type of comp is especially effective on short-barreled rifles and AR pistols. Sleeved over the barrel is a Pantheon Arms Prometheus MC handguard with Dolos takedown system. The compact system allows for the front end of the PDW to be removed and reinstalled in seconds for the ultimate in compact storage.
Driving the upper receiver are a Bootleg Inc. pistol-length gas tube and Superlative Arms .750 adjustable gas block. We've had great success with Superlative's adjustable gas blocks and can see why Gonos opted to use one on this gun. He also selected an Iron City Rifle Works G2 Competition Enhanced BCG finished in the company's CopperHead coating. Iron City's CopperHead is a Titanium Carbo-Nitride PVD coating that not only gives the BGC a nice shiny copper look, but allows a very slippery 0.2 friction coefficient. A POF Tomahawk charging handle completes the upper and gives the shooter plenty of leverage when charging or clearing the pistol.
The lower receiver also features plenty of bounty-worthy upgrades including Quentin Defense "Skinny Bitch" Grip and Battle Arms Development magazine and bolt releases. A tried-and-true drop-in CMC trigger sits in the driver's seat of the lower and is paired up with an Elftman Tactical Push Button Safety.
The rear of the lower is endowed with a Falkor Defense Optimus PDW Stock. The stock is built to use a single guide rod, circumventing problems that could occur when using PDW stocks with dual guide rods. The Optimus was designed to allow the shooter a proper, comfortable cheek weld and does not require a specialized BCG. You can use whichever BCG you prefer. The stock also comes with a solid tungsten 2.9-ounce heavy buffer and flat wire action spring. This buffer and spring combination is said to allow for maximum performance in both suppressed or unsuppressed carbines and short barrel rifles.
The Fett Blaster is aimed by way of a Leopold Mark AR MOD 1 1.5-4×20 optic in an Aero Precision Ultralight 30mm scope mount. The Mark AR provides enough field-of-view for tight, close-quarter scenarios, yet it allows the shooter the just enough magnification for farther shots. Living up to its name, Aero Precision's Ultralight 30mm scope mount weights a smidge over three ounces but still gives the optic a rock solid foundation that will keep it on target even under bounty hunter-like situations.
To get the themed build to look just right, Gonos painstakingly designed and then laser-engraved a host of custom elements, including a Mythosaur skull on the Magpul PMAG and clan logos on the magwell and stock, as well as plenty of other elements attributed to Mr. Fett and Mandalorians. To really drive home the Boba Fett look, Gonos turned to the Cerakote masters at Koted Arms in Mesa, Arizona, for what they call a Mandalorian Fett-colored Cerakote job. The colors, along with its weathered and worn look, really do give it an authentic look.
"This build went fairly smoothly with few hiccups," Gonos says of the build. "Pre-planning and following the conceptual idea of what we wanted made the process smooth. Quentin Defense's ARQ-15 was a perfect platform to base it on."
When asked about his favorite details, Gonos replied that he particularly likes the Iron City Rifle Works G2 Competition Enhanced BCG. "ICRW makes an excellent bolt carrier group that runs flawlessly. These BCGs are never a disappointment," he says. "Plus, the color scheme and the bolt color matched perfectly."
He also called out the Falkor Defense Optimus PDW Stock as one of the gun's highlights. "Creating a weapon that's from a galaxy far, far away is all about nailing the look," Gonos says. "Most stocks fall short of this requirement, but Falkor Defense's Optimus was indeed the winning choice. The single guide rod along with its unique look really made the grade. It features solid construction and has a good surface for laser engraving."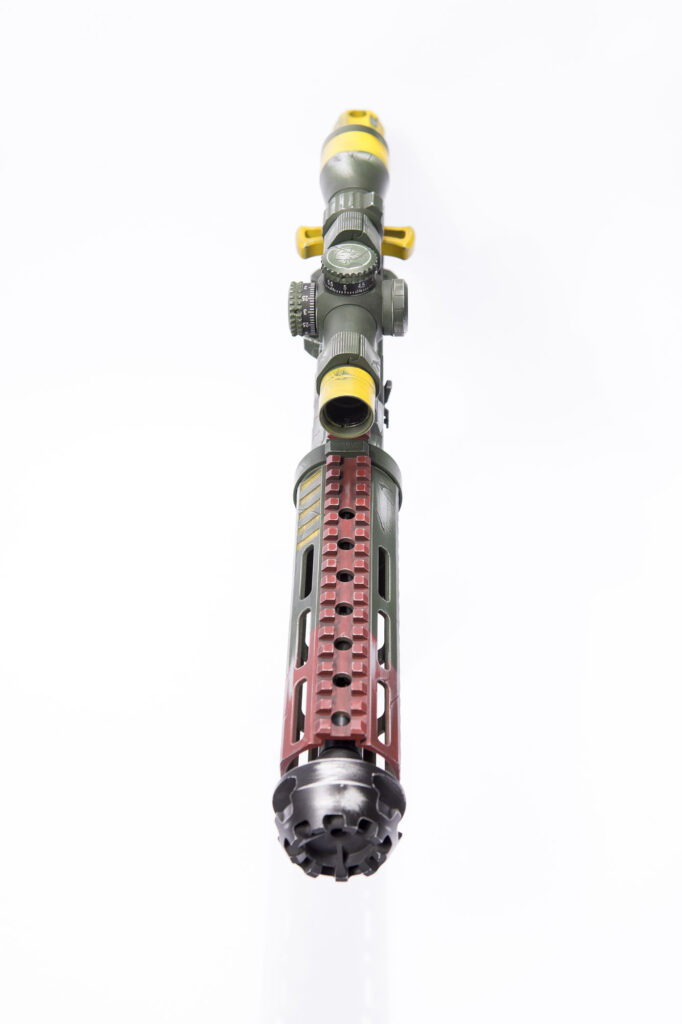 And according to Gonos, the Pantheon Arms Prometheus MC handguard with Dolos takedown system is "a unique piece to add to an out-of-this-universe weapon system. Pantheon Arms really created an opportunity to take the Fett Blaster to the next level. For a skilled bounty hunter, concealment and adaptability are key. The takedown meets that requirement in this theme build."
In closing, Gonos shared a few further thoughts: "We feel that builds like these really appeal to a silent majority who appreciate something that's beyond the run-of-the-mill black rifle. These custom builds celebrate quality and highlight creativity to help take shooting sports to the next level."
Text by Jerry Tsai images by Jay Canter
Build Sheet
Steve Gonos' Fett Blaster
Specifications
Caliber: 5.56mm
Overall Length: 21-25 in.
Barrel: Faxon Firearms Gov't/SOCOM 5.56 NATO (7.5 in.)
Weight Unloaded: 6 lbs. 10 oz.
Receivers: Quentin Defense ARQ-15 Slick Side Receiver Set
Coating: Cerakote by Koted Arms
Laserwork: 2A Tactical LLC
Featured Accessories
Optic: Leopold Mark AR MOD 1 1.5-4×20
Optic Mount: Aero Precision Ultralight 30mm
Trigger: CMC Trigger
Stock: Falkor Defense Optimus PDW
Magazine: Magpul PMAG
Parts & Accessories:
Pantheon Arms Prometheus MC with Dolos Takedown Handguard, POF Tomahawk Charging Handle, Iron City Rifle Works G2 Competition Enhanced BCG Copperhead, Bootleg Inc. Pistol Length Gas Tube, Superlative Arms .750 Adjustable Gas Block, Strike Industries Cookie Cutter Comp, Quentin Defense "Skinny Bitch" Grip, Elftman Tactical Push Button Safety, Battle Arms Development Mag Release, Battle Arms Development Bolt Release, Strike Industries Take Down Pins
About the Owner
Name: Steve Gonos
IG: @2a_tactical_az
Occupation: Owner, 2A Tactical LLC
Special Thanks: Jason @ Iron City Rifle Works, JD @ Koted Arms