Custom DMK22C
Based on a Defiance DMK22C
Chambered in .22LR
Hydrodipped in MultiCam Black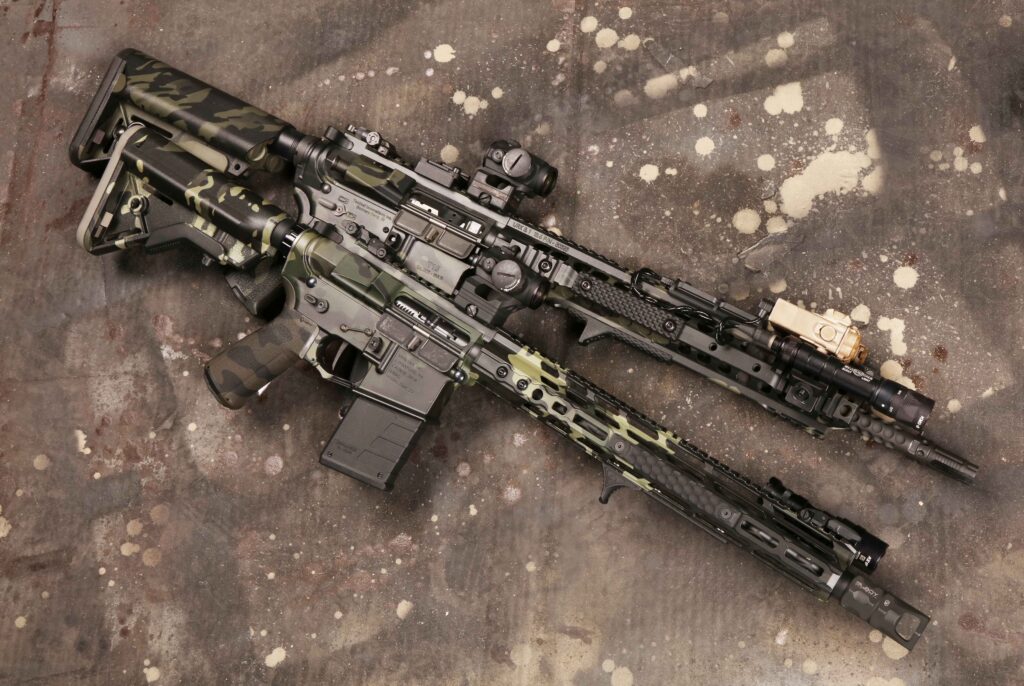 It was about seven or eight years ago that Scott became enamored with shooting at night and with night vision devices in general. One of his old friends had come back from deployment and introduced him to shooting at night. Scott, like many shooters, had really only shot during daylight hours or even if he did shoot at night, it was at a well-lit range. One trip to a non-lit range one evening with his buddy changed all that.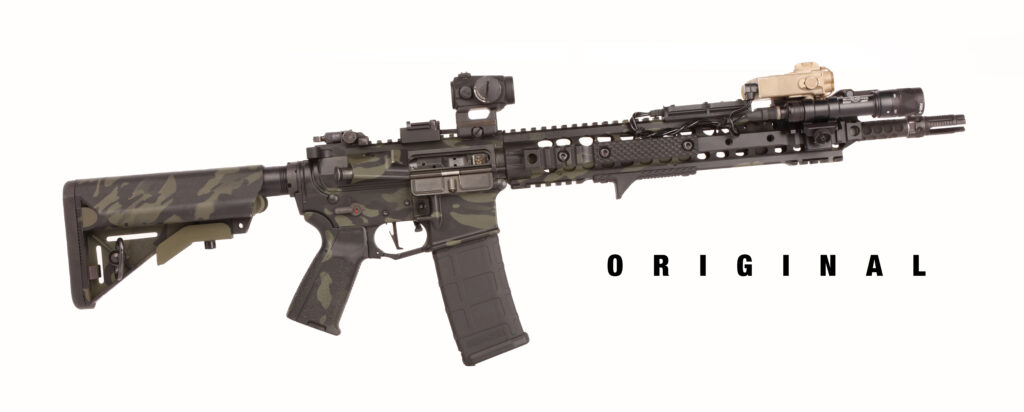 At the time, Scott's friend had recently purchased a PVS-14 night vision monocle and an infrared (IR) laser unit and took Scott out to the range to sight in the laser that he mounted to his carbine. Scott had never used a night vision device or IR laser prior to that outing but was instantly blown away by what he experienced. After that night, Scott wanted to build a night vision set up of his own.
Now fast forward to current day. Scott has his own PVS-14 unit along with a bunch of night vision gear that one usually ends up buying when you dive into the night vision pool. Scott says, "Yeah, night vision gear isn't cheap. But if you want to do it right, you've got to just buy once and cry once." Over the years, he's taken his share of low-light and no-light tactical classes and has even competed in white light competition matches at a local range. Along the way, he built a night vision carbine. The 5.56mm NATO chambered carbine is his go to rifle when he goes shooting at night.

Even though ammo prices have dropped in recent years, Scott was looking for a way to lower his cost of shooting, especially when he is shooting for pure recreation. A couple of times a year, he heads out for camping with the buddies or at times with his extended family. Like himself, some of his family members enjoy plinking and doing it with his 5.56mm carbines was costing him more than he wanted to spend. This is when he decided a .22LR carbine would be a good investment.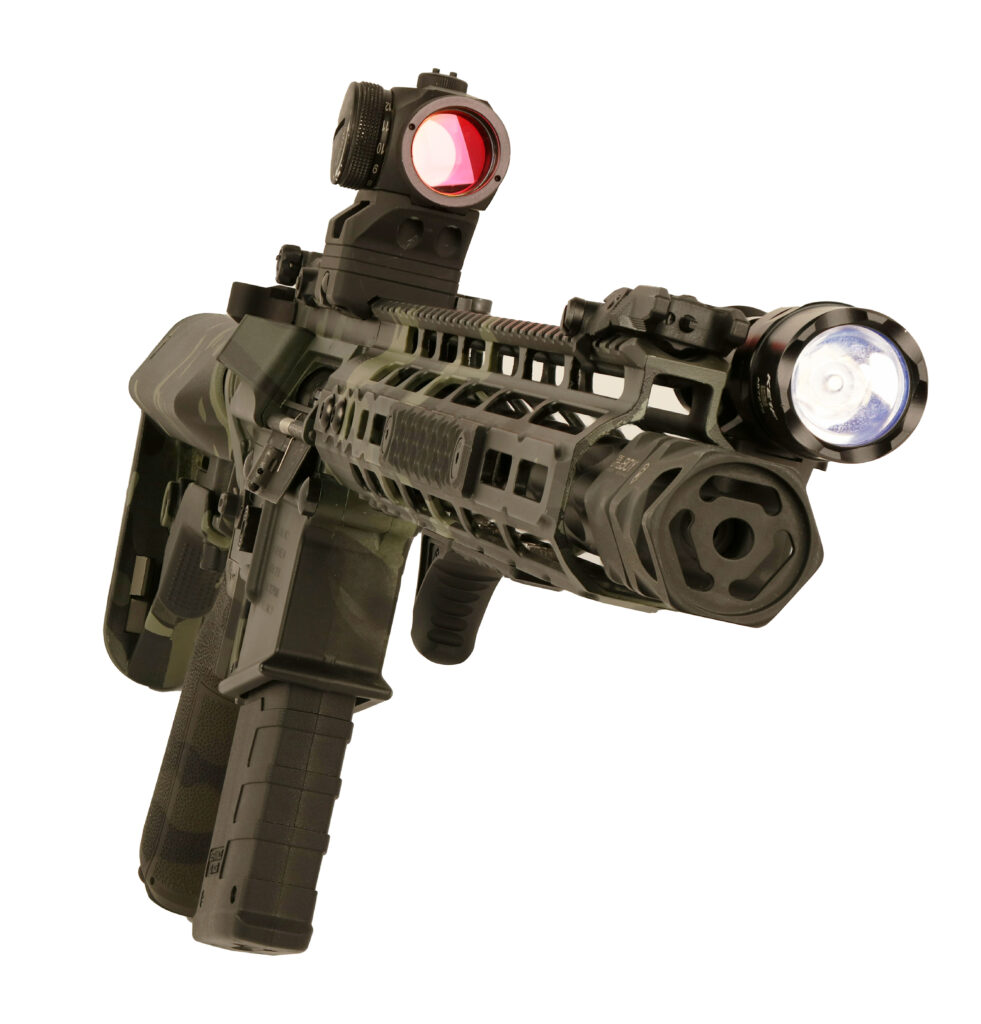 After looking around for AR-15-esque .22LR carbines, he realized there wasn't one available that met his requirements. They were either replicas that simply looked like an AR-15 or actual AR-15s that were converted to run .22LR. He figured that the replicas didn't give him the real AR-15 type controls and functionality that he wanted and AR conversions can be finicky with the many type of .22LR ammo that's out there. He wanted a dedicated system that feels like his other ARs but could run on almost any variation of .22LR ammo.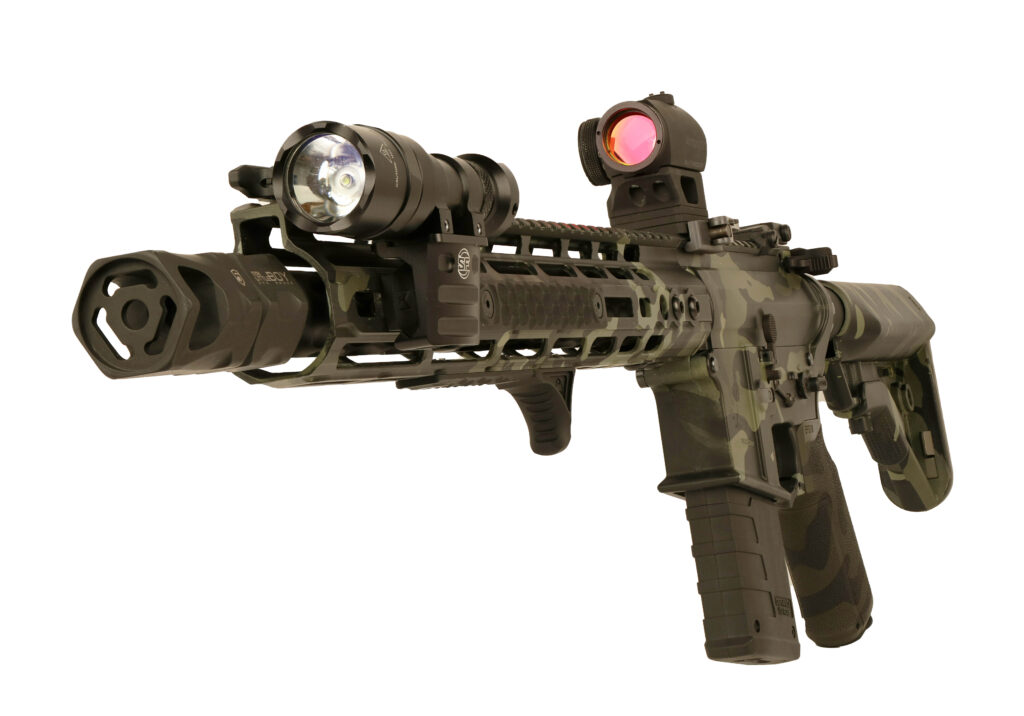 Scott recalled, "I probably looked around for a year or two for the perfect .22LR carbine, but I didn't see any that I liked until one day a couple of years ago. I remember seeing a YouTube video where someone reviewed the Defiance DMK22C. It seemed like what I was looking for. It used most of the same types of upgradeable control parts that a real AR-15 does, has features such as bolt hold open on an empty mag and reportedly eats up any kind of .22LR you feed it." He had to investigate the DMK22C further. After visiting a dealer, he decided to take it on as a fun project to build up.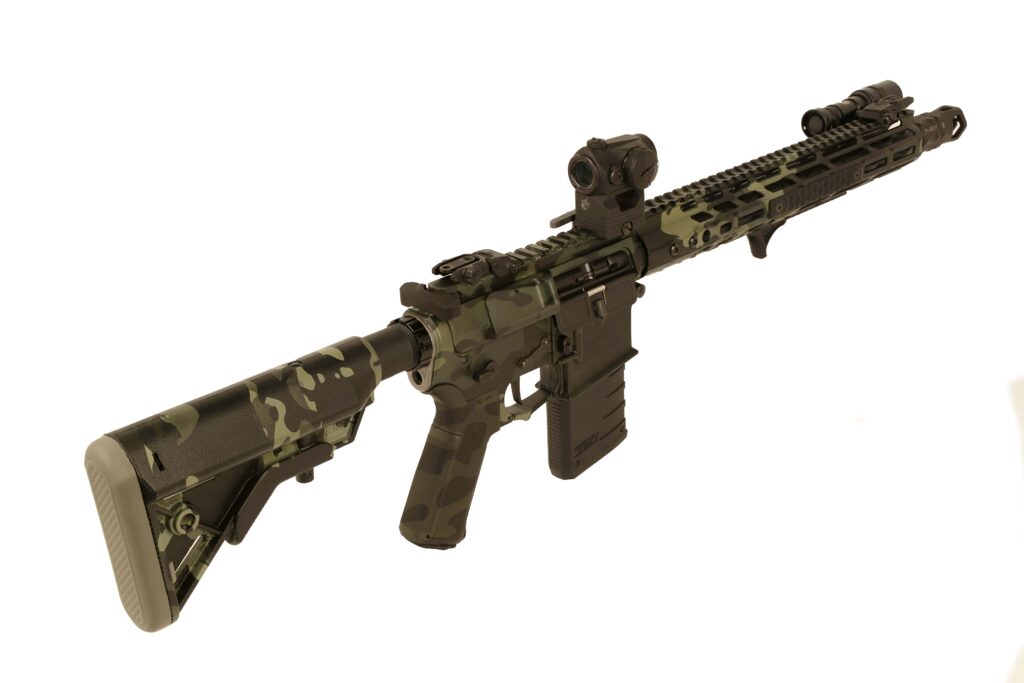 One of his favorite carbines to shoot and to look at is the one that he built for night vision shooting. It was fitted with some cool guy gear and hydrodipped in MultiCam Black camouflage. (For more on that rifle, see the accompanying sidebar.) Although the .22LR isn't intended to be used for low/no-light shooting, he decided he wanted to customize the DMK22C in its likeness anyway.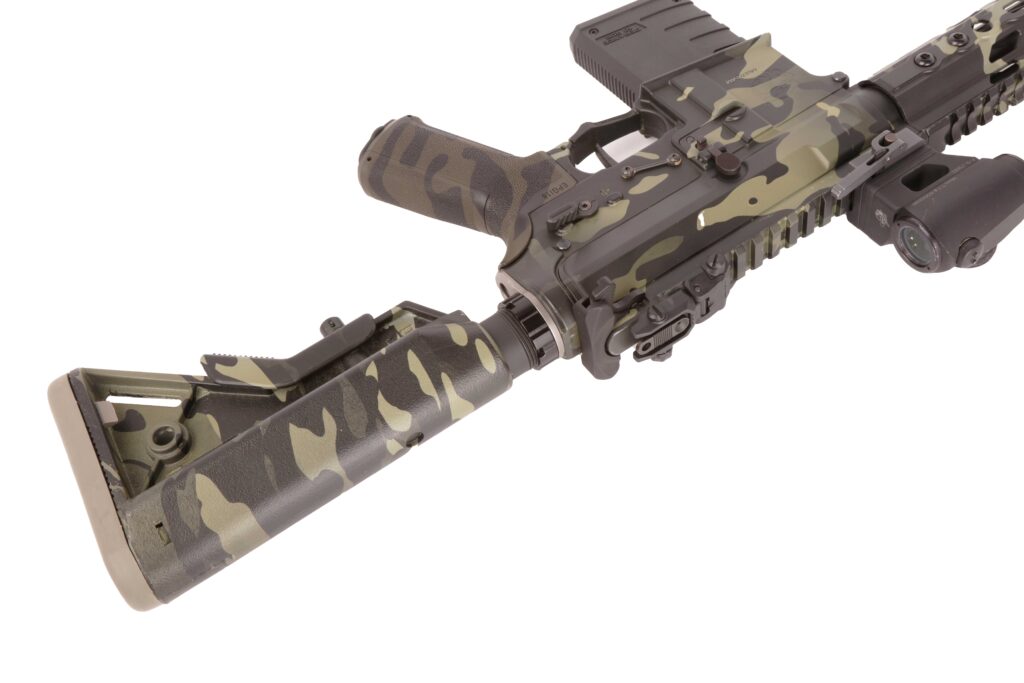 One of the major reasons he jumped on the DMK22 was that it readily takes AR-15 accessories. To that end, he stripped off everything but the lower receiver and started over. The factory upper receiver was replaced with a VLTOR MUR. The MUR receiver he chose to use doesn't have a forward assist, although the DMK22C's bolt is capable of using one.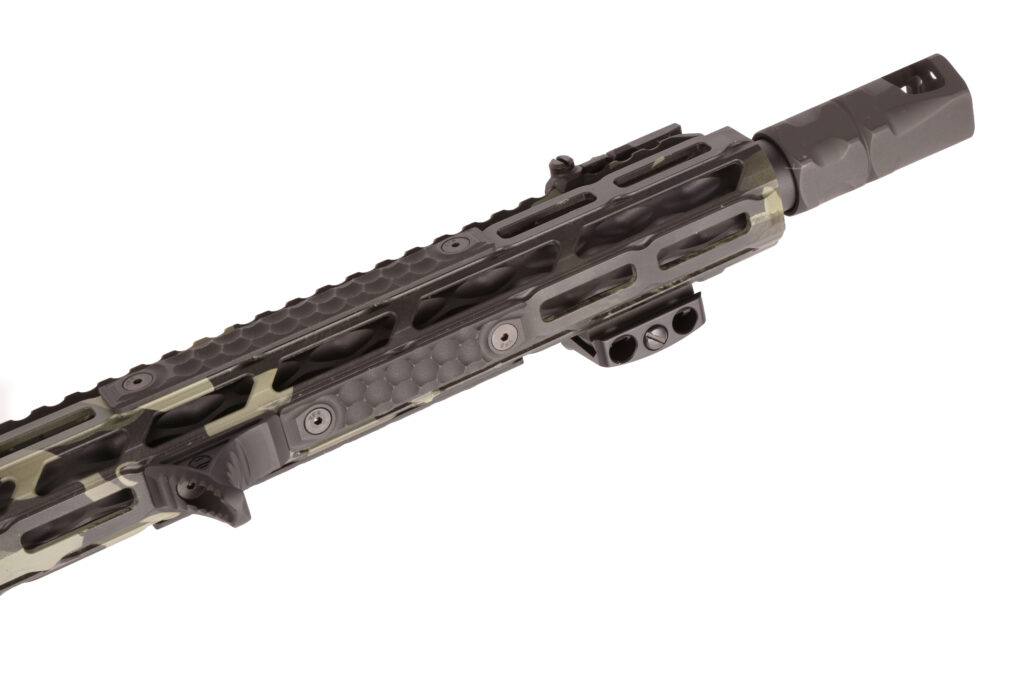 The bolt assembly is factory stock, but the barrel isn't. He replaced the standard 16.5-inch length barrel with a Ruger 10/22 barrel from Beyer Barrels, which is also 16.5-inches long. Yes, you read that right, the DMK22C accepts 10/22 barrels. Its barrel sleeve is unique in that it can be transferred to just about any barrel made for a 10/22 for instant installation into any AR-15 upper receiver. Because Beyer Barrels can be customized at the time they are ordered, he requested his Ultralight barrel to be completely fluted to lighten it even more.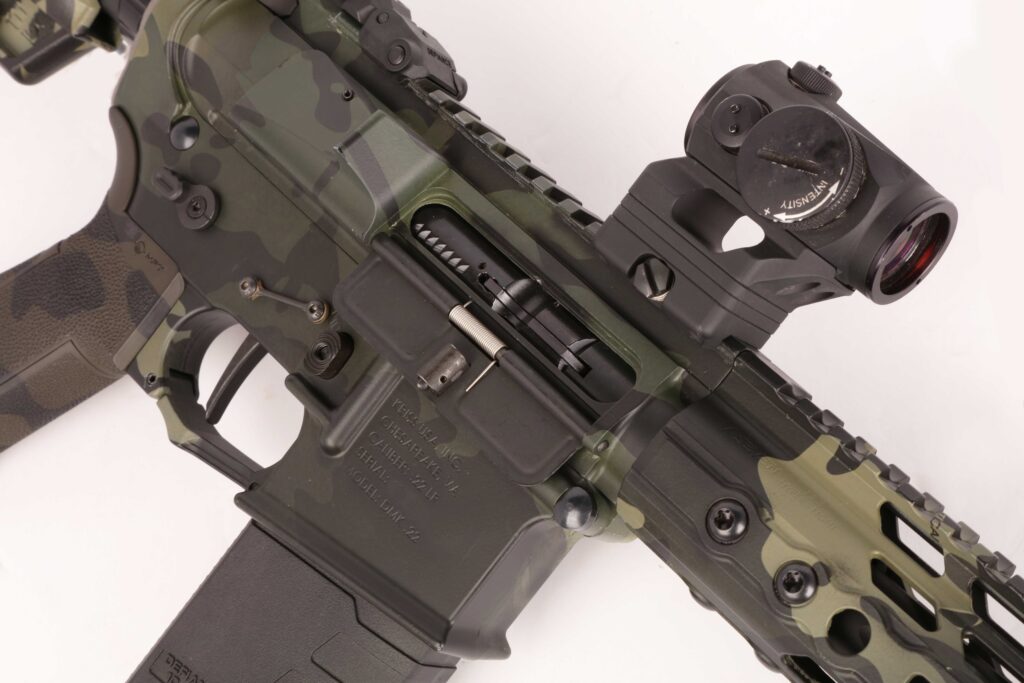 Completing the upper receiver is a V Seven Magnesium Hyper-Light M-LOK handguard in 13.5-inch length. The V Seven rail is made of a blend of aluminum and magnesium, which results it in weighing a scant 5.2 ounces. At the tip, you'll find a Phase 5 littleBOY Hex Brake. He found that the littleBOY was large enough to cover up some of the length of the 16.5-inch barrel and its 0.920 girth. The combination looks just right if you ask us.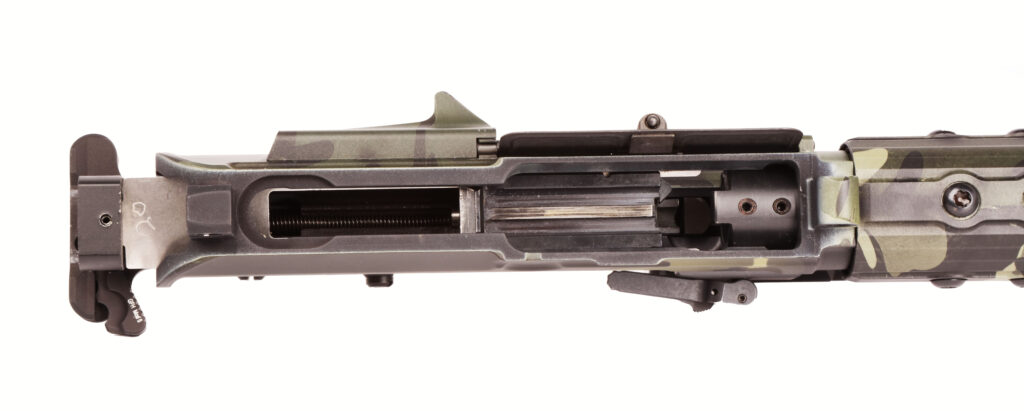 The upper is outfitted with some top tier accessories including a set of G10 material rail panels and an aluminum hand stop made by RailScales. The RailScales Karve hand stop is billed as a bi-directional stop because it is reversible for pull or push support hand grip styles. The Honeycomb texture RailScales are aggressive but Scott is fine with them even without gloves on. He says that likes the aggressive non-slip grip. Unlike .22LR caliber AR clones, the DMK22C is capable of taking full-sized charging handles. Scott made sure that he installed one of his favorite charging handles, the BCM Gunfighter Mod 5.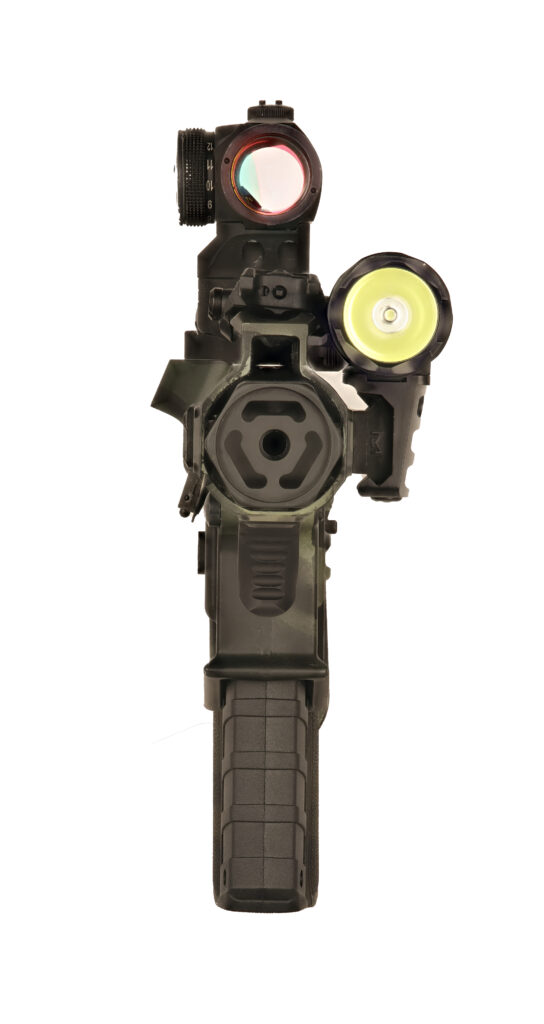 The lower receiver is outfitted with an ambi-safety selector switch made by Battle Arms Development and a Rise Armament RA-434 single stage drop-in trigger was installed. The trigger takes the trigger pull down to about 3.5 pounds from the 6 pounds of the stock trigger. The trigger is secured in place by an older set of KNS Non-Rotating hammer and trigger pins. Finishing up the lower are a Mission First Tactical EPG16 pistol grip and Knights Armament Co. trigger guard.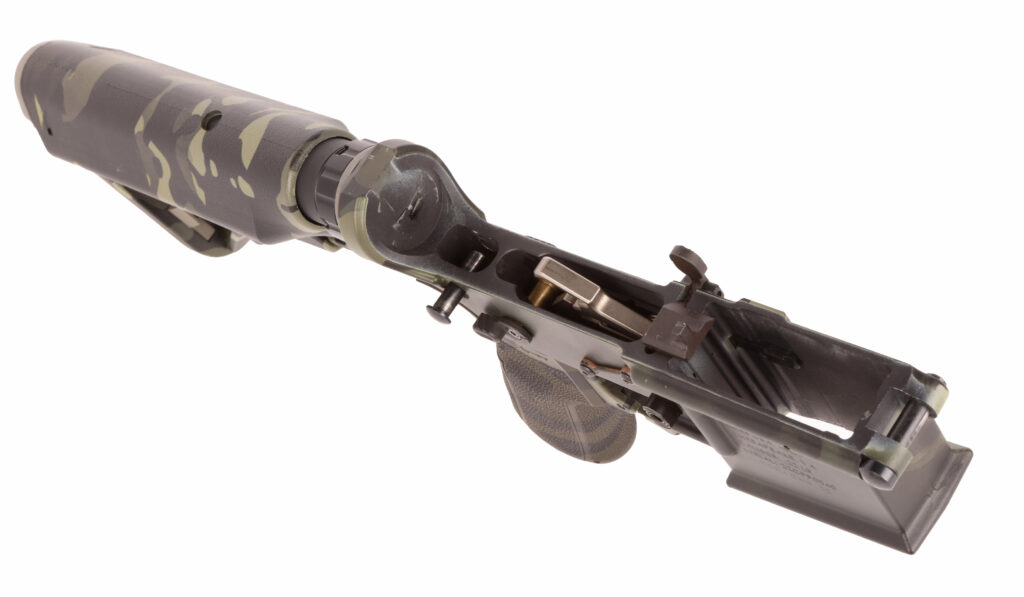 Also there for its looks, is a Smoke Composites Lightweight castle nut. It helps hold a V Seven Titanium QD endplate in place and is attached to the Defiance MilSpec Bravo stock. Scott points out that the original SOPMOD stock is his all-time favorite stock but he wanted to keep this build light so he went with what in his opinion is the next best thing.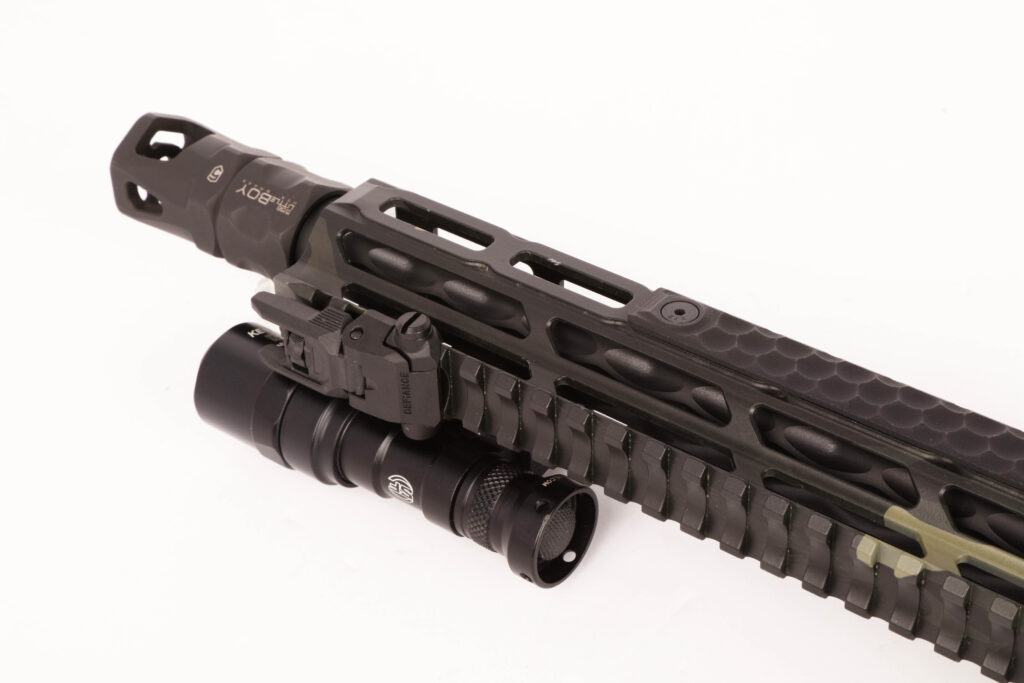 In order to mimic the look of his other rifle, Scott sent the upper and lower receivers, handguard, grip and buttstock to Stealth Hydrographics in Kalispell, Montana for a proper MultiCam Black dip job. Scott pointed out that he specifically wanted real MultiCam Black film to be used and not a look-a-like knock off. He finally found Stealth Hydrographics, which uses licensed MutiCam film. He reports, "Sometimes sending your parts out to a place you found online can be a questionable proposition. That said the staff at Stealth were great. They kept me informed throughout the process and had my parts back to me a lot quicker than I anticipated."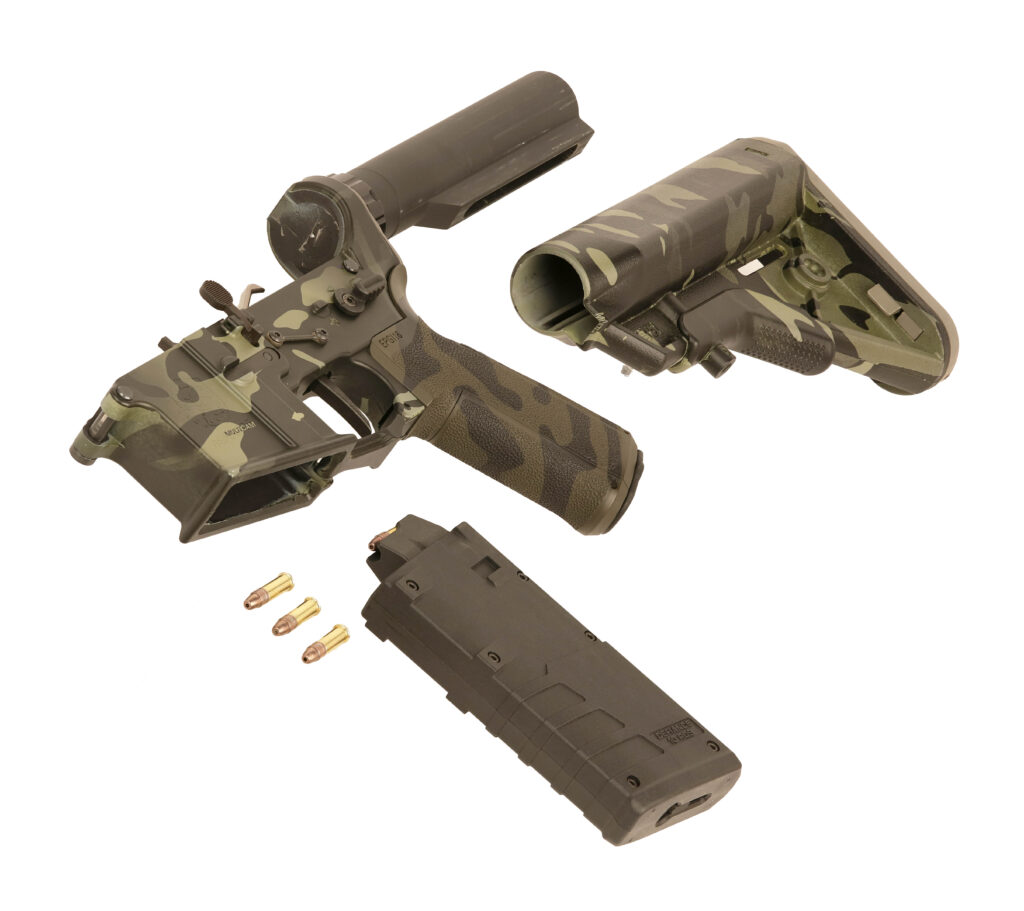 Topping off the build are a few high quality and essential accessories to help Scott get the most out of his Defiance DMK22C. A set of Defiance polymer back-up sights act as back up sights for a Knights Armament Co. mounted Aimpoint T-1 red dot optic. Mounted up front is a SureFire M300C MiniScout Weaponlight in a SureFire RM45 offset mount.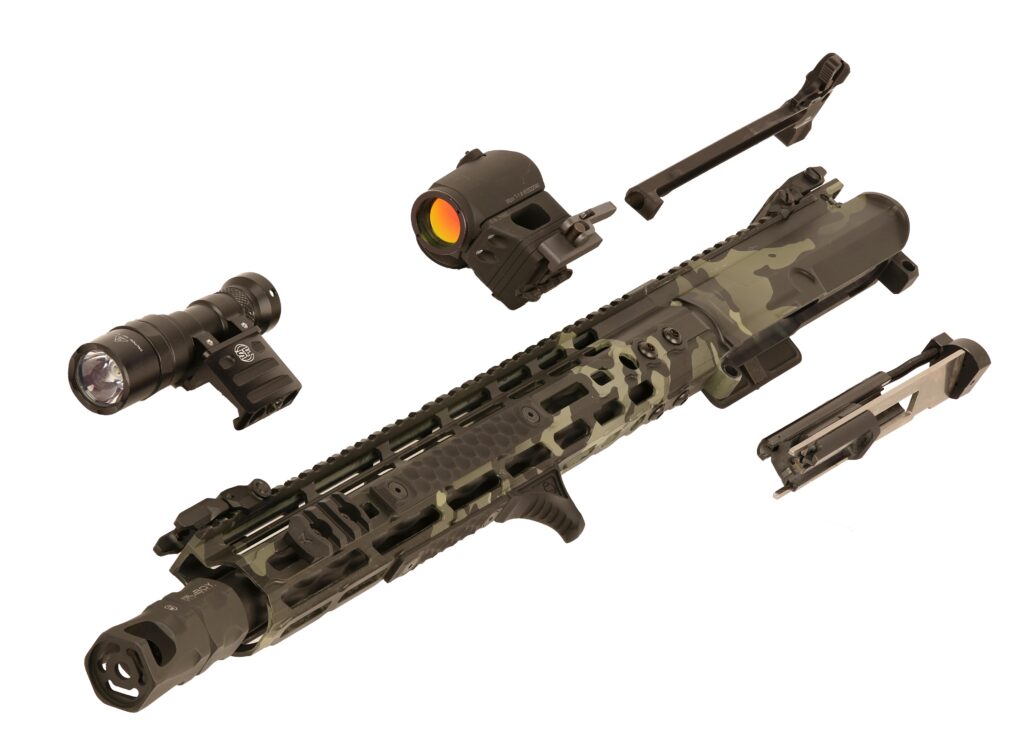 For a plinker, this is one decked out .22LR carbine. When asked if he thought some of the upgrades were a bit overkill for a .22LR build, he grinned and said, "I may get carried away with decking out my builds, but I have as much fun building them as I do shooting them, so it's all good." We can't fault him there.
Text by Martin Anders and images by Jerry Tsai.
Scott's Custom Defiance DMK22C

Caliber: .22LR
Length: 32.25-35.5 in.
Barrel: 16.5" Beyer Barrels Ultralight 10/22 Fluted Barrel
Weight w/o magazine: 5 lbs., 11 oz.
Featured Accessories:

Optic: Aimpoint Micro T-1
Optic Mount: Knight Armament Co. Aimpoint Micro Mount
Upper Reciver: VLTOR MUR-1S
Lower Receiver: Defiance DMK .22
Handguard: V Seven Magnesium Hyper Light 13.5"
Stock: B5 Systems SOPMOD Bravo
Magazine: Defiance
Parts & Accessories: Phase 5 littleBOY Hex Brake, Defiance Polymer BUIS, SureFire M300C, SureFire RM45 Mount, RailScales Honeycomb RailScales, RailScales Krave Hand Stop, BCM Gunfighter Mod 5 Charging Handle, Battle Arms Development BAD-ASS Ambi-Safety Selector, KNS Non-Rotating Pins, Knights Arm Co. Trigger Guard, Mission First Tactical EPG16 Pistol Grip, V Seven Titanium QD Endplate, Smoke Composites Lightweight Castle Nut
About the owner:

Name: Scott D.
Occupation: Geologist
Special Thanks: Faye, Punch, Gary, Simon, Spencer and the Family
[ART: For the bracket on the lower left corner of the last spread]
For more on the base gun that this custom build was based on:
Defiance DMK22C
MSRP: $700 (unmodified)
kriss-usa.com