Fire 4 Effect
Established in what is today the Czech Republic, CZ, short for Ceská Zbrojovka (which roughly translates to Czech Armory) has a longer history than some domestic shooters may realize. In the beginning, more than one arms manufacturing operation fell under that moniker, the first of which was founded as far back as 1936.
After the Second World War and Nazi occupation of then-Czechoslovakia, when CZ tooling and manufacturing capabilities were commandeered to service military weaponry, what would eventually become a privatized operation returned to making small arms for the sporting and hunting markets. Several decades later CZ-USA was established in Kansas City, in 1998, as the exclusive importer for Ceská Zbrojovka.
A relative upstart to the longer-established North American presence of weaponmakers like Smith & Wesson, Glock, or SIG—though certain discerning enthusiasts have sworn by them for years—CZ's products have seen an uptick in popularity among American competition shooters, although the brand retains a somewhat exotic mystique among the more ubiquitous offerings from other companies that have enjoyed a presence in the Americas for several decades now.
Fire 4 Effect out of El Paso, Texas, has traced a similar arc in its rise to prominence within the recreational and competition shooting communities. Founded by Will Wingfield and his brother Matt circa 2010, it began as so many successful custom gun operations do—with a single guy, devoted to shooting, wishing to improve on his own gear, and deciding he'd be best served by doing it himself. Hours upon hours of daily devotion, trial, error, sweat, tears, and hard work have seen the operation snowball into a nationally recognized gunsmithing enterprise.

To date, Fire 4 Effect has done work on many pistol makes including Glock, Smith & Wesson M&P, and HK, as well as long guns to include AR and AK variants, high-end bolt guns, and shotguns. Generally speaking, their work follows a pre-arranged pattern distilled to make the building and customization process as streamlined as possible. You can visit their website, choose your gun type and/or manufacturer, and select from a menu of ready-to-execute mods.
Recently, Wingfield and Fire 4 Effect have gravitated to CZ pistols—specifically the Shadow 2. According to CZ-USA, the Shadow 2 was designed to improve on the SP-01 Shadow's best features. It features a higher beavertail and undercut trigger guard that raise the shooter's grip as close to the bore axis as possible. A newly contoured slide was also designed to better center the pistol's reciprocating mass to the bore, along with enhanced weight distribution to keep the muzzle down and cut down on potential muzzle "flip."
One of the things Wingfield most appreciates about the Shadow design is the trigger feel. As well, the platform was something quite different from what his company had worked on in the past. He explains: "We chose CZ because we wanted to serve the competition market and we'd been working on Glock and S&W quite a bit. What we noticed [on those] was there was really only so much you could do with the trigger… striker-fired pistols are just inherently 'spongey' and lack the crispness that a true sear/hammer offers."
Along with the CZ Shadow's undeniably exotic flair compared to the more mundane competition, the CZ's fire control hearkens more to that of the vaunted 1911, itself widely regarded as the measuring stick for a precise handheld shooting platform. Wingfield elaborates: "CZ offers pretty decent triggers right out of the box and a few custom parts could make them amazing. I'll take them over a 1911 built by anyone, any day… [it's] an awesome product a lot of shooters haven't really explored."
Once obtaining a new pistol, as was the case with this Shadow 2, Fire 4 Effect performs considerable work on the slide. The pistol pictured here is a typical Fire 4 Effect USPSA Carry Optics class piece built with the competitive shooter in mind, and as such has been built to perform in that arena of competition. Although, as Wingfield testifies, "We have a number of recreational shooters running these guns as well."
The following is a detailed rundown on the modification procedure from the man himself. "First, we lighten the slide with a number of cuts, creating side windows and a top window," Wingfield says. "We lightened the slide initially because there was a weight limit on the USPSA Carry Optics class… We also needed to mount optics, so we came up with an optics cut for various optic models. What became very evident quickly was that the new Trijicon SRO was going to be the optic of choice.
"The problem was the larger footprint of that optic mated on the trapezoidal/narrow slide of the CZ meant the mounting screws would break through the sides of the slide. As a result, most shooters were opting for an adapter plate mounting system. The problem with that was that A, it adds weight, and B, it raises the optic up.
"So we engineered and filed for a patent on our Red Dot Optic Mounting System, or RDOMS. Our system involves machining the slide to accept a couple of inserts that we manufacture at Fire 4 Effect. These inserts are custom-fitted to the slide, then the final machining phase is performed with the inserts attached to provide a perfect-fit optic cut that does not use an adapter plate and keeps the optic very low. So low [that] we have to relief the top of the slide for the hood on the SRO itself. All of that machining is just the start. When we're done with that, you have a very light slide mated with the SRO optic using our patent-pending mounting system."
Although the SRO is a popular optic to pair with this build—that's what rides on top of this Shadow 2, after all—Wingfield points out that his company can build a pistol, and already has, to accommodate virtually any other alternative. "We can mount any optic currently on the market on this gun except for the ACRO by Aimpoint," Wingfield says. "And honestly, that's only because nobody has asked us to do it yet."
While brother Matt oversees much of the machine work, Will Wingfield personally performs the final machining inspection, deburring, polishing, and surface prep. The standard finish is black nitride, which Wingfield says will outlast any PVD, KG, or Cerakote… the one drawback being the color, which is always black. As an alternative, Fire 4 Effect can also do custom Cerakote in-house on request (overseen by Matt Wingfield) and has done so on more than one occasion to spectacular result.
In addition to machining capabilities, Fire 4 Effect also performs laser engraving work, examples of which have been applied to this pistol. The "Shadow 2" designation on the factory-issue slide is converted to "Stin Dva" (Shadow 2 in Czech). On the opposite side, a Fire 4 Effect Weapon Systems Carry Optics Legal designation may optionally be applied as it was here.
Final assembly is performed by Fire 4 Effect's master gunsmith, Matt Haidu, who came to the company by way of the United States Army's Marksmanship Unit (USAMU), where he spent uncounted hours building guns for the finest shooters the Army could field—obviously, a rarefied group.
"Matt received more insight to the building of custom pistols than most smiths can claim in a lifetime of experience," Wingfield says. Haidu assembles the gun using Cajun Gun Works Pro Package trigger components and is the final hand in the completed pistol's fit and finish. The pistols are then equipped with either LOK or factory CZ grips. On aluminum grips, custom anodizing options are available. This particular Shadow 2 wears a set of LOK Palm Swell Bogies in an orange/black pattern.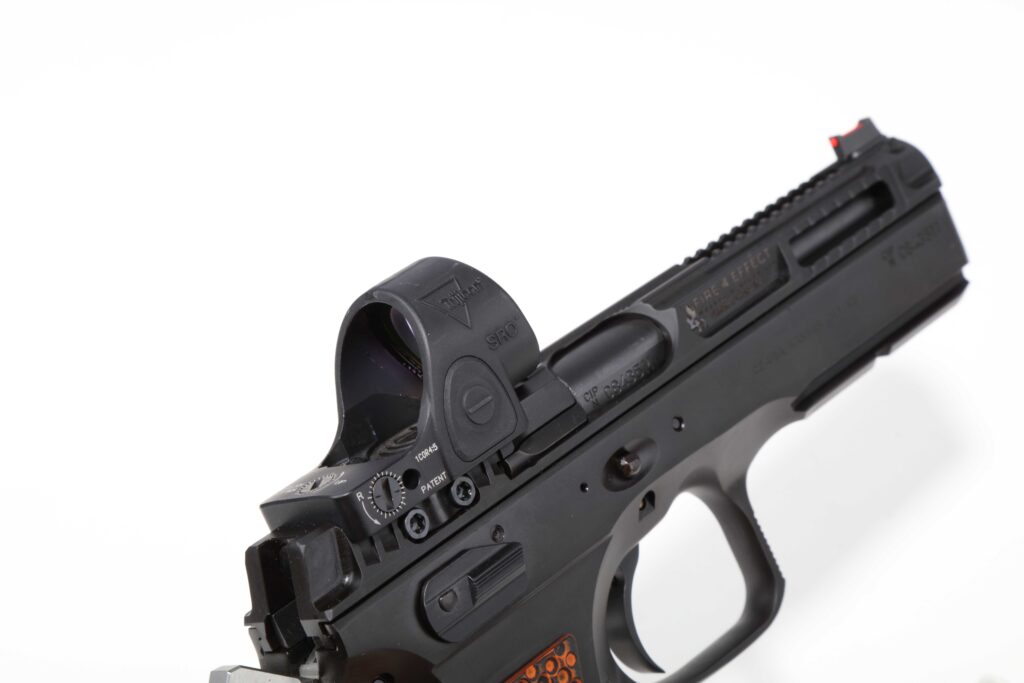 Ten years or so after beginning work on other people's weapons, Wingfield and Fire 4 Effect currently operate a full-service machine shop out of 5,000 square feet in West Texas. It's a full-time operation and then some, turning out between 60 and 100 projects per month to the tune of 10- and 12-hour days, seven days a week. For Wingfield, it is largely a labor of love.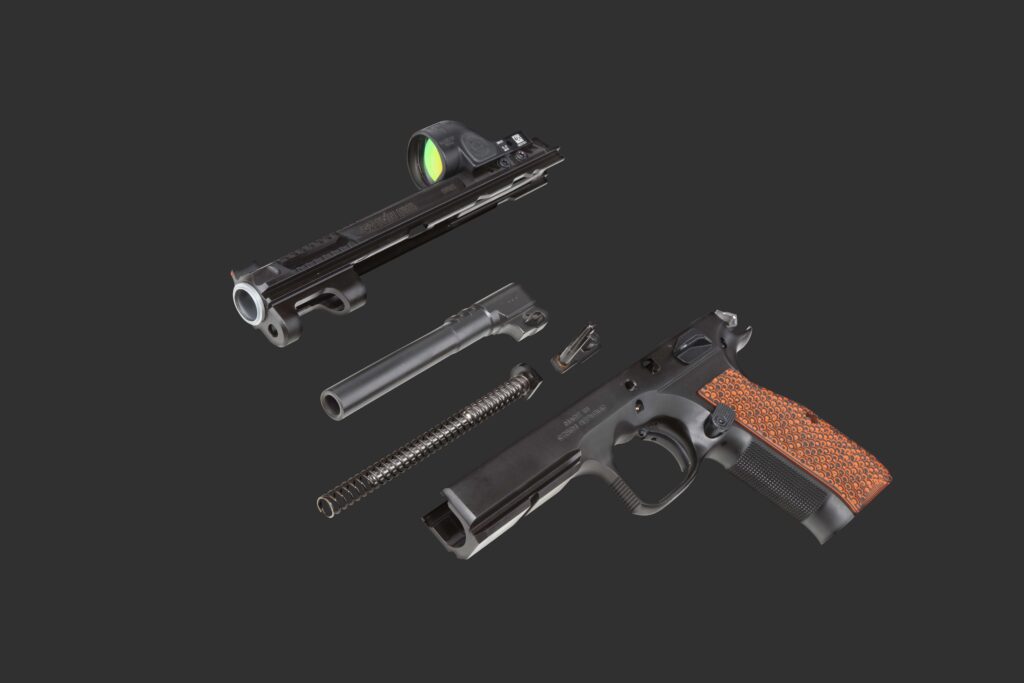 "I still don't take a paycheck," he says. "Only my employees do. I survive off my regular job providing anesthesia at the local trauma center."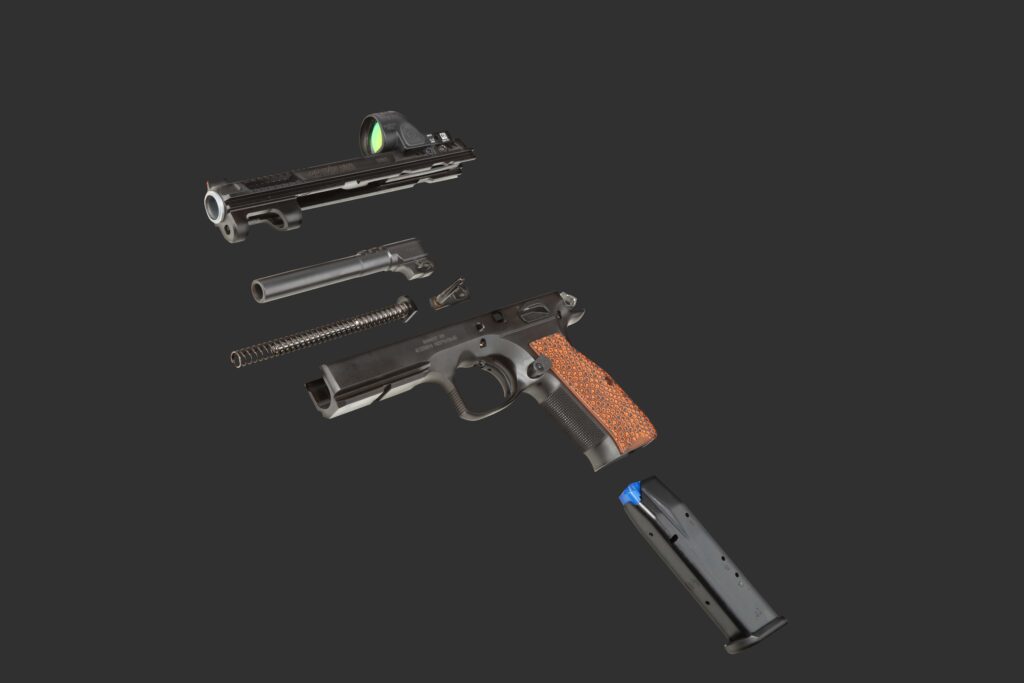 Even so, the future is looking hot and he says it behooves us to keep an eye on Fire 4 Effect in the near term. "I really think 2020 and 2021 will be the years we go to that 'next level,'" Wingfield says in closing. "We've got big things coming down the pike." Text by Roland Wilkes and images by Jerry Tsai.
Build Sheet
Fire 4 Effect
Carry Optics Legal
CZ Shadow 2