Owner's first custom firearm
Chambered in 9mm
Trigger work by gunsmith Rick Holm
Everybody remembers his or her first experience, whether it's a first love, first kiss, first car—or in Corey's case, his first ground-up, fully customized pistol. Working as a law enforcement officer, he is more used to handling plain-Jane issued pistols and not ones that are packed full of custom features.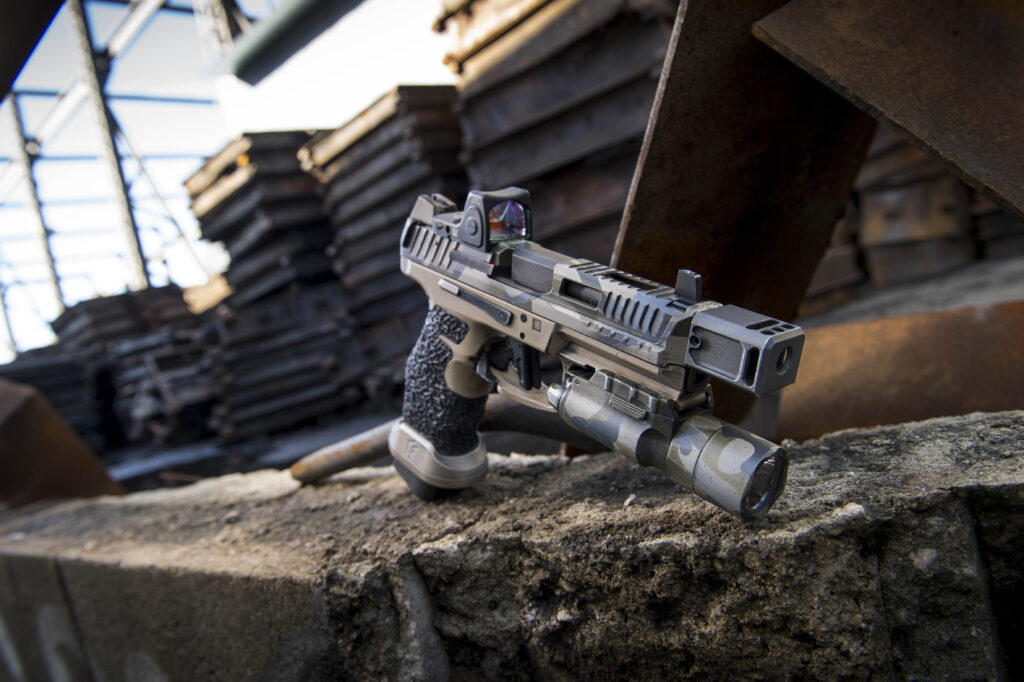 After years of using factory stock pistols on the job, Corey finally decided he wanted to build himself a "fun" gun for once. He emphasizes: "Almost all of my handguns are pretty basic, black in color with stock parts, as a result of my career. I always wanted a non-work related gun that I could personalize."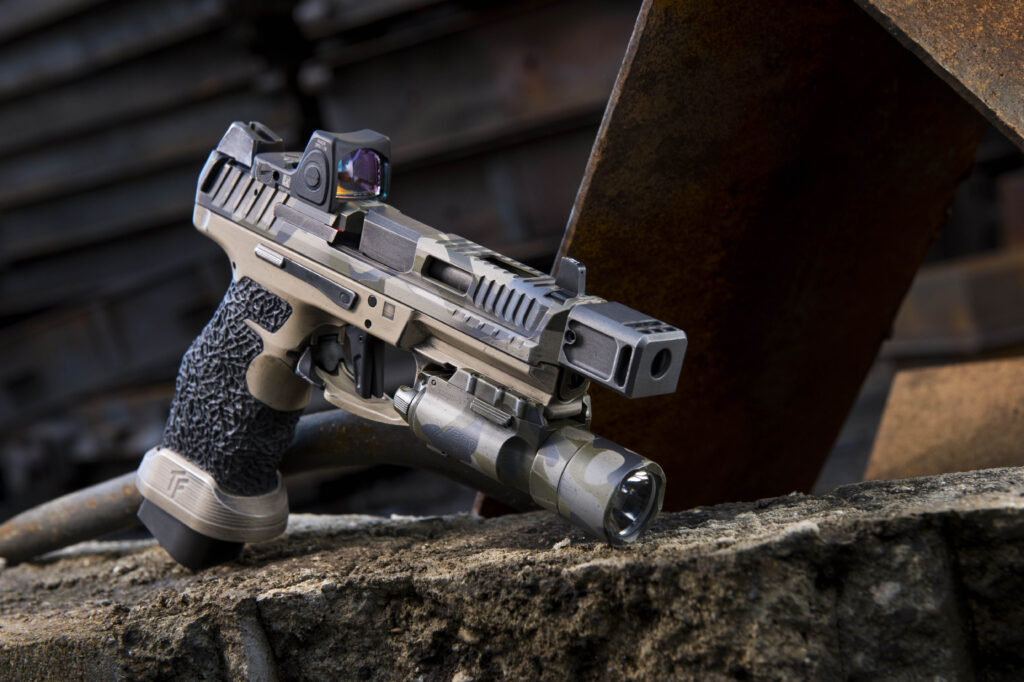 He continues: "My needs are pretty basic, I'm not the type who needs to customize everything I own. But when I flip through magazines and Instagram and see really cool firearm builds, it made me really want to build one too."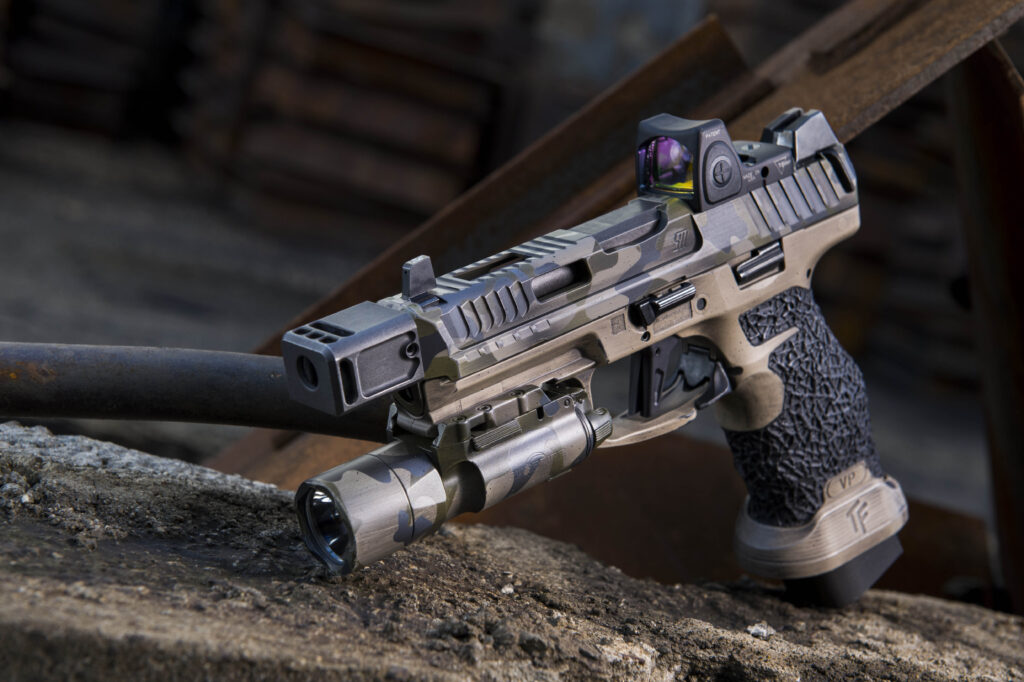 Corey's sidearm of choice when he's on patrol is aHeckler & Koch VP9. When he started out at his department he was issued an HK USP. After years of carrying it, he's become very comfortable with HK pistols (and their paddle-style magazine release). A couple of years ago he switched to the VP9, which he believes is a much-improved design. He says its striker-fire operation has a better-feeling trigger pull than the USP and its ergonomic grip fits his hand like a glove.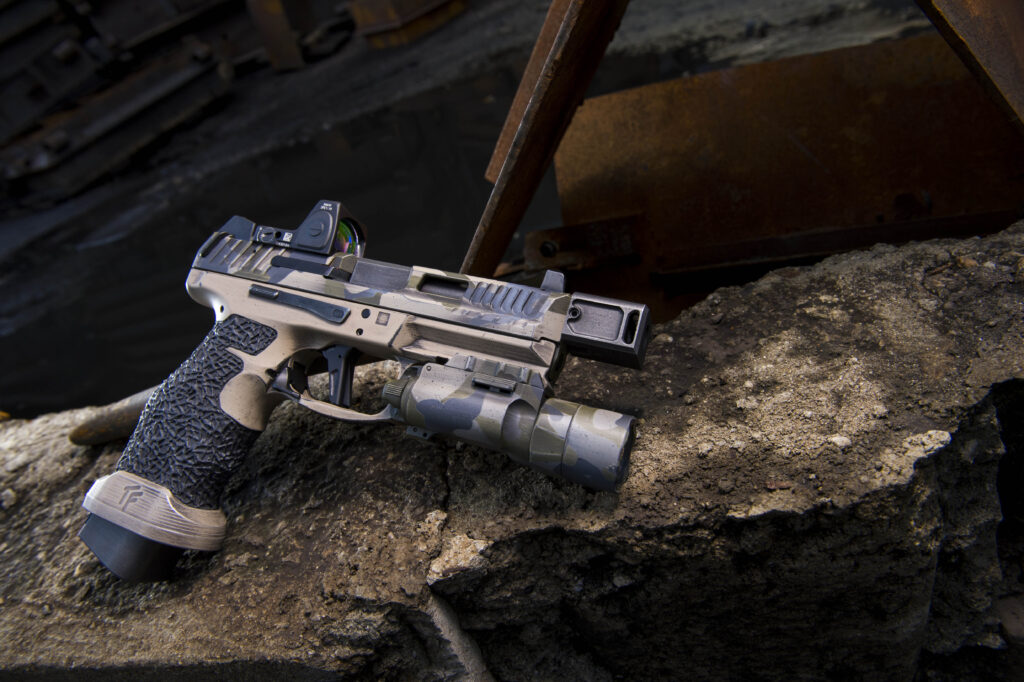 It was after a conversation about custom pistols with some friends that he finally decided to go ahead and start a project of his own. He already knew that he wanted to go with a VP9 as the foundation because of its familiarity. After doing some research, he quickly realized that there are far fewer custom VP9s than other pistols like Glocks. This meant that fewer companies make aftermarket parts for it and fewer people specialize working on them. The lack of options didn't deter him one bit.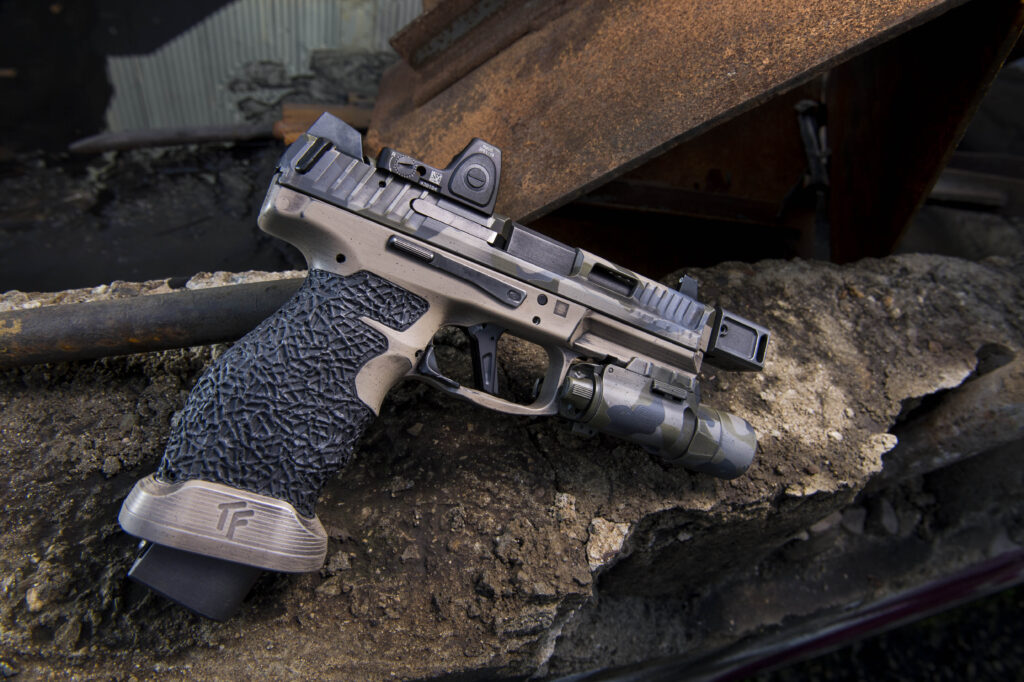 After buying a brand-new, virgin VP9, Corey dug deep into customization research, even enlisting his buddy Danny to help search high and low for VP9 customization options. They knew that Glocks are the platform to use when building fully customized pistols due to their robust aftermarket support. They we're sure just how much they could get done on the VP9, but had to try anyway.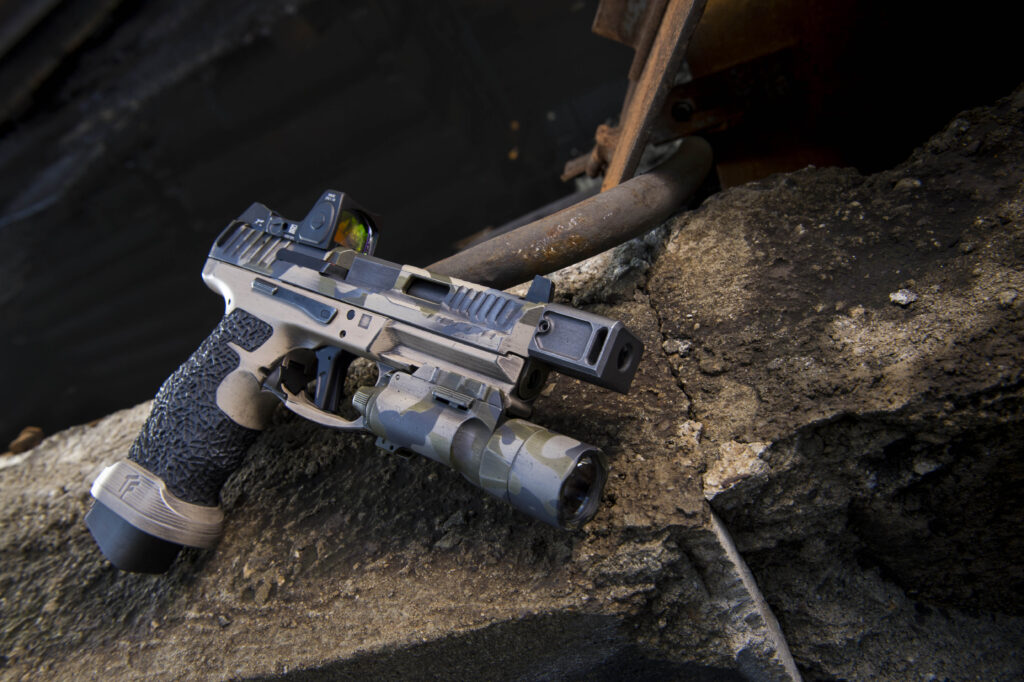 To their surprise, the duo ended up finding options for just about everything Corey wanted, including custom slide machine work and even an improved trigger. Corey carefully mapped out the VP9 project and got the ball rolling by sending his slide to Slideworks Engineering for some CNC work.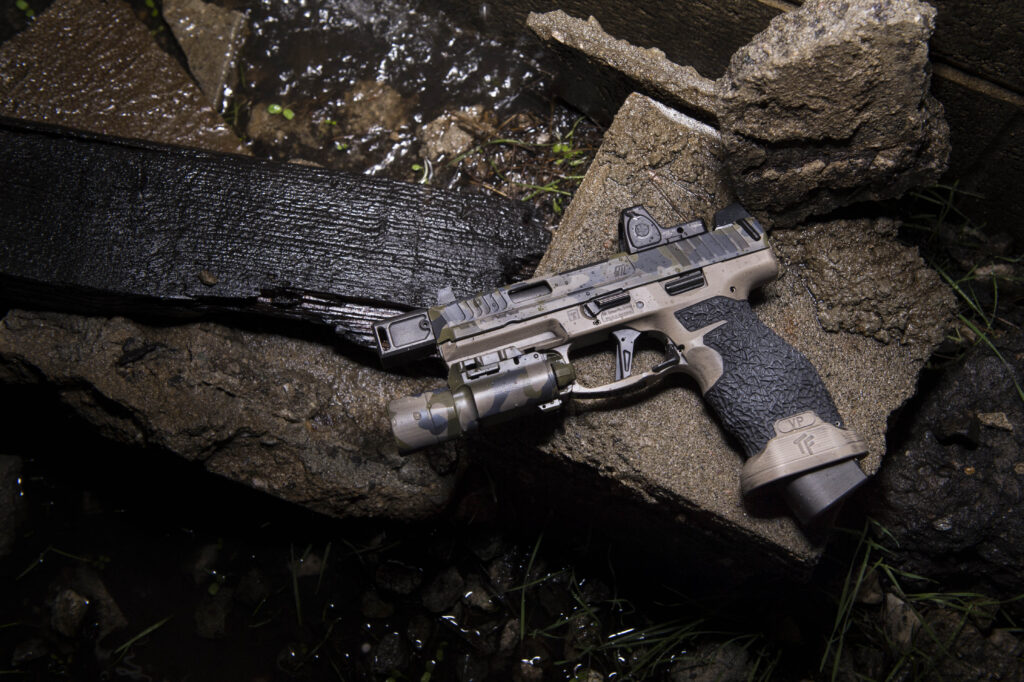 Located in Magnolia, Texas, Slideworks Engineering is a machine shop that specializes in custom slide cuts. They have plenty of profiles for Glock slides, but the shop also works on other popular pistols such as M&Ps, XDs, and CZ P10s. Corey chose a profile called "VP9 Tracer Cut." The cut removes material from the slide for a slimmer profile and introduces windows on the left and right sides, as well as on top. New serrations are also cut into both sides of the front and rear, and serrations are added to the top the slide.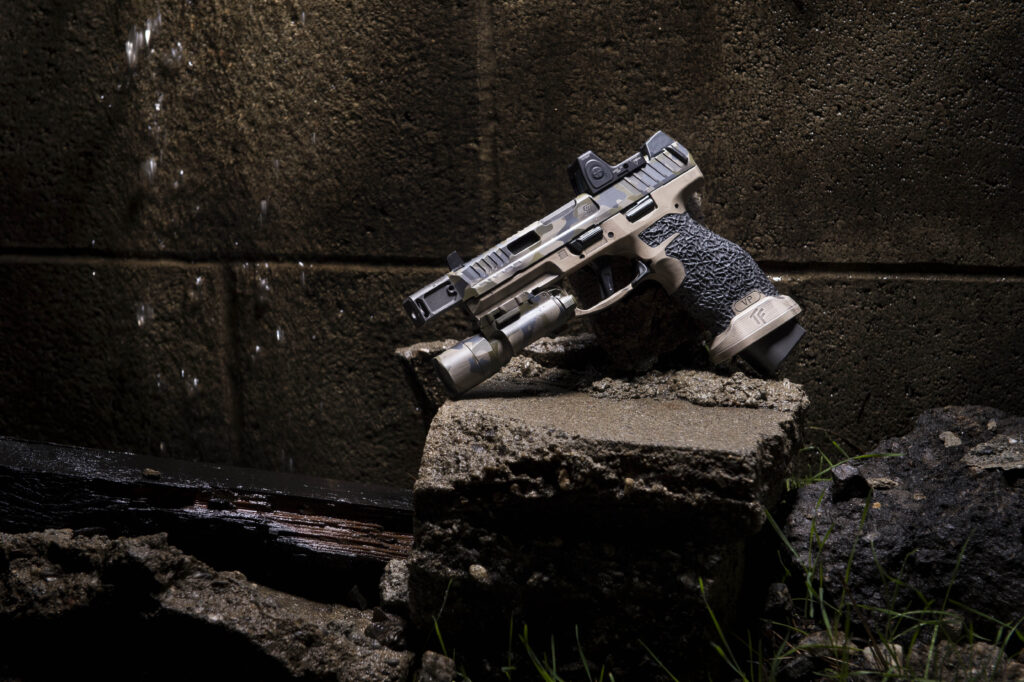 Corey also opted for an optional RMR cut to mount a 3.5 MOA Trijicon RMR Type 2 red dot. For times he's not using his RMR, he also had Slideworks Engineering craft him an RMR cover plate that can be screwed on. On top of the slide sits Trijicon Bright & Tough Suppressor Night Sights. The three-dot tritium iron sights allow for quick aim in both bright and low-light situations. The tall suppressor sights perfectly clear the RMR for optic-less targeting.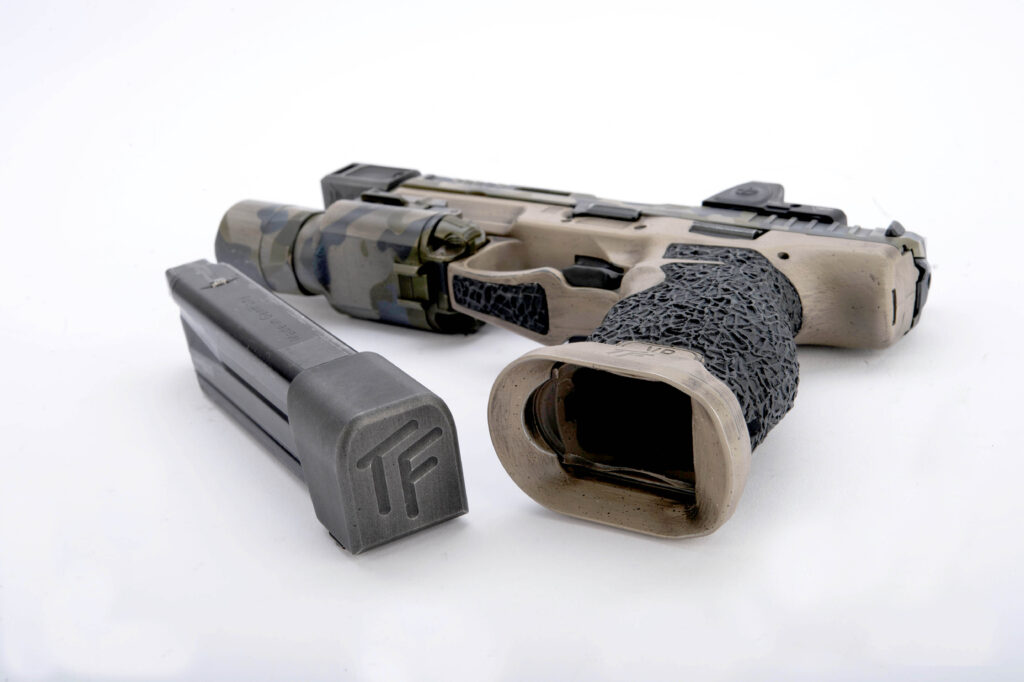 Inside the newly machined slide you'll find a Brownells Edition Victory First replacement barrel. The barrel is precision-machined from 416R stainless and coated in a non-reflective Black Nitride finish that gives it exceptional surface wear and abrasion resistance. At the business end, you'll notice the addition of a Texas Black Rifle Company Glock Micro Comp. Although designed specifically for Glock 19s, the comp finds itself very much at home on the VP9. It allows for fast, flat shots due to its recoil mitigation and flat recoil characteristics.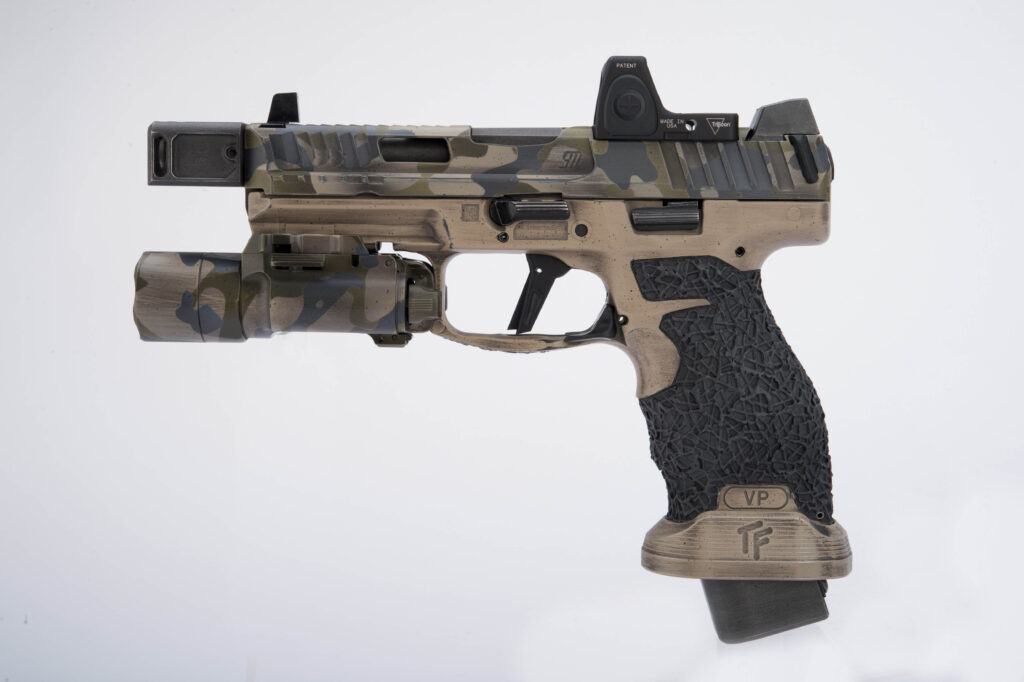 With the top of the pistol taken care of, Corey turned his attention to the lower half. After spending some major time sifting through stippler websites online, he came across Custom Tactical Concepts, specialists in polymer frame stippling. He made arrangements to have the VP9's frame stippled in a texture they call Venom. We got to handle the pistol and must say that we thoroughly enjoyed the feel of it. The web-like texture gives added grip without any sharp feeling. Every portion was rounded down but still allowed for a confident grip. We noticed that the frame was cut where the webbing of your hand goes, allowing the hand to sit deeper for a better overall grip on the pistol.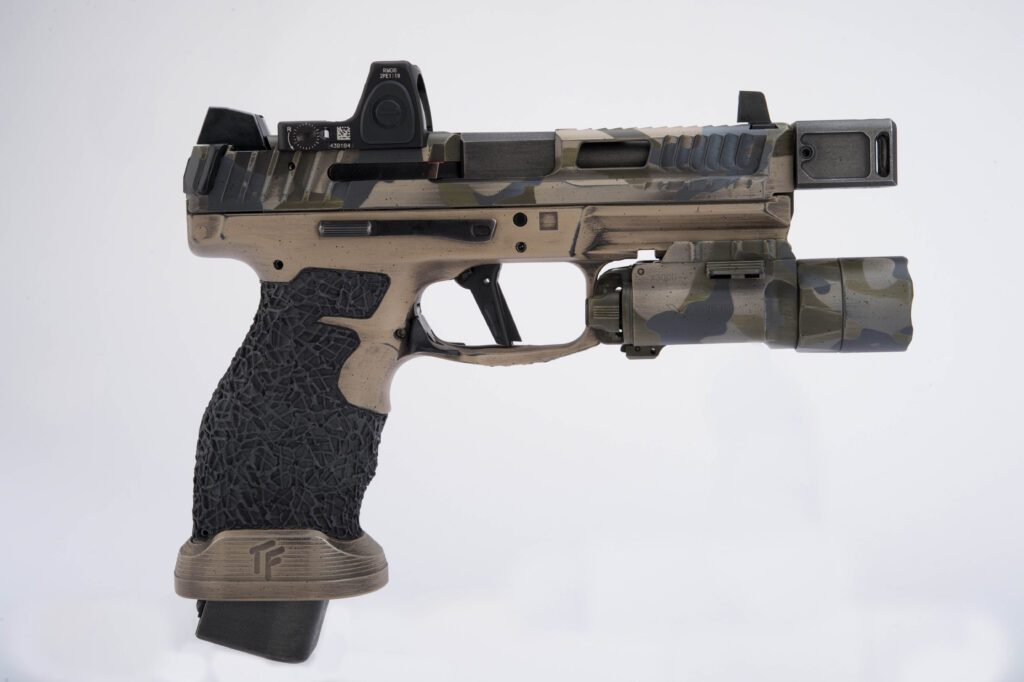 If you've ever had the pleasure of shooting an HK VP9 straight out of the box, you'll understand that its trigger is one of the better striker-fire triggers around. It's also one of the reasons Corey enjoys carrying a VP9 as opposed to other pistols for work, too. So when Corey and Danny came across an upgraded trigger package from gunsmith Rick Holm's Lazy Wolf Guns (LWG), they were understandably skeptical. Since he was going all-out for his first custom gun, he figured he might as well go all the way. He chose to send the frame in to LWG for their trigger installation and tuning services.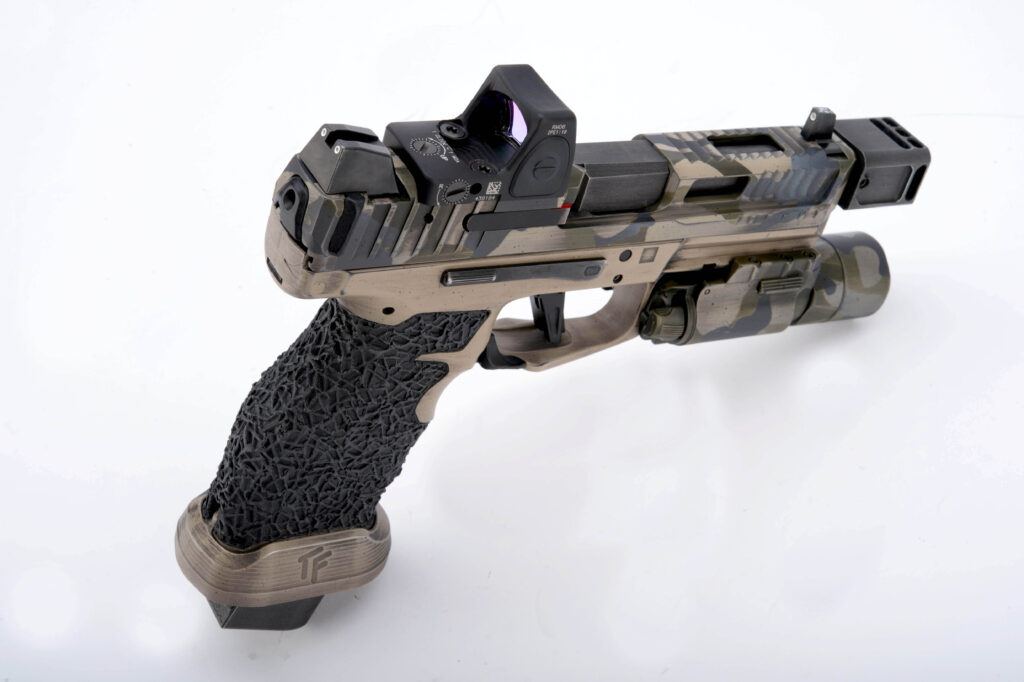 LWG's F2 Flat Face VP trigger is a drop-in unit that uses the factory trigger bar. Its over-travel stop can be adjusted externally and offers a 90-degree break angle. While the trigger is a drop-in part, Corey opted to take advantage of LWG's expert installation and tuning services. He had them install the trigger and tune the action. The LWG HK-MTI service package includes LWG trigger installation with comprehensive action smoothing and tuning for the new trigger. The result is a reduced reset that's shorter than the trigger provides by itself. Corey also opted for the HK-ACS service: Action Cleanup Service. This is for the smoothing, tuning, and refitting of internal action components. The reported results are a smooth, clean feel to all trigger motions.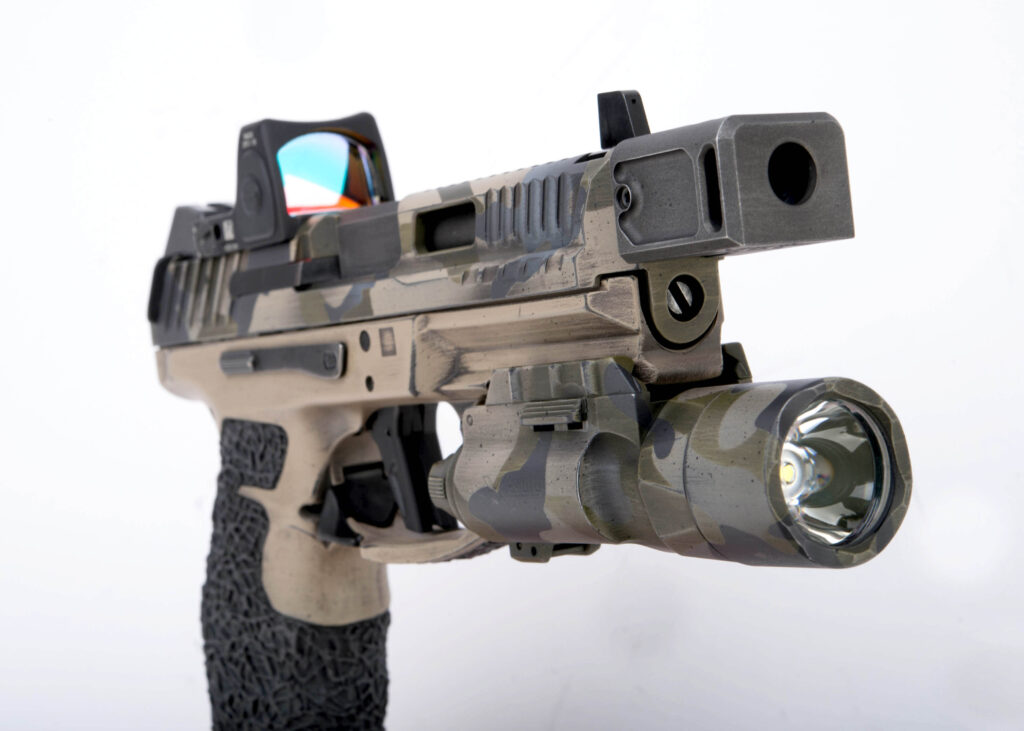 Completing the lower is a Taylor Freelance Overdrive magwell. The billet magwell is flared to allow for quick reloads into a competition-style funnel. Complementing the enlarged magwell is a set of Taylor Freelance HK Border Special magazine basepads. The billet aluminum basepads come in red, but Corey's have been Cerakoted to match the pistol. The basepads increase the VP9's ammunition capacity from the standard 15 rounds to 20.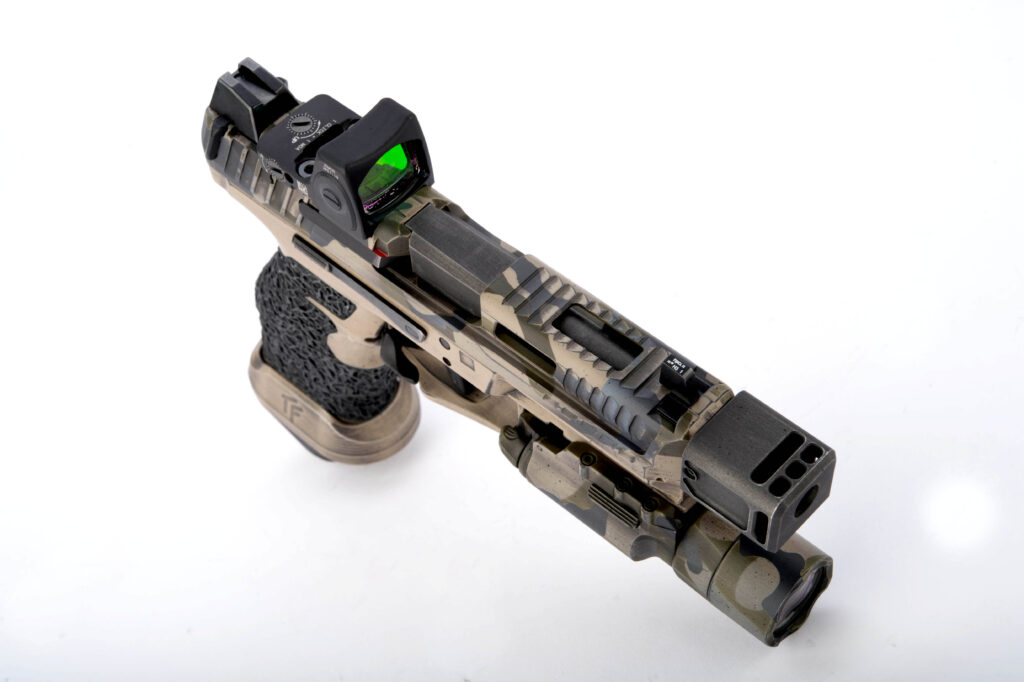 Because Corey is accustomed to having a weaponlight on his pistols, he wanted his fun gun to have one too. He chose a SureFire X300U-A for its 1,000-lumen output, large center spot beam pattern, and exceptional durability.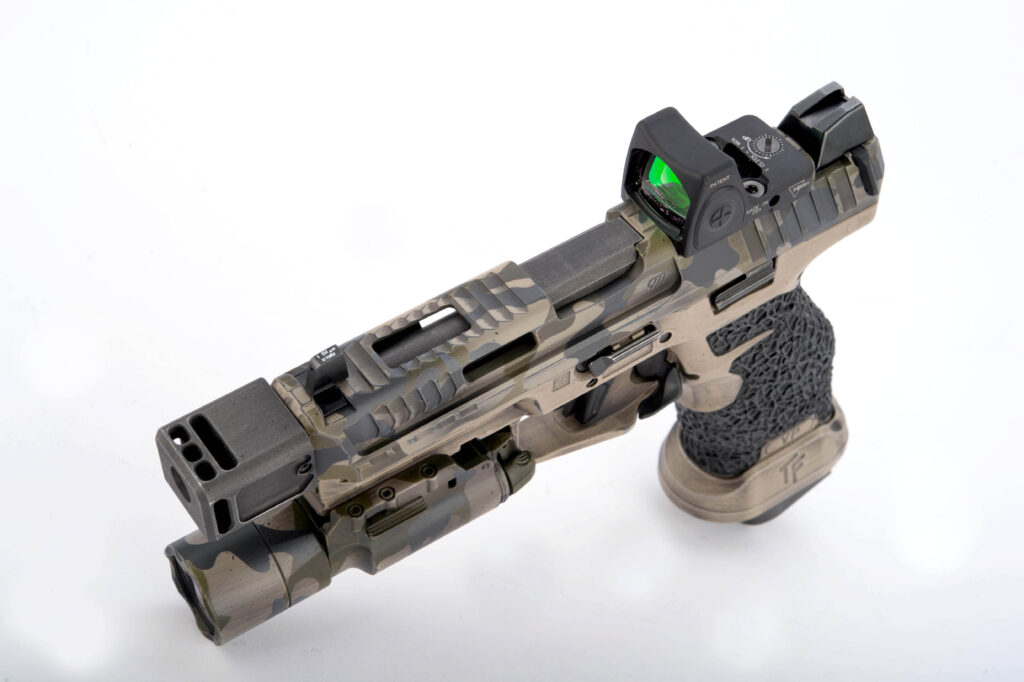 All the aforementioned parts were Cerakoted by Fng Precision Coatings. Being that this was Corey's first non-black gun, he actually didn't know exactly what color scheme he wanted to go with. All he knew was that he didn't want it black. He gave the guys at Fng some general direction of what he liked and let them do their thing. What he ended up with is several shades of awesome with a heaping side of bad-ass. The slide and pistol light were completed in a custom Fng camouflage called Reaper Camo. The frame was finished in a worn tan. It may not be obvious, but the stippled portions of the frame were also Cerakoted in a charcoal tone. This all comes together in a visually striking package.
We asked Corey what his favorite parts of his first custom gun are. "The trigger," he respeonds. "It was fine-tuned by Rick Holm himself, and that thing is sweet! I also really liked how the Cerakote turned out. I've never had anything like it before. Finally, I really like the grip work and stipple job. It's different form any stippling job I've seen before. It looks good, it's functional, and I love the undercut."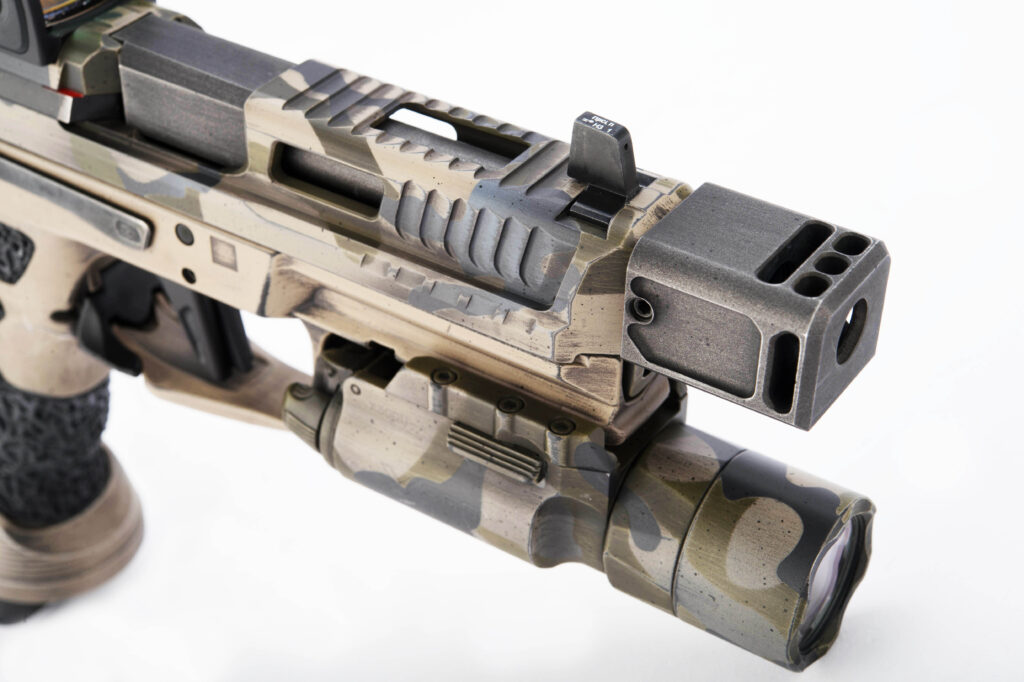 On the challenges that he had to overcome when working out his first custom build, he says, "I'd say the creative aspect of planning out this pistol was definitely a challenge for me. Not having dealt with any modifications like this before, I wasn't very 'in the know' about what's cool and what wasn't." Well, it looks like he managed quite well to us.
He tells us that the biggest problem now is fighting his urge to bring it to work with him. Being that this customized VP9 is similar to a Roland Special Glock 19, we suppose that it a build like it could find itself on his duty belt one day. Considering that this was Corey's first build, we look forward to seeing what else he comes up with next.
Text by Jerry Tsai and images by Lauren Short.
Corey's HK VP9

Caliber: 9mm
Length: 9 in.
Barrel: Brownells Edition Victory First VP9
Weight w/o magazine: 1 lb., 12.6 oz.
Coating: Cerakote by Fng Precision Coatings
Slidework: Slideworks Engineering
Framework: Custom Tactical Concepts

Featured Accessories:

Sights: Trijicon Bright & Tough Suppressor Night Sights
Optic: Trijicon RMR Type 2 (3.5 MOA)
Magazine: HK with Taylor Freelance HK Border Special
Parts & Accessories: Lazy Wolf Guns LWG F-2 (Flat Face) Trigger, Lazy Wolf Guns HK Armorers Inspection (HK-AICS), Lazy Wolf Trigger Installation with Action Tuning (HK-MTI), Taylor Freelance HK VP 9/40 Magwell, SureFire X300U-A, Texas Black Rifle Company Glock Micro Comp V3, Werkz Original Custom Holster, Werkz Original Double Mag Carrier

About the owner:

Name: Corey F.
Occupation: Law Enforcement Officer
Special Thanks: Danny and all the companies that helped me complete this pistol.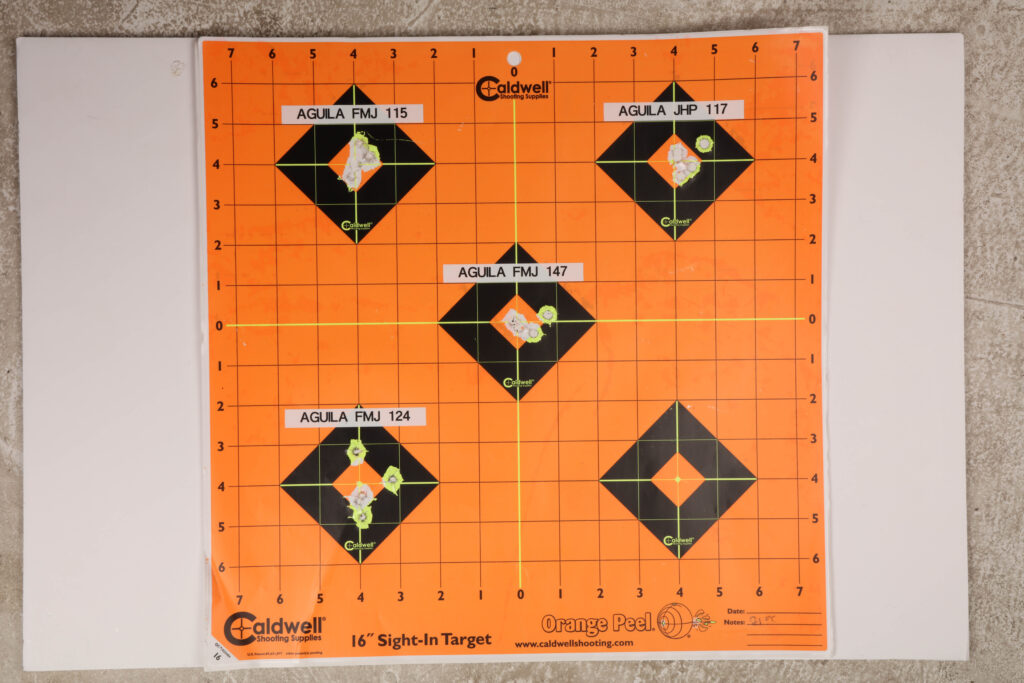 How Does It Shoot?
We took Corey's VP9 to a local indoor range to see how this puppy blasts paper. We felt minimal recoil, especially when shooting 147-grain cartridges, and barely noticed any movement of the RMR's red dot even when shooting quick double-taps. The five-shot groups pictured were made at a distance of 21 feet using four different types of Aguila ammunition. Bullet velocity was measured using a Magnetospeed V3 Ballistic Chronograph.
Aguila 9mm Luger 115-grain FMJ
Listed: 1,150 fps
Max: 1,170 fps
Min: 1,134 fps
Avg: 1,150 fps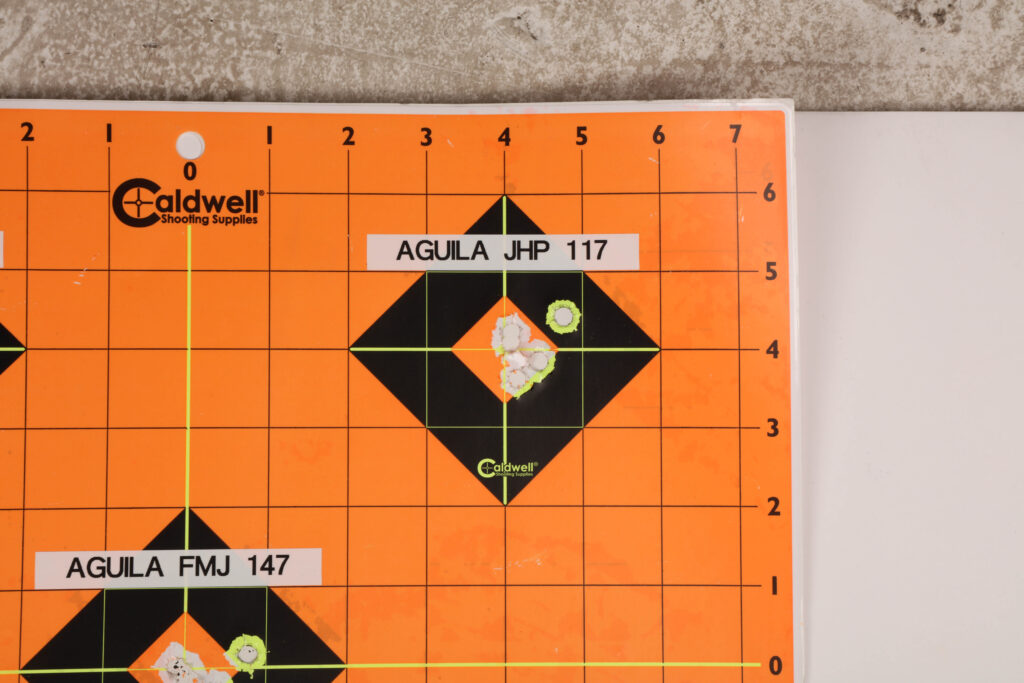 Aguila 9mm Luger 117-grain JHP
Listed: 1,150 fps
Max: 1,216 fps
Min: 1,102 fps
Avg: 1,160 fps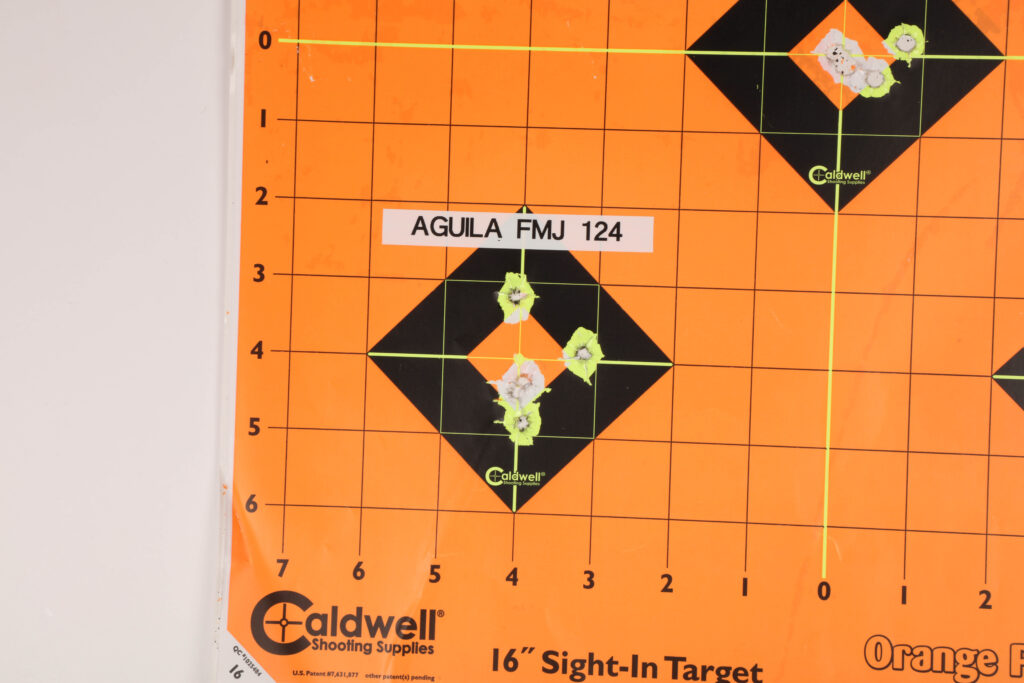 Aguila 9mm Luger 125-grain FMJ
Listed: 1,115 fps
Max: 1,159 fps
Min: 1,068 fps
Avg: 1,114 fps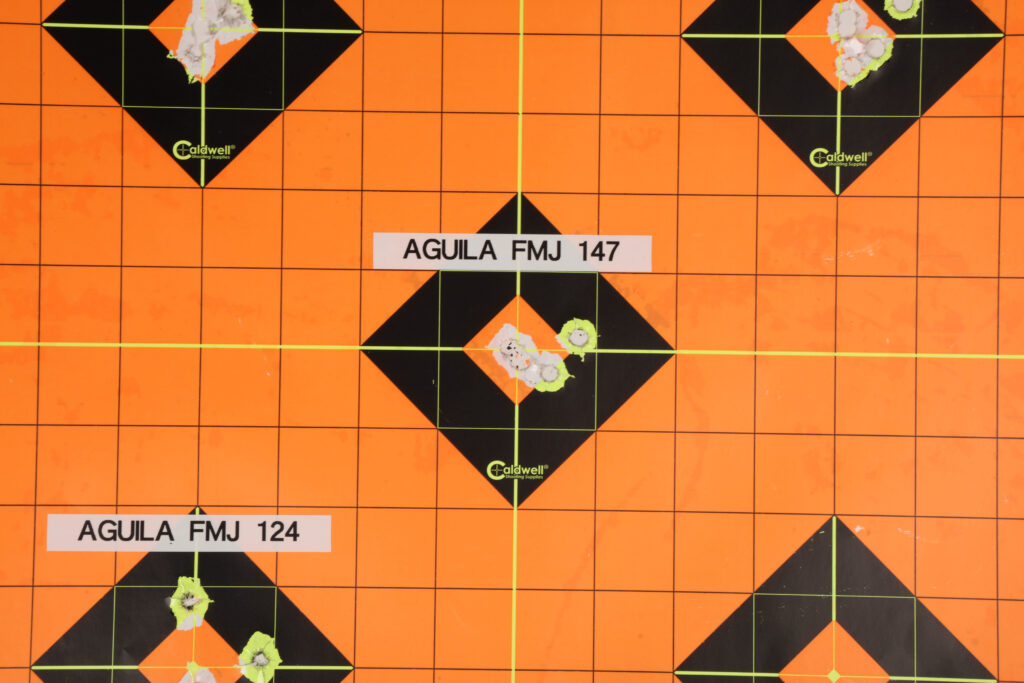 Aguila 9mm Luger 147-grain FMJ
Listed: 950 fps
Max: 994 fps
Min: 895 fps
Avg: 945 fps