Based on a Manker Elfin Compact EDC Knife
Matching customized Manker E02 flashlight
Personalized by the owner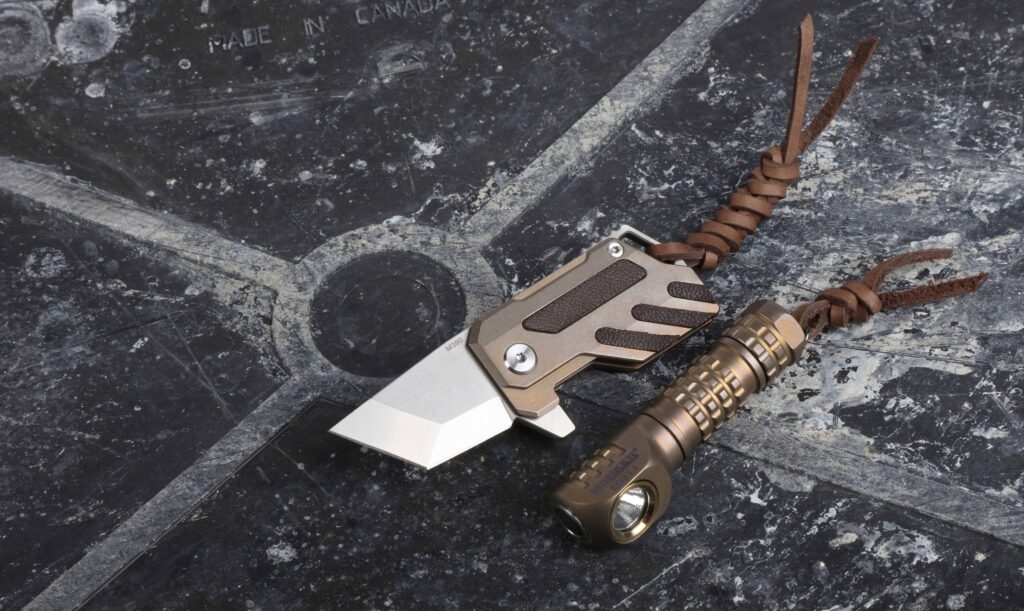 We live in a world where off the shelf just doesn't cut it anymore. It seems as if everything is customized, from the limo tint on your car's windows to the tall, non-fat latte with caramel drizzle coffee you drink in the morning. In the day and age that we live in, it's easy to get things just the way that you want them. The same can be said about our gear. Whether its gear for the range or daily carry, many of us prefer to apply a twist of our own to them. Sometimes it's for aesthetics and other times its for function. Regardless, factory stock isn't where it's at anymore.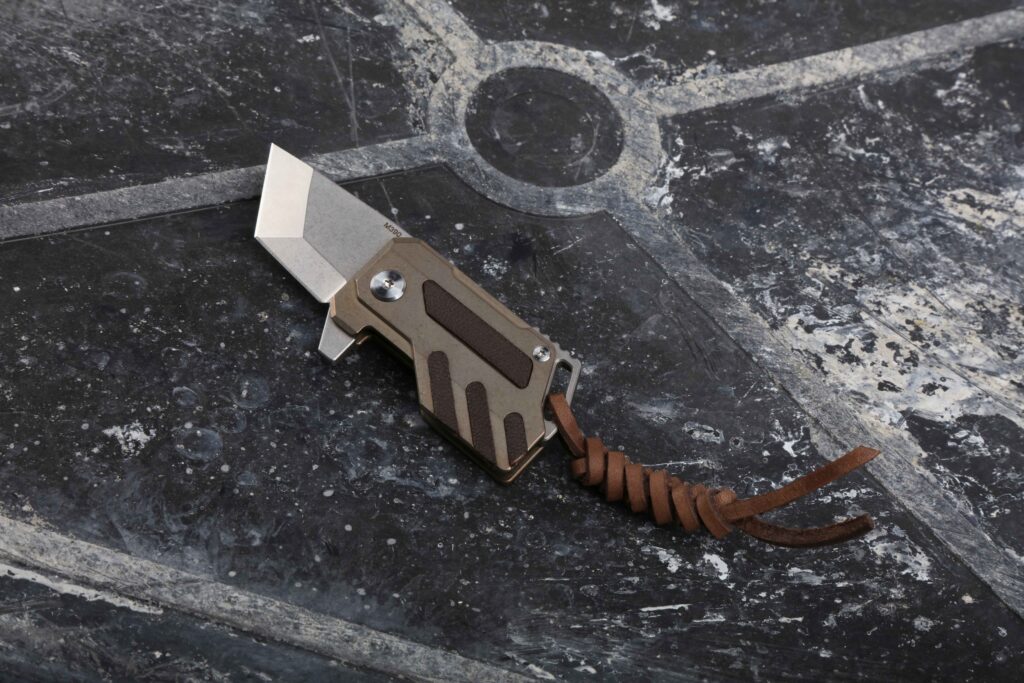 Billy Gee, the owner of the customized the knife and flashlight combination that is featured here, works in a corporate environment. He used to carry a larger EDC set up, but found that smaller items would work better for his workplace situation. It was when he looked around to find an even more compact knife and flashlight duo that he came across the brand Manker. Up until then, he hadn't heard of the company. After some research online, he learned that Manker's specialty is making flashlights. The company has since branched out and created other EDC items such as knives and tactical pens.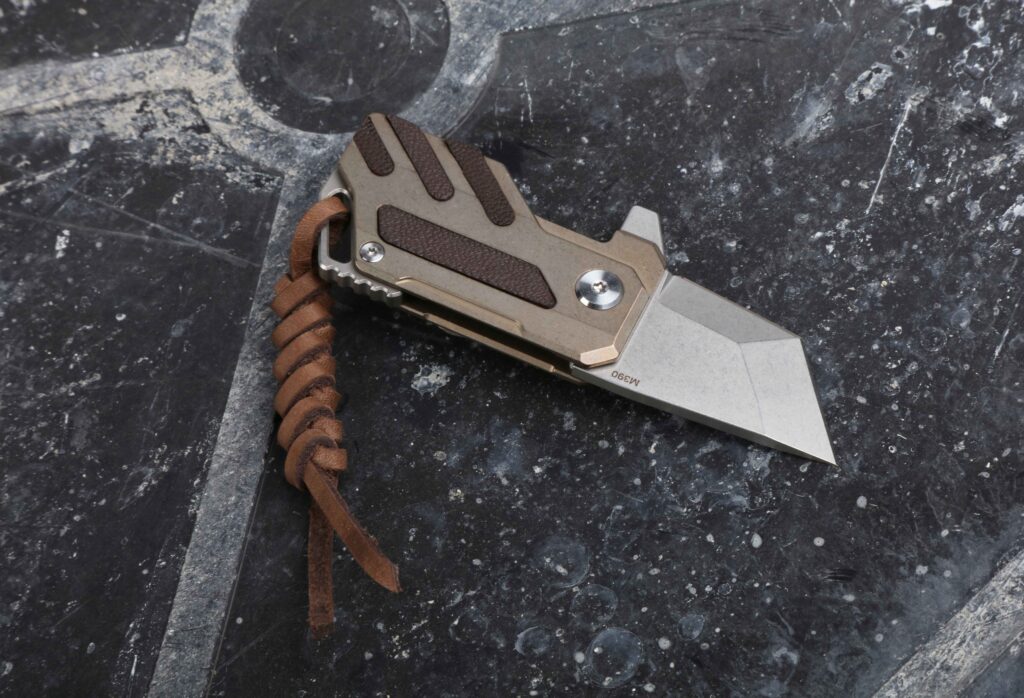 He realized that there are tons of flashlight choices on the market, he looked for one that met criteria that he set. First, it has to run on readily available batteries, such as AAs or AAAs. While lithium batteries such as CR123-sized ones usually have better performance, but they are not quite as available at your local gas station or office supply stores. Second, he wanted a magnetic base so that he had the option to use it hands free. Third, he wanted the option to convert to a headlamp.
The Manker E02 he ultimately chose seemed to check all the right boxes. What made his choice even easier was that Manker also offered a compact folder. The folder is fitted with titanium scales and a blade made of quality M390 steel. He carried the combination, both finished in a natural metal color, for a couple of weeks and while he loved their functionality, he wished the two items had a bit more style. Having access to a home made titanium-anodizing setup; he decided to try his hand at adding a touch of his own style to the E02 and Elfin folder. The stonewashed natural titanium combo was about to get some color.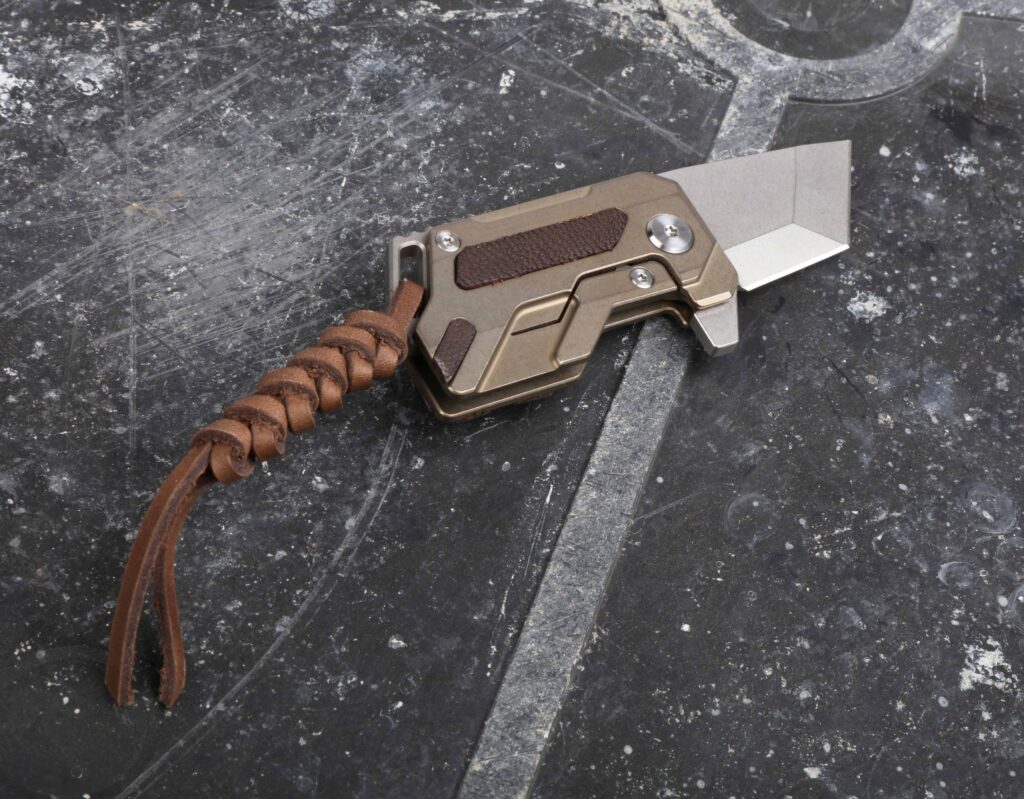 Billy has home-anodized items such as knives before so this wasn't a new process for him. The knife was easily disassembled and anodized, but when he got to the flashlight, it was quite a different story. He was told not to dip non-titanium metals uncovered in the anodization bath, so the flashlight's button, magnet, bezel, and lens had to be masked. How was he going to mask them?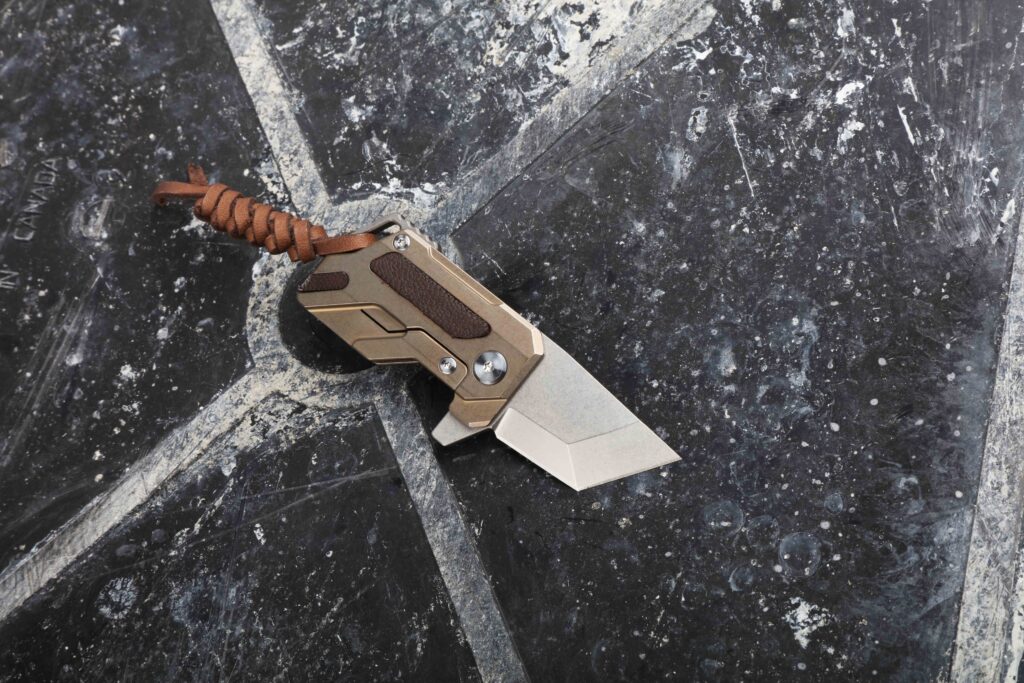 Liquid tape and nail polish were initially considered, but he finally settled on trying mounting putty. Mounting putty, like the type you use to secure pictures on walls or objects on displayed on shelves, is tacky and malleable so it seemed to be the perfect product for the job. The putty was carefully and meticulously applied, but after anodizing the result was not satisfactory. The borders of where the putty was applied had uneven bleed through from the anodization mixture. It didn't look good at all. To correct the problem, he tried anodizing the entire light. It did not correct all the issues, but was good enough to make it presentable. A bonus from his second anodization attempt was finding out that the light's bezel is also made of titanium. The color took to the bezel and gives it a nice, slight contrast finish.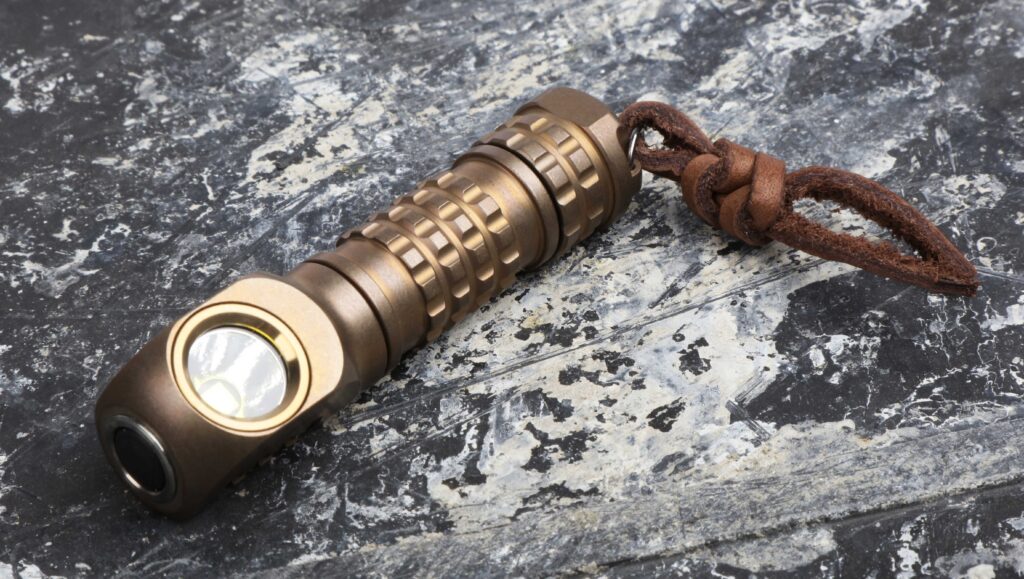 Already having a drawer full of knives and flashlights with paracord lanyards tied to them, Billy wanted to try something different to finish the duo. Considering the bronze-like color of the anodizing, leather seemed like a good choice. Bronze and brown leather is always a classic choice.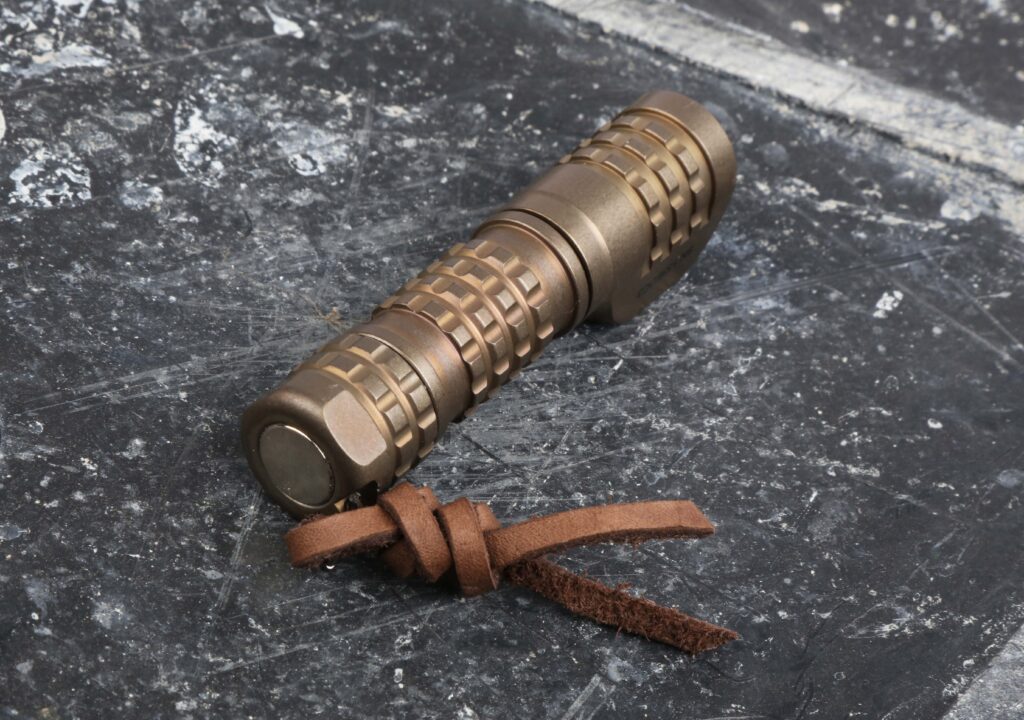 He ordered up some leather and braided them onto the lanyard loops of the knife and flashlight. To add yet another custom touch, he decided to install leather inlays into the knife's scales. This was Billy's first time working with leather, so he had some experimentation to do. After cutting the leather pieces to size, he tried using super glue to adhere the leather to the titanium. He quickly learned that wasn't the way to go. For his second attempt, he used an epoxy that has help up well.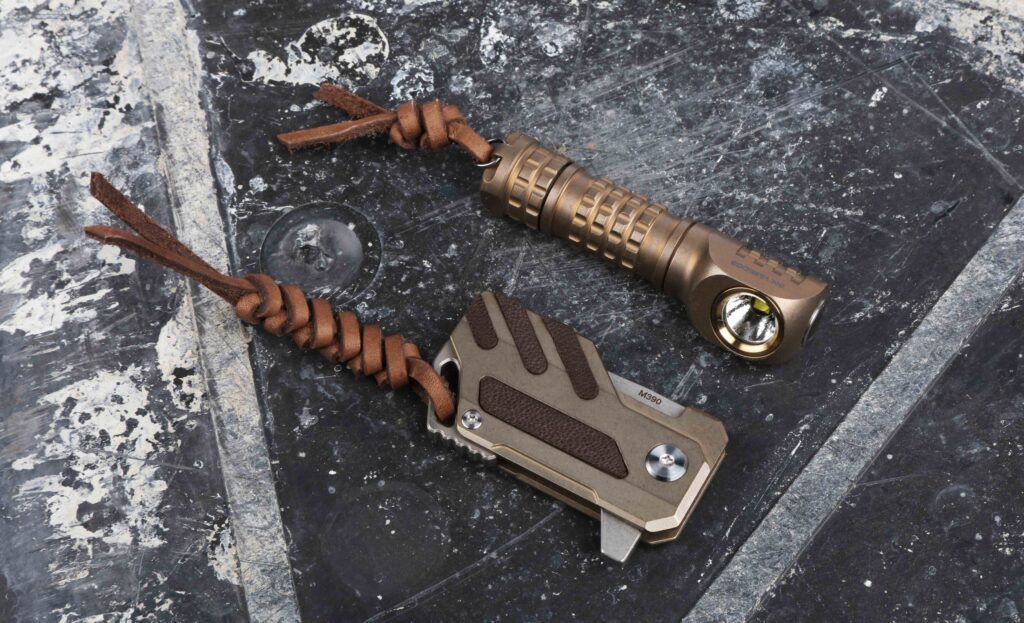 After some trial and error, Billy finally got the look that we wanted. Billy adds, "Sure, it's not a perfect job, but learning by doing is something that I really enjoy. Customizing the pieces myself makes that much more satisfying, even if its not perfect." Compared to the natural metal look that the knife and flashlight came in, we think that the bronze color and leather texture combination looks great.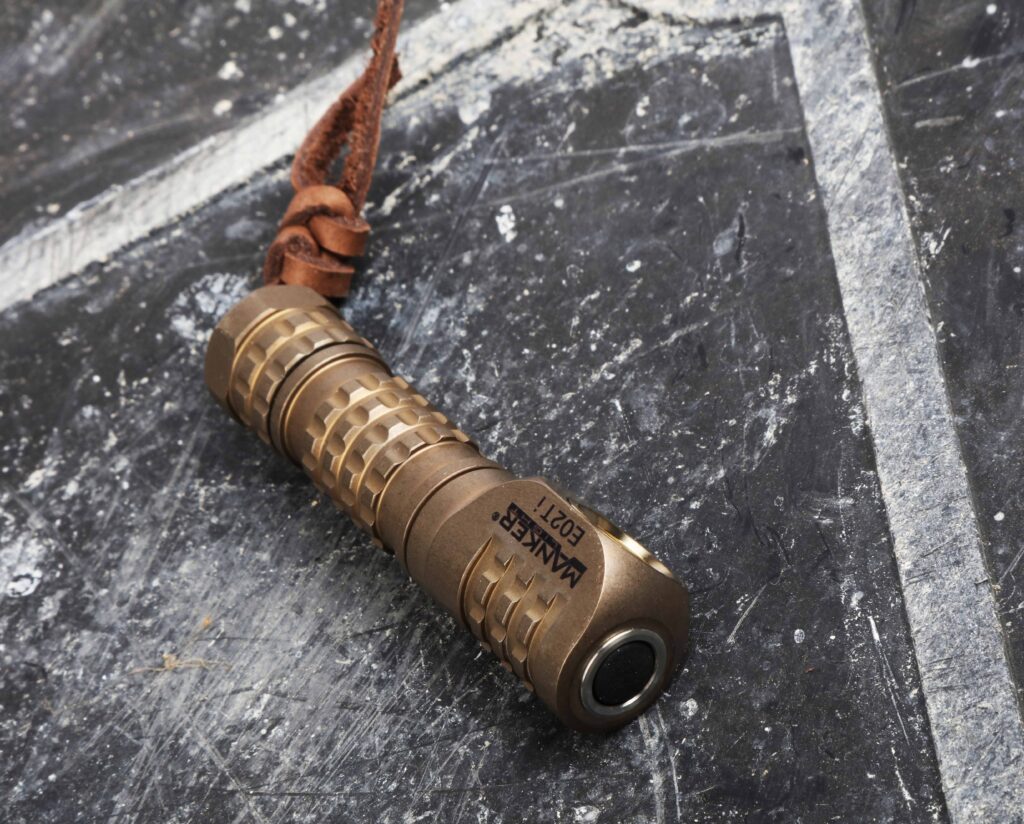 If you have a knife that you customized yourself that you'd like to see featured in UN12, tag us on Instagram (@un12mag).
Text by Danny Chang and images by Chris Lee
Owner: Billy Gee
Customized Knife Based On:
Make: Manker
Model: Elfin Compact EDC Knife Titanium M390 Steel Folding Knife (Natural Color)
rainierarms.com
Customized Flashlight Based On:
Make: Manker
Model: E02 Ti 220 Lumens Titanium Angle Flashlight (Natural Color)
rainierarms.com