Based on a CRKT Pilar Large Black with D2 bladesSteel
Personalized at home
Originally designed by Jesper Voxnaes
When we came across the featured customized knife, we were floored to learn that its owner had built it based on something he saw in the pages of UN12. Tyler has been an avid reader of UN12 from the very first issue. When he saw the Nevada Cerakote APOD camouflage pattern on the cover rifle from our Issue 003, he immediately knew, one way or another, he would use that pattern on one of his own future projects.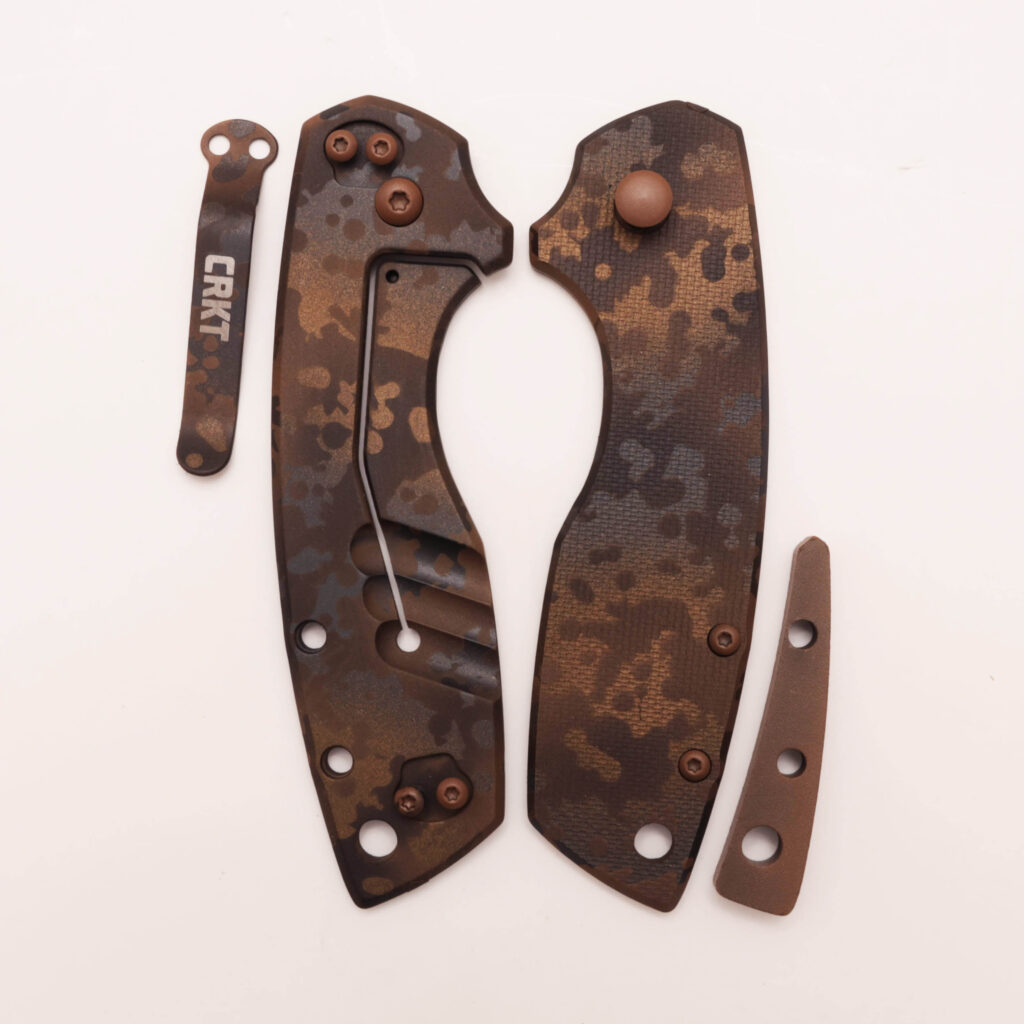 Tyler needed a budget-friendly EDC knife to take with him to work on a daily basis. While he liked the original, smaller Pilar knife, he learned about a bigger version that was released earlier this year. He felt that a larger knife would be a better match for his meaty paws. O"The larger Pilar's enlarged handle gave my hands a more solid feeling when gripping it," he says.
The project started out with a CRKT Pilar Large Black with D2 blade steel. The original Pilar, designed by Jesper Voxnaes in his Denmark shop, was first released in 2017 and received many awards for being a favorite everyday carry (EDC) knife for under $50. Two years later, and after several iterations, CRKT has released a larger version that measures 6.625 inches overall. The larger Pilar also had a flipper tab added to it that runs on Teflon washers. "Opening the knife one-handed is very easy by flipping the tab," Tyler says.
As mentioned, Tyler fell in love with Nevada Cerakote's APOD camo pattern when he first laid eyes on it. He explained how he went about the process of getting the same pattern applied to the knife's scales. "I contacted the people over at Nevada Cerakote and told them what I had imagined," he says. "The owner, Russ Bacon, and his team have a unique and very cool camouflaged pattern that I hope to put on a pistol or rifle one day to match this knife."

It wasn't long after Tyler shipped the knife off to get coated that he received a surprise message from Russ regarding the CRKT logo on the knife's belt clip. "I already knew there was a lot going on and didn't want to trouble them to add the logo back on," he says. "But, as if he read my mind, he sent a picture with the CRKT logo lasered back on the belt clip as if it came like that from the factory." That's some attentive customer service.
When he originally purchased the Pilar Large knife, Tyler opted for an optional upgraded steel. Instead of the standard 8Cr14MoV blade, "I spent a few extra bucks to get the D2 blade since it offers a better edge and better corrosion resistance," he says. While waiting for the painted scales and hardware to be finished, he decided to do something about the factory black D2 blade to better match the APOD camo.
Tyler's decision was to dip the blade in two different acids, which further protects it from corrosion, as well as stonewashing it for a more finished look. "In all honesty, to me, the black coating from CRKT looked like it was just painted on. This gave me a reason to do something about it," he says.
"Google is a great but scary tool to have," he continues. "One night I was getting my Google-fu on and seeing what else on the market was made for the Pilar." He came across a company called Flytanium, which specializes in knife products that improve or enhance popular mass-produced factory knives. He found an antique stonewash-finished copper scale that caught his eye. It was just his luck that Flytanium had just released scales for the Pilar Large the very day he contacted them. The timing couldn't be any more perfect. "I knew that I had all the existing scales and hardware being Cerakoted but I wanted to really pimp out this knife," he says. The stonewashed finish on the copper scale and the colors of the APOD camo all meshed well together. Now it was time to see it assembled.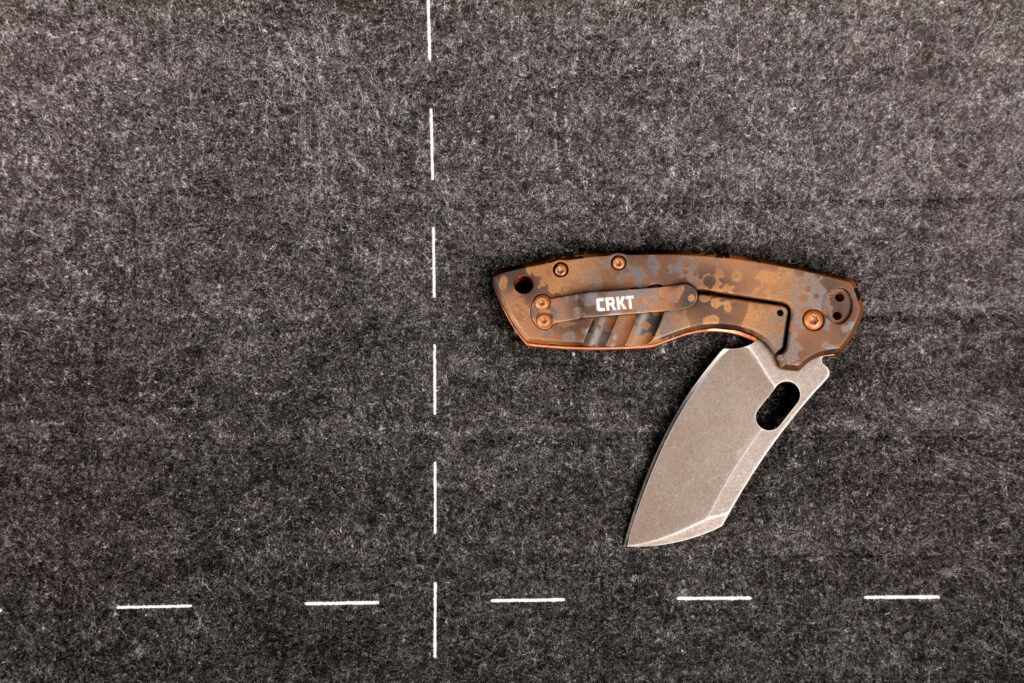 As you can see, Tyler's customized Pilar Large really stands out and looks quite sharp (pardon our pun). There probably isn't another CRKT Pilar that looks just like this one. The knife is now a conversation starter for anyone who sees it, and that's fine by Tyler. He says every aspect of this knife, from concept to completion, has a story he can share. We're especially pleased that UN12 had a small hand in his inspiration. If you have a knife that you customized yourself that you'd like to see featured in UN12, tag us on Instagram @un12mag.
Text by Danny Chang and images by Michael Grey
Personalized CRKT Pillar Large
Owner: Tyler
Occupation: Veterinarian
Special Thanks: Ashley, Chris, and little brother D
CRKTModel:
Pilar Large Black with D2 blade steel
MSRP: $70
URL: crkt.com
Designer: Jesper Voxnaes