Matching Glock 17 & Glock 19 Gen3s
Custom slides, compensators & Cerakote
Custom frame etching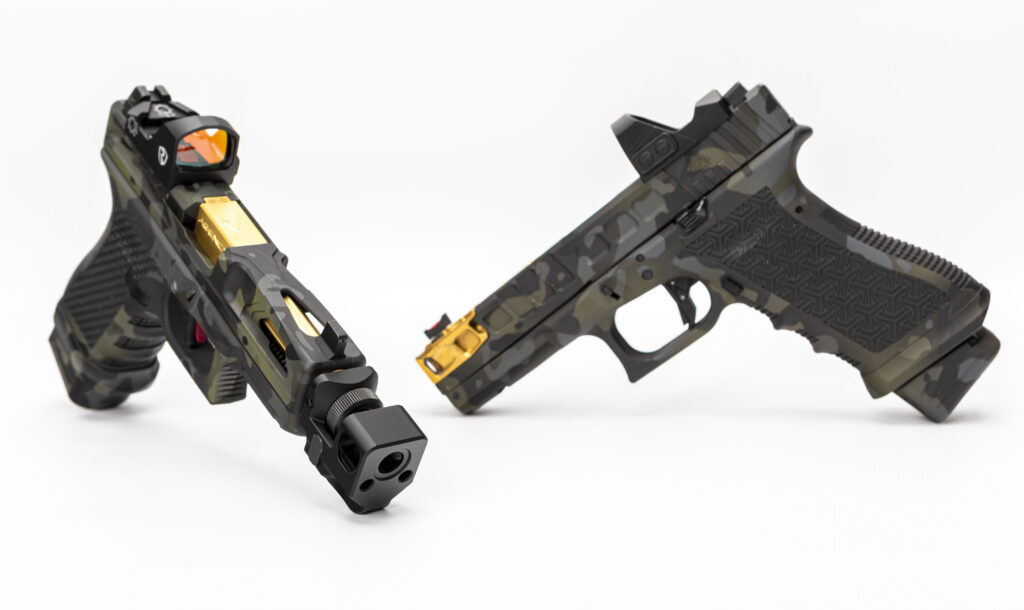 It's been said that an armed society is a polite society. You might imagine one of America's Founding Fathers penning the line, or maybe it being uttered by a lawman out of the old American West. In actuality, it comes from a science fiction story called "Beyond This Horizon" by Robert A. Heinlein.
In the story, genetically optimized humans carry weapons openly as a way to maintain public civility. Of course, this romanticized notion comes from the practice of pre-arranged combat that was employed in Western civilization since at least the Middle Ages, first as a way to settle personal disputes, then later as a way to preserve one's personal honor.
And thus came the inspiration for the following Glock builds by UN12 contributor Jay Canter, who has built several firearms featured in these pages, including the Death Watch AR on page 72. "I just love the idea of dueling pistols from the 1800s," he says. "So I thought it would be dope to do a Glock 17 and Glock 19 in similar fashion."
Glock 17 Gen3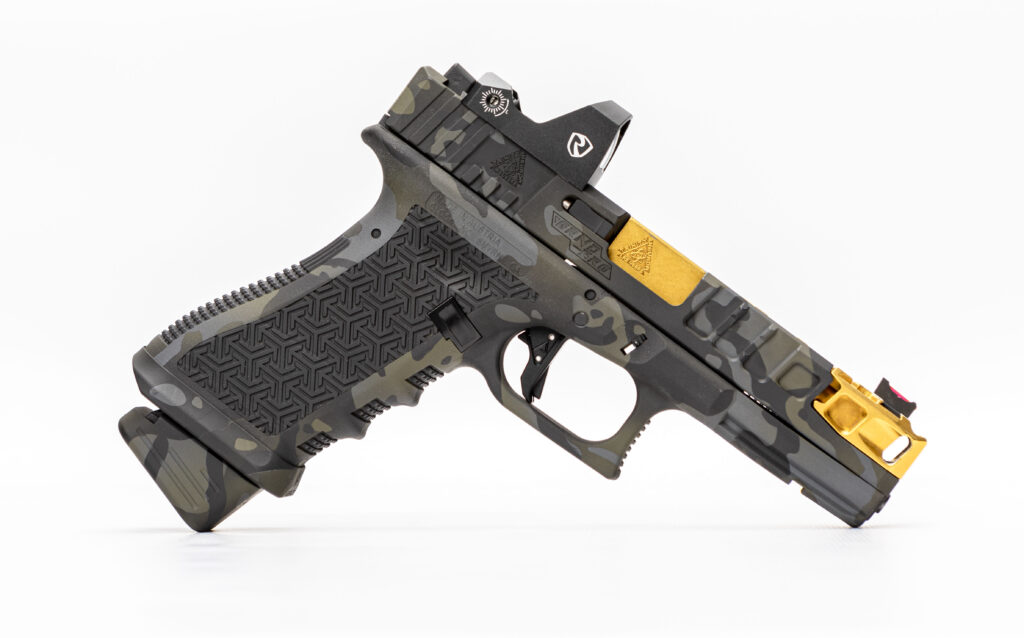 The larger of the two, ideal for the duelist seeking a full-size option with a full complement of rounds, is the Glock 17. It uses a factory Glock frame that has been given a custom "stippling" treatment by 2A Tactical LLC out of Gilbert, Arizona.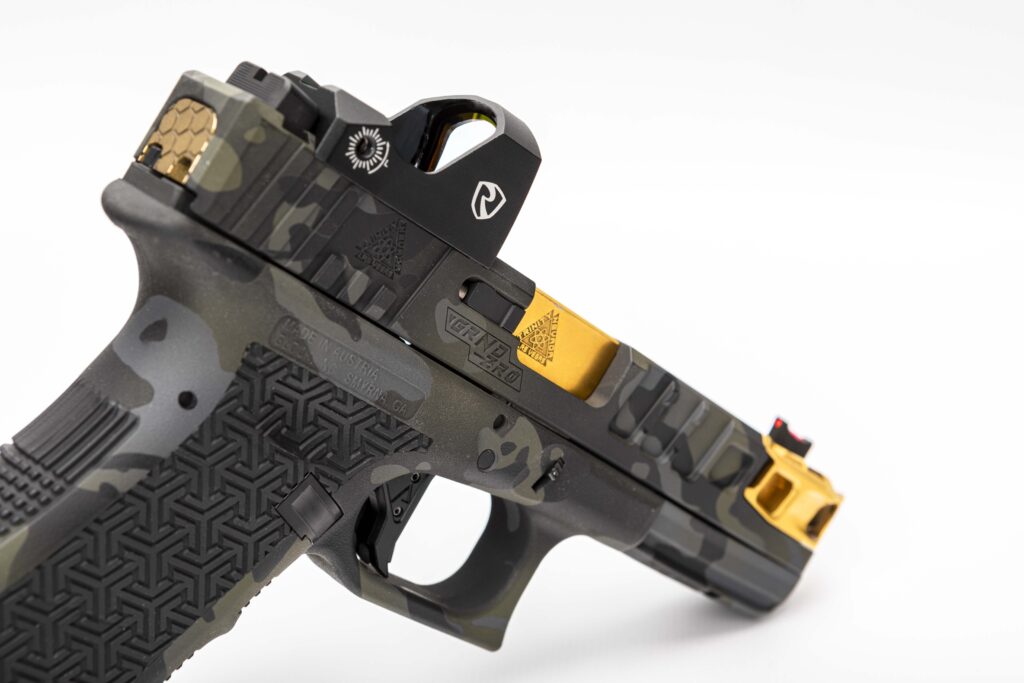 Rather than true stippling, the side panels have been laser-etched with what they call a "Death Star" pattern, a sort of interlocking mosaic of lines that resembles the Imperial crest from Star Wars. To others, it might bring to mind one of the interlaced patterns from an M.C. Escher lithograph. Either way, it's a unique and attractive approach to grip stippling—a radially symmetric pattern that inexorably draws the eye in and isn't really stippling at all in the literal sense.
The factory trigger is replaced by an Agency Arms flat-faced trigger, which that company has designed for a short, crisp reset—ideal for follow-up shots—and for a smoother overall travel. Its main physical feature is a flat aluminum shoe with a "tuned" and polished OEM trigger bar. Two colors are offered; this one is black.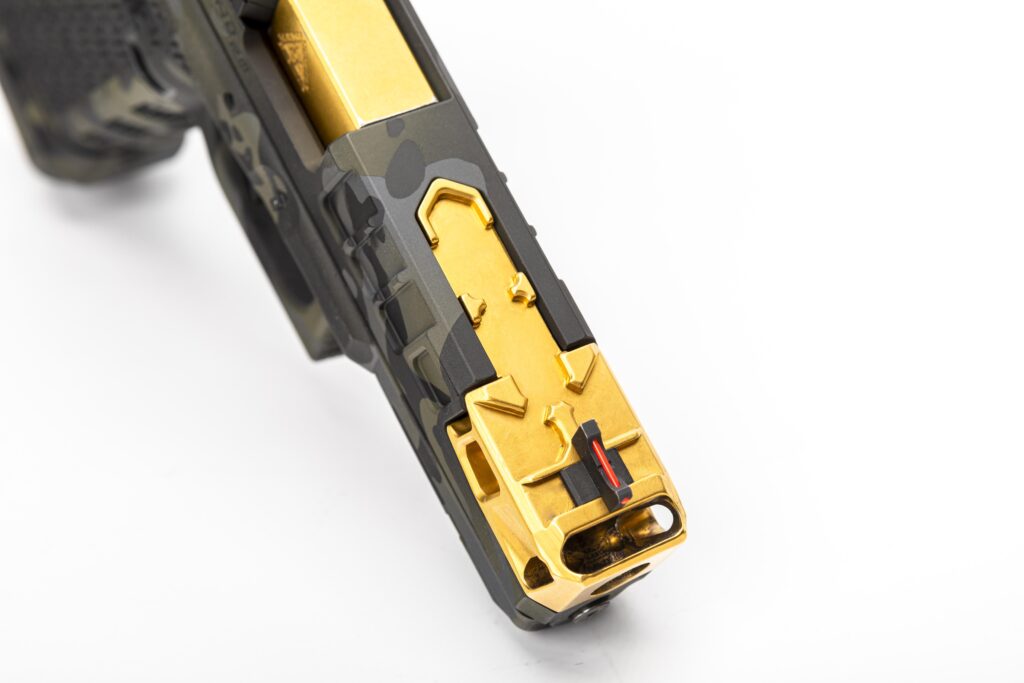 The frame is assembled with an extended OEM slide release, a Rival Arms slide lock, and a Tyrant CNC extended mag release. The lower end has been enhanced with an Agency Arms magwell, which is designed to follow the grip's natural contours and is thereby optimized for carry duty while still accommodating a range of extended magazine base pads. And speaking of magwells, magazines, and base pads, this build employs a factory 17-round magazine fitted with +2 capacity KE Arms pad, for a total of 20 rounds with one in the chamber.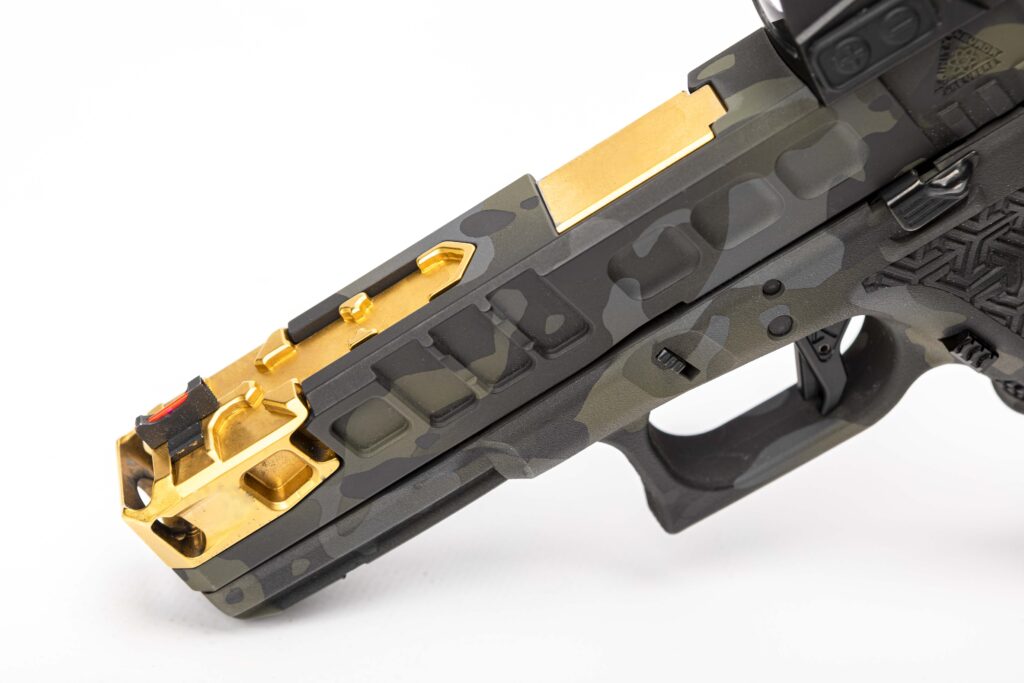 The centerpiece of the build is of course the upper portion. This is an all-inclusive slide upgrade package from Trinity Nevada called Ground Zero, which effectively encompasses the pistol's slide, barrel, and a neatly integrated compensator complete with fiber-optic front sight.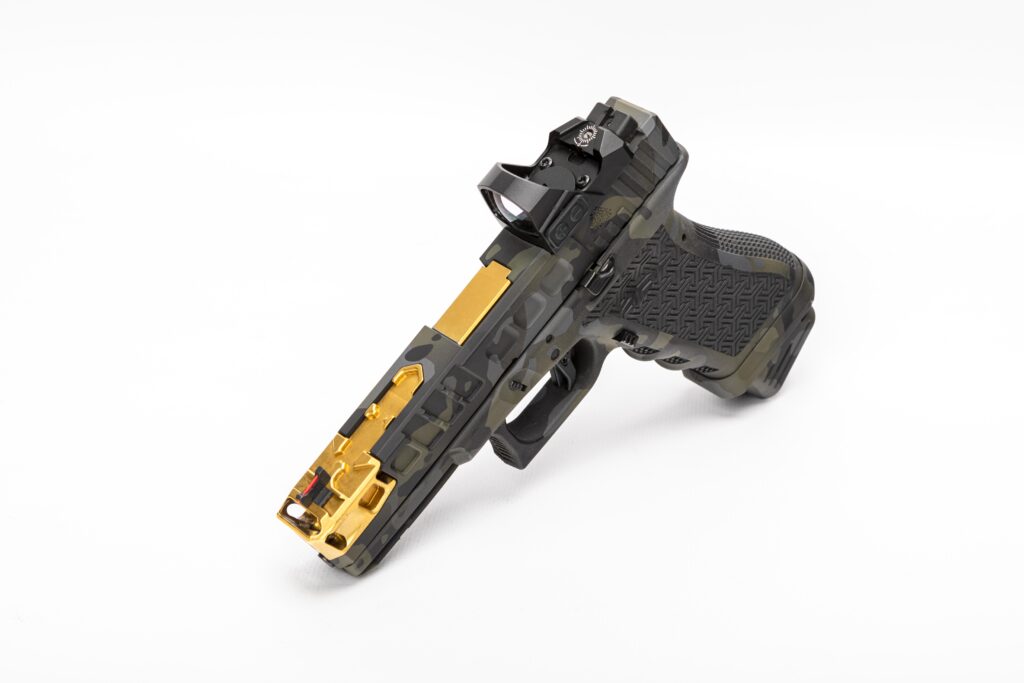 The slide itself features enhanced serration cuts to afford the user greater purchase when manually racking it. An RMR cut is also included for a Trijicon red dot, but can obviously accommodate anything with an RMR footprint. Canter opted for a Riton Optics X3 Tactix PRD with a 3 MOA dot.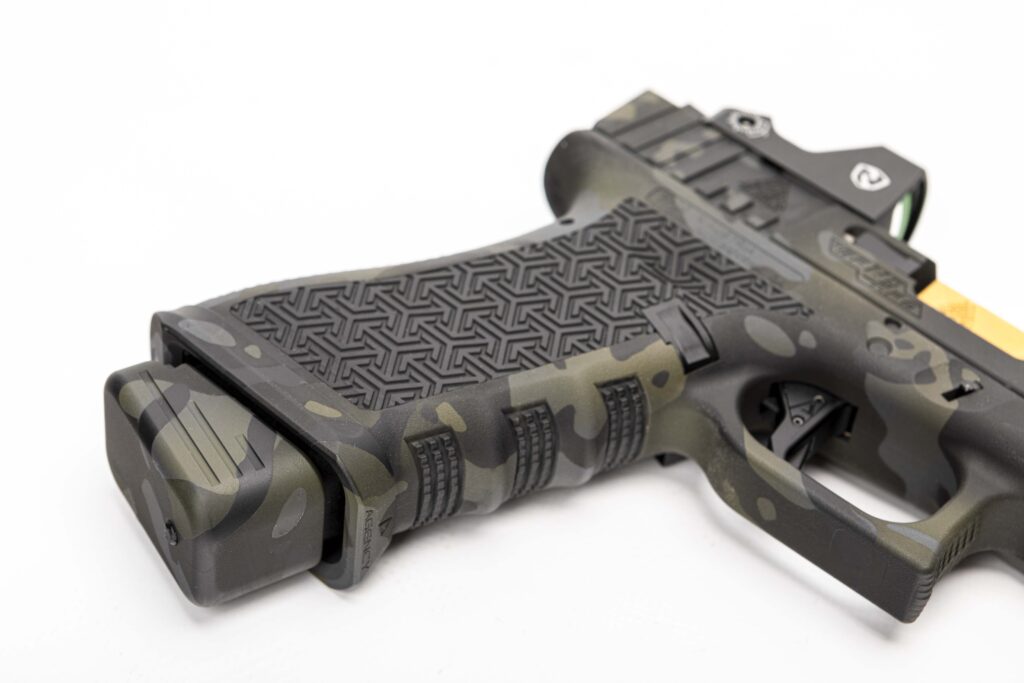 As noted, Trinity Nevada offers this package as an all-inclusive upgrade for the G17's top end, so it includes a match-grade barrel with an integral compensator. Engineered as this package is as a holistic upgrade, the compensator blends seamlessly with the slide portion so it's aesthetically pleasing as well as functional, something we love to see. The benefits of this upgrade are manifold, particularly as far as the compensator is concerned, including the fact that it imparts no additional length, features a threadless anti-rotation design, and is, according to Trinity Nevada, 50-state legal. The barrel and compensator assembly is gold titanium nitride (TiN) coated and forms a rather dramatic contrast with the Black MultiCam Cerakoting on the slide (more on that in a moment).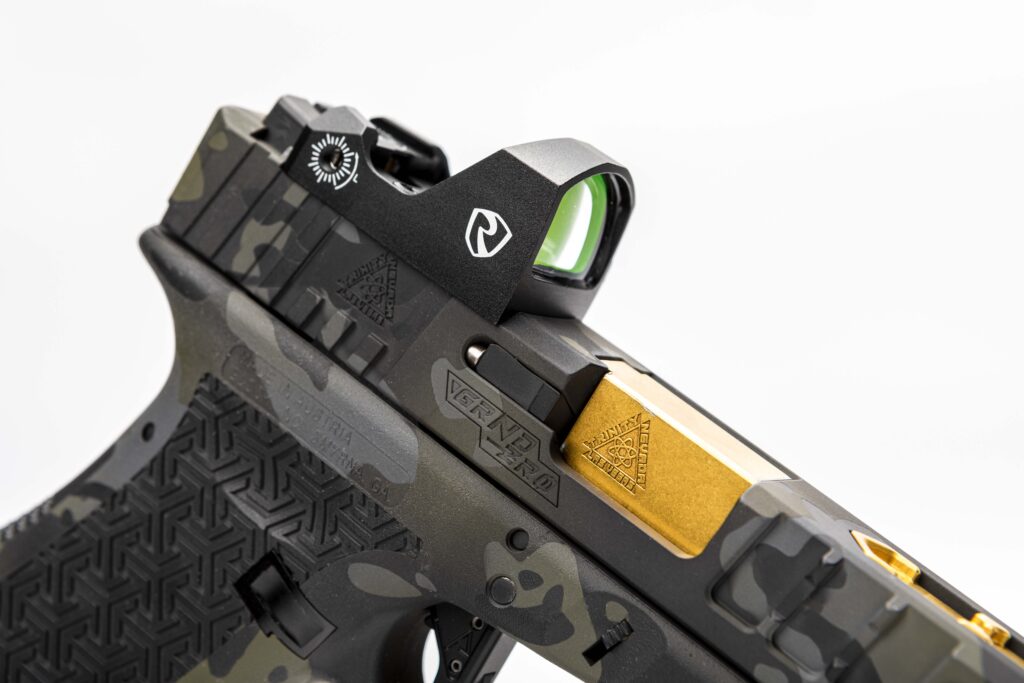 For retail customers, Trinity Nevada offers the Ground Zero top-end upgrade—we hesitate to call it simply a slide treatment, since it's clearly so much more than that—as a complete package that includes a frame tune with the company's proprietary locking block to ensure proper functionality. After shipping the frame, customers may opt for further upgrades including trigger tuning and frame stippling. Various finishes are also available for the slide, barrel, and compensator, including the pictured TiN, DLC, Cerakote, or brushed stainless.
While this pistol wears the TiN plating on barrel and compensator, Canter had the rest of it finished by Koted Arms out of Mesa, Arizona. It's a Black MultiCam Cerakote that is applied to the frame everywhere but on the textured panels on the sides, backstrap, and finger grooves, to the slide portion of the Trinity top end, to the magwell, and to the magazine base pads.
Glock 19 Gen3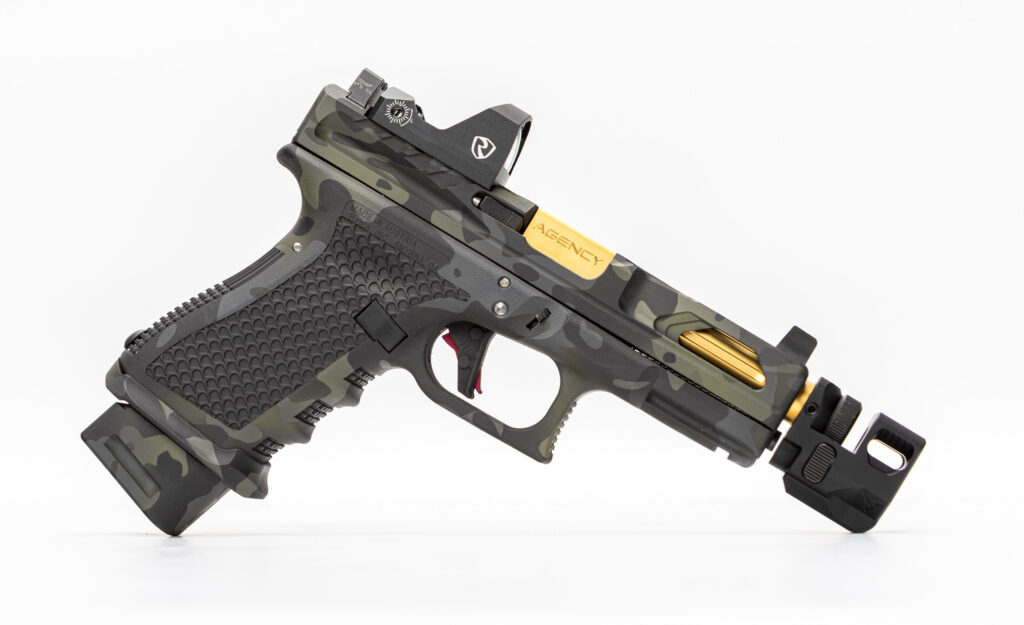 The more compact of the two, so perhaps favored by the duelist seeking a more discreet carry, is the Glock 19. Like the 17, it also uses a factory Glock frame that has been treated by 2A Tactical LLC.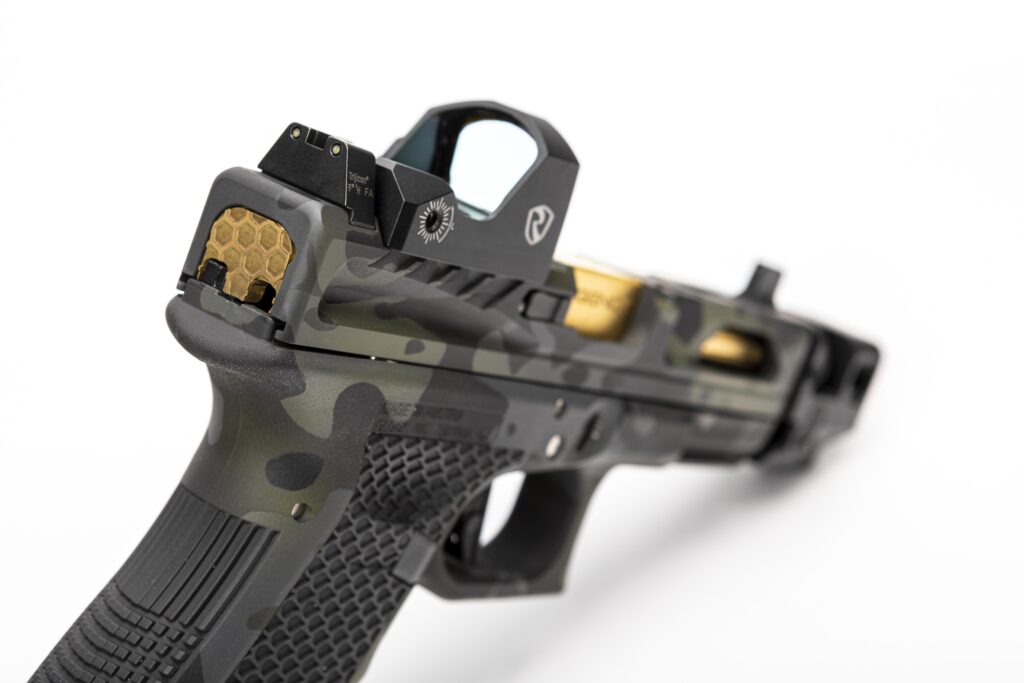 The side panels have been etched with what Steve at 2A has dubbed the "SIG" raindrop pattern, which gives it a scaled effect that's visually much different than the interlocking pattern on its G17 bigger brother, but no less intriguing. As with the other pistol, when combined with the Cerakote it serves to draw the pistol's aesthetic into distinct sections that dynamically break up the Glock's natural homogenized, ho-hum (that is to say, boring) aesthetic.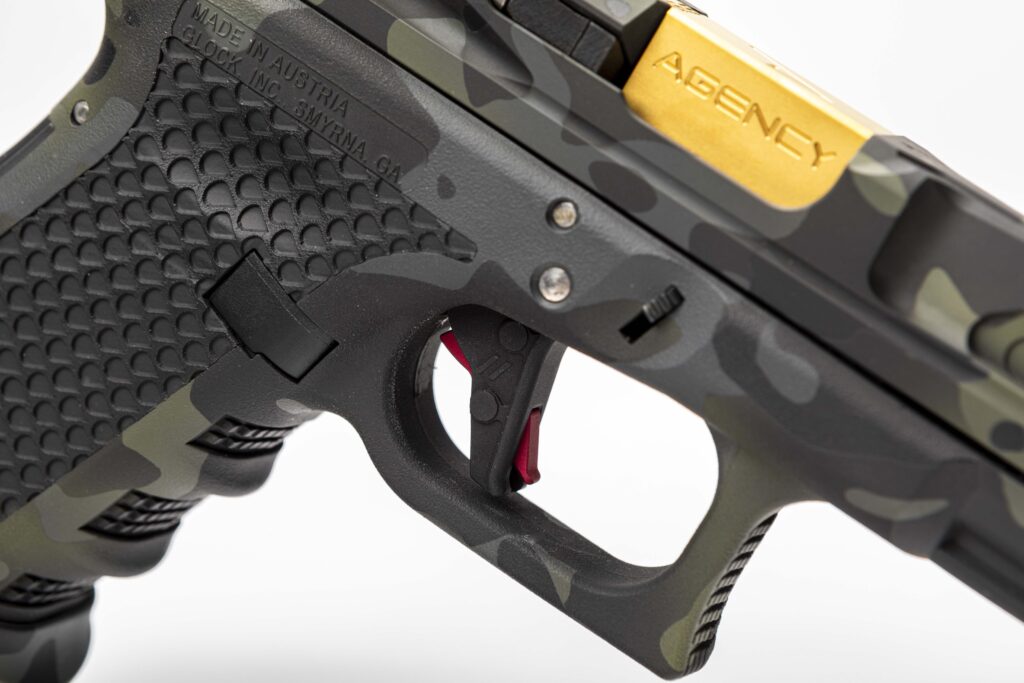 The frame is assembled with an extended OEM slide release, a Rival Arms slide lock, and a Ghost Inc. extended mag release. The factory trigger has been replaced by a ZEV Technologies trigger, also with a flat face but with a contrasting red safety lever and trigger connector included. The lower end has been enhanced with a ZEV Pro Compact magwell, which is flared at the base to enhance quick magazine insertion and designed specifically for Glock compact models like this 19. The build also employs factory 15-round magazines fitted with +3 Springer Precision aluminum base pads. With one round in the chamber, its total capacity is only one cartridge off that of its G17 sibling.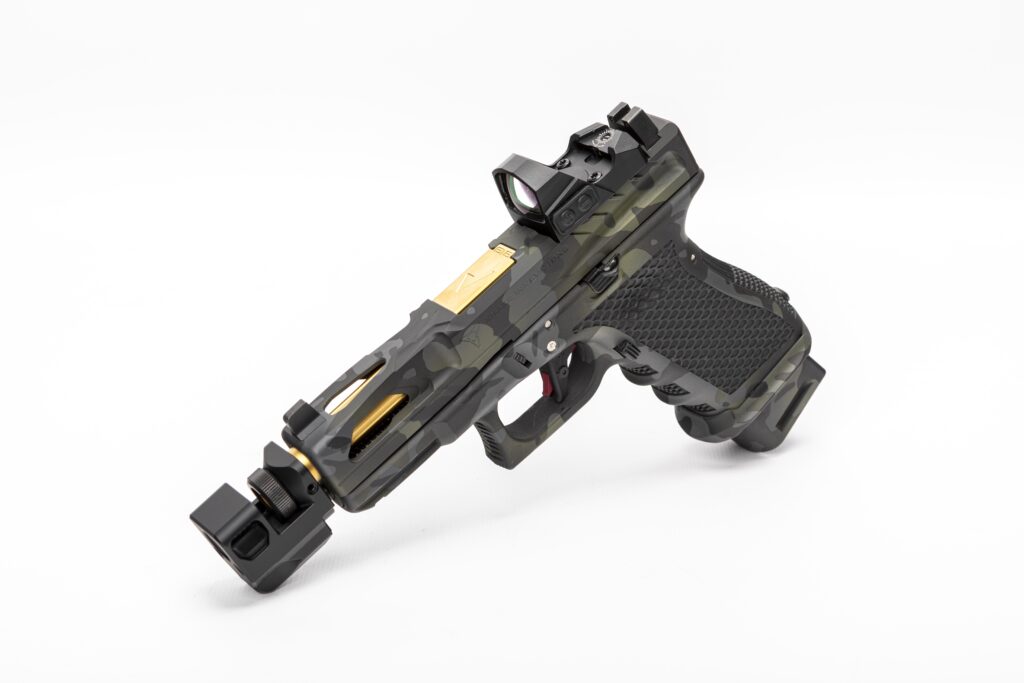 As with the G17 listed above, the centerpiece of the build is the upper portion. The slide is a Velocity V1 from Killer Innovations. It features KI's proprietary Enhanced Grip Feature (EGF) cuts that are designed to offer positive "walls" the operator can push against when manipulating the slide. EGFs are etched into both the slide's front and rear portions. The slide also includes an RMR cut where, as with the G17, a Riton Optics X3 Tactix PRD with a 3 MOA dot has been installed.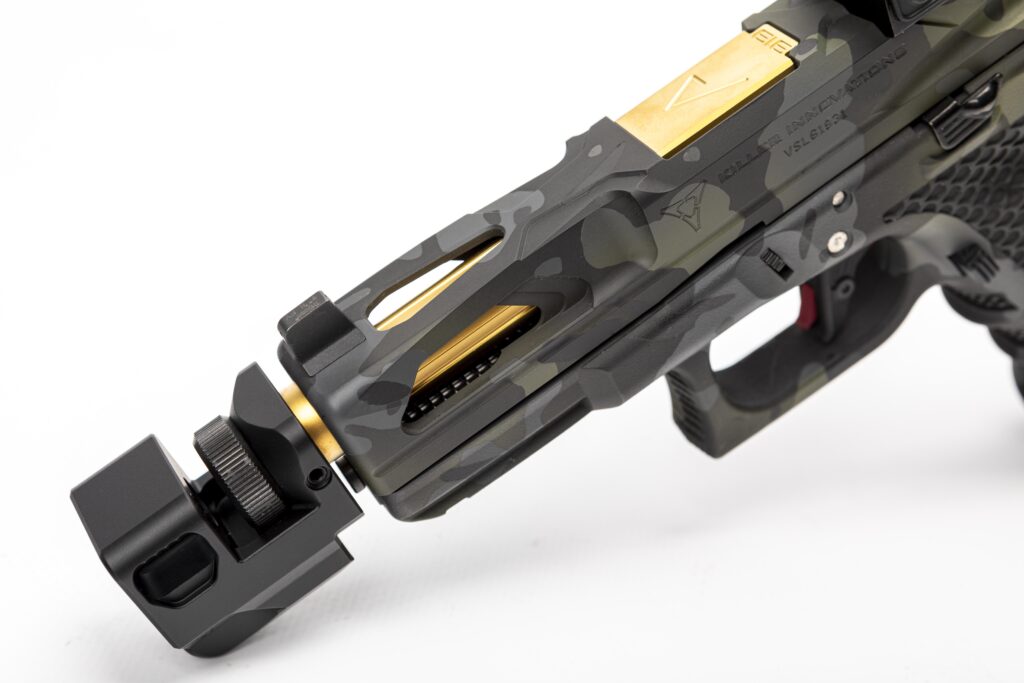 The Velocity slide houses an Agency Arms fluted and threaded barrel also treated with gold-hued TiN. Threaded onto the tip we find a Killer Innovations Velocity compensator. This comp, while attached in a more traditional way versus the integrated Trinity Nevada comp, features toolless installation and a design that allows it to sink all the way onto the thread shoulder for superior bore alignment compared to compensators that are secured by clamps or set screws.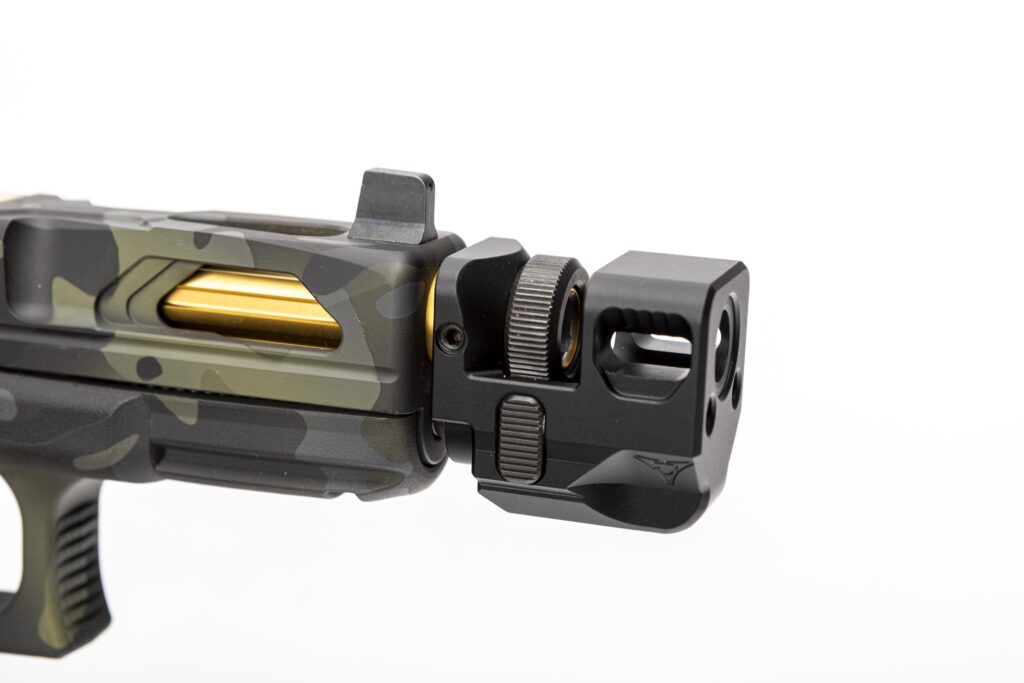 The upper portion of the build was completed with a Rival Arms slide completion kit with all internal parts and a Classy Raptor Tactical honeycomb back plate with a brassy finish that visually echoes the TiN gleam of the barrel. Trijicon suppressor-height sights have also been installed front and rear for a true analog cowitness to the RDS.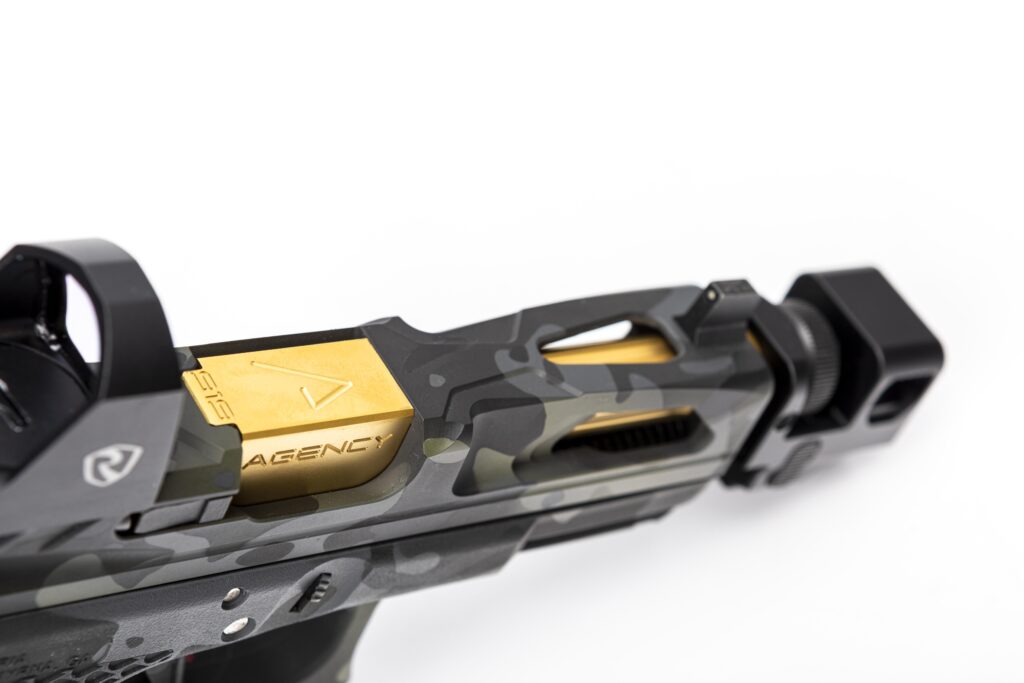 As with the G17 build, Canter had the exterior Cerakoted by Koted Arms. Once again it's a Black MultiCam Cerakote that was applied to the non-textured portions of the frame, to the slide, to the magwell, and to the magazine base pads.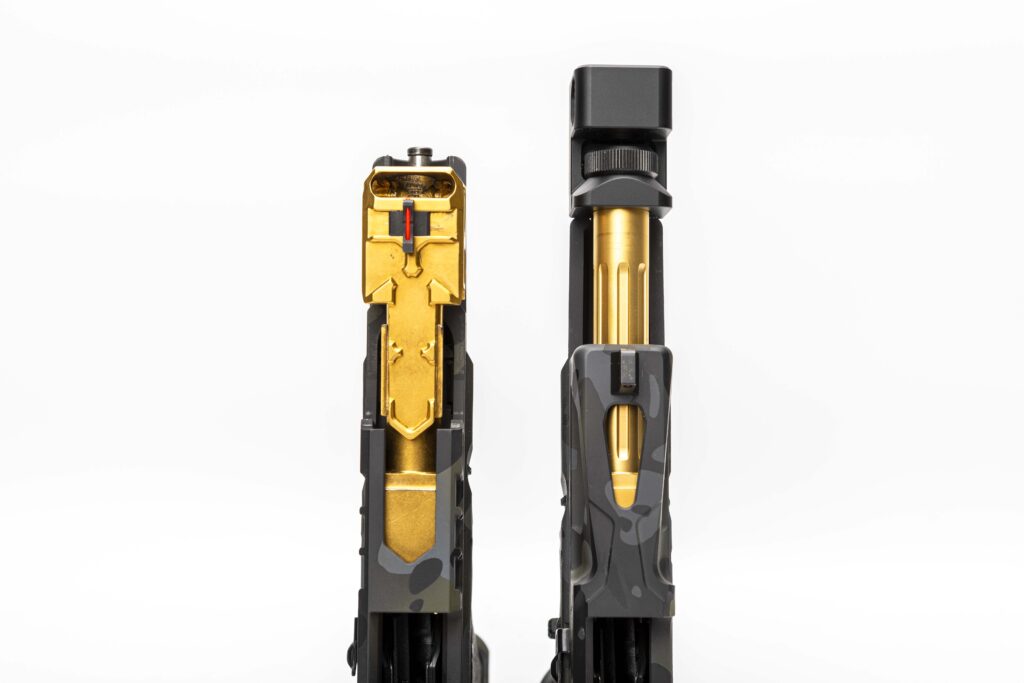 While we have to wonder about the significant firepower advantage either one of these Glocks would hold over a single-shot flintlock pistol from the 18th century, we wholly approve of the concept behind and the method of execution for both of these projects. They represent two very similar, but at the same time individualistic and distinct, riffs on the theme.
For his part, Canter is mum on which Glock he'd prefer in, say, a range plinking duel. We know which one we'd choose. How about you? Let us know on our socials, and be sure to tag us when you do.
The Duel
It's probably safe to say that for as long as humans have existed, fights have been used to settle disputes. But rather than being just an impromptu brawl between two people who disagree over something, dueling in the classic sense was a more formalized affair that followed a certain formula and code of ethics.
Wikipedia defines the practice as the following: "An arranged engagement in combat between two people, with matched weapons, in accordance with agreed-upon rules." Historians believe the formal duel as practiced in the West grew out of the medieval judicial duel (trial by combat) or older pre-Christian practices such as the Viking holmgang.
Melee weapons were the most common means of dueling before firearms began to take their place in 18th century England—pistols specifically. And thus the formal duel became potentially even more lethal. But although it may seem somewhat counter-intuitive, duels were often not fought with the express purpose of killing one's opponent, but effectively to defend one's honor by expressing a willingness to die for it.
Dueling was employed as a way to settle disputes until the turn of the 20th century. One of history's most infamous duels took place in 1804 between Alexander Hamilton and Aaron Burr (at the time Secretary of the Treasury and Vice President of the United States, respectively), with grave consequences for both men. While Hamilton pointed his pistol away from his opponent, into the trees, Burr shot to kill. Hamilton died; Burr was shunned, vilified, and never again held high public office. Text by Roland Wilkes and Images by Jay Canter
Build Sheet
Glock 17 Gen3
Specifications
Caliber: 9mm
Capacity: 19 + 1
Length: 7.25 in.
Height: 6.75 in.
Stippling: "Death Star" pattern by 2A Tactical LLC
Finish: Black MultiCam Cerakote by Koted Arms
Featured Accessories
Slide: Trinity Nevada Ground Zero
Barrel: Trinity Nevada, TiN coated
Compensator: Trinity Nevada Ground Zero, integrated w/barrel
Optic: Riton X3 Tactix PRD
Parts & Accessories: OEM Glock G17 Gen3 frame, Dawson Precision fiber-optic front sight, Bastion stainless frame pins, Agency Arms flat-face trigger, ZEV Technologies trigger connector, OEM extended slide release, Rival Arms slide lock, Tyrant CNC extended mag release, Agency Arms magwell, OEM Glock magazine (17-rd) w/KE Arms +2 basepad
Build Sheet
Glock 19 Gen3
Specifications
Caliber: 9mm
Capacity: 18+ 1
Length: 8.25 in.
Height: 6.75 in.
Stippling: "SIG" raindrop pattern by 2A Tactical LLC
Finish: Black MultiCam Cerakote by Koted Arms
Featured Accessories
Slide: Killer Innovations
Velocity V1
Barrel: Agency Arms, TiN coated, threaded & fluted
Compensator: Killer Innovations
Velocity
Optic: Riton X3 Tactix PRD
Parts & Accessories: OEM Glock G19 Gen3 frame, Trijicon suppressor-height sights, Bastion stainless frame pins, ZEV flat-face trigger, connector & trigger safety, OEM extended slide release, Rival Arms slide completion kit, Ghost Inc. extended mag release, ZEV Pro Compact magwell, OEM Glock magazine (15-rd) w/Springer Precision +3 aluminum basepad