Falkor Defense CSL chassis with R700 action
200+ man-hours of custom engraving
Chambered in .308
It's no stretch of the imagination to say every firearm created since the advent of gunpowder has attracted a dedicated following. Makes, individual models, sub-groupings of each of those individual models… if you can pull its trigger to make it go "bang," there's a loyal cadre of enthusiasts who eat, sleep, and breathe that gun.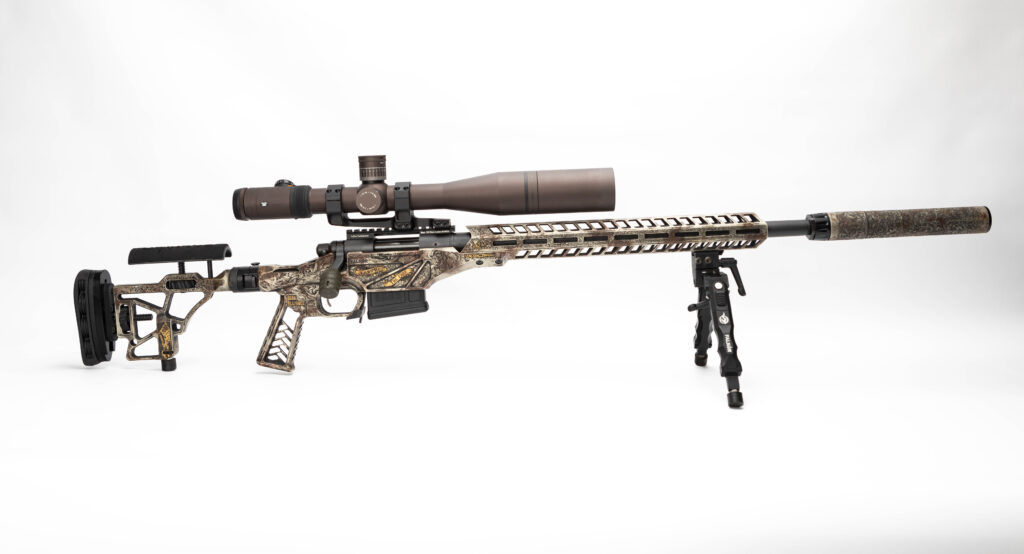 Not every firearm can be considered an icon, however. There are, of course, the historical models who have left an indelible mark on the pages of history—the Colt Paterson, the Hawken muzzle-loader, the Thompson sub-machinegun. But more specific to our purposes here, a true icon might be described as a firearm that has transcended its origin, its creator, and, you might say, taken on a life all its own. The Armalite rifle, Colt 1911, and AK-47 are a few that spring immediately to mind.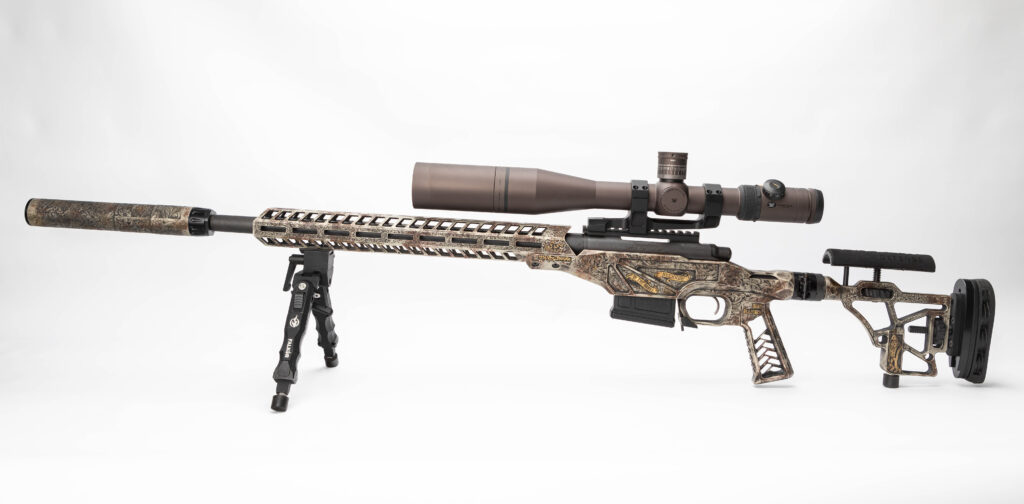 The Remington Model 700 is another. Like the AR and the 1911, a whole sub-industry has sprung up around it, and like those two others, you can now build an entire R700 from the chassis up without ever sourcing a part from its original manufacturer.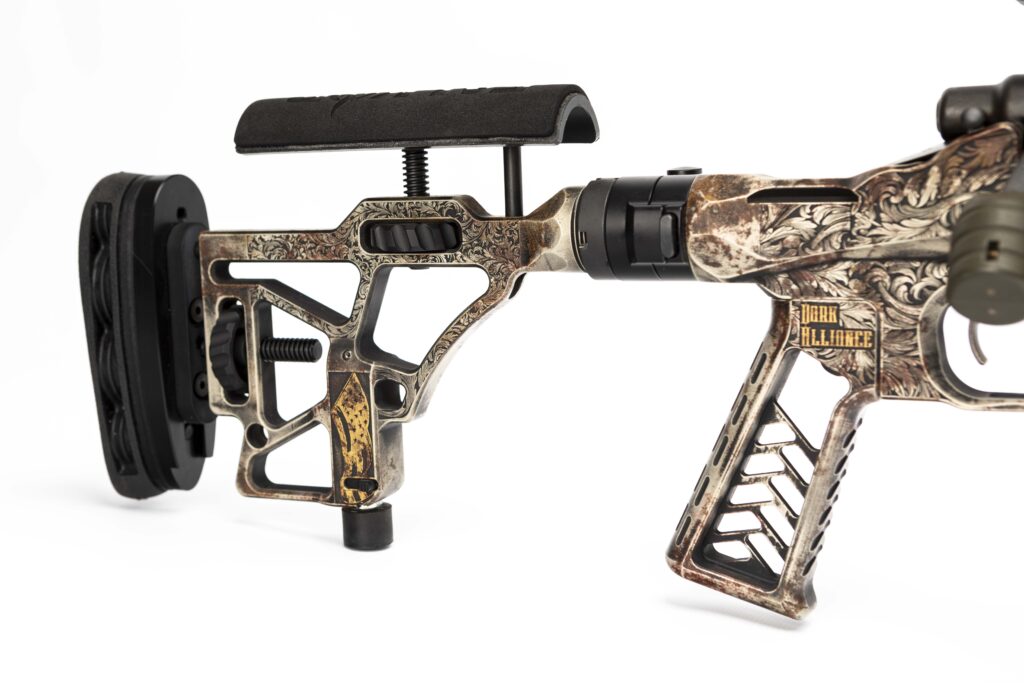 Enter Jeremy Schmierer, owner of premier customizer Dark Alliance Firearms out of Las Vegas. His interests in firearms are wide-ranging and he's no stranger to the Rem 700. If you're interested in firearms customization, chances are good you've heard of his company and have probably seen examples of his work. Schmierer's bio on the Dark Alliance website also sort of sums up the company's founding in a nutshell. "I'm just a guy who got sick of paying other people to do what I know I could do better," he says. "So that's how it started, just us modifying our own firearms."

He continues: "We commit ourselves to never doing the same thing twice. We'll do similar themes, but never the same."
Their mission statement is "We're here to build you the shit we would build for ourselves."
Thus, the pictured bolt gun is Schmierer's Dark Alliance riff on the Remington 700 (obviously). And what a riff it is. One of Dark Alliance's specialties—which are manifold—is custom engraving work, and this rifle is a stunning example of that. We don't really need to describe it here; we'll just let the pictures do the talking.
The chassis is a Falkor Defense CSL. The entire thing, from the buttstock's superstructure to the pistol grip to the forend, is machined from billet aluminum and features a folding buttstock. This one is fitted with a genuine Remington 700 barrel and action and is fed .308 from Magpul AICS long-action PMAGs. Schmierer has had experience with various bolt-action chassis and reports that this is his favorite to date. ("It may sound like a little thing, but the folding stock makes travel so much easier," he says.)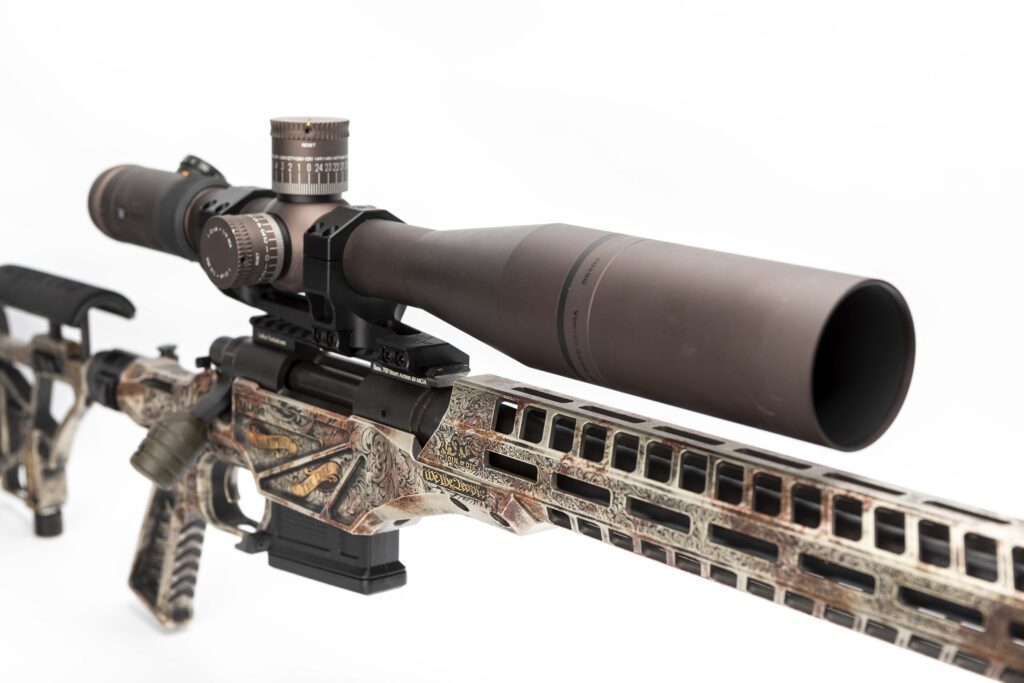 Two of Schmierer's favorite additions to the rifle, next to the custom engraving he did—more on that in a minute—are the Vortex Razor scope and the Bowers VERS 30T suppressor. The Vortex is a 5-20×50 and is essentially Vortex Optics' flagship offering for the long-range shooter, featuring a 35mm, one-piece tube allowing for 125 MOA of adjustment. Schmierer reports that it meets or exceeds his own shooting ability.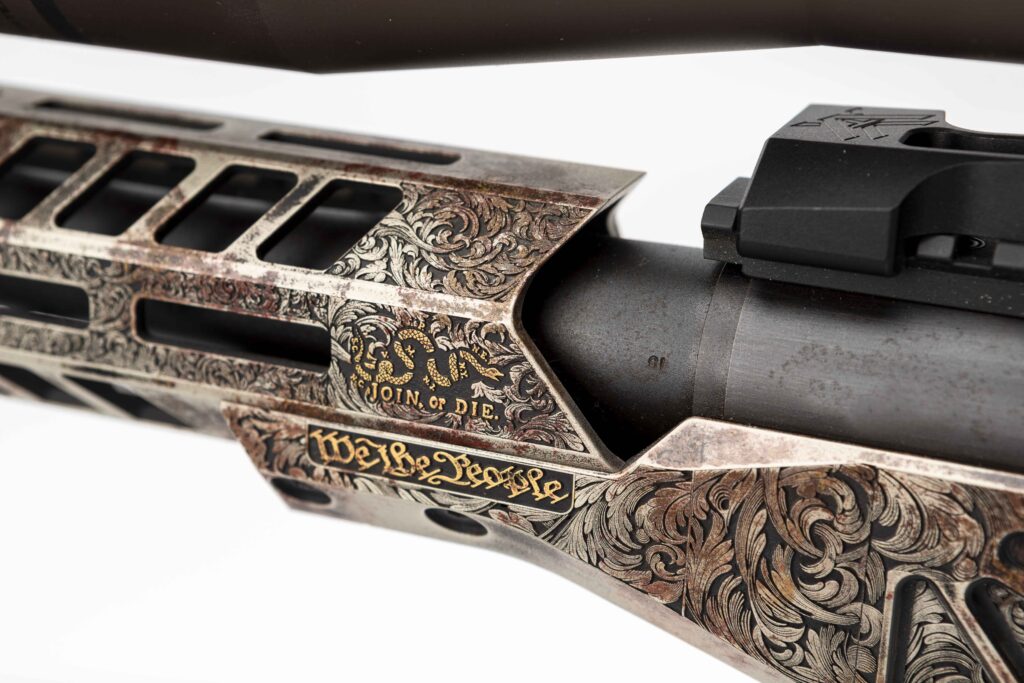 The Bowers suppressor is offered with 27 different proprietary Versadapt thread inserts, so it can essentially mount to almost any rifle on the market and is rated to shoot almost any caliber you can think of, from .223 to 6.5 to .308. Both it and the chassis were painstakingly engraved by Schmierer himself, with various patriotic phrases, Dark Alliance callouts, and absolutely mind-blowing scroll work that, again, defies description. You just have to let your eyes wander over it.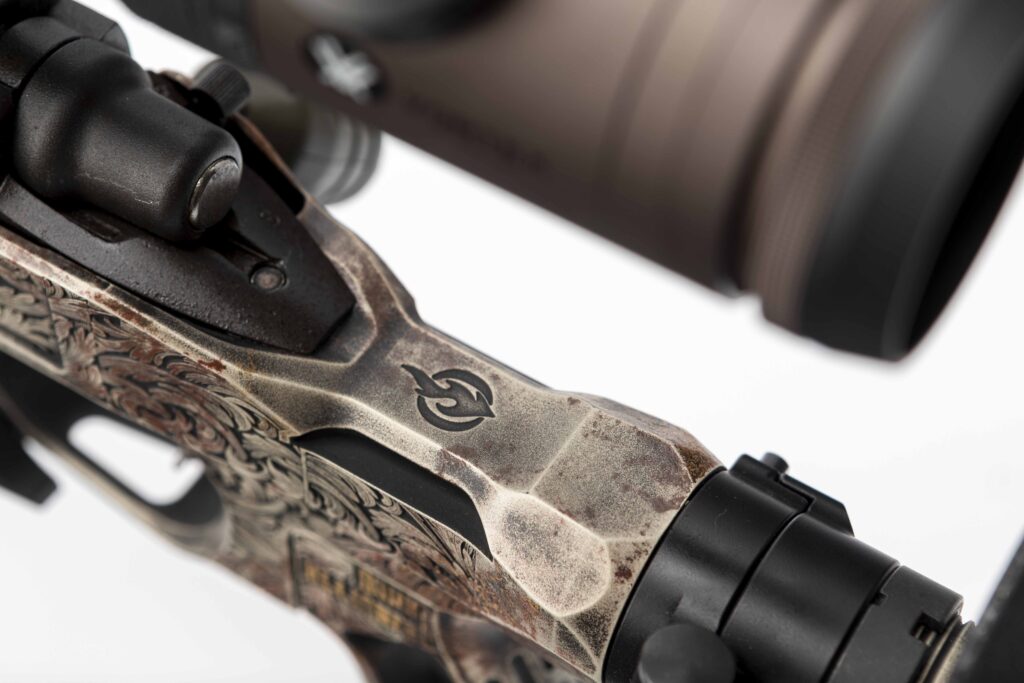 "The biggest challenge on this build is all the different levels and pockets it has," Schmierer says. "As cool as it looks, it was a pain to engrave. I wanted it fully covered, but with a laser, if you're up or down a millimeter you lose focus and it won't cut correctly. To get it to work I had to break it up into a lot of different sections and then try to line them all up."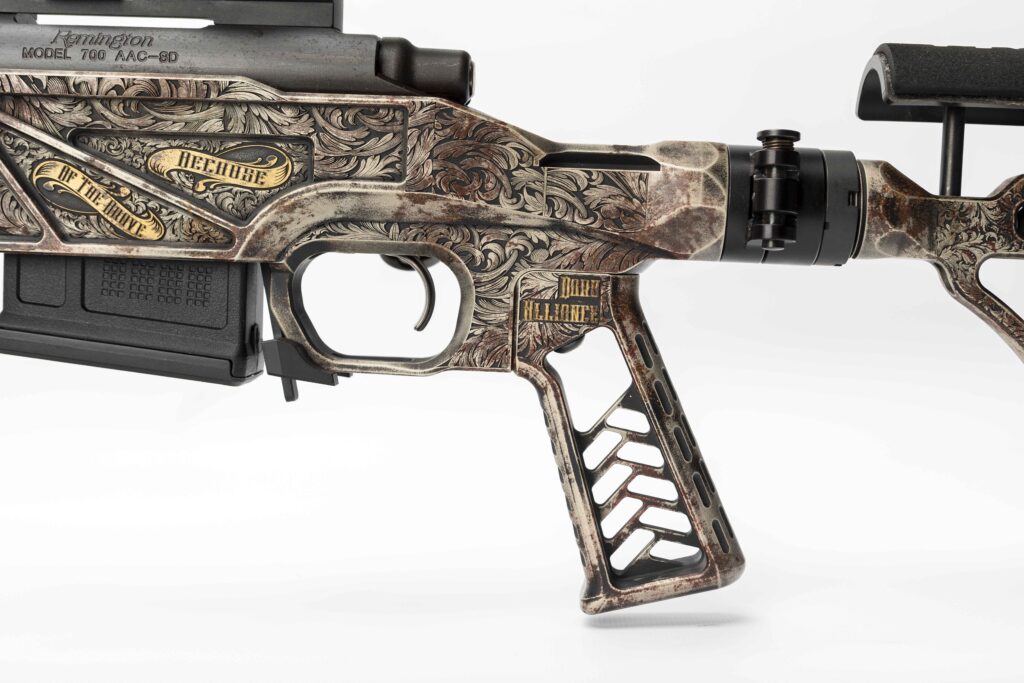 The savant-level artistry seems fairly obvious, but lest you think Schmierer and company turn weapons like these out in their sleep, he offers some insight into the grueling labor that actually goes into something like this.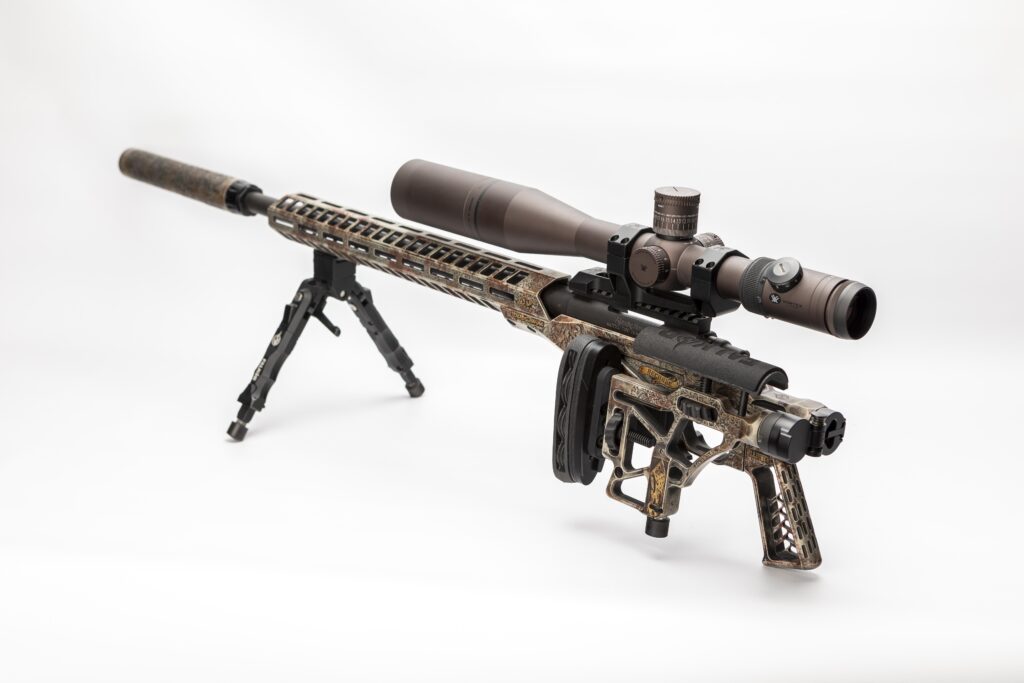 "What drives me nuts is when someone sends me a shitty JPEG they found online and think I just add it to a program that magically converts and adds it to the laser, then I toss it on a magic table and walk away," Schmierer says. "The laser does the work and so that frees me up to count my bags of cash. The truth is, this one in particular has over 150 hours in the drawing and artwork alone, then another 100 or so in engraving it all. Then to paint…"
He adds: "But if it was easy then everyone would do it, and it wouldn't be as cool. I'd have no interest in even doing it."
Point being, in a day and age when CAD and CNC can hone a functional piece like the Falkor chassis, the artistic expressions on this bolt gun and other Dark Alliance pieces like it are still executed old-school, the way Da Vinci or Van Eyck would have done it—by hand.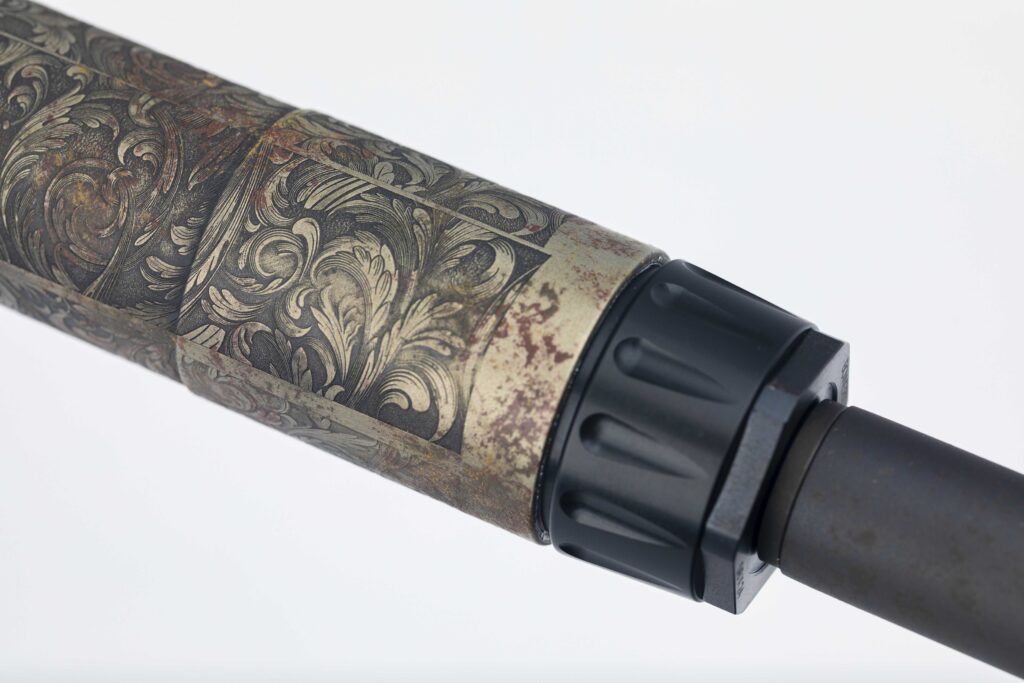 Only after all the engraving was completed did Schmierer send it off to paint, a custom Cerakote job handled by Koted Arms in Mesa, Arizona. The application here was equally painstaking, so the color—perhaps resembling distressed metal, perhaps resembling aged parchment, perhaps resembling old blood stains; all three seem equally applicable—is evident only on the raised sections and not on the blackened recessed areas created by the laser. It all serves to call attention to, rather than detract from, the incredibly detailed engraving work.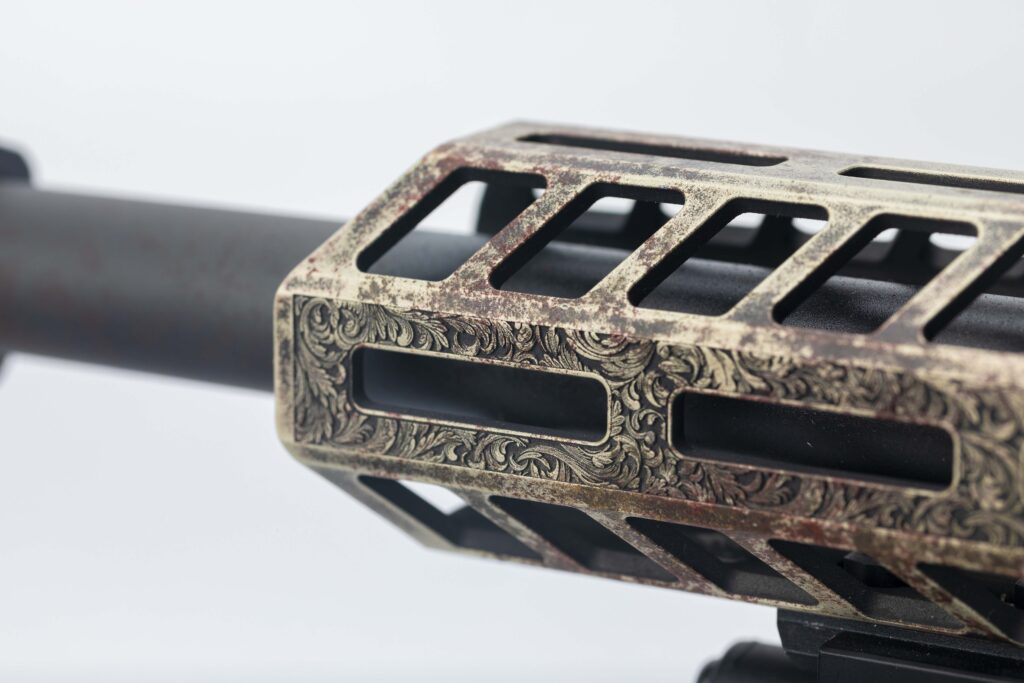 "The only place I trust to coat any of my builds is J.D. at Koted Arms," Schmierer says. "It's so important to work with people who have your same vision and who are at the top of their game. Once I'm done with the art work and engraving I have to have someone I can give the idea or theme and 100% know it's going to be knocked out of the park. Hence the reason he's the only one I trust and why he's part of the Dark Alliance family."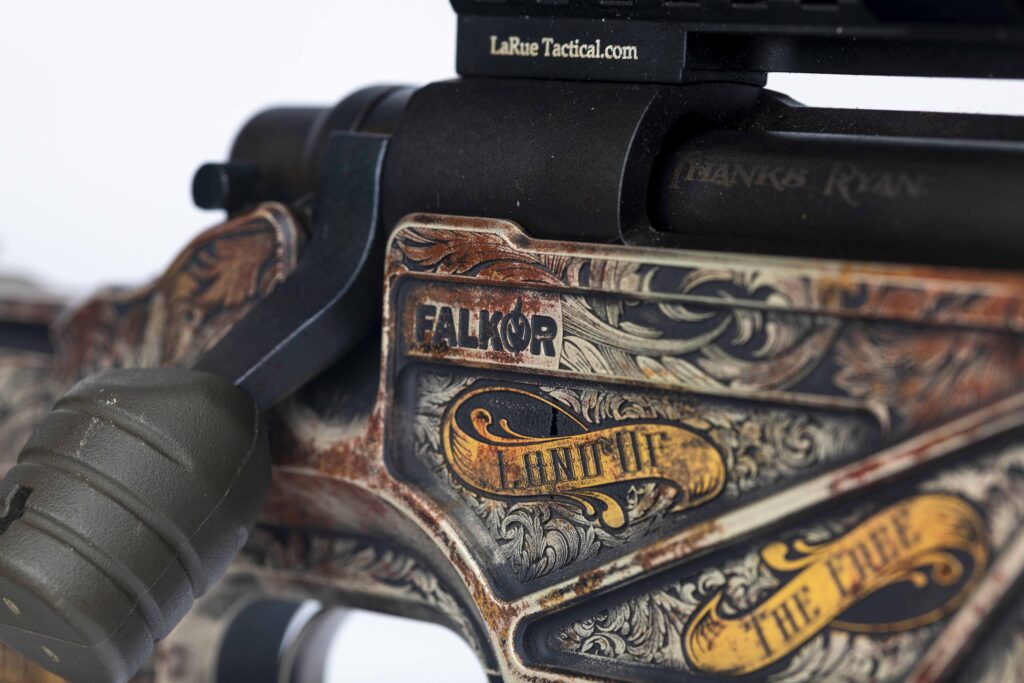 Speaking of family, it's a big reason Schmierer is where he is today and why he can give us guns like this to appreciate. "A big thanks goes to my family, and especially my wife," he says. "She's always had my back and when it came time to jump into doing this full-time instead of having to talk her into it. She told me, 'Tighten the belt and make it work…' Which wasn't an easy choice, but she never second-guessed the decision and always there to help me balance work and family life."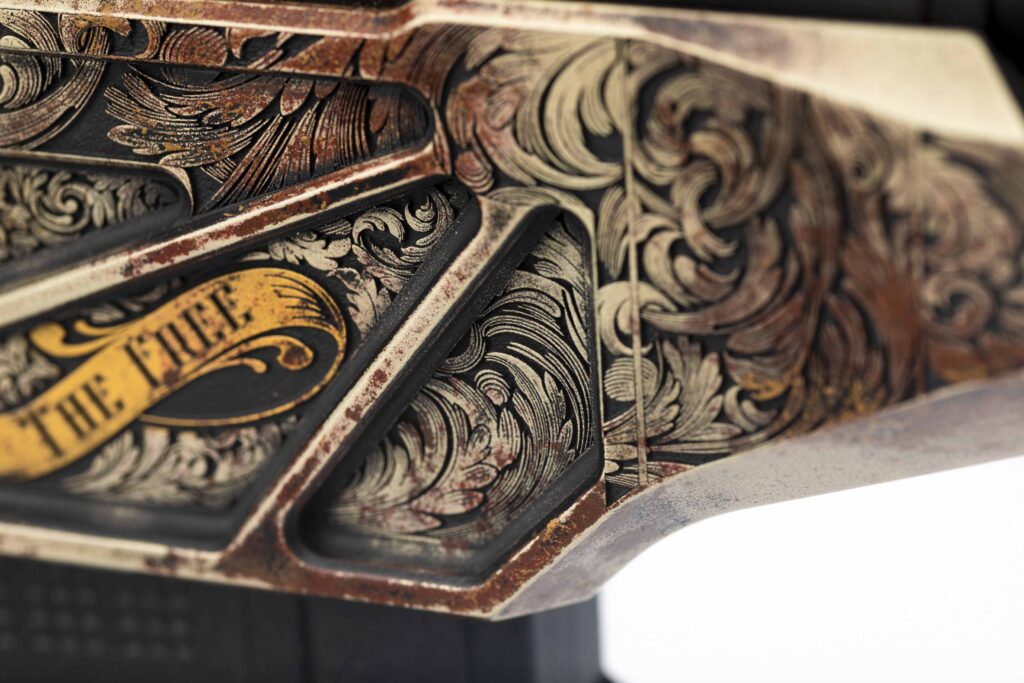 While it makes a hell of a conversation piece and promotional vehicle for his business, Schmierer isn't really planning on bagging any trophies anytime soon with it. Although that doesn't mean he doesn't enjoy taking it out and playing with it.
"Personally, I suck at long-range shooting, so I really have no business owning this badass piece," he says. "But I also didn't put 200-plus hours into it to not own it." And he laughs.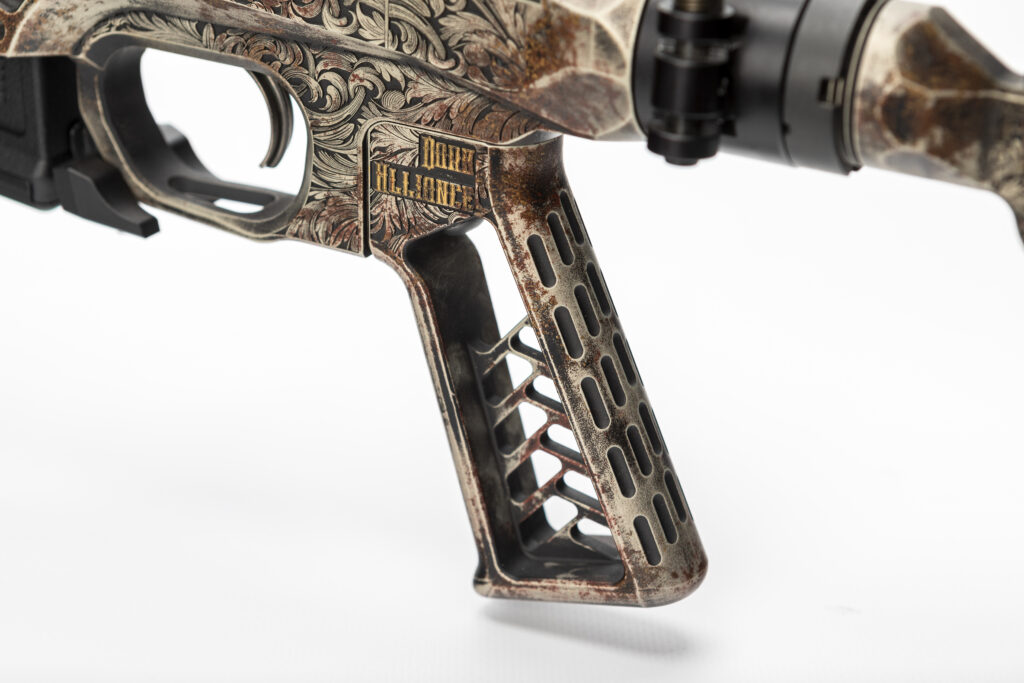 Falkor CSL
Falkor Defense out of Kalispell, Montana, created the CSL chassis for Precision Rifle Series shooters who wanted a lightweight R700 foundation with a few extra integrated features. And features it certainly has. For one, the skeletonized stock (which is hinged so it can fold out of the way, against the chassis itself) has an integrated monopod for shooting without the need for a bag. Adjustments allow for LOP between 14.5 and 15.5 inches.
The included skeletonized grip is modular, meaning it can be swapped out for any number of AR-style pistol grips. And the forend, which resembles a free-float AR-style handguard, includes M-LOK attachment points for the easy addition of accessories. It's designed to accept all Remington 700 and 700 clone actions, accepts AICS-pattern magazines for long action, and features an ambidextrous mag release located right next to the trigger to facilitate quick reloads.
Altogether, the chassis with grip and stock assembly weighs just 4.2 pounds. It's available from Falkor in gray, black, or FDE Cerakote. For more information visit falkordefense.com. Text by Roland Wilkes and Images by Jay Canter
Dark Alliance
Patriot 700
Specifications
Caliber: .308
Overall Length: 42 in. (w/suppressor)
Weight Unloaded: 13 lbs, 3 oz.
Chassis: Falkor Defense CSL
Barrel: Remington 700
Coating: Cerakote by Koted Arms
Featured Accessories
Suppressor: Bowers VERS 30T
Optic: Vortex Razor HD 5-20×50
Parts & Accessories: LaRue Tactical optic mount, Magpul R700 AICS PMAG
About the Owner
Name: Jeremy Schmierer
Occupation: Owner, Dark Alliance Firearms
Social: Instagram @dark_alliance_customs