Enhanced Pistol Caliber (EPC) line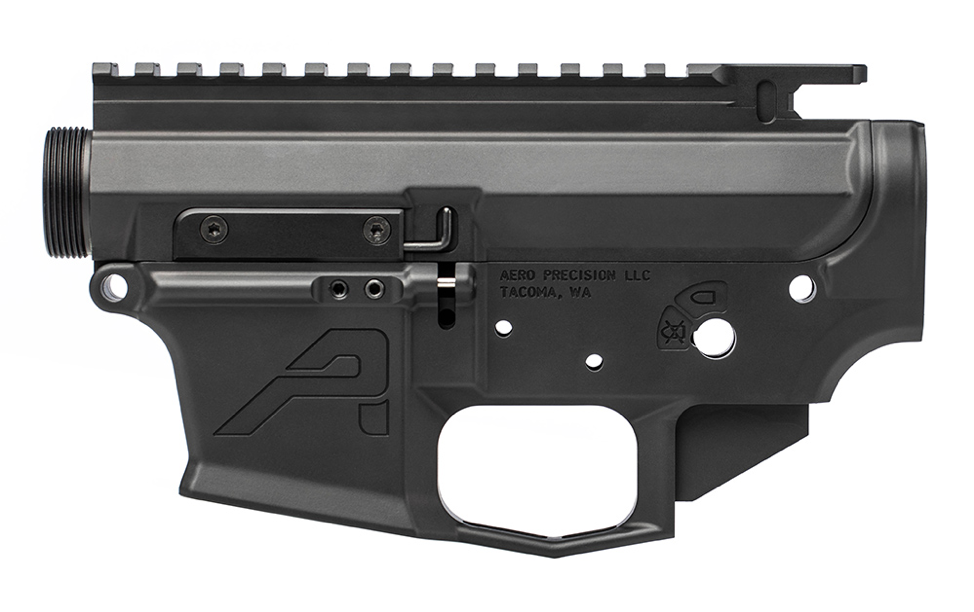 Aero Precision has made the leap into the world of pistol-caliber AR platforms with a full line of AR-9 style parts and accessories. As part of what the company is calling its Phase 1 rollout, the EPC line of products will include receiver sets, 9mm bolt assemblies, a lower parts kit, 9mm barrels in varying lengths (5.5, 8.3, 11, and 16 inch), and complete upper receivers.
The EPC-9 lower receiver includes signature Aero Precision features like a threaded bolt-catch pin, a threaded takedown pin detent and spring channel, an integrated trigger guard, a flared magwell that's compatible with standard-frame Glock magazines, and a nylon-tipped tensioning screw designed to eliminate any potential movement between the lower and upper receivers.
The EPC-9 upper includes a last-round bolt-hold mechanism pre-installed from the factory and will reportedly be compatible with most threaded AR barrel nuts and handguards. It is designed as a "slick-sided" upper, meaning there is no provision for a forward assist or ejection port cover, and will accommodate 9mm and .40 S&W cartridges.
Both receivers are precision-machined from custom 7075-T6 aluminum forgings.

The Phase 1 EPC release will also include new lengths for Aero Precision's popular ATLAS handguards—a 4.8-inch R-One and a 10.3-inch R-One and S-One. The S-One features Picatinny rails at the handguard's fore and aft top sections, while the R-One incorporates a Picatinny top rail that runs the length of the handguard.We should note that while the company offers virtually all you'd need to build your own, Aero Precision is not currently offering complete rifles as part of the EPC line. Check out everything you need to know to assemble an EPC-based PCC or rifle here: aeroprecisionusa.com/knowledge-center/what-do-i-need-for-epc9 .
Additional information, including the official Aero Precision EPC FAQ, can be viewed here: aeroprecisionusa.com/epc.