Count ourselves lucky; we are living in the middle of a firearm customization boom. With so many aftermarket parts and talented craftsmen at our disposal, it seems as if we can create anything that we can imagine. But as much as we enjoy a fully customized gun, there are times that simple bolt-on upgrades are all you need to get your piece situated just right.
This is the case for Ward Limann, a marketing executive by weekday and tactical training addict by weekend. Limann started off training with AR-15 carbines as his go-to weapons but has since switched over to shorter, 9mm PDWs. "I enjoy the softer shooting characteristics of 9mm," he says of the switch. "Its lower cost is a plus, too. I still use my 5.56mm and 7.62mm carbines, but I also like to keep my options open and love training with my 9mm PDW-style pistols."
A couple of years ago Limann discovered his current predilection to low- and no-light shooting. Taking a deep dive into the Tactical Night Vision Company (TNVC) website, Limann went all-in and decked himself out with a TNVC Gen 3 PVS-14 night vision monocular, Ops-Core helmet, and countless other night-vision-related accessories. He acknowledges it's a heavy investment, but one he says is well worth it. "You haven't experienced shooting until you've shot lights-out with only moonlight or infrared to guide you," he declares.
Piling on to his treasure trove of gear, Limann recently picked up a B&T APC9 PRO pistol. Like the rest of us, it immediately caught his attention the first time he saw it. "You know that meme with Fry from 'Futurama' saying, Shut up and take my money?" he asks. "Yep, that was me when I saw this bad boy."

The Swiss-produced Brügger & Thomet (B&T) APC9 PRO Pistol means business and is closely related to the U.S. Army's B&T APC9K submachine gun. The semiauto compact PDW is chambered in 9mm. Its aluminum upper receiver features a 6.9-inch, tri-lug-tipped barrel, and a full-length Picatinny rail runs from nose to tail across the top. The pistol runs on a reliable closed-bolt blowback system and features a dual auto-folding, non-reciprocating charging handle. A stick-type, translucent polymer 30-round magazine comes standard.
The APC9 PRO's polymer lower receiver is improved over earlier APC9 models through the introduction of a side-positioned bolt hold-open/release and replaceable AR-15-compatible pistol grip. The PRO model also includes M-LOK compatible slots for flexible accessory mounting options. The APC9 also includes ambidextrous controls including the magazine release.
After getting familiar with the pistol over the course of a few trips to his local shooting range, Limann decided that mechanically the gun had nothing he thought required improvement in terms of basic operation. He liked the non-reciprocating charging handle and the ambi controls, and he felt the trigger feel was good. He did, however, think that a pistol brace was a must for stable shooting. He also wanted to change out the factory polymer flip-up sights as well as the pistol grip for one with a steeper grip angle.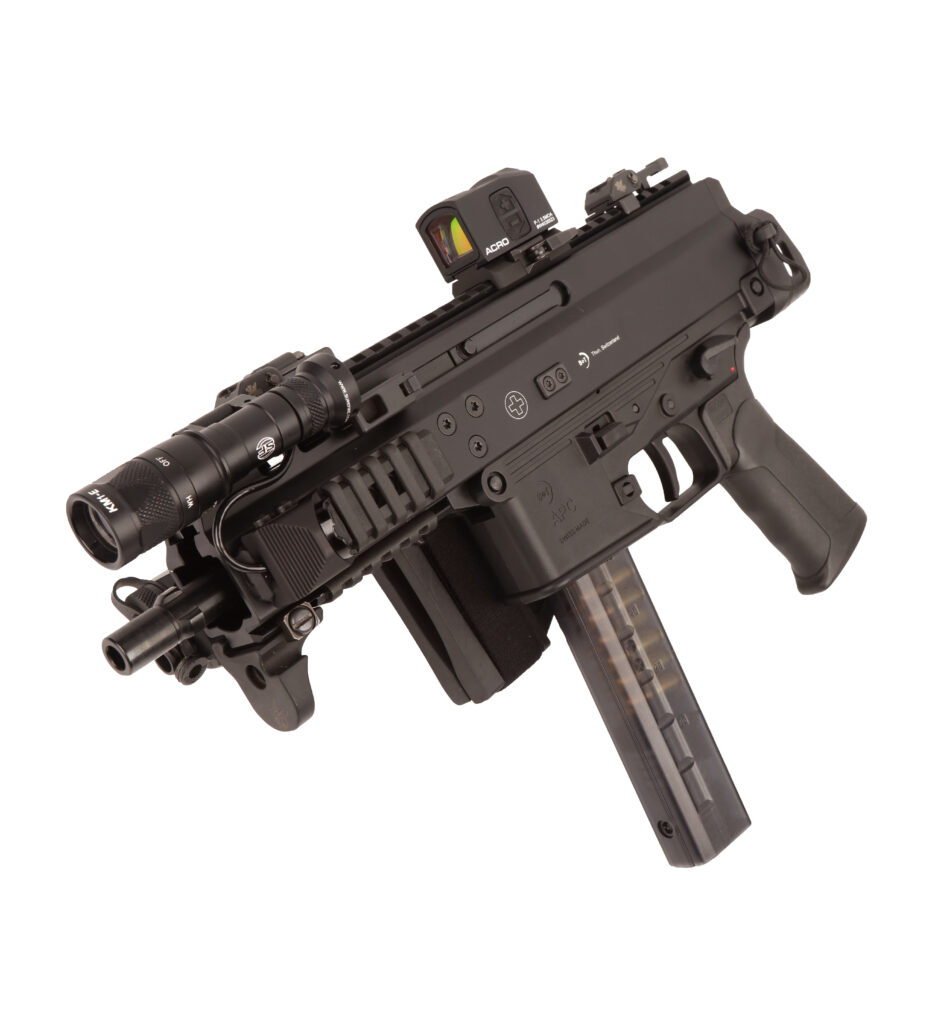 Limann further thought about how else he would accessorize it. He considered its strengths, which he says are its short length, light weight, and maneuverability. It was perfect as a home defense weapon. After more consideration, he made plans to deck it out for night-vision-assisted shooting in both home defense and training roles, and he based his parts choices on his training experiences.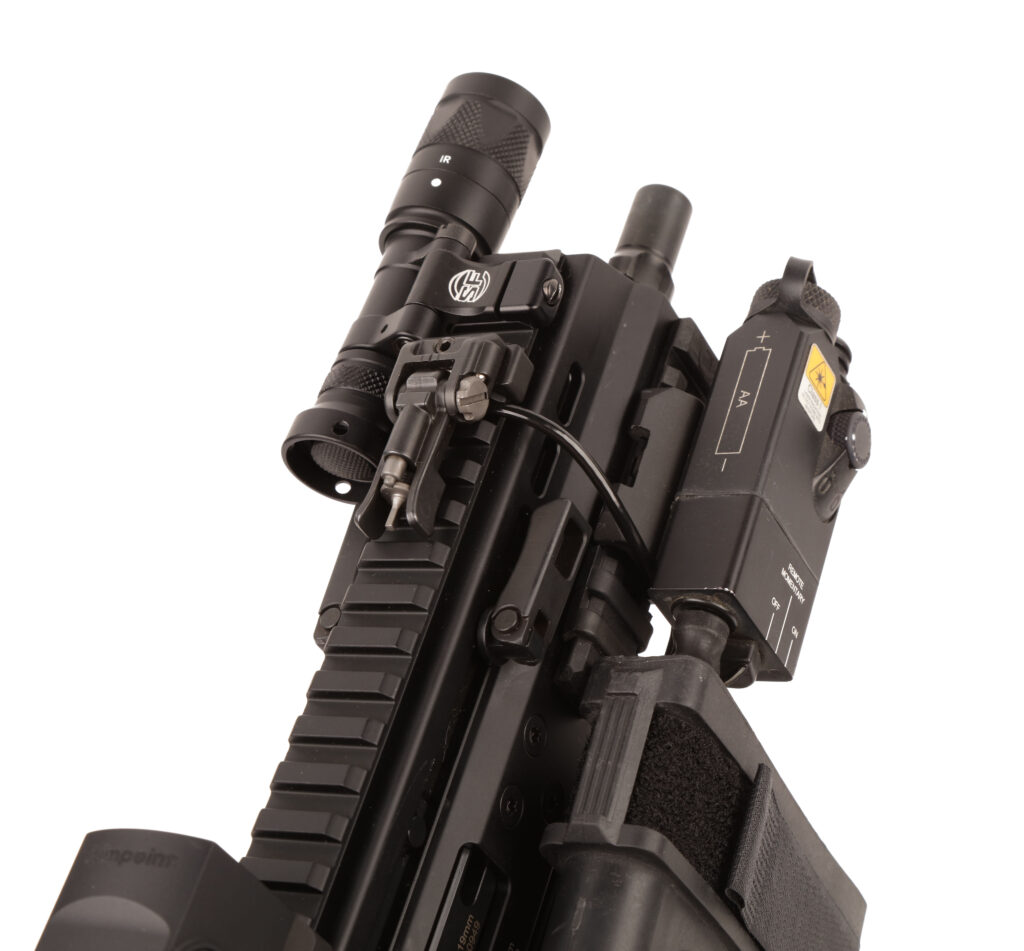 Limann was quick to order and install an SB Tactical SBT pistol brace. The brace features an integral side-folding mechanism that locks solidly in place. Folding the brace to reduce the length of the gun is quickly done by pressing a button and manually moving it to the right side.
Limann chose to go with an adjustable grip from XTech Tactical for a more comfortable grip angle. The Adjustable Tactical Grip (ATG) design allows it to be installed in the user's choice of 17-, 25-, or 33-degree grip angles. Because of the short overall length of this firearm, he chose the steepest option of 17, which is more comfortable for his wrist.

Due to the front end's short length, Limann also installed a Knight's Armament Handstop on the end of the bottom rail. This acts as a hand stop but also incorporates a QD socket for sling attachment. Limann's pistol came with Picatinny rail segments that covered the built-in m-lok rail slots. He left the detachable rails in place since all the accessories he chose happened to utilize Picatinny attachment points.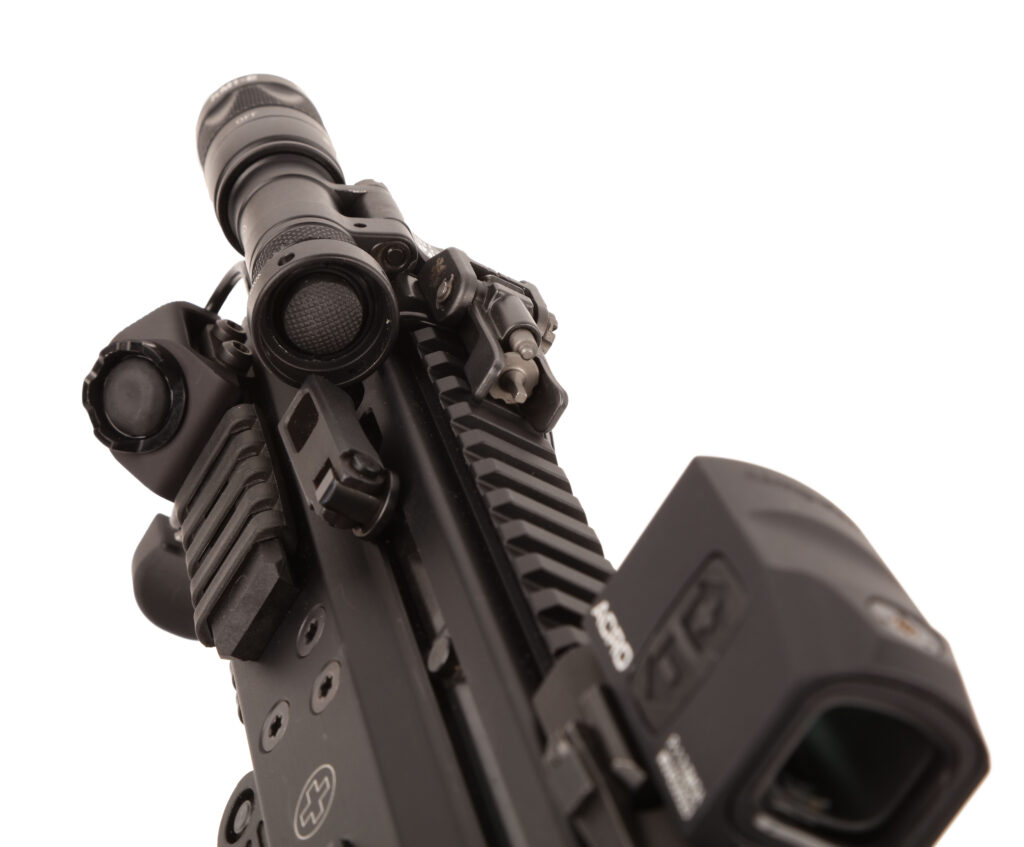 After getting the APC9's controls dialed in, Limann considered what light and laser combination he would commit to. With limited rail space, he knew he had to make sure everything he wanted would fit. "I've always been a fan of SureFire lights," he says. "I've carried them ever since acquiring my first pocket flashlight, a SureFire 6P. They've never failed me."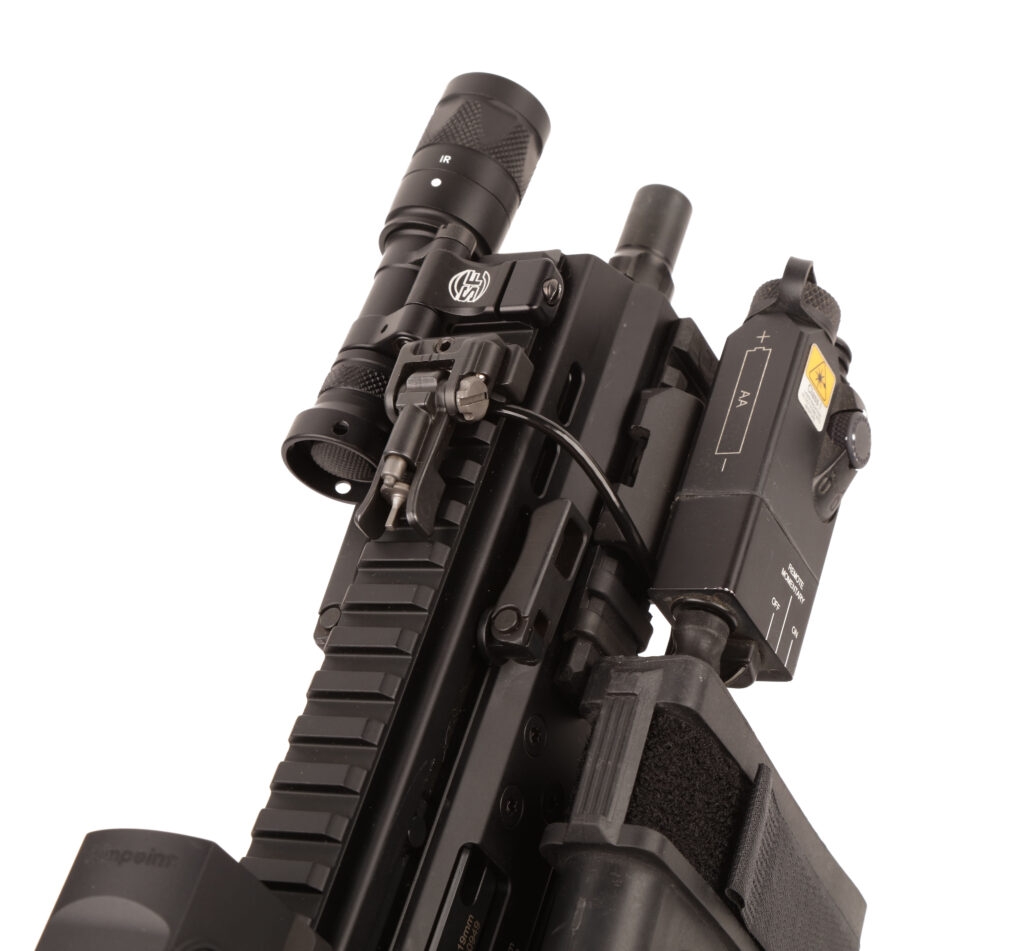 He decided on a SureFire Mini Scout Light Pro Infrared, which is powered by a single 123A lithium battery and produces 250 lumens of white light or 100 mW of infrared illumination. Its space-saving, low-profile mount allows the light to swivel into position relative to the rail so that it can be tucked low and tight along the top rail. Limann chose to place it so that it sits on the ARC9's left side, just forward of the side-charging handle. The weaponlight's included SureFire Z68 protected tailcap ensures accidental discharges don't happen. When gripping the bottom of the rail and part of the magwell with a support hand, his thumb is within easy reach of the Mini Scout Light's tailcap button.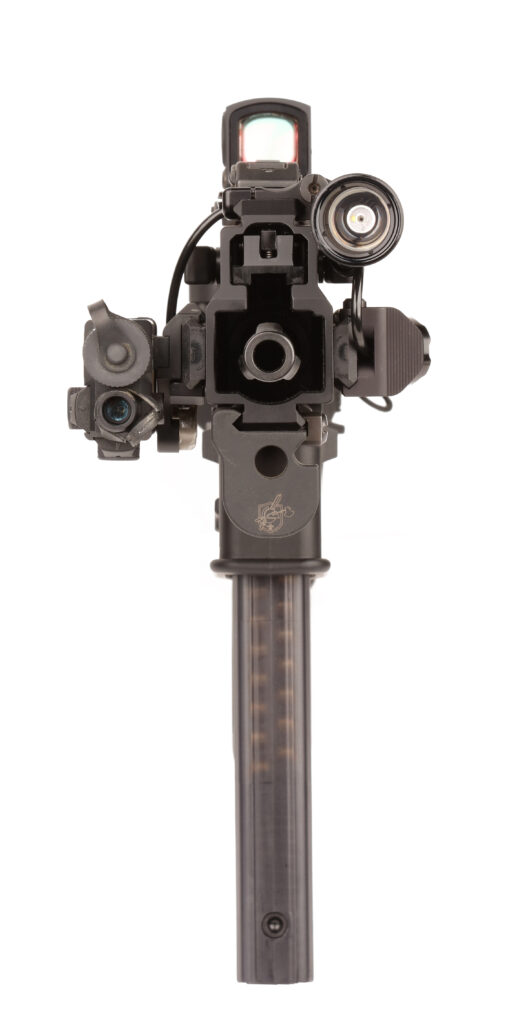 As for IR laser options, he decided to use a Steiner Offset Tactical Aiming Laser (OTAL) Class 1 IR that he previously picked up from TNVC for a different gun he had in his safe. The OTAL sits on the APC9's right side. The OTAL Class 1 IR laser features a 0.7mW rating, which is eye-safe and rated to target at ranges out to 450 yards. It can be toggled from constant-on to momentary mode via a remote switch.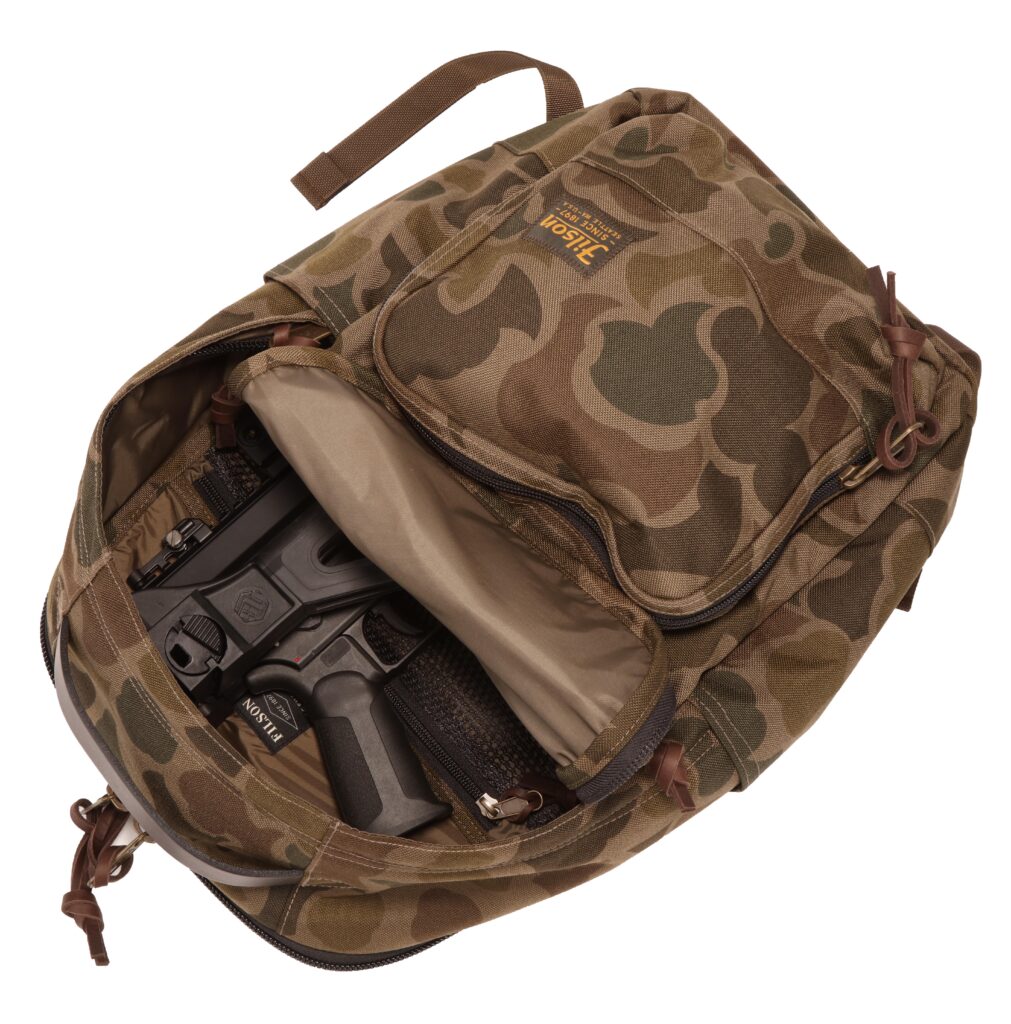 In order to take advantage of the laser's momentary mode, Limann went with Unity Tactical's Picatinny-mount Hot Button. This innovative control device is currently available for use with either lasers or SureFire lights. The Hot Button was developed out of the need to conserve rail space and improves ergonomics and overall weaponlight and laser utility. "The Hot Button frees up so many options on where you mount your lights and lasers, so it has become an indispensable accessory to me," Limann adds. He installed his on the left-side rail, where it's easily activated by his support-side thumb.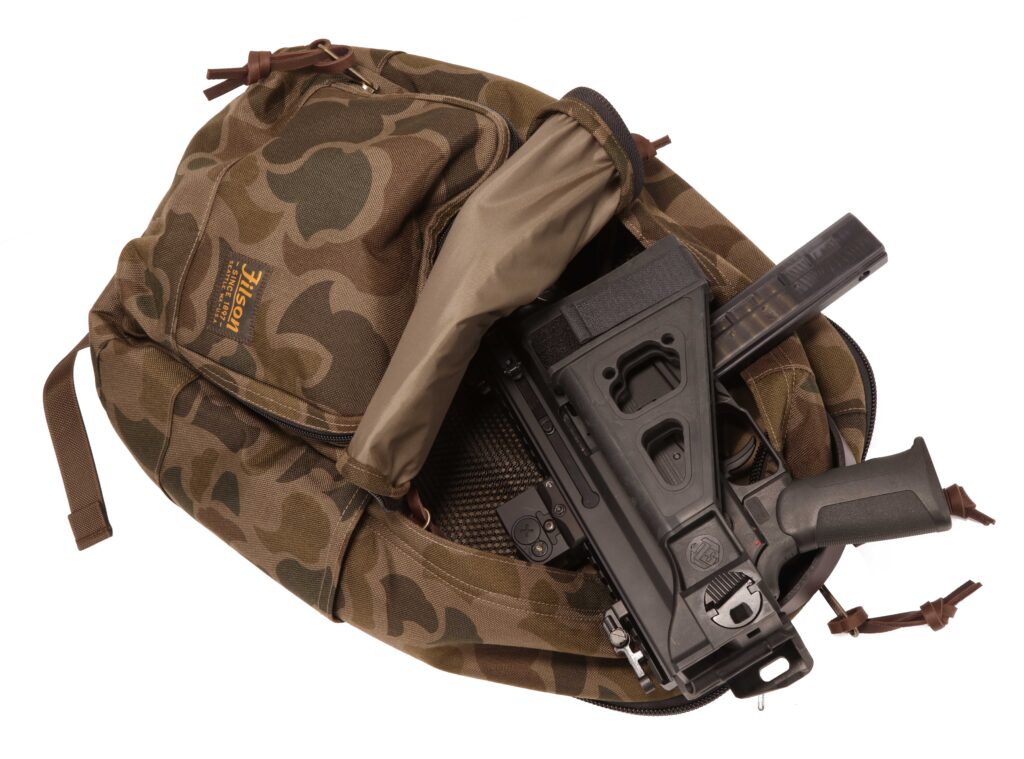 Limann was more than happy that B&T delivers the APC9 with an HK-compatible tri-lug muzzle device already attached to the barrel. This means that his MP5 clone's SureFire SF Ryder 9-MP5 suppressor could pull double duty and be used on the APC9 pistol as well. Although the stainless steel duty-use suppressor was designed specifically for the H&K MP5 submachine gun, it seems right at home on the semiauto APC9. The suppressor attaches to the APC9's standard tri-lug muzzle device via SureFire's quick-to-attach proprietary Fast-Attach system.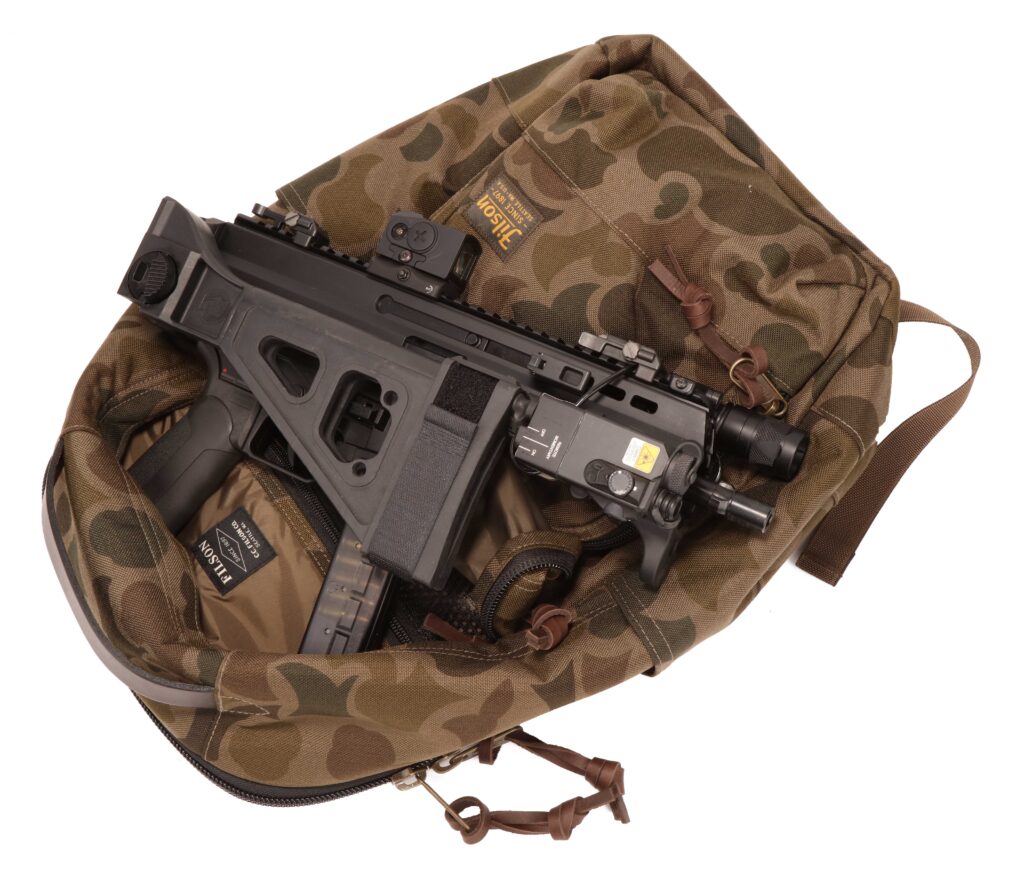 Aiming is done through an Aimpoint ACRO P-1 red dot optic. The small and rugged 3.5 MOA red dot is mounted in an Aimpoint ACRO QD 22mm mount. The pint-size ACRO keeps the APC9 as compact as possible. For back-up targeting, Limann carried on the rail-space-saving theme with a compact and handsome set of Griffin Armament M2 sights. The robust spring tension of the sights ensures accurate repeatability every time the front and rear sight towers are actuated.
From the looks of it, Limann's B&T APC9 PRO Pistol is set up from some serious night action. Suppressed and bristling with IR light goodness, this APC9 is ready to go to the next training class or to pull security duty at home. Even without a coat of custom Cerakote, custom machining, or even some grip stippling, this pistol, with only bolt-on parts, is still a real head-turner.
Text by John Scott and images by Michael Grey
Build Sheet
Night Defense B&T APC9 PRO Pistol
Specifications
Caliber: 9mm
Capacity: 30 rounds
Minimum Length: 15.25 in.
Maximum Length: 23.5 in.
Weight Unloaded: 6 lb, 8 oz.
Barrel: 6.9 in.
Featured Accessories
Suppressor: SureFire SF Ryder 9-MP5 Suppressor
Optic: Aimpoint ACRO P-1 (3.5 MOA)
Optic Mount: Aimpoint ACRO QD Mount 22mm
Sights: Griffin Armament M2
iron sights
Light: SureFire Mini Scout Light Pro
Laser: Steiner Offset Tactical Aiming Laser (OTAL) Class 1 IR
Parts & Accessories: SB Tactical SBT Pistol Brace; XTech Tactical Adjustable Tactical Grip; Unity Tactical Picatinny Hot Button; Knight's Armament Co. Handstop
About the Owner
Name: Ward Limann
Occupation: Marketing executive