Genesis Arms AR-10 shotgun
Custom-assembled 6.5 Creedmoor
KAECam custom Cerakote by KAE Custom Coatings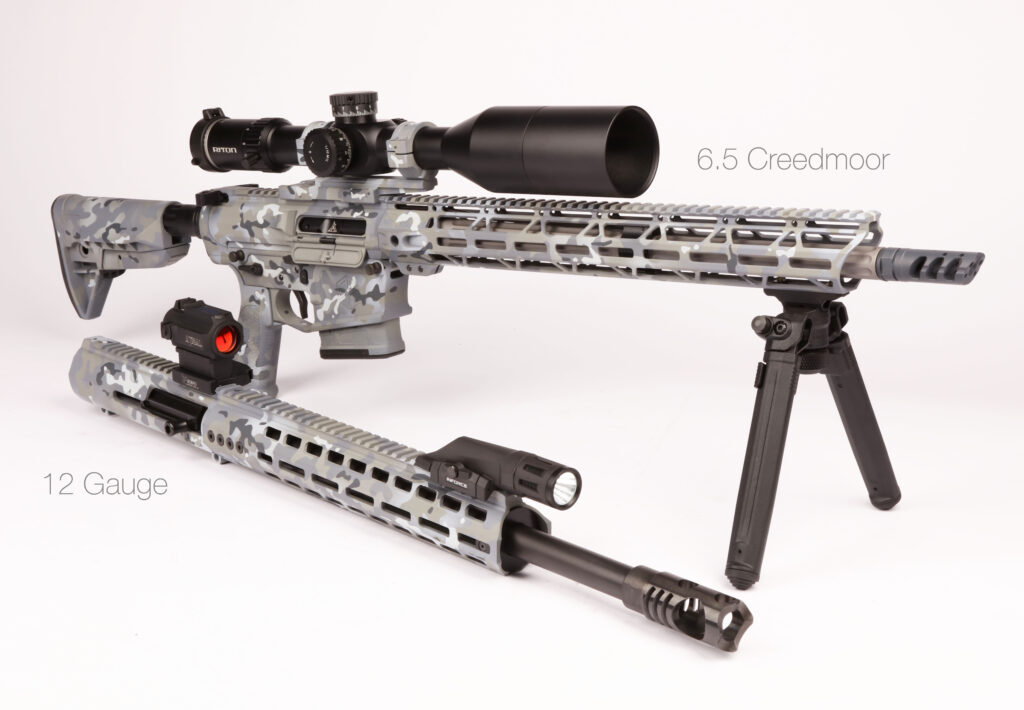 We wonder what Eugene Stoner would think if he knew that the AR platform is currently one of the most versatile gun platforms—and probably the most popular—in this firearms enthusiast's world we're currently living in. Between small-frame and large-frame AR builds, support for almost every caliber is available now… including good ol' 12-gauge shotgun shells, from birdshot to magnum, and most everything in between.

When Martin Johnson saw media coverage from SHOT Show online back in January 2019 about the Genesis Arms Gen-12 upper, his mind was blown and he immediately pulled out his wallet. The Gen-12 is not the first AR shotgun in the world, but it is the first to use a standard AR-10 lower receiver. Martin already custom-assembled an AR-10 using a JL Billet receiver set chambered in the currently popular 6.5 Creedmoor that's a perfect older brother to his new Gen-12.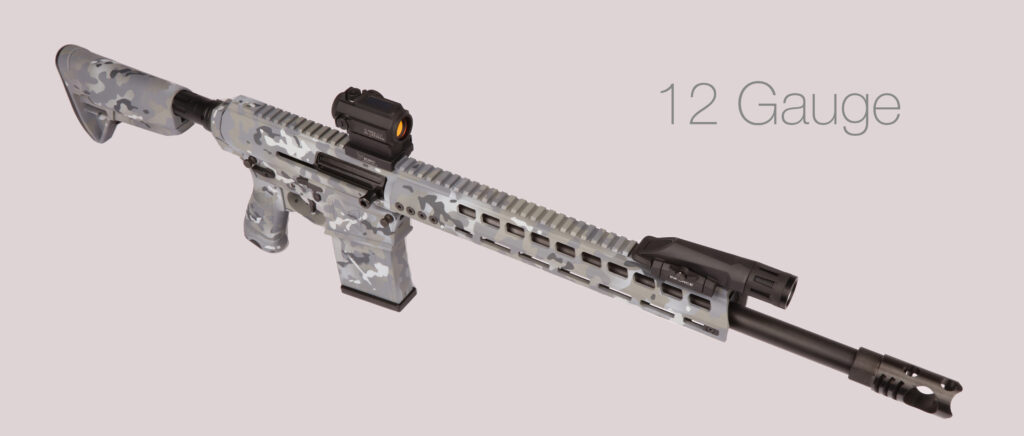 "The idea of having a gun kit that would cover me for both short and long-range shooting at the range constantly ran through my mind," he says.

Martin owns more than 25 AR variants chambered from the common .223/5.56 and .22LR to .308 and .300 Blackout, pistol calibers 9mm and .45 ACP, as well as 6.5 Grendel and others. "I was actually doing research about getting into AR big-boy calibers like a .458 SOCOM or .50 Beowulf before this beast caught my attention," he tells us.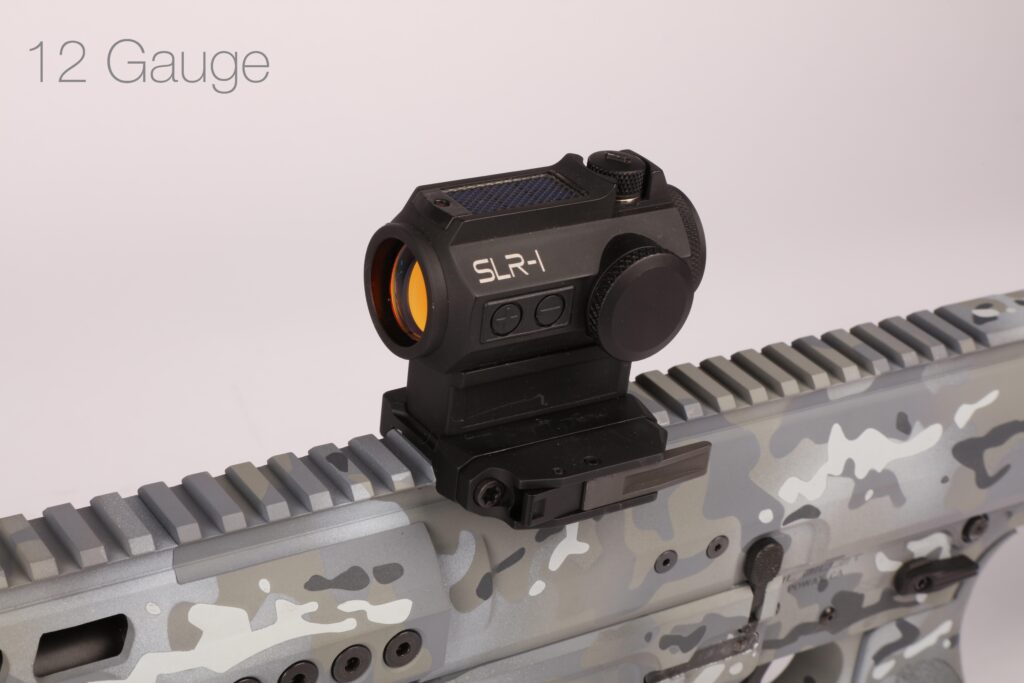 Even though Martin owns more than a handful of shotguns as well, he seldom finds himself shooting them. They don't provide the same level of competence, manipulation, and familiarity as an AR-based gun. One does, however, need to remember the right-side charging handle location on this Gen-12. Modern AR upper receivers are available as side-charging, but normally on the left side, so you don't have to remove your shooting hand away from the trigger area (assuming you're right-handed). Depending on your buffer spring setup, maybe some of those AK-47 techniques could come in handy.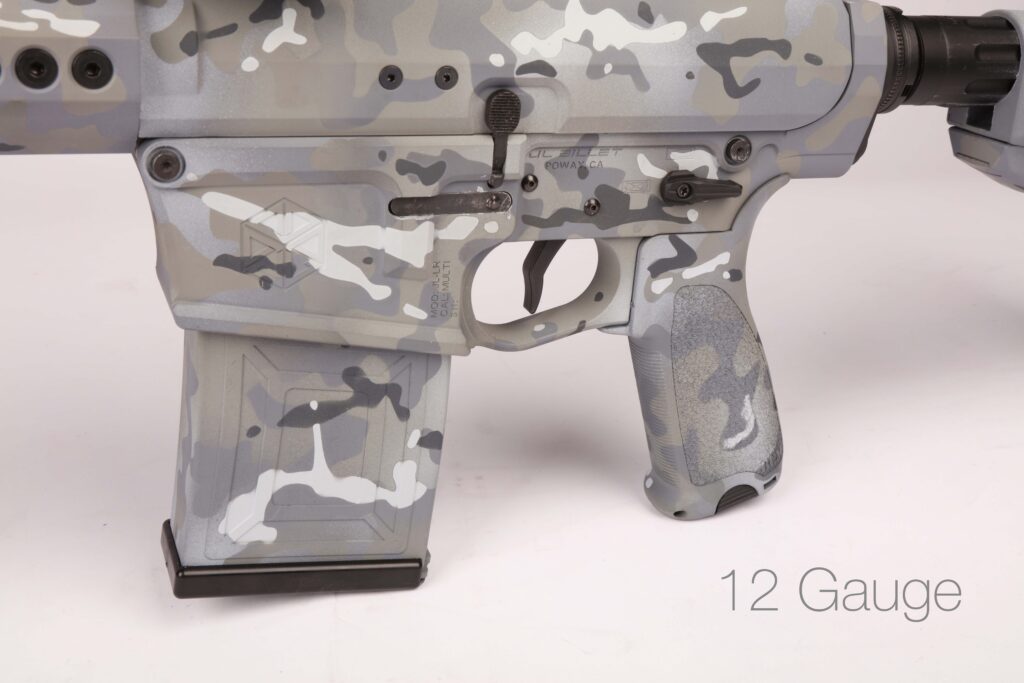 The Genesis Arms Gen-12 installs onto a DPMS Gen 1 lower receiver by simply pushing out the takedown pins and swapping out the upper, and of course inserting the 5-round magazine that works with 2 ¾" and 3" shot shells. We believe and hope that 8- and 10-round magazines are around the corner. Included with the upper (if you purchase the Gen-12 upper only) you'll find what Genesis Arms calls a "Beef Up Kit." There's a magazine catch and increased power spring, a bolt catch and increased power spring, and an anti-rotation trigger pin set. Due to the shock and recoil from 12-gauge ammo and the inherent differences within magazine geometry, it's comforting that Genesis Arms cares to include what you need to ensure functionality, reliability, and compatibility.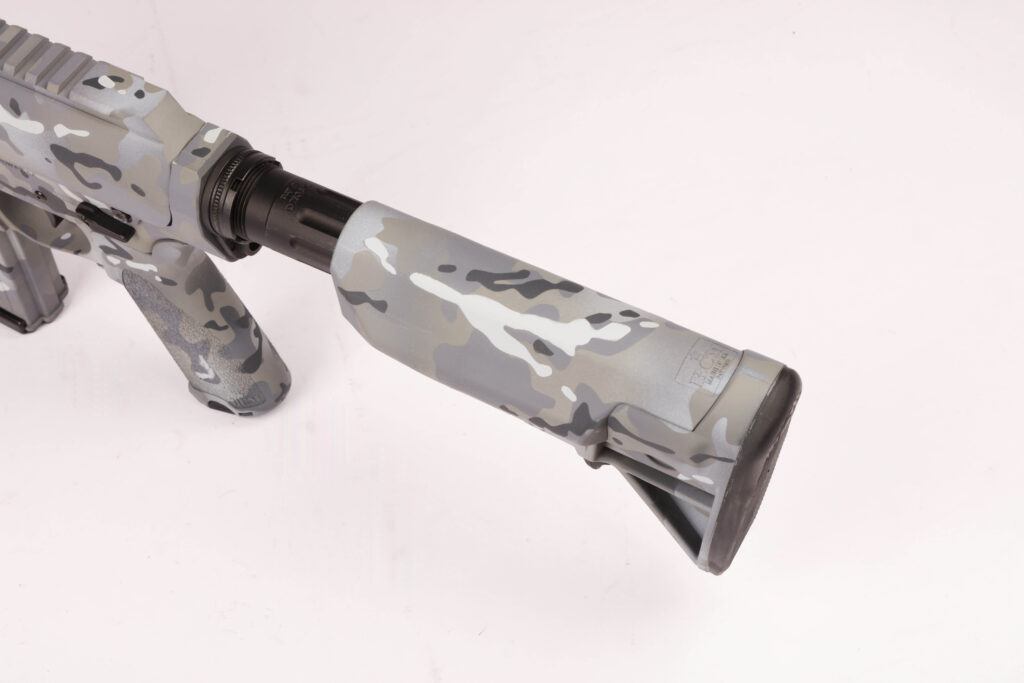 We should note that not all AR-10 or even DPMS Gen 1 lower receivers are equal. There isn't an industry standard Mil-Spec like AR-15 lowers. Genesis Arms posts an article on their website for lower compatibility, as some are good fits, some require some modifications you can do at home, and some are bad and will not work at all. You may or may not see your AR-10 gun or lower receiver listed. (The current list had been recently updated at the time of this writing.)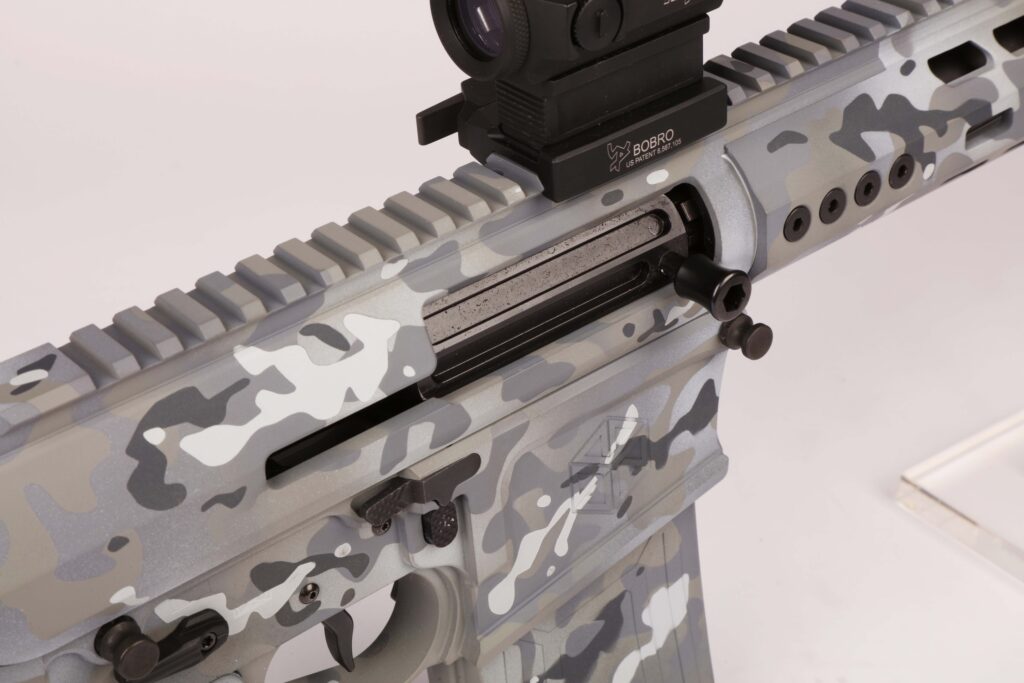 They also seem to be doing a great job at answering all comments on their Instagram (@genesisarms) about Gen-12 fitment and other questions. Genesis Arms sells a complete Gen-12 gun, but you can also purchase just the complete upper if you already have a favorite compatible AR-10, as Martin did. He ordered the Gen-12 knowing that he had a couple of options in the safe, and he was also willing to build something brand-new just to have a new toy. Luckily, the JL Billet receiver is almost identical to the Barrett REC10, which was noted as having good fitment on the compatibility list and saved him from having to break into his piggy bank.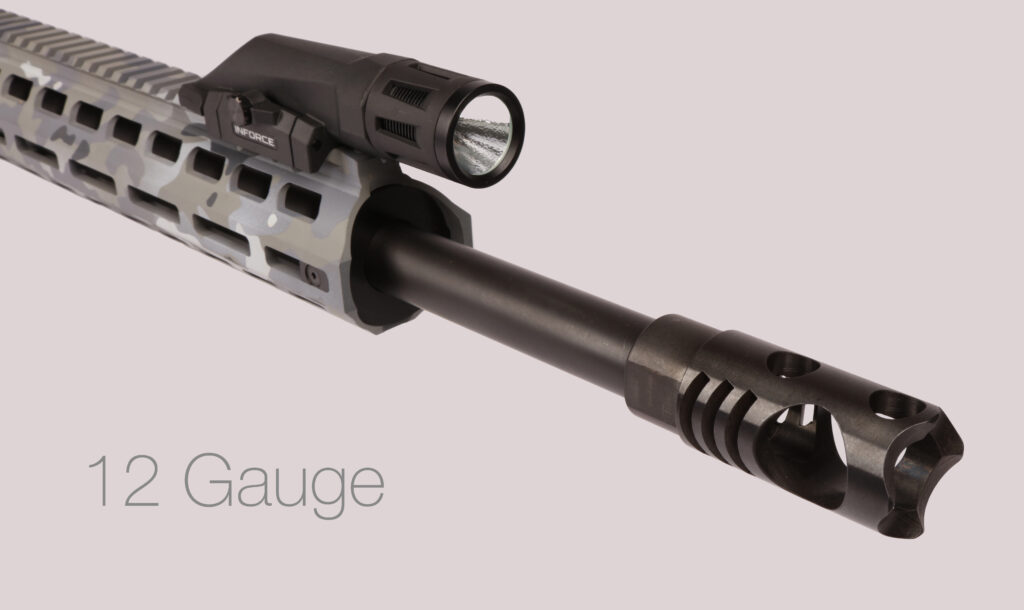 But how does the Gen-12 shoot? How does it cycle? The minds at Genesis Arms created an upper receiver that uses a short-recoil action. Similar to the way a Glock pistol functions, the barrel itself moves a short distance, enough to cycle the gun, instead of the upper using a gas system like a traditional AR. Shooting a Gen-12 is fun and manageable. The felt recoil is different from standard shotguns. You get more of a push rather than a shotgun's snap. However, Martin can't say what the feeling was like shooting the Gen-12 without the CNC Warrior Short Firestorm Brake installed, as it was immediately purchased for the SAIGA threaded barrel.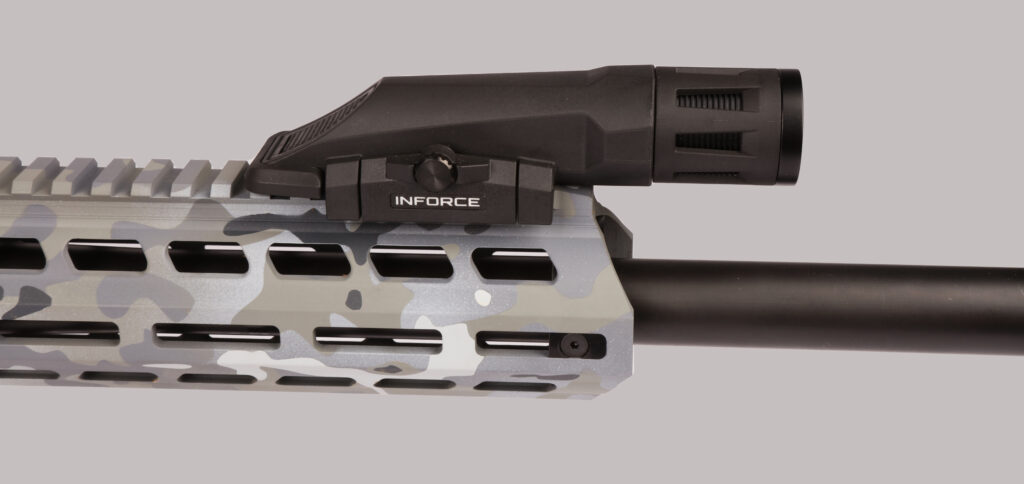 Currently this AR-10 lower is using a one-piece Armaspec Stealth Recoil Spring buffer with the heaviest weight of 5.7 oz. to handle the 6.5 Creedmoor, and it works for shooting magnums or 3" shells on the Gen-12. "Once I get more rounds through both uppers, I have plans to purchase multiple weights in the future to include in this gun's kit case," Martin says, as the cyclic rate can be tuned by adjusting the buffer weight to allowing more variety of ammo loads. He is completely comfortable working on his own guns for the most part and really got a visual on how the barrel can move when he dissembled the Gen-12 so he could send it off for Cerakote.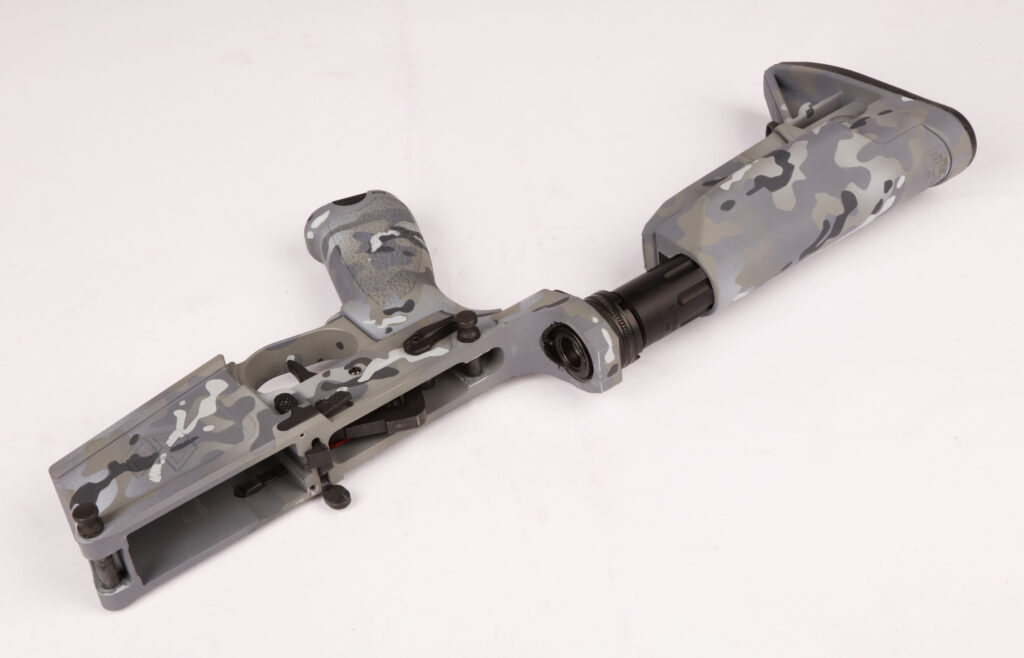 "Where the gas tube on a DI AR would normally be inserted in the upper receiver, there's a small recoil spring held in by a bracket on the barrel extension and locked in by the barrel stud nut," he told us. "It's interesting."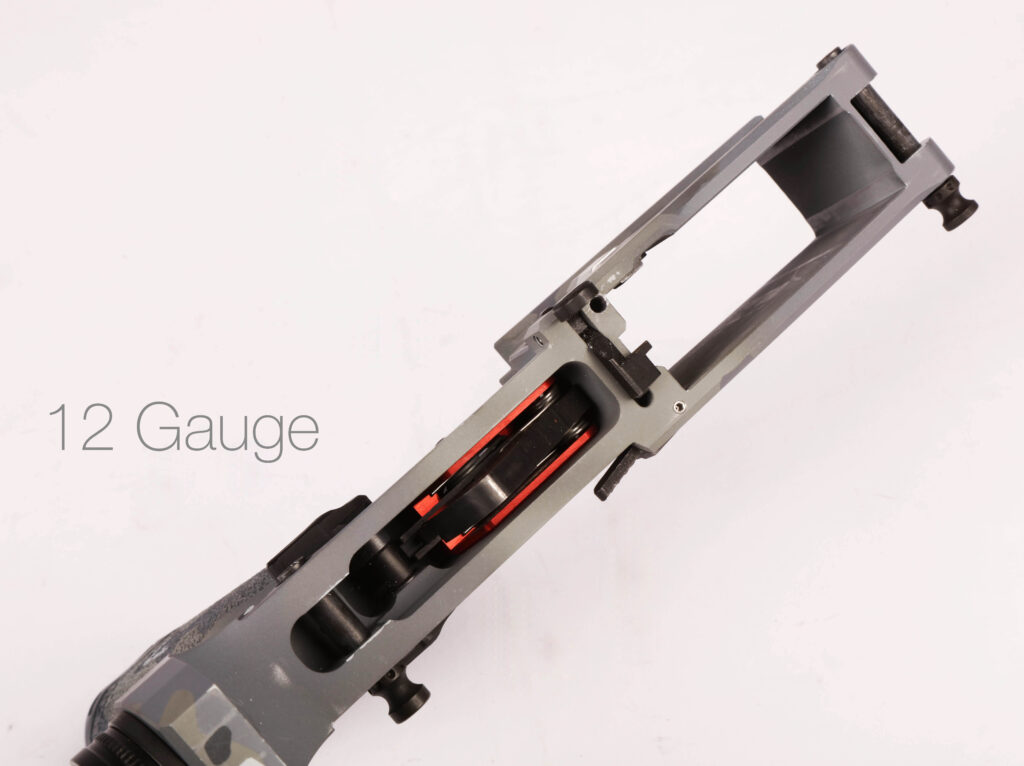 We shouldn't forget about the older brother of the group, the 6.5 Creedmoor upper. With the JL Billet matching receiver set, Ballistic Advantage Premium Series barrel and Rise Armament BCG, this setup has cycled a couple hundred rounds of reliable precision-targeting groups. Martin has other AR-10 6.5 rifles with longer barrels but picked this AR-10 because of the lower receiver compatibility and the 18-inch barrel to match the similar barrel on the Gen-12. Locally Martin only gets to shoot up to 600 yards max and with the ballistics of 6.5, even an 18" barrel has no issues attacking that.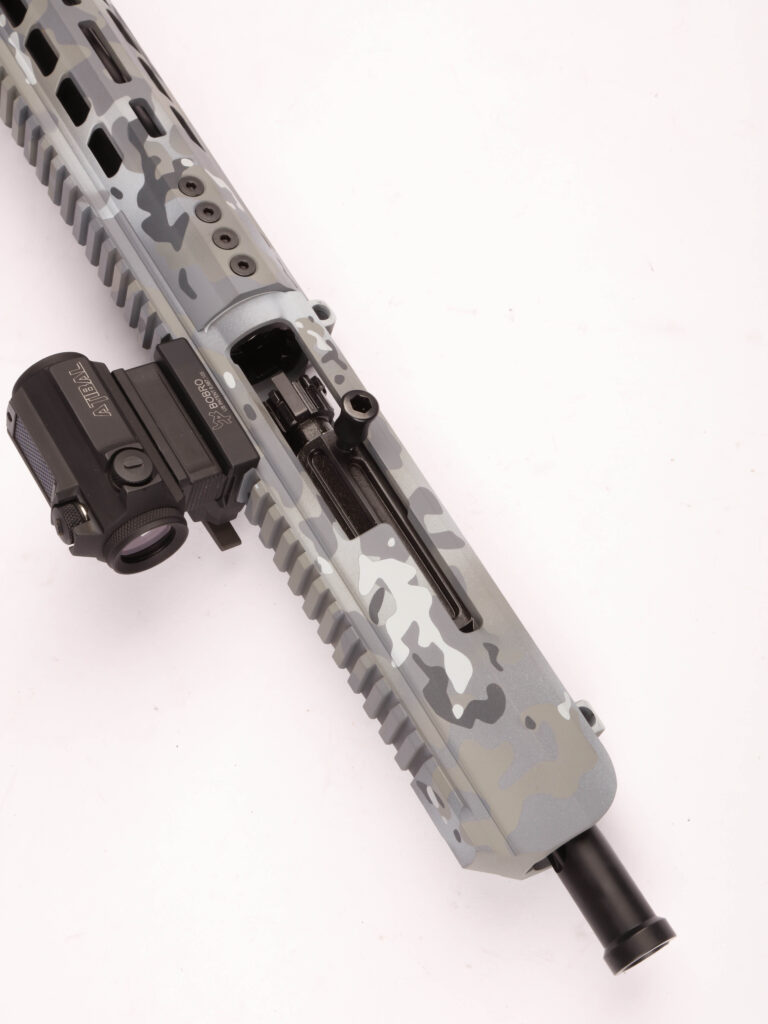 The JL upper and lower receivers mate up perfectly, but that didn't stop Martin from making sure he had set components from the same manufacturer he didn't have to worry about fitment. Another concern was weight. He wanted certain features like a fluted barrel and titanium muzzle brake. "I could've saved some weight with the handguard but I just had to have one of the longest handguards I could find," he says. "It gives me lots of real estate and ability to mount the Magpul bipod as far forward as possible." The JL Billet VPR muzzle brake angle matches the angle on the JL Billet handguard and looks damn sexy, especially since the handguard is so close to the brake without much barrel showing.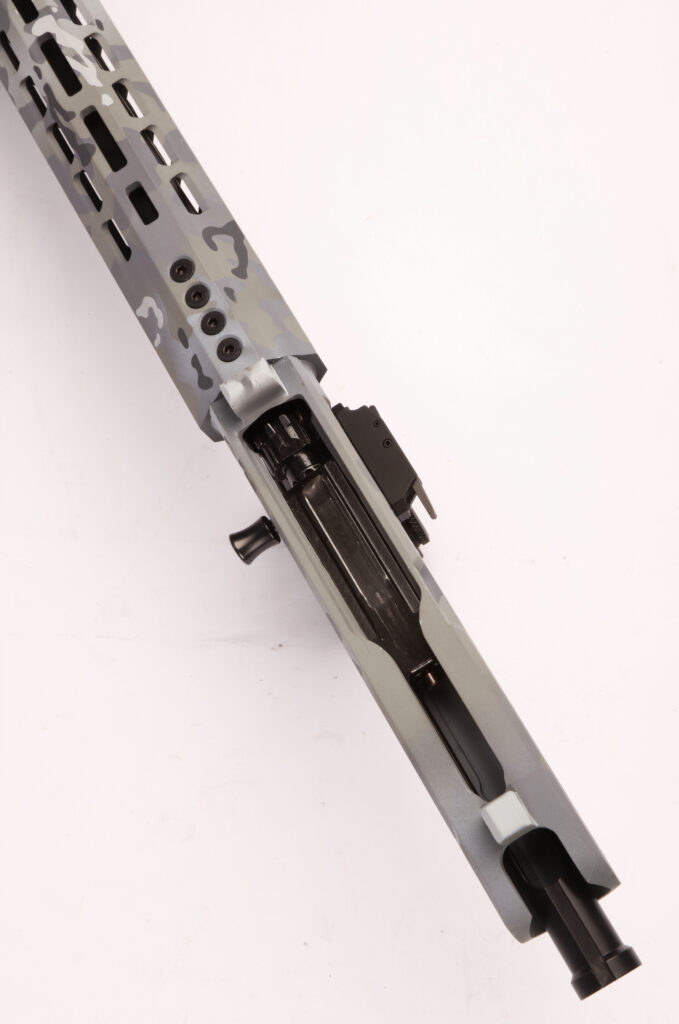 The build's foundation, the JL Billet lower receiver, was not only a matched set with the JL upper receiver. It's almost like it was made for the Gen-12 upper receiver. There were no modifications needed for the magazine to feed reliably. Genesis Arms can add JL Billet to their compatibility list. Both the Gen-12 and Magpul PMAG magazines have had no issues so far feeding popular 12-gauge and 6.5 Creedmoor ammunition, depending on the upper.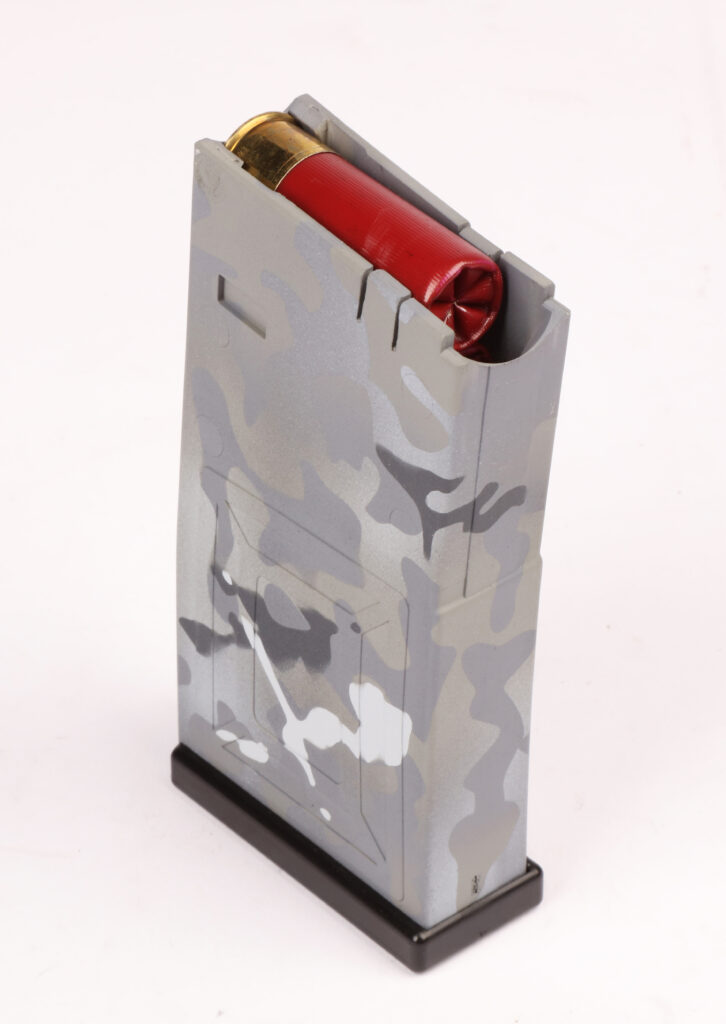 The weight savings theme is even evident in the buffer tube. The Mil-Spec Primary Weapon Systems Enhanced Buffer Tube has a unique fluted tube design and weighs only 4.3 ounces. The ratcheting castle nut gives Martin assurance that everything will stay in its place no matter which caliber he shoots. Having as many QD points is never too much. Most of the time the bipod will be on a table or floor, but you never know when Martin might run and gun with the Gen-12 and throw a sling over his shoulder. Even in the dark with 800 lumens blazing out of the Inforce WMLx Gen 2.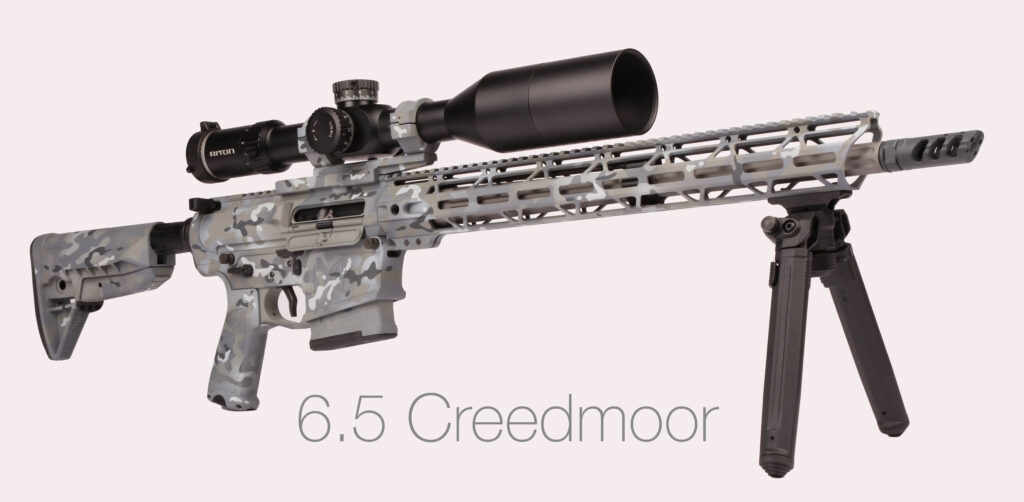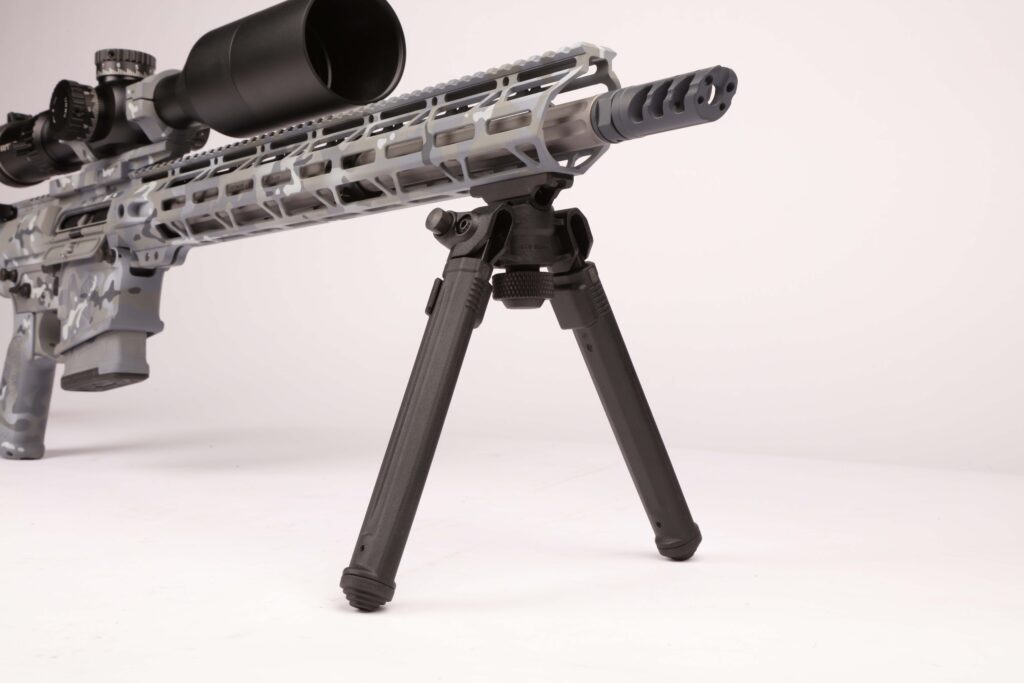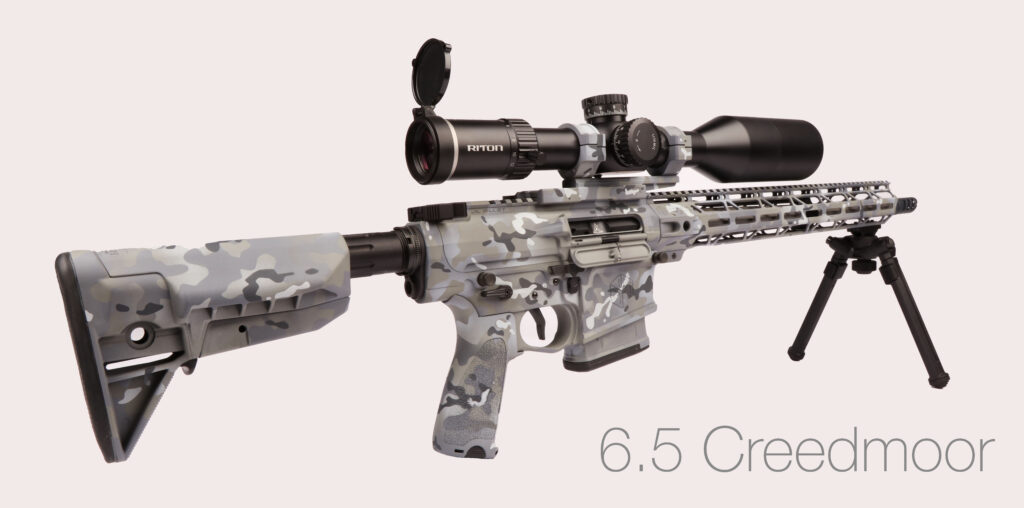 A common source of cool Cerakote guns and accessories comes from KAW Custom Coatings (@kaecustomcoatings). They have their own camouflage pattern called KAECam. Martin said that when he talked to the team over at KAE that he already knew he wanted the KAECam for this one-and-a-half-gun setup, but left it up to the KAE crew to pick the colors. KAE used an amalgam of Battleship Gray, Glock Gray, Smith & Wesson Gray and a custom-mixed gray. Martin heartily approves. "I have guns with the typical greens and tan camos, but never a grey combination," he says.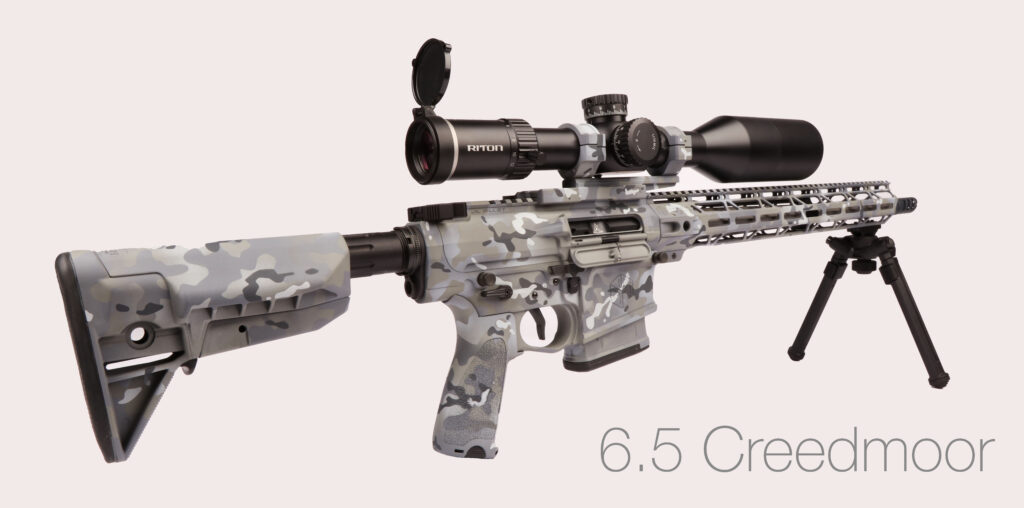 No gun—or guns, in this case—is useful without a targeting system. Of the 6.5 Creedmor upper, Martin says: "I wanted glass that wouldn't cost double the rifle, but would also provide me all I need to go deep." He had seen online posts about the Riton Optics RT-S Mod 7 line and the brand-new 4-32x56IR. It gave Martin just what he needed: first focal plane (FFP), Riton Christmas tree illuminated reticle, a big tube diameter to allow plenty of light in, crisp turrets, an uncomplicated zero stop system, and HD glass.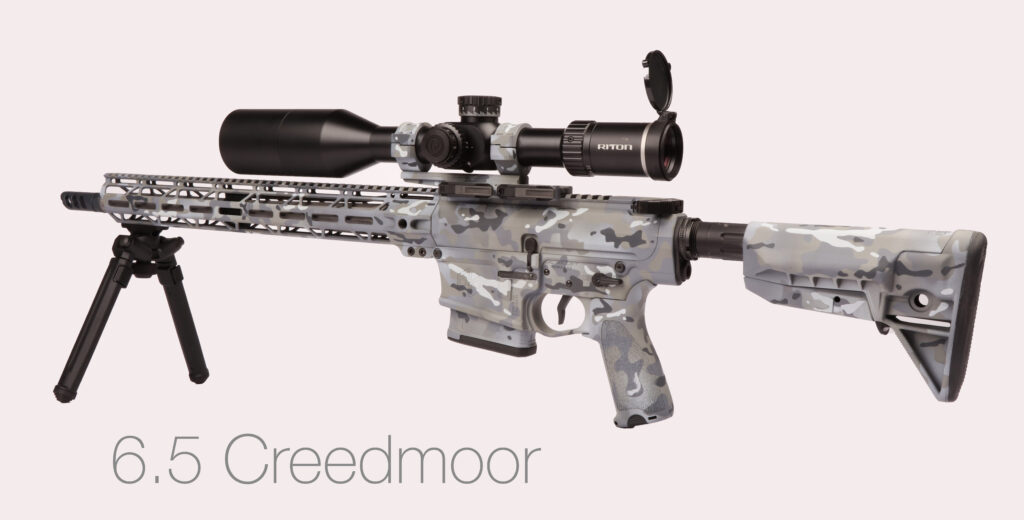 For the Gen-12 upper, Martin got his hands on one of the newest red dot offerings from Atibal Optics. The new SLR-1 red dot uses both solar and a highly efficient and common CR2032 battery to give the user 100,000+ hours. Outdoors, the natural light illuminates the red dot. Indoors, or in low-light conditions, the battery has a failsafe mode. The optic uses a Multiple Dot System (MDS), allowing both a 3 MOA or 65 MOA circle dot. It's attached using Bobro Engineering optics mounts.

The AR-10's controls are finished off with components from BCM. Martin went with a Mod 3 pistol grip and the SOMOD version of the BCM buttstock with its more pronounced cheek weld. He also jokes that he should've just opened a dealer account with Radian Weapons and ordered Raptor charging handles in bulk to save some money. One other notable feature on the lower is the safety selector. "I like to try new things," Martin says. "Never owned a 50-degree short throw safety selector so I gave Ascend Armory a try and wasn't disappointed." Nicely machined levers, the ability to pick 50-degree or 90-degree selector angle, a selector spring and KNS Precision hardened selector detent… you don't see this stuff included on selector kits double the price.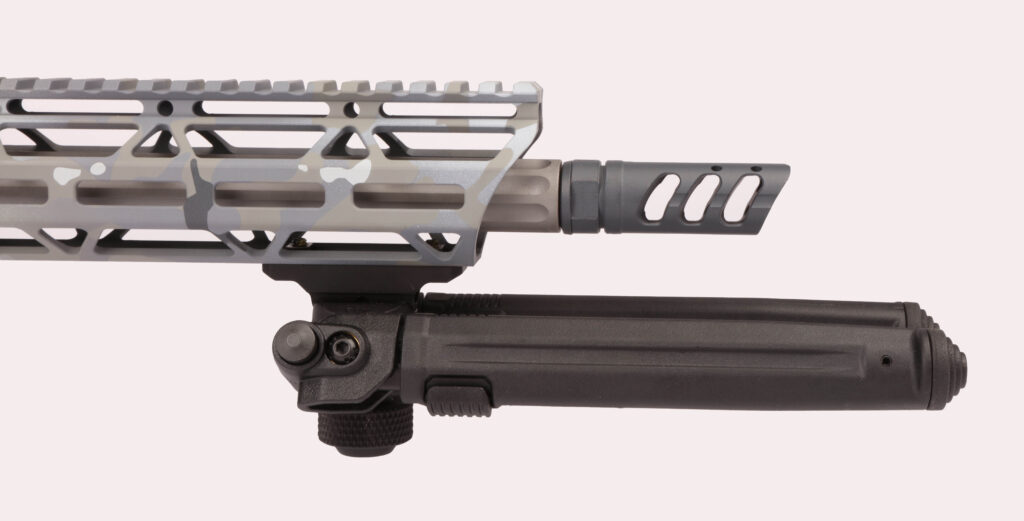 There are other shotguns that try to mimic AR ergonomics, but they often are bulky and use too many proprietary components that definitely make them not an AR. Super stoked about how the original AR-10 rifle got a new coat of KAECam paint and added new member of the family with the Gen-12, Martin's armed with more excitement to head to the range, class or course to beat the crap out of these things and see how it all holds up in the name of fun. "I wonder if my local sporting clay facility will let me bring the Gen-12 out."
Text by Danny Chang and Images by Martin Anders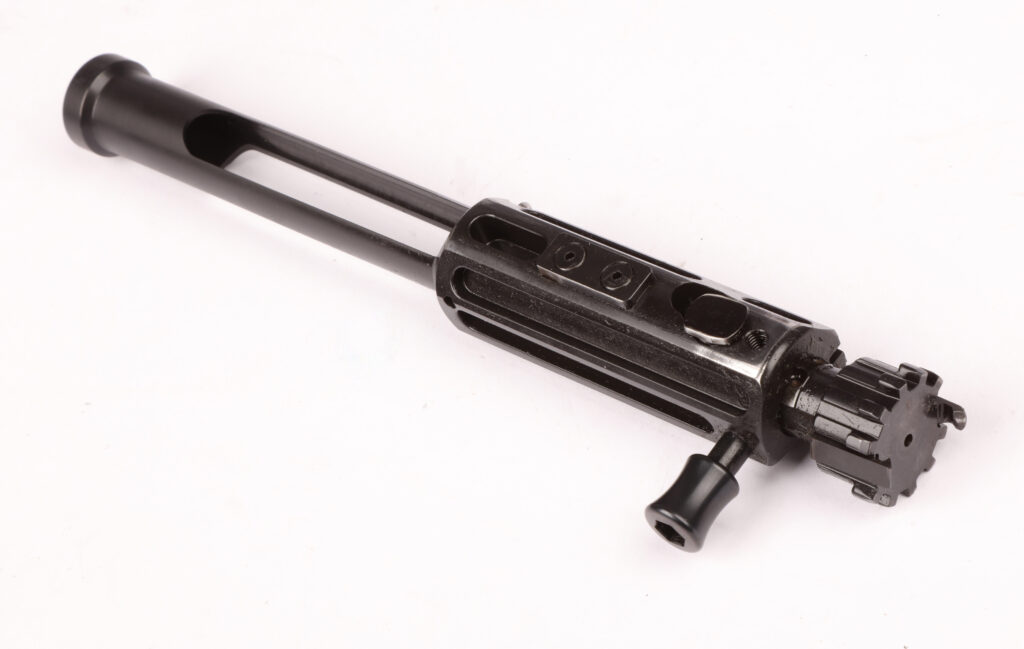 Build Sheet
Martin Johnson's 12-gauge/6.5 Creedmoor AR-15
Specification
Caliber: 12-gauge / 6.5 Creedmoor
Barrel: Genesis Arms w/ Saiga thread (18..25 in.) (12) / Ballistic Advantage Premium Series (18 in.) (6.5)
Lower Receiver: JL Billet AR10 .308 Billet Lower (serialized)Upper Receivers: Genesis Arms GEN-12 / JL Billet .308 BilletCoating: Cerakote by KAE Custom Coatings
Featured Accessories:
Optics: Atibal SLR-1 Solar Red Dot Sight w/ 100,000+ Battery Life (12) / Riton Optics RT-S MOD 7 4-32x56IR (6.5)Optic Mounts: Bobro Engineering Aimpoint micro T1/T2/Comp M5 Mount Absolute Co-Witness (12) / Bobro Engineering Dual Lever Precision Optic Mount 34mm Rings (6.5)Handguard: Genesis Arms 13" Freefloat w. M-Lok (12) / JL Billet 17.2" Angle Cut M-Lok DPMS Low Profile (6.5)
Muzzle Brakes: CNC Warrior SAIGA/VEPR 12 Short Firestorm Brake (12) / JL Billet Titanium .308 Cal V.P.R. Muzzle Brake (6.5)
Buttstock: BCM BCMGUNFIGHTER Mod 0 – SOPMODWeapon Light: Inforce WMLx White Gen 2 (12)Bipod: Magpul Bipod for M-Lok (6.5)Magazines: Genesis Arms 5 Round (12) / Magpul PMAG 10 LR/SR GEN M3 (6.5)
Parts & Accessories: Rise Armament .308 BCG, trigger, Primary Weapons Systems Enhanced Buffer Tube w/ Ratchet Lock Castlenut and Endplate, Radian Weapons Raptor Ambi Charging Handle (AR10/SR25), Armaspec Stealth Recoil Spring (5.7 oz.), Ascend Armory 50-Degree Mod 2 Ambi Safety Selector Set, Ballistic Advantage Lo-Pro Gas Block (.875"), BCM BCMGUNFIGHTER Grip Mod 3, Strike Industries Ultimate Dust Cover for 308 (standard), Ballistic Advantage Melonite Gas Tube (midlength), Xtreme Precision 308 Extended & Pivot Takedown Pin Set
About The Owner:
Name: Martin Johnson
Occupation: Appraiser
Special Thanks: Cody, Jimi, Stephen, Paul, Calley, Jimmy & David, Brian, Josh, Will, Brittany, Ben, Andrew, Jason, and the team at KAE Custom Coatings