Built for precision shooting
Chambered in 6.5mm Creedmoor
Coating by Blowndeadline
Sometimes you'll meet a pair of buddies that are so in step with one another that they themselves even joke that they're brothers from another mother. In a way, you can probably say the same thing about these two rifles as well. It may seem strange to call a bolt rifle and a semi-auto gas gun twins, but in a fraternal, non-identical sort of way, they are.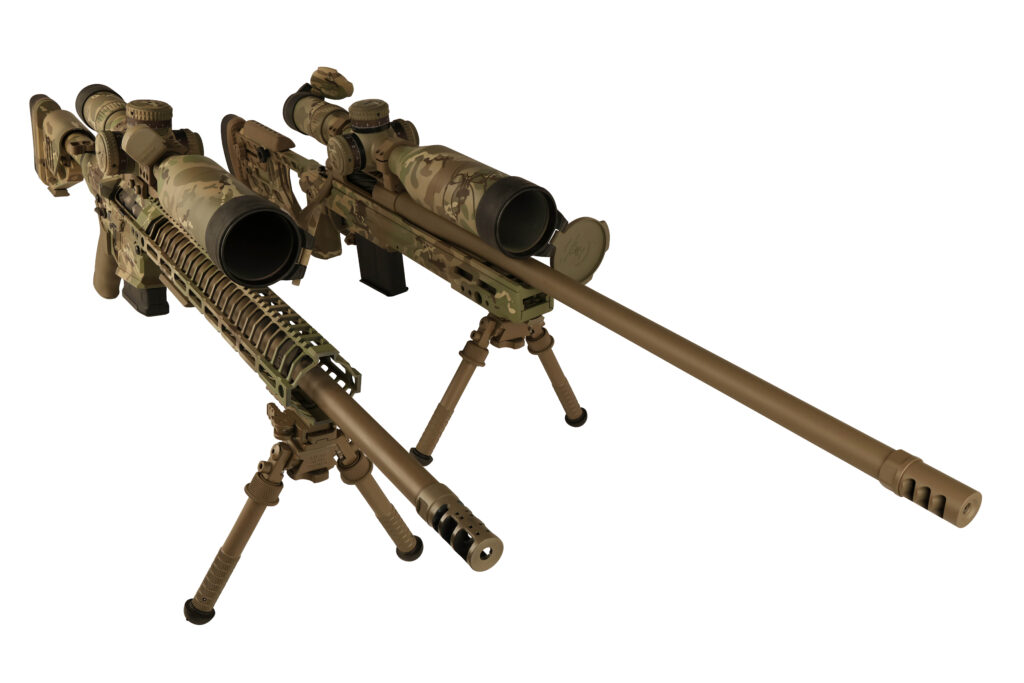 Nick Gough, former Army Ranger sniper, is the owner of these two rifles. Both long guns were created for competition shooting and precision rifle instruction. Gough's daily grind sees him share his time between Dark Corner Concepts and Spike's Tactical. Gough is the owner of and lead instructor at Dark Corner Concepts, a dedicated precision rifle training company and is the military/law enforcement program director at Spike's Tactical.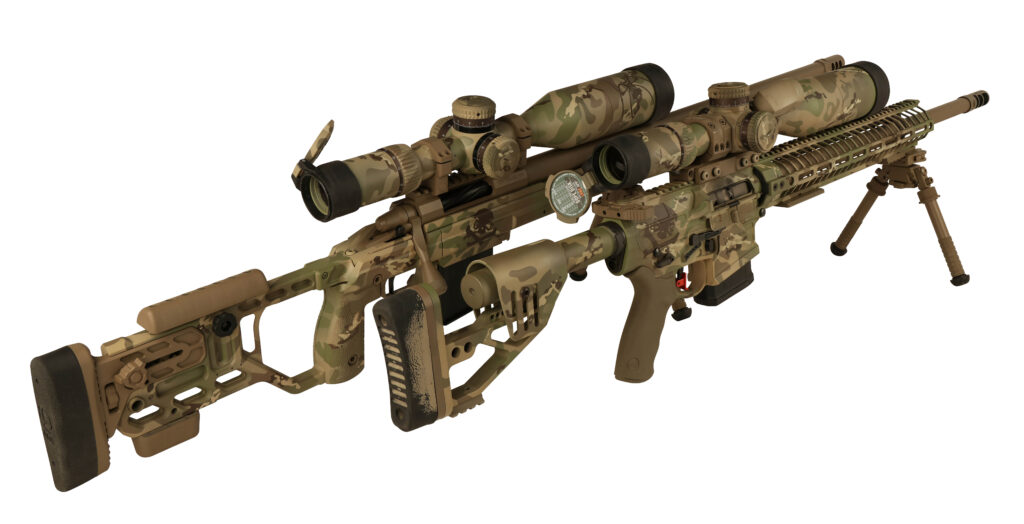 To understand more about the rifles, let's first learn more about the man behind them. Gough served nearly eight years in the elite 2nd Ranger Battalion, 75th Ranger Regiment, with six of those years as a sniper. He graduated the U.S. Army Sniper School and Special Operations Target Interdiction course with top honors as a sniper section leader. Gough deployed 15 times to Iraq, Afghanistan, and other hostile theaters with the 75th Ranger Regiment and as a Global Response Staff (GRS) Operator. To put it mildly, the dude knows how to shoot. Now let's get back to his rifles.
We were told that the AR is built off a Spike's Tactical 6.5 Creedmoor Roadhouse Precision Rifle, and even though it doesn't look like it, it is almost all stock. In fact, Gough informed us that other than a few parts that he added to it, he shoots it pretty much as it comes from the factory. The rifle comes with plenty of upgrades as standard, including a 20-inch stainless Krieger Barrel, Superlative Arms Adjustable Gas Block, Spikes Tactical R2 Brake,Timney Calvin Elite Trigger, Radian Raptor-LT AR10, and Magpul ACS Stock right out of the box. The list of quality parts explains a lot about why Gough left the rifle mostly untouched.

We asked him if he could recall any challenges that he may have encountered for this build. "As with any gas gun, the initial 'challenge,' if you had to call it that, was finding the balance that allowed the gas system to operate smoothly and efficiently with a wide range of ammunition," Gough replied. "However, I only run Eagle Eye Precision ammunition so using the adjustable gas block I tuned the gas system to operate most efficiently with that."
While Gough generally works on his own rifles, he did turn to Cerakote expert Blowndeadline to help him change up the look of the rifle. He asked them to coat the AR in a MultiCam motif. As you can tell, the results are truly fantastic.
Since he's an experienced precision shooter, we were interested to see what optic setup Gough preferred to use on his gun. Gough chose to mount a Vortex Optics Razor HD Gen II 4.5-27 x 56 FFP scope in a Spuhr SP-4616 (6mil/20.6 MPA) cantilever mount. The first-focal-plane optic features exceptional clarity that allows Gough to hit targets accurately at distance. He couldn't say enough good things about the Spuhr mount. The SP-4616 allows for an absolute co-witness with most clip-on night vision units when mounted on AR platforms, and its cantilever configuration allows the scope to be mounted 1.57 inches further when compared to a non-cantilever mount.
As you might have noticed, a Knight's Armament AN/PVS-30 is sometimes attached to the Roadhouse rifle. Thanks to the Spuhr mount, the Vortex scope and Knights night vision line up perfectly. The AN/PVS-30 is a clip-on night vision device that allows the user to see out to distance under very low light. According to Knight's Armament, this device can help the operator recognize a standing man under a quarter-moon or recognize a vehicle under starlight in excess of 1,000 meters. Where can we sign up for one of those?
We asked Gough which other parts he thought stood out, and he quickly mentioned that he really like the Magpul M-Lok ARCA Interface Dovetail Adapter, which allows him to mount his rifle on tripods to steady his shots.
As far as the gun's accuracy, Gough told us: "The days of being satisfied, even impressed, with gas guns achieving 1 MOA accuracy are over. My initial expectations were to have a platform that consistently punched ½ MOA groups, but the end result was a semi-auto that repeatedly knocks on the door of ¼ moa instead." That's good news if you ask us. We wonder, though—how does his other twin shoot?
Similar to his AR, Gough's bolt gun is also chambered in 6.5mm Creedmoor and finished by Blowndeadline in a MutliCam Cerakote scheme. He uses both rifles for competition shooting as well as precision rifle instruction. But unlike his AR, Gough points out he didn't do the work on this gun. For something as specialized as a bolt gun, he trusted the experts at GA Precision.
The GA Precision 6.5 Creedmoor rifle features a GA Precision Templar V2 receiver. GA Precision's Templar receivers are considered some of the best in the business. The gun's body is made of hardened 416 Stainless Steel and features an integral 20 MOA scope base. Its tang is thicker than standard and is radiused to fit Model 700 style platforms. Mated to the receiver is a 26-inch Bartlein Barrel, on which Gough installed an American Precision Arms Little Bastard Brake.
As he can attest, the trifecta of GA Precision's Templar V2 receiver with the Bartlein and American Precision Arms duo is a winning combination for long-range precision shooting. This author has spent some time with various rifles that were equipped with the American Precision Arms Little Bastard Brake and can tell you firsthand that it does a remarkable job of effectively cutting down muzzle jump and recoil.
The rifle is built upon a Kinetic Research Group Whiskey-3 Chassis (W3C). The W3C chassis forms the backbone of the rifle and combines precise aluminum bedding with tool-less adjustment capability. The chassis also takes AICS-style magazines without any need for special bottom metal. Spending some time with the chassis allowed us to see that plenty of expertise and thorough thought and feedback were used in the chassis design. One feature we especially like is its modular grip panels. Different-sized grips can be installed to allow a shooter to tailor the fit of the stock to his or her needs.
Gough equipped this rifle with the same style Vortex Razor HD Gen II 4.5-27 x 56 FFP scope found on his AR. Taking advantage of the familiarity of a single type of scope and reticle allows him to jump from platform to platform quickly and efficiently. On the bolt gun, the scope sits confidently in a set of Badger Ordnance 34mm rings.
It's extremely important to get every element of a bolt gun right. From the receiver to the barrel to the scope, every component will affect how accurately and reliably the rifle performs. This includes the trigger, which, as with his Spike's Tactical Roadhouse gas gun, Gough uses a Timney Calvin Elite. It's a proven trigger that he's familiar with. Although it's not exactly the same trigger as in his AR, he does believe in Timney's products and is very familiar with their feel no matter the platform. Have you sensed a theme yet? Consistency is key, and the similarity of parts between the two rifles is also one of the reasons we call these two rifles brothers from another mother.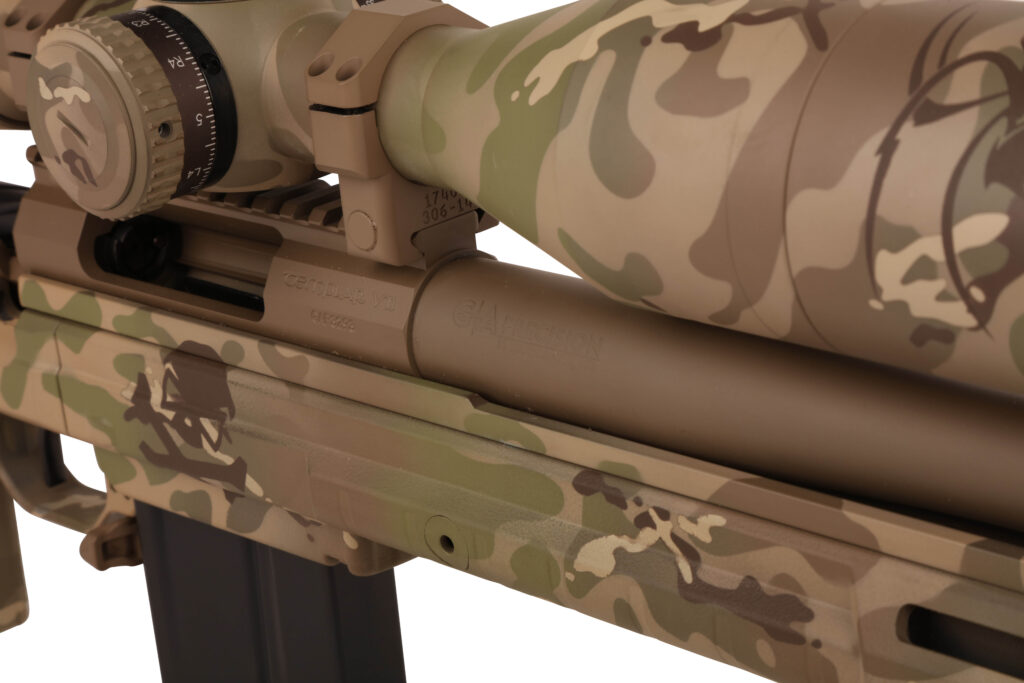 Both rifles are undoubtedly handsome and both do similar jobs, but do them in very different ways. They are used for competition shooting as well as precision rifle instruction, and both are chambered in 6.5mm Creedmoor. One thing's for sure—it presents a dilemma. When he can only shoot one rifle at a time, which one of the twins does Gough select? That's a conundrum that we wish we had.
Text by Martin Anders and images by Jerry Tsai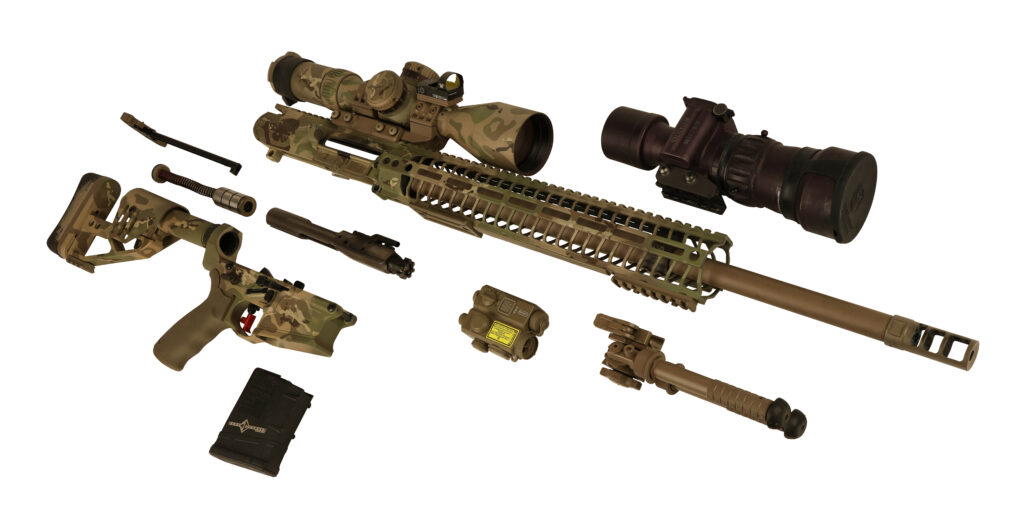 Nick Gough's Spike's Tactical Roadhouse Precision Rifle

Caliber: 6.5mm Creedmoor
Length: 43.5 in.
Barrel: 22" Krieger Barrel
Weight w/o magazine: TK lbs., TK oz.
Upper & Lower Receivers: Spikes Tactical Gen II Billet
Coating: Cerakote by Blowndeadline