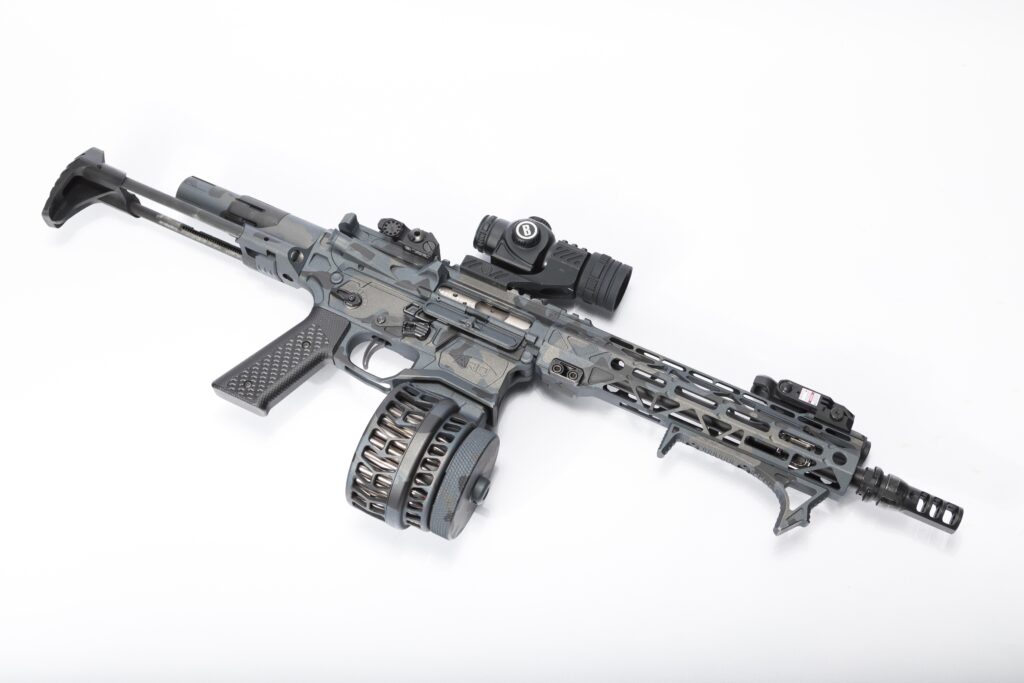 PDWs are a hot commodity these days and for good reason. Pandemics, political strife, social unrest, and societal upheaval are on their own enough to set most reasonable people on edge. And while it doesn't really appear that the collapse of civilization as we know it is imminent, it never hurts to be prepared for any eventuality.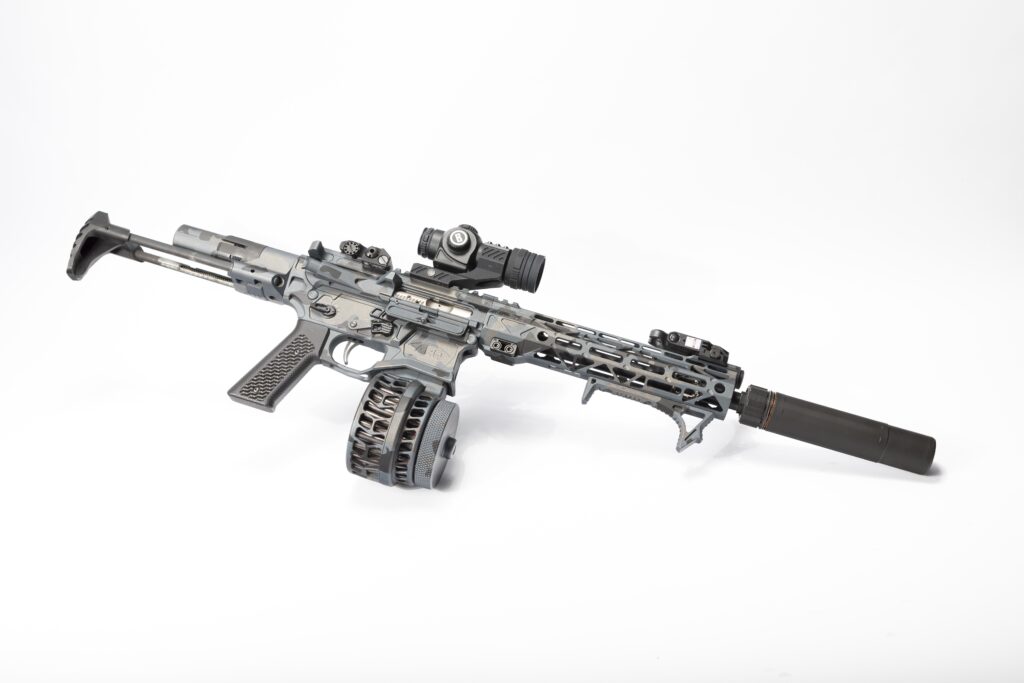 We, the publishers of this magazine, you, the reader of this magazine, and trusted contributors to the magazine like Arizona's Jay Canter, abide by a mantra that might be expressed as "Hope for the best, but prepare for the worst." Canter is one of those who, like us and perhaps you, lives ahead of the curve when it comes to outfitting his personal armory.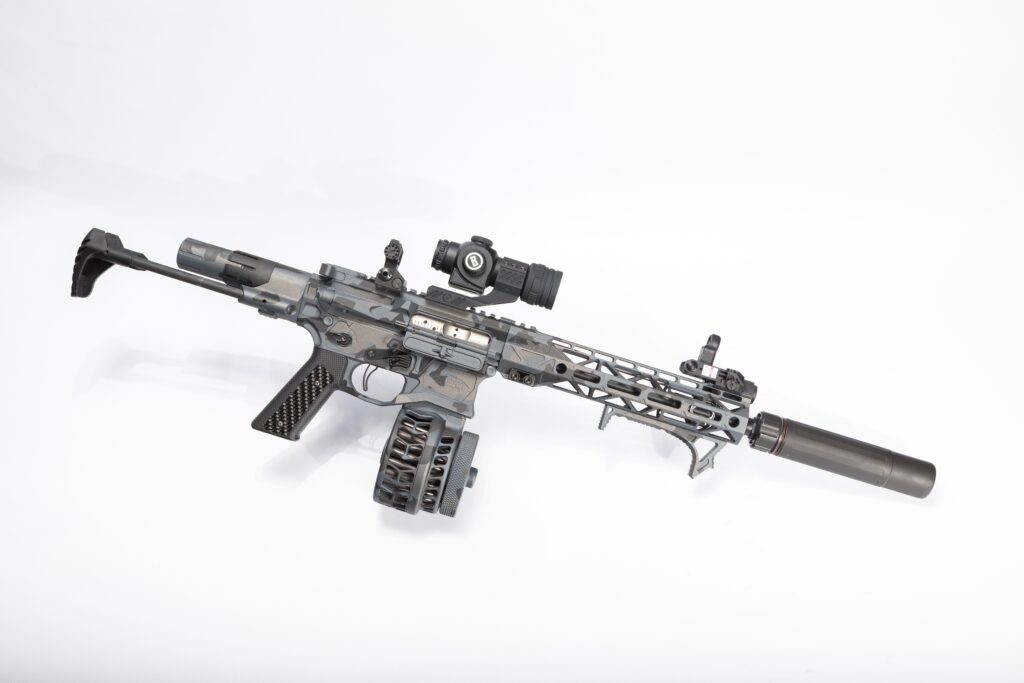 A longtime resident of California, Canter found himself some years ago striking camp and relocating across the state line to Arizona. While that decision wasn't necessarily prompted by any kind of onerous government oversight, it did have the added bonus of freeing up his options considerably when it came to expanding his firearms collection.
"[It] opened up the floodgates to being able to obtain virtually any firearm off the shelf or create a custom one of my dreams," Canter says.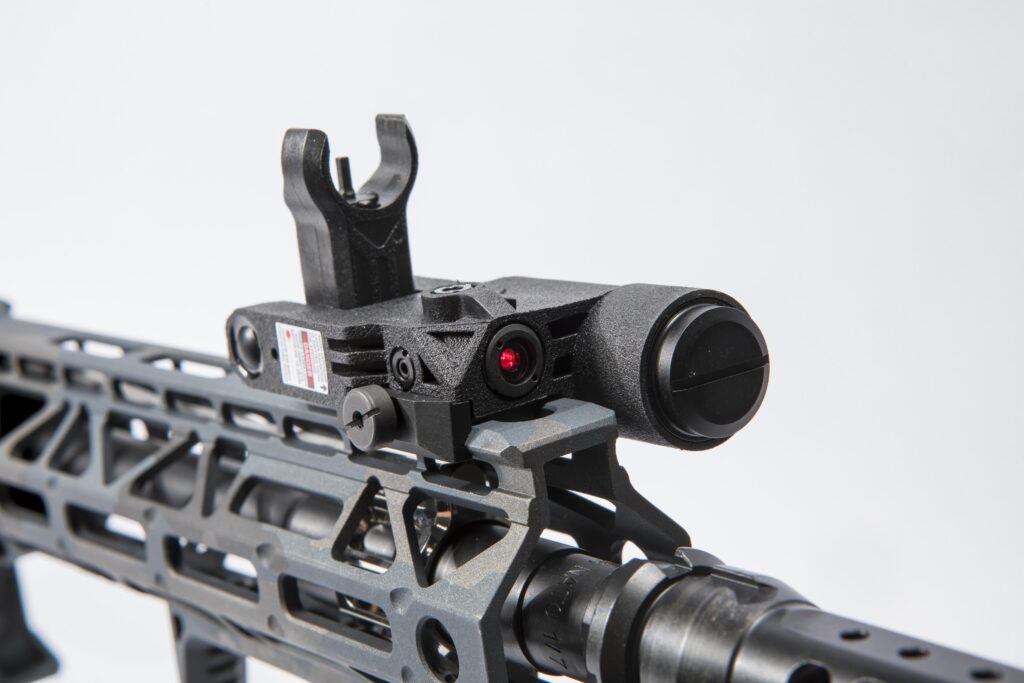 Concerning this particular build, Canter says he put it all together in the days before pistol braces blew up into the industry we see today. In that light, he went through all the necessary steps to register the gun as a short-barreled rifle, paying for his tax stamp and going through the sometimes tedious process of shepherding the needed paperwork through the required avenues. The gun was built as a kind of multifaceted project. It was something he wanted for both recreational and practical purposes and as a marketing piece to support his work in the industry. He tells us it even found its way into his truck for a period of time for potential use as a PDW.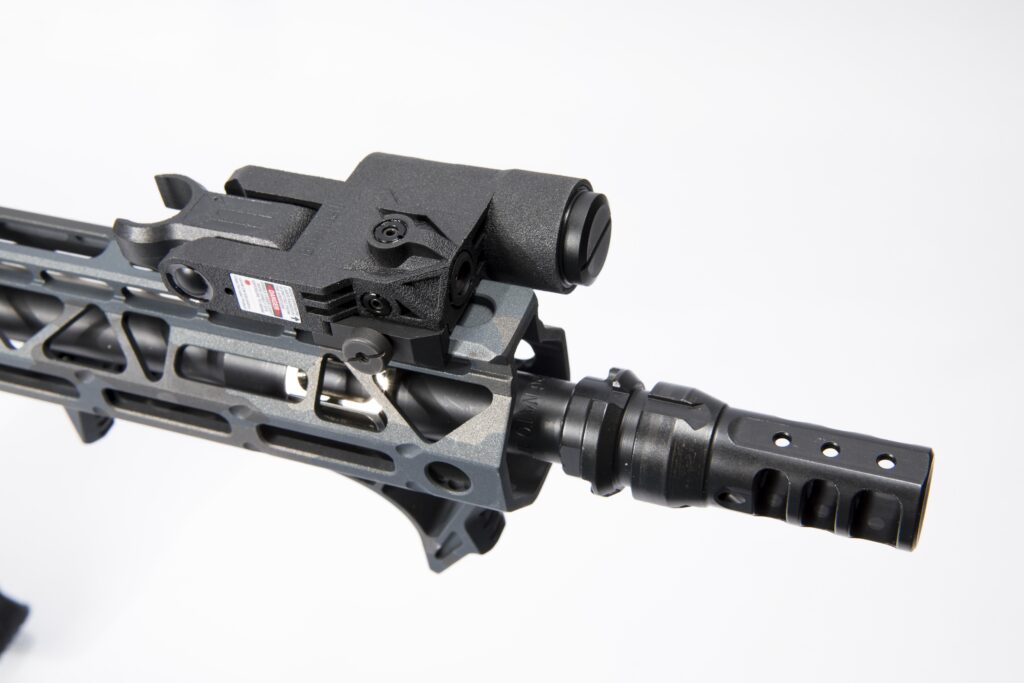 The "marketing piece" bit ties into Canter's business, which is shooting product photography commercially for a range of firearms builders and suppliers. He's also a registered FFL who regularly engages in builds to help promote his own efforts and that of his various clients—or, alternatively, as a consultant to enthusiasts looking to assemble and/or acquire their own custom build. Having professional access to a wide range of parts and accessories gives him a hands-on "leg up" in the field and also gives him the opportunity to really hone in on what he likes, to decide what works for him and what doesn't work, and thereby tailor each build to a high level of personal satisfaction.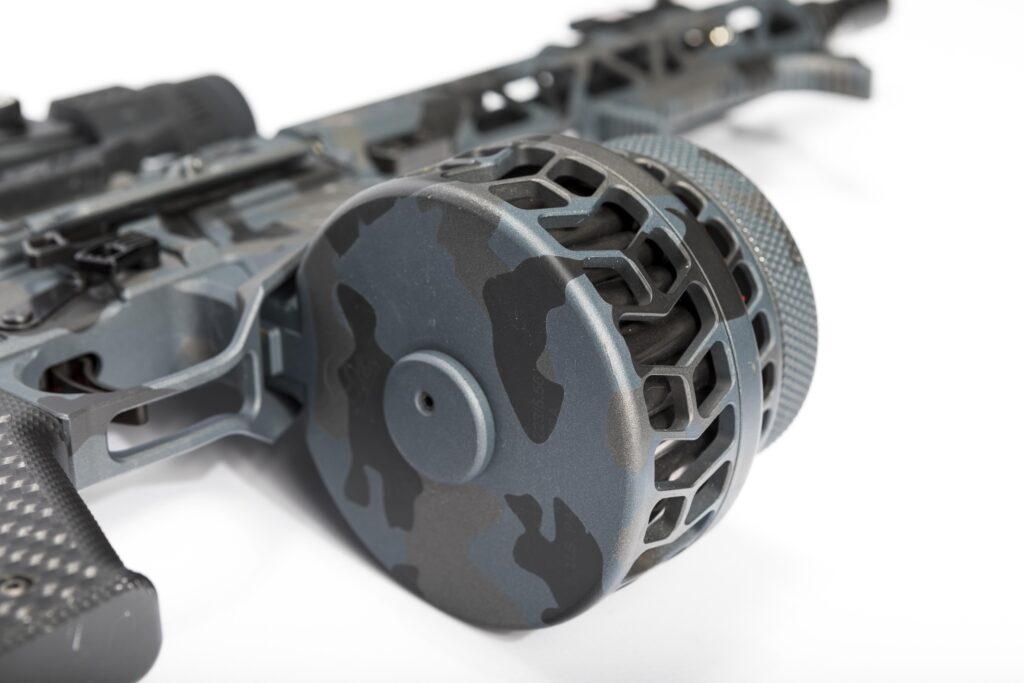 One go-to source of his for the basis of a build, as also illustrated in UN12 Issue 010 where the magazine showcased his AR-10-based, thermal-equipped 6.5 Creedmoor, is Quentin Defense (QD). QD has become a well-known supplier of AR components including receivers, receiver sets, and accessories, with a special emphasis on high-end billet components. This SBR, similar to the Creedmoor build, is based on a billet QD "ARQ" receiver set. This particular pairing was made with a Quentin Defense ARQ-15 set machined from 6061 aluminum billet. Dealing with Quentin Defense greatly simplifies the logistics of a Canter project, being that the QD facility is only about a 20-minute drive from where he lives and works. Through developing a professional relationship with the manufacturer, he has also been able to take a look behind the scenes at the Quentin Defense operation and reaffirm the quality of the product.
"Getting to see and experience the entire process from design, to material choice, to different ops on the CNC machines, to final assembly is pretty awesome," Canter says. "There really is not one single feature about [the receivers] I like the most. The design for sure, but also the way they were able to design something lightweight but yet still totally solid."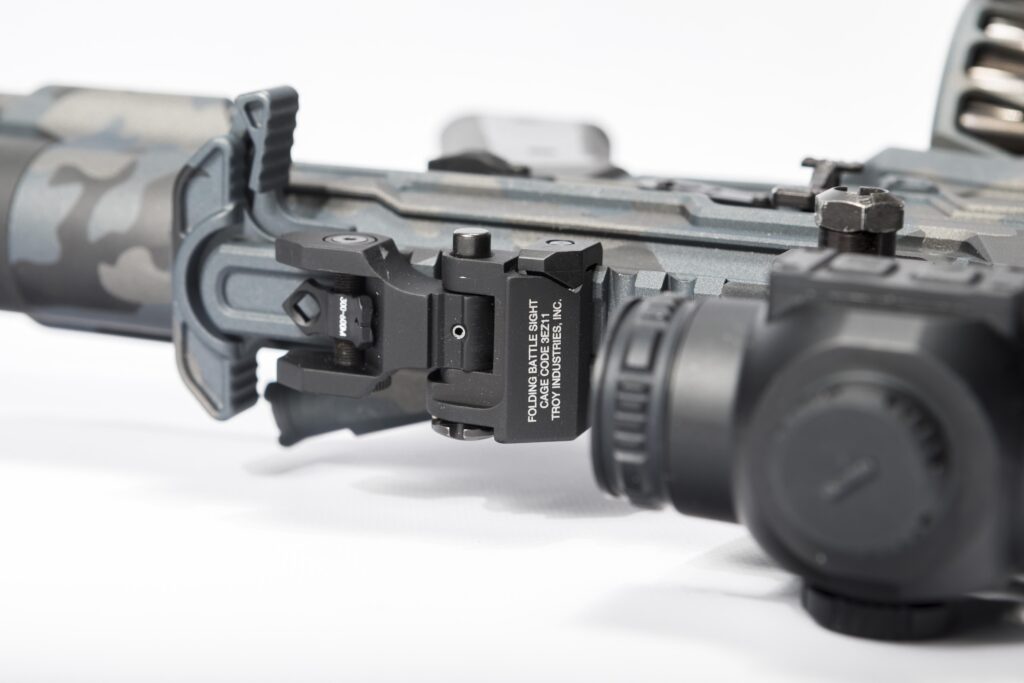 The upper receiver is fitted with a Rosco Manufacturing 10.5-inch barrel chambered for 5.56 NATO. Rosco is a brand Canter has used in the past that has given him perfect reliability at a very competitive price point. The barrel is fitted with a Strike Industries gas block and carbine-length tube that feeds to a nickel-boron BCG by the same manufacturer. A BattleArms M-LOK handguard shrouds the barrel and has been fitted with a Strike Industries LINK forward grip. The upper was completed with a Strike Industries Extended Latch charging handle, Ultimate Dust Cover, and forward assist.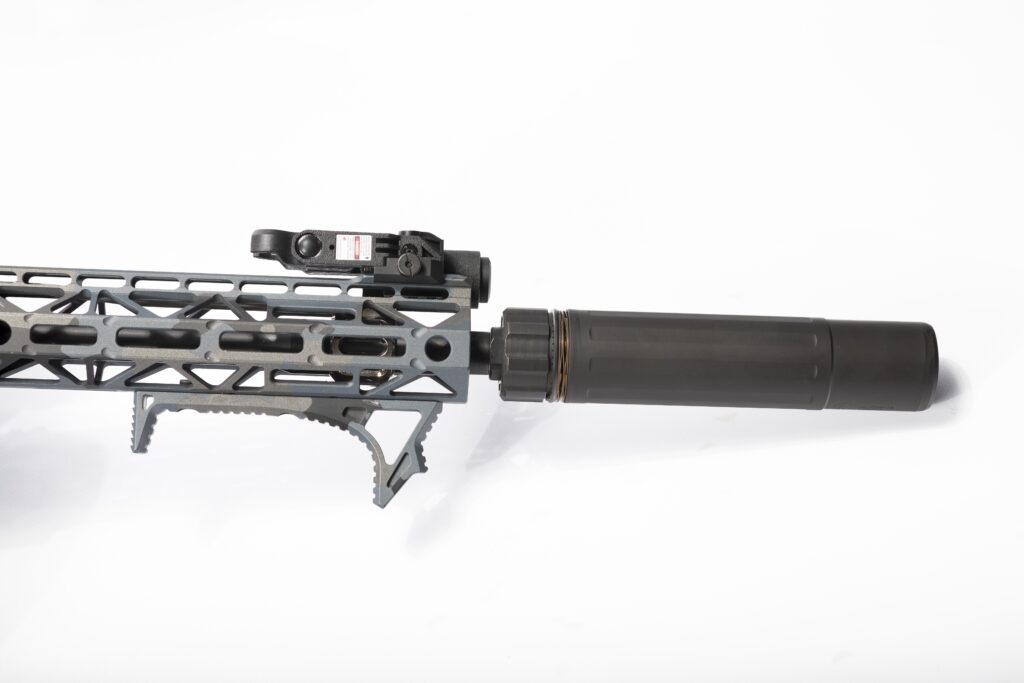 The lower was completed using various small parts from Battle Arms Development, including the takedown pins, bolt catch, and magazine release, a Venom Defense & Design Rebel pistol grip with carbon-fiber panels, and an Elftmann Tactical skeletonized curved trigger set for a 2.75-pound pull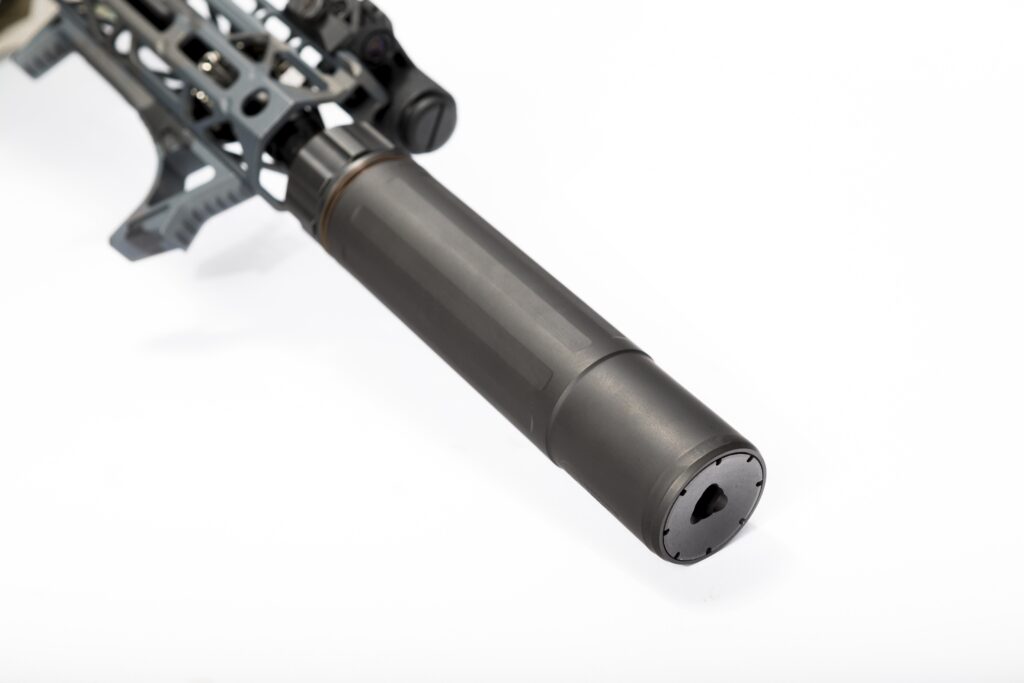 Bringing up the lower's rear is a complete Strike Industries PDW stock assembly—receiver extension, flat-wire spring, buffer, and the stock itself. As the name would indicate, the Strike Industries stock assembly, which can be acquired as a complete package, is designed specifically for compact builds like this SBR. The stock mechanism facilitates minimal length for great maneuverability in tight spaces and a rapid deployment system that lets it spring instantly to max length at the touch of a button. The buffer system is designed for high reliability with both standard bolt carriers and "extreme short barrel configurations."
Target acquisition is accomplished through both electronic and analog means. The former is accomplished using a Bushnell Elite Tactical CQTS. Canter appreciates the affordable price point compared to other high-end optics and the fact that the company has been around as long or longer than other manufacturers, which speaks to the quality of the product. In particular, he recommends Bushnell to prospective builders who don't have a huge chunk of money left over in their build budget for some of the more exotic glass.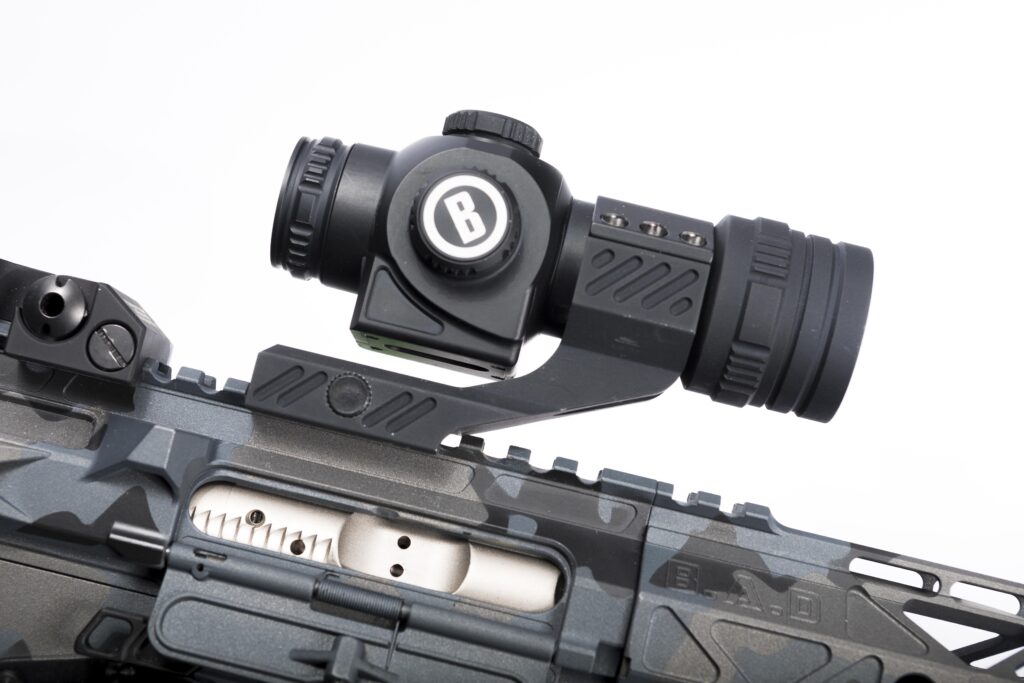 "I have run everything from Bushnell's AR Optics line all the way up to their high-end Elite Tactical line with fantastic results across the board," Canter says. The Bushnell is backed up aft by a Troy Industries Di-Optic Aperture folding rear sight and up front by a Night Optics "Chase" flip-up front sight with integrated laser.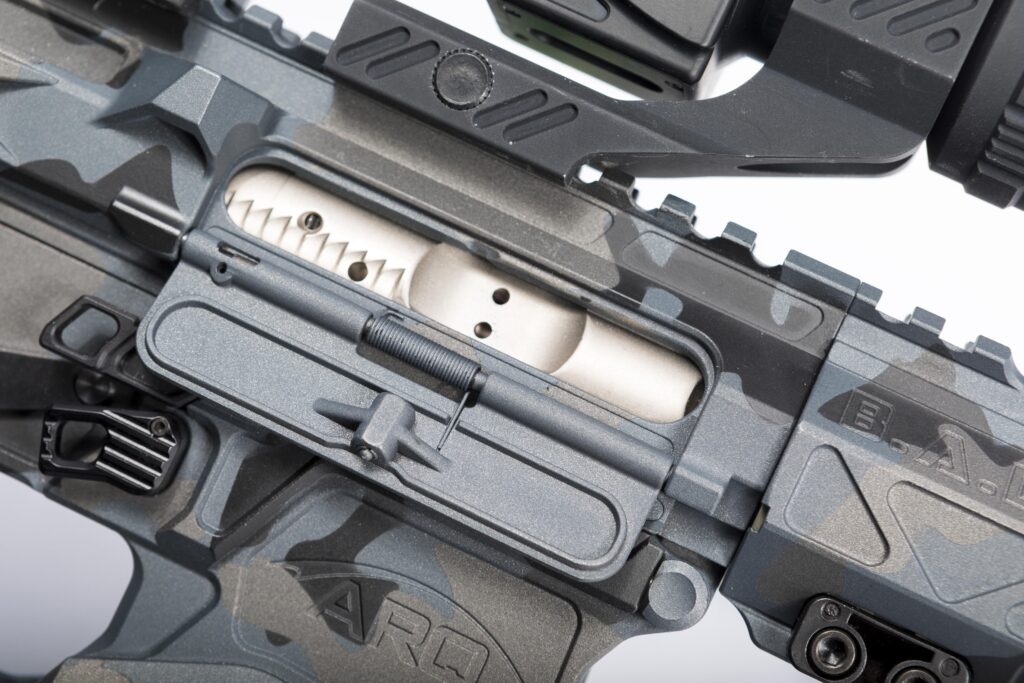 You will note that the gun can be readily run suppressed or unsuppressed. Canter's can of choice for this application is a Dead Air Silencers Sandman-S. The suppressor can be added to the barrel via a Dead Air Keymount muzzle brake that is more permanently affixed to the barrel, and which presents a quick-detach interface to equip or unequip the Sandman-S.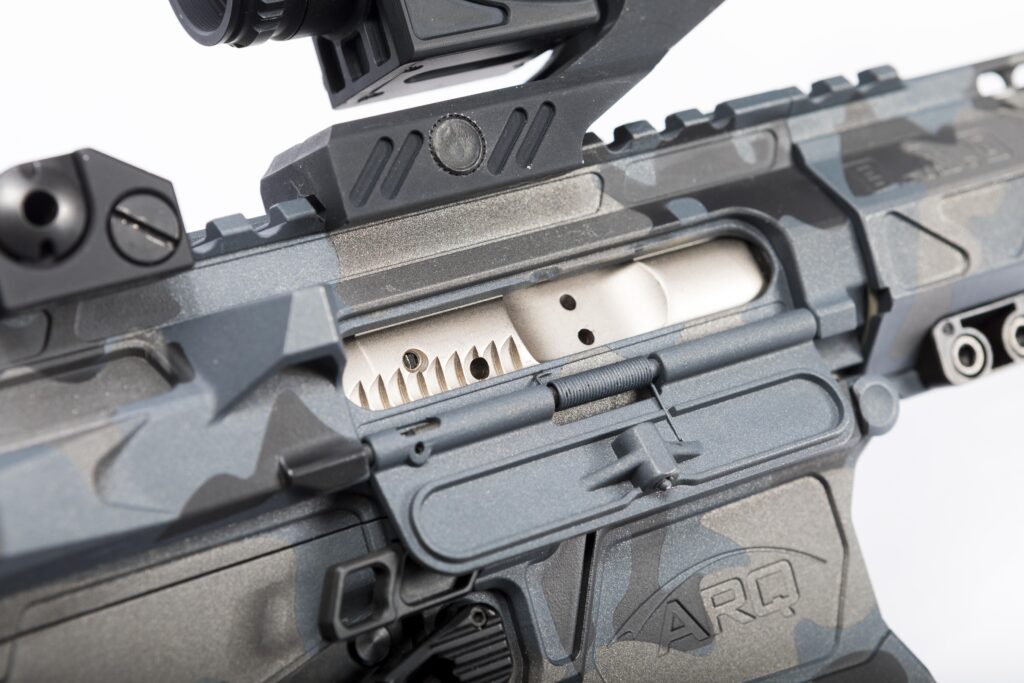 The Cerakote scheme is a personal riff on a classic camo motif with some blue thrown in the mix because Canter is partial to blue, and because it was something different from your run-of-the-mill camouflage pattern. The coating was applied by FS Defense out of California. You'll note that the theme was even extended to the drum magazine, which is an X Products skeletonized 50-rounder. The mag looks incredible, especially with the Cerakote scheme engaged, but Canter tells us it presented something of a challenge to get it to look that way.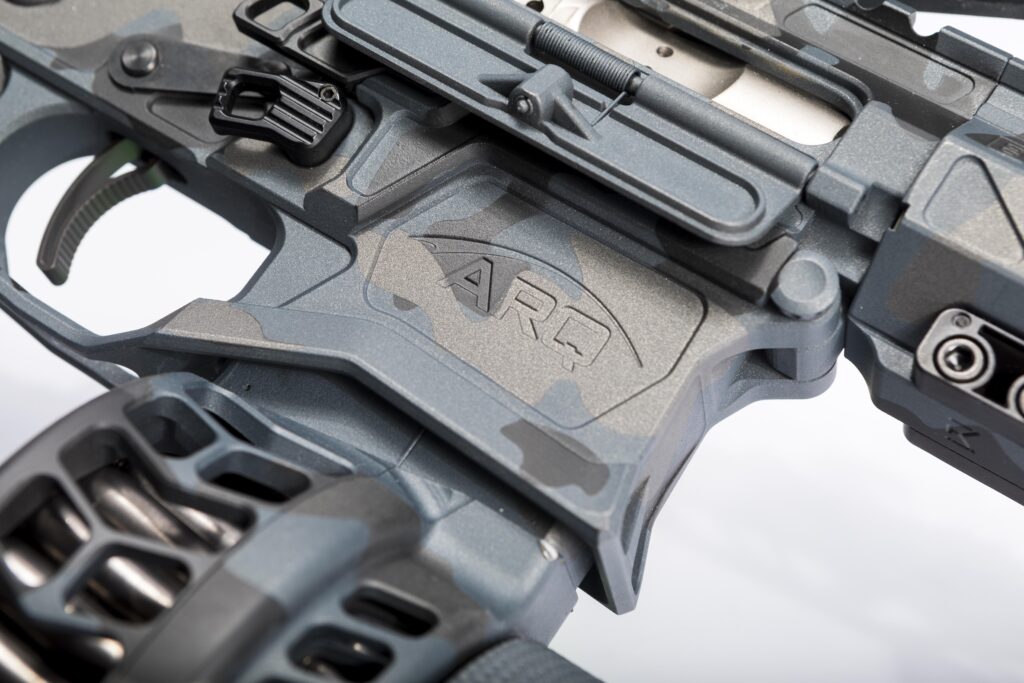 "It turns out these are a nightmare to put back together once you've taken them apart," he says. "The internal spring is a very large piece that you can't just shove back in. The folks at X Products were very nice to deal with after we were unable to reassemble it. I shipped the parts to them and they took care of it. If someone is planning on purchasing one of these and wants to disassemble it, I highly suggest reaching out ahead of time and letting them know. They might have a solution better suited than what we did with it."
In closing, Canter has a few words of encouragement for those who would like to build their own verified short-barrel rifle: "This build was done before I was an FFL/SOT. So it went through all the correct legal documentation, which really isn't as bad as some might think. The wait time absolutely is frustrating, especially when you've put time and money into something you want to take out and enjoy. But the best thing you can do is forget about the wait and focus on something else. Checking the status every five minutes is a lot like when you were a kid in school; constantly looking at the clock just seems to make it take longer."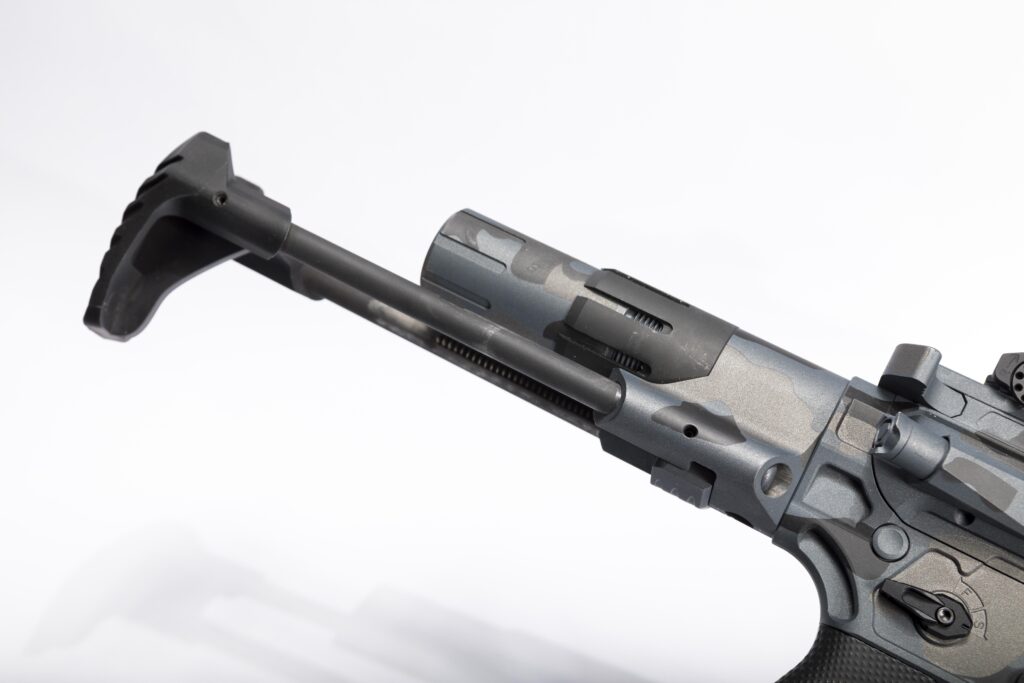 SBR vs. Pistol
Among other things, the National Firearms Act (NFA) of 1934 regulated barrel lengths for long guns to include rifles and shotguns. It established the minimum length for a rifle's barrel as 16 inches. Anything shorter would classify the weapon as a short-barreled rifle (SBR). According to U.S. Code 18 USC, a rifle is a weapon designed and intended to be fired from the shoulder. A pistol, by contrast, is a weapon that may be held and fired from one hand.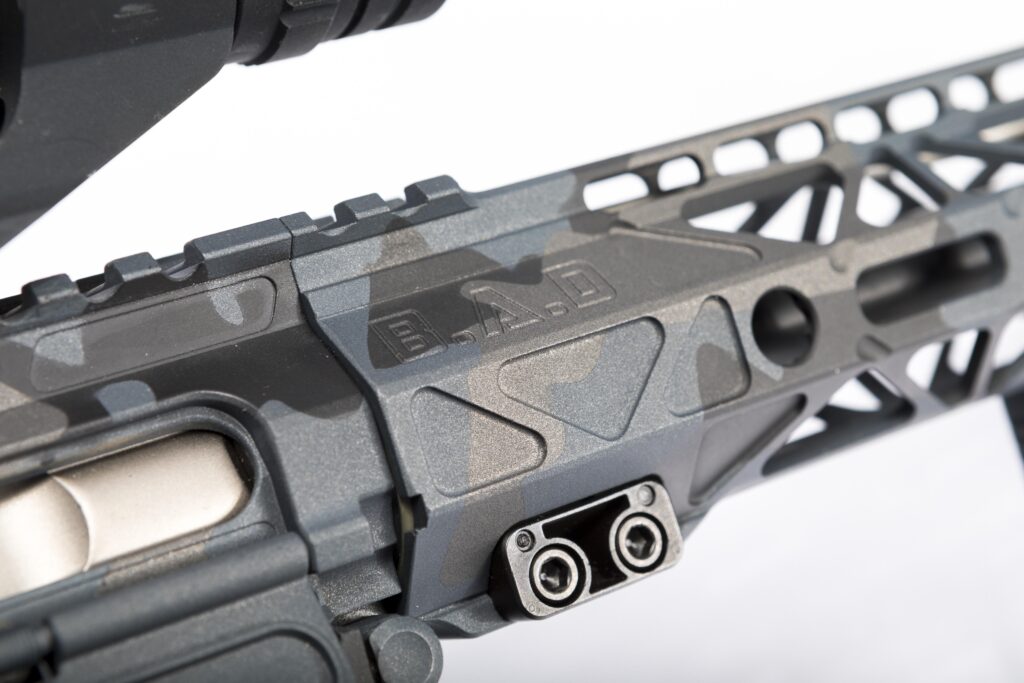 A civilian may legally own an SBR, but must submit all the required paperwork to legally register the weapon as such. You also need to pay $200 to the BATFE for the tax stamp and be prepared to wait for up to a year or more to be granted clearance. Importantly, if you desire to assemble an SBR, you must receive the stamp before acquiring critical parts to build the weapon, such as the short barrel, much less put them together.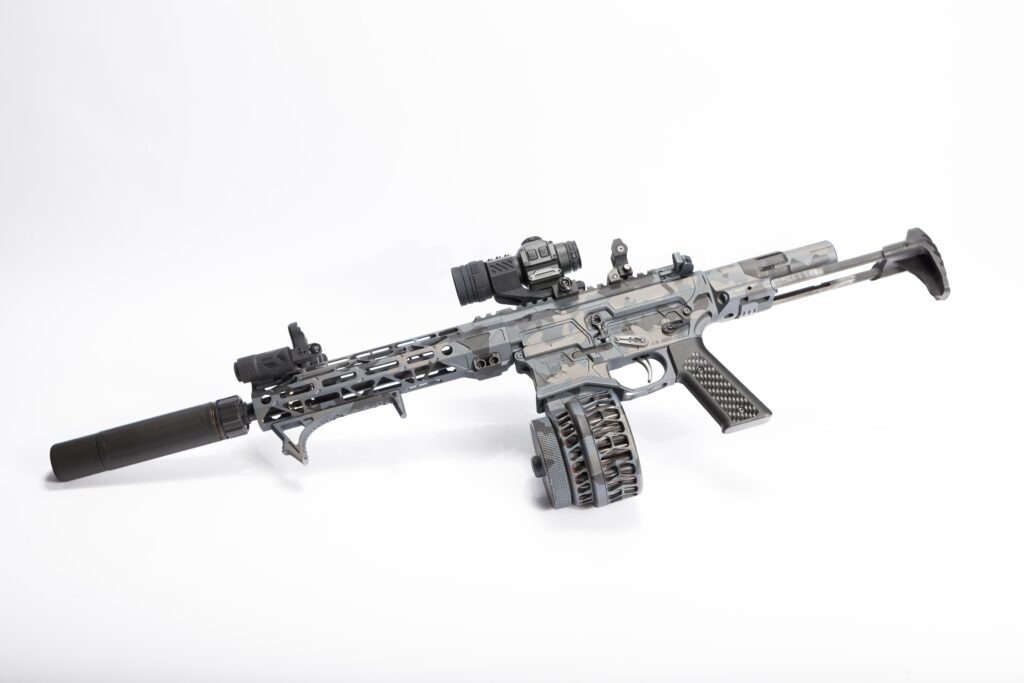 As for AR pistols, the current interpretation is that an AR-style firearm, or any weapon for that matter, that you can fire with one hand should ostensibly qualify as a pistol—barrel length notwithstanding. An AR lacking a buttstock, and therefore not meant to be fired from the shoulder, seems to fall into this category.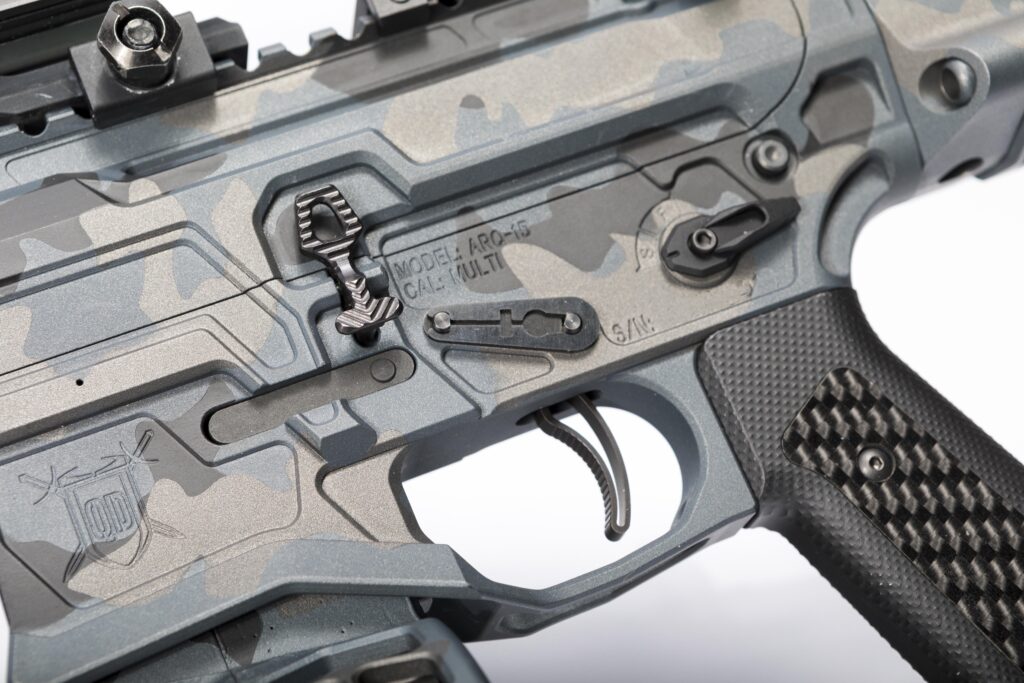 Regarding braces, in 2012 SB Tactical introduced the first such device, which was originally designed to assist disabled persons in stabilizing a firearm for more effective one-handed operation. The story goes that an enterprising enthusiast got to thinking about the brace and whether or not it could enable an AR build to retain its pistol status, while at the same time granting the stability desired for effective shooting. The BATFE agreed that it could.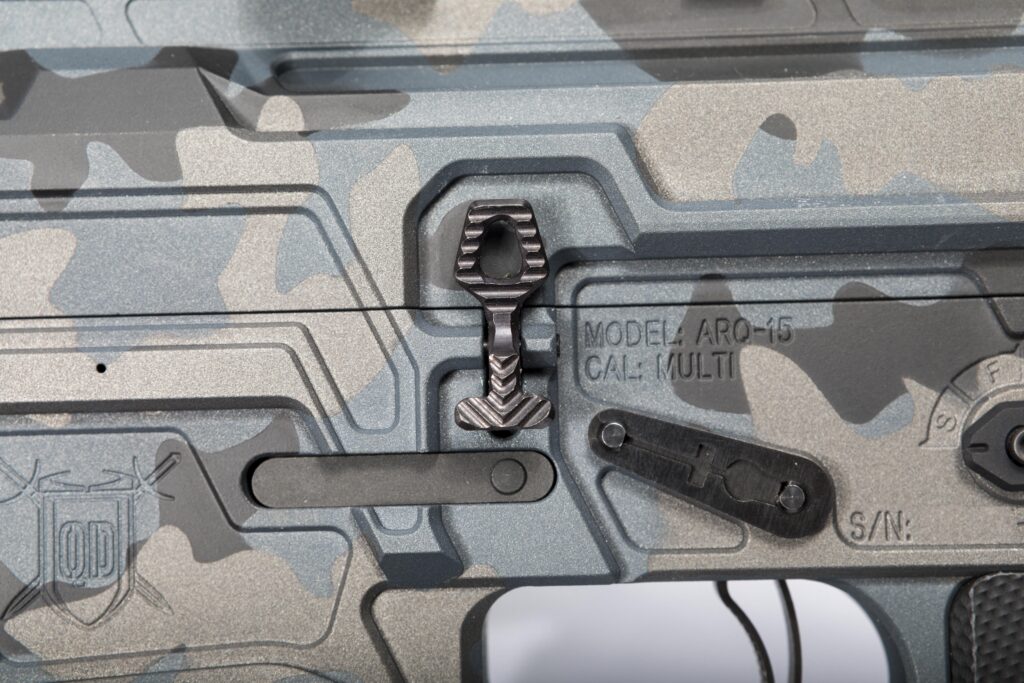 Since then, there has been a good deal of back and forth between the community and the bureaucrats, and parsing of the language contained in the NFA ad nauseum. One thing that seems to be agreed upon between the two parties is that the intent of language is not always entirely certain, and the interpretation thereof is anything but.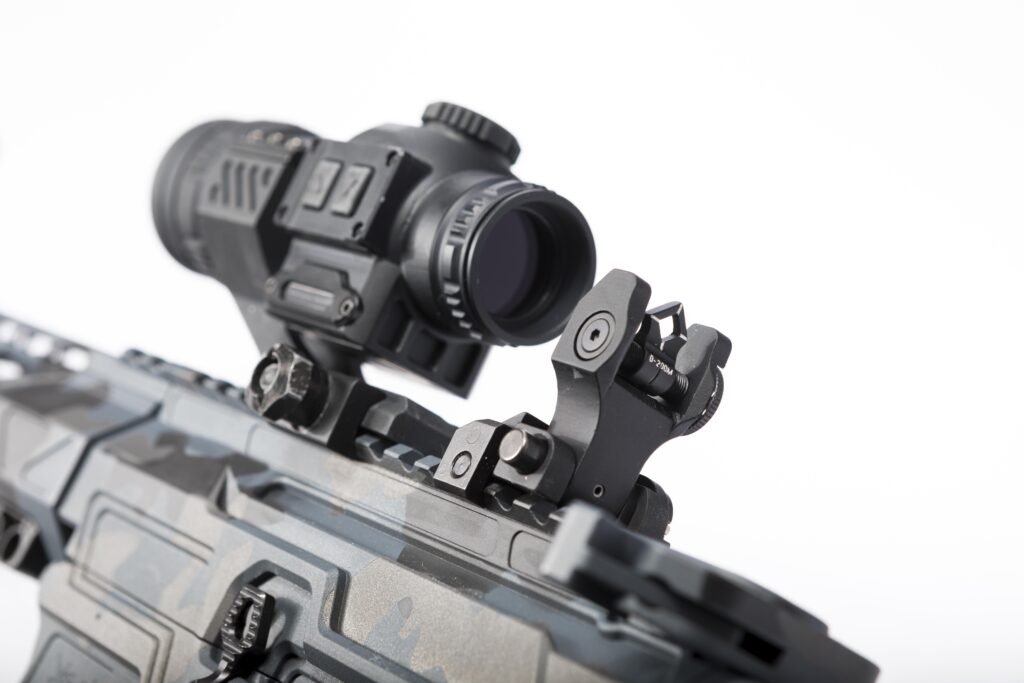 In the meantime, many enthusiasts have enjoyed the simplicity and cost-effectiveness granted by an approved pistol stabilizing brace on AR pistols and other "short-barreled" builds. Using a brace can help alleviate concern about the cost and wait time tied up in the BATFE paperwork.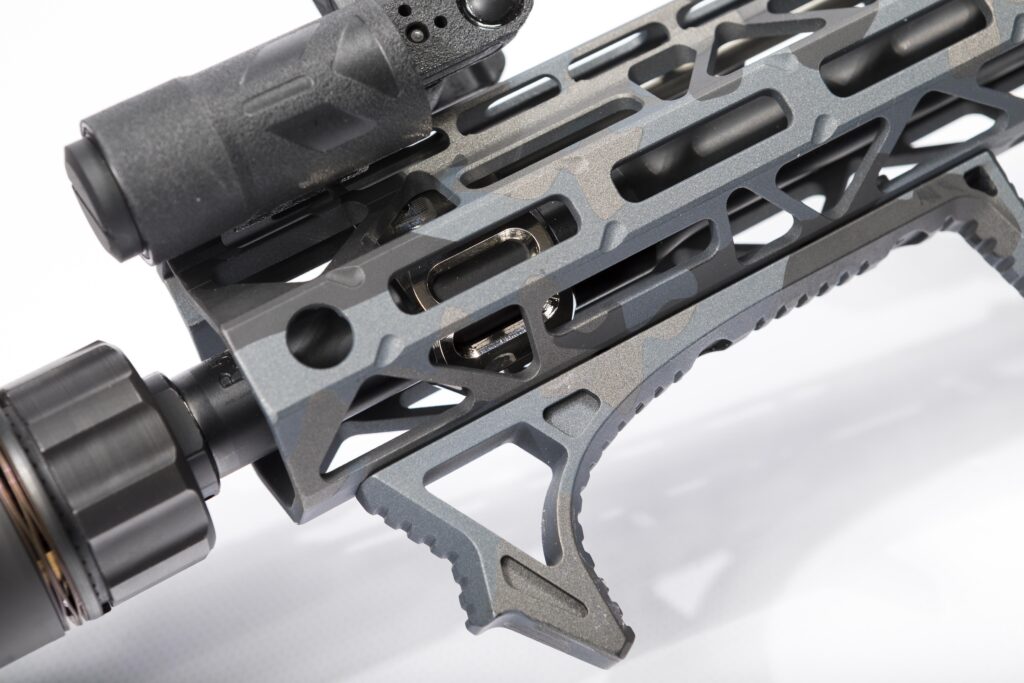 Please note that the foregoing should not be construed as legal interpretation or advice, only as general information. We encourage any prospective builder embarking on a short-barrel build to do his or her own research on existing law and to come to his or her own conclusions.
Text by Roland Wilkes and Images by Jay Canter
Build Sheet
Suppressed AR-15 SBR
Specifications
Caliber: 5.56 NATO
Overall Length: 30-33.25 in.
(w/suppressor)
Weight Unloaded: 7 lbs, 9 oz.
(w/suppressor)
Receivers: Quentin Defense ARQ-15 6061 billet
Barrel: Rosco Mfg. 10.5-in. 5.56
Coating: Cerakote by FS Defense
Featured Accessories
Trigger: Elftmann Tactical 2.75-lb
Optic: Bushnell Elite Tactical CQTS
Handguard: BattleArms RigidRail 9.5-in. M-LOK
Muzzle Brake: Dead Air Silencers
QD Keymount DA101
Suppressor: Dead Air Silencers Sandman-S
Buttstock: Strike Industries
Viper PDW

Parts & Accessories: Redcon 1 Tactical nickel-boron BCG, 416 stainless nickel-boron gas block; Strike Industries Extended Latch charging handle, UDC 223 ejection port cover, SI Link front grip, forward assist; Troy Industries Di-Optic Aperture folding rear sight; Night Optics USA Chase flip-up front sight w/integrated laser; Battle Arms Development BAD-EPS takedown pins, bolt catch; Strike Industries buffer tube, spring, buffer; Venom Defense & Design pistol grip; X Products Skeletonized Gen1 drum magazine (50-round)