Custom Built from a Receiver
Chambered in 7.62x39mm
12.4-inch Barrel
As an "AR guy", Jake never thought much about AKs. Sure, he's handled them and had some range time with some in the past, but for some reason, he gravitated towards the AR-15 and never really gave AKs any much thought. For years, he built, modified, shot and trained with his beloved AR-15s. He always thought that its ergonomics were unmatched and didn't worry about the 5.56x45mm versus 7.62x39mm debates or AR versus AK rivalries that raged online.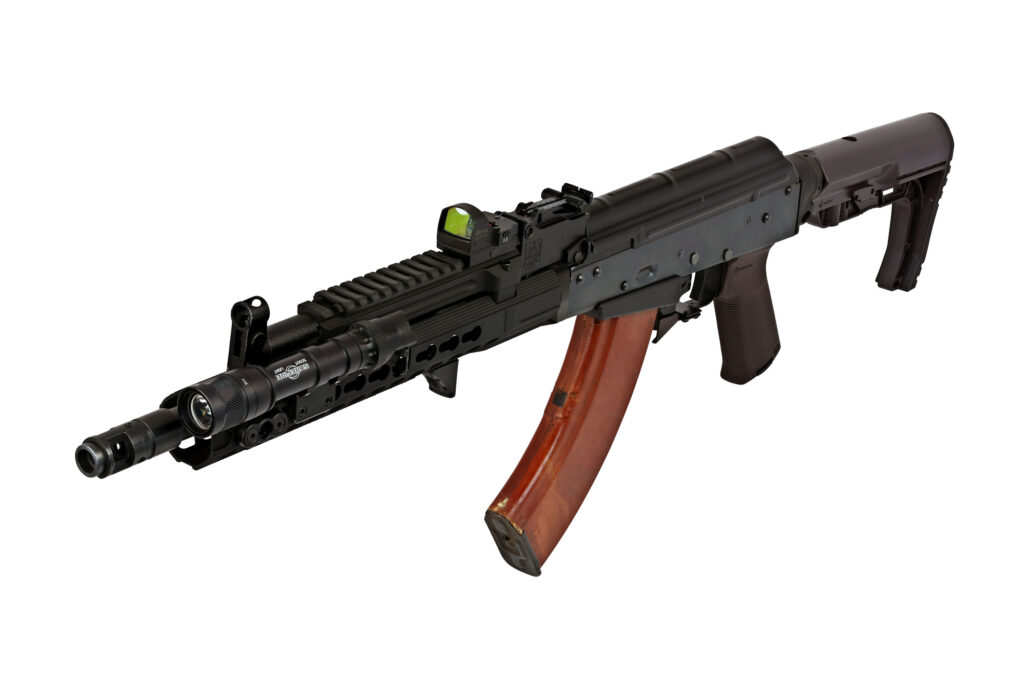 After helping one of his buddies build an AR-15, he was asked if he knew how to build an AK. He told his friend that, no, he didn't know how to put an AK together and that he wasn't sure what it required. Jake knew that the tools and methods used between the two platforms were totally different and that assembling an AK is a more involved process. This question got his mind running.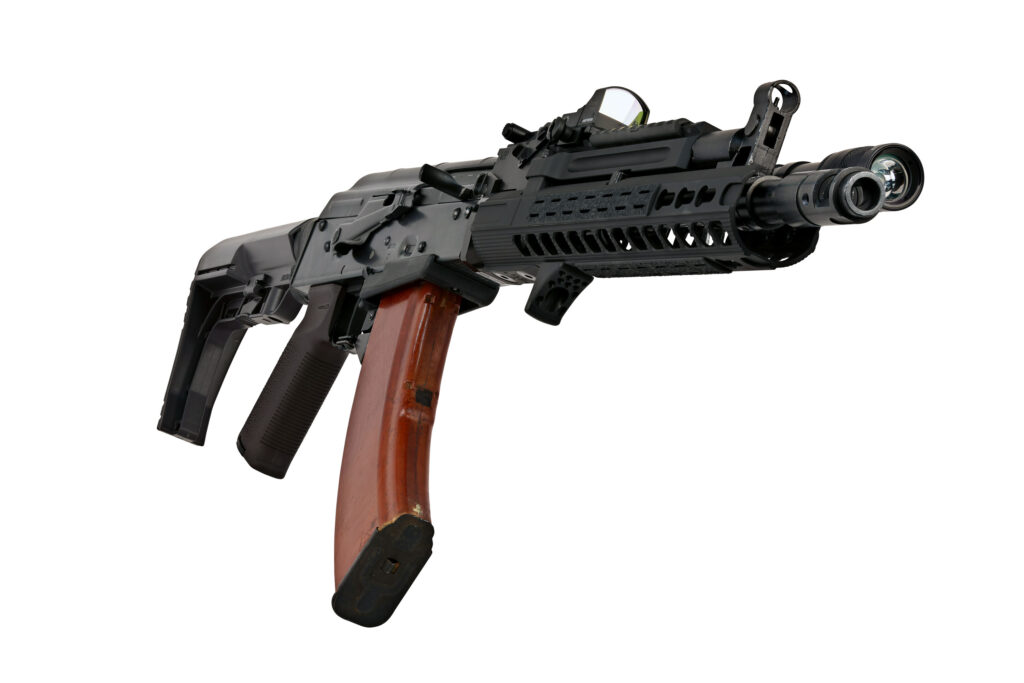 Jake's always been a tinkerer. He likes working with tools and can spend endless hours working in his garage turned miniature workshop on the weekends. He's not exactly sure why, but that once neglected firearm soon became an obsession of his. Perhaps its because it was different from what he was used to or that there was something about it that he could learn. He made the decision to build one and quickly sought out his AK-obsessed friend, Mike, for guidance.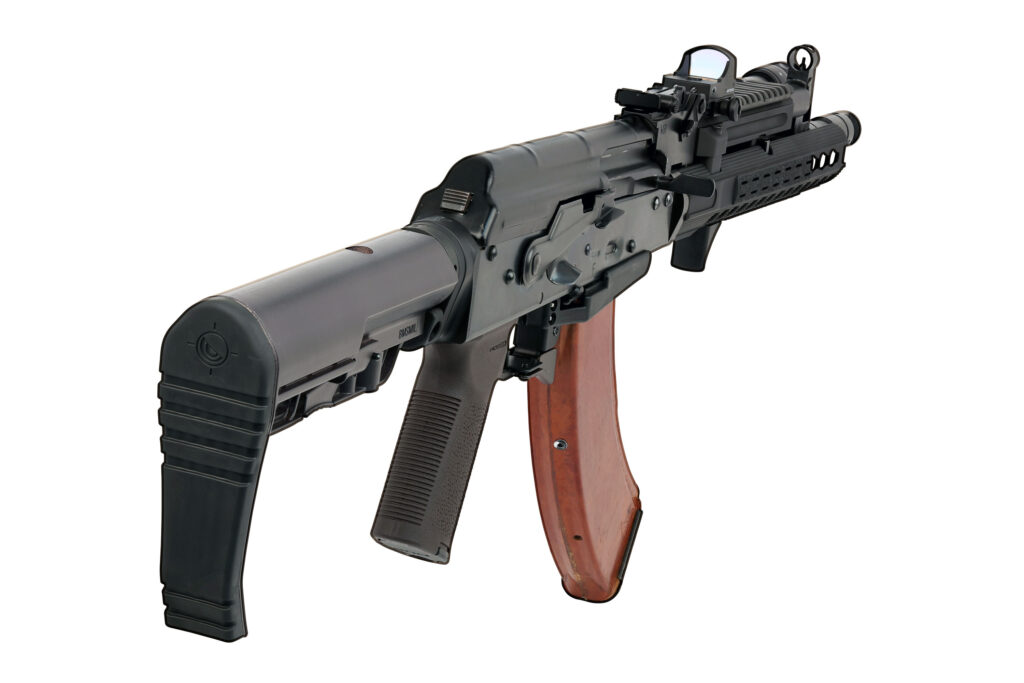 Mike is a purveyor of all sorts of firearms, but his heart definitely leans more towards the AK family of arms. Almost a reversed version of Jake, Mike loves building, modding and shooting his AKs and isn't all that enamored with ARs. Being that Mike's built or helped build over 40 AKs and its variants over the years, he was a good source to go to for tips for Jake's first AK build.


Jake quickly found out that there are many options when it comes to AK builds. The first choice he made was on caliber. Like the AR, AKs can be chambered in a wide array of calibers. Jake wanted his first custom AK to be built in the original 7.62x39mm flavor. He figured, "If I'm going to have an AK, it might as well be in the most popular AK caliber, and it's a round that is pretty cheap to shoot too."
Jake went online to learn more about AK-47s, AKMs and its variants. He learned that the more modern iterations of the AK-47 and AKM have been updated with the AK-100 series of rifles. Based on the more modern 5.45x39mm chambered AK-74, the AK-100 series rifles is offered in several different calibers. The version that Jake decided to loosely base his build on was the AK-104, which is a 7.62x39mm, 12.4-inch length barreled version of the rifle.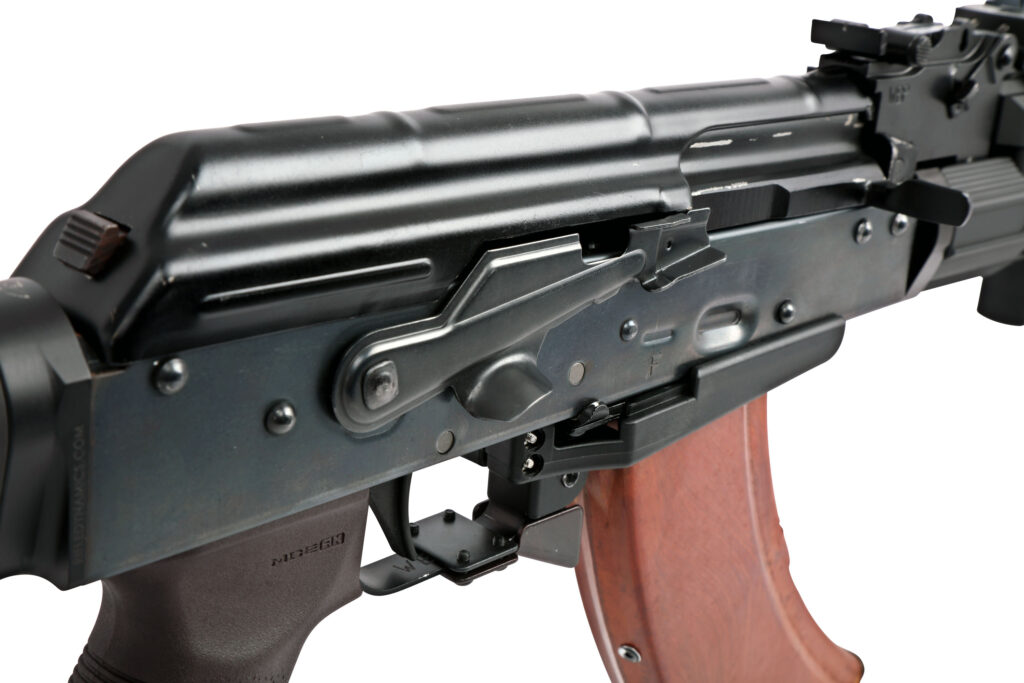 He dove into his safe and dug out an older AK stamped receiver that he bought years ago on a whim but never built. He soon discovered that his Nodak Spud NDS-3 receiver has since been discontinued in favor for newer models. There were reported issues with its use with certain triggers, which have been corrected with newer versions. Nevertheless, he moved forward with the project with the intention of using the receiver that he already had.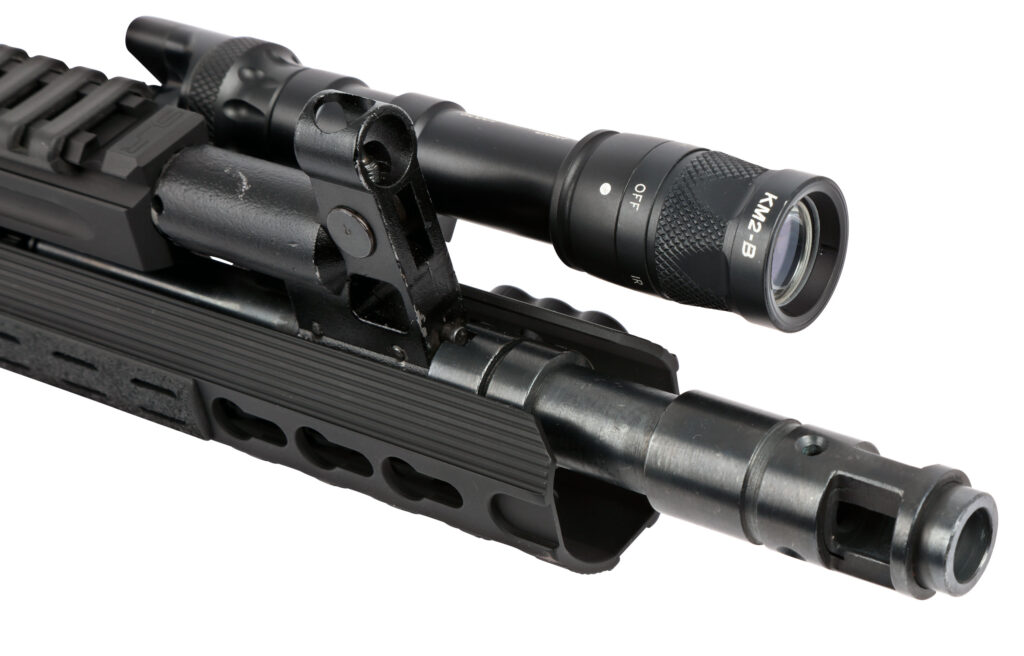 One obstacle for would-be AK builders are the specialized tools required to build them. Buying all the tools required can cost almost as much as a complete AK or more. Luckily for Jake, Mike had all the tools required for assembly. All he needed now are all parts. After doing some more homework online for just what he wanted his build to turn out like, Mike referred Jake to a few shops that could fulfill his parts needs.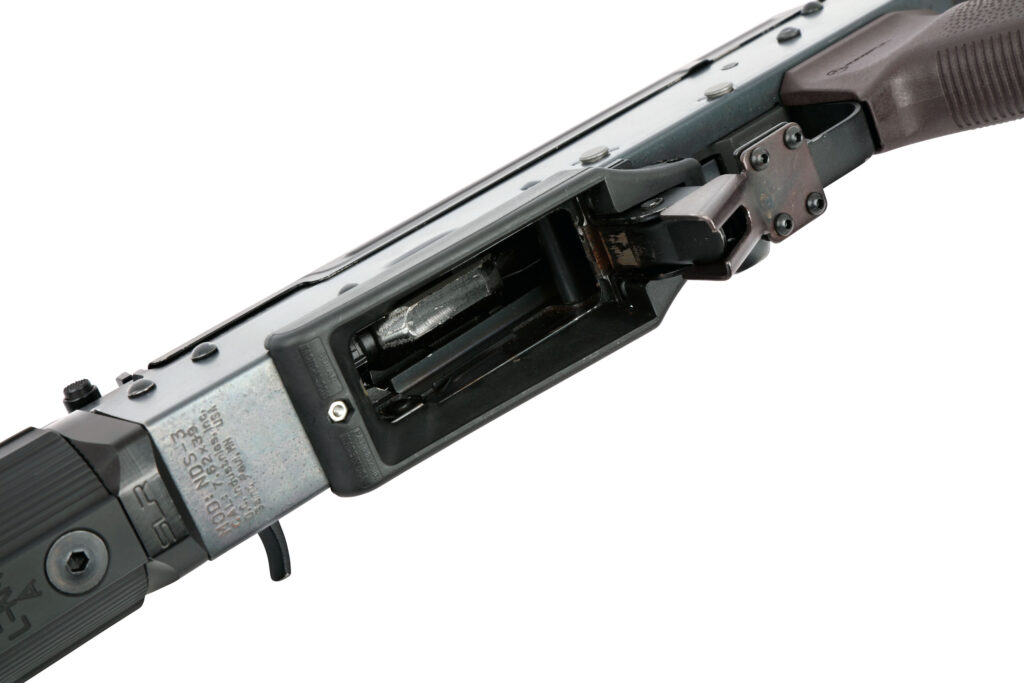 Realizing that AK purists can be sticklers for the details when building a replica of an existing model, Jake decided avoid all that and go another route and went on to piece one together that he would enjoy shooting and owning without the intention of making a replica.
He liked the look of the shorter AK-104, but wanted the rifle to stay out of NFA territory. The AK-104's 12.4-inch length barrel would make it an SBR so if he wanted to have the look of a short barrel, he needed to find a muzzle device long enough that he could have permanently attached to allow it to meet the legal minimum 16-inch barrel length. He also liked the look of the 90-degree gas block with incorporated front sight as opposed to the AK-47's 45-degree gas block with muzzle end mounted front sight. The hunt was one for both pieces.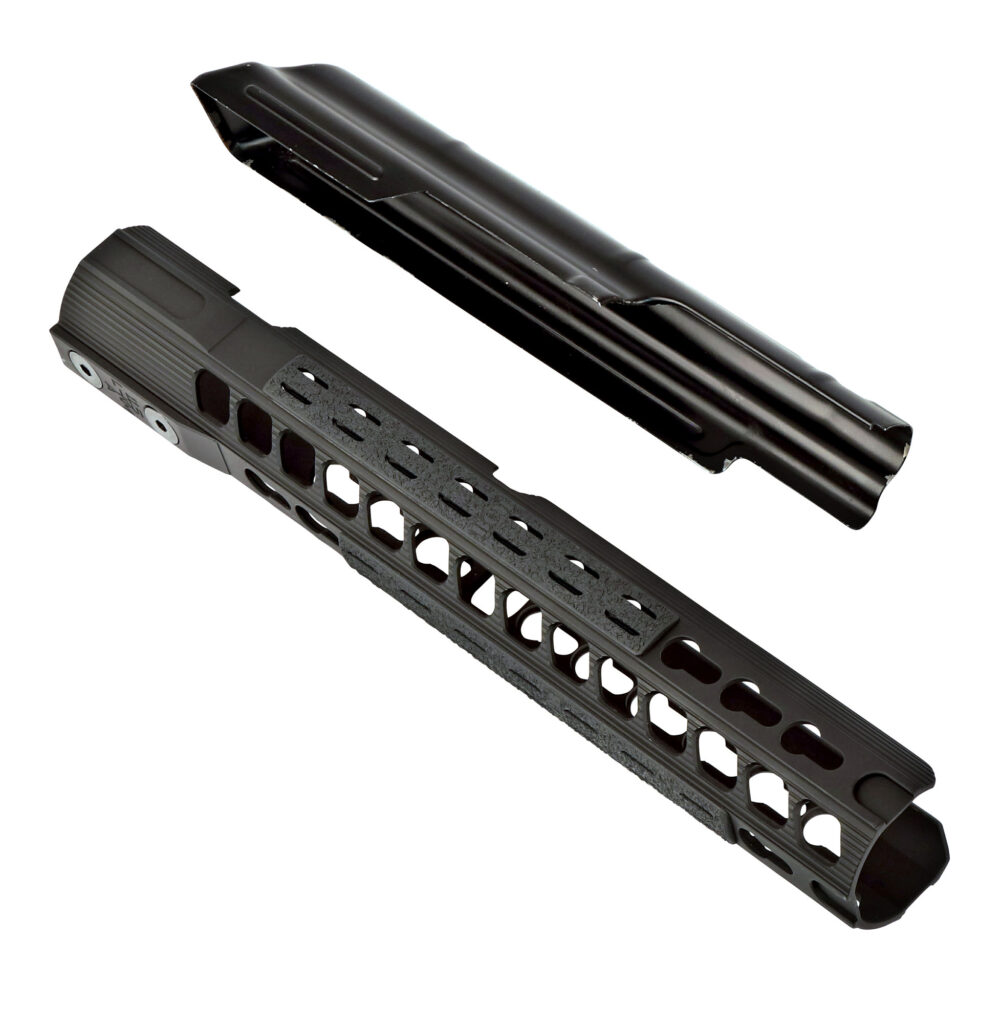 Jake found an AK parts kit that came with a 90-degree gas block with built-in front sight made by Polish AK maker WBP at Arms of America. He quickly snapped it up. The WBP kit came with a forged trunnion and a FB Radom hammer forged chrome lined barrel that was fully headspaced and assembled. AKs require a more involved barrel installation process than he was used to and this kit's already headspaced and assembled barrel made the rifle easier and quicker for the self-professed AK-beginner to build and safer for him to shoot.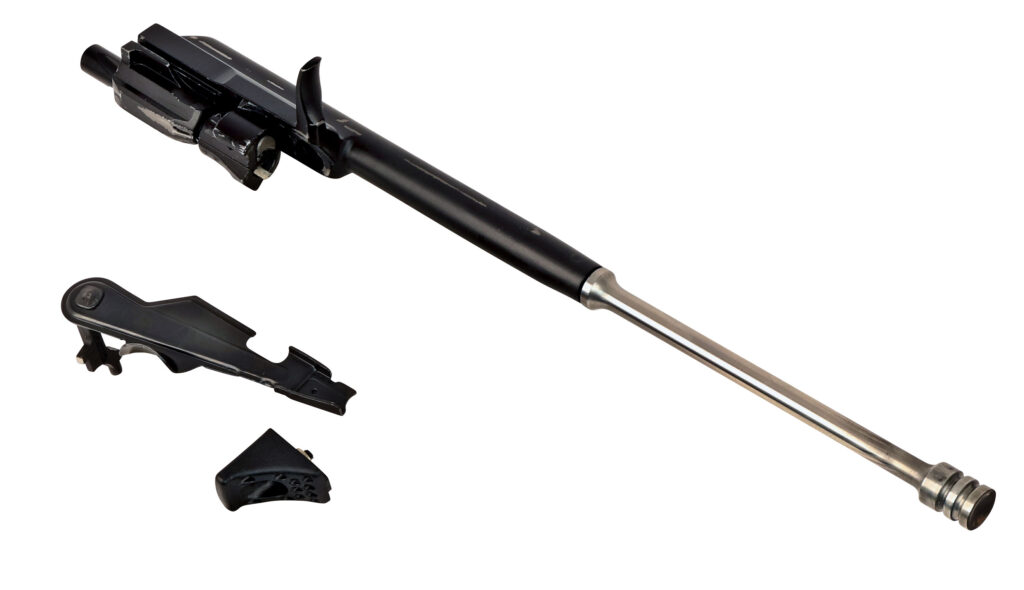 To finish off the frontend style he wanted, he needed to locate a muzzle device that was about four-inches long yet featured styling that he liked and performance he expected. After looking at more forum posts that he cares to recall, he caught a glimpse of replica build of a Polish Tantal. The Tantal is an AK-like rifle that is chambered in 5.45x39mm that is fitted with a long muzzle brake. The muzzle brake would be perfect for Jake's build, but would it need to be bored out for his larger 7.62x39mm caliber? Jake looked at a couple of online shops, but all showed Tantal brakes out of stock. After a bit of searching, he ended up locating one on GunBroker.com. He discovered that the one that he got would allow 7.62mm diameter projectiles to clear safely so no further boring would be necessary.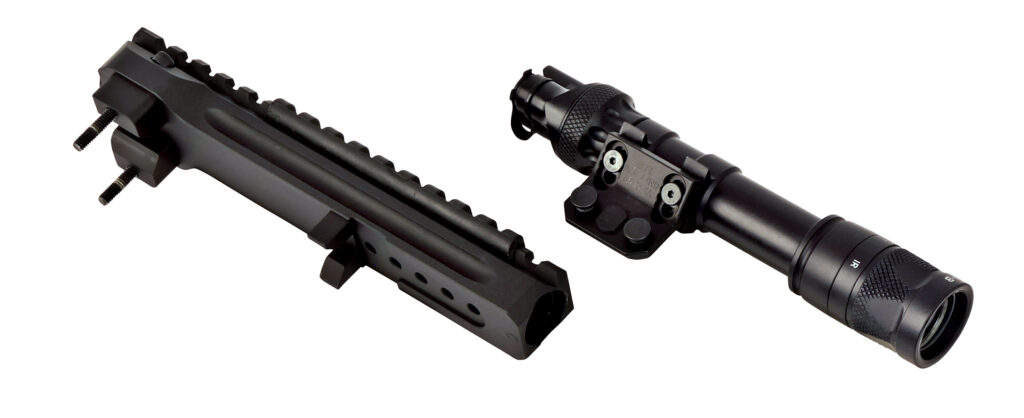 He also ordered AK-Builder's rivet kit and a front sight detent and spring kit that he wanted to use to center the muzzle brake with. To complete the "upper" as he refers it, he went with a KeyMod version of SLR Riflework's AK 11.5-inch Lite handgard with full-length railed gas tube. He has plenty of KeyMod accessories already and wanted to mount a Burris Fastfire 2 red dot optic he had. Now that the frontend was sorted out, he moved on to the rest of the rifle.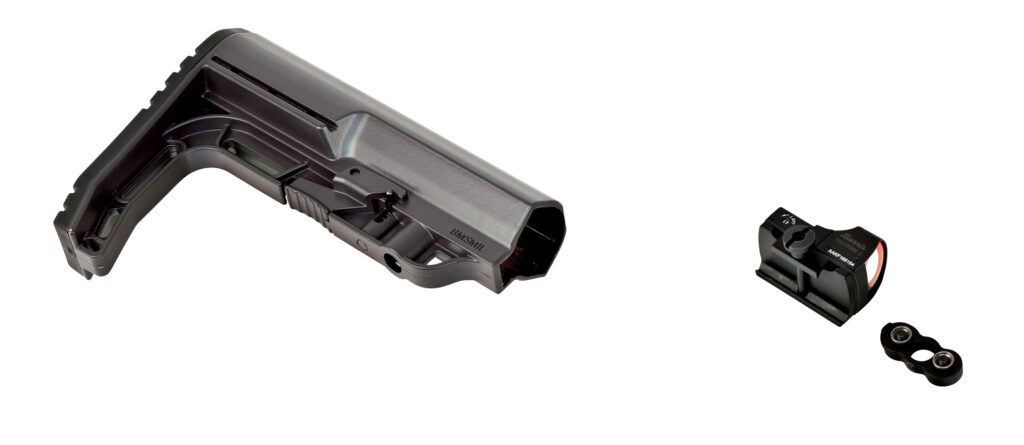 To complete the receiver, he also opted for an ALG AK trigger, Krebs Custom Mk-VI enhanced safety, Red Star Arms FCG pin retaining plate and Solar Tacical MFER flared magwell. He also went with Magpul's MOE AK grip in the plum color. He always liked the plum hue that was used on AKs so he wanted to work the color into his build too.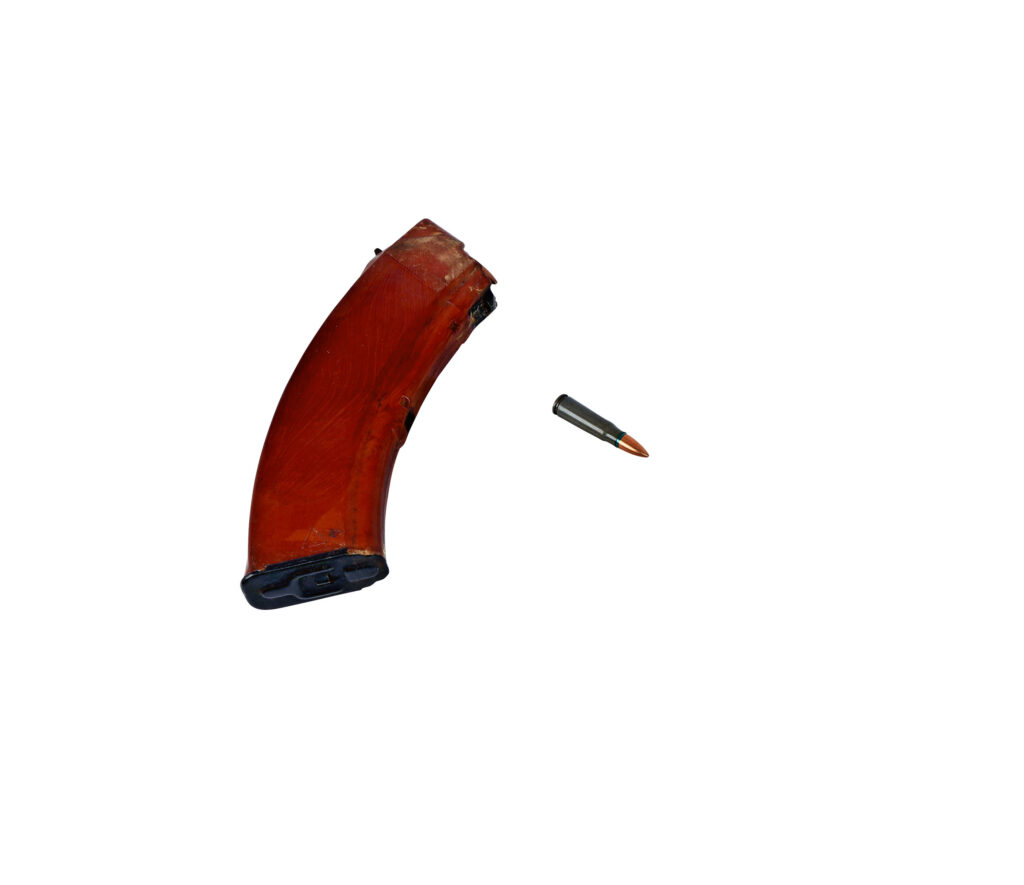 Moving on to the rear end, Jake told us that he wanted to be able to use an AR-compatible buttstock on this build, "I like being able to switch out buttstocks and retain the length adjustability like on the AR-15." To that end, he decided to incorporate a Rifle Dynamics RDAK-M4 Stock Adapter with a Knights Armament M4 Receiver Sling Mount for both its built-in QD sling attachment points and how it visually fills out the space between the buttstock adapter and MFT Battlelink Minimalist buttstock when it is collapsed.
To match the Magpul grip, Jake sprayed the MFT stock with DuraCoat Aerosol in Plum Brown. As you can see, it's a touch off but it's a pretty good match. Of the DuraCoat Aerosol, he says, "I'm an instant gratification kind of guy. I'd rather rattle-can it myself than send it out for proper finishing. Yes, I'm impatient! DuraCoat Aerosol allows me to have a no muss, no fuss method of coating my firearms without the wait."
After all the parts arrived, Mr. Impatient did have to wait for the barrel to come back after he sent it out to get cut down from 16-inches to about 12.4-inches and for the Tantal brake to be permanently installed to bring it back to over 16-inches in overall length. He didn't mind the process because he figures that the barrel's overall length is still shorter than if he left the barrel at 16-inches and installed a muzzle brake on top of it – and it's lighter at its muzzle end as well. After that excruciating week of waiting, all the parts were back in Jakes hands for assembly.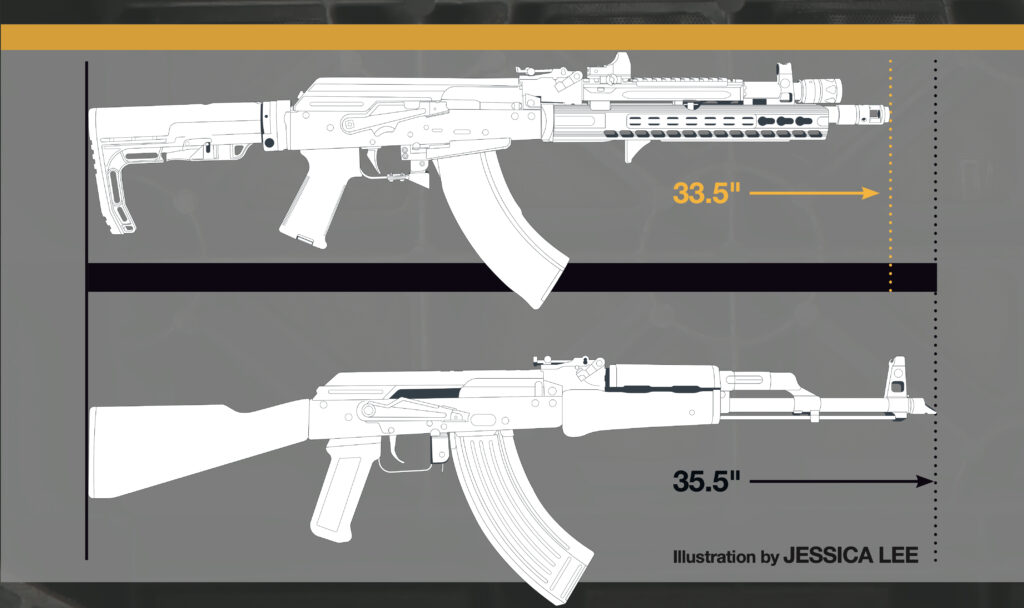 Jake took the parts over to Mike's where Mike guided him through the building process. When asked what he thought of it, Jake replied, "Building an AK is completely different from putting together an AR. Working with the tools, pressing and riveting is something you don't do with ARs. I wouldn't say it's a hard process, but to get it right or done cleanly does take experience and a certain kind of finesse." He continued, "Now that I've built one, it have to say its kind of addicting. I will probably want to try another build sometime in the future, maybe a clone build of an AK-103."
Text by Martin Anders and Images by Michael Grey.
Build Sheet
Jake's Custom AKM
Specifications
Receiver: Nodak Spud NDS-3
AK Parts Kit: WPB AKM-47 Sporter Model
Caliber: 7.62x39mm
Length: TK – TK in.
Barrel: 16.2 in.
Weight w/o magazine: TK lbs. TK oz.
Accessories:
Optic: Burris Fastfire 2
Trigger: ALG AK
Grip: Magpul MOE AK
Stock: MFT Battlelink Minimalist
Stock Adpater: Rifle Dynamics RDAK-M4
Flashlight: SureFire M612V
Flashlight Mount: TK
Muzzle Brake: Tantal
Sling Mounts: IWC KeyMod QD Rotation Limited Sling Mount / Knights Armament Co. M4 Receiver Sling Mount
Handguard: SLR Riflework AK 11.5-inch Lite (KeyMod)
Receiver Accessories: Krebs Custom Mk-VI enhanced safety / Solar Tactical MFER
Owner: Jake
Occupation: Graphic Artist
Special Thanks: Thanks to the guys who helped me out with this build, Mike and Randall.