Built as a Tribute to Fallen U.S. Navy SEAL Matthew Axelson
Collaboration build between Axelson Tactical and TMT Tactical
A Customized U.S. Navy SEAL version of the SIG Sauer P226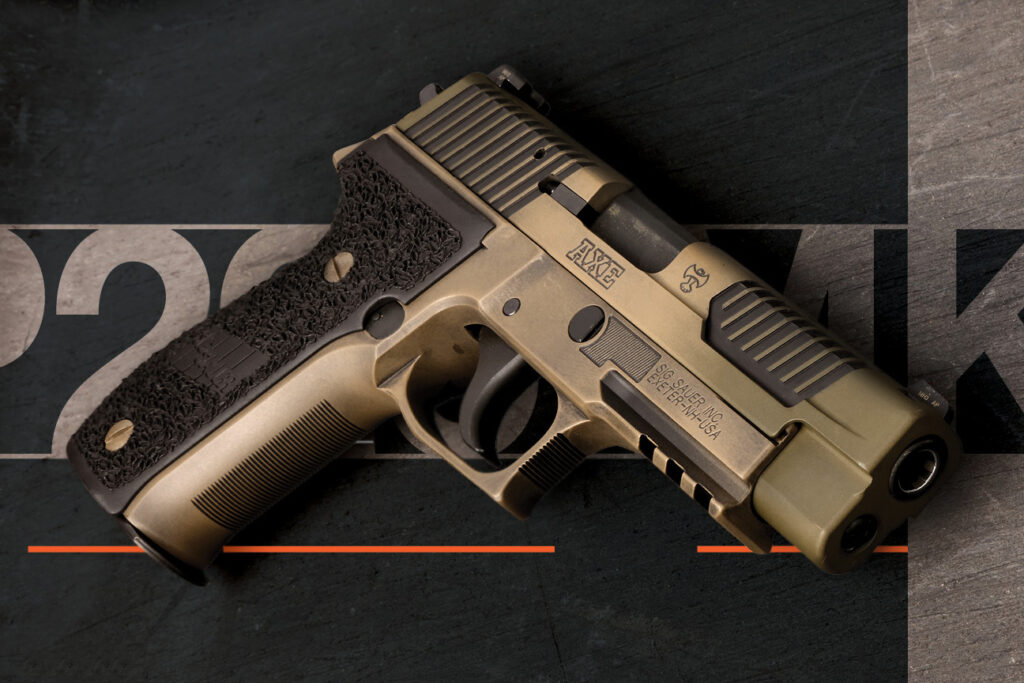 It's no secret that Glocks are the preferred foundations for pistol customizers and enthusiasts alike. Its plain, flat surfaces, simple construction and abundance of aftermarket parts are just a few of the reasons that custom jobs are based on its many iterations. As much as we enjoy seeing a nicely decked out Glock, it's also refreshing to see different pistols get the full-on custom treatment as well.
Jeffrey Axelson of Axelson Tactical agrees. He and his team did just that with their limited edition AXE SIG P226 MK25. Aside from setting out to create a unique run of pistols that rarely get bespoke treatment, Axelson had a very personal reason why he took on the P226 MK25 in particular as a project.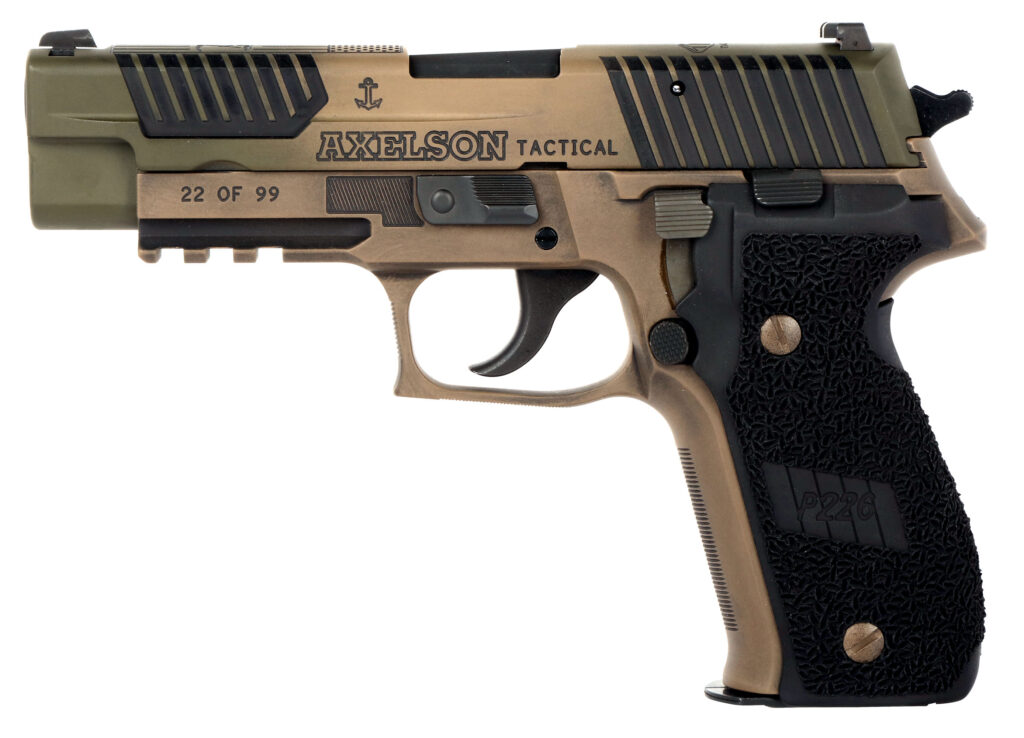 Axelson's brother, Matthew, was one of the four Navy SEALs that were sent on a surveillance and reconnaissance mission in Afghanistan's Kunar Province as a part of Operation Red Wings. As you might recall, Operation Red Wings was the military operation depicted in the book and movie, Lone Survivor. Matthew and his teammates were ambushed on that mission, where he and two of his teammates were killed.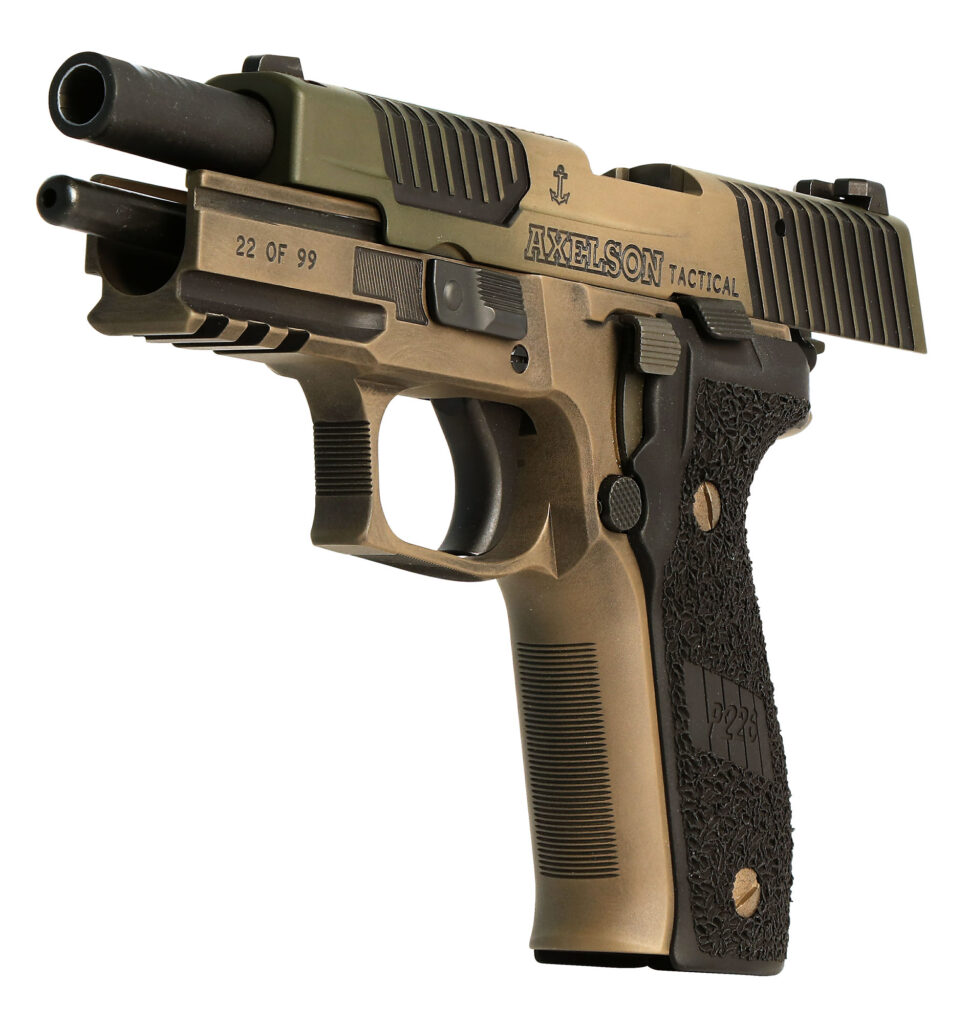 Intended as a tribute to his brother, Axelson based this special build on the same type of pistol Matthew carried into battle. Axelson adds, "Matt was killed in action on the 28th of June 2005 fighting to keep his Teammates alive. Giving every ounce of his heart and soul to win the fight he was in. I am proud of him for that."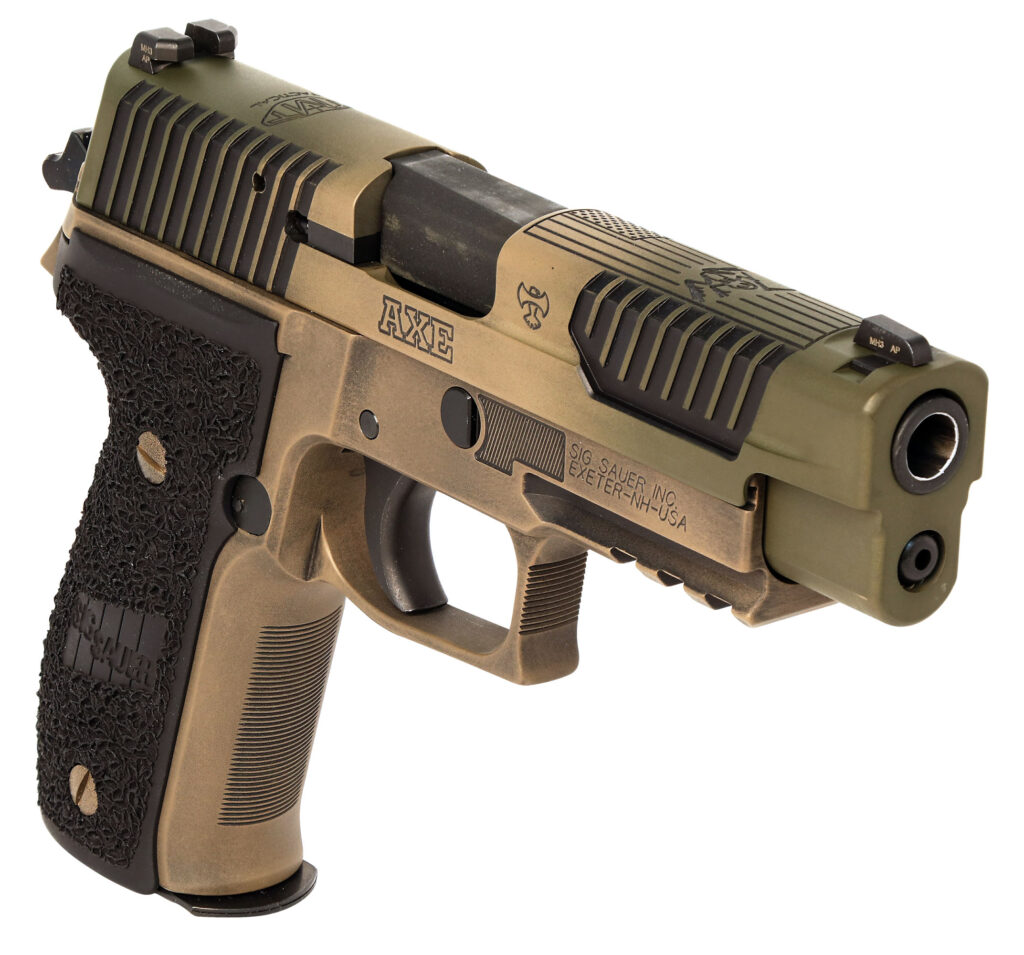 Axelson Tactical specializes in producing custom rifles, handguns and accessories for AR-15s, AR-10s as well as precision bolt-action rifles. The Minden, Nevada based company was launched as a business that honors the sacrifices of Matthew and all those like him. Axelson adds, "Many in our family history have served. Grandpa and his brother were career Navy and were on the USS Pennsylvania in Pearl Harbor on December 7th, grandma was a Marine for the duration of World War II, dad and uncle Dean were in the infantry and fought in the Vietnam War, so this sentiment runs deep with us." Axelson proudly supports or is involved with notable charities such as Lone Survivor Foundation, Navy SEAL Foundation, Special Operations Wounded Warriors, as well as the Matthew Axelson Foundation.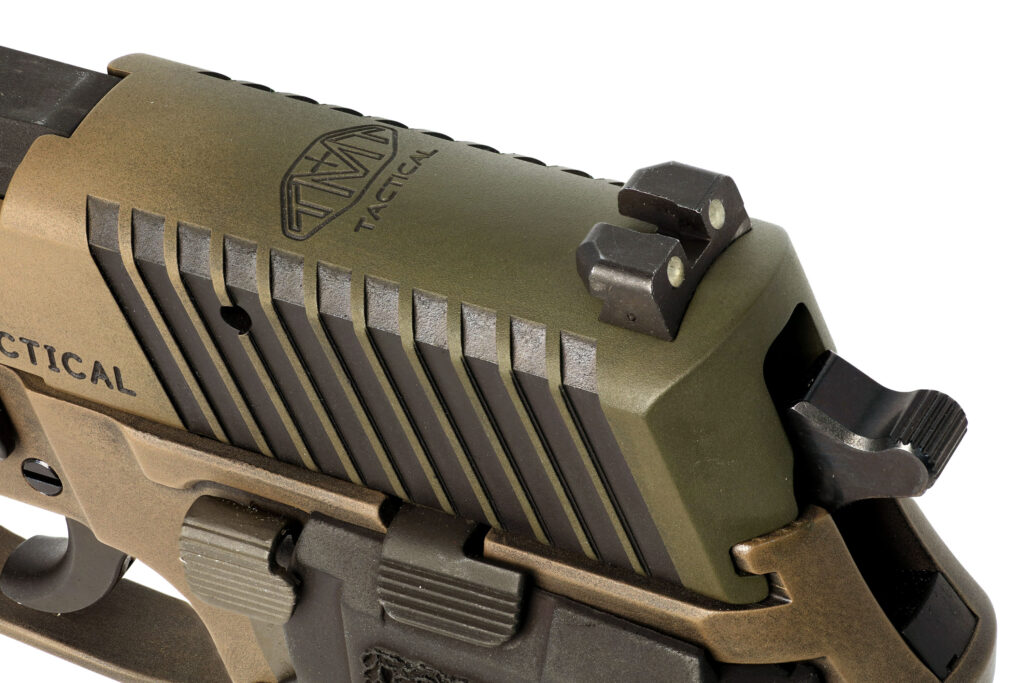 Based on the official sidearm issued to U.S. Navy SEALs, the SIG Sauer P226 MK25 is a 9mm full-sized pistol that features a 4.4-inch length barrel and corrosion resistant coating that offers its internal parts and controls added corrosion resistance as well as reduced friction directly from the factory. It's with this solid base that Axelson Tactical teamed up with TMT Tactical and Nevada Cerakote to create the AXE SIG P226 MK25.

The pistol features a host of upgrades including additional slide serrations for increased grip for weapon manipulations. Its stainless steel slide is machined for front cocking serrations, which wrap over the top of the slide at a 45-degree angle, add an aggressive look to the pistol. Matching the front treatment, its factory rear cocking serrations were re-machined to wrap over the top of the slide, at a 45-degree angle as well.
The top of the slide boasts a custom U.S. flag and SEAL bone frog engraving towards the muzzle end in honor of Matthew Axelson's service with TMT Tactical's logo at the rear. On the sides of the slide, there are various Axelson Tactical logos and an engraved SEAL anchor.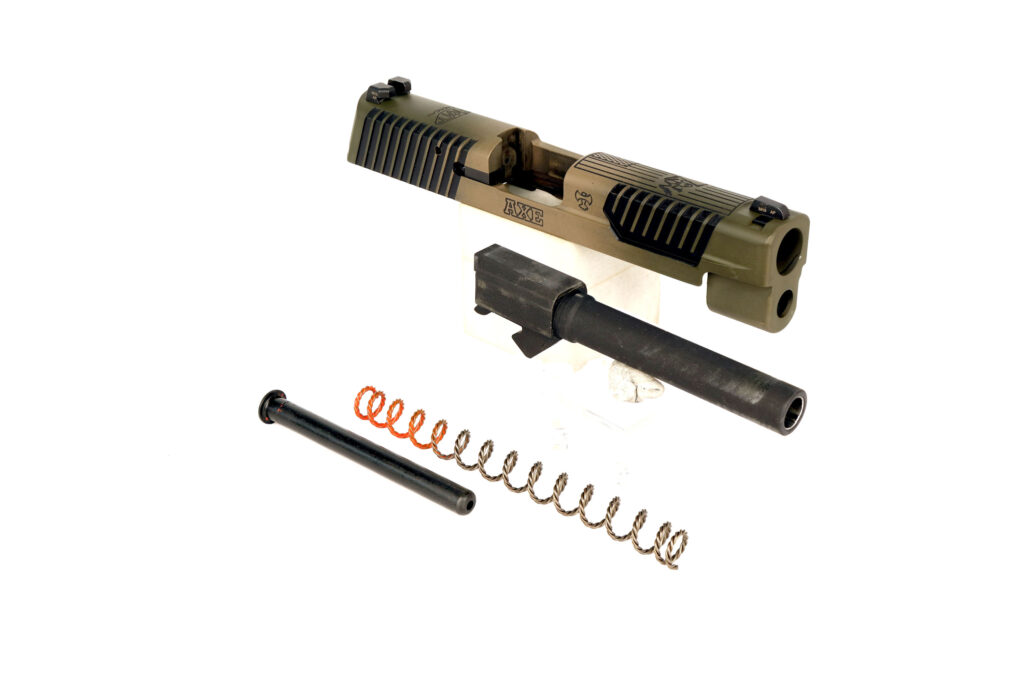 On its alloy frame, just forward of the pistol's takedown lever, you'll notice machine serrated finger rest pads on both sides of the frame. These additions allow for tactile reference points that assist the shooter with a quick and repeatable grip. The underside of the trigger guard receives additional serrations as well.
For shooters that value a higher grip on the gun (and who doesn't?) the underside of the trigger guard is relived where it meets the grip. This places your hand higher in relation to the bore, which helps you mitigate recoil and results in faster, more accurate follow up shots. The grip's polymer surface is given an aggressive stippled treatment for more bite. We found the stippling to be clean and consistent, but harsher than we usually would like. Throw on a pair of gloves before firing it if you don't want to lose a layer of skin.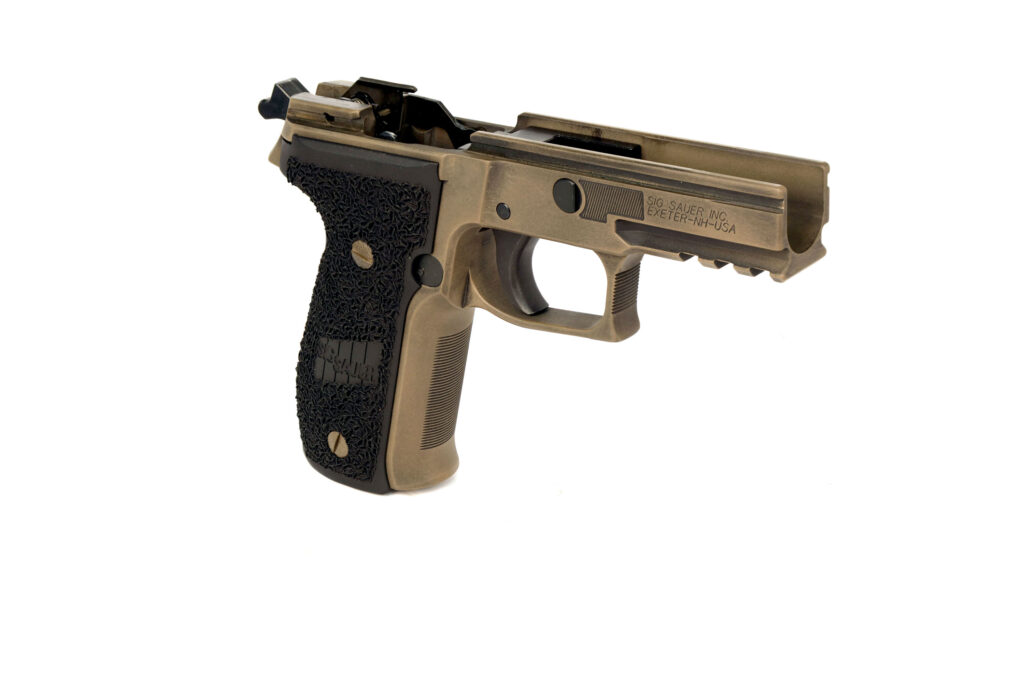 The AXE MK25's slide is finished by custom firearms finisher Nevada Cerakote in a protective layer of Cerakote in tones of FDE and OD green, while its frame wears only FDE colored Cerakote. The unique color scheme is eye catching and does give it a look fitting of its theme. The entire pistol is then treated to a slight battle distressed finish.
Only 100 pieces of this limited edition pistol will be created. Each pistol wears a unique serial number starting from 00, ending at number 99. You can see the example shown here is number 22, as marked on the left side of the frame just above the light rail. The first unit, number 00, was auctioned off to benefit the Lone Survivor Foundation.
As if this gun wasn't custom enough, it comes in a modified, lockable ammo can that doubles as a gun case. Along with cut foam inserts that perfectly fit the pistol, we observed two magazines, a pistol lock as well as a small padlock for the can's lid. The entire package will set you back $2,500, which isn't bad when considering the base cost of a SIG Sauer P226 MK25 along with all the custom machine work, engraving and Cerakote finish.
The AXE SIG P226 MK25 is certainly a unique pistol build with plenty of custom work done to it. The spirit of its inspiration is one of heroism and sacrifice. If you add one to your collection, you can be proud that it bears the name Axelson on it.
Text & Images by Jerry Tsai
To see the latest from Axelson Tactical, visit their Instagram at: @axelsontactical . For more information on the Matthew Axelson Foundation, visit: matthewaxelsonfoundation.org.
Axelson Tactical
AXE SIG P226 MK25
Specifications
Caliber: 9mm
Frame: Alloy
Sights: Night Sights
Trigger: DA/SA
Length: 7.7 in.
Height: 5.5 in.
Width: 1.5 in.
Barrel: 4.4 in.
Weight w/o magazine: 34 oz.
MSRP: $2,499
URL: axelsonusa.com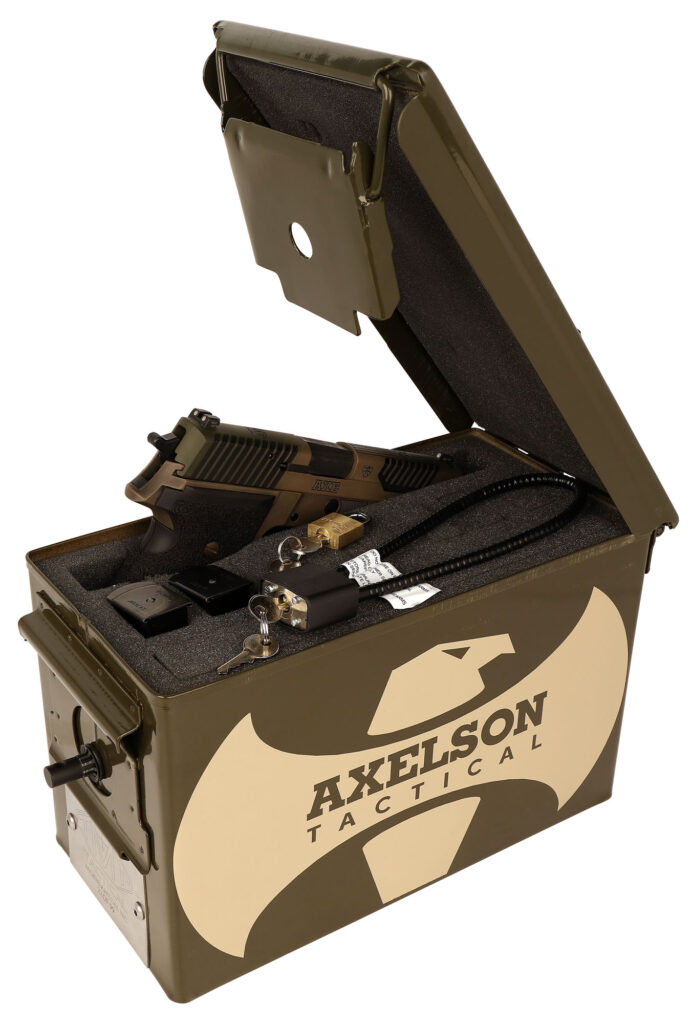 Included:
Custom made ammo can / gun case with cut foam inserts, two magazines, pistol lock and padlock.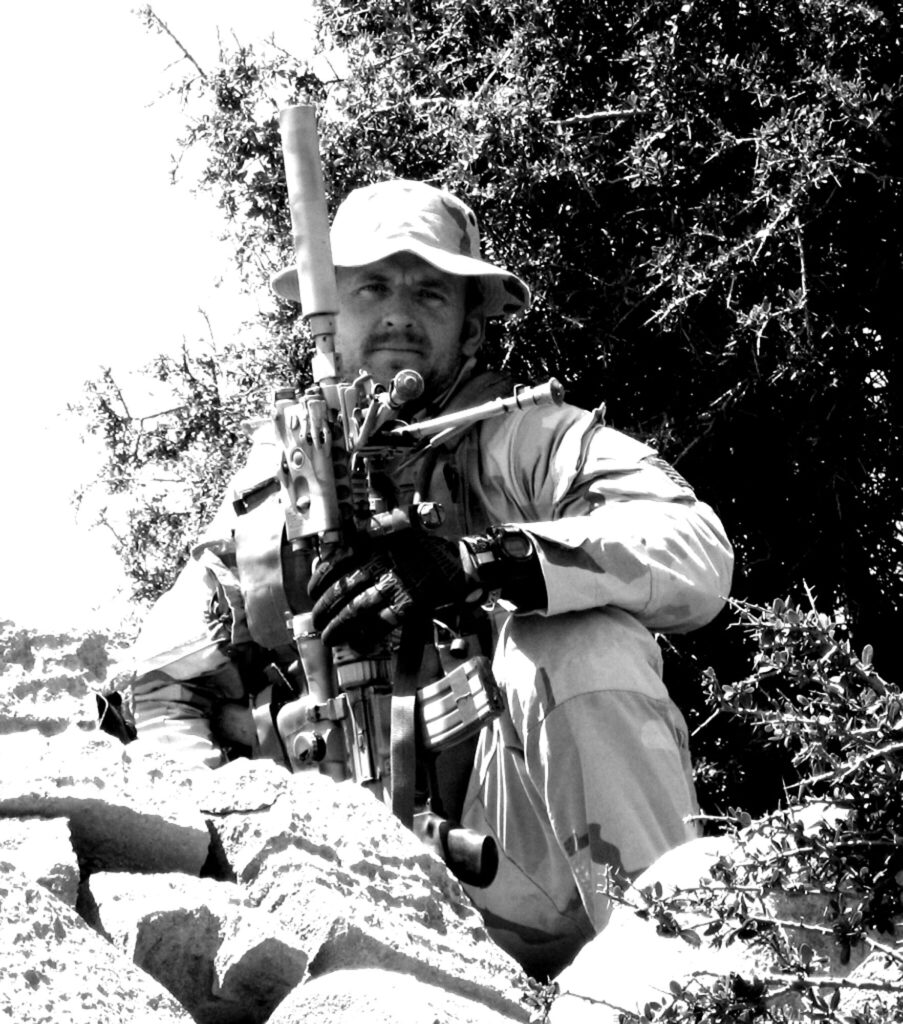 The Warrior Spirit
"Matt's final moments were not known by Marcus [Luttrell] when he wrote the book Lone Survivor and we most likely will never know the exact details. We have been learning more and more about the action as the years progress. Stories of Matt's final moments, when he brought the fight to the enemy, never giving up. How he was down to his SIG with 30 rounds left and kept fighting, kept drawing the enemy away from Marcus's position.
Now, teammates speak of Matt being shot numerous times, fighting despite a devastating head wound. They speak of him with admiration, with SIG in hand during his final moments, expending all rounds, ending 12 Taliban soldiers before they finally stopped his heart.
Whether or not the story coming from the Teams is to be truth, lore, or legend we might not ever know. The fact is that the true warrior spirit was embodied in all the men lost that day and in Matt's final moments.
Slide locked back… NEVER QUIT
– Jeffrey Axelson"