Being able to see clearly in the darkness of night or in other low-light situations gives one obvious advantages. Often employed by military and law enforcement personnel, night vision devices (NVD) and thermal devices are also harnessed by hunters, outdoor enthusiasts, and recreational shooters.
Some NVDs greatly amplify low levels of ambient light to allow users to see in near-total darkness, while others can display the thermal signature of things like body heat or a warm engine. There are even hybrid devices that can combine both capabilities and display both night vision and thermal displays simultaneously. We're seriously living in a golden age of NVDs and thermals.
These devices come in a variety of configurations, including monoculars, binoculars, scopes, and more. As with any other tool or device, one should select a style that best fits one's intended purpose. Head-mounted monoculars and binoculars, which mount to helmets or other headgear, are popular for those who are on the move and require quick vision. Magnified optics are suitable for those who observe from afar, such as hunters.
Because NVDs can cost a pretty penny, it's worth taking a deep dive into research before deciding on investing in one. We've gathered some of the latest night vision releases here, from some of the top brands in the industry, for you to consider.

Text by John Scott and Images courtesy of the manufacturers
Licentia Arms
DTNVG
Type: Night Vision Binocular
Magnification: 1x
Weight: 1 lb, 2.2 oz.
MSRP: From $8,200
The DTNVG (Dual Tube Night Vision Goggle) is a European import from ACT in Black in Luxembourg. This binocular goggle features an articulating housing that gives the end user flexibility when operating in various environments. When the DTNVG's pods are stowed they shut off, which eliminates any visible glow and prevents damage to the unit. DTNVGs have options with ocular and objective lenses. Most models use PVS-14 ocular and objective lenses. DTNVGs are recommended for those who work in and around vehicles and other confined spaces due to their ability to stow compactly, folded back toward the wearer's helmet.
ATN
ThOR 4 384 4.5-18x
Type: Thermal Riflescope
Magnification: 4.5x
Weight: 2 lbs, 3.2 oz.
MSRP: $3,199
atncorp.com
This thermal riflescope is packed full of features that hunters will find especially useful. Powered by ATN's Obsidian IV dual core, the 4th generation thermal sensor is available in 384×288 or 640×480 pixel resolutions. The thermal display is capable of showing the target as black hot, white hot, or in color. The scope also includes a video recorder that can record what you see, and there's a recoil-activated feature that will automatically record your shot when the device senses the rifle's recoil. Other built-in features include a smart range finder, ballistic calculator, one-shot zero, and more. If you're looking for a technology-packed scope, this is worth a look.
Bushnell
Equinox Z2 Night Vision Monocular 4.5x40mm
Type: Night Vision Monocular
Magnification: 4.5x
Weight: 1 lb, 6 oz.
MSRP: $330
Bushnell's Equinox Z2 night vision monocular enables you to see targets more than 750 feet away, day or night, with a power built-in infrared (IR) illuminator. Since it's capable of HD video recording, you can use the Z2 to live-stream video to your mobile device. You can also control zoom, video recording, image capture, and IR brightness directly from your mobile device.
Harris F5032 Lightweight Night Vision Binocular – White Phosphor
Type: Night Vision Binocular
Magnification: 1x
Weight: 17 oz. (approx.)
MSRP: $11,800
Designed with an emphasis on special operations mission success, the F5032 night vision binocular delivers a tactical advantage in low-light and no-light combat scenarios. Engineered with close-focus technology, an integrated IR illuminator, and hot-swappable image intensifier tubes, the F5032 provides improved operational performance and situational awareness. Clear, close focus allows tactical NVG users to maintain their cover while performing critical, up-close tasks with more clarity than with standard night vision goggles.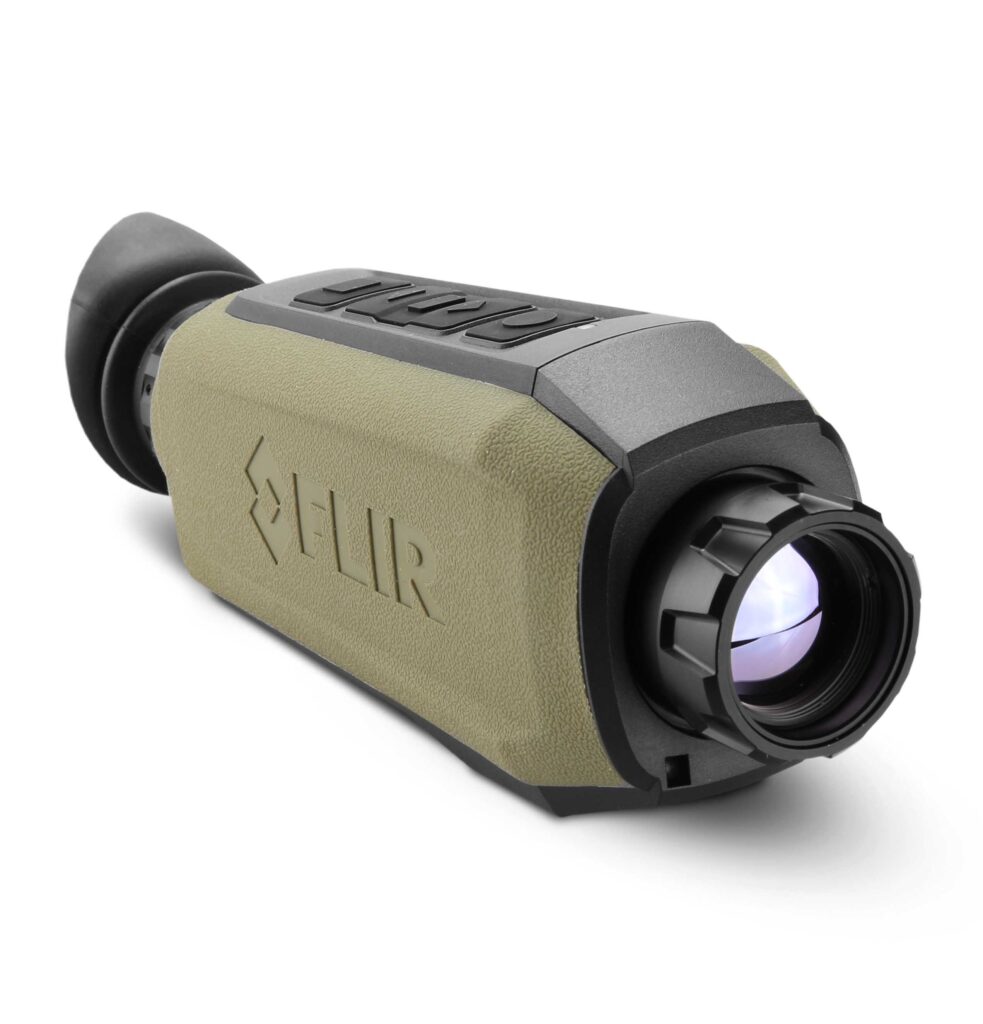 FLIR
Scion OTM366
Type: Thermal Monocular
Magnification: 1.3x
Weight: 1 lb, 4.2 oz.
MSRP: $3,495
The FLIR Scion OTM captures clear thermal imaging and leverages a refined user interface to quickly detect objects of interest in complete darkness or through glaring light or haze. Built around FLIR's powerful Boson core, the Scion OTM produces 9- or 60-Hz thermal imaging and records geotagged video and still images for playback long after the day is done. A rugged, IP67-rated housing and intuitive controls allow single-hand operation in harsh weather conditions, helping maintain reliable thermal imaging in the most demanding outdoor environments.
Night Goggles
NGI/PVS-14 Photonis 4G Echo Hybrid Photocathode (Gen 2+)
Type: Night Vision Monocular
Magnification: 1x
Weight: 12.4 oz.
MSRP: From $2,514
The AN/PVS-14 is the standard-issue night vision optic serving U.S. forces on the front lines of the Global War on Terror. Considering their versatility, it's no wonder they have attracted the attention of nocturnal predator hunters, sportsmen, and other enthusiasts. PVS-14s can be mounted on a helmet for hands-free use, behind weapon optics, or used simply as a handheld device. The NGI/PVS-14 is a Photonis 4G ECHO hybrid photocathode (Gen 2+) night vision monocular based on the standard-issue AN/PVS-14. The unit's Photonis 4G hybrid photocathode uses a Gen 2+ intensifier tube, which is highly suitable for the hunter, sportsman, or shooting enthusiast at a significantly lower cost than Gen 3 image intensifiers.
TNVC
Optics1 An/PAS-29A COTI
Type: Clip-On Thermal Imager
Magnification: 1x
Weight: 5.8 oz.
MSRP: $6,500
TNVC's Clip-On Thermal Imager (COTI) is designed to enhance situational awareness and improve the user's effectiveness at night. COTI is made to enhance your NVD by overlaying a thermal image onto a night vision scene. The COTI's thermal image helps users find threats and targets of interest and gives them a detection capability not found with standalone NVDs. The combination of a COTI and NVD provides unmatched identification and detection performance.