The Powder Keg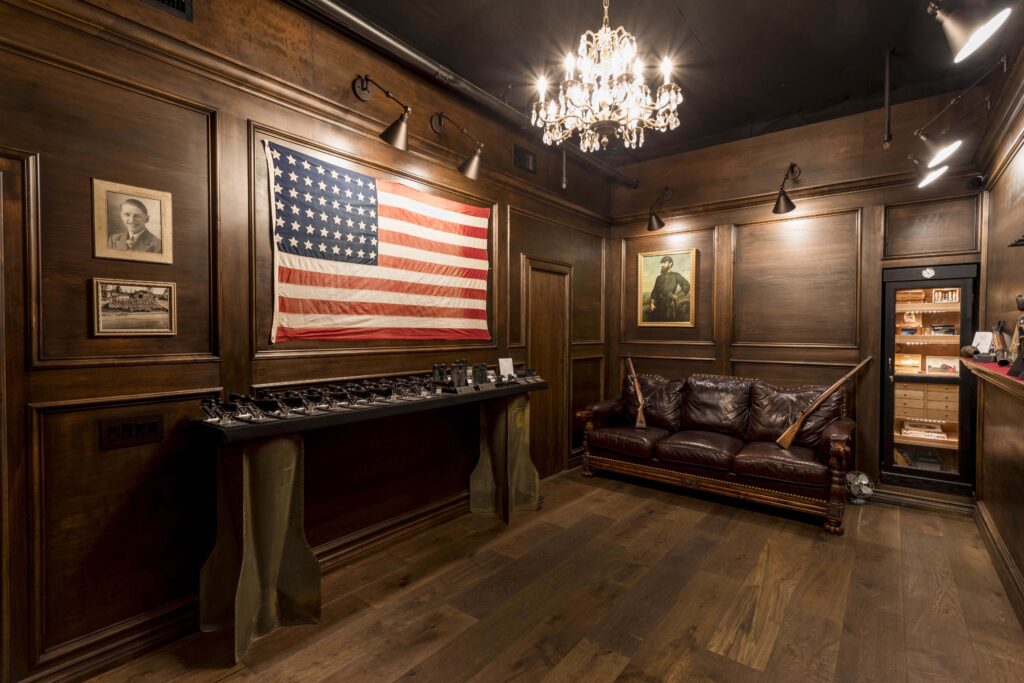 If you've been frequenting some of the trendier areas around town, there's a good chance that you've noticed a steady influx of "olde timey" types of businesses cropping up, undoubtedly inspired by the sorts of shops that were much more commonplace over the first few decades of the last century than in more recent times.
The revivals of classic businesses such as old fashioned soda fountains, vinyl record shops, hidden-from-plain-sight alcohol speakeasies, and even dedicated moustache and beard trimming parlors are populating once-forgotten areas and turning them into hipster havens. While some of this retro-revival may be classified as hipster-chic, some of it is just plain cool.
Tucked away in an unassuming plaza in Tempe, Arizona, is a business that was undoubtedly inspired by the retro revival movement—but with a gun enthusiast twist. The Powder Keg opened its (hidden) doors in October 2018 with the aim of providing a unique experience in firearms purchasing. It's a firearms store like none that we've encountered before.
First of all, it's accessed through a kitchen remodeling business via a hidden entrance. Yes, that's right. It's a firearm speakeasy. Because the speakeasy is hidden in a kitchen showroom and is accessed through a pantry cabinet, Gittus and his crew have told people that access to the shop is gained through saying the phrase "I'm interested in a pantry remodel." We're suckers for this kind of thing.

Also, unlike most other shops, the service that The Powder Keg provides is completely one-on-one. You can come to the speakeasy to talk guns, optics, gun safety, gear, knives, and cigars without distraction or the feeling of being rushed.
Proprietor John Gittus started The Powder Keg with the idea of creating a very small shop with a personalized "friends and family" feel to it. As the idea grew, so did the shop. It morphed from a small room with a few guns to a firearms speakeasy with many more offerings and a gun shop experience like no other. "My goal has been to create a fun space for those who are firearms fanatics," Gittus explains, "as well as a relaxing environment with no pressure for those who are newer, or brand-new, to firearms."
Born and raised in Arizona, Gittus has had a passion for firearms and hunting since he was a kid. He has been in the construction industry since he was 16 and volunteered with a local law enforcement agency for 7 years. "I am passionate about firearms and everything around firearms," he adds. "For those who share the passion already, the Speakeasy is a fun place with personalized service without the retail store feel or experience. For the same reasons, the Speakeasy is a great place for those less experienced with firearms."
The Powder Keg is clearly unlike your run-of-the-mill gun shop, and, in fact, it's designed specifically to not be like the others. It's much more about the experience than anything else. The shop sells firearms of all types, optics, ammunition, knives, and other accessories. They don't only sell guns, but also buy them. We like their style. Gittus points out, "While we stock quite a few items, we have access to most firearms and accessories within a day or two if we don't already have it."
Aside from guns, The Powder Keg is also home to history lovers. In fact, they have several historical artifacts in the room from the Civil War, World Wars One and Two, and Vietnam, as well as other antiquities. If you have a chance to visit, it's worth spending some time talking with Gittus about these pieces.
We asked Gittus what some of his favorite gun customization styles are at the moment. "I love seeing customized 1911s and love the fact that they are still a current firearm after over 100 years (sorry .45 haters)," he replied. "I also really enjoy seeing the creativity in the pistol-caliber carbine world."
Text by Jerry Tsai and images by Jay Canter
If you're interested in setting up an appointment to visit The Powder Keg, the best way is to contact them over their social media accounts on Instagram @the.powder.keg and on Facebook @firearmspeakeasy. The next time we're in Tempe, we'll be looking for a pantry remodel for sure.