Side-charging AR-15 system
Uses AKM magazines
Chambered in 7.62x39mm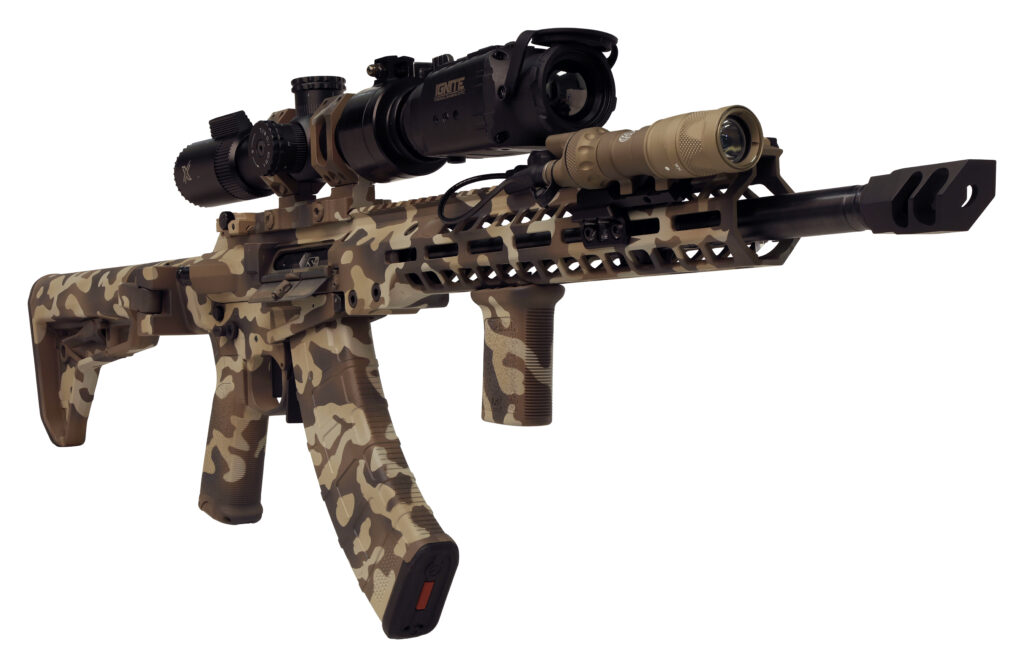 Coke or Pepsi, the Beatles or the Stones, Ginger or Mary Ann… there are plenty of debates that can rage on until the end of time. Some people are decidedly in favor of one choice over the other and there's little room for compromise. Another such debate that can get heated is that of the AR-15 vsersus AK-47. Both weapons were created by opposing sides with opposing ideologies using different technologies. The two have been pitted against each other in war and in peace for over half a century and the debate still shows no signs of wavering.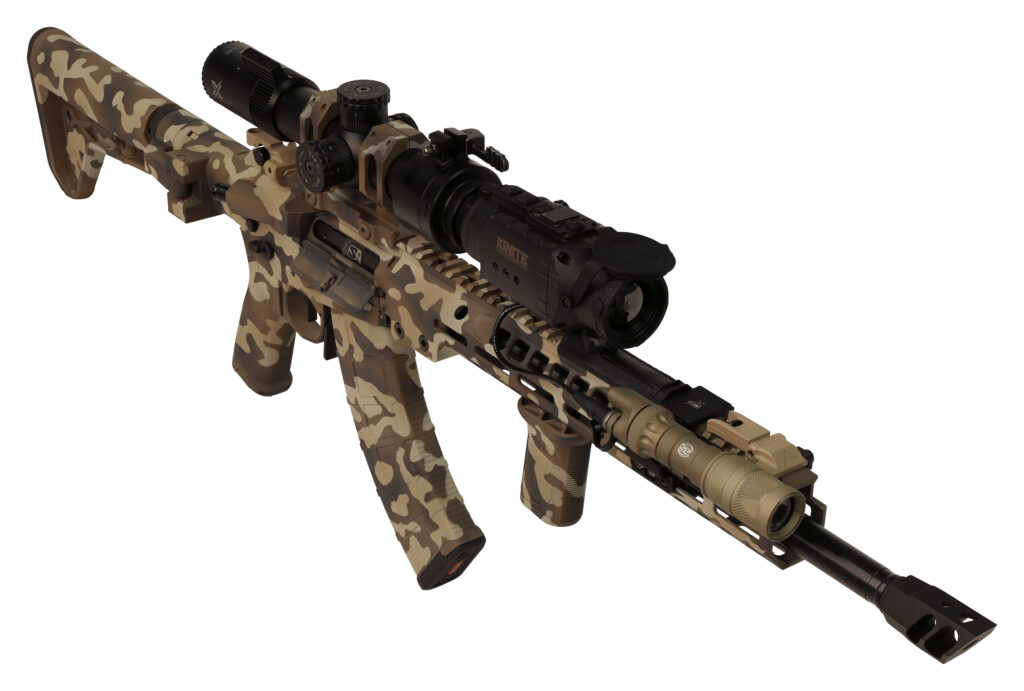 Those that choose the side of the AR-15 point out its modularity, accuracy, and ergonomics as some of its strong points. Those who prefer the AK love its reliability, low maintenance requirements, and hard-hitting power. For the record, we are fans of both systems and believe that everyone should enjoy both. (Or even better, multiples of both!)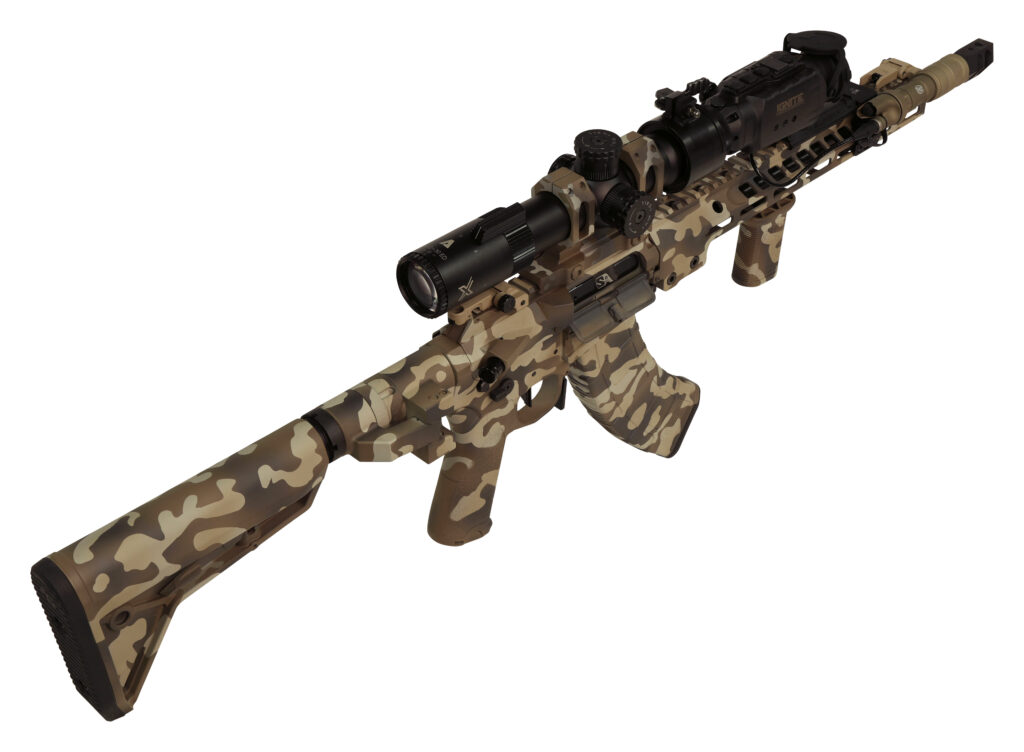 This idea of not choosing between but enjoying the strengths of both systems has been echoed by manufacturers that have attempted to combine the two rifle patterns into one. Knight's Armament Co.'s SR-47 is an early example of combining aspects of an AR-15-style rifle with an AK's. More recently, both CMMG's Mk47 Mutant and Rock River Arm's LAR-47 have taken the concept to fruition by flushing out the concept's kinks.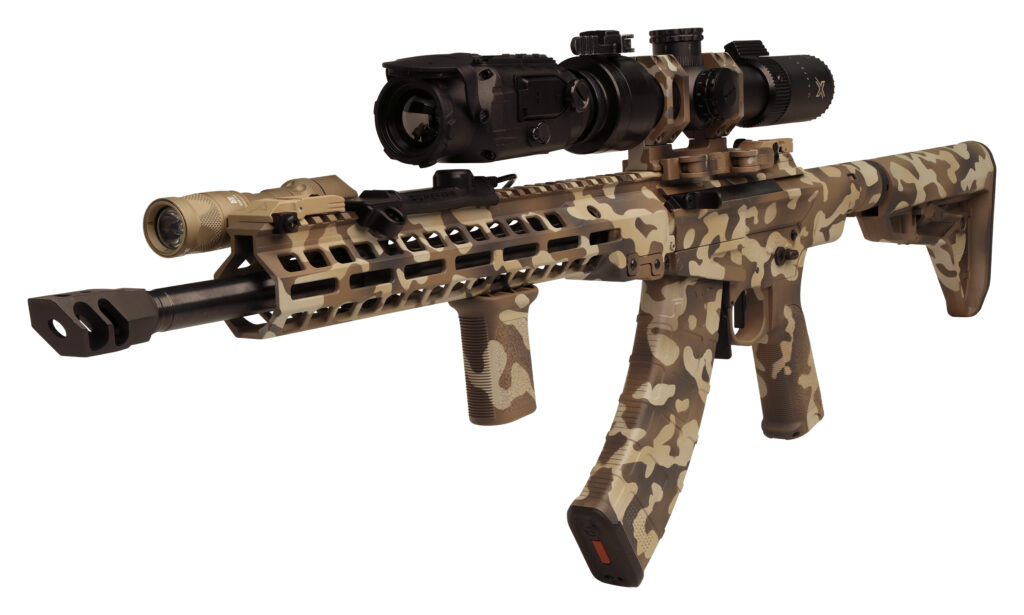 Not to be outdone, bespoke rifle maker Billet Rifle Systems (BRS) has entered the AR-AK hybrid market with its model BRS47. The Carson City, Nevada firm has been making quality and affordable billet AR-15 lower receivers since 2012. They specialize in billet receivers that are carefully machined from solid blocks of aluminum and pride themselves on the exacting tolerances of their CNC receivers.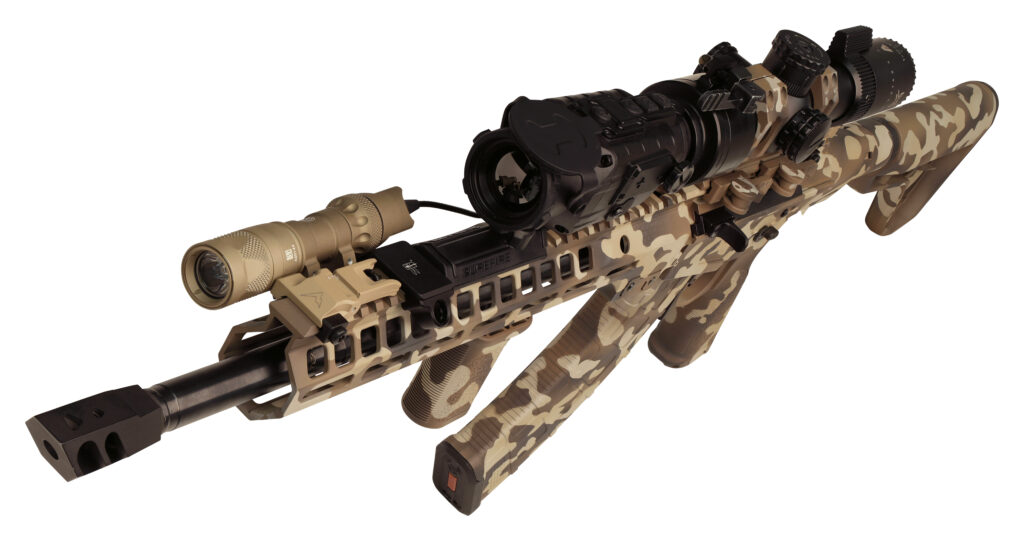 First debuted in 2016, the BRS47 caught the attention of many AR-AK hybrid fans, especially those wishing that they could obtain the impossible-to-buy KAC SR-47. Since then, a new side-charging variant has been introduced, called the BRS47-SC.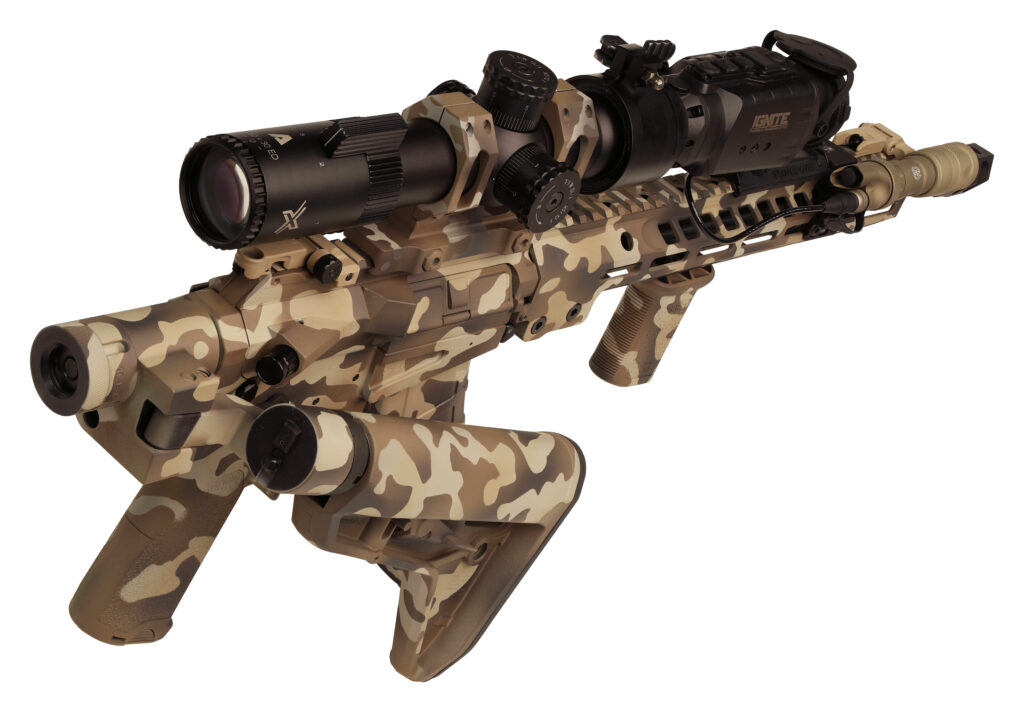 The BRS47 is available as a stand-alone lower receiver in both 100% ready-to-assemble and 80% finish-it-yourself varieties and as a matched lower and upper receiver set. The BRS47-SC is also offered as a complete turnkey rifle. You can even order it as a complete ground-up custom build, built to your exact specifications. The example that you see on these pages is just one such build and is a complete one-off creation that was done for Billet Rifle Systems' president, Chris Garrison.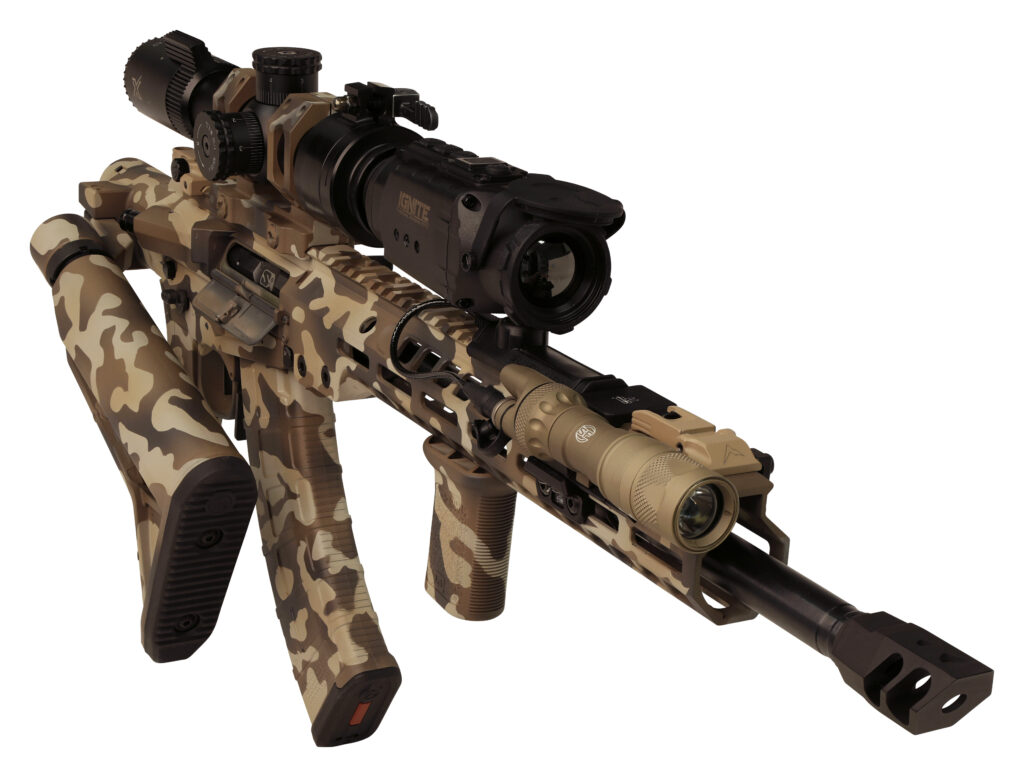 Built to serve as a general-purpose truck gun, it's also on hand in case Garrison ever encounters any coyotes when he takes his long romantic walks on the beach. The rifle is built upon a match set of BRS47 upper and lower receivers. The lower is machined from a solid block of 7075 aluminum and features an integrated trigger guard and flared magwell that takes Magpul's AK/AKM PMAG magazines.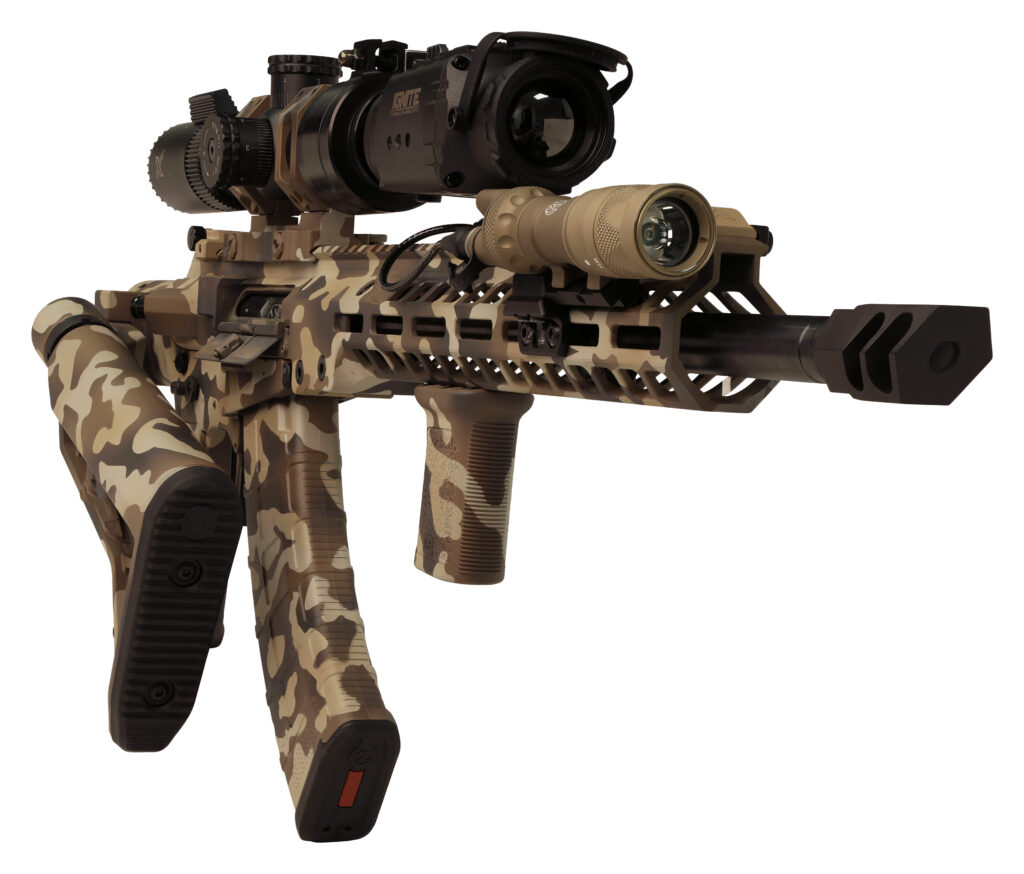 It's worth noting that due to the shape of AK magazines BRS47 lower receivers do not work with standard AR-15 upper receivers. Instead, a proprietary BRS upper receiver is required for the build. This upper is manufactured to accept the larger dimensions of AK magazines. Also required is the use of a specific BRS47 Bolt Carrier Group (BCG) as regular AR-15 carriers with a 7.62×39 bolt installed in it will not work. The BRS47 BCG is specially designed to work with AK47 magazines. Other than that, both the upper and lower receivers are compatible with other AR-15 parts.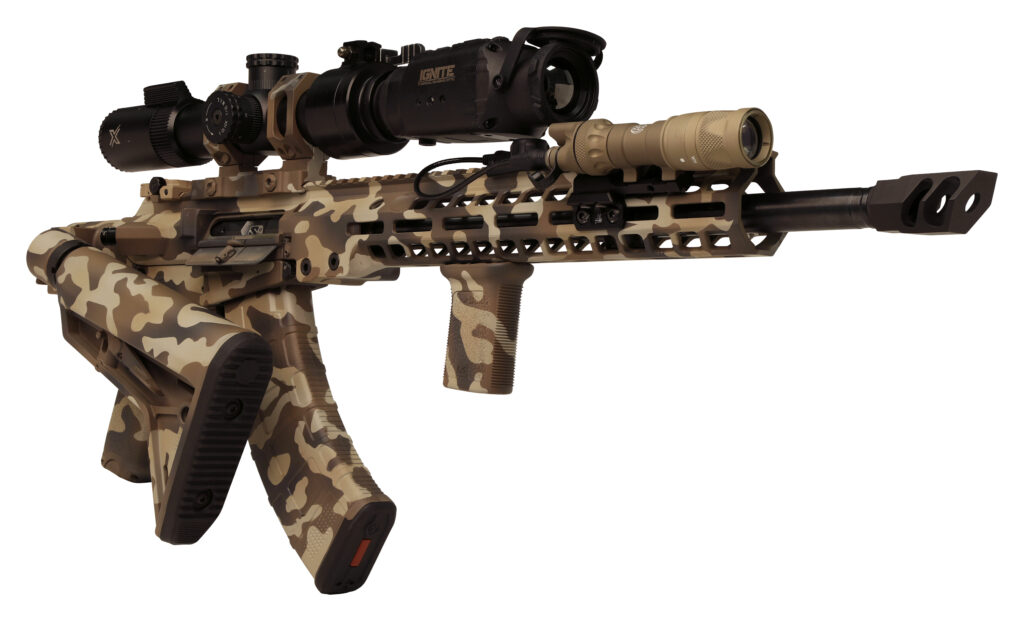 The side-folding model of the BRS47 required a few modifications to be made to the standard BRS47 for its stock to be able to fold. The first mod was to swap out the standard buffer and tube with a Dead Foot Arms (DFA) folding stock adapter. The DFA adapter is actually much more than just a mount for the stock. DFA calls it a "Modified Cycle System" in that unlike other folding stock adapters, the DFA is a complete system that allows the gun to be safely and repeatedly fired while its stock is folded.
While DFA offers the Modified Cycle System as an off-the-shelf replacement for any direct impingement AR-15, the BRS47-SC's system required some extra work to get it dialed in. Aside from taking AK mags and 7.62x39mm cartridges, the BRS47-SC is also similar to an AK in that it runs a gas piston system. Garrison opted for a mid-length Superlative Arms (SA) Adjustable Piston System to replace the standard direct-impingement system. It features a patented "bleed off" gas piston system that adjusts the rifle's gas flow by bleeding the gas out of the gas block instead of restricting the flow like conventional adjustable blocks. This results in reduced gas pressure and provides only the required pressure to drive the bolt carrier. Remaining gas and pressure are bled out of the block, allowing the system to run much cleaner and cooler. There is a reported reduction of felt recoil with the SA system as well.
In order for SA's bolt carrier to work in the RS47-SC, Garrison needed to modify it so that it could feed from an AK magazine. First, he CNC-machined the area of the bolt carrier over its magazine grooves to a larger dimension to accommodate an AK's magazine. He also sent the SA carrier to DFA for their Bolt Carrier Modification service to shorten its length so that it would work with the folding stock adapter. This service allows those who wish to use DFA's adapter to send in their own carrier for modification so purchase of a new carrier isn't needed. He finished the bolt carrier group with BRS's dedicated BRS47 bolt. With the major mechanical challenges worked out, Garrison outfitted the BRS47-SC with a selection of parts from his company and a few fellow innovators.
The lower receiver's control accessories include a Magpul MOE SL Carbine stock and BCMGUNFIGHTER vertical and pistol grips. You'll also find a Battle Arms Development BAD-ASS safety selector, and a Rainier Arms/Forward Control Designs collaboration LP Forward Assist button that's manufactured in titanium. Nestled in the heart of the lower is a Geissele Autotmatics Super Dynamic Enhanced (SD-E) Trigger. The two-stage trigger has a second trigger pull weight of only 1.2 pounds.
Mirroring the operation of an AK, the BRS47-SC is charged via a knob located on the right side of the upper receiver. The BRS47-SC's side-charging upper receiver is a first for BRS, which up until now has only offered traditional rear-charging-style receivers. A BRS47 16-inch barrel is housed underneath a Geissele Autotmatics Super Modular Rail MK14 M-LOK in a 14-inch length. A two-chamber BRS 2C muzzle brake helps reduce muzzle rise.
Being that this truck gun's mandate is to be a general-purpose tool that leans toward a healthy dose of predator clearing, Garrison outfitted it accordingly. He mounted a SureFire M322V Compact LED Scout Light capable of both white and IR light output. It is controlled by way of a SureFire SR07 remote switch and is mounted in place with a Haley Strategic Thorntail2 light mount.
For targeting, he went with the combination of a 10x variable powered scope, Atibal's Atibal X 1-10×30 FFP in a American Defense mount with a piggybacked thermal imaging optic. By the looks of his rifle's optic suite, it seems as if Garrison believes you can never be too prepared! Atibal's all-new Ignite 35mm clip on thermal is compact, lightweight, and durable. Thermal imagery allows Garrison to positively identify a target via heat signature in virtually any lighting condition, which is a great advantage when hunting prey such as coyote.
To back up his optics, he also installed low-profile front and rear back up iron sights from Rainier Arms. These German-made sights were designed so the small and large ghost rings sit on the same plane. This means that it's not necessary to change the point of aim when the distance of the target remains unaltered. The front sight uses an 8-36 UNF thread, which means a large variety of aftermarket front sights may be used.
To give the BRS47-SC a unique yet subdued look, Nevada Cerakote coated the entire rifle in a pattern called MPC Camo. Russ at Nevada Cerakote helped Garrison decide on a tan color pallet to match Garrison's desert home environment. It's a clean, simple look, and we love it.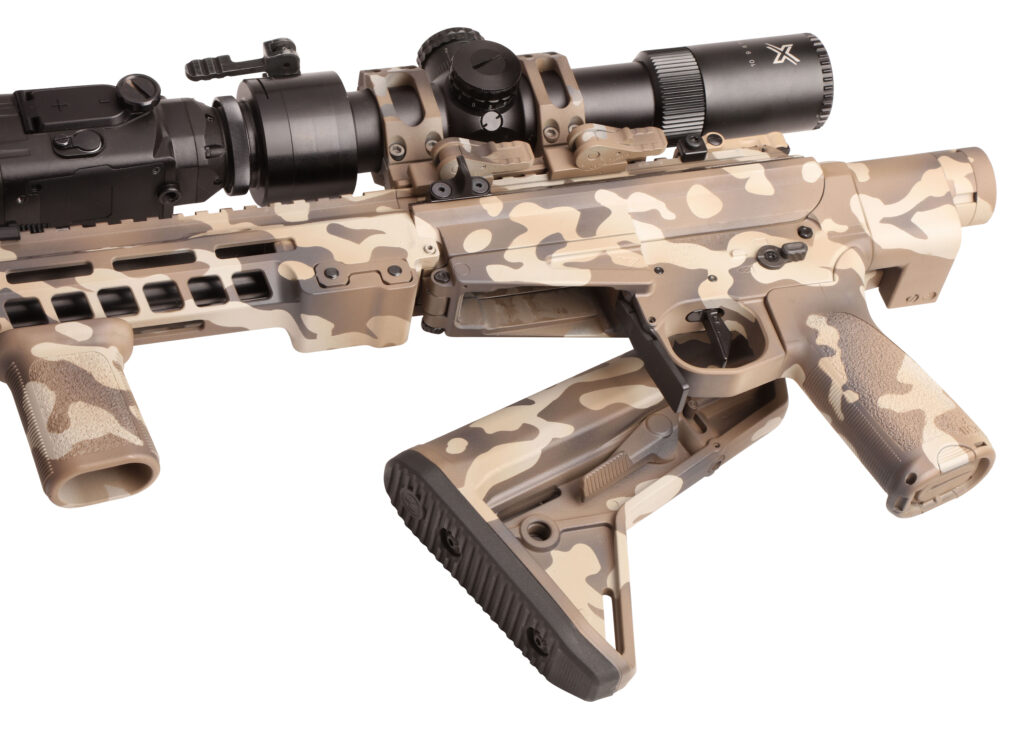 There's plenty to like about Garrison's BRS47-SC. It's a sharp-looking, one-of-a-kind AR-AK hybrid that features many unique, well-thought-out mods. We asked Garrison which aftermarket parts or modifications stood out to him during the course of the build and consequent use of the rifle. He quickly pointed out that the Geisselle trigger, Rainier Arms' flip up sights, and the combination of the Haley Strategic mount with SureFire light were his favorite hard-use features.
We also asked if he encountered any challenges putting this rifle together. "Yes, plenty of individual challenges had to be overcome along the way," he replied. "After all, a rifle like this has never been constructed. An AR-15 based 7.62×39 rifle that accepts AK mags, piston-driven, with a side-folding stock that fires when folded." Now that's a mouthful
We'd love to get some trigger time behind the BRS47-SC to see how it lives up to its AR-AK hybrid potential, and perhaps we will in the future. Until then, Garrison has the pleasure of owning the first and only (at the time of this article's writing) BRS47-SC. Perhaps it won't be the only one in existence—sooner rather than later. "We can build you one just like it," Garrison says. "So call us and we'd love to build you one!" We might just take him up on his offer.
Text by Martin Anders and images by Jerry Tsai
Billet Rifle Systems BRS47-SC
Caliber: 7.62x39mm
Length: 16 in.
Barrel: BRS 16″ 7.62X39, Mid-Length Barrel
Weight w/o magazine: 9 lb., 9.3 oz. (with scope and thermal)
Upper & Lower Receivers: BRS47 Matched Set (Side Charging)
Coating: Cerakote by Nevada Cerakote
Featured Accessories:

Optic: Atibal Atibal X 1-10×30 FFP, ED Glass, Mil Reticle
Optic Mount: American Defense Mfg AD-RECON-PB Scope Mount
Thermal: Atibal Ignite 35mm, Thermal Imaging Optic
Handguard: Geissele Automatics Super Modular Rail MK14 M-Lok (13", DDC)
Folding Adapter: Dead Foot Arms Modified Cycle System
Stock: Magpul MOE SL Carbine Stock (Mil-Spec)
Magazine: Magpul PMAG 30 AK/AKM MOE
Parts & Accessories: Rainier Arms Back Up Iron Sights, SureFire M322V Compact White/Infrared LED Scout Light, SureFire SR07 remote switch, Haley Strategic Thorntail2 M-Lok SBR Light Mount, Superlative Arms .750" Adjustable Piston System (Mid Length, Solid, Melonite, Low Pro), Deadfoot Arms Bolt Carrier Modification service, BRS BRS47 Bolt, BRS 2C Muzzle Brake (.30 Cal, 2 Chamber), BCM BCMGUNFIGHTER Vertical Grip-Mod 3, BCM BCMGUNFIGHTER Grip-Mod 2, Rainier Arms LP Forawrd Assist Button – Titanium – Forward Control Designs Collaboration (DLC), Battle Arms Development BAD-ASS (Standard, Short, Black Phosphate, Standard 90), Strike Industries AR-15 Shift Pins, Geissele Automatics Super Dynamic Enhanced (SD-E) Trigger, Haley Strategic D3 Sling, Haley Strategic Thorntail QD sling mount.
About the Owner:

Name: Chris Garrison
Social: IG & FB @billetriflesystems
Occupation: President, Billet Rifle Systems
Special Thanks: Russ Bacon for jumping in at the last minute time and time again. Tim and Scott Foster and Johnny Chandler for making the machines cut these parts. My wife, Lauren Garrison, for putting up with my long nights in the shop!