Kalashnikov USA KR-9 modified with Russian & American parts
Based on AK-74 architecture
Chambered in 9mm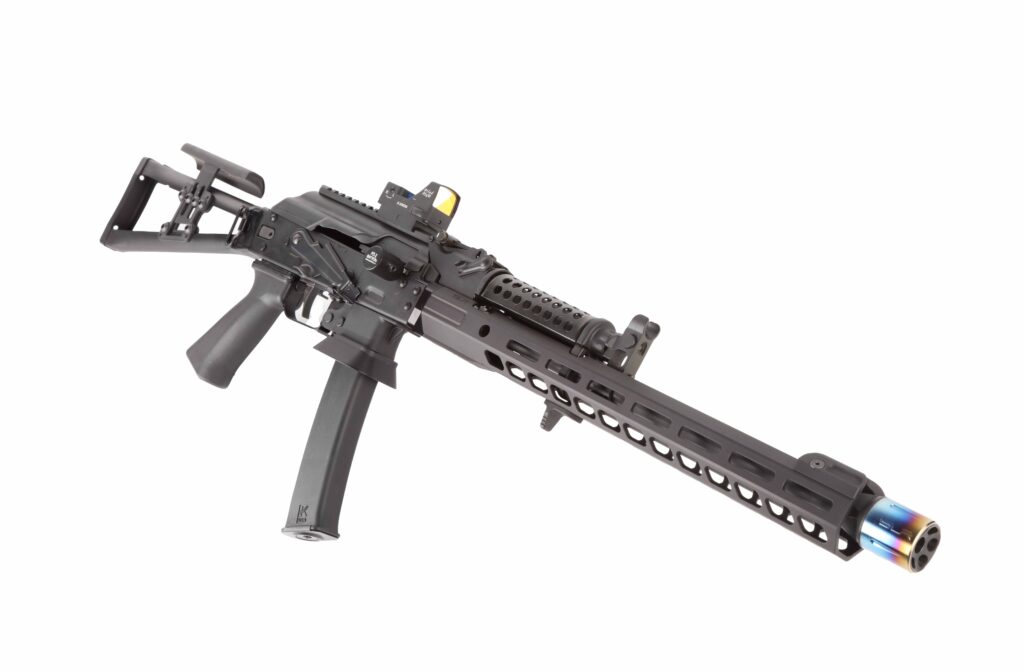 Pistol-caliber carbines (PCCs) have been a hot commodity in the firearms world for the past few years now, and it's easy to see why. They're fun to shoot, they're cheaper to shoot, and they keep your muscle memory sharpened for the times when you do pick up your rifle-caliber carbine. Training and competing with a PCC similar to your regular carbine can help you keep your manual of arms well-honed and ready to go.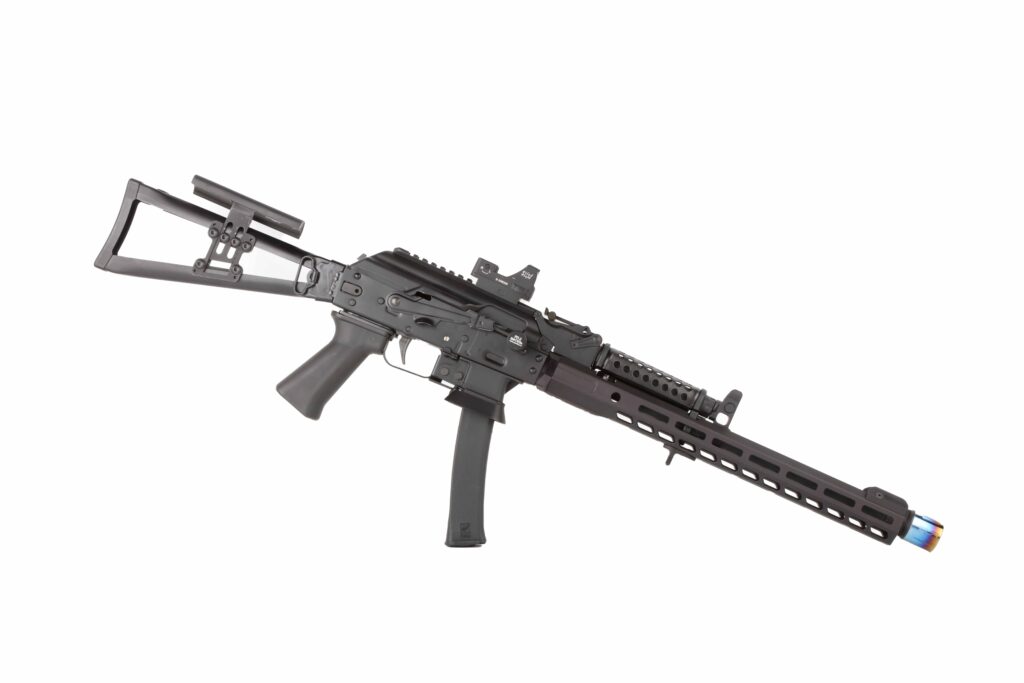 This is what Will Stone thought when he decided to pick up a Kalashnikov KR-9. The KR-9 is essentially a PCC version of an AK and is chambered for 9mm instead of a rifle cartridge. Stone figured that the KR-9 is an analog to his go to-carbine, an AK-74 pattern weapon, so using it would help him keep his skills fresh while facilitating higher round usage for training and competition at a lower ammo cost. Shooting 9mm allows him access to more gun ranges in his area as well.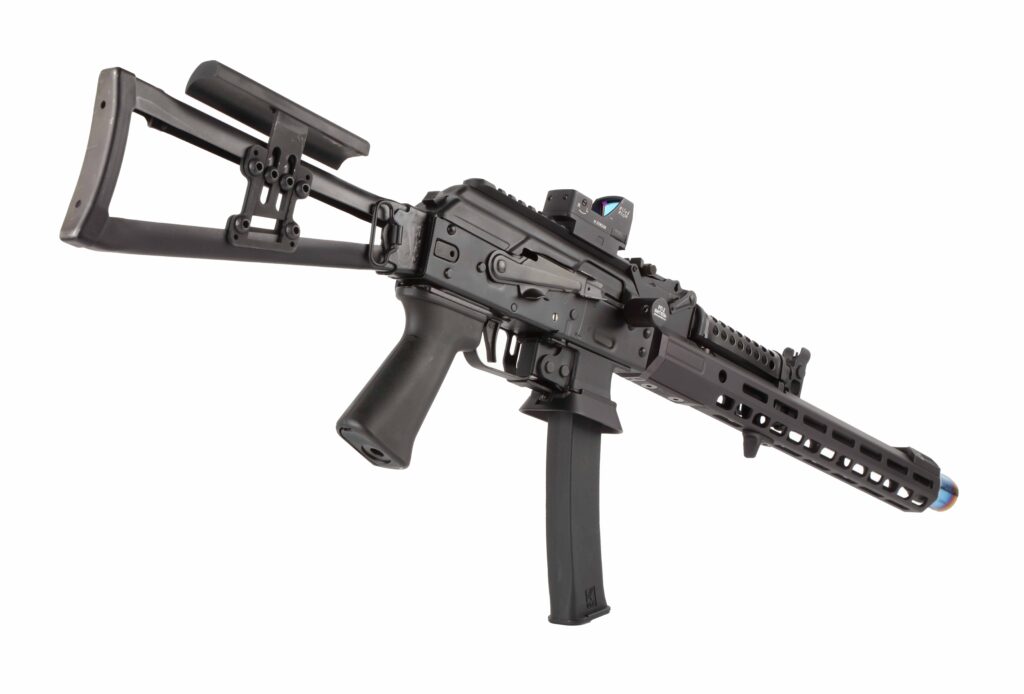 The KR-9 is a product of Kalashnikov USA, an American firm dedicated to building the Russian-style arms that we Americans can't seem to get enough of right here in the USA. To be clear, the company is not associated with the original Kalashnikov Concern in Russia, so their firearms are considered American-made clones of the Russian originals. That said, we got to examine the KR-9 up close and have to say that, although it's a clone, it does not lack in quality one bit. The carbine is probably one of the best examples of Russian-style arms that we can buy from a manufacturer here in the States. The fit and finish are exemplary.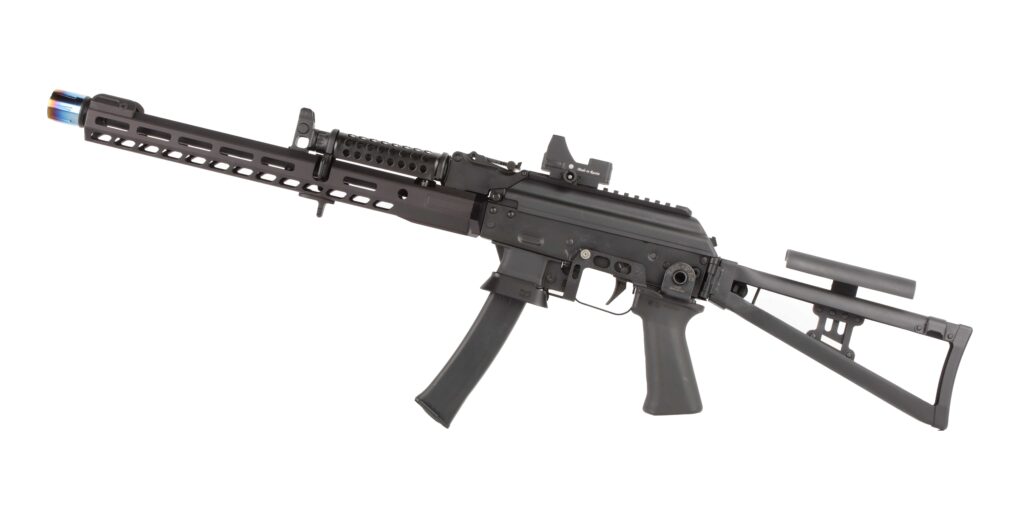 Stone's favorite long gun is his AK-74. He prefers its 5.45x39mm cartridge for its lighter recoil and battle zero characteristics over the AKM's 7.62x39mm round. When it came time to look for a PCC to join in steel match competitions at a local range, he shopped around for one that suited him. Spoiler alert: The search didn't take long. His first stop was the Kalashnikov USA (KUSA) website, and it was here he learned that the company offered a 9mm version of the AK.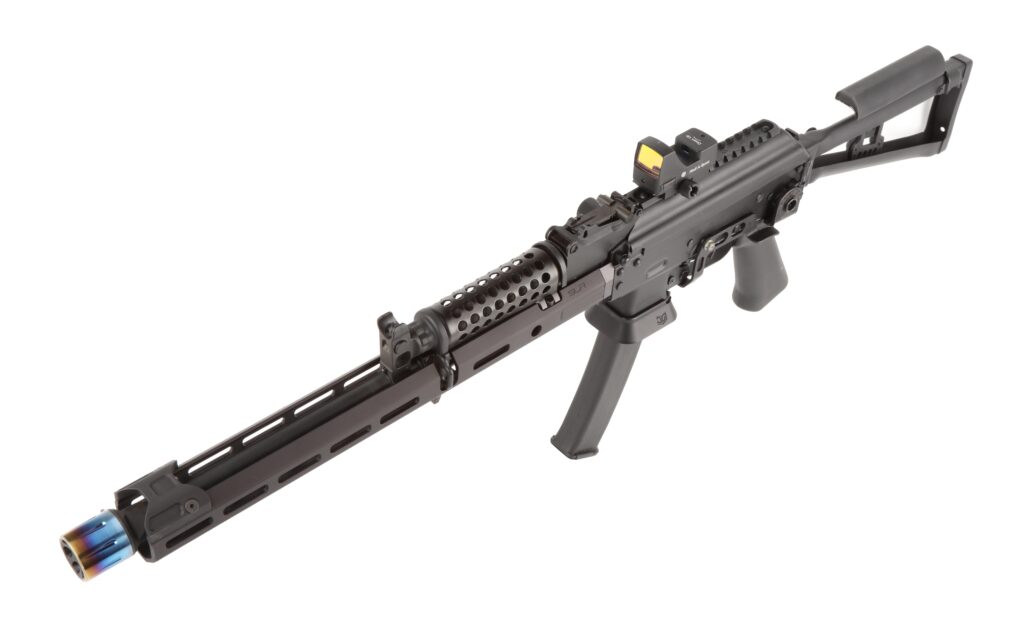 Also available as the KP-9 pistol and KR-9 SBR, both of which come with 9.25-inch barrels, a longer 16.25-inch-barreled version simply called KR-9 is the one that Stone found to be the perfect PCC. KUSA's KR-9 is essentially a clone of the Saiga-9, which in turn is a semi-automatic version of Kalashnikov Concern's PP-19 Vityaz submachine gun. The Vityaz currently serves as the standard submachine gun for all branches of Russian military and police forces.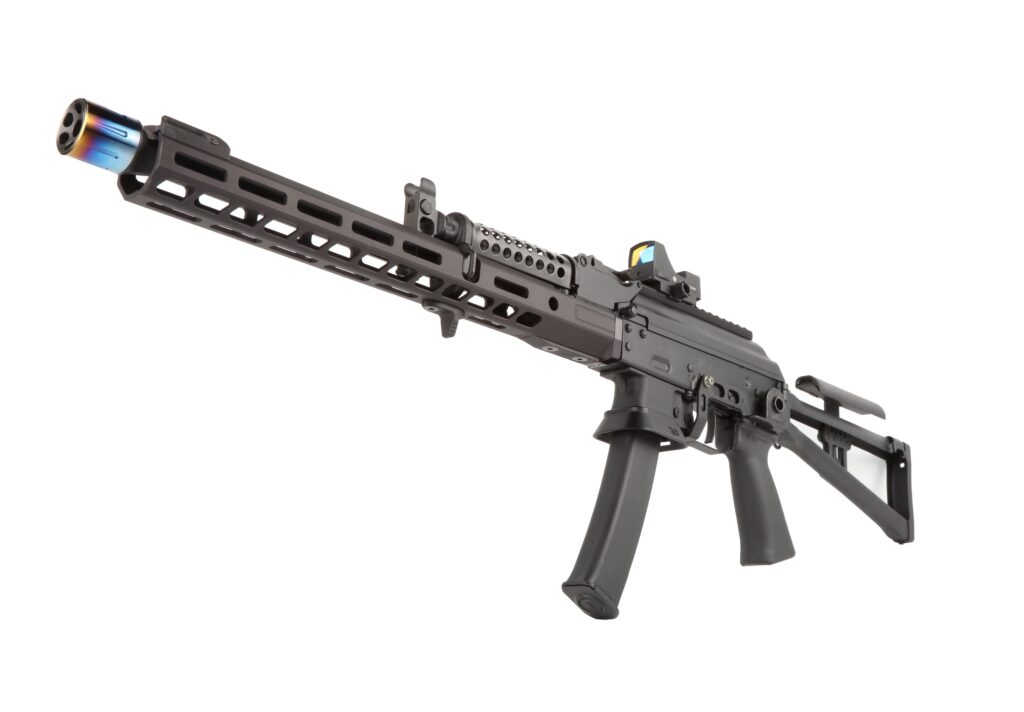 The original Vityaz is a select-fire weapon that utilizes a closed-bolt, straight blowback system. The bolt carrier and charging handle are similar to the ones found on other AKs, but its piston rod and rotary bolt are replaced with a weight that extends into what would usually be the gas tube. The extra weight helps cycle 9mm cartridges smoothly and efficiently, even high-powered loads. KUSA's KR-9 and KP-9 offer the same system in a semi-automatic package. Like the Vityaz, the KR-9 and KP-9 also share the same trigger and safety mechanisms as the AK-74 rifle and take most aftermarket parts that you'd be able to fit on an AK.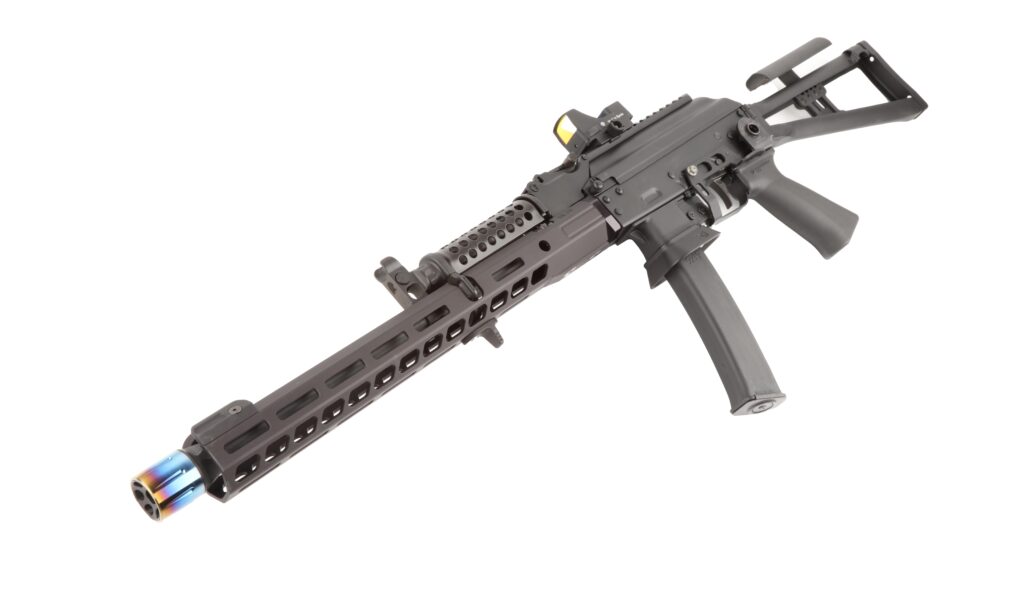 Being fed 9mm rounds means that the 9mm AK uses a proprietary box magazine that's different from those used on other AKs. The slimmer magazine that KUSA provides is made of polymer and is available in 30- and 10-round formats. An extended magazine pad is available to boost the 30-round capacity to 40. Magazine ejection is still handled via a paddle release as on other AKs.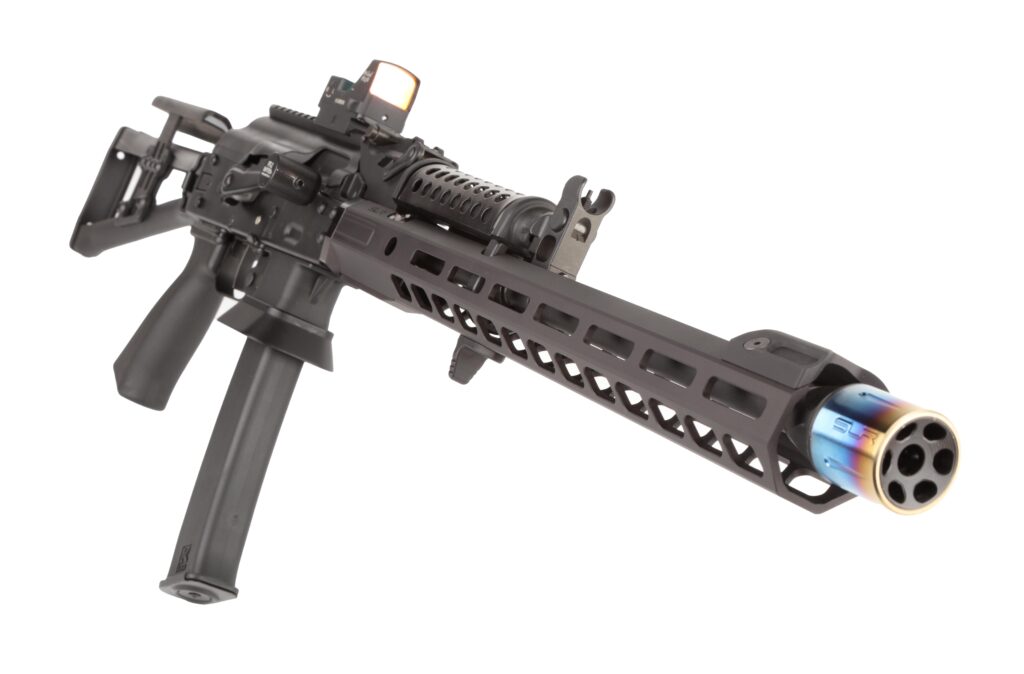 The carbine you see here is the culmination of Stone's parts-buying trial and error and range-time experience. Like most of us, he had an idea of what parts he wanted to run, but after getting his hands on them he realized that some of those parts wouldn't work out. How the rifle is currently configured is how he currently runs it.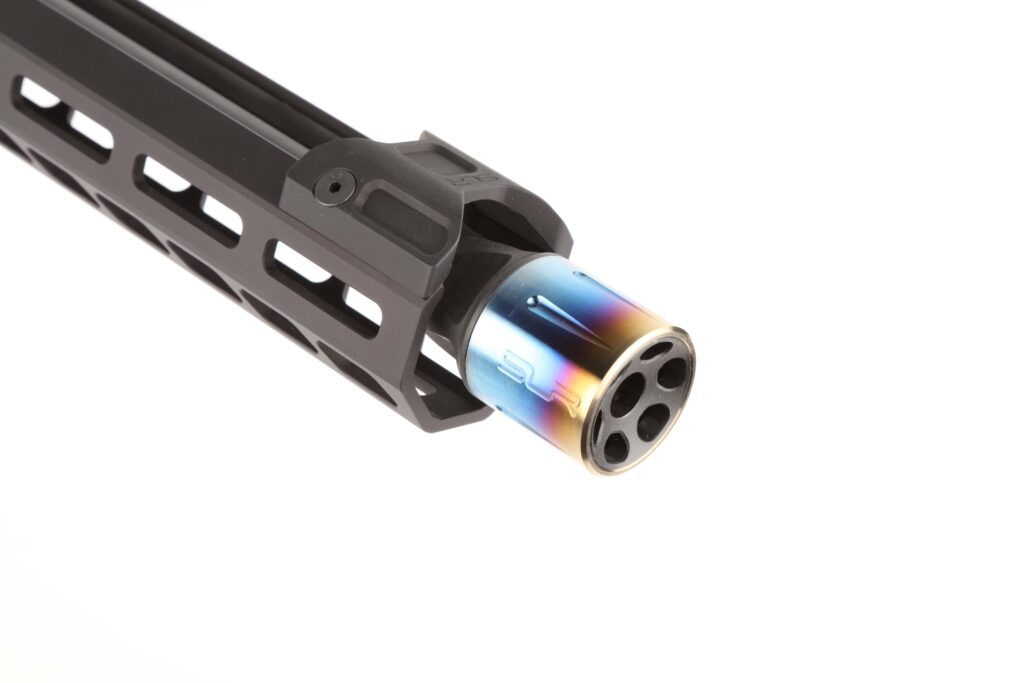 "My original plan was to make it as 'Russian' as possible in keeping with its Vityaz roots," Stone says. "That's to say I only wanted to add items I could source from Russia. So I initially ordered a bunch of parts domestically and from Russia and Ukraine that I imagined would work out for my shooting style and needs. Some of the parts panned out, while others didn't."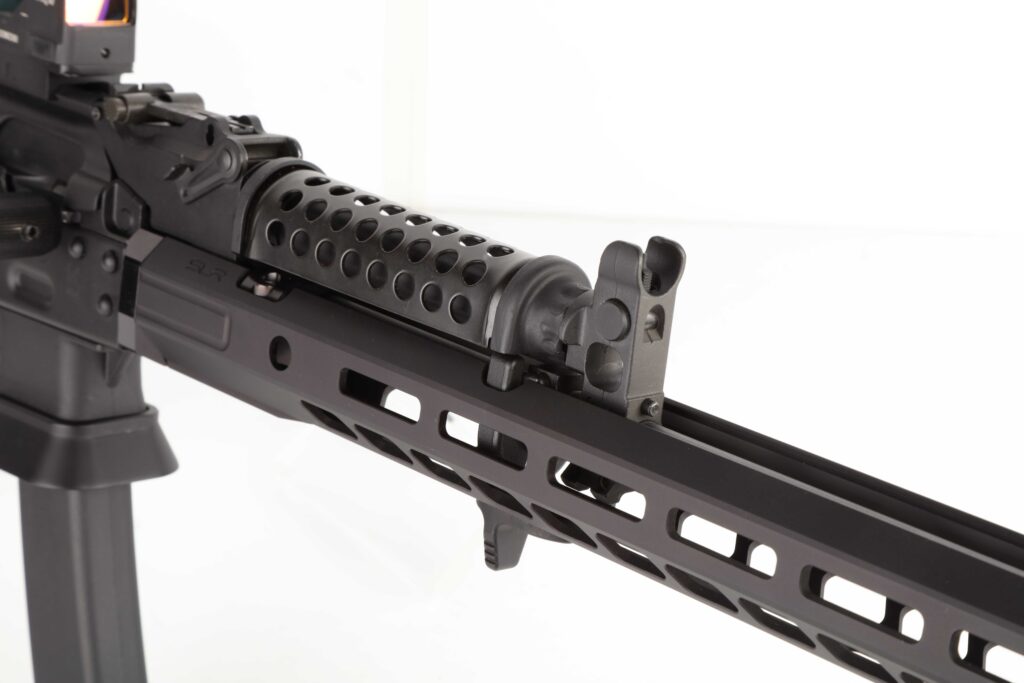 Stone admits that the carbine is in a state of constant flux since he likes to try out new accessories all the time. His KR-9 as constructed at the time of this article's writing shows it to have a mix of Russian and American-made parts, which is fitting since the carbine's pedigree is as Russian-American as a firearm can get.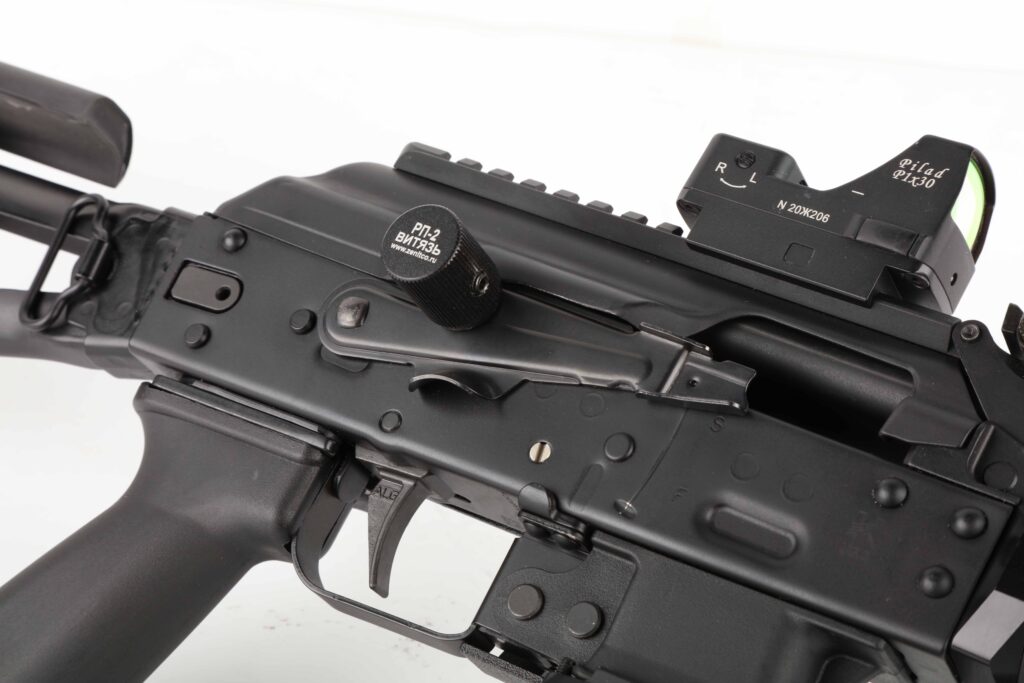 From the tip you'll find an SLR Rifleworks Synergy Linear Hybrid Comp. The 9mm muzzle device installs onto the KR-9's 1/2×28-threaded barrel perfectly. Stone chose SLR's flashy color-anodized finish for some extra pizazz. We quite like the look. The m-lok compatible handguard is also made by SLR and was ordered by special request. While SLR does offer KR-9 specific rails, Stone wanted a longer handguard than those the company offered for the platform, so he ordered a rail that would fit an AK but asked for them to include a KR-9 compatible mount instead. SLR kindly obliged. KR-9 compatible handguards are almost identical to those of regular stamped AKs, except that the 9mm AK's mounting area is smaller overall and requires a specific mount.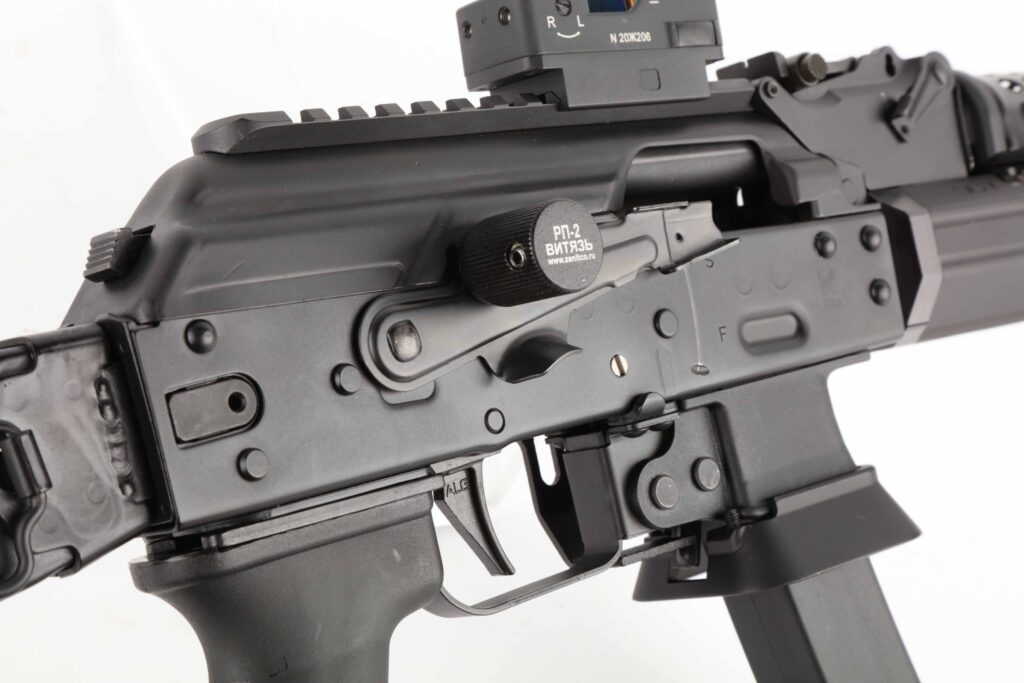 The handguard he chose was the SLR AK Ion 14.7" Lite handguard for 16-inch barrels. Although the company also offers a version of the same rail for 16.25- to 16.5-inch barrels, Stone specifically wanted the slightly shorter version so it would not cover any of his comp bling. To complete the frontend, he also mounted an SLR m-lok Fingerstop. Just north of it, you'll find that he replaced the KR-9's factory polymer upper handguard with a steel one from Khyber Customs. Khyber Customs offers a variety of handguard styles; Stone chose their original AKM/AK-74-length Swiss Cheese Grater design. The other handguard designs feature elongated slots instead of round holes.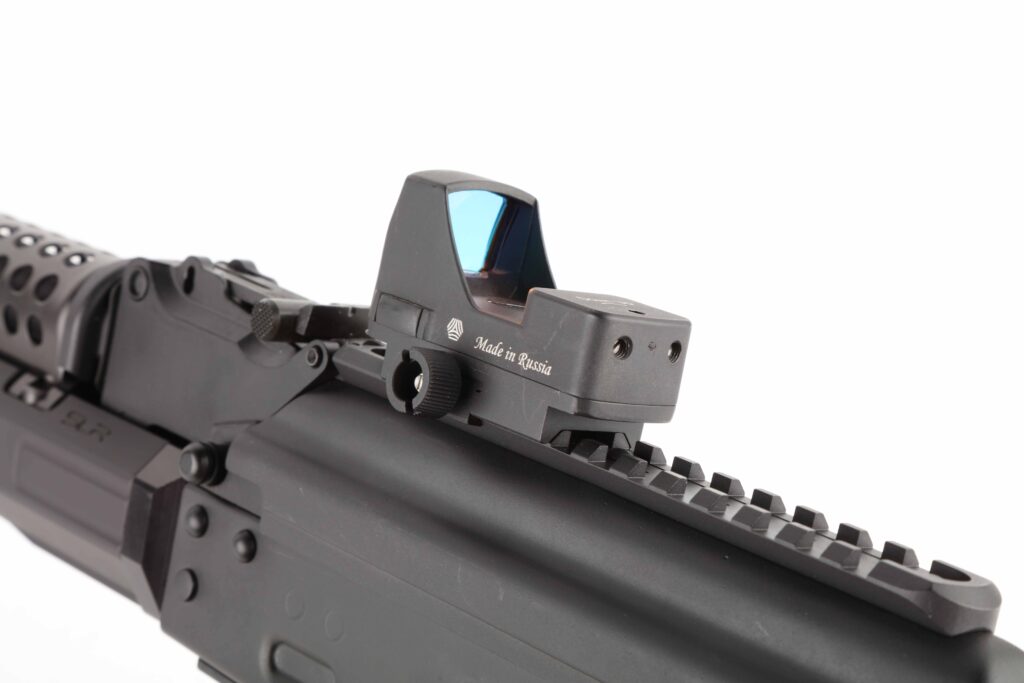 The other American-made parts you'll find on the KR-9 include an ALG Defense AK trigger and Krebs Custom enhanced safety. Stone points out that the ALG trigger gives the KR-9 a smoother shooting experience, which is important for the competition matches he uses it in, and the Krebs safety is extended for easier reach. It incorporates a cutout so the bolt can be locked back and held in place when the safety is engaged. He also added a quick-detach sling mount, located just above the grip, by Echo Nine Three. The E93 V3/QD sling mount is made of thick steel and is as solid a mount as we've encountered.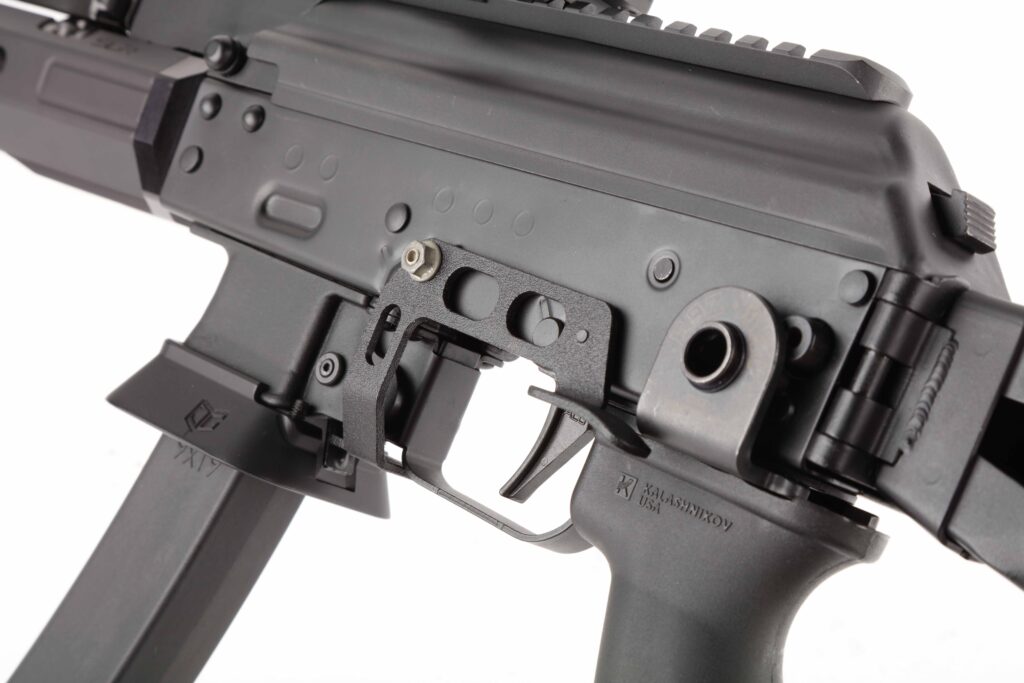 Diving right into the Russian-made upgrades, we noticed that the KR-9 was fitted with an extended ZenitCo RP-2 Vityaz charging handle. The much larger surface area that the enlarged handle provides gives the shooter greater leverage, making it easier to manipulate. Other performance mods include a flared magwell made by another Russian brand, Custom Guns. The enlarged, funnel-shaped well allows for quicker magazine changes, which is especially helpful under the stress of timed competition.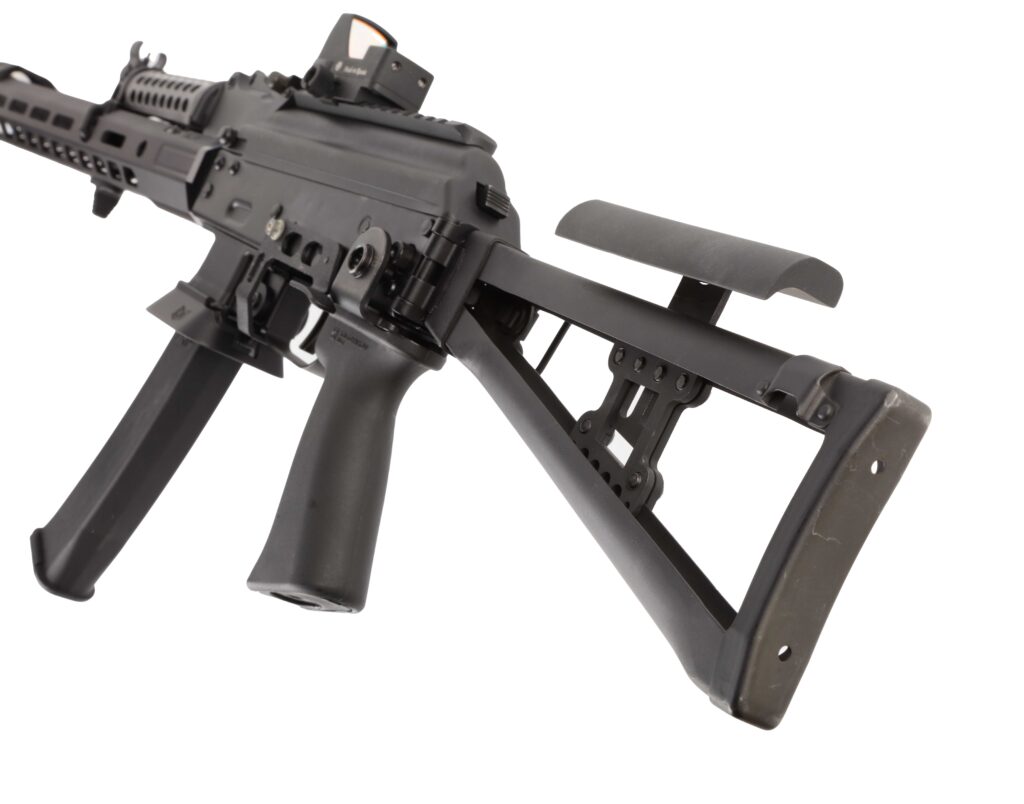 Stone points out that he didn't realize the larger magwell would interfere with the paddle mag release, making it difficult to release the magazine. So he installed a Custom Guns Arhipov's Lever Skeleton Mag Release. This release extends back toward his shooting hand and is thumb-actuated, which allows mag changes by pressing down on the release. Stone reports that mag changes are much quicker with this release.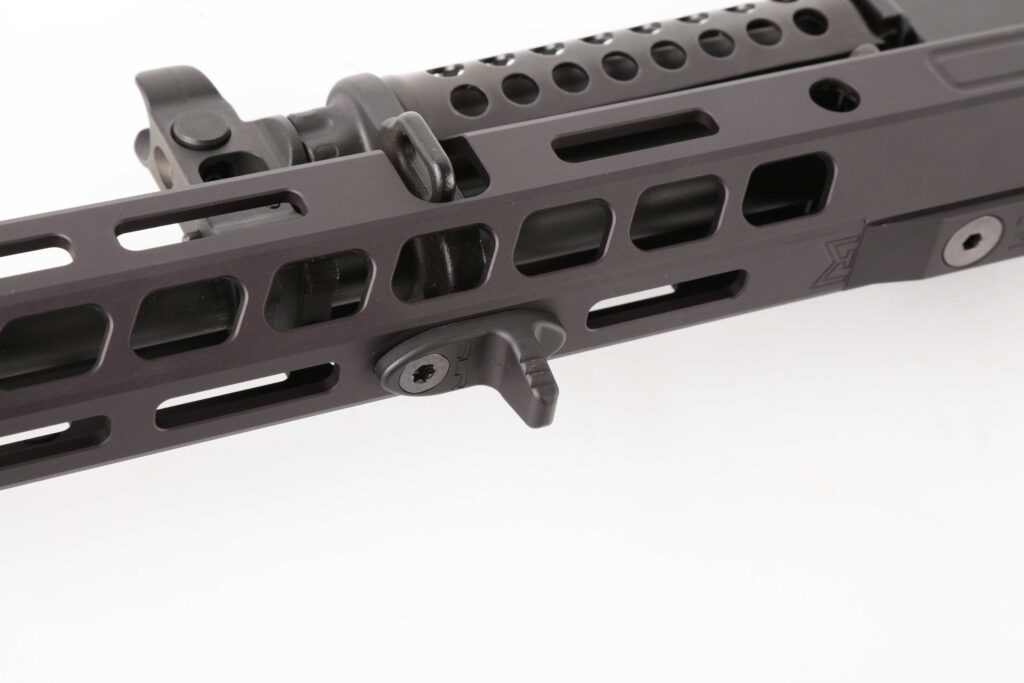 Another cause-and-effect modification has to do with the optic that Stone chose. He already has experience with Aimpoint, EOTech, Primary Arms, Vortex, and SIG optics and wanted to go outside the box and find something different. He discovered a Russian optic company called Pilad, and after doing plenty of research he decided to try out the brand's P1x30 red dot. "At under a hundred bucks, the Russian red dot wasn't a big gamble but there were plenty of unknowns," he says. "I wasn't sure how big it really was and had no idea how tall it would sit on the KR-9's dust cover rail. It does have three reticles you can switch between and doesn't require a separate mount, so that was cool."

As it turned out, the optic was taller than he could use with his standard cheek weld. To be fair, pretty much any optic would be too high to use with the KR-9's "metal triangle" stock. Stone turned to the shop 4Shooters.com where he found a cheek riser that fit his stock perfectly. The riser securely fastens to the triangle stock, has a comfortable cheekpad, and it's adjustable for height. Stone says it may look fragile but it hasn't budged since he installed it.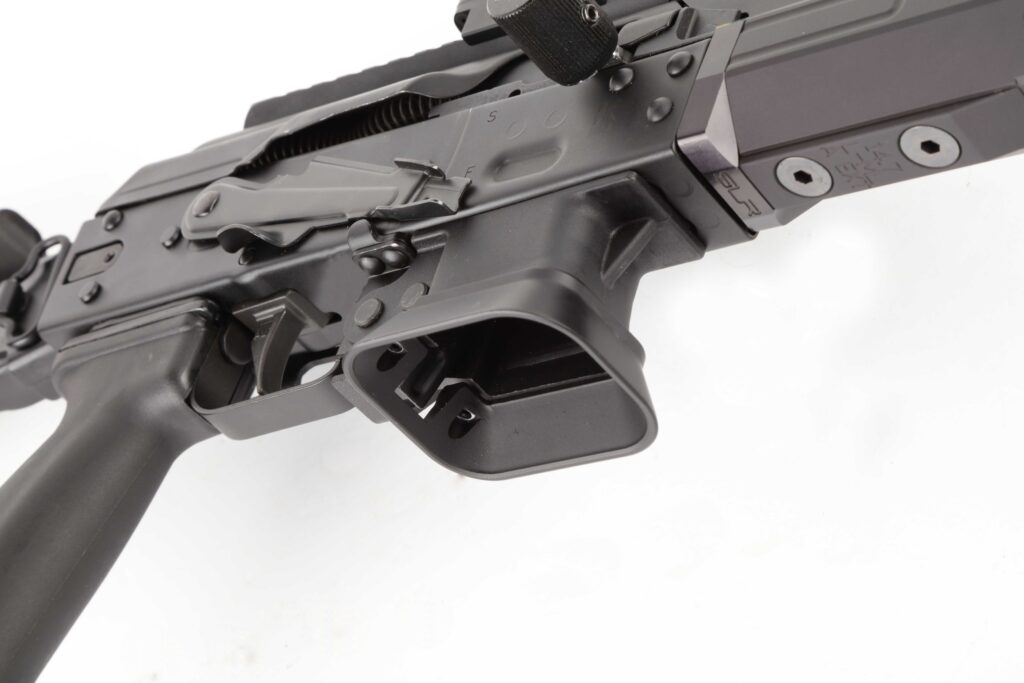 What happens when you take an inherently compact and soft-shooting gun and make it longer and heavier? That's what Stone did with his KR-9. Built for competition, he feels he gets more trigger time with it than with his favorite AK-74. "The KR-9 is a fantastic rifle to shoot," he tells us. "I can't get enough of it. I have so much fun running it at the steel matches as well as at casual range days with my buddies. Now that ammo is making a comeback, expect to see me out on the range with it even more."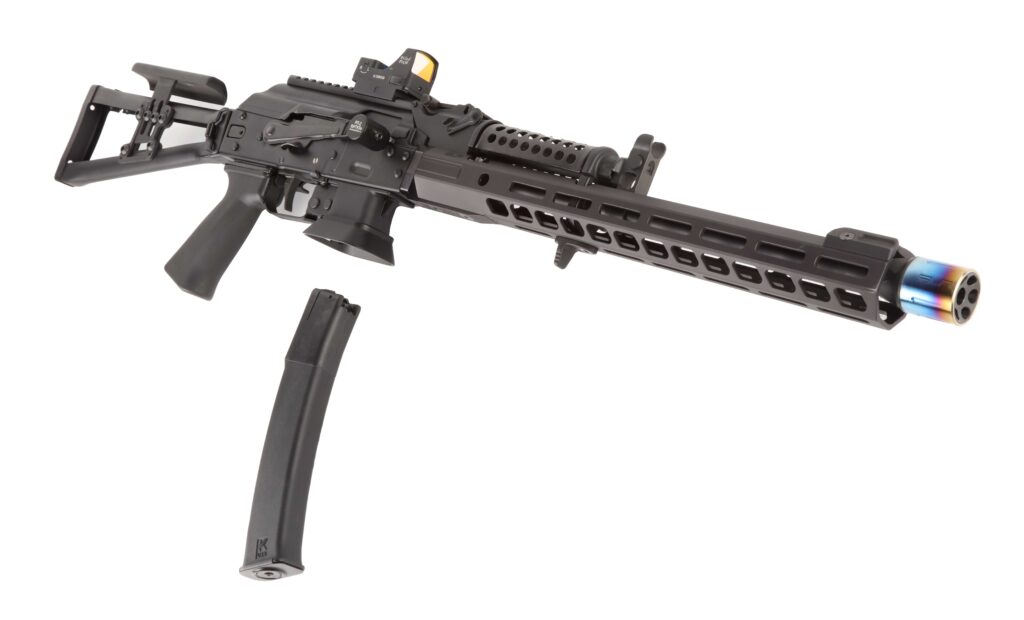 We think the PCC looks really great too, and when asked what else he has planned for it, Stone immediately responds: "I may get it Cerakoted. I'm not sure what color yet, but I'm definitely considering getting it coated." We look forward to seeing it. Text by John Scott and Images by Michael Grey
Build Sheet
Kalashnikov USA KR-9
Specifications
Caliber: 9mm
Capacity: 30+1
Minimum Length: 25.75 in.
Maximum Length: 35 in.
Weight Unloaded: 8 lbs, 3 oz.
Barrel Length: 16.26 in.
Featured Accessories
Optic: Pilad P1x30 red dot
Handguard: SLR Rifleworks AK Ion 14.7" Lite m-lok (lower)
Khyber Customs Swiss Cheese Grater (upper)
Parts & Accessories: SLR Rifleworks Synergy Linear Hybrid Comp 9mm 1/2×28, SLR Rifleworks m-lok Fingerstop, AK Trigger Enhanced with Lightning Bow (AKT-EL), Echo Nine Three V3/QD sling mount, ZenitCo RP-2 Vityaz charging handle, Custom Guns KR-9/KP-9 Magwell, Custom Guns KR-9/KP-9 Arhipov's Lever Skeleton Mag Release, 4Shooters.com AK Cheek Riser
About the Owner
Name: Will Stone
Occupation: Physical Therapist