With so many options available to get your AR-15 build started, where do you start? We looked around and found that many companies now offer AR build kits, which gather a pre-selected group of parts together in order to simplify the process of parts selection and ordering for the consumer.
Manufacturer-curated kits can also be beneficial because the manufacturers themselves will group parts that work well with one another. This can be a lot more convenient and less confusing compared to just a few years ago, when you would have needed to source your parts from an array of different brands and shops.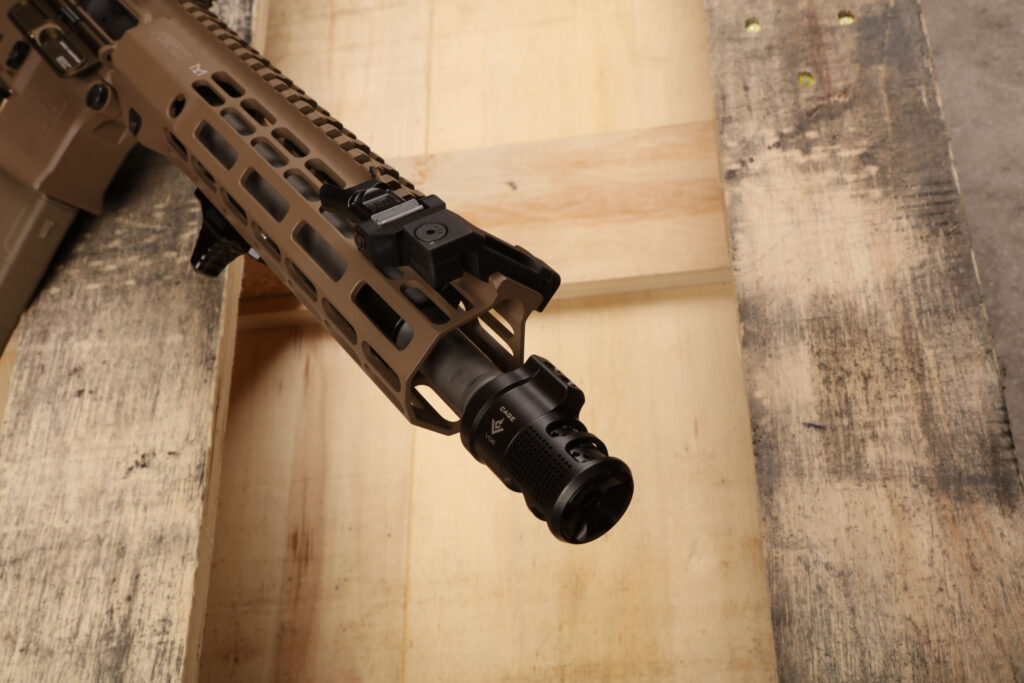 In this review, we take a look at Aero Precision's M4E1 Builder Set. The set includes Aero Precision's proven M4E1 Stripped Lower Receiver, their matching M4E1 Threaded Upper Receiver, and the builder's choice of the popular ATLAS series or Enhanced handguards. The handguard is chosen by the user in one of many available variations. ATLAS and Enhanced come in 7, 9, 12, and a 15-inch lengths with either M-Lok or KeyMod accessory attachment formats. All three pieces of the kit are finished in the builder's choice of Mil-Spec anodized black, Magpul FDE Cerakote, or other custom finishes. We chose FDE for our build.
Aero Precision's M4E1 Builder Set comes with the foundation for what every AR-15 and AR variant needs. The handsome lines of the M4E1 lower receiver may look like it's machined from billet steel, but looks can be deceiving. The lower is actually made of high-strength forged 7075-T6 aluminum, which means that it is a seriously robust lower that can undoubtedly take more than its share of abuse, all while looking every bit a part of a custom build. Its exterior is marked and milled for both short-throw and standard safety selectors on both sides.

With do-it-yourselfers in mind, Aero Precision has added several features to the lower receiver that AR builders, experienced or not, can truly appreciate. Thanks to the lower's thoughtful design, gone are the days of needing a third or even fourth hand to handle easily lost roll pins, springs, and detents.
The M4E1 lower's bolt catch roll pin ears are threaded for the included bolt catch roll pin. This brilliant "why didn't I think of it" provision allows the builder to install the bolt catch by easily screwing in a threaded pin instead of hammering a roll pin in while carefully aligning the bolt catch and roll pin punch. This screw-in method also helps eliminate the chance of damaging the lower's finish. We absolutely love this feature.
Another point of concern for many AR builders comes during the installation of the lower receiver's takedown pin. If not perfectly installed, the detent and spring can go flying across the workbench, or worse, into the abyss of the floor, never to be seen again. The engineers at Aero Precision know this pain all too well and took it out of the equation by threading the receiver's takedown pin detent recess. This means that builders can easily install the takedown pin detent and spring with the use of a 4-40 set screw. The screw holds the spring and detent in, so that even when you are servicing your firearm or changing out components such as an end plate, you need not worry about a flying spring and detent. This is a modification that we would apply ourselves to other lowers; we're glad that Aero Precision has saved us this step and included it direct from the factory.
The M4E1 lower also includes an upper tensioning screw that allows you to remove upper and lower receiver fitment slop. No matter which upper you attach to the lower, one made by Aero Precision or otherwise, this tensioning screw allows for a tight fitment between the two receivers. Tension adjustments are made by tightening or loosening a nylon-tipped tensioning set screw located at the bottom side of the lower receiver's grip tang.
It may not be a groundbreaking feature nowadays, but its still worthy to note that the lower is machined with an integrated trigger guard, which assists in eliminating the possibility of breaking or deforming the lower's trigger guard tabs if a guard had to be installed separately. Also nothing new, but still very much welcomed, is an enlarged magwell flare that helps with quicker, un-bobbled magazine changes.
The M4E1 lower is said to be compatible with all Mil-Spec AR-15 parts. We decided to fit a BCM PNT Trigger assembly and Law Tactical AR Folding Stock Adapter to it just to make sure. The BCM PNT Trigger assembly is essentially a highly refined version of the standard USGI-style trigger. PNT stands for polished, nickel, Teflon, which means that the assembly feels like an aftermarket performance trigger with the reliability of a combat-proven trigger.
Designed specifically for the low-profile transport of ARs, the adapter allows for the quick folding and unfolding of the AR's stock. Attached to the adapter is an entire SB Tactical pistol brace setup which includes the SBA3 brace as well as SB Tactical's buffer and spring kit. Piggybacked onto the brace is an SB-SAC, a soft pouch that's made in conjunction with Grey Ghost Gear out of Hypalon, an innovative, synthetic rubber that's also used to make Zodiac inflatable boats. The pouch is sized to accept a C-A-T tourniquet and other range essentials. We'll keep a Multitasker Twist tool and a bottle of Slip 2000 EWL lube in ours.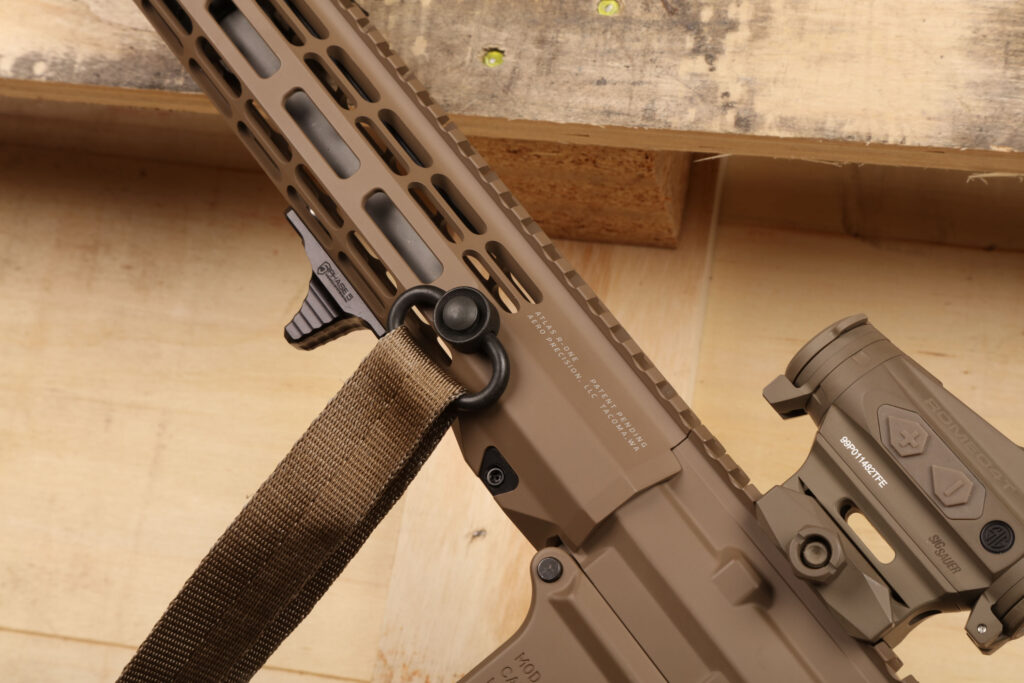 The upper receiver that comes with the kit is called the M4E1 Threaded Assembled Upper Receiver. As with the lower, the M4E1 Threaded Upper Receiver features special styling cues that allow it to visually stand out from the crowd. It comes with all the bells and whistles you'd expect from a quality upper, including M4 feed ramps and laser-engraved position marks on the Picatinny rail. Threaded to accept a standard AR-15 barrel nut, this upper receiver can accept any handguard that uses a standard nut. It is forged from 7075-T6 aluminum and includes the port door and a pre-installed forward assist.
The M4E1 upper's Picatinny profile was designed to blend in seamlessly with Aero's ATLAS handguards, one of which came with this kit. As mentioned, the handguard's length and attachment point style are user's choice. We chose a 9-inch ATLAS R-One handguard, which features uninterrupted Picatinny rail on its spine and M-Lok attachment points. The shorter length handguard complements a 10.5-inch Aero Precision .223 Wylde barrel that we installed into the upper.
At the tip of the barrel sits a VG6 Precision Gamma 556 muzzle brake encased in a VG6 CAGE Device. The VG6 CAGE Device is designed to quickly install on VG6's Gamma and Epsilon series muzzle devices to dampen concussion. It does this by disrupting muzzle blast toward the sides while maintaining the recoil and movement characteristics of the host muzzle device. We topped off our build with a SIG Sauer Romeo4T optic, with Midwest Industries Combat Rifle Offset Sights serving as backups.
As we expected, the handguard and upper receiver fit together perfectly and, aesthetically speaking, look made for one another—which in fact they are. Including the handguard, the set of three foundational pieces that compose the builder kit can make any AR build look and feel like a perfectly machined custom piece.
We found the Aero Precision M4E1 Builder Kit to be much more than just a grouping of three pieces to base your build on. It's the detail-oriented design and engineering of each of the individual pieces that make this kit a true standout. Add your choice of handguard style, length, and attachment type, as well as some really custom finish options, it's tempting to start any build with this kit. If you're looking to build your first or even fifteenth build, this is an option that's worth considering.
Text by John Scott and by Michael Grey
Aero Precision M4E1 Builder Kit
MSRP: $307-550