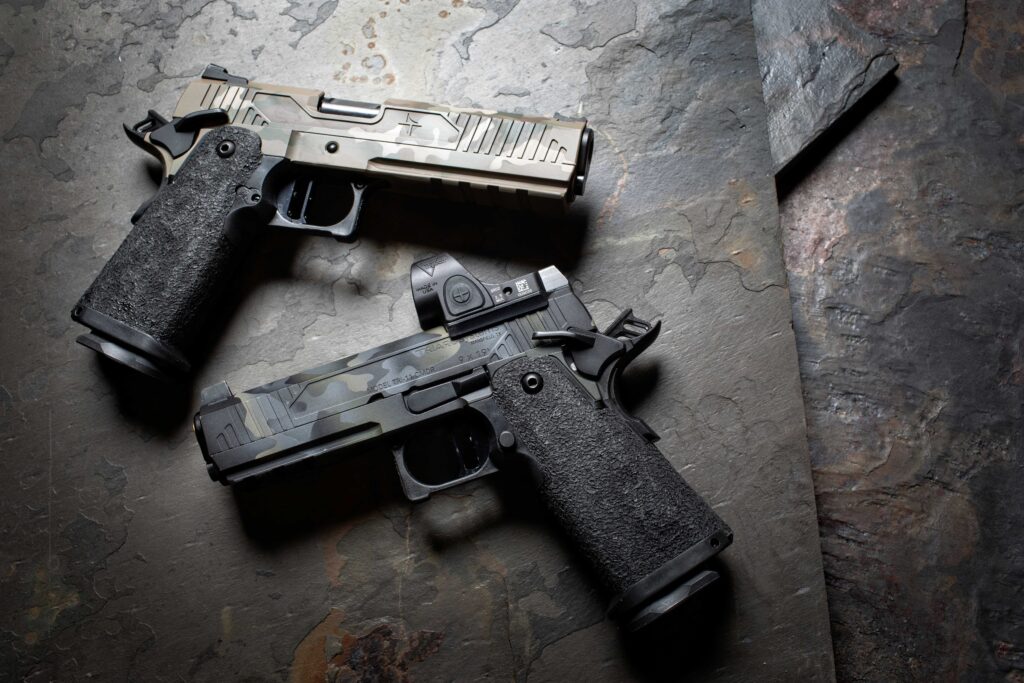 There's simply nothing like holding a highly refined world-class firearm. It's much like stepping into a quarter-million-dollar Italian sports car—not only does it look head-turningly gorgeous on the outside, but from the first moment you reach for the door handle and sit inside, it's clear everything is perfectly thought out. From the minuscule details like the placement and texture of each knob or handle to the click of the buttons, nothing feels cheap and no corners are cut. Even the texture of the seats, the glow of the lights, the glorious growl of the engine—you know it's not going to be just another drive, but an experience like no other.
That feeling doesn't come over me often in the firearms world, but it did when I received a package from Triarc Systems with not one but two TRI-11 2011s for review. I was astounded from the first glance and knew these were something special. Picking each up, inspecting the perfectly done Cerakote finish or the finely machined surfaces you'll find only on firearms of this caliber, to the stippling on the grip… it all comes together in the most comfortable and naturally pointing firearm I've ever held. Cycling the slide was smooth as butter with not a hair of sloppiness—it was perfectly mated to the frame. A quick dry fire revealed a crisp 3-pound break. Then, without releasing the trigger, I brought the slide back again and gently released the trigger's reset, the tactile feedback coinciding with the perfect pitch of the click as my finger rested on the break wall for another follow-up. This was indeed quite the gun, straight out of the box.
For those not familiar with the 2011 platform, it's based on the traditional 1911 but with a more modern take. The main difference is where normally the gun would have a grip holding a single-stack magazine with 8 rounds of .45 ACP, the 2011 has a wider grip that gives it the ability to accept a double-stack magazine with up to 17 rounds of 9mm or 13 rounds of .45 ACP.
Triarc Systems explains it best: "The TRI-11 offers the 1911 package with increased capacity. Each TRI-11 is hand-fitted for precise tolerances and tuned to provide a smooth and reliable action, with superior recoil management and increased longevity." These pistols are designed to be functional works of art that can be passed down through generations. Each Single Action Only is built from certified American steel using all-billet components. Each TRI-11's match grade barrel is hand-fitted and features patented TRACK rifling with a thick barrel bushing.

TRACK is a proprietary rifling known as Single Edge Polygonal (SEP) available from Triarc Systems. Its primary function is to provide improved rifling for the gun's barrel, which has a single edge area and a polygonal area separating the grooves. Essentially, it's a combination of standard and polygonal rifling, designed to reduce any substantial deformation of the bullet due to minimal engraving. It allows the bullet to move more symmetrically along the barrel, enabling a straighter line towards the target. And the tighter seal of the projectile reduces forward-escaping gases for a minimal loss of gas pressure.
Triarc armorers hand-fit each slide to its frame in order to achieve high tolerance standards for the smoothest-operating action possible. Every SAO pistol features polished feed ramps, lightweight hammer, ambidextrous safety, and a fiber-optic front sight with ledge rear sight. Billet steel components machined from either 4140 chrome-moly or 416 R stainless stock are used exclusively. Parts are sourced from respected vendors such as Dawson Precision, EGW, Ed Brown, 10-8, X-line, Tripp Research, Wolff Gunsprings, VZ Grips, and others. TRI-11 pistols are also compatible with many aftermarket components designed for use with STI 2011-style pistols such as magazines, mag catches, extended mag wells, mainspring housings, and triggers.
Each pistol is shipped with two magazines and a hard case. Trigger weights are set at 3 to 3.5 pounds, and 2011 pistols are available with either 5-inch Government or 4.3-inch Commander length barrels. Commander-size pistols are compatible with Colt Commander-style recoil system components for ease of maintenance and customization to specific loads.
Shooting the TRI-11 did not disappoint; it was hands-down the most accurate pistol I have had the pleasure of firing. Having such a perfectly light trigger, with its crisp break and reset, contributed to more accuracy than I knew I was capable of, with bullets going through the same holes and cloverleafs all day long. Shooting these pistols, simply put, blew my former definition of a "tack driver" out of the water and completely raised the bar.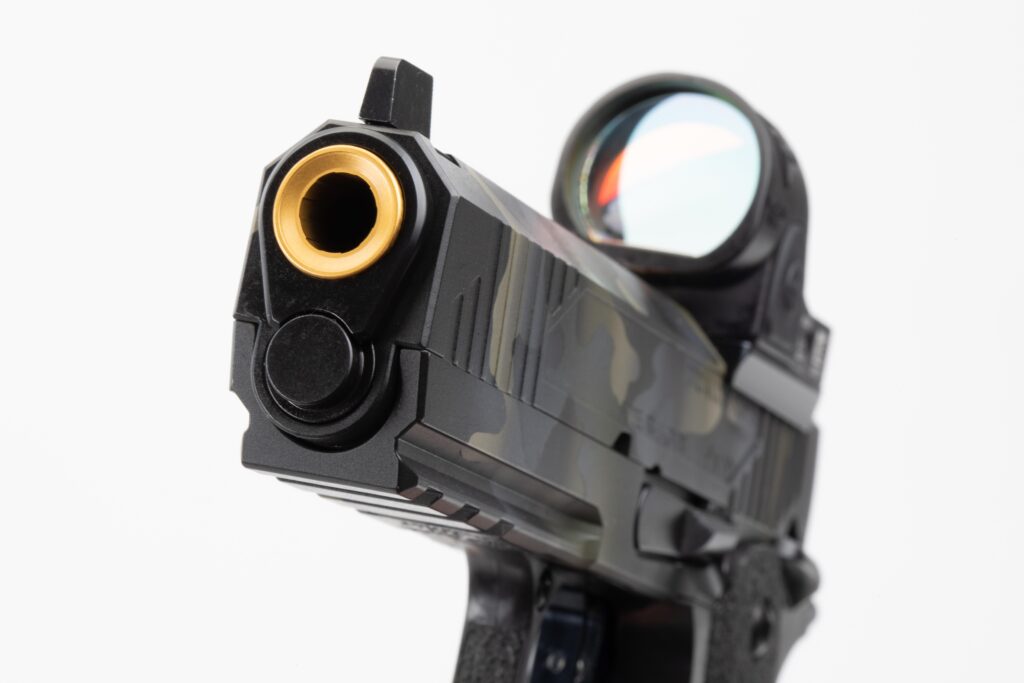 Not only was I impressed by the TRI-11's operation, but also the ease of obtaining one. From ordering a base gun to adding on customizations, the Triarc website's custom builder is just a few clicks away. Custom features may include a threaded barrel, optic cuts, slide/hammer/trigger finishes, as well as chambering for various loads. This custom ordering process is not limited to 1911/2011 guns, but Glock, SIG, and AR-10/15 platforms as well. On top of their great service and painless ordering process, Triarc Systems offers a transferable lifetime warranty on all custom guns.
Fervently interested in American war and weapons history, Chris Reeves founded Triarc in September of 2013. As a former paratrooper in the 82nd Airborne division, his 14-year military service included two one-year combat tours in Operation Iraqi Freedom. Reeves was specifically trained and developed a strong talent for problem solving and working with mission-specific equipment. He served as squad leader and platoon sergeant in the 4th Infantry Division. After receiving a Purple Heart, Reeves retired from the military and remained in Texas to work in the firearms industry, where his values converged on a specific task: fine tuning modern weapon systems.
Text by David Thorson and images by TracerX.
triarcsystems.com • Instagram: @triarcsystems
Triarc TRI-11 Government
Weight Unloaded:
2 lbs, 3.5 oz.
Length: 8 5/8 in.
Height: 5 3/8 in.
Slide Width: 1 in.
Grip Width: 1 ¼ in.
MSRP: From $2,990
Triarc TRI-11 Commander
Weight Unloaded:
2 lbs, 1.3 oz.
Length: 7 7/8 in.
Height: 5 3/8 in. (excl. sights/SRO)
Slide Width: 1 in.
Grip Width: 1 ¼ in.
MSRP: From $2,990