After a while, an AR is an AR is an AR. Or are they? I've had the fortunate opportunities to meet a few different rifle companies, and there is a veritable cornucopia of AR-patterned rifles out on the market today. Some stand out, others are run-of-the-mill, and every once in a while, an AR model will come out that definitely turns heads.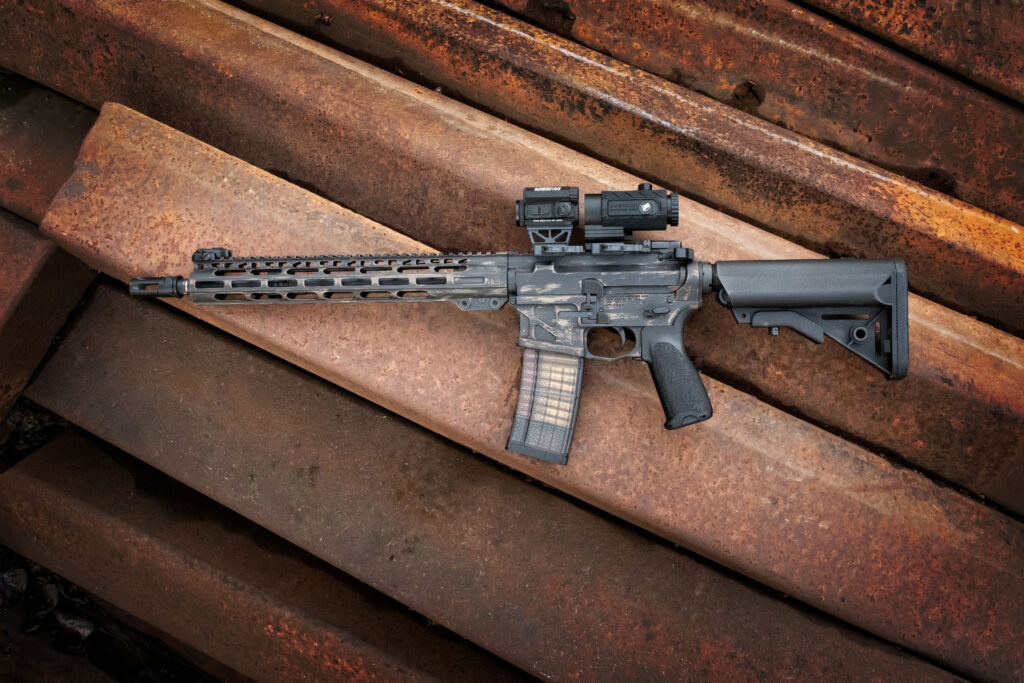 The same can be said about optic mounts. There are many different platforms to mount an optic, and most companies do an adequate job of providing a way to bolt one's optic onto their weapon platform of choice. The big names are usually big names for a reason; their gear works, works as advertised, and savvy consumers know that "buy once, cry once" should be the name of the game when it comes to choosing a mount that will assist deliver the most accuracy possible from a rifle.
I was pleased to recently learn that American Defense Manufacturing (ADM) does both.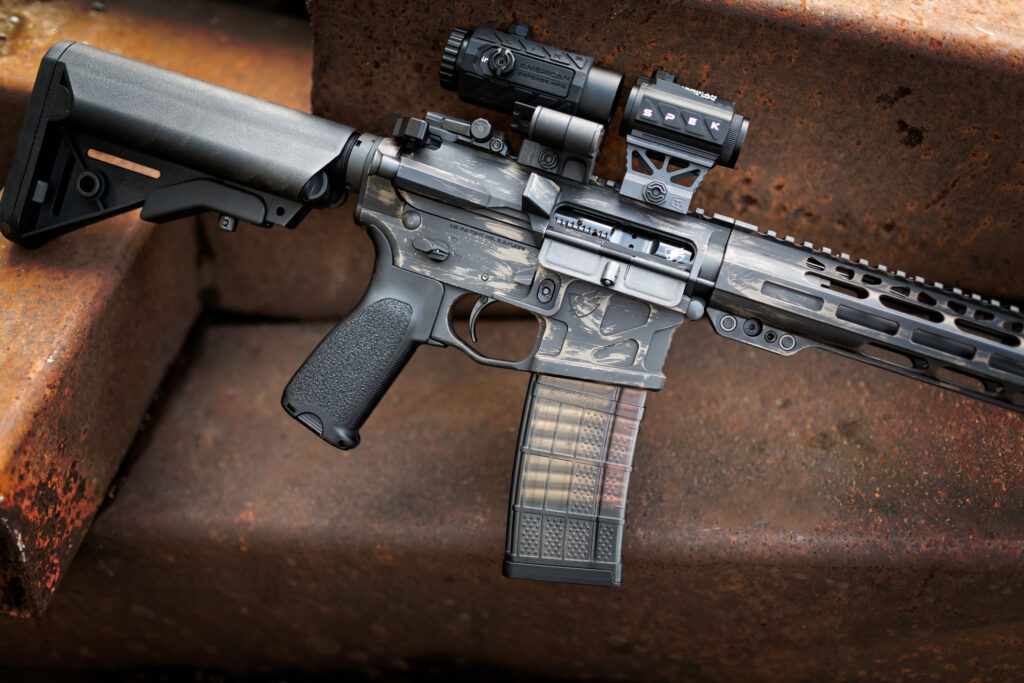 Admittedly, I was unaware that ADM had their own line of rifles. The one we looked at is dubbed the Universal Improved Carbine (UIC) MOD2. The UIC that was sent to us was sent with a gorgeous custom anodizing job from Outlaw Ano out of Houston, TX. Looks, however, don't typically sway me, it is what is under the hood that impresses.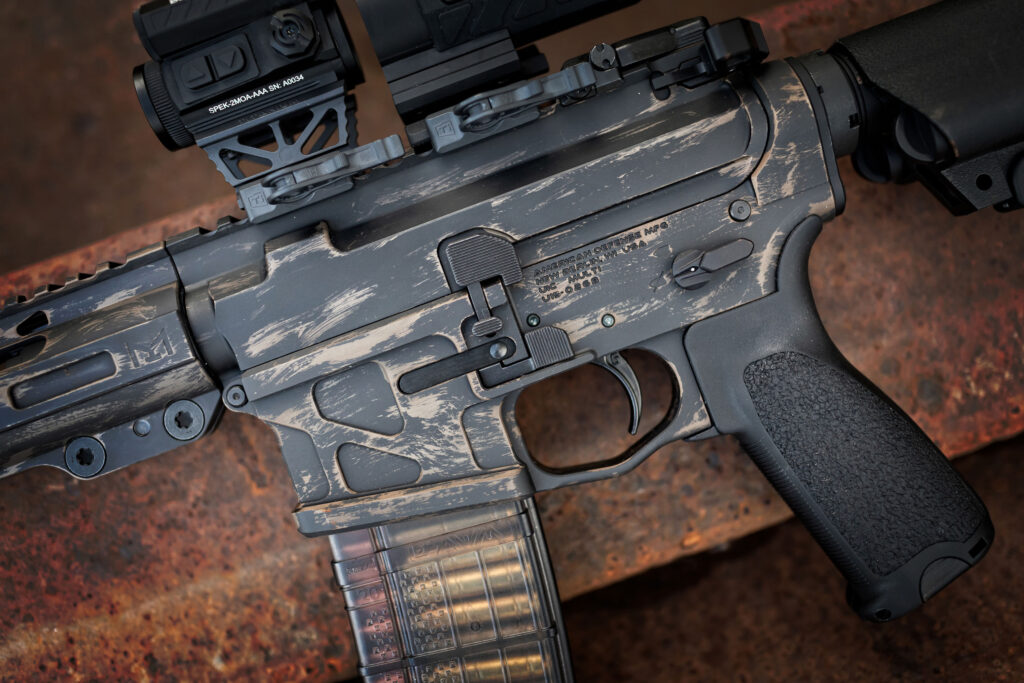 Weighing in at a nimble 6.2lbs unloaded, with a midlength gas system, and a 16" 1:8 twist Criterion barrel chambered in .223 Wylde, the UIC MOD2 is manufactured from billet 7075 aluminum, and comes standard with components that are pretty much perfect right out of the box. No need to swap out hardware: Radian Weapons RAPTOR charging handle and ambidextrous safety selectors, a Geissele 2-stage match trigger, 13.5" MLOK handguard, and Magpul Pro BUIS set leave little to be desired. To further tighten tolerances, the UIC MOD2 also comes standard with an internal upper/lower tensioning screw to minimize play between the upper and lower. Adding integral value to the lower, the magwell boasts a 20-degree flare, an enlarged trigger guard, and even a QD endplate.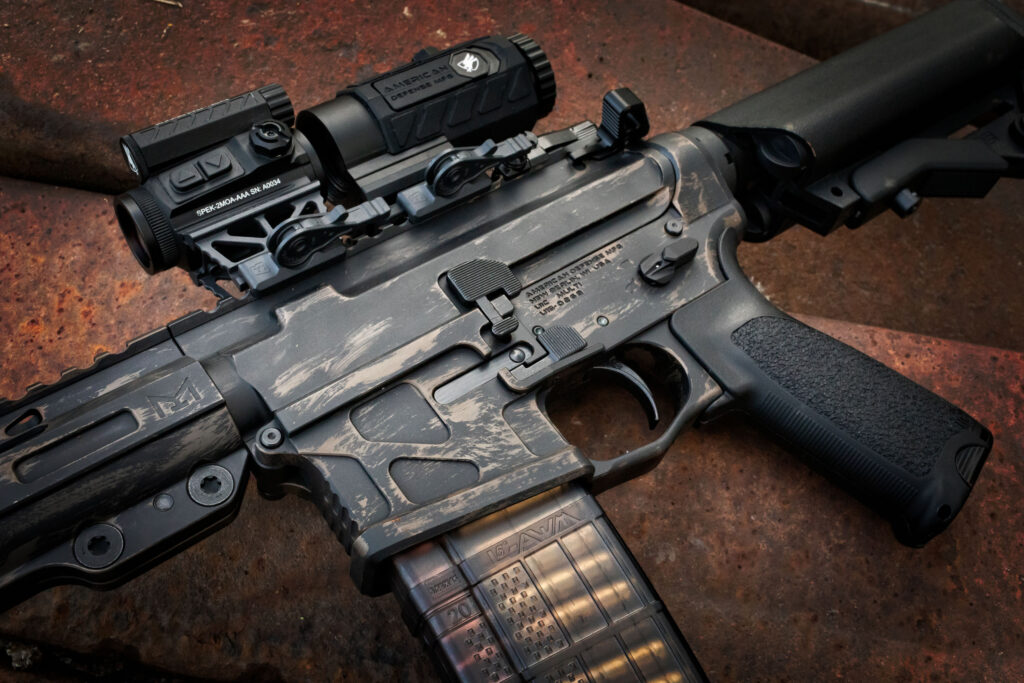 What else could you want as an out-of-the-box solution? How about 100% ambidextrous controls? Yeah, they've got that too. This is one of the excellent features that put ADM head and shoulders above the rest of the competition out there.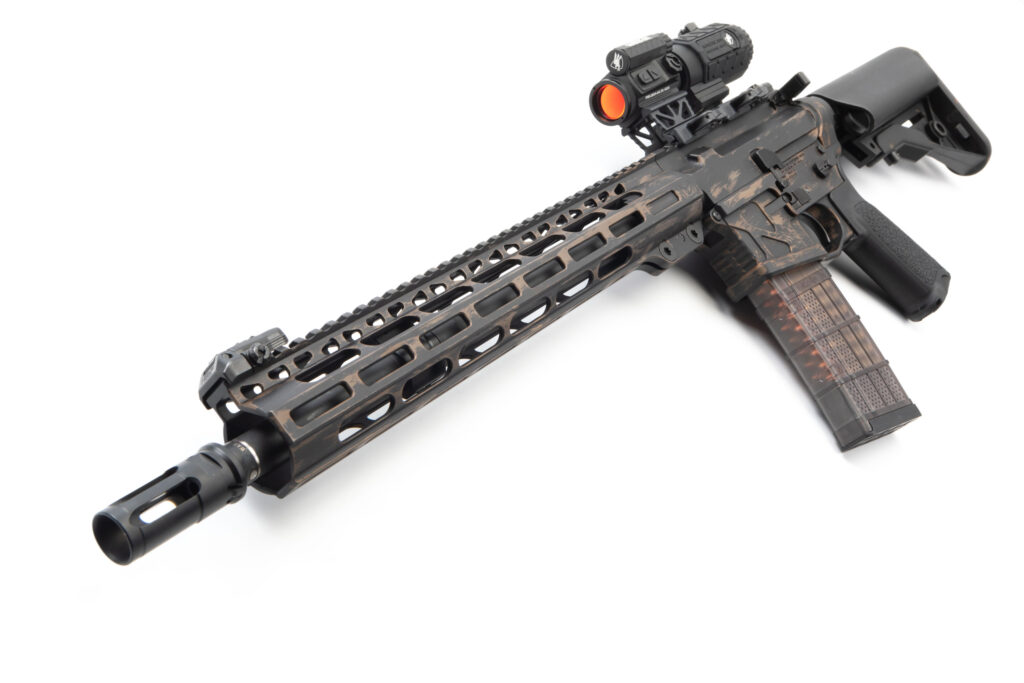 As a left-handed shooter, I typically purchase an ambidextrous mag release and enhanced bolt catch/release immediately for any build that I put together. Not necessary with the UIC MOD2. The integral ambidextrous mag release is well-placed for my medium-sized hands, and the oversized bolt catch/release on the left side is difficult to miss.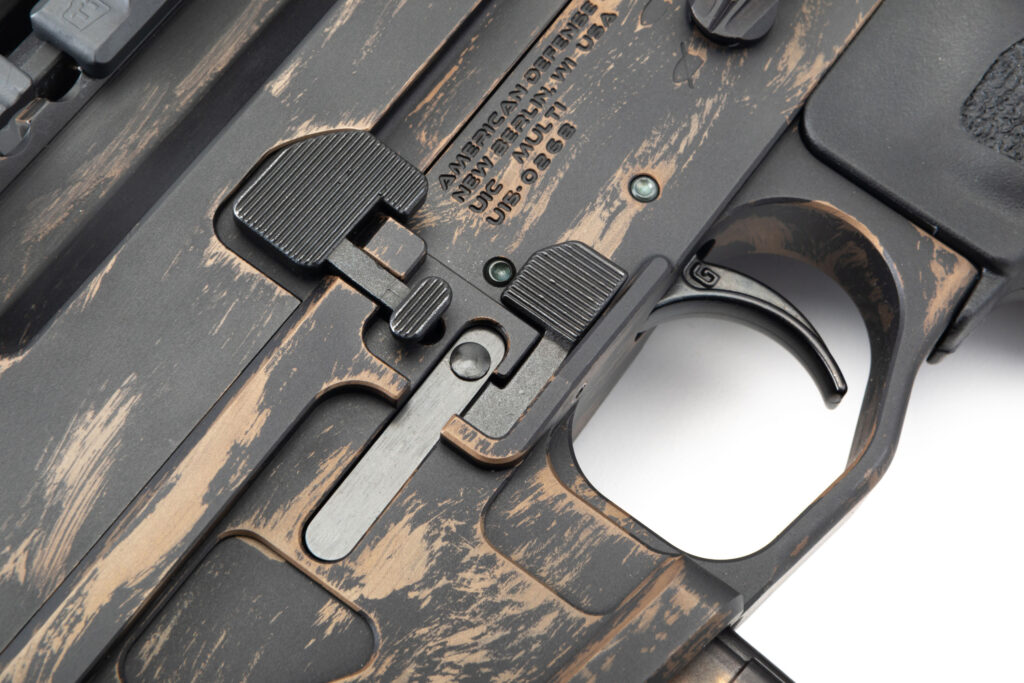 Additionally, the right side of the receiver boasts an integral bolt catch/release, making the UIC MOD2 a truly 100% ambidextrous rifle. Many excellent companies feature a right-side bolt release, which is very handy for left-handed shooters, however the ability to have a bolt catch/release on the right side gives right-handed shooters a distinct leg-up when it comes to weapon manipulation without sacrificing a master grip on the rifle.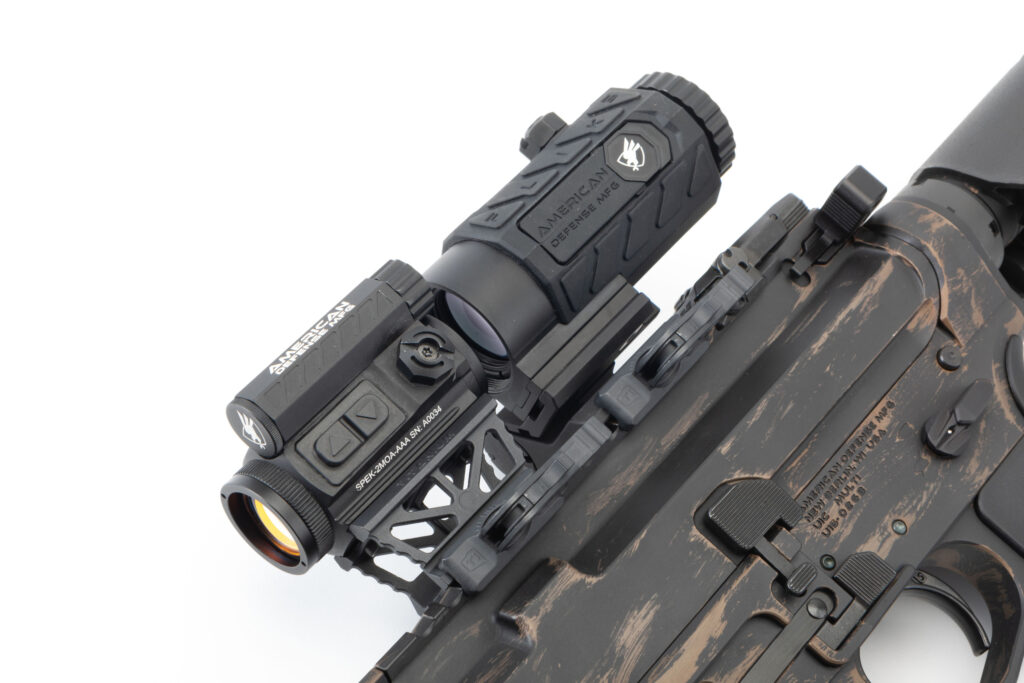 Unlike the other relatively few 100% ambidextrous rifles out there, the right-side bolt catch/release is a lever, not a button. The shooter utilizes their right trigger finger to sweep the lever up to lock the bolt back, and depress the lever downward (not inward) to release the bolt forward. Typically for me as a left-handed shooter with a right-side bolt release, when I conduct a speed reload, I index my right-hand thumb, insert the mag, and simply press the bolt release with my right thumb. With the UIC MOD2, I must sweep the lever downward instead. Not a dealbreaker by any means, but a different movement that will require extra repetitions to myelinate properly.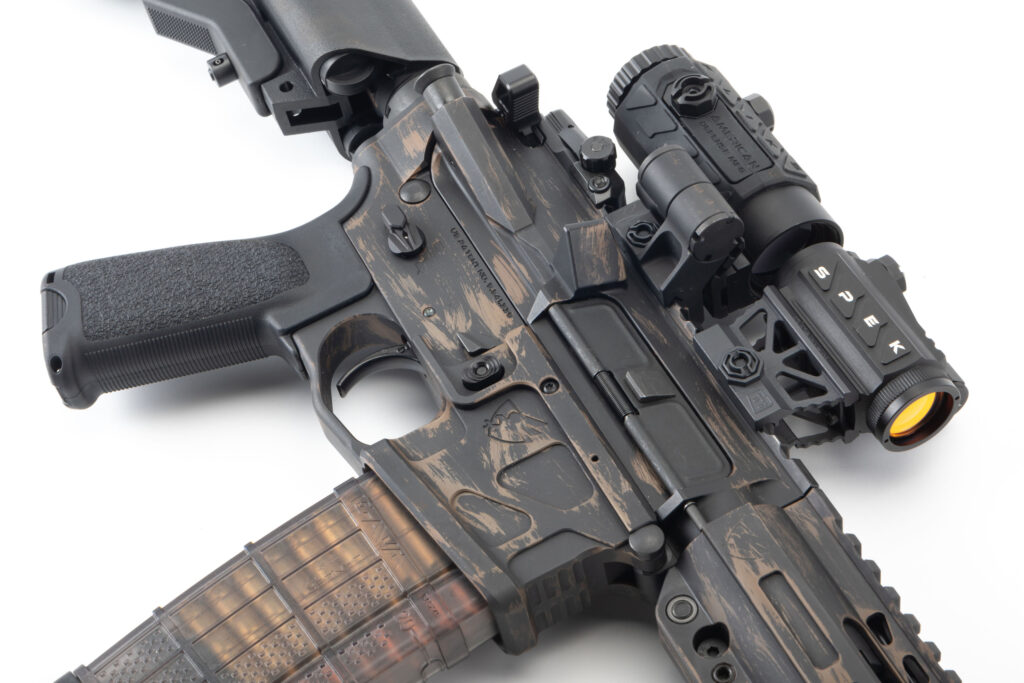 The MOD2 was already highly functional out of the box, however my evaluation rifle came with a few more accessories that are worth a look. ADM released its own micro red dot, dubbed the SPEK in May of 2019. The SPEK is of standard budget fare; weighing in at a respectable 3.9 ounces with a 20mm objective lens, 2 MOA dot, 2 night vision settings and 10 illumination settings all powered by an easy-to-find AAA battery. ADM specs battery life at 5 years if left on illumination level 5. The unit also features a 16-hour shut-off feature, maintaining juice for when it's needed.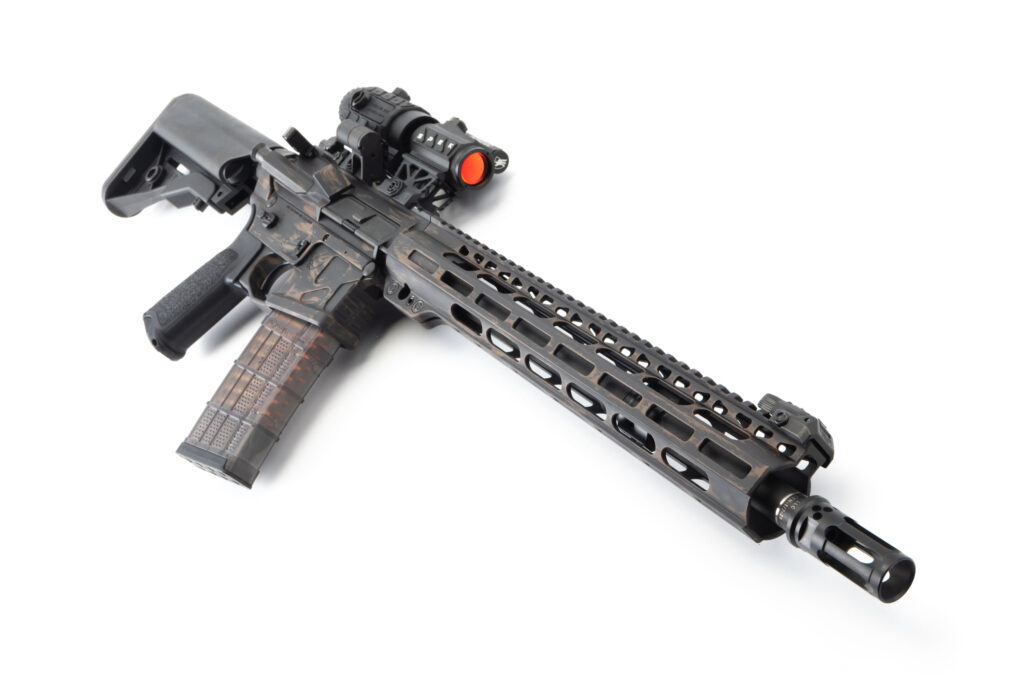 I found the tool-less windage and elevation controls a little mushy, and for hard-use optics I prefer my adjustment knobs to be capped, which the SPEK's are not. 1 MOA groups are easily achievable at 50 yards unmagnified with this optic, so it's no surprise that the UIC is a shooter.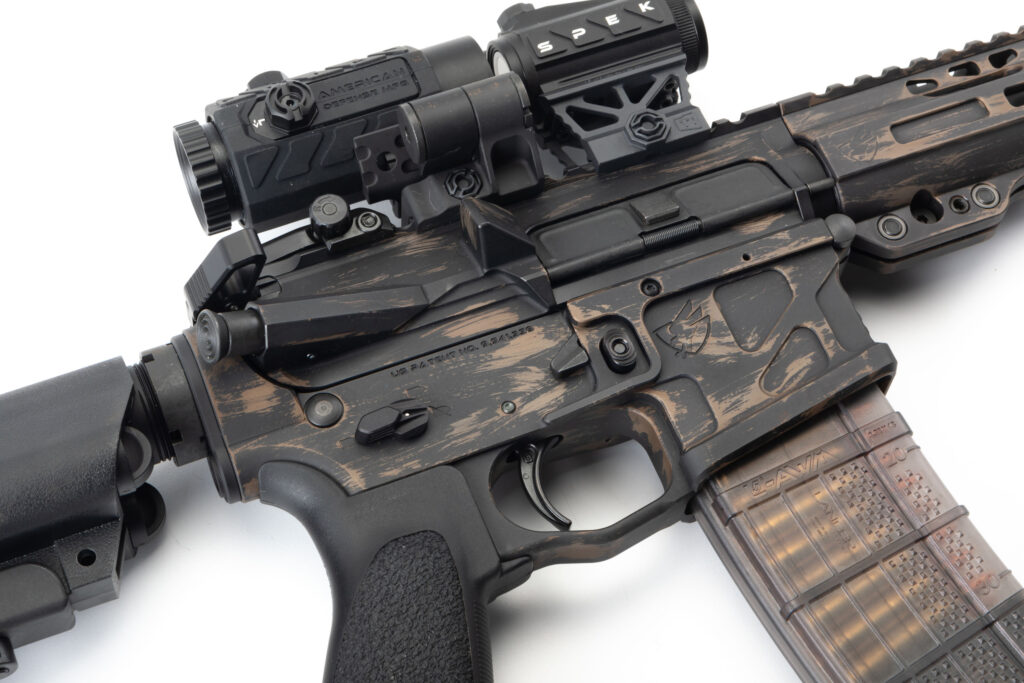 Mounted behind the SPEK was a fixed 5x magnifier called the FLIK. The FLIK is a simple, no-nonsense 5x magnifier with a rubberized body for easy manipulation. In keeping with the UIC, the FLIK mount can be reversed, allowing the magnifier to be flipped to the left or the right, to the end-user's preference. The 5x FLIK is compact. Even though it's a 5x magnifier, it comes in shorter than EOTech's G33 3x (3.75" vs. 3.9"), and starts at $475 vs. the EOTech's price of $609.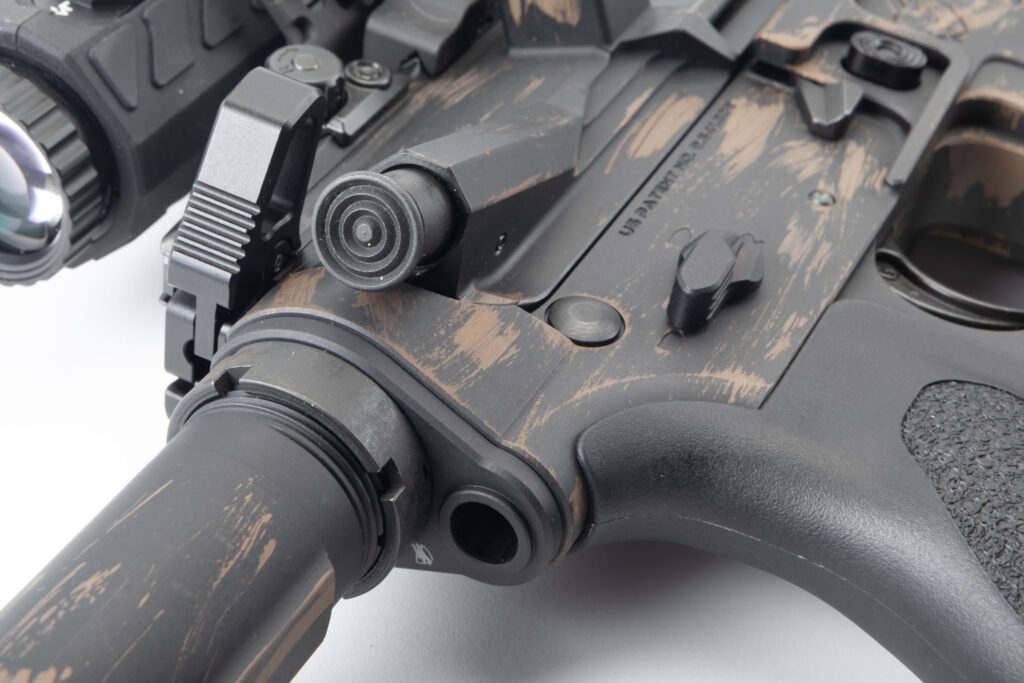 Adjustment knobs are identical to the SPEK's, and clearly marked to make centering the SPEK's 2 MOA dot a breeze. Coming in with a fixed 3x and 5x magnification option is a great touch, and the system comes with a 4mm and 8mm spacer allowing customizable co-witnessing with the optic.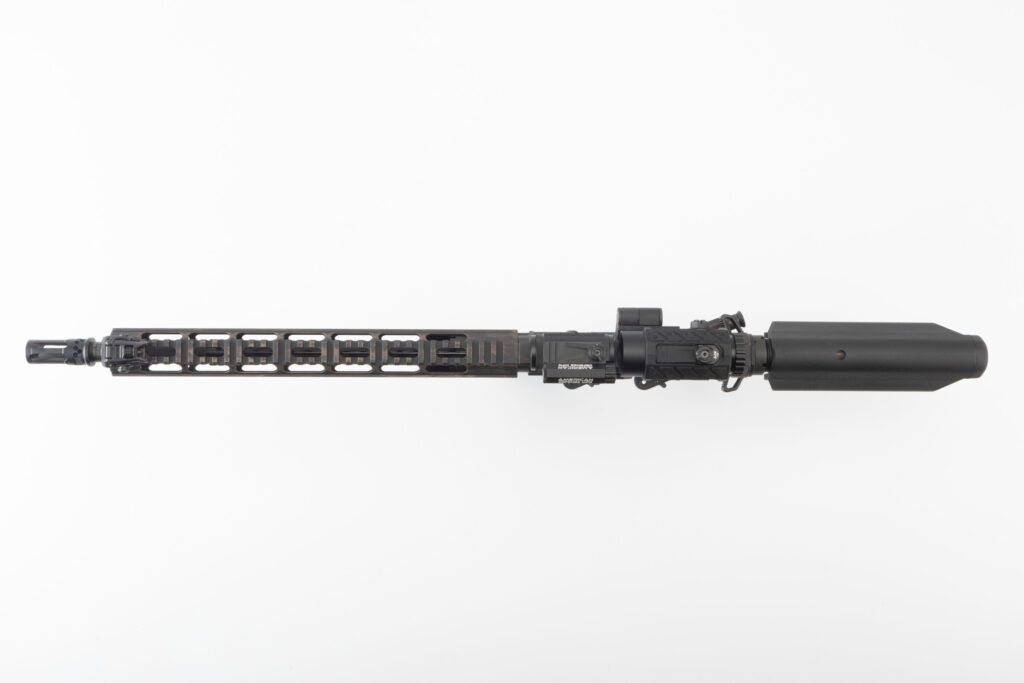 The belle of the ball with this optic system however, are the mounts. While the flip magnifier body on the FLIK is made of aluminum, the latching mechanism itself is titanium, which reduces weight and enhances strength.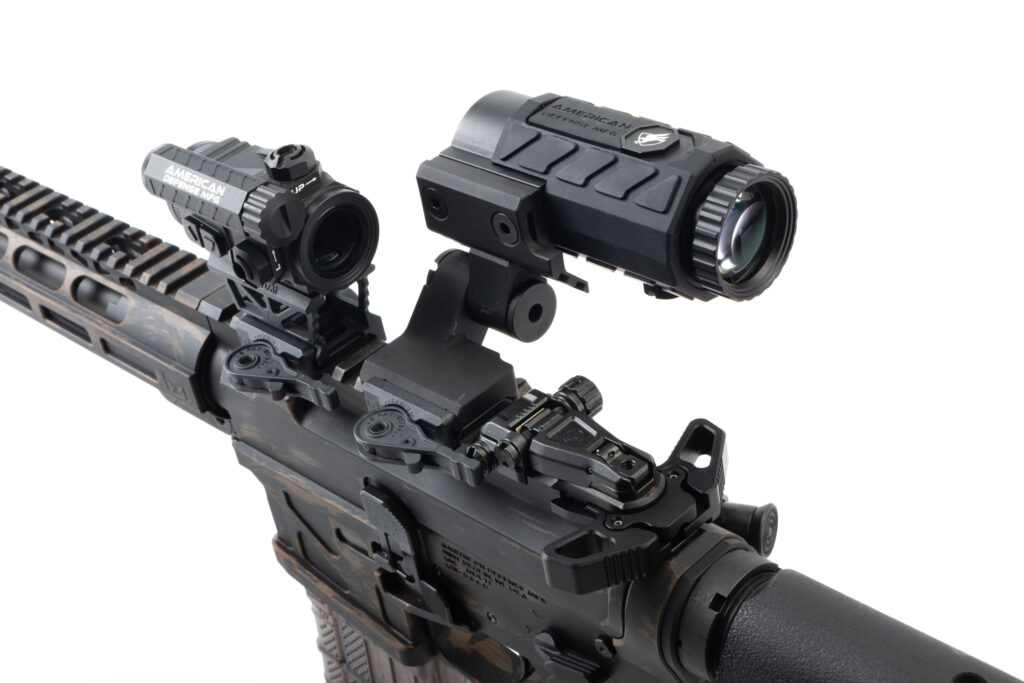 On the SPEK, the SPEK mount is completely made from titanium and is compatible with any optic with a T1 footprint. Due to its titanium construction, the mount boasts a 44% weight savings compared to ADM's aluminum/steel T1 mount.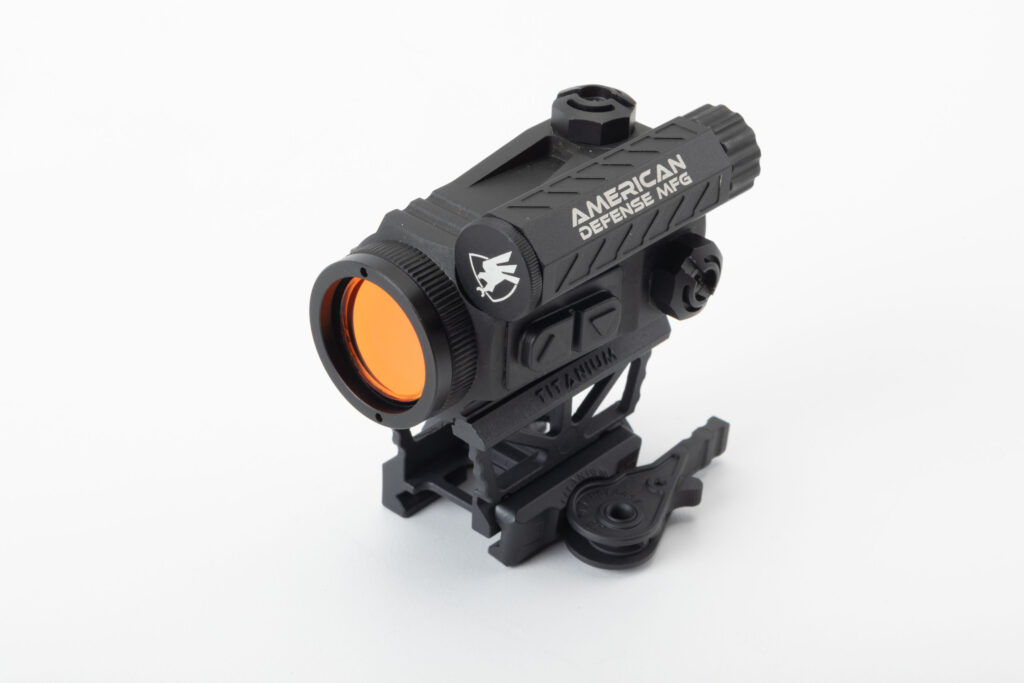 Now, if you're like me, you probably already have an ADM mount in your rotation. Despite ADM's titanium improvements, current ADM mount owners are not left out in the cold. I was surprised to learn that the titanium latch system is backwards compatible with existing ADM mounts, which means that retrofitting a pre-existing mount is possible to enhance weight-savings, strength, and heat dissipation/shift – titanium, according to ADM specs, has a 63% lower thermal/expansion rate than aluminum.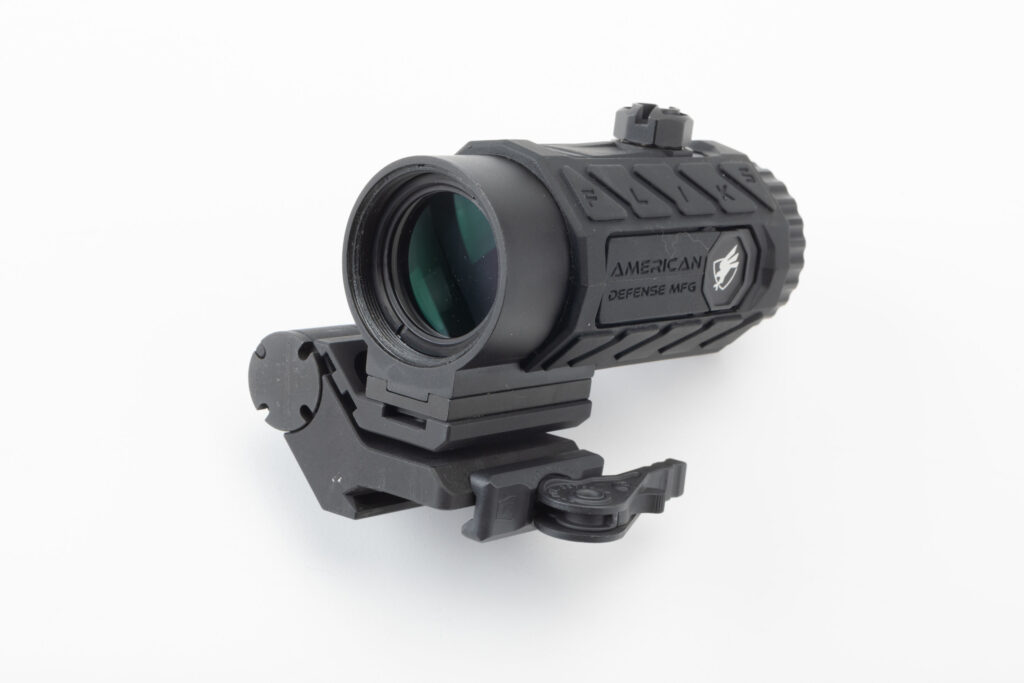 All in all, the mounts, as always, are winners. ADM has always been at the forefront for mounting solutions, and they continue their upward trend.
So the real question in all of this, is how does the ADM UIC Mod2 shoot?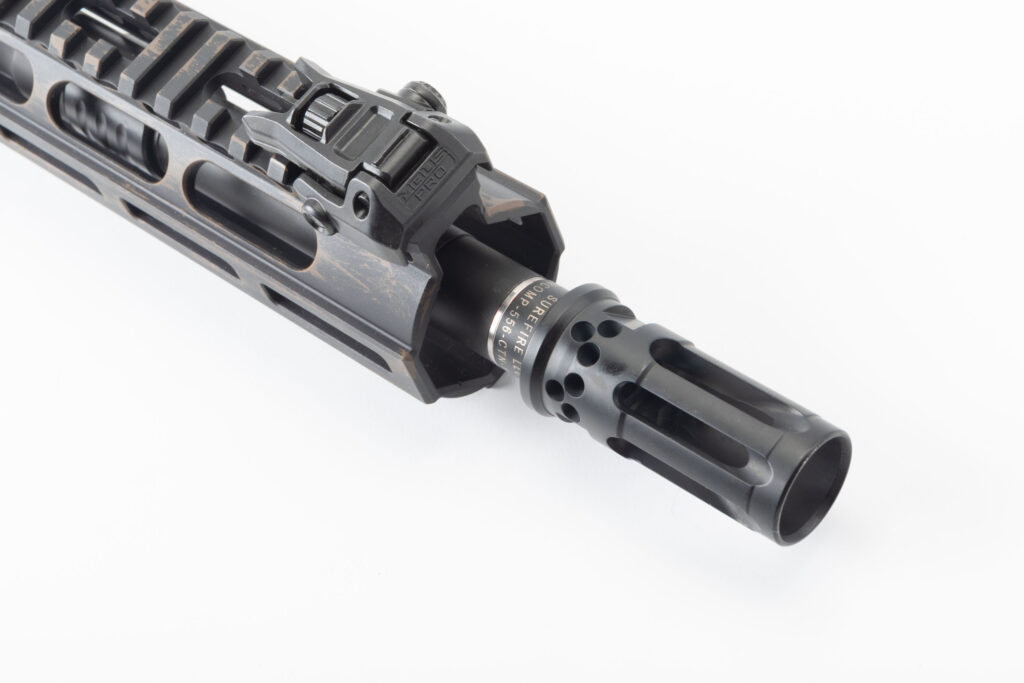 Performance is what you would expect from a solidly-built rifle. Once out on the square range and zeroed in, MOA groups as advertised could be achieved. I initially zeroed the rifle with off-the-shelf .223 American Eagle 55gr. I then shot several groups using different brands and weights: .223 American Eagle 55gr, .223 Federal Premium 55gr BTHP Sierra Match King, .223 Hornady Steel Match 55gr HP, 5.56 NATO M855, .223 Black Hills 68gr Heavy Match HP, 5.56 77gr OTM, and .223 Sig Sauer 77gr Match Grade.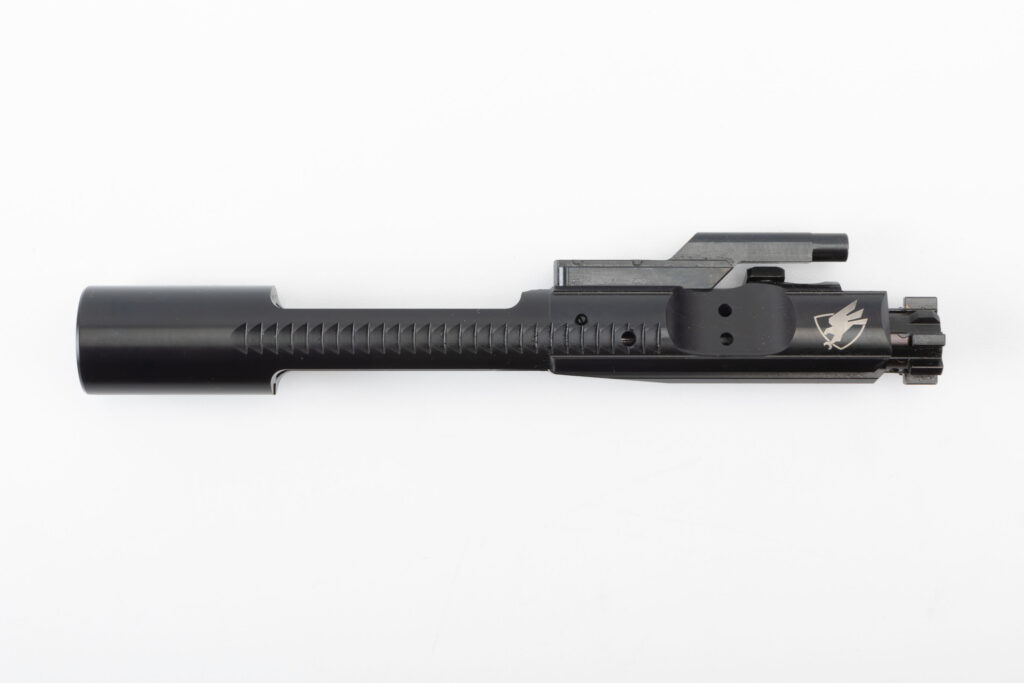 At 100 yards, using a Steiner Optics T5Xi 1-5×24 SFP, the Sig Sauer 77gr Match Grade gave me the tightest grouping and closest group to POA/POI as initially zeroed with the .223 AE 55gr.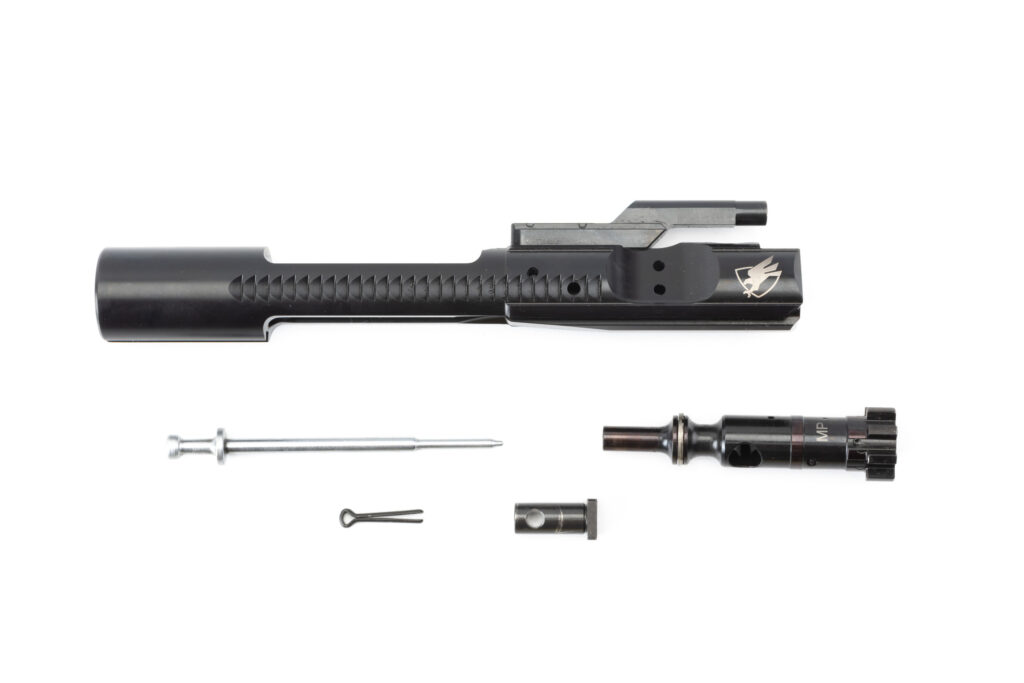 Shooting impressions are positive overall. I didn't have a chance to run the UIC Mod2 terribly hard or through a rougher course of fire during our evaluation time, but my initial impressions are that it's a solid performer, and frankly, is something I would consider as an off-the-shelf purchase as its component selection is top tier right out of the box. The 100% ambidextrous controls are an outstanding feature, and the only additions/modifications I would consider would be perhaps a JP Enterprises silent-captured spring assembly.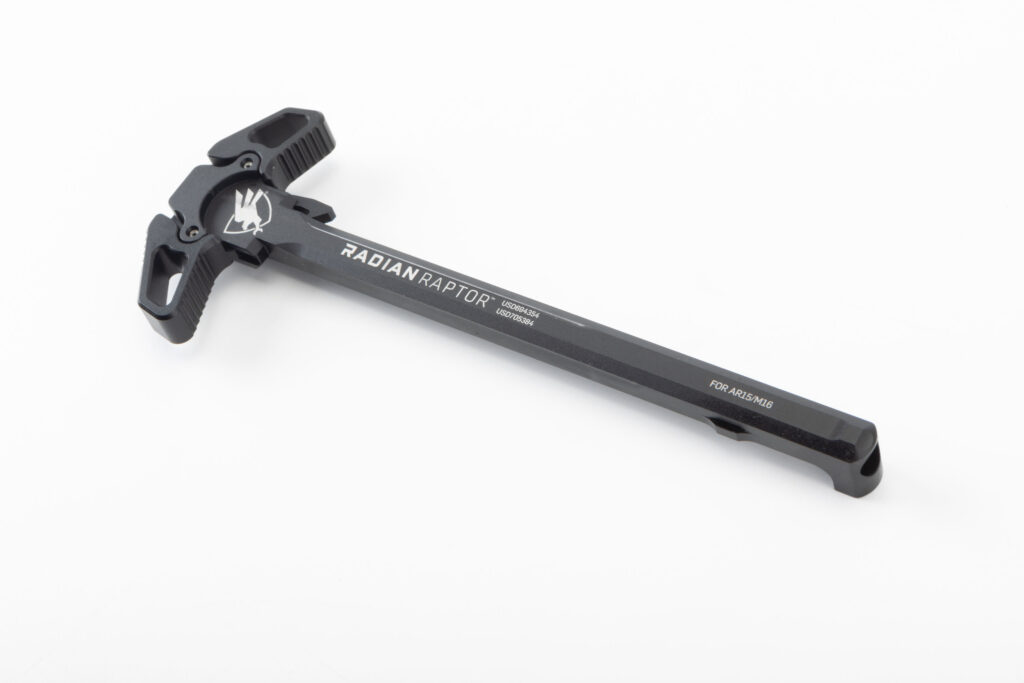 With a MSRP of $1,850, the ADM UIC Mod2 is not a budget build or inexpensive by any stretch. That being said, it's competitively priced for a higher-end rifle with select components and solid performance and well worth consideration, especially for shooters that demand high quality, function, and 100% versatility.
Text by Chris Tran and images by TracerX