ARCA Profile Handguard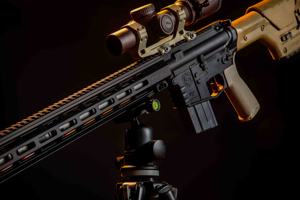 Cross Machine Tool (CMT) has released a new handguard, something that stands out in the sea of rails already on the market. The top rail is Picatinny/1913, with m-lok on the other three sides. The twist is that the rail's bottom is ARCA-compatible, meaning your rail directly and securely attaches to your tripod. Obviously you need to make sure you have an ARCO head on your tripod, but it's an inexpensive conversion if you have to change it over. In our case, a quick search on Amazon got us the piece for under $30. A quick trip to your local camera store would probably yield the same thing.
If you aren't a tripod shooter, you might find the wide bottom sits nicely on your pack. Another nice feature is that the new ARCA-profile CMT rail uses the same barrel nut as CMT's other rails. We swapped out our standard CMT rails and upgraded to the ARCA in just a few minutes.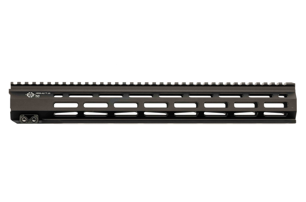 Available in 11.5, 13, 15, and 17-inch formats. Details include:

6000 series extruded aluminum, Mil-Spec Type 3 Class 2 hard anodized
7075 aluminum barrel nut, Type 3 Class 2 hard anodized
Patented 17-4PH cored stainless steel rail mounting attachment
Anti-rotate tabs to time rail to upper receiver
ARCA Swiss profile rail integrated at 6 o'clock
No barrel nut shims required for installation
1.315" inner diameter, 1.378" barrel nut diameter
m-lok slots at 1, 3, 6, 9, 11 o'clock positions
Included barrel nut wrench
Compatible with most known low-profile gas blocks; does not contact or apply side loads to gas tube
15.8-ounce total weight including mounting hardware and barrel nut
Made & assembled in USA
MSRP: From $199