With so many cool everyday carry items available on the market, how do you choose what to carry? For some the choice is dependent upon available carry space and for others it's all about need. We agree that function is probably the most important factor when selecting what to carry, but we do insist that fun and style be factored into the equation as well. After all, what's the fun of carrying an EDC set up if you don't include a few items that you enjoy looking at or playing with?
In this edition of Every Day Carry, we look at two set ups that include important tools that also inject a bit of fun as well. We also examine a variety of different items that can be used for daily as well as emergency uses.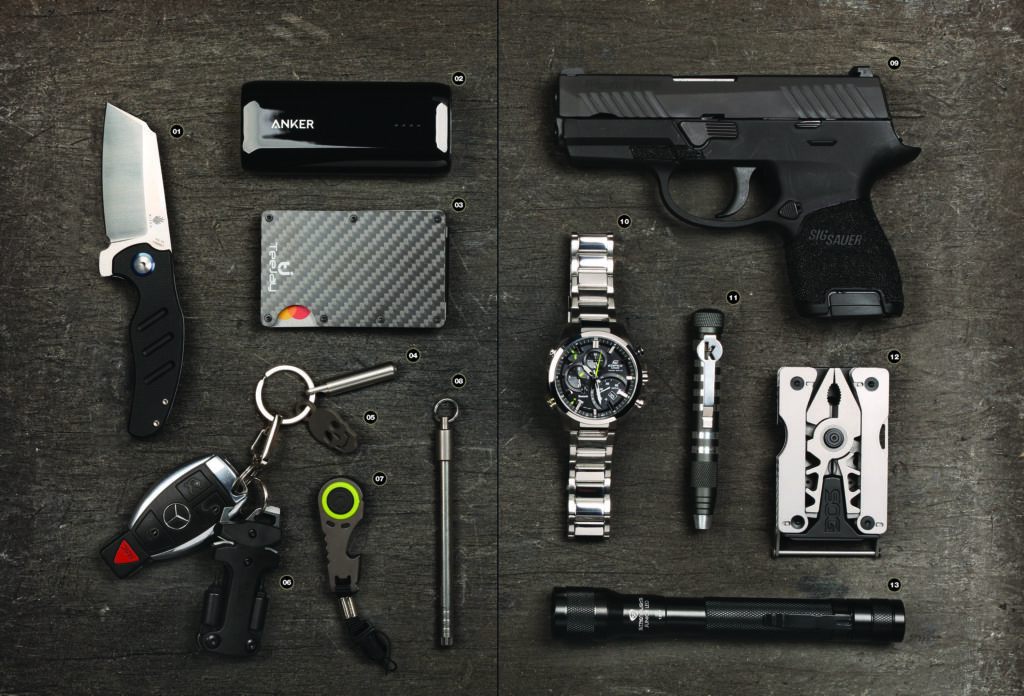 [KNIFE]
01
Kizer Knives
V3488A1 Vanguard Mini Sheepdog
MSRP: $99
knifejoy.com
[BLACK BOX]
02
Anker Astro E1
MSRP: $20
anker.com

Our 2¢: With 10 million loyal users and counting, Anker has a track record for producing reliable USB chargers, including the Astro E1. This compact charger can top off the power level on devices such as your Apple or Android smartphone twice and even a Nintendo Switch once. This is a great option for on the go daily power.
[CARBON FIBER WALLET]
03
TeeJay
Carbon Fiber Minimalist Wallet & Key Organizer Set
MSRP: $25
http://teejayonline.com
[SILVER CYLINDRICAL KEYCHAIN ATTACHMENT]
04
Key Smart
Nano Torch
MSRP: $20
getkeysmart.com
[SKULL ON KEYCHAIN]
05
Metal Comb Works
Titanium Skulls
MSRP: $20 (3 pack)
metalcombworks.com
[BLACK TOOL ON KEYCHAIN]
06
CRKT Knife Maintenance Tool
MSRP: $30
crkt.com
Our 2¢: Designed by Tom Stokes in Williamsburg, Virginia, the CRKT Knife Maintenance Tool is a compact and lightweight tool that keeps what might be your most useful tool in your EDC carry up and running. It's equipped with T6 and T8 Torx bits, tungsten carbide field sharpener, and a ceramic honing edge.
[GREY thing with the GREEN CIRCLE]
07
Guidesman
Z-Tools Zipper Pulls
MSRP: $40 (4 pack, assorted tools)
amazon.com
[SILVER PEN]
08
TEC Accessories PicoPen Ti
MSRP: $43
tecaccessories.com
Our 2¢: The PicoPen Ti features titanium construction and a unique rare-Earth magnetic cap closure for one-handed operation. Its low profile shape is perfect for keychain or pocket duty, yet its increased body diameter and length are great for comfortable extended writing sessions. The pen uses standard Zebra F-refills for super smooth writing.
[GUN]
09
SIG Sauer
P320 Nitron Subcompact
MSRP: $679
sigsauer.com
(Step by step custom stippling is shown in DIY.)
[WATCH]
10
Casio Edifice EQB-501D-1ACF
MSRP: $298
edifice-watches.com
Our 2¢: With Casio's renown DNA for reliable and tough watches built into it, the Edifice is a dressier and technology packed option to their popular G Shock line of wristwatches. The EQB-501 is part of the Edifice Smartphone Link Series that connects to a smartphone app by Bluetooth to keep time settings accurate as well as access to other features.
[PEN SHAPED TOOL WITH THE K ON IT.]
11
Kershaw
TX-Tool
MSRP: $12
kershaw.kaiusaltd.com
[SILVER SQUARE SHAPED TOOL]
12
SOG Sync II
MSRP: $60
sogknives.com
Our 2¢: One way to never be without your multi-tool is to always have it on yourself. There are times when having a metal brick in your pocket just isn't feasible. For those times, the SOG Sync II is the perfect companion. This multi-tool is designed to be worn as a belt buckle or clipped on a pack strap or boot. That way your multi-tool is with you anywhere you go.
[FLASHLIGHT]
13
Streamlight
JR LED
MSRP: $54
streamlight.com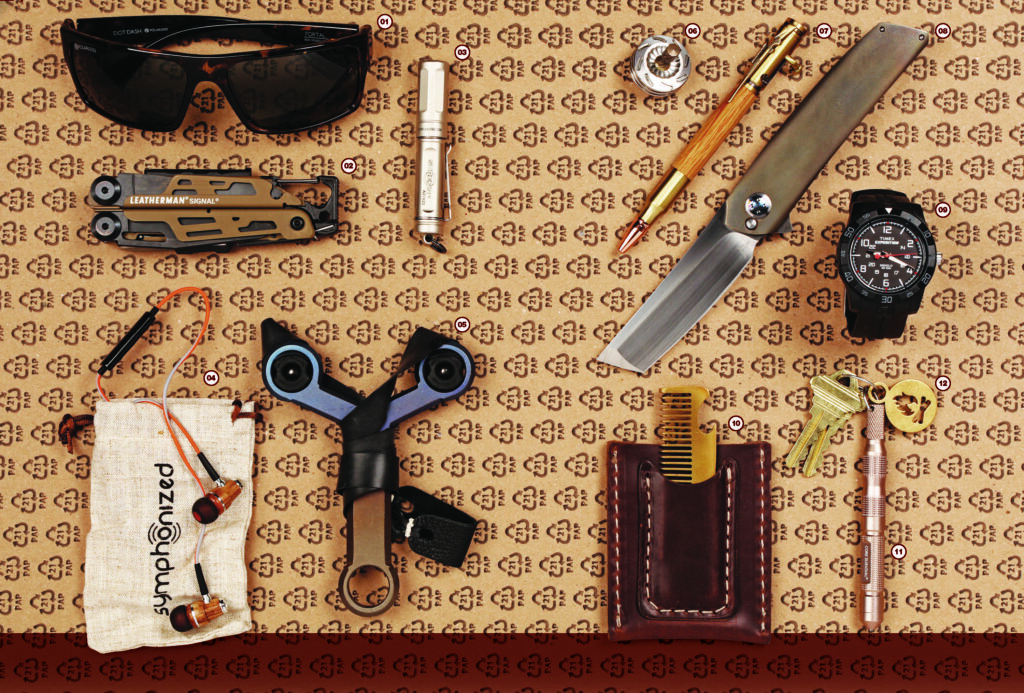 [SUNGLASSES]
01
Dot Dash
Portal Polarized
MSRP: $40
dot-shades.com
[MULTI-TOOL]
02
Leatherman
Signal
MSRP: $110
leatherman.com
[FLASHLIGHT]
03
SureFire
Titan Plus
MSRP: $100
surefire.com
[EARBUDS]
04
Symphonized
NRG 3.0 In-Ear Wood Headphones
MSRP: $26
symphonized.com
[SLINGSHOT]
05
OOAK Forge
Aluminum Straight Shooter Slingshot
MSRP: $70
ooakforge.com
Our 2¢: This One Of A Kind Aluminum slingshot, is designed and handmade in Portland, Oregon with the intention of it lasting generations. The slingshot easily fits into the palm of your hand or back pocket and tucks into MOLLE webbing nicely. Even though the slingshot is compact, it is completely functional and fun to use.
[TOP, DISC ROTOR LOOKING THING]
06
BilletSpin
The Rotor
MSRP: $125 (out of production)
billetspin.com
Our 2¢: If you thought tops were just for kids and Leo in Inception, you're wrong. BilletSpin makes high quality, collectible tops that are fine pieces of machined art. The Rotor shown here spins on a ceramic bearing and weighs roughly 48 grams. Each top can be ordered in a combination of metals, even in Damascus. The Rotor is out of production, but many more limited edition designs are available.
[PEN]
07
Holtz Leather Company
Tennessee Whiskey Barrel .30 Caliber Bolt Action Pen
MSRP: $59
holtzleather.com
Our 2¢: We shouldn't have to explain why this pen is so badass, just look at it! It features a bolt action to deploy the pen's .30 caliber tip and the barrel of the pen is made of wood from an authentic Jack Daniel's Whiskey barrel. It comes with a leather pen sleeve that can be personalized with your initials. Handmade in Huntsville, Alabama.
[KNIFE]
08
Sharknivco Co. Ryu Japanese
Price Paid: $1,050
instagram.com/sharknivco
Our 2¢: Knife: To say that Edison Barajas's Sharknivco knives are highly sought after in the knife collector's world is a big time understatement. His unique creations are hand made out of top quality materials and crafted with upmost focus on the details. To be able to buy one, one must be placed on a waiting list. This Ryu Japanese features darkened orange peel scales, Bohler Elmax blade steel and a Timascus pocket clip and pivot.
[WATCH]
09
Timex
Expedition Rugged Core Analog 43mm
MSRP: $50
timex.com
[LEATHER + COMB]
10
Metal Comb Works
Compact Brass Comb + Leather Sheath
MSRP: $41
metalcombworks.com
Our 2¢: Servicing both general purpose use and beards, this compact sized comb is offered in a tumble polished finish in Marine Grade Naval Brass and Grade 5 Titanium. Both will darken to a nice patina over time. The brass comb shown is shaped with a bottle opener in it and is matched with a Horween leather sheath. Simply beautiful.
metalcombworks.com
[PEN LOOKING THING ON KEYCHAIN]
11
Core Survival
Magnesium Fire Starter (5-in-1) Tactical Keychain
MSRP: $16
coresurvivalgear.com
Our 2¢: You probably won't need to use this piece daily, but if you ever needed it you'll be glad that you carried it. This 5-in-1 tool crams a magnesium flint rod, flint striker, a small tinder compartment with tinder cotton ball and glass breaker all in a thin, pen shaped keychain. Be prepared for an emergency or disaster without taking up much of your carry space.
[CAMP FIRE KEYCHAIN CHARM]
12
Metal Comb Works
Brass Camp Icons Key Fob
MSRP: $29 (4 pack, assorted designs)
metalcombworks.com