Based on a Benchmade 761 Titanium Monolock Knife
Personalized at home
Titanium and Carbon Fiber construction
Like many of us, Francisco Vergara is a blade guy. He's been carrying a knife for daily use since he can remember, but he's only been collecting them for a couple of years. For a longtime, he viewed knives as hard use tools that got replaced only when blades were ill-suited for re-sharpening, broken or lost. His mindset changed when we went to a knife show.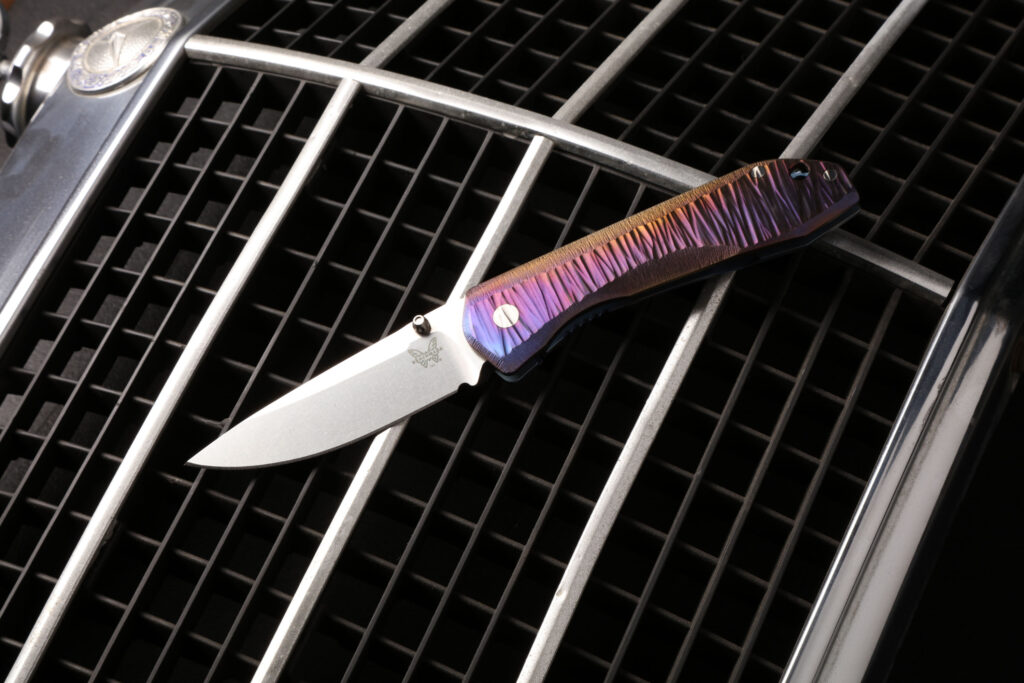 At the show, he was quickly seduced by the intricate work and impressive craftsmanship that he saw at every booth. The beauty of a well-made knife struck a chord and he was hooked. Since this encounter, he now looks at knives in a completely new way.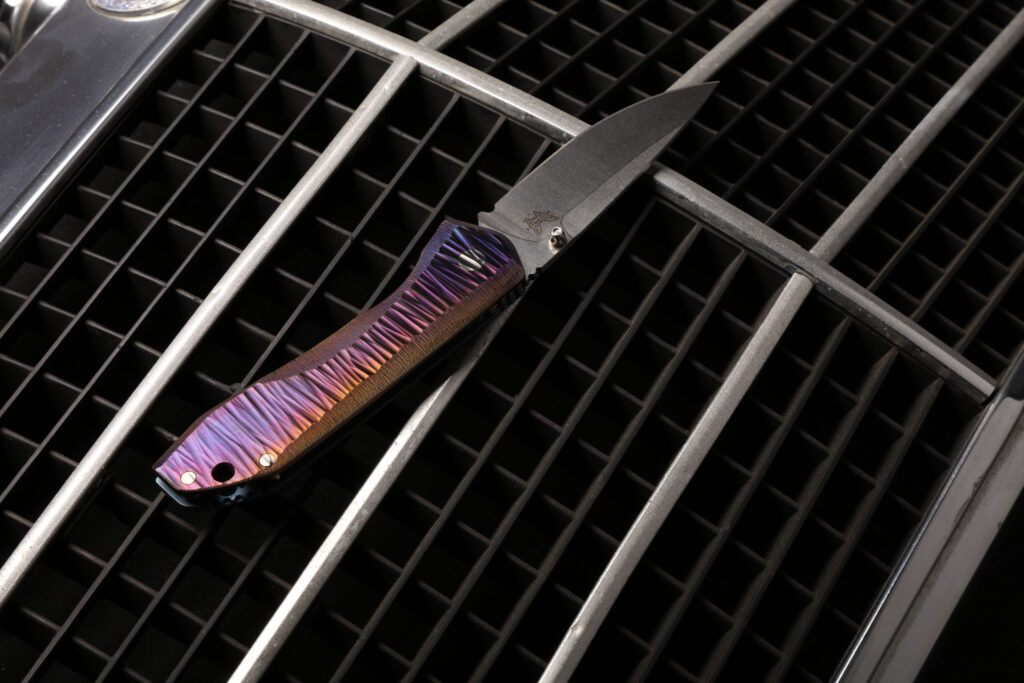 Like many blade owners, a few knife makers or designers stand out as their favorites and for Vergara, Benchmade is one of them for him. He snapped up the model 761 you see here because to his knowledge, it is the very first "frame lock" titanium folder that Benchmade had produced. He's a fan of frame lock folding knives so the combination of a non-Axis lock Benchmade was exciting. For those who are not aware, most Benchmade folders feature their proprietary Axis lock.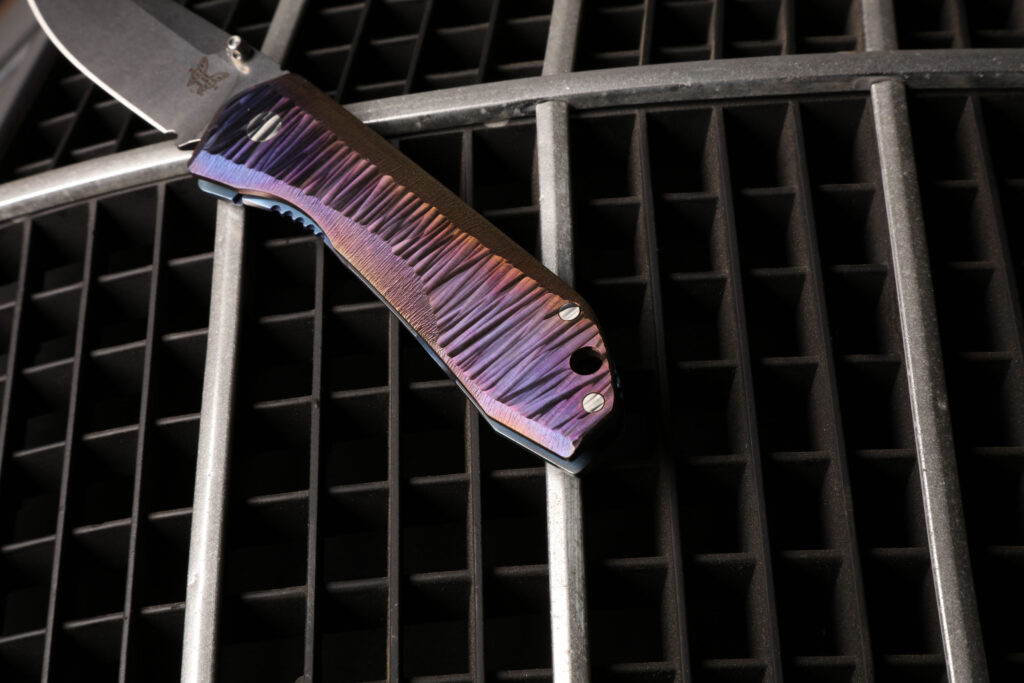 At the time, Vergara did not notice that this knife could only be configured for tip down carry. In the first few days of use, and not being used to tip down deployment, the knife was inadvertently dropped on asphalt. The drop caused some damage to the scale of his brand new knife, which understandably disappointed Vergara. He promptly shelved the knife with disappointment.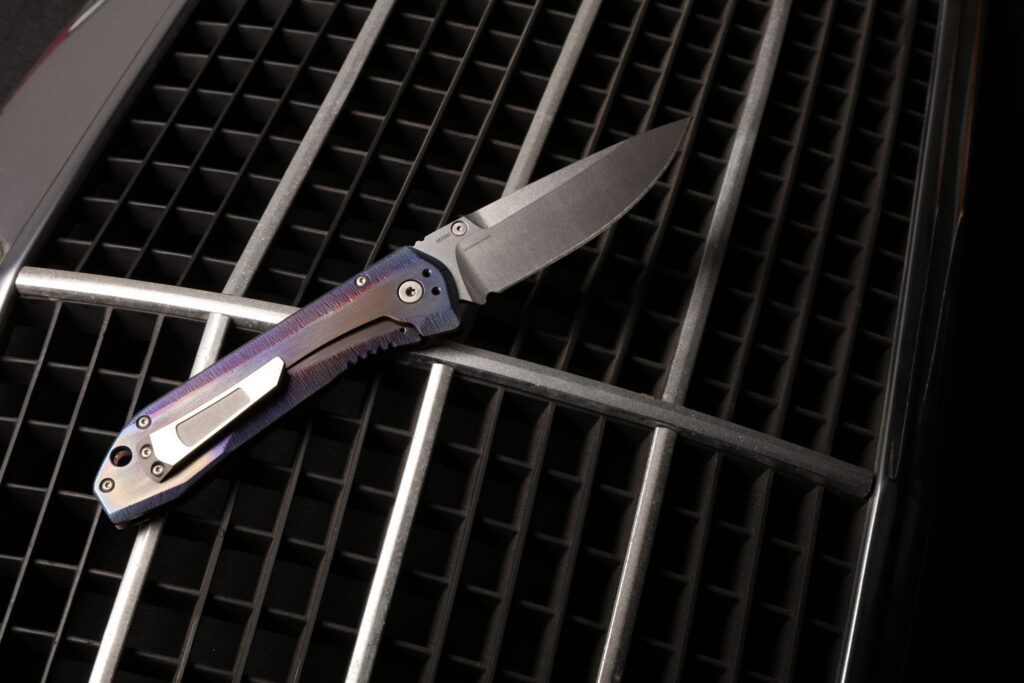 Sometime later, he was inspired by the many examples of customization work that he's seen performed to knives online, on social media and even in the pages of UN12. So much so that he also wanted to start customizing his own knives. He already had a Craftsman one-inch belt sander at home and bought a DIY titanium anodizing kit online. All he needed now was a guinea pig to test out his customization skills with.
It was when he was looking through his knives for a test mule to practice on that he remembered the damaged Benchmade 761 he had shelved awhile back. He decided he wanted to change up the carry orientation from tip down to up and do something about the damaged scale.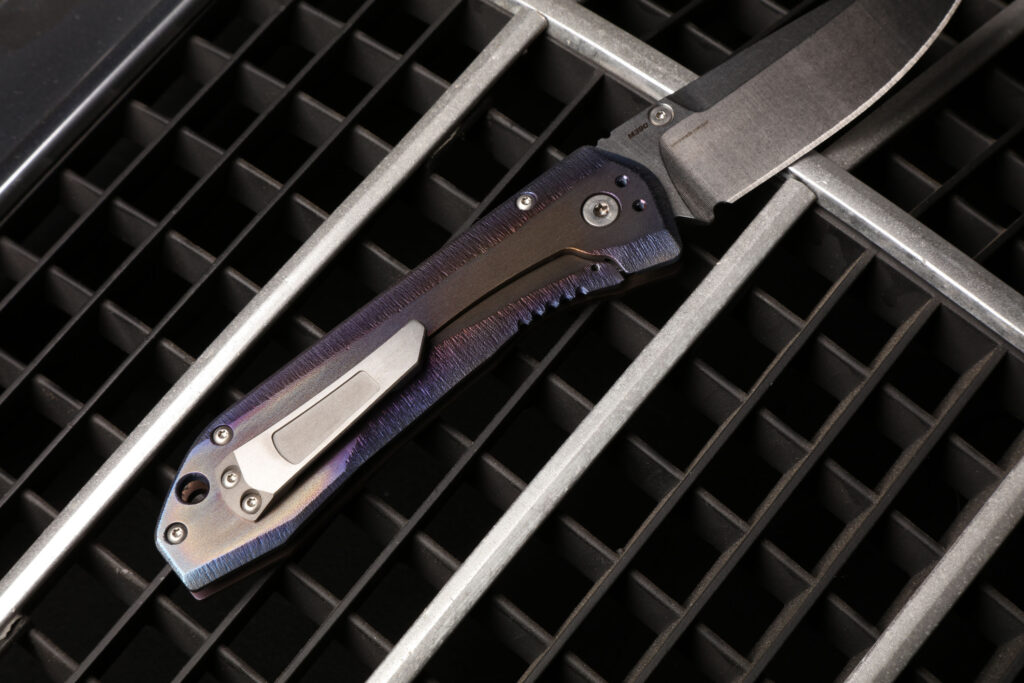 The first modification that he deemed absolutely necessary was to relocate the pocket clip. The relocated pocket clip would reverse the carry orientation to a tip up configuration. This was something he was much more used to. As with most beginners, he did not want to invest in a costly $50 and up titanium tap, but instead, ended up snapping three standard taps at $10 per tap. He learned, if he was going to do this right, he ought to bite the bullet and buy the pricier tap next time. Once the new screw holes were in place, he swapped the pocket clip location.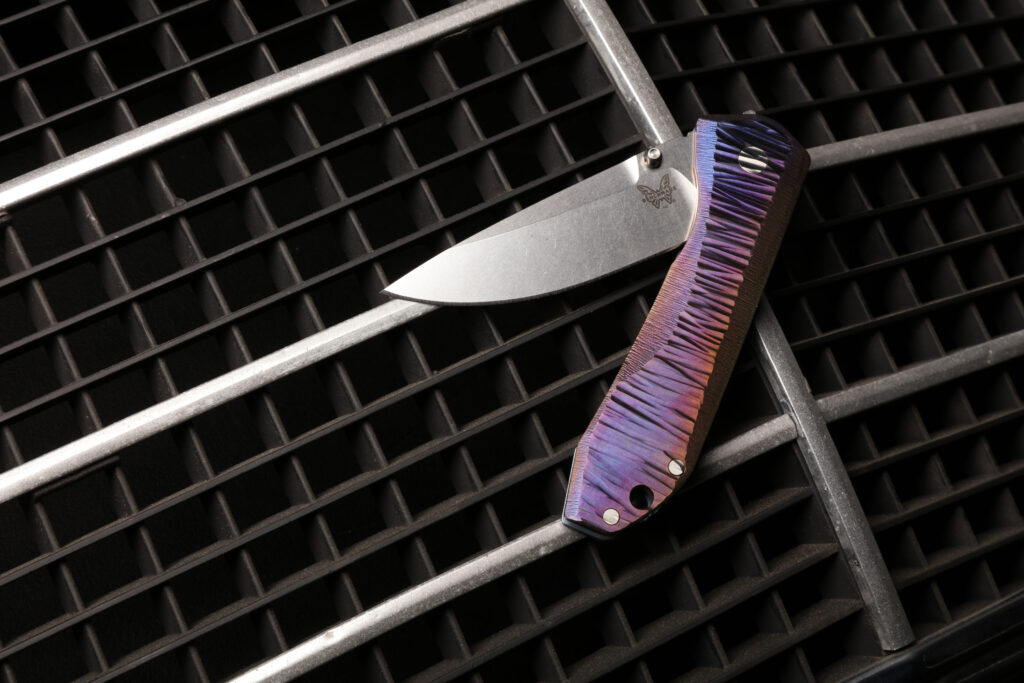 The next modification was to address the damaged scale. With scale damage to both the main flat and the chamfered edges on the presentation side of the knife, he needed to take quite a bit of material off to hide the unsightly blemishes. Using his belt sander, he carefully worked the scale to remove material. He created a wide, random looking texture on the main flat that not only hides the damage, but it also adds needed grip.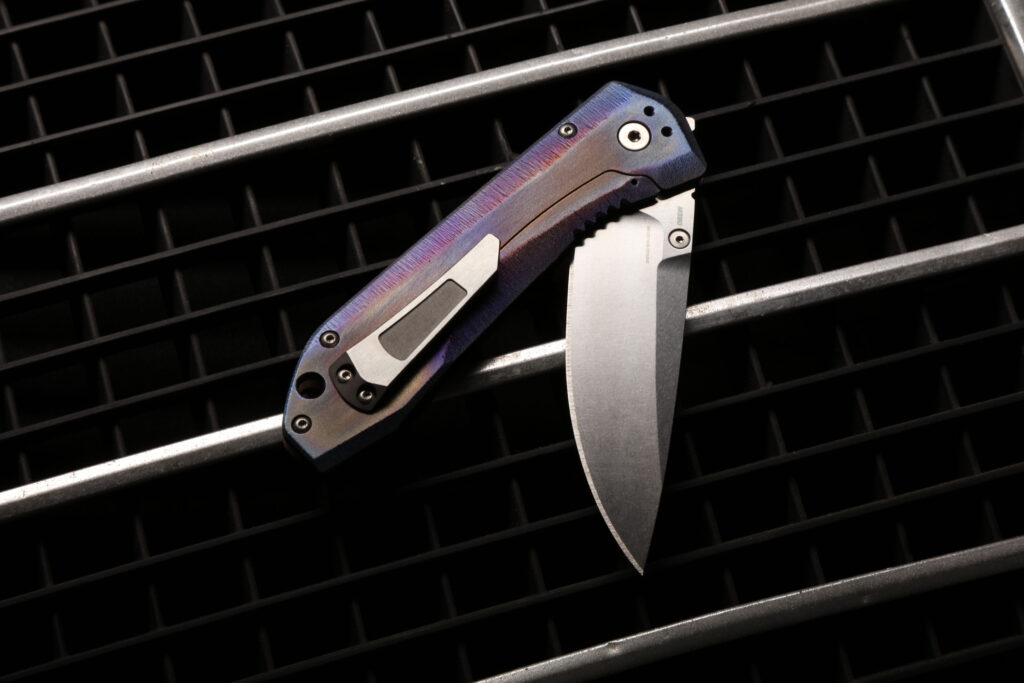 The scale's chamfers were initially "orange peel" finished without removing the scratches, but that resulted in what looked like elephant skin texturing. So the entire chamfer was sanded with rough grit sand paper to give it the unique texture it now wears.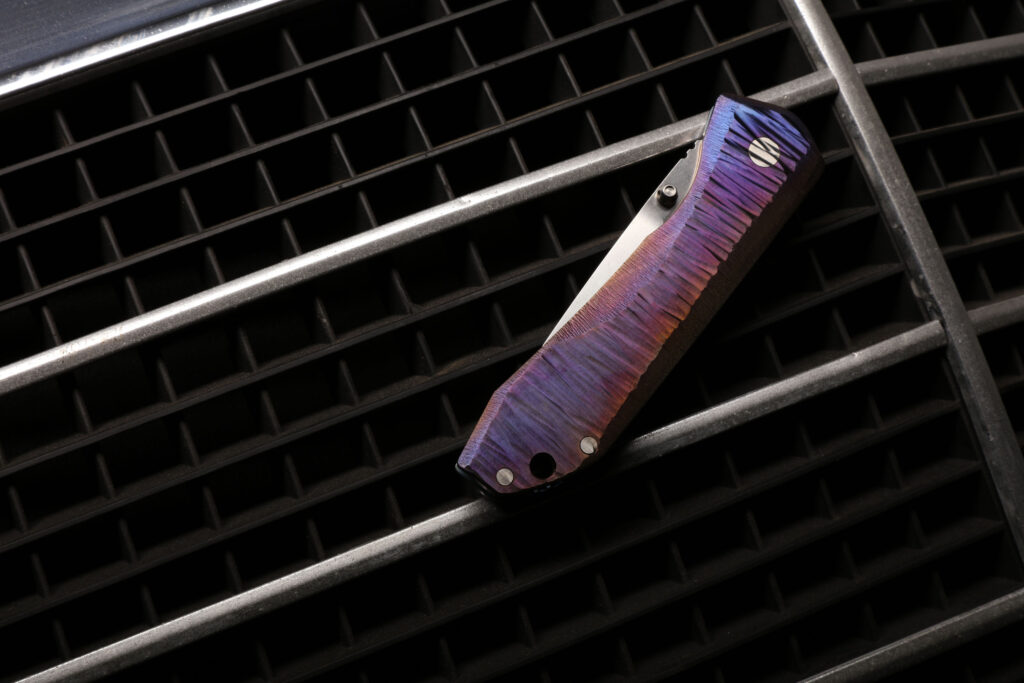 The pocket clip side could not be left untouched, but with the lock bar being so thin, the same wide, random pattern on the reverse side could not be duplicated. So the chamfers were finished to match and the flat was orange peel finished.
With the major work done, we went about giving his revamped 761 a new color. He felt that the scales could not be left in its natural color, which he deemed "boring", so he anodized it using the DIY kit he bought online. With the different textures and thicknesses of titanium, the color took on an eye catching gradient rainbow effect. The 761's hardware is made of stainless steel, so to match the new look, its pocket clip was two tone finished in satin and bead blasted.
Remember that the knife featured on these pages are merely a test mule. If this was Vergara's first attempt at customizing a knife, we'd love to see what he comes up with when he's had more experience under his belt.
Text by Danny Chang and images by Chris Lee
If you have a knife that you customized yourself that you'd like to see featured in UN12, tag us on Instagram (@un12mag).
Owner: Francisco Vergara
Custom Knife Based On:
Make: Benchmade
Model: 761 Titanium Monolock Knife