A Custom Built 9mm AR Pistol
Dedicated 9mm Pistol
First use of Strike Industries' Viper PDW Pistol Brace/Stabilizer
Features many innovative parts
When you work at a firearms parts company and the company needs to build up a gun to display at its booth for SHOT Show, what do you do? Do you do the "selfless" thing and donate one of your lower receivers to the cause and "allow" the company to built it up? Hell yes, of course you do! Well, at least, that's what Craven Moorehead did when he was given the chance to do the right thing for the company he works for.
The AR pistol that you see before you was displayed at the Strike Industries (SI) booth at the 2018 edition of SHOT Show. This eye-catching build, which was named "Skull FUK-AR" by its builders, was commissioned to showcase SI's latest innovations in an eye-catching way. Over the top builds are now common to see at SHOT Show, so this looker felt right at home.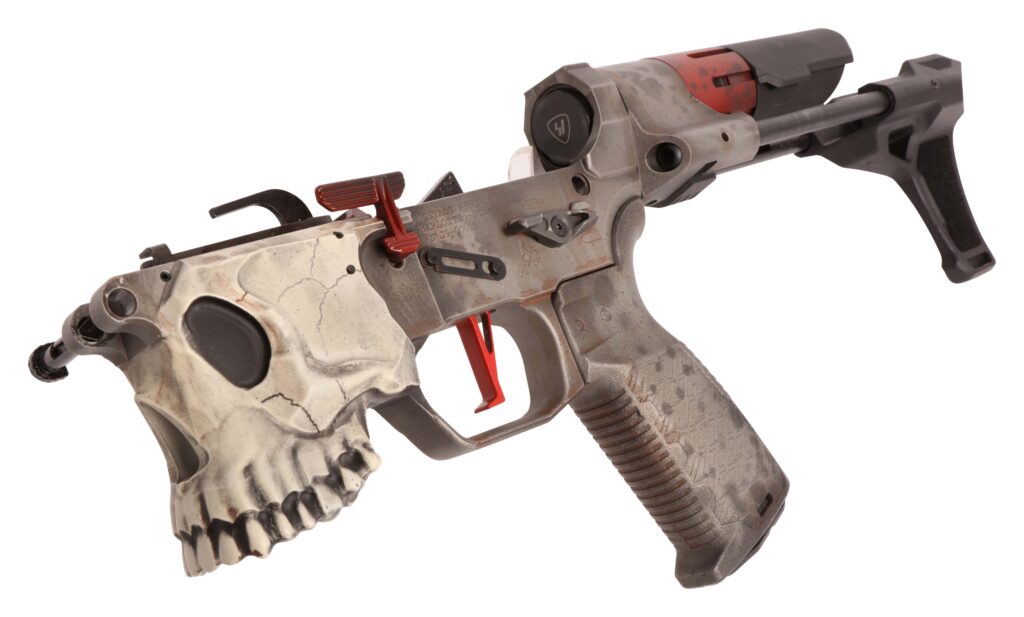 Chambered in 9mm, the AR-15-based pistol was built as a collaborative effort amongst Moorehead's fellow Strike Industries employees. Together, they collaborated on the build and built it using SI's latest parts as well as parts and accessories from industry partners. It helps to have friends in the industry, doesn't it?
When asked if there was anything in particular he wanted us to know about the build, Moorehead succinctly said, "The build speaks for itself, really…" One look at it and we'd have to agree. Take an AR, dip it in a vat of equal parts creativity, artistic talent and out of the box engineering and you have the Skull FUK-AR. On the surface, you'll first notice the fine, custom distressed Cerakote finish that was executed by Blowndeadline Customs. True to form, the artistically applied ceramic coating not only looks good, but also protects the pistol's surfaces from abrasion, corrosion and chemical resistance.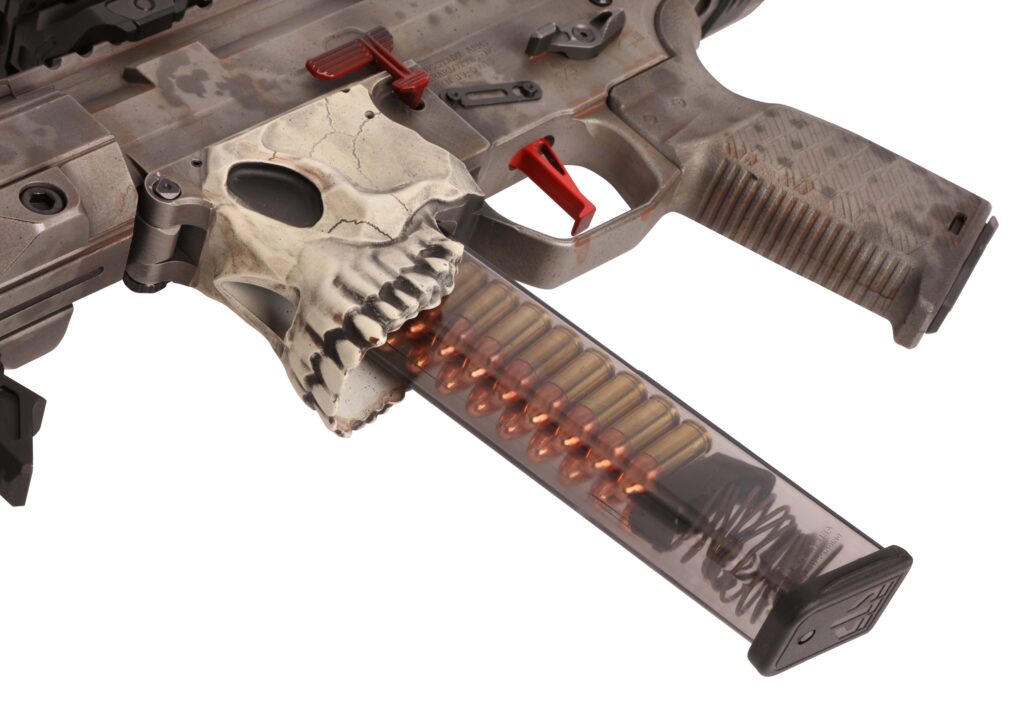 As good as they may be, looks are only skin deep. Pretty much every part used to build up the Skull FUK-AR is of the non-standard variety. That is to say that you won't find the components that make up this pistol in your run of the mill AR. The more time we spent with the pistol, the more we realized just how innovative each component, no matter how small, it was.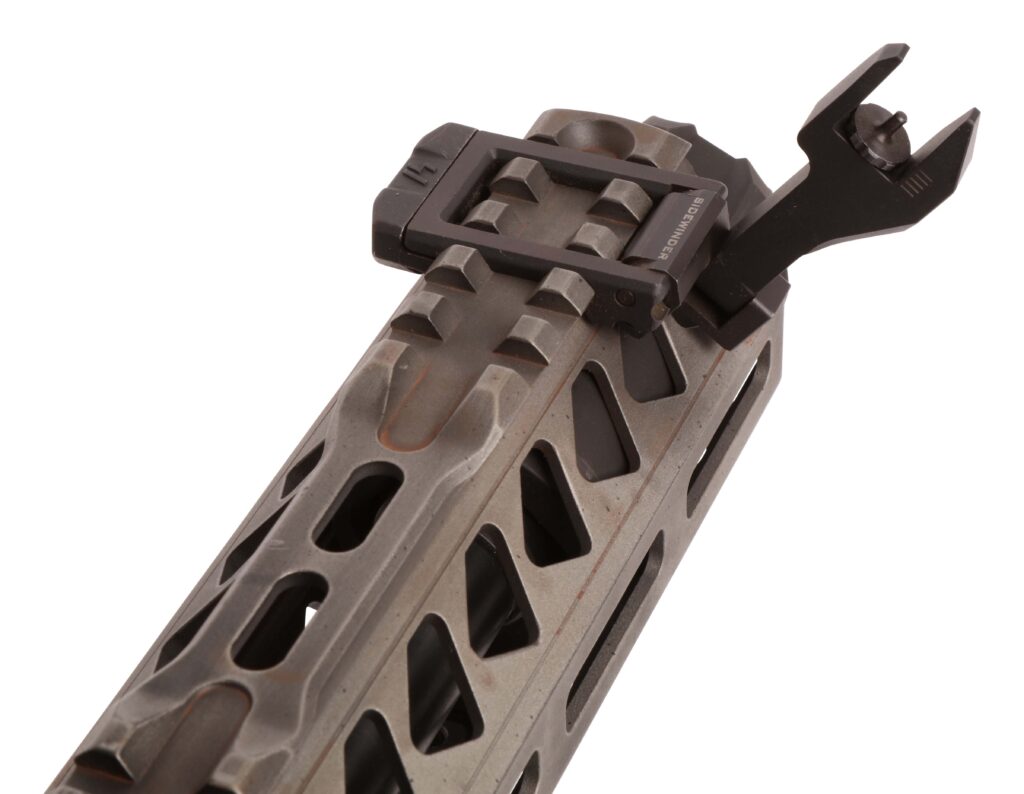 Take for instance the Angstadt Arms/Sharps Bros Jack Lower Receiver. The Sharps Bros series of sculpted lower receivers broke the mold when it was released a few years ago. The lower that Moorehead used is called the Jack9 and is a dedicated 9mm version of the Sharp Bros lower designed to feed from 9mm Glock magazines. The lower gets bonus points from us for including a last round bolt hold open feature. The Jack9 is host to the provenCMC Single Stage Drop-In Flat Trigger, which if you've never used one before; you don't know the slice of trigger heaven you're missing out on. Do yourself a favor and try one out as soon as you can.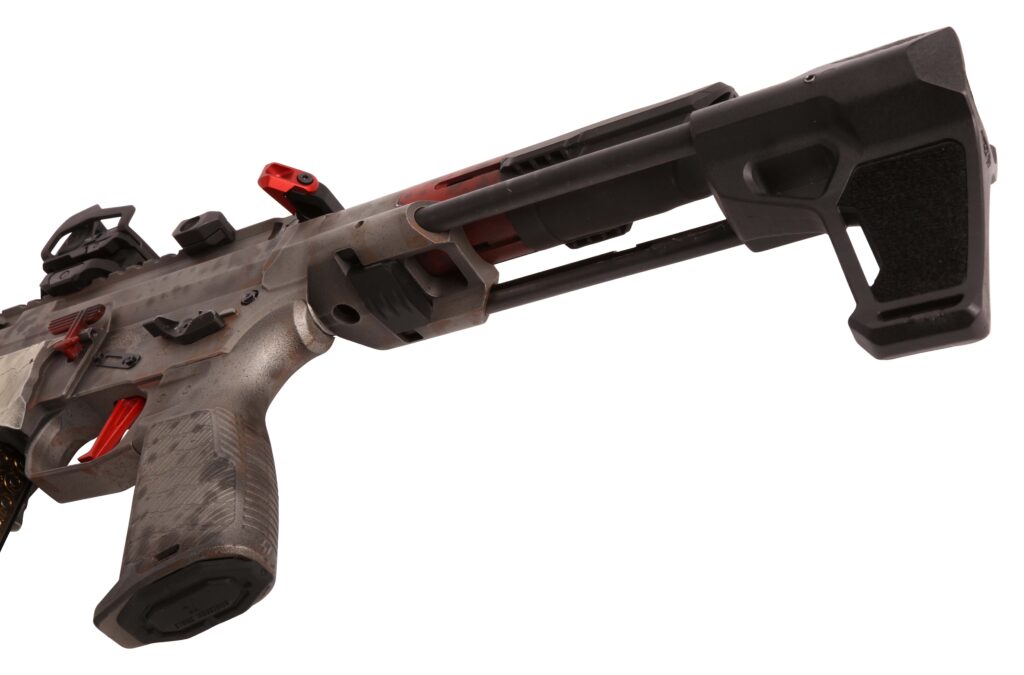 Completing the Jack9 receiver is what seems like is the entire catalog of SI lower receiver parts.The most notable of the lower parts include SI's AR-15 Shift Pins. These little morsels of innovative design replace run of the mill takedown pins. They differ from their boring cousins by improving their installation and uninstallation methods. With the standard pins, one would need to play chicken with detent pins under the pressure of springs and the use of 15 fingers. The Shift Pins make the installing and uninstalling these pins as easy as sticking in and turning a key in a door lock. It's probably best to see them in action in a video online. People that swap out their lower's components would find these a big time saver and frustration reducer.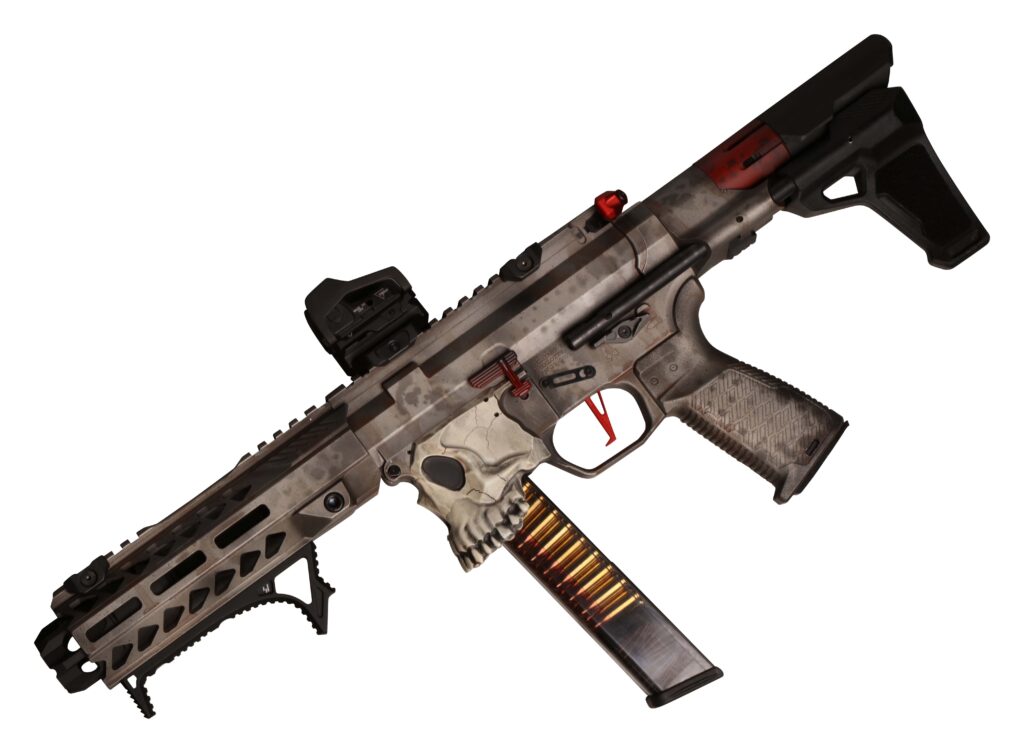 Other SI parts that find their home in the lower include an Extended Bolt Catch and Strike Switch safety selector levers for increased control. Drop-in trigger packs such as the CMC unit sometimes can benefit from anti-rotational or anti-walk pins to keep them in position. A set of SI AR15 Anti Walk Pins prevents them from walking out under fire or harsh use. Like with many of Si's parts, ease of installation was built into the pins as well. They do not require any tools to install or disassemble and lack small screws so there is no worry about them backing out or becoming lost.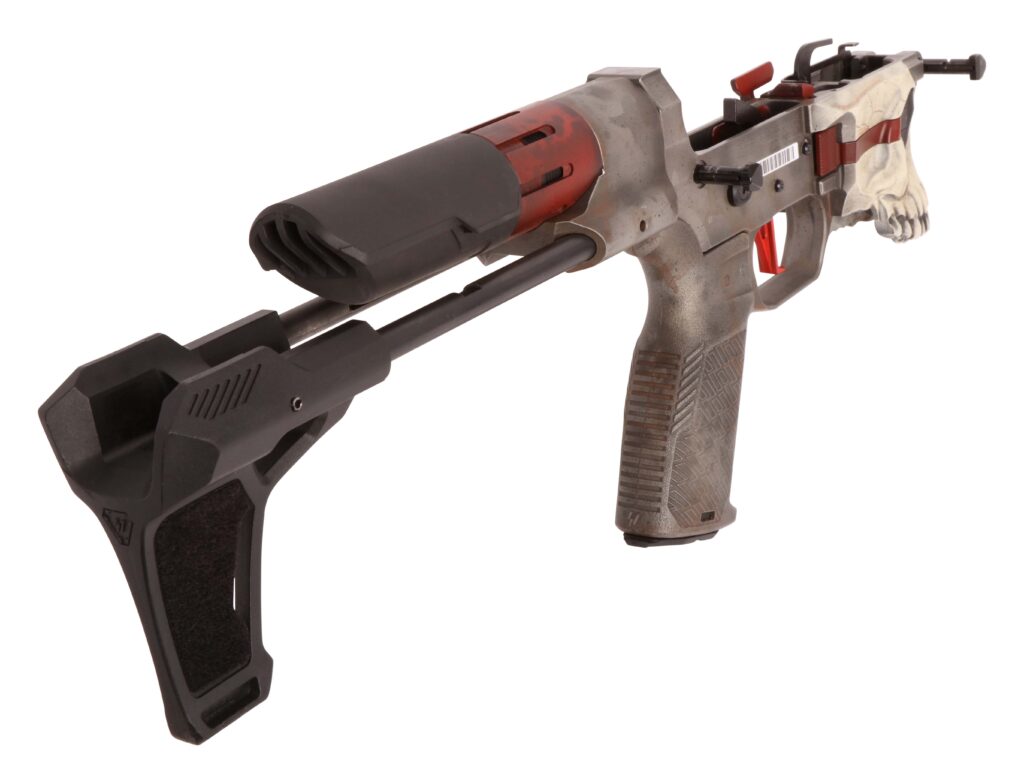 For shooter control, Moorehead opted for SI's new for 2018 Viper PDW Pistol Brace/Stabilizer. The Viper PDW Pistol Brace/Stabilizer is based on SI's Viper PDW stock. When compressed, the ultra compact PDW system allows for superb maneuverability in close quarters. At the press of a button, the Viper's arms deploy to full extension to give the user increased stability. The included proprietary buffer system was engineered to provide reliability while still using standard sized bolt carriers. The buffer is supplied with a flat wire spring that increases bolt load despite its compact size. Moorehead points out that the Viper brace is his favorite part of the pistol, adding that, "This was technically the very first functional prototype of the pistol version of the Viper."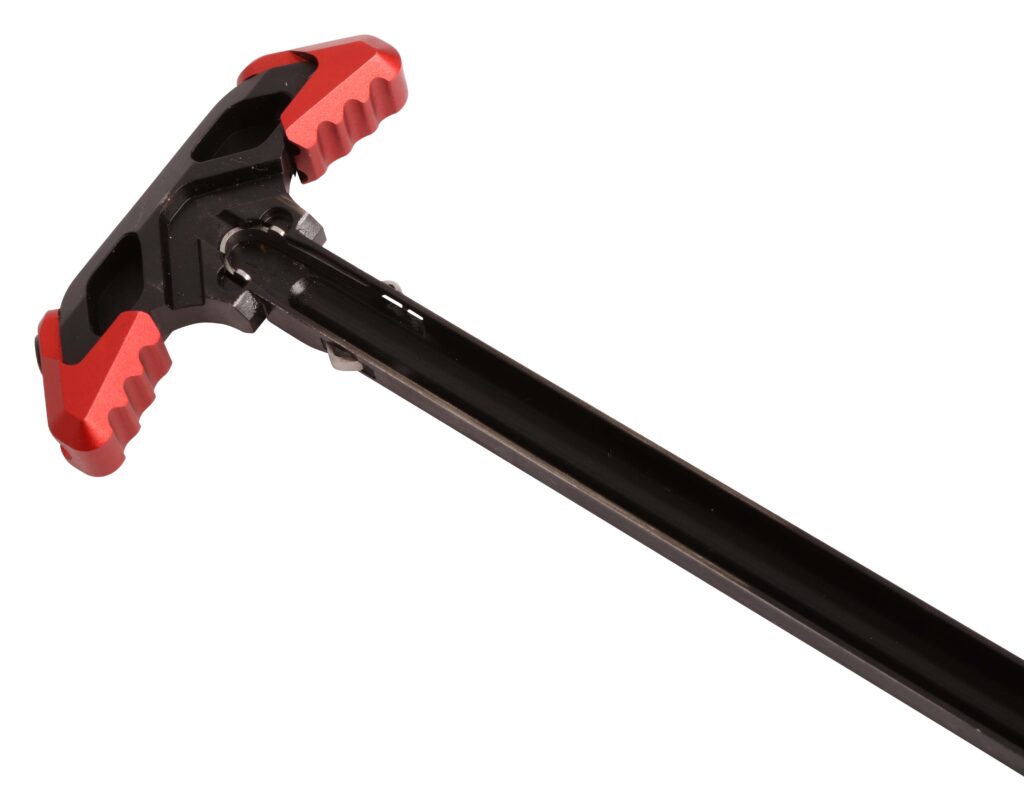 Moving to the top half of the pistol, you will find a dedicated pistol caliber Angstadt Arms slick side upper receiver that is machined with an pistol-sized ejection port and no forward assist or dust cover. The upper receiver houses a Glock and Colt compatible Angstadt Arms 9mm BCG and Strike Industries Latchless Charging Handle and ISO Tabs. The charging handle has no moving parts so there is no pinching of fingers or looking (or feeling) for the latch to rack back. Interchangeable ISO tabs are used to help customize the charging handle's ears to fit your exact size and color requirements.
A Ballistic Advantage 4.5-inch 9mm barrel was installed on the front end of the upper. An SI OPPRESSOR concussion reduction device peeps out the end of a 7-inch long M-LOK compatible SI Strikerail. The Oppressor redirects overpressure produced by aggressive brakes and compensators, which is a welcome feature on a weapon this short.
For aiming purposes, Moorehead and his team selected both a red dot optic and a set up back up iron sights. A 6.5 MOA Trijicon RM02 LED sight sits on top of the upper in a SI REX Reflex Exoskeleton mount and REX riser. The set of Sidewinder BUIS found fore and aft of the upper receiver takes SI's brand of innovation and design expertise and applies it to something as seemingly simple as a set of folding iron sights. Offering the ultimate in flexibility, the low profile Sidewinder sights can be used as traditional iron sights and also as right or left flipping 45-degree offset sights. Mount them in one position and flip them up or to whichever side you need. We don't think they're needed for a pistol build like this, but they would be great on a rifle with limited BUIS clearance due to larger, more powerful scopes.
Looks can be deceiving. As impressively artistic as this build might be, its functionality and hidden innovations are as practical as any other build that you might come across. It may be true that the Skull FUK-AR isn't a completely practical build, but that wasn't the point. Moorehead and his Strike Industries crew set out to build a conversation piece featuring new and innovative components and it looks like they succeeded.
Text by Martin Anders and images by Michael Grey.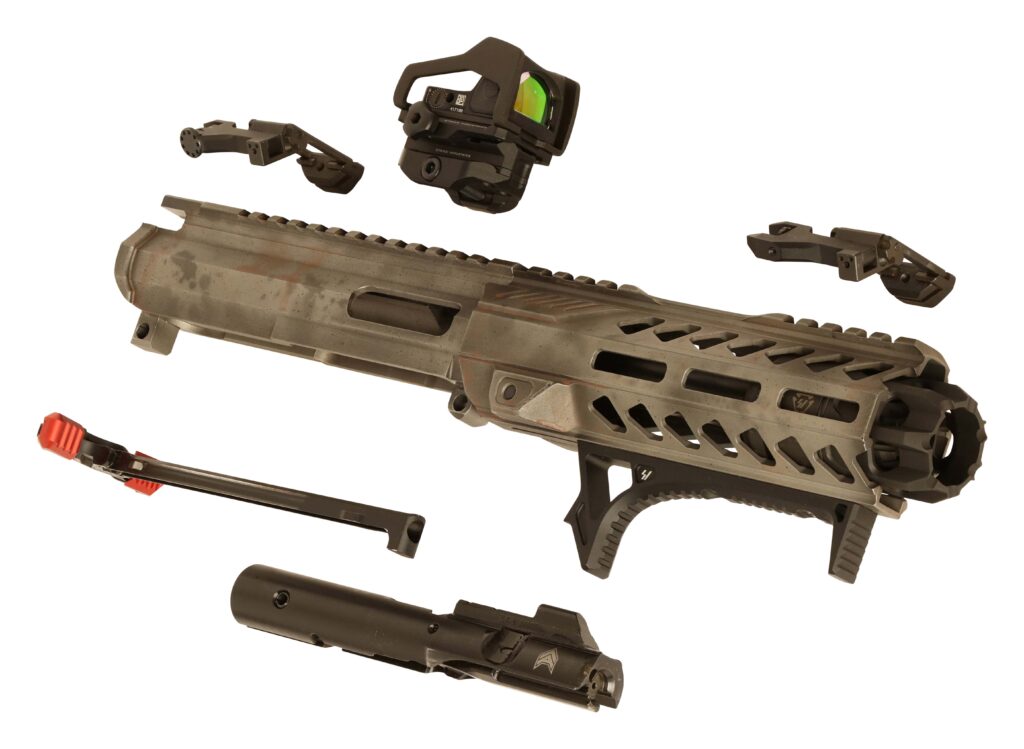 Skull FUK-AR
Caliber: 9x19mm
Length: 21.5-24.5 in.
Barrel: Ballistic Advantage 4.5" Barrel
Weight w/o magazine: 6 lbs., 14.7 oz.
Image 18
Featured Accessories:
Optic: Trijicon RM02
Optic Mount: Strike Industries REX Reflex ExoSkeleton & REX Riser
Upper Reciver: Angstadt Arms Upper Receiver
Lower Receiver: Angstadt Arms/Sharps Bros Jack Lower Receiver
Handguard: Strike Industries STRIKERAIL 7"
Brace: Strike Industries Viper PDW Pistol Brace/Stabilizer
Magazine: ETS Glock 18 9mm Magazine
Coating: Cerakote by Blowndeadline
Parts & Accessories: Angstadt Arms 9mm BCG, Strike Industries Latchless Charging Handle + ISO Tabs, Strike Industries Sidewinder BUIS, Strike Industries Mini King Comp MK9, Strike Industries Oppressor, Strike Industries Link CFG Curved Foregrip, CMC Single Stage Drop-In Flat Trigger, Strike Industries Extended Bolt Catch, Strike Industries AR-15 Shift Pins, Strike Industries Strike Switch, Strike Industries Enhanced Pistol Grip, Strike Industries AR15 Anti Walk Pins

About the owner:
Name: Craven Moorehead
Occupation: Assistant Janitor, Strike Industries
Special Thanks: Garret aka "Johnny Bravo", Albert aka "TallBoyPinoy", Strike Industries, Blowndeadline, Trijicon, CMC Triggers, Ballistic Advantage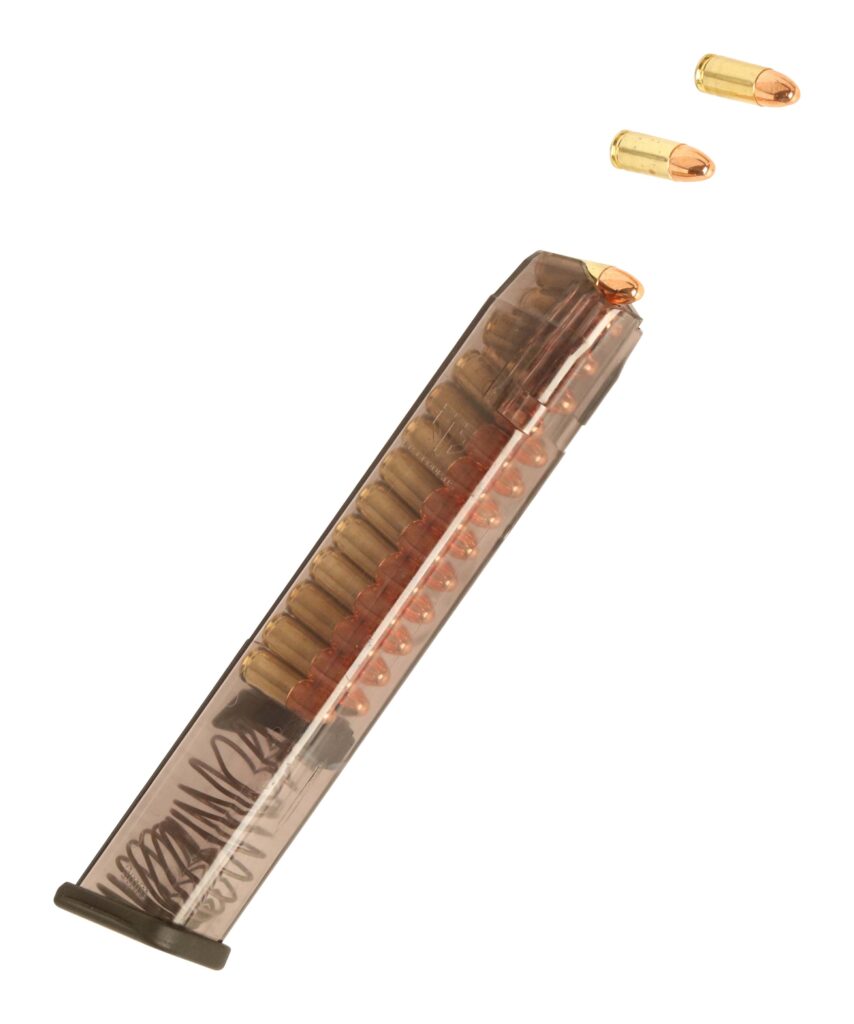 Glock 18 Mag
Originally developed for use with a select fire variant of the Glock 17 called the Glock 18, the factory extended Glock magazines had a capacity of 33 rounds and became popular with shooters for both plinking and competition events. In recent times, the popularity of Glock magazine compatible pistol caliber carbines and pistols have become a perfect match for these extended mags. Elite Tactical Systems Group's 31-round translucent body magazines allow for easy ammo count viewing, are made of a polymer that won't crack when dropped and just plain look cool. Who says you can't have useful function with an appealing form?
ETS Glock 18 – 9mm, 31 Round Mag
$22