Sheep Creek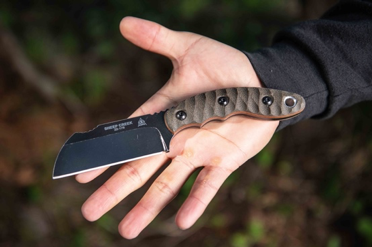 Named after the designer's favorite camping area, the Sheep Creek is the fifth winner of TOPS' Employee Design Contest. The contest design parameters were simple—create a "sheep's foot" or Wharncliffe blade shape up to 8 inches in overall length. Small enough for EDC yet big enough for camp, the Sheep Creek has a flat grind worthy of light bushcraft tasks and food prep around the campsite. Made from 154CM stainless steel, the knife features the company's new Rough Terrain finish that imparts its own unique look so no two knives will appear exactly the same. Green Kydex sheath is included.
Overall length: 8.13 in.
Blade length: 3.75 in.
Blade steel: 154CM RC 58-60
Blade finish: Rough Terrain
Handle material: Green canvas/tan canvas Micarta
Weight: 9.9 oz.
MSRP: $270
topsknives.com