Based on a CMT Tactical Manda15 billet lower
Mandalorian Death Watch Cerakote theme by Koted Arms
Chambered in 5.56 NATO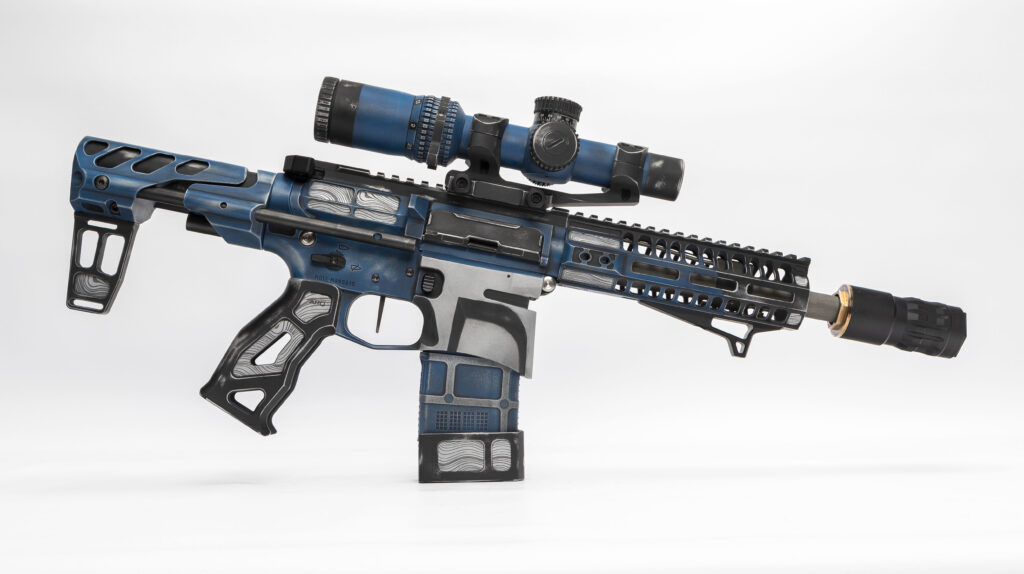 Unless you've been living under a rock for the past year or so, you might have noticed a surge in popularity concerning Star Wars in general—and Mandalorian specifically—theme builds. We've featured a few in these very pages (see UN12 issues 008 and 013).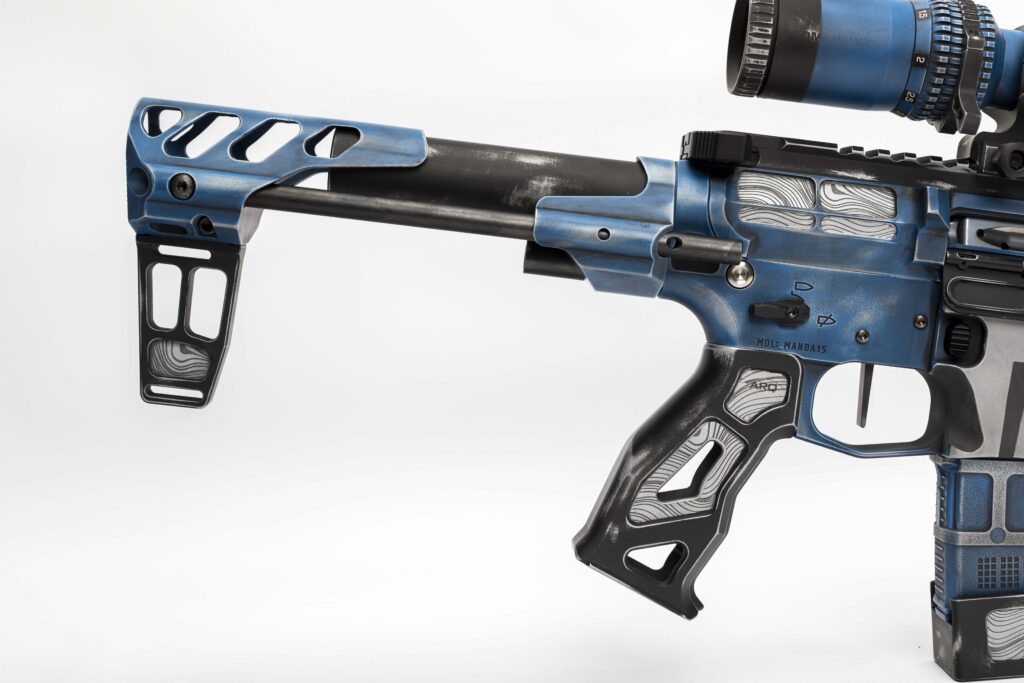 Being that he's the original and therefore most visible representation of the Mandalorian warrior culture, many "Mandalorian theme" firearm builds have paid homage to Boba Fett, the ruthless bounty hunter who pursued Han Solo in the original films.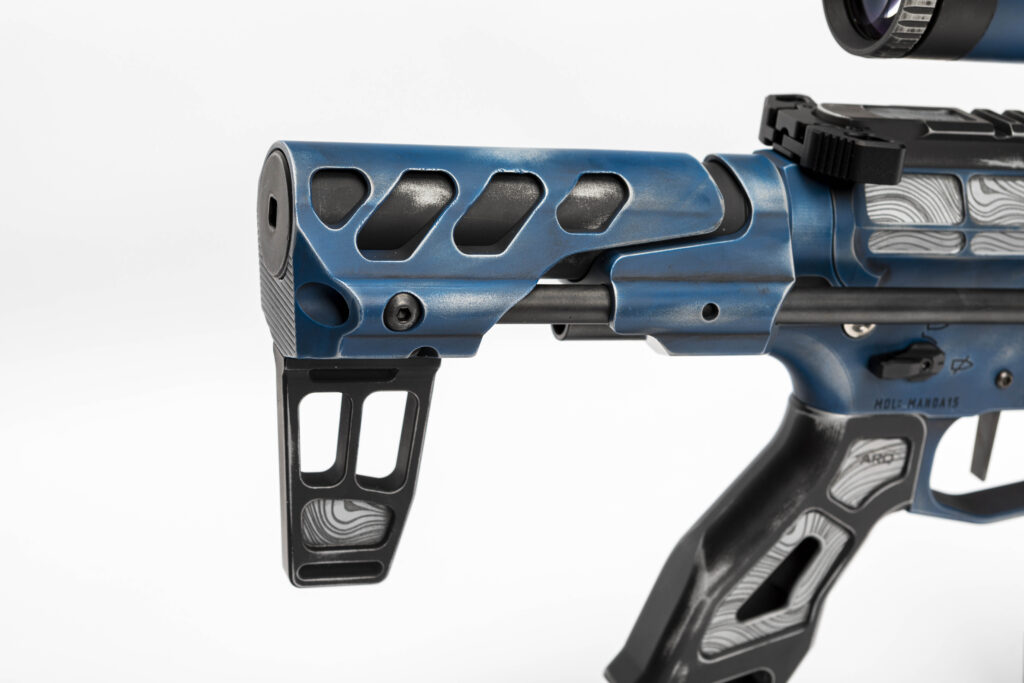 Without going too far down the very deep (and nearly bottomless) rabbit hole of Star Wars lore, we should point out that the problem with Boba Fett being an appropriate representation of the Mandalorians, especially given the resurgence of Mando fandom due in part to the popularity of "The Mandalorian" streaming series, was that he himself was not technically Mandalorian at all (see sidebar).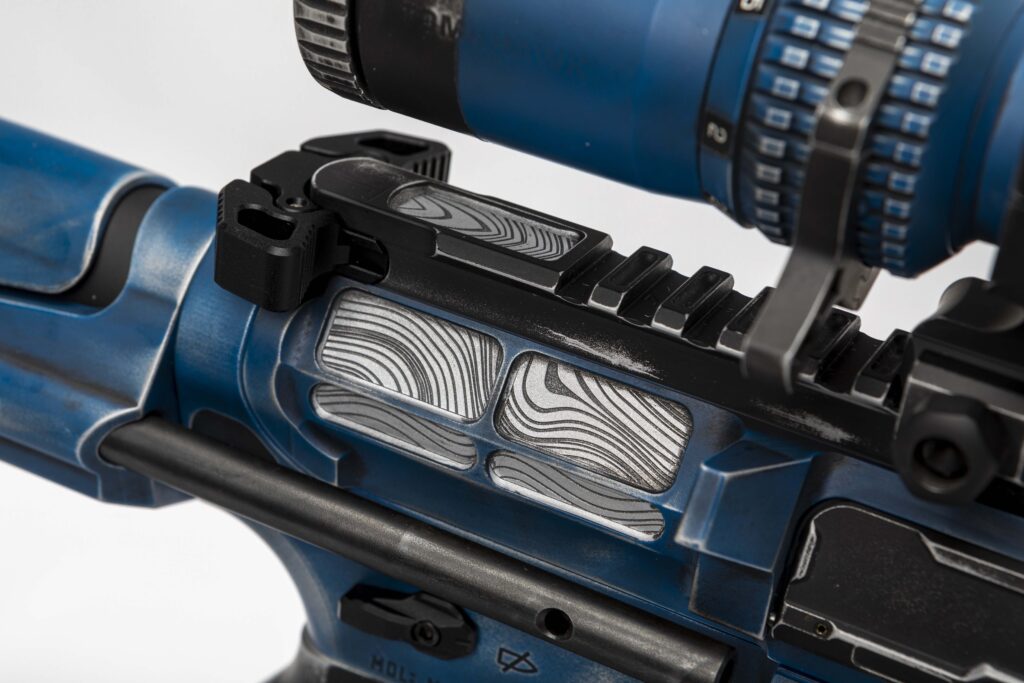 Which brings us to the AR pistol build pictured here. It was conceived as a sort of Mandalorian theme build—a cutting-edge, compact weapon you might expect to see an intergalactic bounty hunter carry. But both its builder, eminent firearms photographer, marketer, designer, and licensed manufacturer Jay Canter, as well as the Cerakote customizer, JD from Koted Arms in Mesa, Arizona, wanted to take it in a different direction to differentiate it from the array of Boba Fett builds—and, just perhaps, make it the authoritative Mando theme.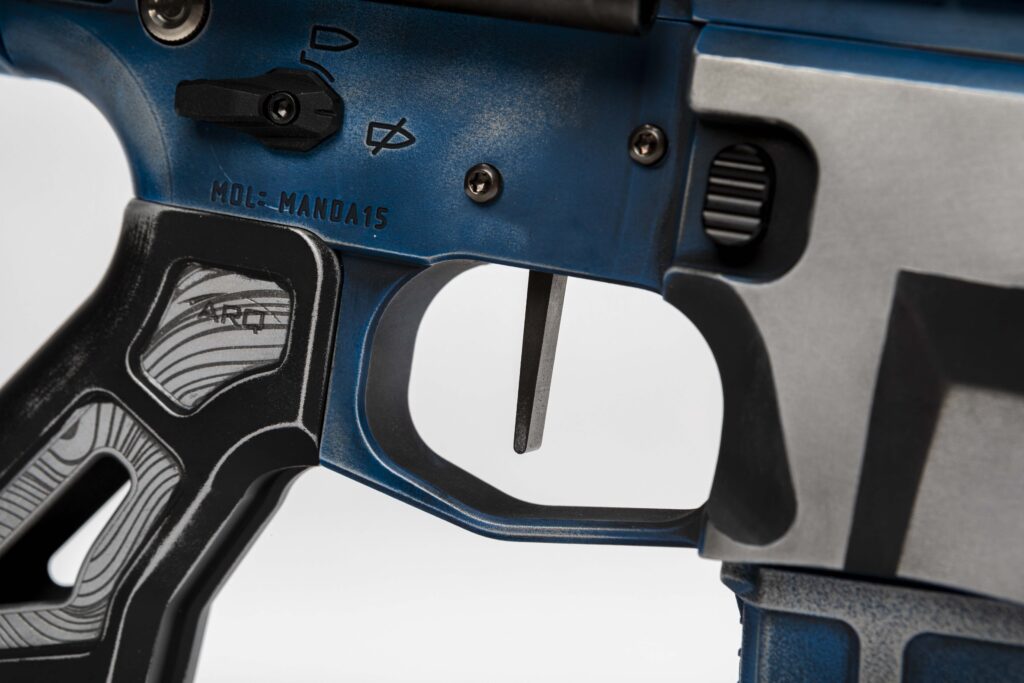 The build is centered around a CMT Tactical "Manda15" lower receiver. This is a monolithic lower machined from 7075 T6 billet aluminum, with the front half carved to resemble the classic Mandalorian helmet profile. As we've come to expect from a high-end machined lower, standard features include an integrated trigger guard, an integrated tension screw to help snug up the upper receiver, a screw-in bolt catch roll pin, and a generous flared magwell. As a very subtle custom bonus, a "BH" prefix is etched in with each receiver's serial number.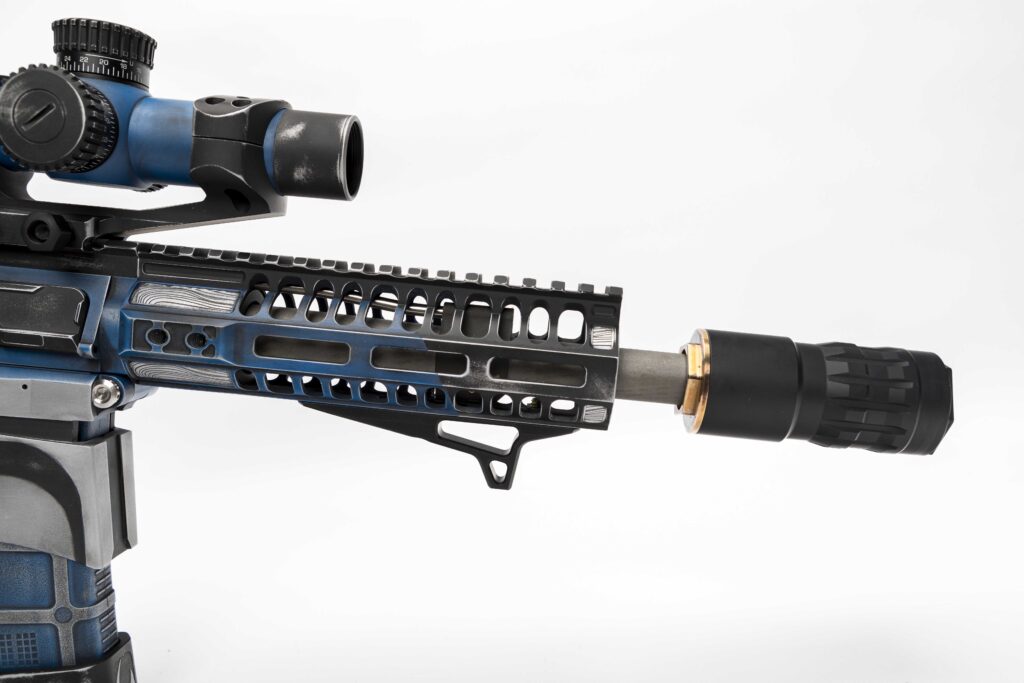 While Koted Arms provided the intergalactic flair, which we'll examine here in a minute, Canter, flexing his role as a professional firearms designer and builder, carefully curated all the parts for the build. The lower is filled out with a 2A Armament small parts kit, raw titanium takedown pins sourced from Battle Arms Development, and a Timney Impact AR trigger, a single-stage drop-in unit that has become the builder's go-to fire control group. The Impact is installed with Armaspec anti-walk pins and features a straight, flat-faced shoe offering a pull weight engineered to break between 3 and 4 pounds.
The lower is completed with a Quentin Defense ambi safety selector, a bolt catch and magazine release (EMR) from Battle Arms Development, and an Odin Works pistol brace and buffer configuration. This latter piece is known as the CQ-B and includes a compact buffer tube, micro buffer and spring, and a skeletonized design honed from 6061-T6 aluminum that blends in perfectly with the build and could potentially become a conversation piece in its own right. It also includes a QD sling mount, five adjustment positions, and a slot on the butt end for the user to fit an arm strap. A Quentin Defense Fat Bastard pistol grip, itself a skeletonized unit fashioned from aluminum billet, rounds out the pistol's bottom end.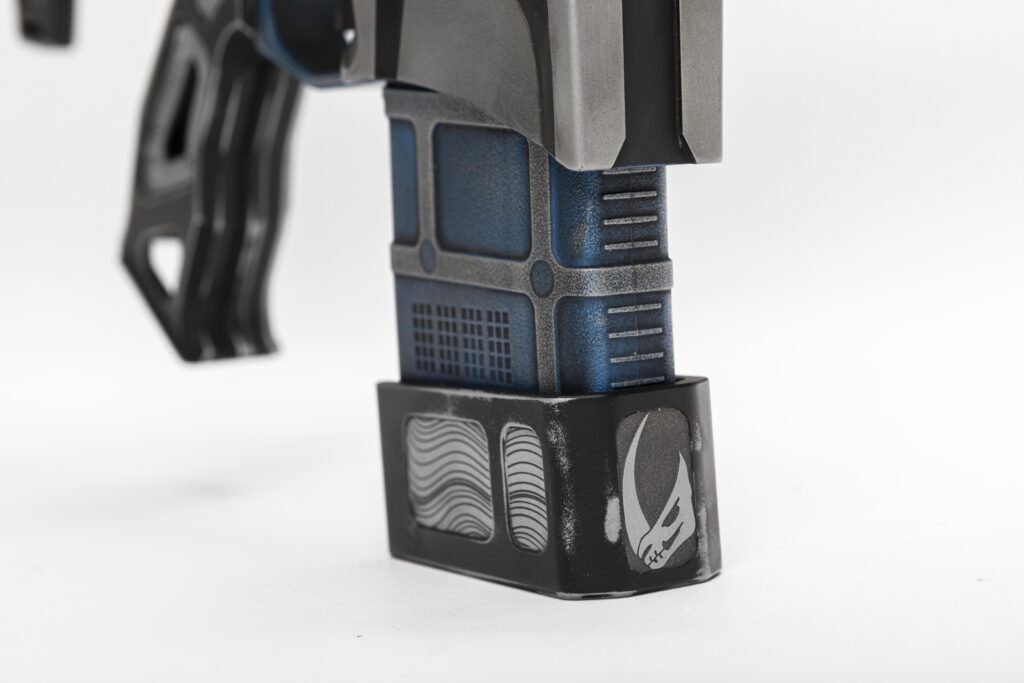 The top of the build is based around a San Tan Tactical Pillar Lite billet upper. This is a "slick-sided" unit—meaning it has no forward assist provision—that features subtle windowed recesses (what the company refers to as Truss Pockets) machined into the rearward surfaces. The upper mates with a Noveske 8.5-inch barrel with a bead-blasted finish and Noveske low-profile gas block and pistol-length tube. A Radian Raptor SL charging handle actuates an Iron City Rifle Works S2 bolt carrier group. This particular BCG is finished in what they call Ranger Grey, a tungsten coating featuring "Nanocomposite PVD" technology developed specifically for military and law enforcement applications.
A 2A Armament Balios Lite Gen 2 handguard in a 7-inch format enshrouds the barrel. This component, too, features a kind of skeletonized design on its upper and lower quadrants as well as a full-length Pic rail up top and m-lok slots at the 3, 6, and 9 o'clock positions. To round out the upper assembly, a Quentin Defense angled foregrip has been installed toward the front of the Balios guard, a Strike Industries Ultimate Dust Cover (also billet) has been installed over the ejection port, and a Torrent Suppressors Hades Blast Diverter is fitted at the barrel's business end.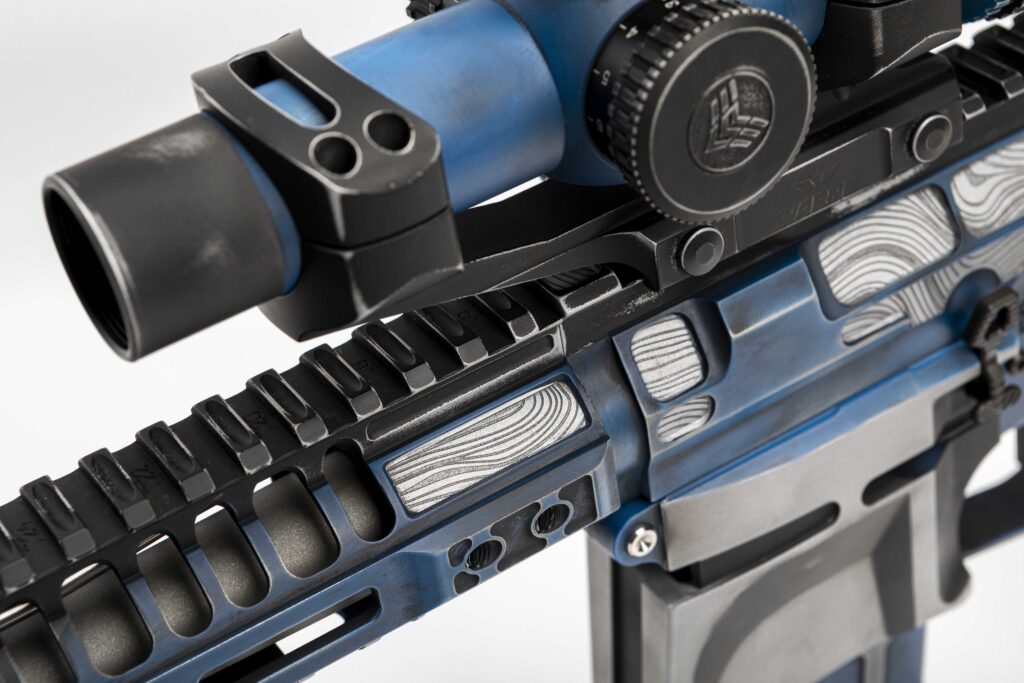 Targeting is accomplished by a Swampfox Tomahawk LPVO mounted on a Warne 30mm mount. Various magnification profiles are available, and this one is a 1-4×24. According to its manufacturer, the Tomahawk is designed for what they call "dynamic shooting." It features a throw lever for rapid magnification adjustment and is targeted specifically at 2- and 3-gun competition, among other things. The AR pistol feeds from Magpul PMAG 20-round Gen 3 magazines fitted with Springer Precision MAX aluminum base pads, which add five rounds to the magazine's total count.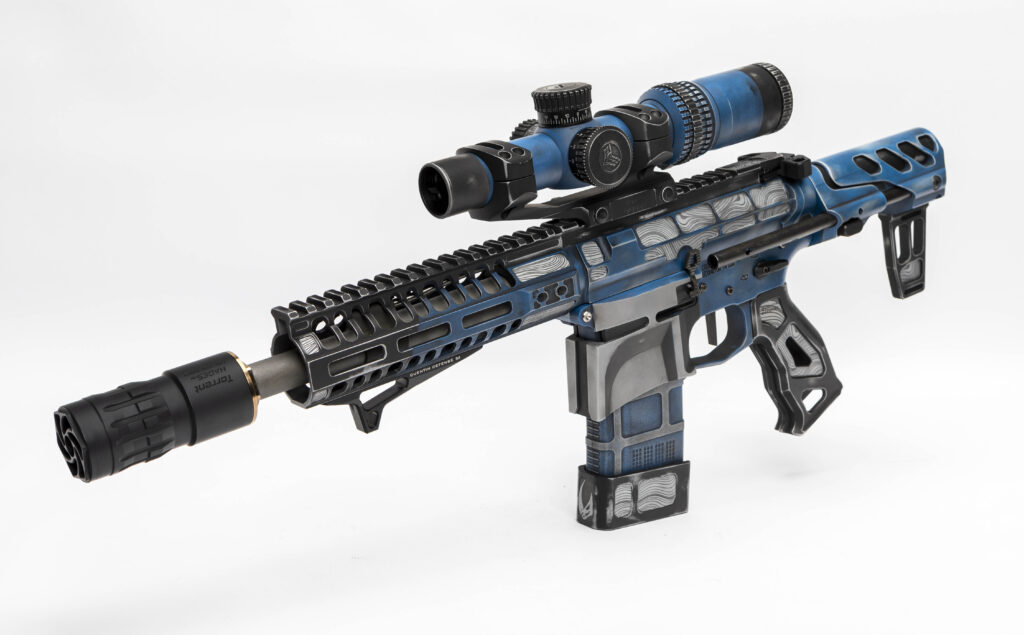 Of course, the aspect of this build that really brings it full circle in terms of the builder's original intent is the custom Cerakote color scheme by Koted Arms out of Arizona. Canter selected the parts to build the gun, but tells us he gave the Cerakoter free rein when it came to buttoning up the theme.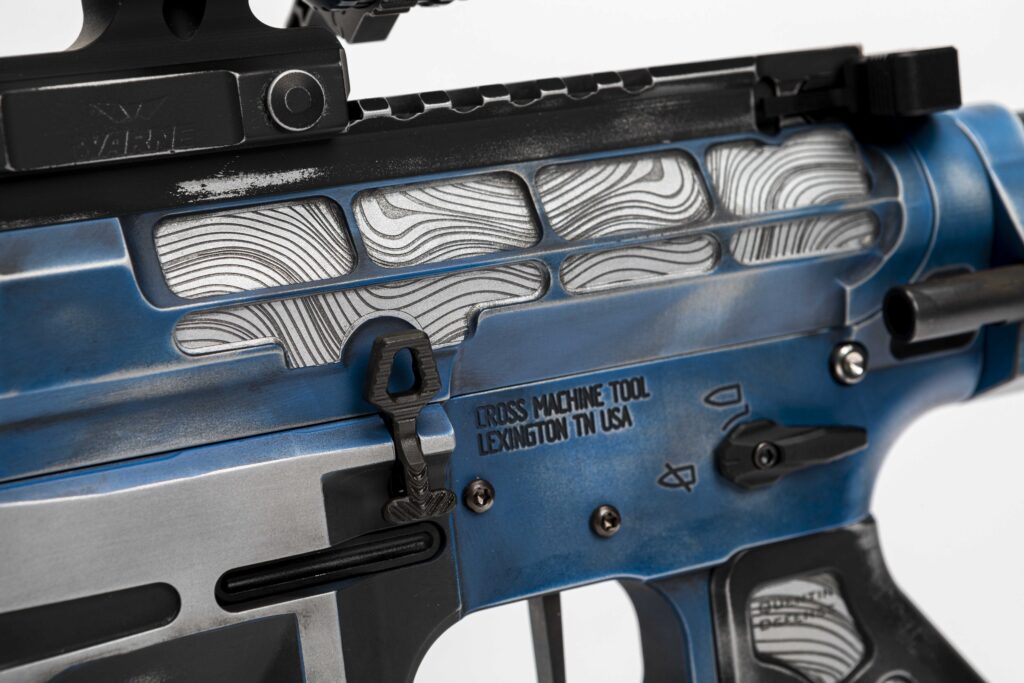 Perhaps he was as confused as this author regarding the nuances of Mandalorian culture as they related to the character of Boba Fett, or perhaps not. Whatever the case, he consulted with the Star Wars fanbase when deciding on the color palette this AR would wear.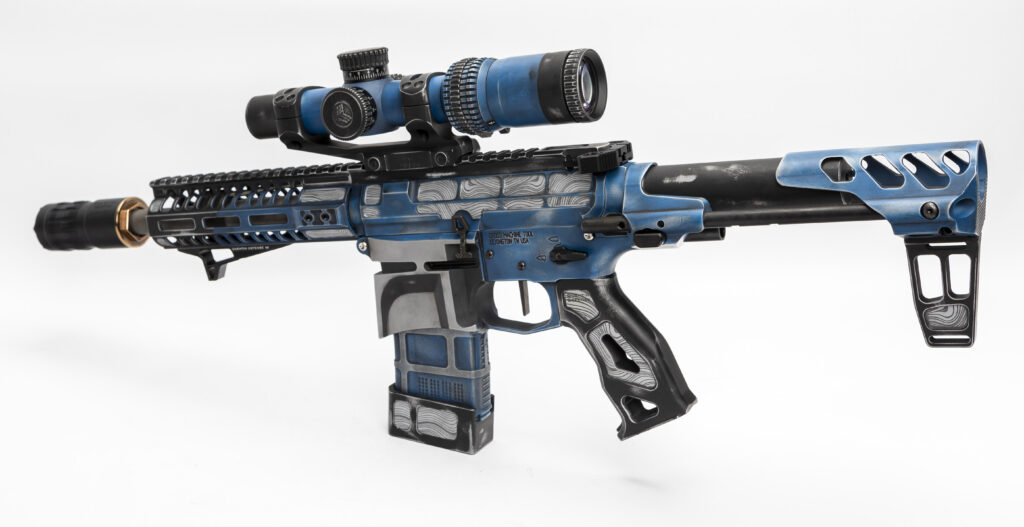 "I have a few buddies who are super into Star Wars," Koted Arms founder, JD, says. "I was looking for a color scheme other than Boba Fett because we've seen it done a lot. They suggested blue because it symbolizes reliability, and black to represent justice." According to fandom, these very colors were worn by the Death Watch, a Mandalorian fundamentalist sect who opposed the planet's pacifist government at the conclusion of the Mandalorian Civil War.
According to JD, taking the leap away from Fett's signature red, yellow, and gray was actually the hardest part of the project. "We wanted something different, but also wanted to make sure we were staying true to the Mandalorian culture," he says. "Other than that, applying the Cerakote was business as usual."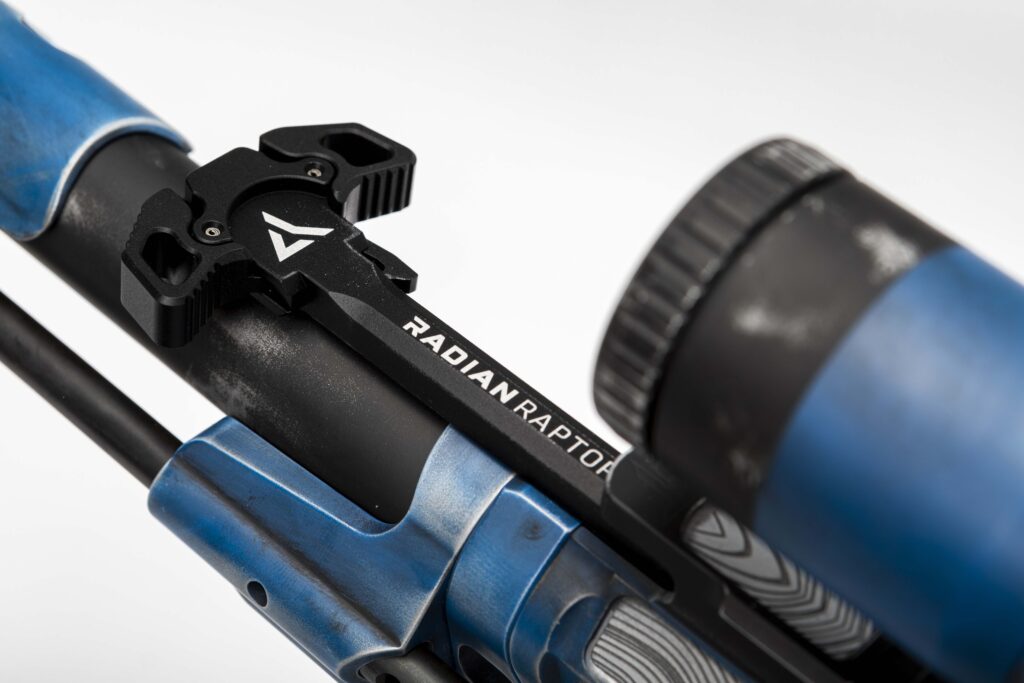 The blue on the AR's body, brace, optic, and magazine, and the black applied to the forward part of the handguard, the pistol brace's lower blade, the magazine base pads, and the scope mount, were applied over a base of silver in varying layers to impart the battleworn look.
You'll also note certain recessed sections on the build, like the Truss Pockets on the upper receiver and the recesses on the magazine, handguard, and pistol grip, were laser-engraved by 2A Tactical LLC in Gilbert, Arizona, and then treated in light and dark shades of silver Cerakote to emulate raw Beskar—a metal alloy used by the Mandalorians to create their armor, and one that was supposed to resemble Damascus steel.
It's a particularly nice touch that not only ties the color scheme together but also helps differentiate the raised and recessed sections of the build and pull it all together visually. The end result is that no one part or area stands out, and the overall effect makes this build the proverbial sum of its parts. That, we feel, represents the true essence of a custom firearm, and it's something we'll never be able to get enough of.
Build Sheet
Death Watch AR Pistol
Specifications
Caliber: 5.56 NATO
Capacity: 25+1
Laser Work: 2A Tactical LLC
Finish: Cerakote by Koted Arms
Featured Accessories
Lower Receiver: Cross Machine Tool Manda15
Upper Receiver: San Tan Tactical Pillar Lite Billet
Barrel: Noveske 8.5"
Muzzle Brake: Torrent Suppressors Hades
Optic: Swampfox Tomahawk LPVO 1-4×24
Parts & Accessories: 2A Armament 7" Balios Lite Gen 2 handguard, Quentin Defense angled foregrip, Iron City Rifle Works S2 Ranger BCG, Noveske gas block & pistol-length tube, Strike Industries billet Ultimate Dust Cover, Radian Raptor SL 556 charging handle, Warne Xskel Gen II optic mount, Odin Works CQ-B stabilizing brace & buffer system, Timney Impact AR trigger, Armaspec anti-walk trigger pins, Quentin Defense V2 ambi safety, Battle Arms Development titanium takedown pins, Quentin Defense Fat Bastard pistol grip, 2A Armament lower parts kit, Magpul PMAG Gen 3 (20-rd), Springer Precision Gen 3 MAX base pad
About the Owner
Name: Jay Canter
Occupation: Firearms photographer, designer, manufacturer
Social: Jay Canter Photography, Violent Art Firearms