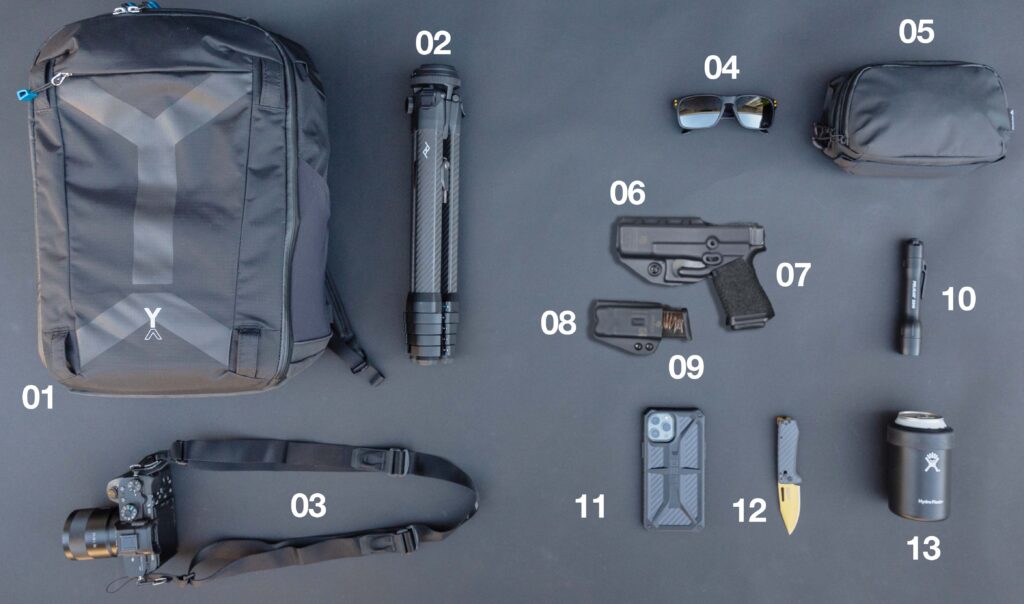 01
NYA-EVO Fjord 26 Adventure Camera Backpack
MSRP: $199
nya-evo.com
02
Peak Design Tripod
MSRP: $600
peakdesign.com
03
Wandrd Camera Sling Strap
MSRP: $54
wandrd.com
04
Oakley Holbrook Sunglasses
MSRP: $176
oakley.com

05
Wandrd Tech Pouch
MSRP: From $29
wandrd.com
06
Crucial Concealment Covert IWB Holster
MSRP: $60
crucialconcealment.com
07
High Speed Arms
C3 Stippling
MSRP: $150
highspeedarms.com
08
Crucial Concealment Covert Mag Pouch
MSRP: $40
crucialconcealment.com
09
ETS 15 Round (9mm) Mag
MSRP: $17
etsgroup.us
10
Pelican 2310 LED Flashlight
MSRP: $29
pelican.com
11
UAG Monarch iPhone 12 Pro Max Case
MSRP: $60
urbanarmorgear.com
12
SOG Ultra XR
MSRP: $125
sogknives.com
13
HydroFlask 12 oz.
Cooler Cup
MSRP: $25
hydroflask.com
Premium EDC Items
UAG Monarch iPhone 12 Pro Max Case
MSRP: $60
urbanarmorgear.com
Our 2¢: After purchasing an ultra-expensive smartphone such as the iPhone 12 Pro Max, the first thing would be to ensure its protection with a quality case. The UAG Monarch ticks all the boxes in this respect with its 2X MIL-STD drop test rating, five layers of protection, and traction grip. The case is lightweight and easy to install. It features a soft core and protective edges for the screen. The carbon fiber appearance is also a nice touch.
Wandrd Camera Sling Strap
MSRP: $54
wandrd.com
Our 2¢: To help keep your camera safe, a quality strap will provide you with confidence and additional insurance from slippery hands. This durable strap can hold up to 100 pounds and its universal attachment system will work with just about any camera or mount. The strap's length is highly adjustable and can be worn over your shoulder, neck, or across the body. We found the strap easy to use and comfortable, while its minimalist style keeps it discrete.
NYA-EVO Fjord 26 Adventure Camera Backpack
MSRP: $199
nya-evo.com
Our 2¢: The Fjord 26 is a compact, lightweight, and very user-friendly camera backpack loaded with features. It has a weather-resistant exterior and a clever customizable interior that keeps things organized and protected. The clean, modern styling doesn't scream that it's a camera bag, which helps deter would-be thieves. We found this pack to be extremely comfortable even when loaded thanks to its padded shoulder straps, sternum strap, and removable waist belt.
Pelican 2310 Flashlight
MSRP: $29
pelican.com
Our 2¢: This budget-friendly LED flashlight is just the right size for a glovebox, toolbox, backpack, or for clipping to a pocket. With an output of up to 350 lumens, 134 meters of max beam distance, and run time of up to 27 hours with two AA batteries, it provides ample illumination for most instances. It's easy to use with work gloves and built tough to withstand the occasional drop.
Peak Design Tripod
MSRP: $600
peakdesign.com
Our 2¢: Weight and size can pose problems with typical tripods, becoming a hindrance while traveling. Peak Design addressed these two issues and created our all-time favorite tripod. From the adjustable legs to the ballhead, each part is thoughtfully considered and easy to use. It's extremely portable and packs down to the size of a water bottle, yet retains the stability needed for most outdoor shoots.
SOG Ultra XR
MSRP: $125
sogknives.com
Our 2¢: Who says your EDC can't function well and look good at the same time? One look at this carbon-and-gold blade and we were sold. At 6.5mm thick and weighing only 34 grams, the Ultra XR features slimline design with lightweight materials, including a CRYO CPM S35VN stainless steel blade and carbon fiber handle. The XR Lock enables smooth, ambidextrous single-handed opening and securely locks the blade open.