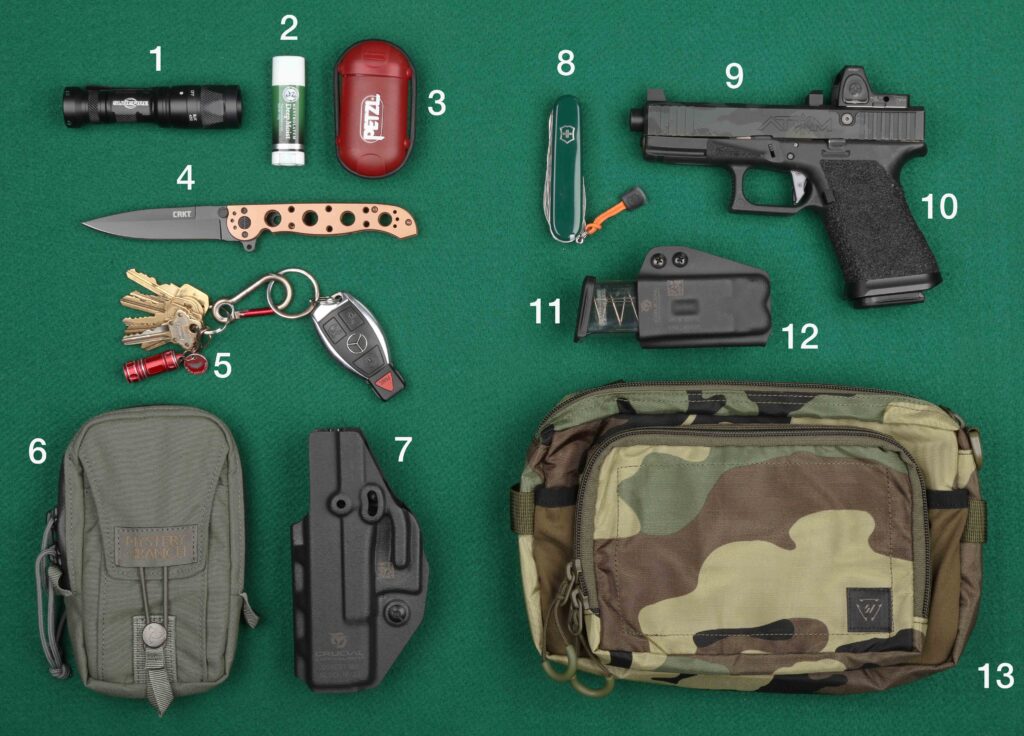 01.
SureFire Aviator
MSRP: $299

02.
Mentholatum Deep Moist Lip Balm
MSRP: $10
03.
Petzl e+LITE
MSRP: $30
04.
CRKT M16 – 03BK Bronze w/ Black Blade
MSRP: $55
05.
Pelican 1810 Keychain Light
MSRP: $12.50
06.
Mystery Ranch Tech Holster
MSRP: $29
07.
Crucial Concealment Covert IWB
MSRP: $60
08.
Victorinox Climber (customized)
MSRP: $34
09.
Unity Tactical ATOM Slide
MSRP: $555
10.
Highspeed Arms C3 Stippling
MSRP: $300
11.
ETS 15 Round (9mm) Mag
MSRP: $17
12.
Crucial Concealment Covert Mag Pouch
MSRP: $40
13.
Strike Gear Boogeyman Chest Rig Bag
MSRP: $94
Premium EDC Items
Strike Gear Boogeyman Chest Rig Bag
MSRP: $94
URL: strikeindustries.com
Our 2¢: Is it a hip bag, fanny pack, man-purse or chest rig? The answer is yes. Strike Gear's uber versatile Boogeyman can be used as a chest rig, messenger bag, EDC carryall or anything else you can think of. The modular bag comes with multiple straps and heavy-duty nylon buckles situated throughout so that you can configure how you carry (or wear) it. It has several large zippered pockets and plenty of elastic webbing and loop panels to carry your selfie stick, mags or any other gear that you need when on the go.
Petzl e+LITE
MSRP: $30
URL: petzl.com
Our 2¢: Hands free light is infinitely useful when you need it. The e+LITE emergency headlamp is ultra-lightweight, highly compact and always packed in our backpack, ready to go. It comes in a hard shell carry case and can be stored with its batteries for ten years in a backpack, a vest, an emergency kit, or used as a back-up headlamp. Its white or red, continuous 30-lumen lighting or strobe lighting helps you see and be seen. A whistle is integrated in its elastic headband to use as an emergency signal.
SureFire Aviator
MSRP: $299
URL: surefire.com
Our 2¢: Why roll with only one color light? We love this light for its compact size and big-time utility. The dual-output Aviator flashlight features a primary white LED and secondary colored LED in one sealed head. A pull and twist self-locking selector ring quickly sets it to white or colored light. Choose from four models: Amber improves contrast, Blue helps identify blood and hydraulic fluid, Red aids in reading red-light-readable topographic maps, Yellow-Green is complementary to the color spectrum used in most aircraft cockpits.
Crucial Concealment Covert IWB
MSRP: $60
URL: crucialconcealment.com
Our 2¢: Comfort, ease of use and affordability has thrust Crucial Concealment to the forefront of CCW holster popularity. The Covert IWB holster offers ambidextrous carry and a full range of cant adjustment which ensures the user can find their preferred carry position. It delivers the perfect blend of rugged durability and thin, low profile design required for EDC IWB use. The proprietary clip is made of a high strength polymer that can be used on a variety of clothing styles, so no occasion or attire impedes one's ability to carry. [Bold] UN12 readers get 10% off and free shipping when using coupon code "UN12" at check out. [/Bold]
Mystery Ranch Tech Holster
MSRP: $29
URL: mysteryranch.com
Our 2¢: Perfect for smart devices and other small items, Mystery Ranch's Tech Holster can be attached to MOLLE attachment points so that your sensative equipment is kept close and easily accessed. It can be accessed by one-hand thanks to a bungee opening to its secondary external pocket. Its dual zippered main pocket features provisions to keep your gear organized and ready to depoly. MOLLE attachment allows it to be mounted to any number of PALS webbing equipped gear such as a backpack, belt, range bag and more.
CRKT M16 – 03BK Bronze w/ Black Blade
MSRP: $55
crkt.com
Our 2¢: Sleek, elegant and useful. What else would you ask for in a knife? Originally designed by late famed knife maker Kit Carson, CRKT's M16 is one of their most popular lines of knives that they have ever made. This version of the M16 features a bronze titanium nitride handle and a fast deploying black oxide finished Sandvik 12C27 steel blade that carries excellent edge retention. Did we mention that it looks gorgeous too?
Text & Images by John Pangilinan & James York