Sub-MOA AR Pistol
Chambered in 300 Blackout
Ammunition-specific matched barrel
At its inception, the 300 Blackout was met with great fanfare, but equal amounts of skepticism; it's essentially a .308 bullet shoved into a cut-down cartridge meant for a 5.56 bullet. Will it be another caliber that gets shelved to become a niche round like the .50 Beowulf, 6.8SPC, and 6.5 Grendel? All are great calibers in their respective roles and have their die-hard fan clubs. However, in its nearly decade of existence the 300 Blackout, unlike the aforementioned calibers, has steadily become accepted in the mainstream shooting community. And it looks like it's here to stay.
Part of Blackout's success can be attributed to the fact that the only conversion needed to build a 300 Blackout AR-15 is a barrel swap. The larger caliber swap doesn't even compromise ammunition capacity, either. AR-15s that use other boutique calibers, in comparison, do not only require the replacement of the barrel. They oftentimes also have reduced-capacity magazines, require different bolts, and occasionally a replacement upper receiver.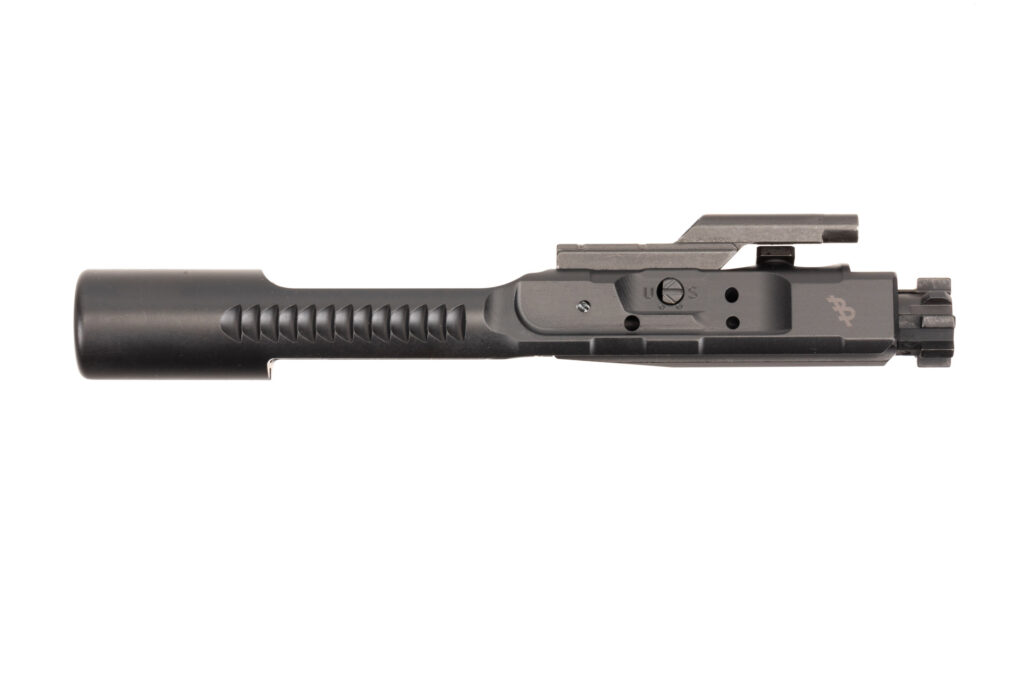 One of the most common misconceptions of the 300 Blackout—it's never been known to be the king of accuracy. Early in the caliber's life, the lack of ammo availability and its newness led to inconsistent varied loads from converted brass, ammo manufacturers cutting reloads from cheap, used .223 or 5.56 brass in an attempt to fill orders for a caliber with an uncertain future. Now that manufacturers have realized it's here to stay, they have seriously stepped up their game to make consistent quality ammo.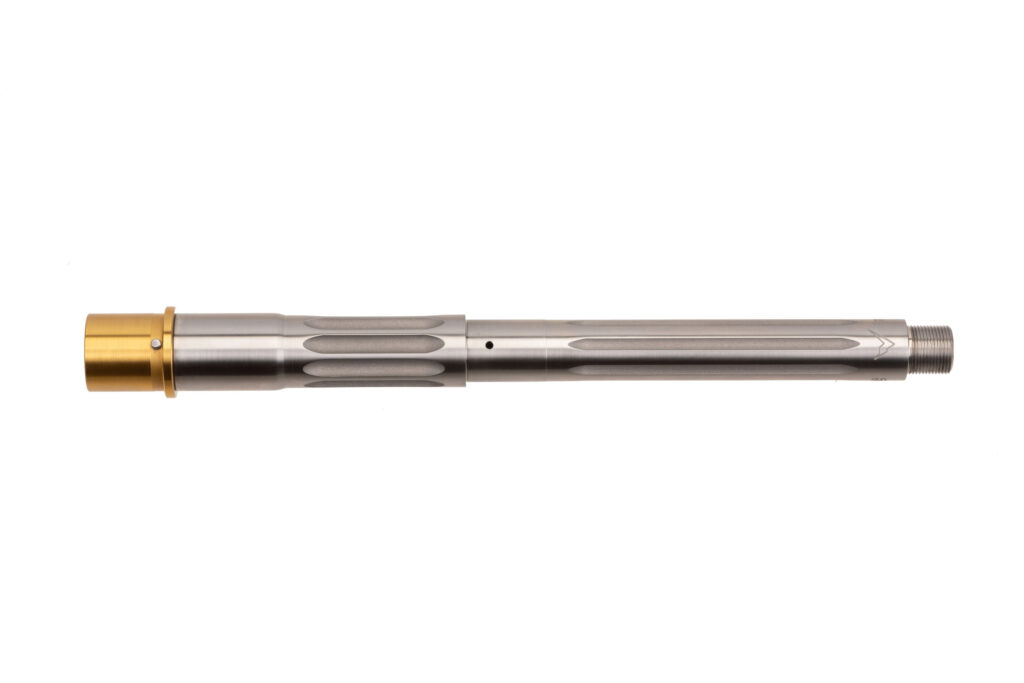 Rainier Arms, a retailer that is renowned for selling top-tier firearms products for the discerning gun owner, has recently developed its own line of ammo under the brand name Rainier Munitions. No, they don't outsource their ammo and rebrand it to their own. They have actually spent years developing and perfecting 9mm, .45, .223, 300BLK, and .308 ammunition for their shooting teams, and have only recently begun making this ammo available to the public.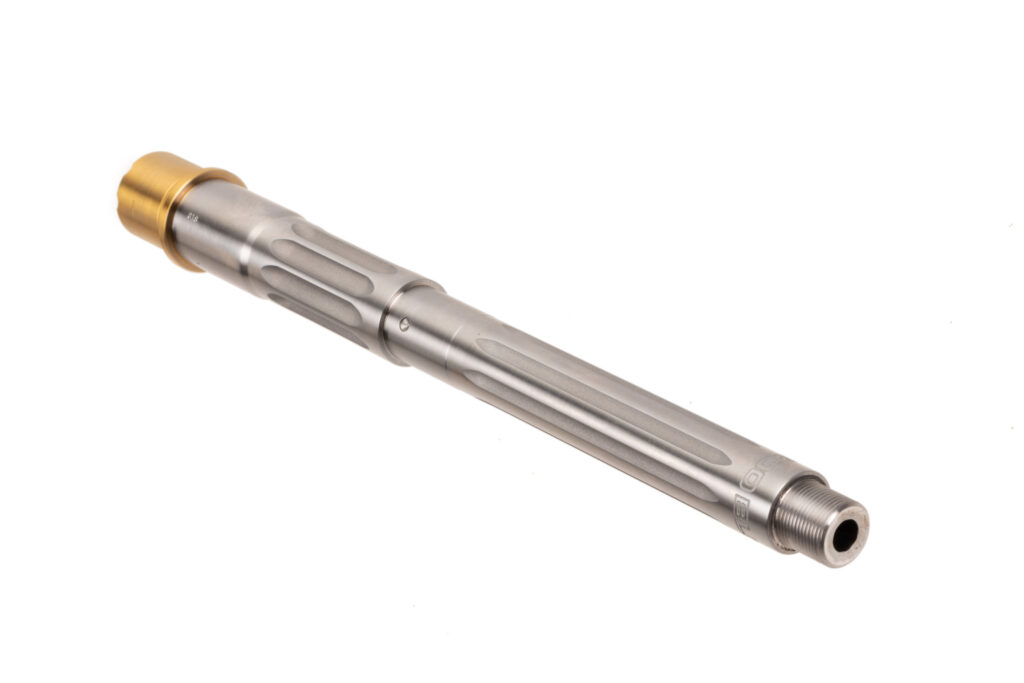 The manager at Rainier Munitions recently showed me the latest results from their newest 300BLK 125GR SST load. It achieved half-inch groups at 100 yards, which is impressive for a Blackout round. The ammo is specifically tuned for Rainier Arms 10.5-inch Ultramatch MOD2 Barrel with a 1:7.5 twist.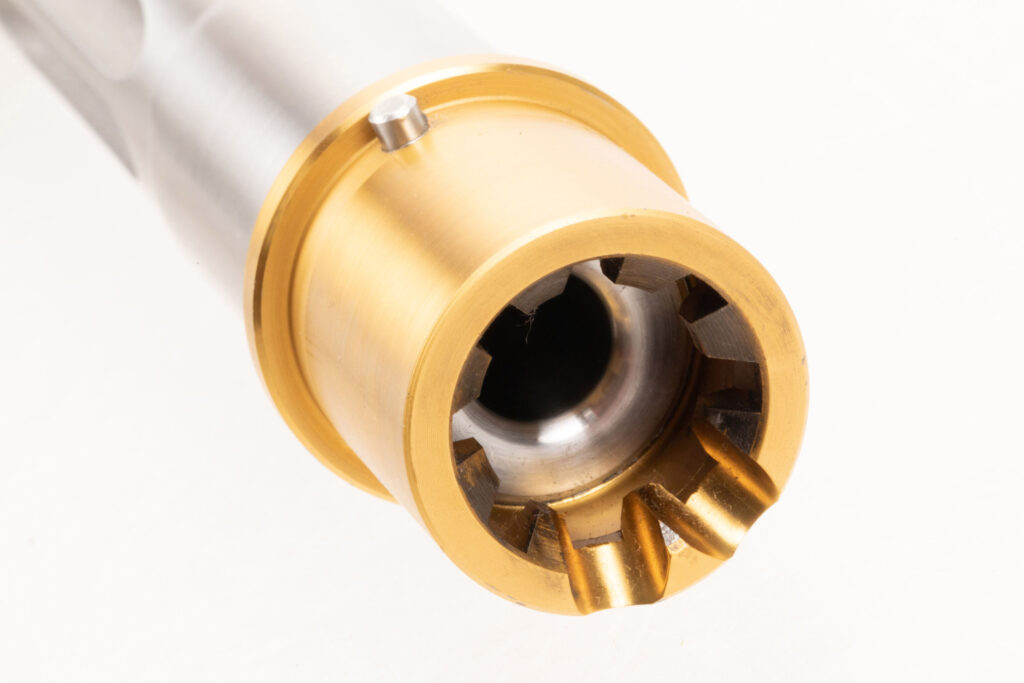 It was upon hearing these results that set me on the path of building the gun that you see here. I wanted to try my hand at building a hard-hitting, 300 BLK chambered, maneuverable, 10.5-inch-barreled gun that is capable of sub-MOA hits. Follow along as I run through the different components used in this build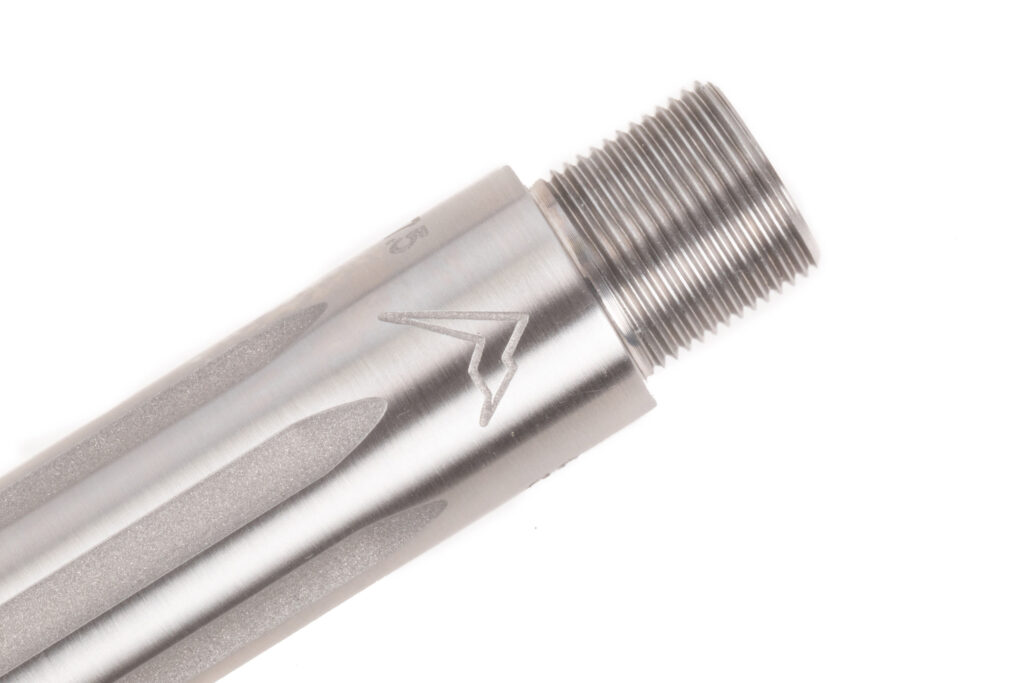 While nearly any AR-15 receiver set will suffice to build a 1- to 2-MOA 300BLK gun, truly taking advantage of sub-MOA potential requires tighter-than-standard-tolerance components. A 7075 billet matched receiver set is a must. I chose the Ascend Armory Lightweight Matched Billed Receiver Set based not only on performance but aesthetics as well. Also, an advantage of any of the Ascend Armory receiver sets is that most of the parts come pre-installed. All you have to do to complete the receivers are adding a trigger, dust cover, and safety selector.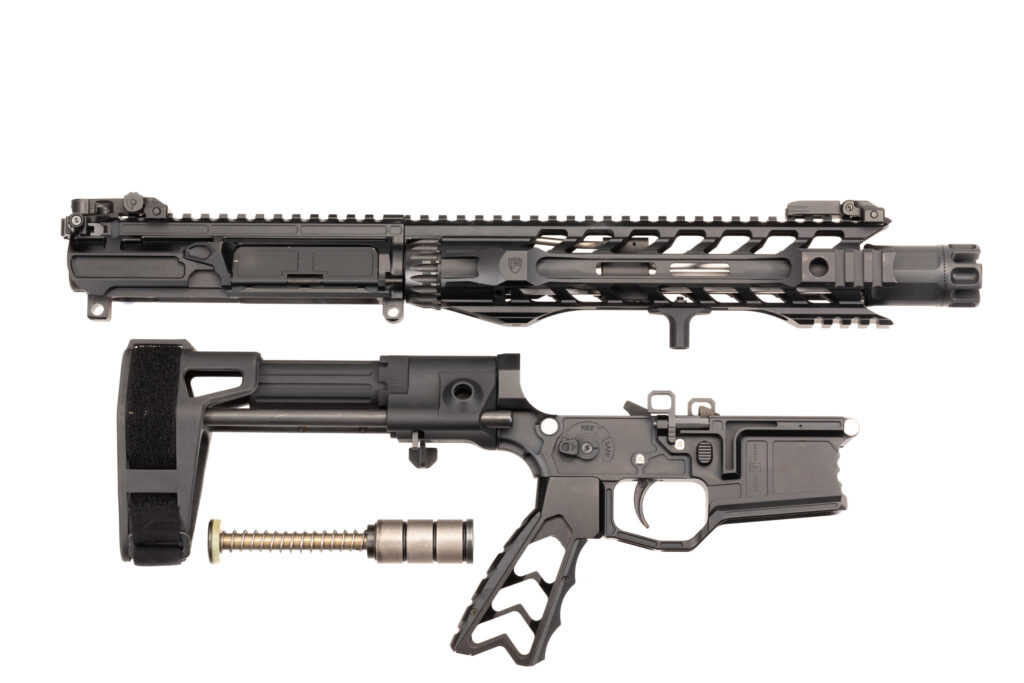 Triggers are very subjective and there is a wide gamut that would absolutely be suitable. I however, had to go back to a trigger I'm used to. The Geissele Super Semi Auto Enhanced Trigger has a 2.3-pound first stage and a 1.2-pound second stage. Its minimal hammer mass reduces pre-ignition vibration, aiding in enhanced accuracy.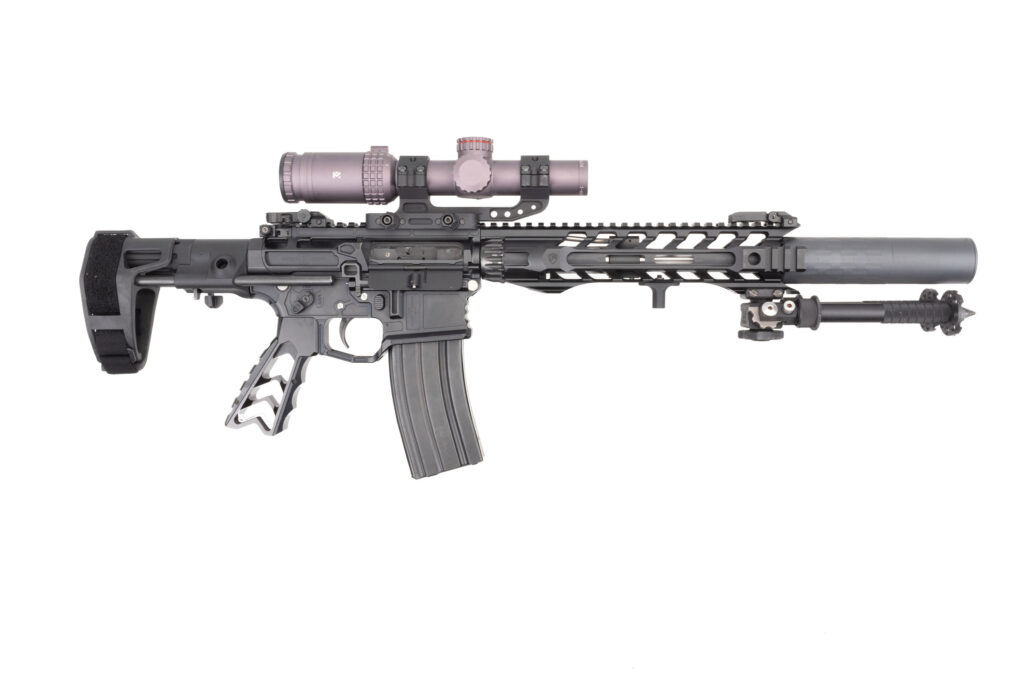 Due to the many ammunition options on the market for 300BLK ammo, I chose to use Bootleg Builder Inc.'s adjustable bolt carrier group. Any 300BLK build is intended to easily shoot supersonic and subsonic loads, either suppressed or unsuppressed. However, the only way to do that reliably without having to use an adjustable gas block is by using an adjustable bolt carrier group. The Bootleg BCG has four gas settings and is easily tuned with a small flathead screwdriver to perfect the gas settings for your ammunition of choice.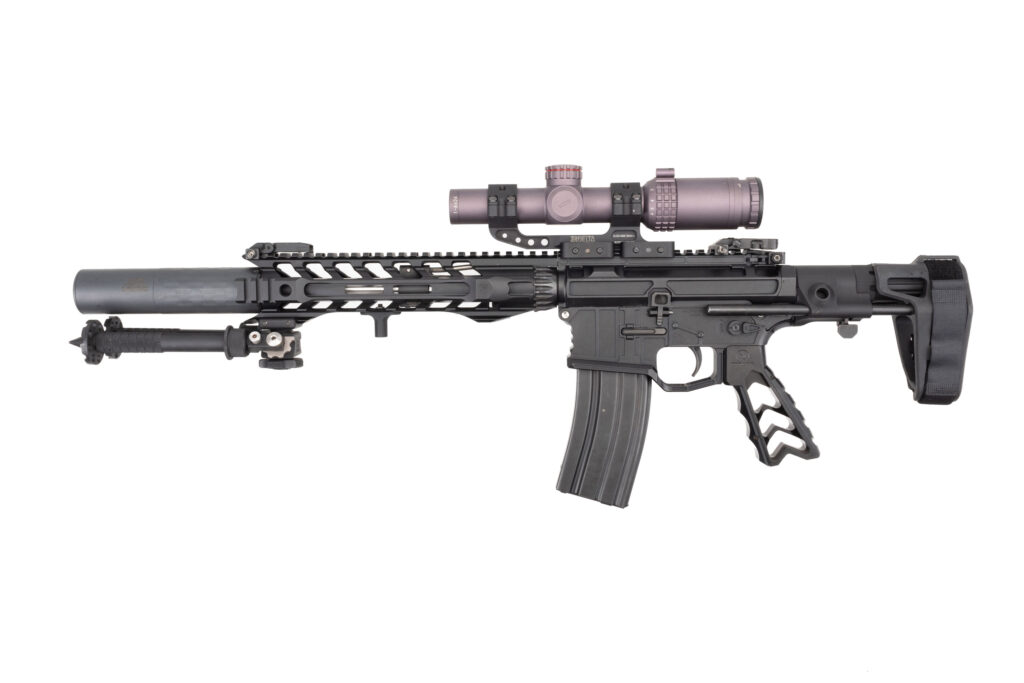 Unfortunately, there was no way to SBR this build in time for our press deadline, so I opted to make this a pistol build and install the Maxim Defense CQB Pistol Brace with their proprietary JP Silent Captured spring. Arguably one of the best-looking braces on the market, it was a perfect fit for the aesthetics of this build.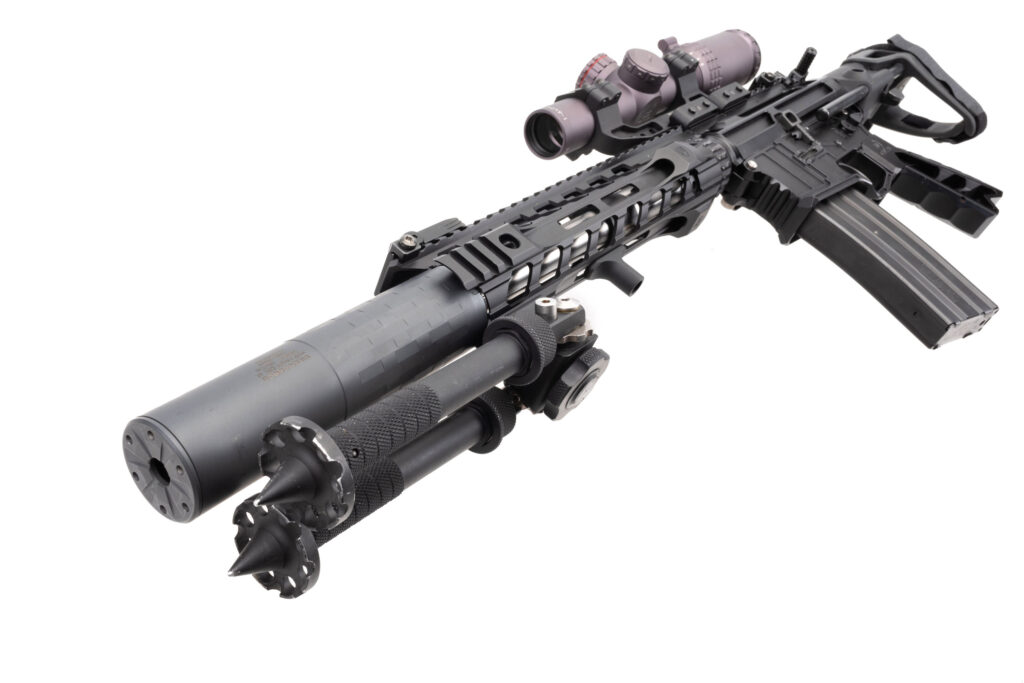 At SHOT Show 2017, Fortis Manufacturing introduced their Night Rail, which features an incredibly innovative barrel nut mounting solution. Since its release, the Night Rail has become one of my favorite go-to handguards when I wanted to make the coolest-looking gun around. The best part about mating the 10-inch handguard with the 10.5-inch barrel is that it perfectly fits a suppressor, leaving just a couple millimeters of gap between the two.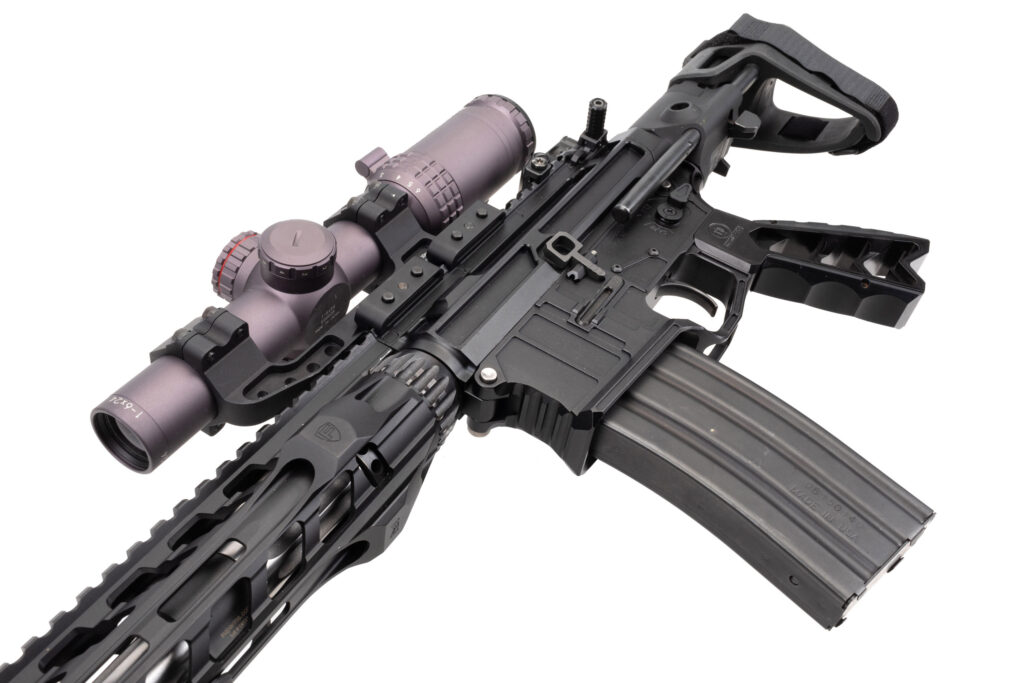 With a standard 5.56/.223 round, the only way to really take advantage of the bullet's powder burn for maximum velocity is using at least 14 to 16 inches of barrel length. Not so with a 300BLK cartridge. The powder burn is expended in only 9 inches of barrel. A longer barrel than that only gives a negligible amount of bullet velocity and added accuracy.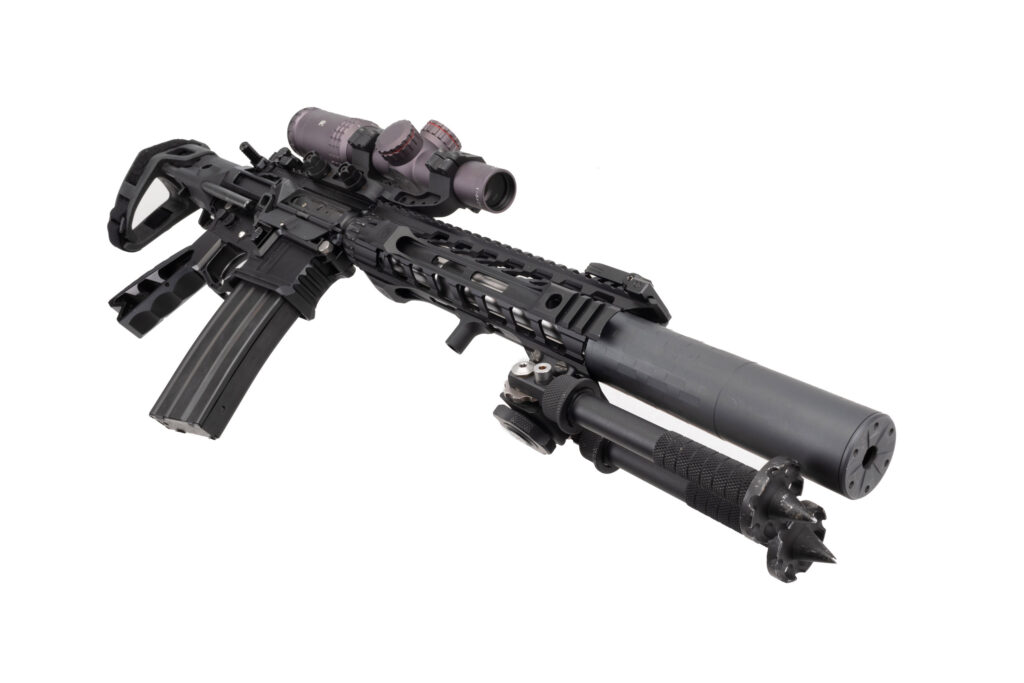 This is why the Rainier Arms 10.5-inch Ultramatch MOD2 300BLK Barrel is the perfect barrel for my needs. Not only is it a thing of beauty, with its satin flutes, titanium nitride extension, and precision-cut target crown, the barrel also comes with a .800 diameter gas block and pistol-length gas tube. An adjustable gas system upgrade is available for added tenability.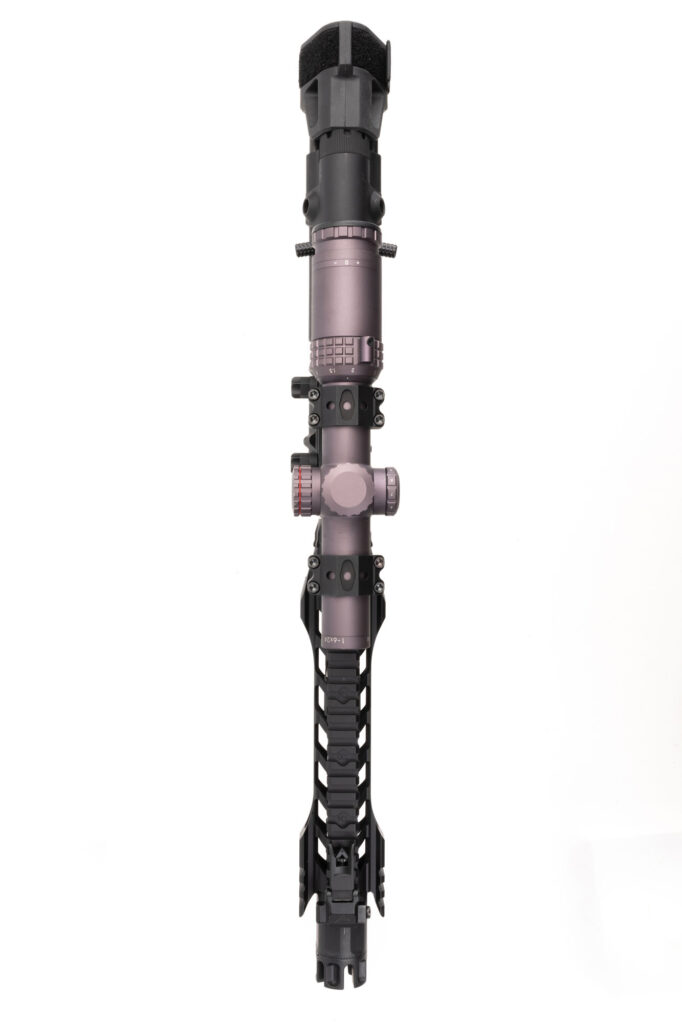 The 300BLK truly shines as a suppressed caliber, with ammo options ranging from 208- to 220-grain subsonic (< 1,050 FPS), 125-grain match (2,030 FPS) to 78-grain super light and fast bullets pushing near 2,800 FPS, it's become one of the most versatile calibers in existence. I tested the Rainier Munitions 125-grain round using a Primary Weapons System CQB Linear Brake as well as a SilencerCo Omega suppressor.
Both performed exceptionally well, with a hat tip to the PWS brake for making this gun one of the smoothest-shooting unsuppressed pistols I have ever built. While a traditional muzzle brake would have been acceptable, I generally don't like to put them on short builds in order to keep muzzle flash and concussion to a minimum. Going with a linear brake nearly eliminates all the problems associated with traditional brakes.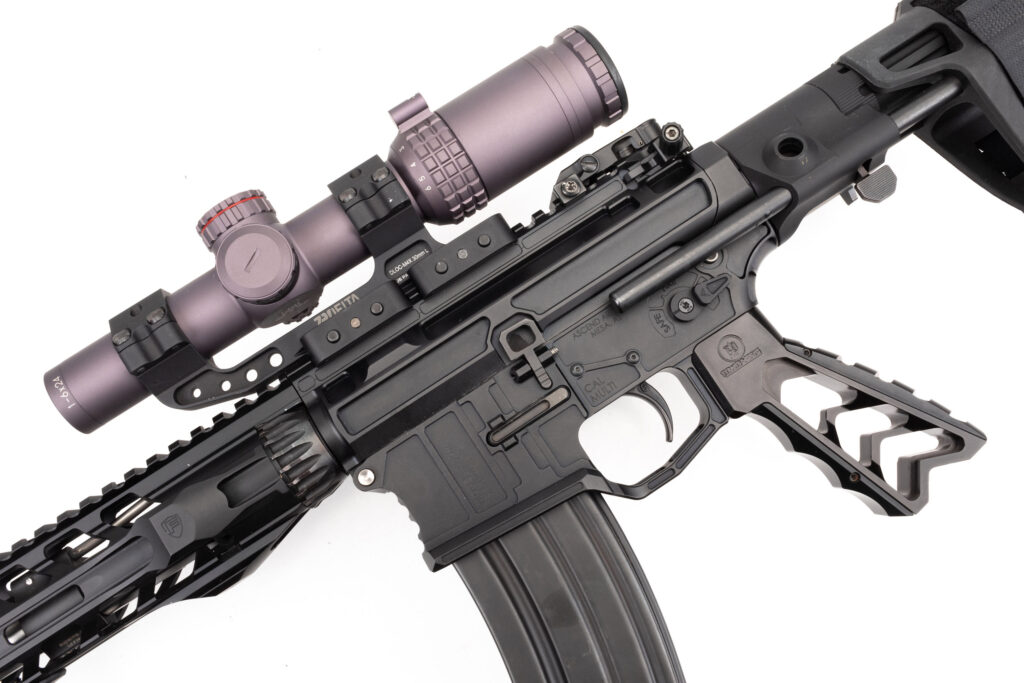 Since it's a newcomer on the block, I had to give the Mercon Optics 1-6x a try. With a retail price of just $699, Japanese-made precision glass, this second-focal-plane optic was astounding for its optical clarity, no parallax movement at 100 yards, and generous 3.5 inches of eye relief. The reticle is incredibly clean, with a clearly defined 1/4 MilDot dot and 1 MilRad graduations. Aside from the odd color, they really knocked it out of the park with this one, especially considering it's a first run. I also opted to use a ZRO Delta Optic Mount. Its mounting surface area offers more points of contact to the rail than the majority of other optic mounts use. Hence, loss of zero is impossible with repeated removal/reinstallation to the firearm.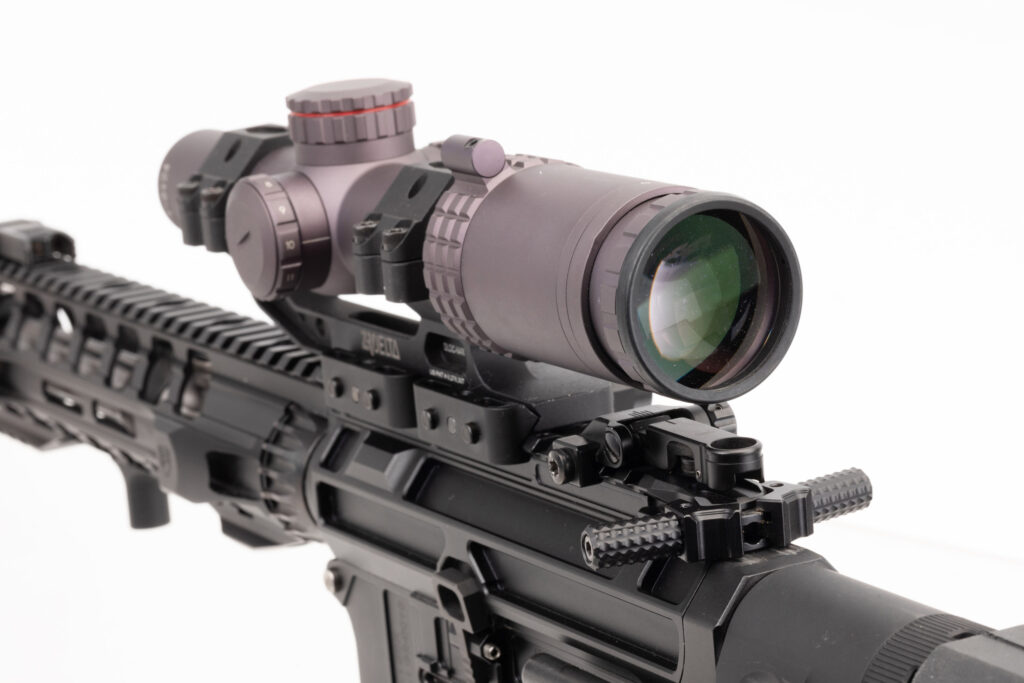 I admit—a bipod on a pistol or SBR might be a bit of an overkill. Sub-MOA and short barrels really never are said in the same sentence after all, let alone concerning a 300BLK gun. Most short-barrel builds would look incredibly "Mall Ninja Tactical Overkill" by adding a bipod. However, this is one case where a small lightweight bipod really was appropriate. The only one that I felt would fit the look of this build was the B&T industries Atlas bipod with add-on Spikes from Tactical Supply.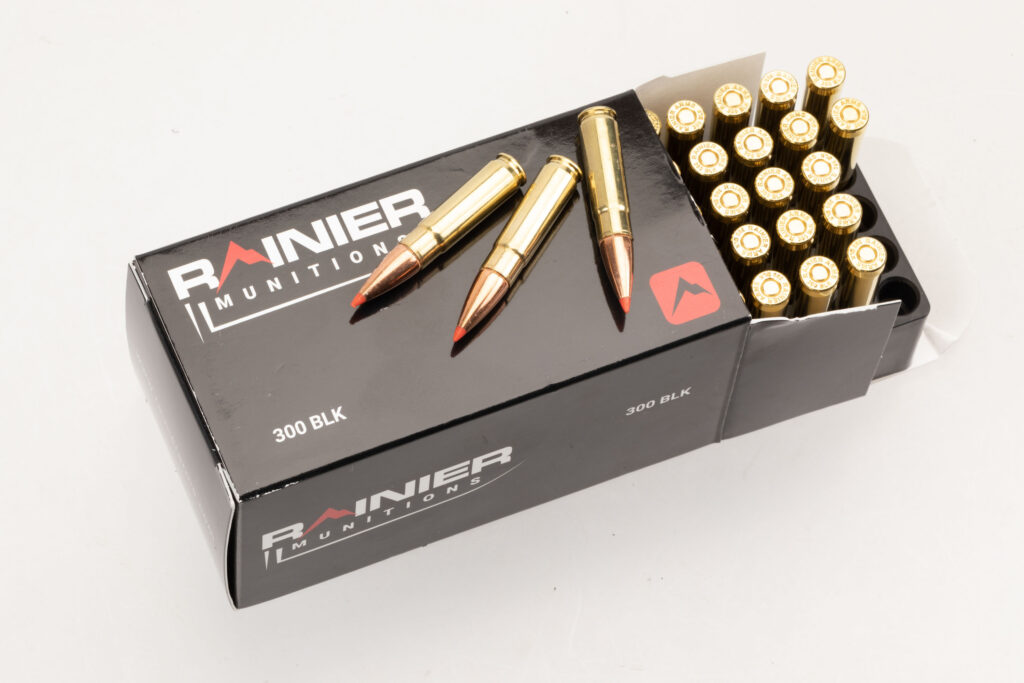 On my first outing I made the mistake of bringing the gun to a public range. It turned a lot of heads, not only for its looks, but its accuracy, too. The pictures speak for themselves. Bear in mind that it did take about 50 rounds to break the barrel in and let the gas block seat properly for consistent shots. But the groups slowly went from MOA down to holes touching each other, and oftentimes multiple bullets passing through the same 3/8-inch ragged circle. Consider my itch to gauge the accuracy on this ammo and barrel combination scratched.
Rainier Arms/Rainier Munitions did an incredible job pairing their top-tier Ultramatch Barrel with a perfectly matched 300BLK bullet. It's not often I keep a gun built up permanently. Like adult Legos, I build them up and tear guns apart often, but this is hands-down my favorite build to date. It has earned a permanent spot in my safe as my go-to 300 Blackout gun.
Text and images by TracerX.
TracerX's 300 BLK-Pistol
Caliber: .300 BLK
Length: TK – TK in.
Barrel: Rainier Arms Ultramatch MOD2 300BLK Barrel
Weight w/o magazine: TK lbs., TK oz.
Upper & Lower Receivers: Ascend Armory AR-15 Lightweight Matched Billet Receiver Set
Featured Accessories:
Optic: Mercon Optics 1-6x
Optic Mount: ZRO Delta Optic Mount
Handguard: Fortis Night Rail 10" M-LOK
Brace: Maxim Defense Pistol Brace with JP PCC Captured Spring
Magazine: USGI
Suppressor: SilencerCo OmegaParts & Accessories: Bootleg Adjustable BCG, Rainier Arms BUIS, Arisaka M-LOK Finger Stop, Geiselle Super Dynamic Enhanced Trigger, PWS CQB Linear Brake