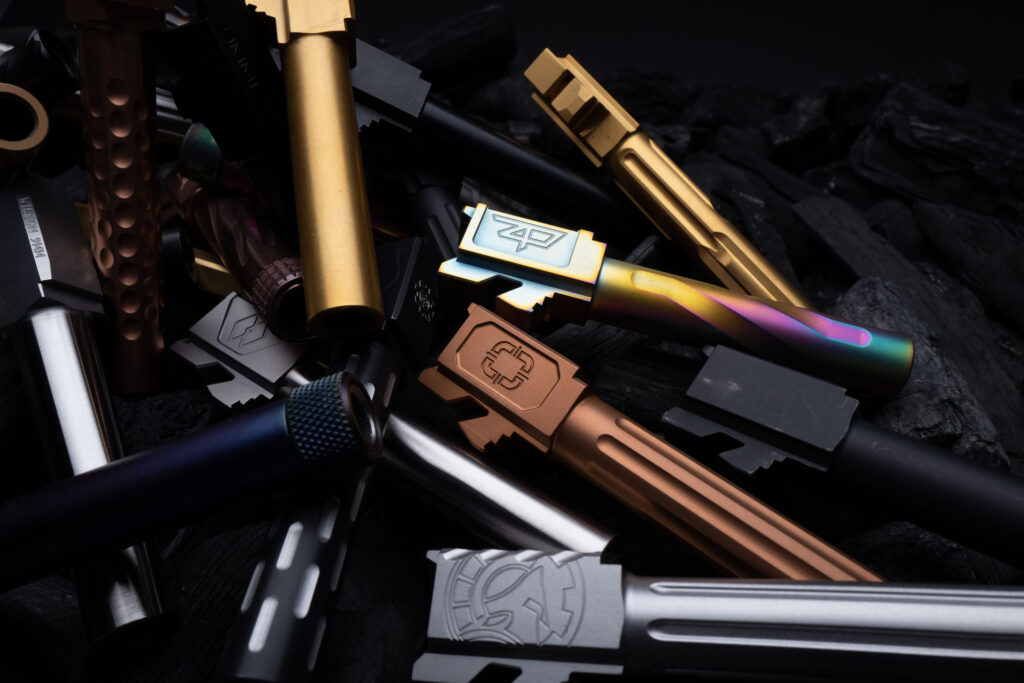 It's no secret that Glock pistols have been turned into the hot rods of the firearms world. Just like souped up cars, they are routinely modified for improved function and enhanced form by shooters, craftsmen and artists alike. One category of aftermarket firearm parts that has skyrocketed in recent years in terms of selection and demand due to this movement is that of upgrade barrels for Glocks, especially of the 9mm variety.
After you get a Glock's slide milled and its frame re-contoured and the entire pistol coated, what do you do next? You drop in an upgraded barrel of course. Barrels not only dictate how accurate your pistol is, but can contribute greatly to its weight as well as aesthetic too.
We scoured the aftermarket land for samples of barrels to present to our custom-gun loving audience. On display here are only single samples of Glock-compatible barrels. If you see ones that you like, we encourage you to visit the manufacturer's website to see what else they may offer that can also pique your interest. Now without further ado, let's dive into the guide.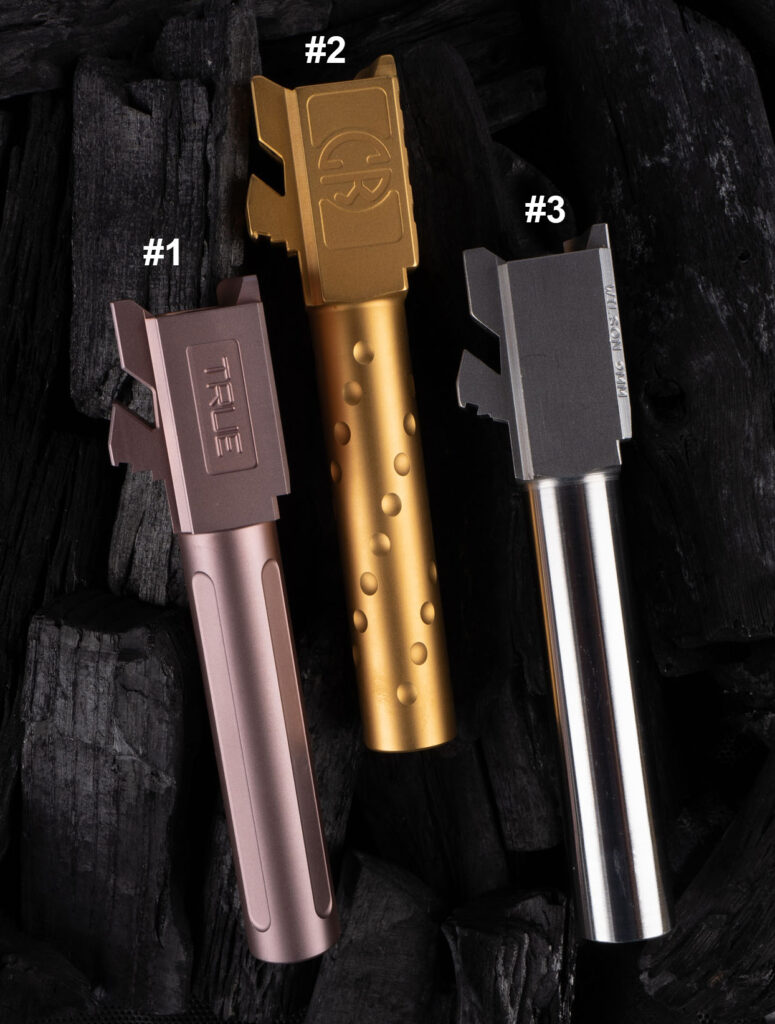 True Precision – #1
Glock 19 Non-Threaded
Finish: Rose-TiCN
Other Available Finishes: 14 more
Highlights: Drop-in fitment, advanced proprietary broach cut design specifically engineered for increased accuracy potential.
MSRP: $190
true-precision.com

CR Precision – #2
Drop-In G19 Non-Threaded Barrel
Finish: TiN
Highlights: This drop-in replacement barrel features dimpling and a durable TiN coating.
MSRP: $235
crprecision.us
Wilson Combat – #3
Match Grade Barrel, Full-Fit 9mm For Glock 19
Finish: Stainless
Highlights: Fits: Gen 3, Gen 4, Gen 5 G19's, it is made of 416R stainless and oversized in all dimensions. When properly fitted, WC claims it will shoot groups rivaling a 1911 handgun with a match grade with a fully fitted barrel. Designed for professional gunsmith installation, this barrel will not drop in to any firearm without significant fitting.
MSRP: $165
shopwilsoncombat.com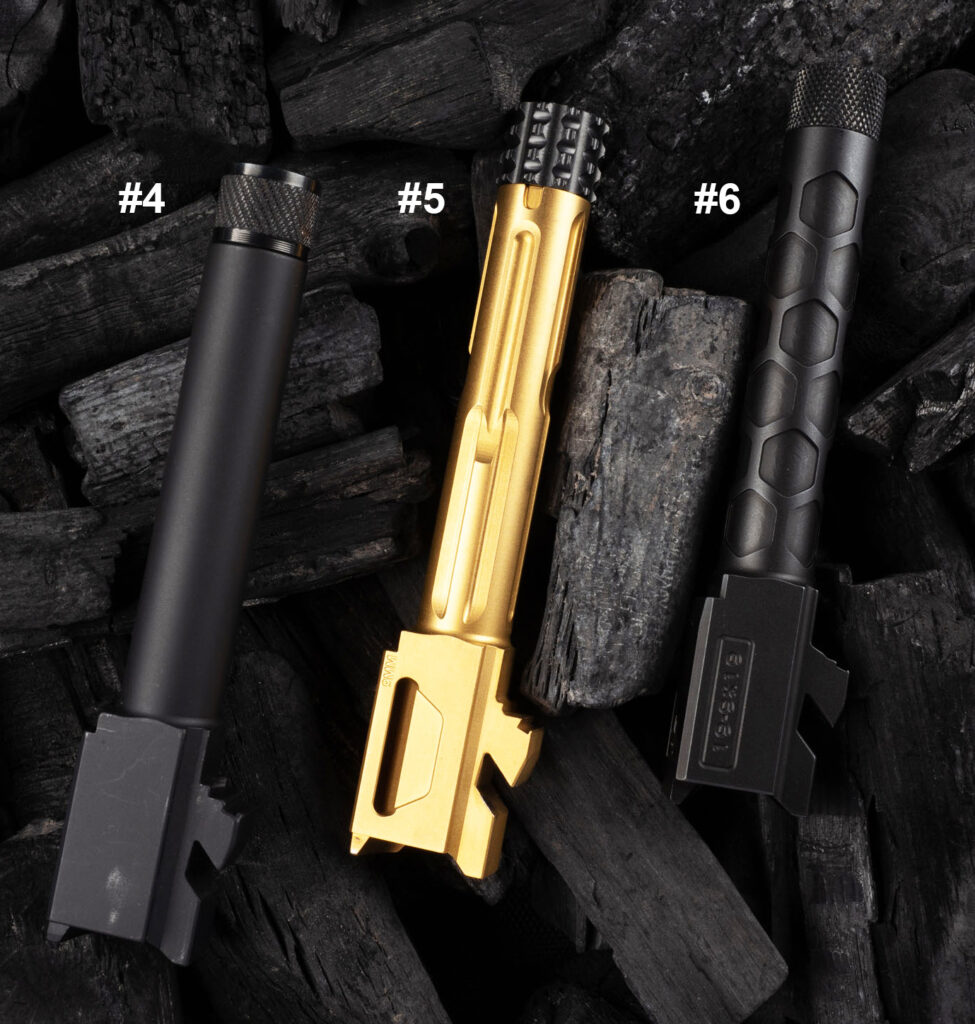 Bear Creek Arsenal – #4
BCA Glock 19 9mm Replacement Barrel (Threaded/Unbranded)
Finish Shown: Black Nitride Finish
Highlights: This is a drop-in replacement barrel that will fit Glock 19 models Gen 1 through 4.
MSRP: $109
bearcreekarsenal.com
Killer Innovations – #5
Velocity Glock Barrel (Glock 19, Threaded)
Finish Shown: TiN
Other Available Finishes: Black Nitride, MDC (Gray)
Highlights: Barrel is machined with an 11° target crown for greater accuracy and coated with high quality finishes, ensuring accuracy and reliability
MSRP: $190-211
killer-innovations.com
Tactical Kinetics – #6
G19 Threaded Barrel – Engraved
Finish Shown: Black Nitride
Highlights: This button rifled match grade Tactical Kinetics G19 Gen 5 threaded pistol barrel is engraved with the Tactical Kinetics TK logo.
MSRP: $105
tacticalkinetics.com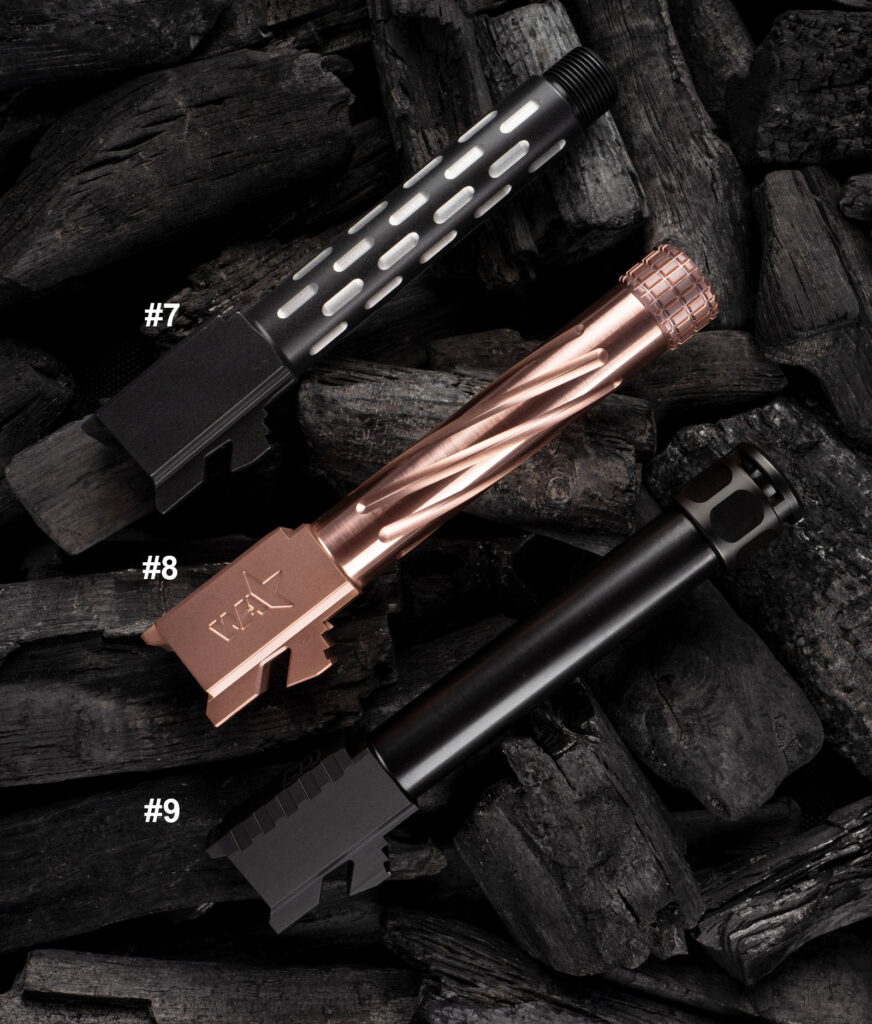 Next Level Armament – #7
Glock 19 Barrel Two-Tone Threaded
Finish Shown: Nitride, silver dash, clear Cerakote finish
Highlights: This Glock 19 barrel starts with a 416 Stainless Steel blank that is finished in Nitride, which is then machined in your choice of either a dash or spiral design. Available in a non-threaded version as well.
MSRP: $150
nextlevelarms.com
Wheaton Arms – #8
Glock 19 Copper Finish Threaded Match Grade Barrel
Finish Shown: Copper
Highlights: Fits Glock 19 Gen 5, MOS & 19X models. Its fully supported chamber reduced the risk of case head separation and its polished feed ramp increases reliability. Its oversized locking lugs maximize accuracy and reduce wear to slide.
MSRP: $220
wheatonarms.com
Griffin Armament – #9
Glock 19 Gen 3/4 Barrel 1/2×28 Threaded With Micro Carry Comp
Finish Shown: Black Nitride
Highlights: Billet machined from 416R stainless steel for ultimate drop-in match performance. Designed with concealed carry users in mind, comes with GA's patent pending Micro Carry Comp, an impressive performance add on.
MSRP: $196
griffinarmament.com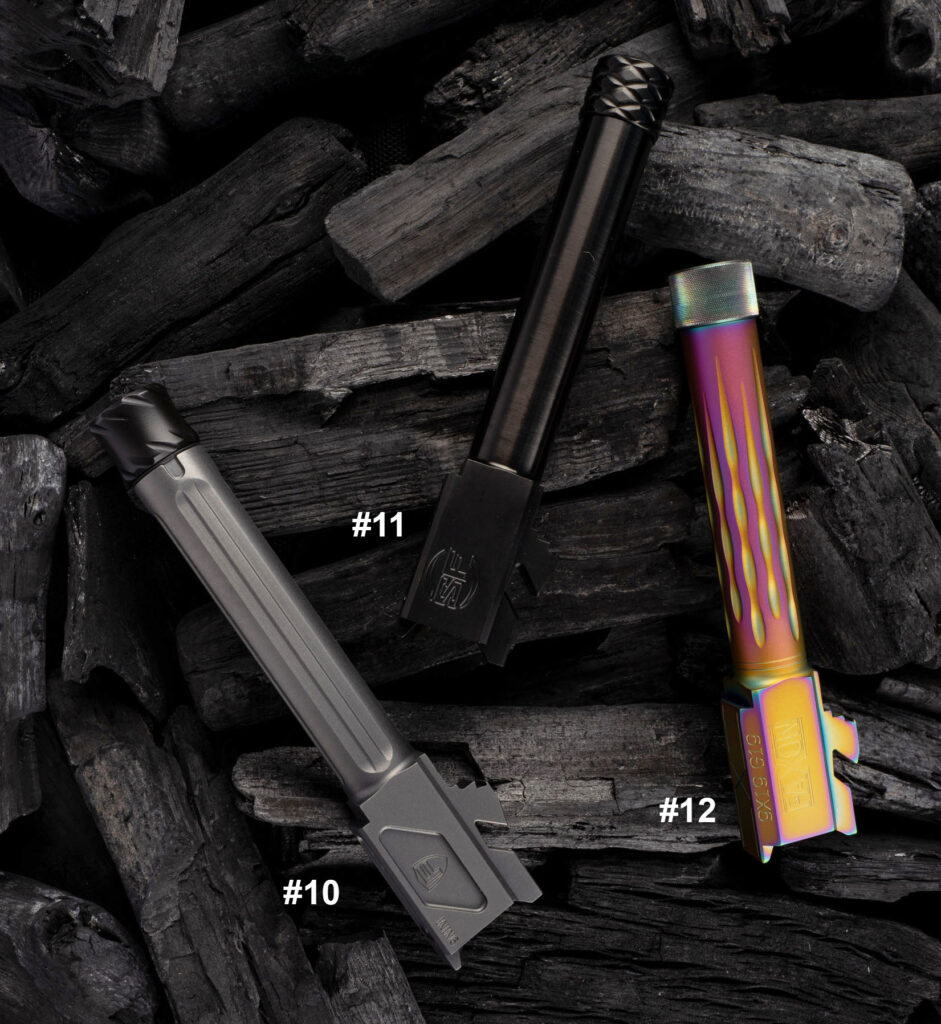 Fortis Manufacturing – #10
Glock Match Grade Barrel – 19 With Lone Rifling Threaded
Finish Shown: MDC Coating (Grey)
Other Available Finishes: Black Nitride, TiN (Gold)
Highlights: Single point cut Lone Rifling for precise concentricity and accuracy, made of 416-R steel, 11° target crown, comes with threaded barrel protector. Compatible with Glock Gens 1-5 as well as Glock X
MSRP: $210-220
Surefire – #11
Zev Drop-In Gun Barrels For Glock 19
Finish Shown: Black DLC
Other Available Finishes: Burnt Bronze
Highlights: Manufactured exclusively for SureFire by ZEV Technologies, this match-grade, drop-in barrel features extremely tight tolerances for superb accuracy. Because they're produced for SF, the thread specs and profile of these barrels are perfect for attaching SF's Ryder 9mm suppressor.
MSRP: $275
surefire.com
Faxon Firearms – #12
G19 Barrel, Flame Fluted, Threaded, 416-R, Nitride, Match Series
Finish Shown: Chameleon (Rainbow)
Other Available Finishes: Black Nitride, TiN (Gold)
Highlights: Compatible with Glock 19 Gens 1 through 5, this drop-in barrel features tight tolerances for better fitment and lock-up. It features a 9mm SAAMI Chamber for increased accuracy and boring reliability.
MSRP: $209
faxonfirearms.com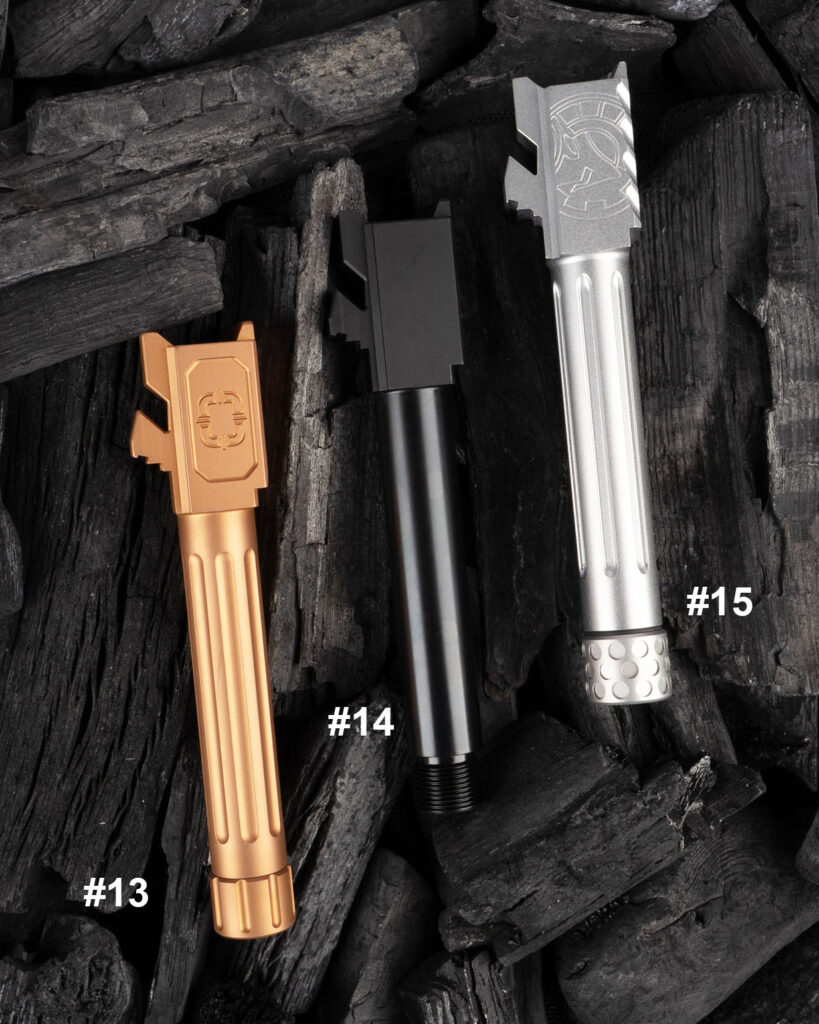 Shadow Systems – #13
Match Barrel – Threaded Fluted – Glock G19
Finish Shown: Bronze TiCN
Other Available Finishes: Black DLC
Highlights: Engineered to easily drop-in yet fit more tightly in critical lock up areas for improved accuracy. Flutes reduce the weight of the barrel while adding an exit for dirt & debris in the slide. Made of 416-R Stainless, its thread protector is included.
MSRP: $249
shadowsystemscorp.com
Brownells – #14
Match Grade Barrel Glock 19 Gen 1-5 9mm Threaded
Finish Shown: Black Nitride
Highlights: Brownells Compact 9mm Glock 19 barrels are designed to drop into any Glock 19 pistol from Gen 1 through 4. Constructed from 416-R stainless-steel bar stock and features conventional land-and-groove rifling instead of the polygonal rifling found on factory Glock pistol barrels.
MSRP: $137
brownells.com
Battle Arms Development – #15
Battlearms One:1 Barrel Fits Glock 19
Finish Shown: Stainless
Other Available Finishes: Melonite QPQ Black Nitride
Highlights: Available in both threaded and non-threaded versions, the One:1 utilizes a revolutionary machining process where one machine comprehensively machines the entire barrel from beginning to end. Fits Glock 19 Gen 1 through 5 including 19X.
MSRP: $200-250
battlearmsdevelopment.com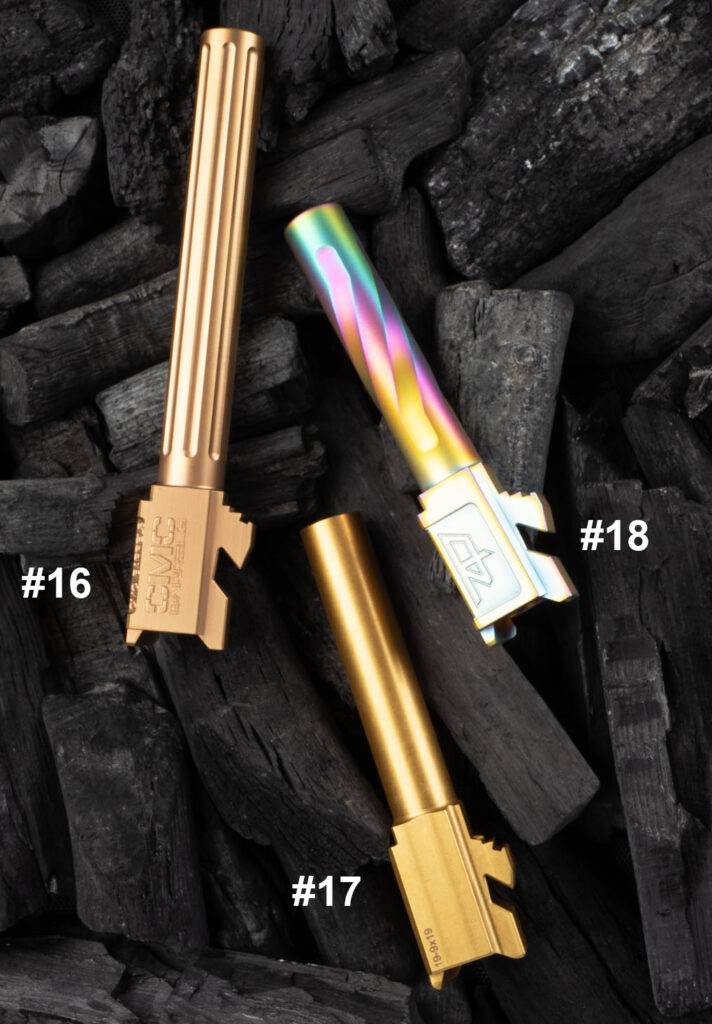 CMC Triggers – #16
Glock Barrel 75518 Glock 34 Fluted Non-Threaded
Finish Shown: Bronze TiCN
Other Available Finishes: Stainless, Black DLC
Highlights: CMC's barrels are 6 groove, cut rifled, double honed and are made with SAAMI Match Grade specification chambers. This straight fluted direct drop-in barrel does not require gunsmith assembly. Accuracy made easy.
MSRP: $199
cmctriggers.com
AIM Surplus – #17
Glock 19 Compatible 9mm Barrel
Finish Shown: TiN
Other Available Finishes: Stainless
Highlights: AIM's Glock 19 compatible stainless steel drop-in barrel is coated in TiN with 1/2×28 threads. No gunsmithing required.
MSRP: $100
aimsurplus.com
Zaffiri Precision – #18
G19 Barrel – Threadless (OEM)
Finish Shown: Tropical PVD
Other Available Finishes: TiN, Stainless, Black Nitride
Highlights: This match-grade barrel is an easy drop-in performance upgrade for your pistol. Made of 416-R Stainless Steel with pulled broached rifling and polished feed ramp. OEM stands for factory Glock length.
MSRP: $169
zaffiriprecision.com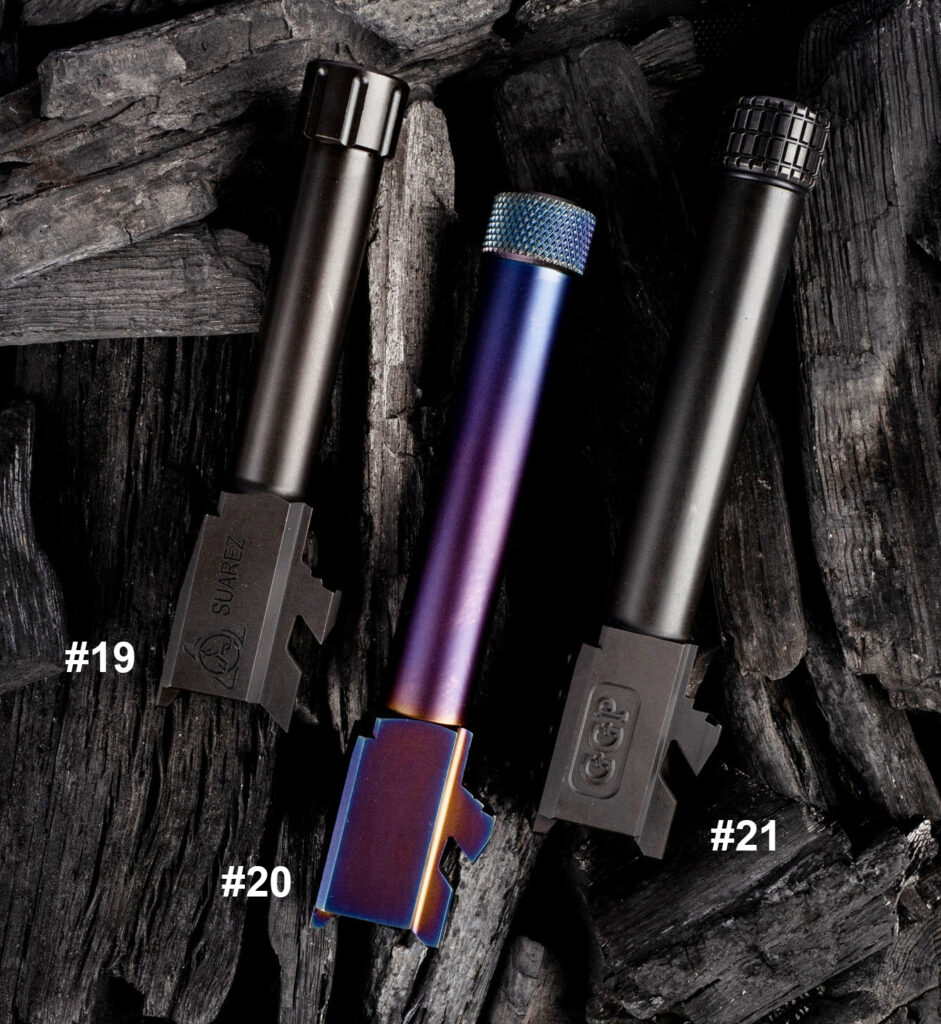 Suarez International – #19
Faceshooter G-43/43x Threaded Barrel
Finish Shown: Melonite
Highlights: A perfect drop-in replacement barrel for Glock 43's, the Faceshooter is threaded for suppressor attachment and is fully supported for SAAMI specification match chambers. The barrel allows for significant increases in accuracy with no loss in reliability.
MSRP: $160
suarezinternational.com
Lone Wolf Distributors – #20
PVD Coated LWD Barrel M/19 Threaded
Finish Shown: Frost Bite PVD
Other Available Finishes: 8 more
Highlights: Available for Glock 19 Gens 1 through 5 and Glock 17 Gens 1 through 4, LWD's barrels are ready to drop-in without any further gunsmitthing. Available in nine different colored finishes, LWD barrels allows you plenty of choices for your pistol's customization.
MSRP: $160
lonewolfdist.com
Grey Ghost Precision – #21
GGP Glock 19 Match Grade Barrel
Finish Shown: Black Nitride
Other Available Finishes: Uncoated
Highlights: Available threaded and non-threaded as well as uncoated or coated in black nitride, this match grade drop-in barrel is made of 416-R stainless steel. It is machined for a final dimension of +/- 0.003" for consistent accuracy and features a proprietary twist rate.
MSRP: $180-190
greyghostprecision.com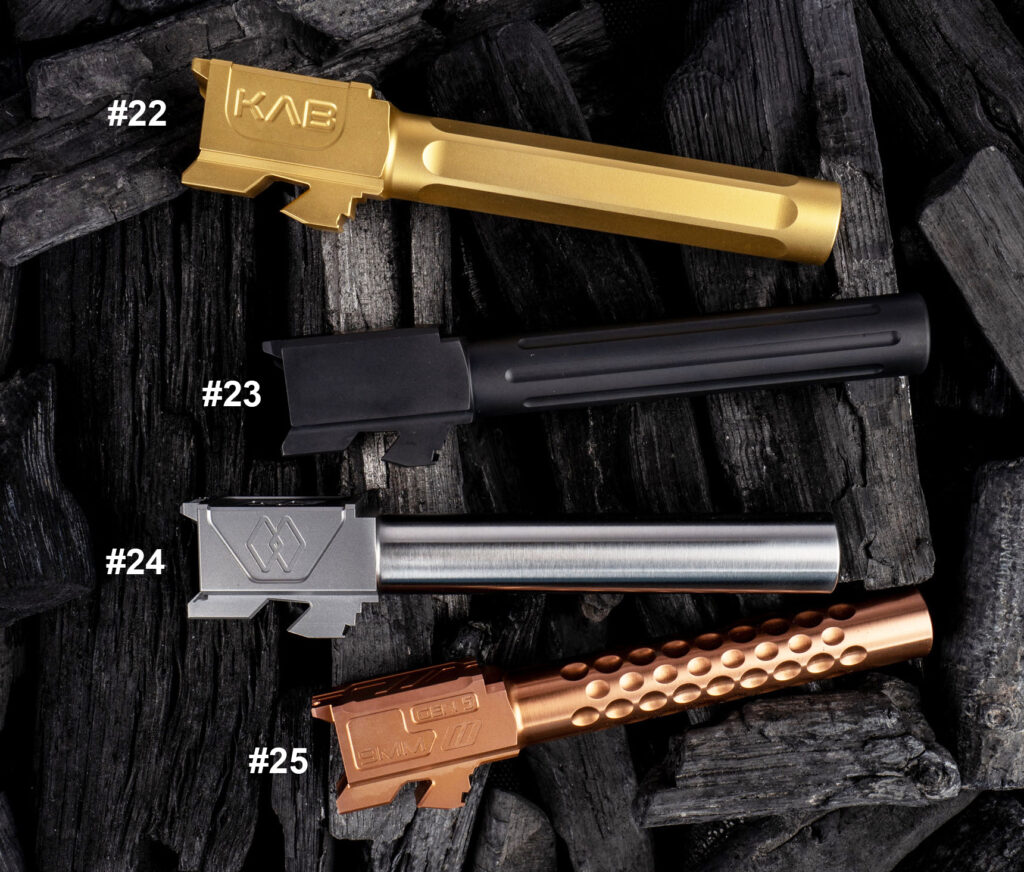 KAB Defense – #22
Barrels For 9mm Glocks
Finish Shown: TiN (Gold)
Other Available Finishes: CrN (Silver), Black DLC
Highlights: Available to fit Glock 17, 19, 19X, and 34 Gens 1 through 4 and Glock 19 and 19X Gen 5, KAB Defense's barrels are machined in-house from 416R stainless steel hardened to 38-42 HRC. They are available with or without threading.
MSRP: $225
kabdefense.com
Alpha Wolf (By Lone Wolf Distributors) – #23
Alpha Wolf Barrel For M/17 9mm Stock Length
Finish Shown: SBN
Highlights: Alpha Wolf barrels fit Glock generations 1-4 and are designed to fire lead, plated, or jacketed ammunition. Made of 416 stainless steel and button rifled then finished with a three stage honed bore.
MSRP: $140
lonewolfdist.com
Double Diamond – #24
Premium Replacement Barrel
Finish Shown: Stainless
Other Available Finishes: Black, Chameleon, Gold
Highlights: A high quality replacement barrel with a touch of style for your Glock. Available for Glock models 17, 19, 22, 23 and 34, does not fit Gen 5 models, and the G34 Barrels only work in Gen 1-3 Glocks.
MSRP: $170-280
glockstore.com
Zev Technologies – #25
V2 Match Barrel G17 Gen5
Finish Shown: Bronze
Other Available Finishes: Black DLC
Highlights: ZEV's V2 Match Barrels have been redesigned for improved performance and Gen5 compatibility. Available threaded or not, new features include a recessed target crown, a new match chamber, and a stylized barrel hood with caliber and model engravings and a loaded chamber indicator.
MSRP: $300
zevtechnologies.com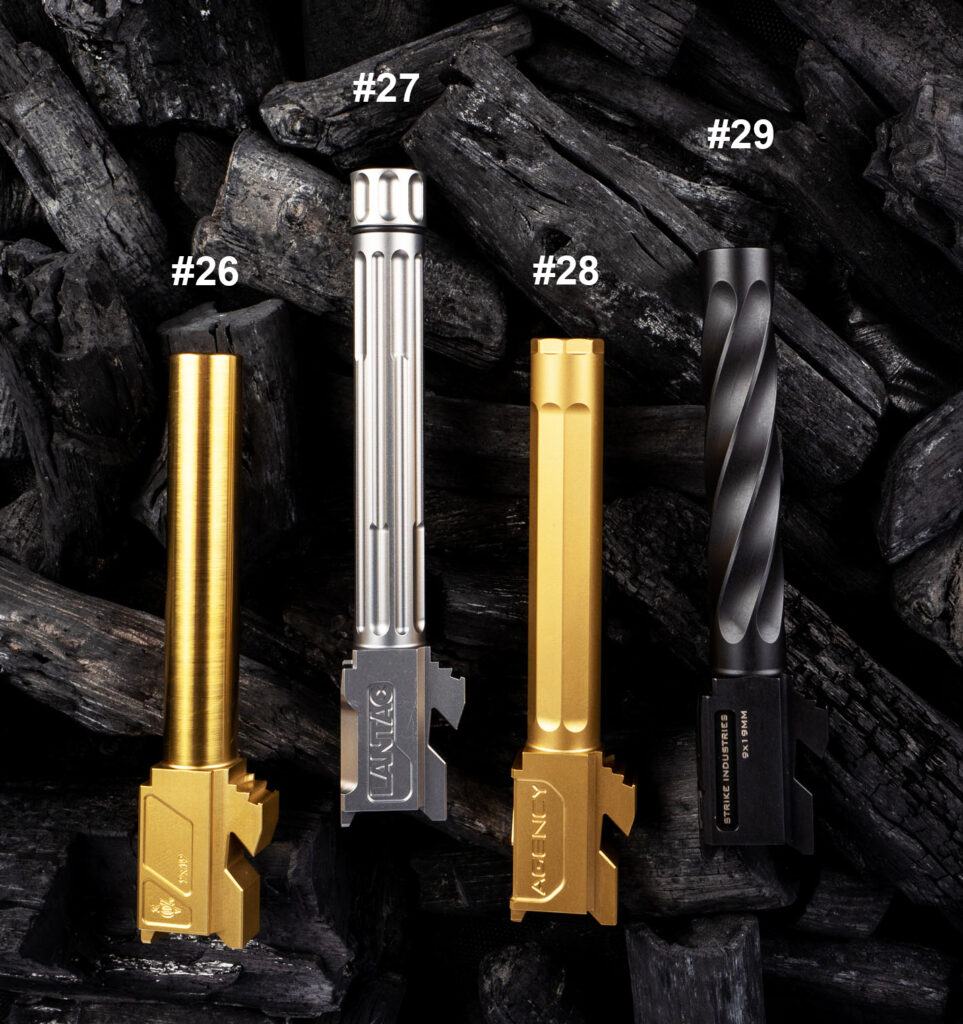 Alpha Shooting Sports – #26
Alpha 9mm Match Grade Barrel For G17
Finish Shown: TiN
Other Available Finishes: Stainless, Black DLC
Highlights: Titanium nitride (TiN) plated for increased wear resistance and an attractive gold finish. This 4.5" length barrel is compatible with Gen 3 and 4 Gen G17's. Manufactured from 416-R stainless steel bar-stock. Broach cut rifled in 1:16LH twist for accuracy and the ability to shoot non-jacketed lead projectiles.
MSRP: $230
alphashootingsports.com
Lantac – #27
Glock 9ine G17 Threaded Upgrade Barrel
Finish Shown: Stainless
Other Available Finishes: Bronze, Black
Highlights: If you're looking for a substantial upgrade drop-in barrel for your Gen 3 and 4 Glock 17 and 19 pistols, this is it. This match grade barrel is precision machined from certified pre-hardened DFARS compliant 416-R stainless steel to extremely tight tolerances.
MSRP: $306
lantac-usa.com
Agency Arms – #28
Premier Line Match Grade Drop-In Barrel
Finish Shown: TiN
Other Available Finishes: Stainless, Black DLC
Highlights: Sporting distinctive octagonal fluting, one look at the Agency Arms Premier Line barrel and you already know it's unlike all others. Available for different Glock models including Glock 17 Gens 1 though 4, in threaded and not threaded versions.
MSRP: $310-320
agencyarms.com
Strike Industries – #29
ARK G17 Barrel for Glock
Finish Shown: Black Nitride
Highlights: Strike Industries ARK G17 is a spiral-fluted barrel that reduces weight without sacrificing accuracy or durability. Crafted from pre-hardened 416 stainless steel, the barrel is corrosion resistant and boasts high tensile strength.
MSRP: $180
strikeindustries.com
Text by Jerry Tsai and images by Jeff Chen