Built for long range plinking
Original Cerakote scheme by Nevada Cerakote
Chambered in .224 Valkyrie
For those of us who have been around the block a few more times than we'd like to admit (read: old), we tend to be a bit jaded by all the newfangled stuff that's marketed our way. With everything being billed as new and improved this or better than ever that, it's hard to wade through the sales claims to see just what is worth giving our attention to.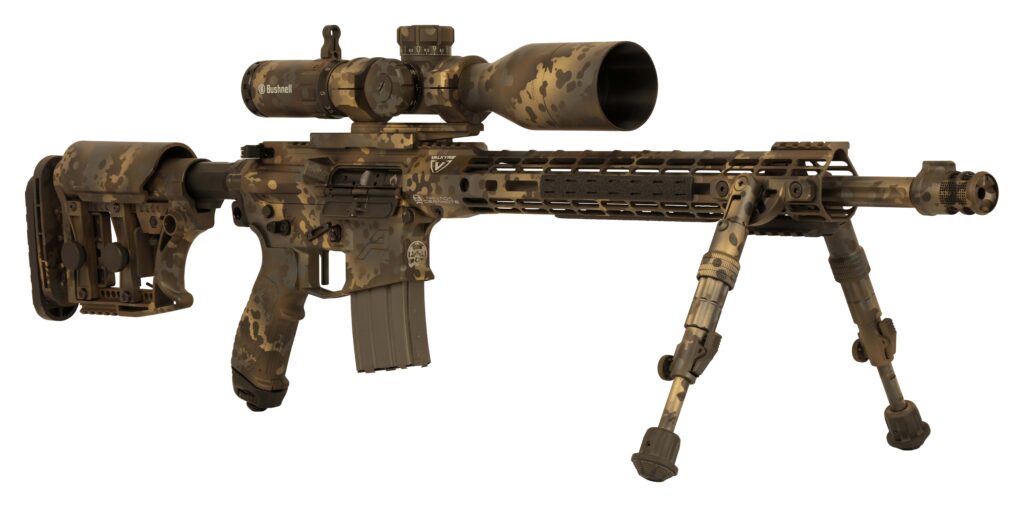 We long ago stopped looking for that miracle cartridge that promised to give you both laser-beam accuracy and range coupled with low recoil characteristics. After reading about miracle rounds for well over a decade only to be disappointed in our experiences with them, we finally learned our lesson and dived deeper into the .308 Winchester hole and never came up for air. We may be late to the party, but early last year we finally went out with a buddy to try out his 6.5mm Creedmoor rifle.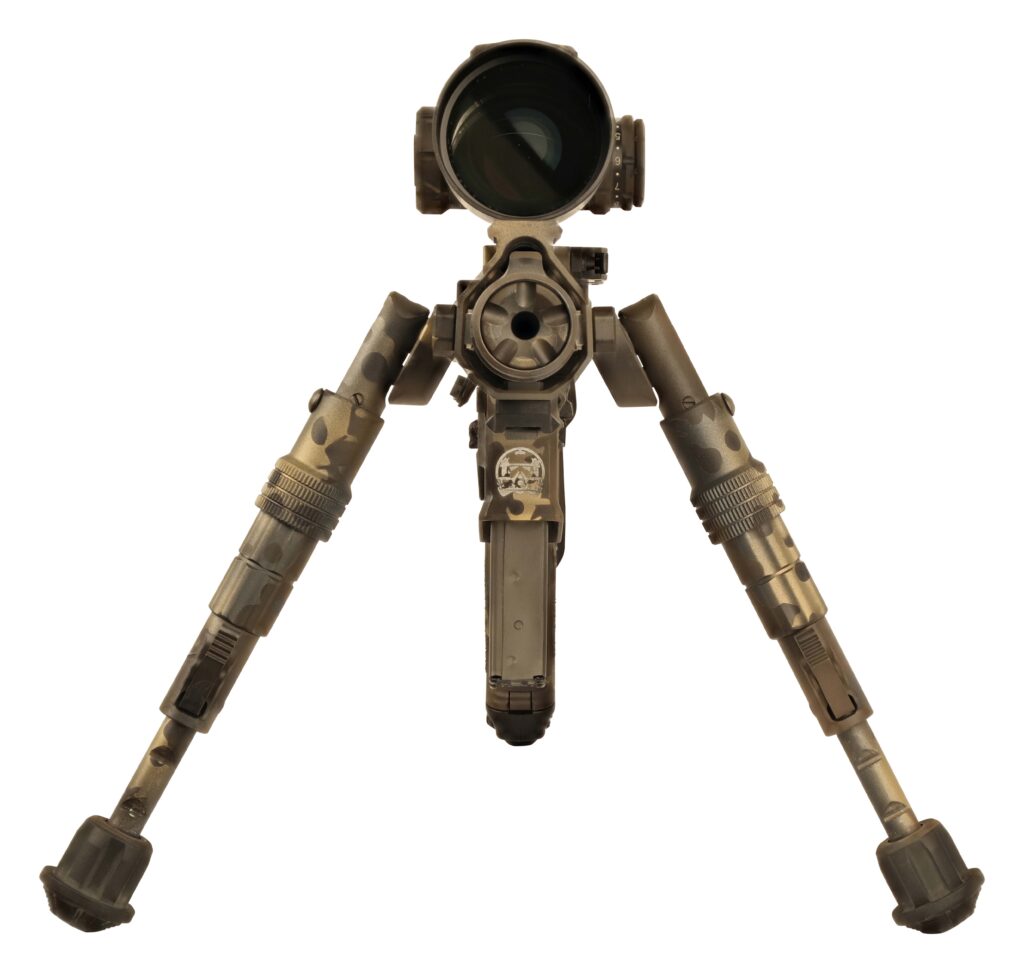 Wow. Color us impressed. It did everything it promised. We were so captivated by the performance of the round that we soon found ourselves proud owners of our very own Creedmoor-chambered rifle. You can imagine our surprise when we caught wind of yet another miracle cartridge released not long ago that promises to come close to Creedmoor performance, but is contained in a compact .223 Remington-ish sized package.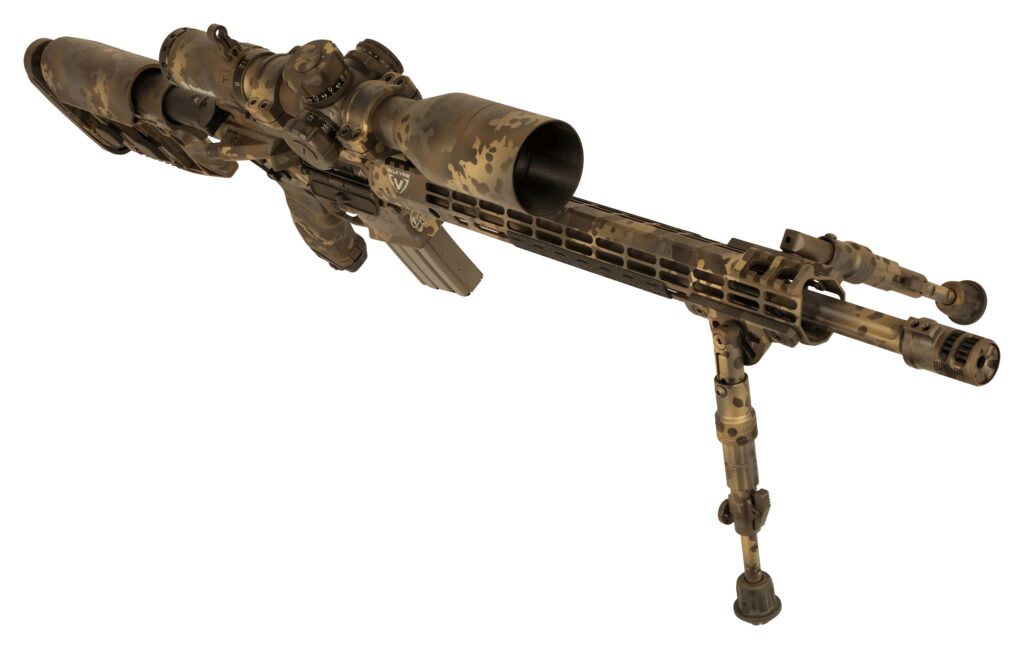 Federal Ammunition debuted its .224 Valkyrie cartridge less than a year ago to much fanfare and anticipation. By all indication, the hype is very much real. The round is pretty much a 6.8 SPC necked down to .224 caliber and is billed as the first 1,300-yard capable, supersonic AR-15-sized cartridge. Federal states that Valkyrie's bullet can slice through air with less wind drift and bullet drop than any other round in its class. Its laser-beam capabilities are attributed in part to long and aerodynamic projectiles that help maintain supersonic speeds longer than comparable bullets. The longer the bullet stays supersonic, the more predictable its accuracy. On top of all this, the recoil is said to be only half of comparable rounds too.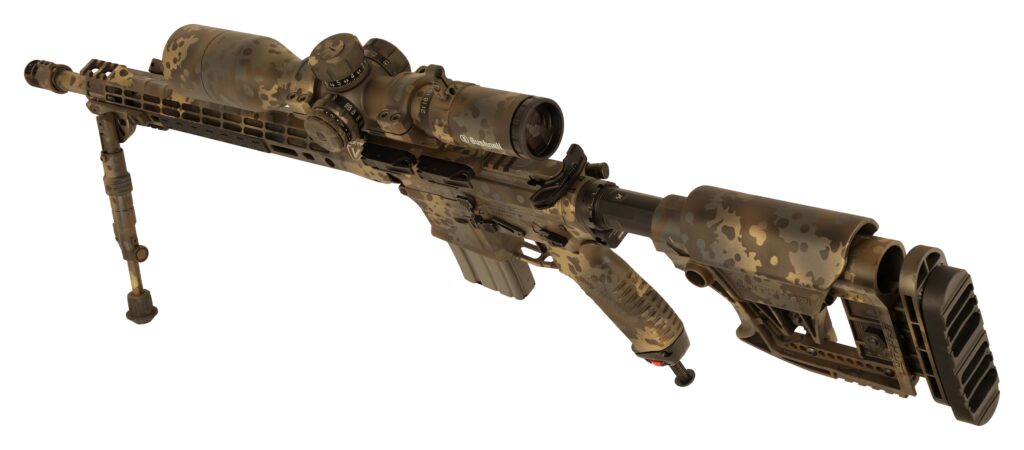 That was all Paxton Clark, the owner of the rifle you see here, needed to hear. Already an AR-15 fan, he didn't need much to get him to begin another build. The promise of a precision long-range AR-15 that could give larger caliber guns a run for their money was allure enough to get him going. Paxton's goal for this build was to create a rifle that he could take out to between 500 and 1,200 yards for general plinking. Since the Valkyrie is capable of distances further than that, his goal seemed reasonably obtainable.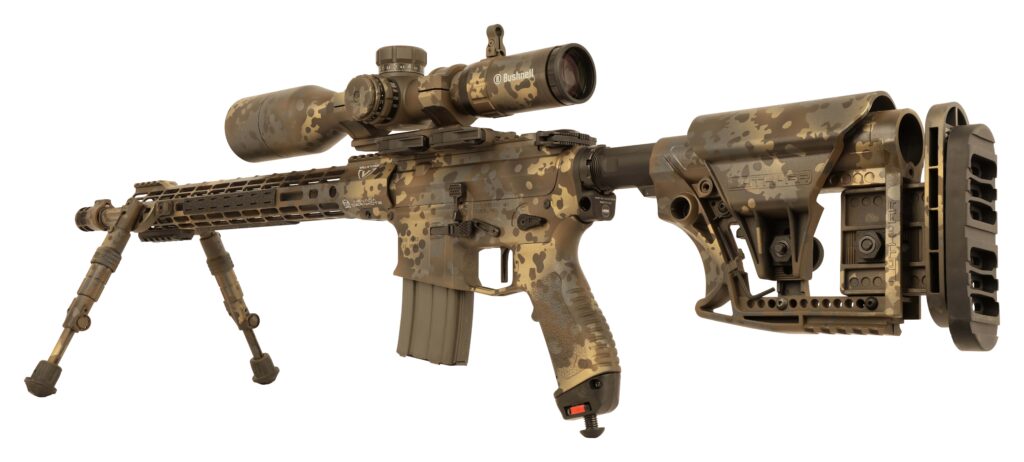 Paxton adds: "From day one when the .224 Valkyrie round was announced, my curiosity ran wild. An AR-15 style rifle shooting a round that can go out to 1,200 yards and beyond? Get out of here. 6.5 Creedmoor has been a recent passion of mine, but with the Valkyrie being a lighter weight rifle with cheaper ammo and with its recoil being lighter than 5.56/.223, what's not to be excited about?"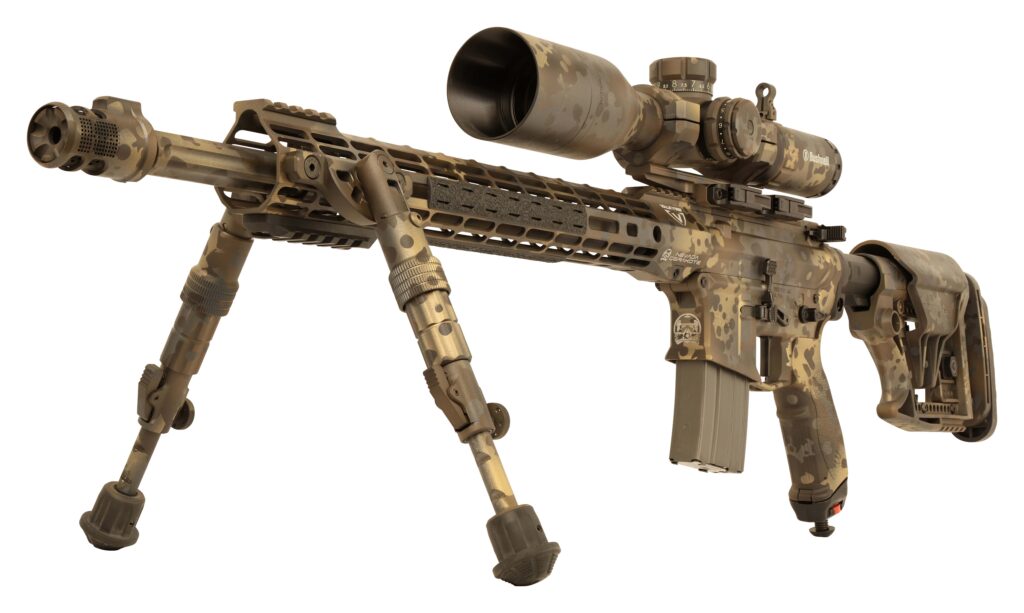 Most of Paxton's rifles are black. He hasn't been big on the color or Coating scene that's hit the AR world hard. So for this build he decided to go in a different visual direction than what he was used to. He explains: "This was the first ever full rifle that I had completely custom painted from head to toe. I sent the components out to Nevada Cerakote to get coated. I wasn't sure what sort of scheme I wanted, but I did know I wanted it to be some sort of camouflage. I left it in their capable hands and just said 'surprise me."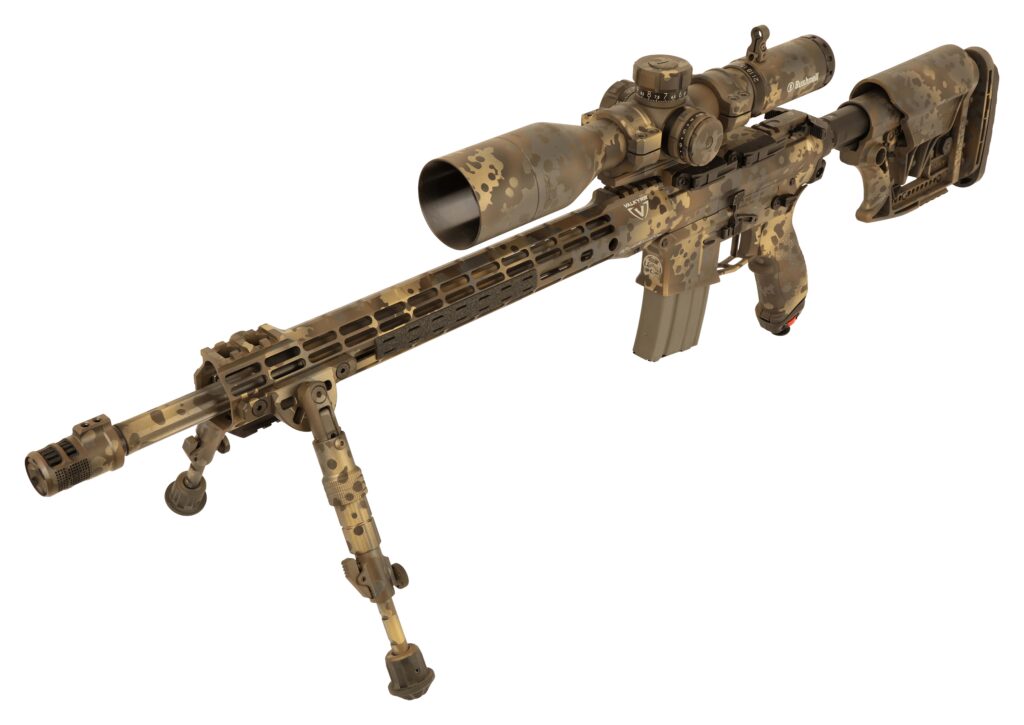 What came back blew Paxton away. Nevada Cerakote coated it in a scheme that they call "APOD Elemntz." Their original pattern features four colors, which in Paxton's case include Gold, Sniper Gray, Patriot Brown and Graphite Black. Nevada Cerakote points out that the APOD Elmntz scheme can be done in any color combo. Paxton now calls his rifle the APOD Valkyrie. He points out, "I was nervous about dedicating a scope to a rifle forever with a very specific paint job, but super happy with how it came out."

He told us about the assembly process after the parts came back from coating. "I was super nervous about assembling the rifle and took over six hours to do it when it usually would've been done in less than two hours," he says. "I wanted to really take my time and build it right without scratching anything even before it was even assembled. That said, I'm not going to baby it, I do plan on taking it out and having lots of fun with it."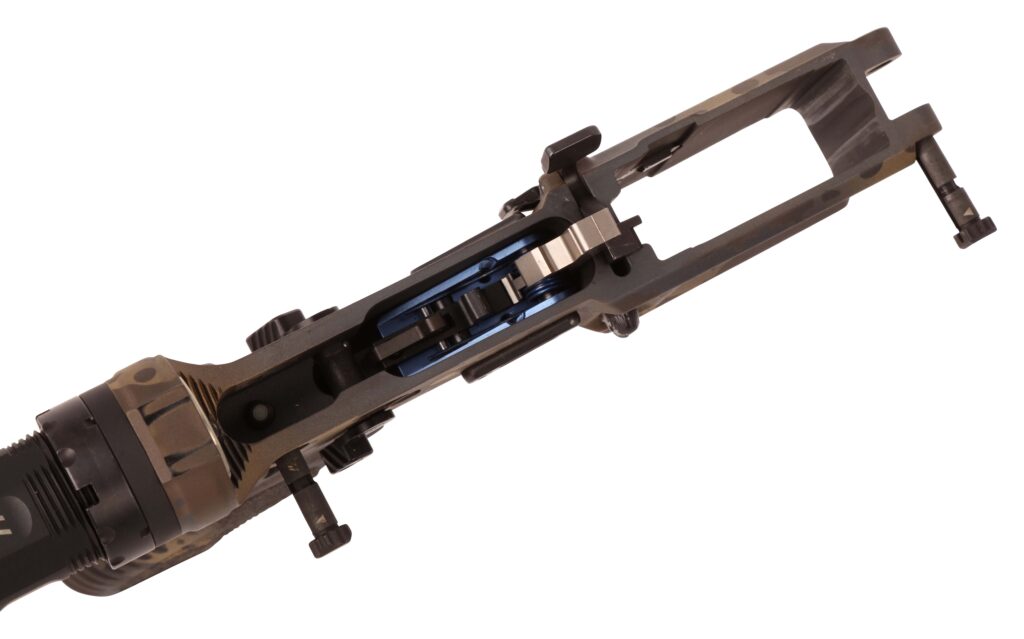 The rifle is based on an Aero Precision M4E1 receiver set with a rifle-length gas Ballistic Advantage 18-inch SPR fluted stainless barrel chambered in .224 Valkyrie. "The barrel fluting looks awesome," Paxton says. "Taking into account its light weight and great performance, I would build all my rifles with if I had the means." A 6.8 SPC/.224 Valkyrie specific bolt carrier group, also made by Ballistic Advantage, was selected to complete the system. Up front you'll find a VG6 Gamma 556 EX muzzle brake with a VG6 Cage Device attached to it.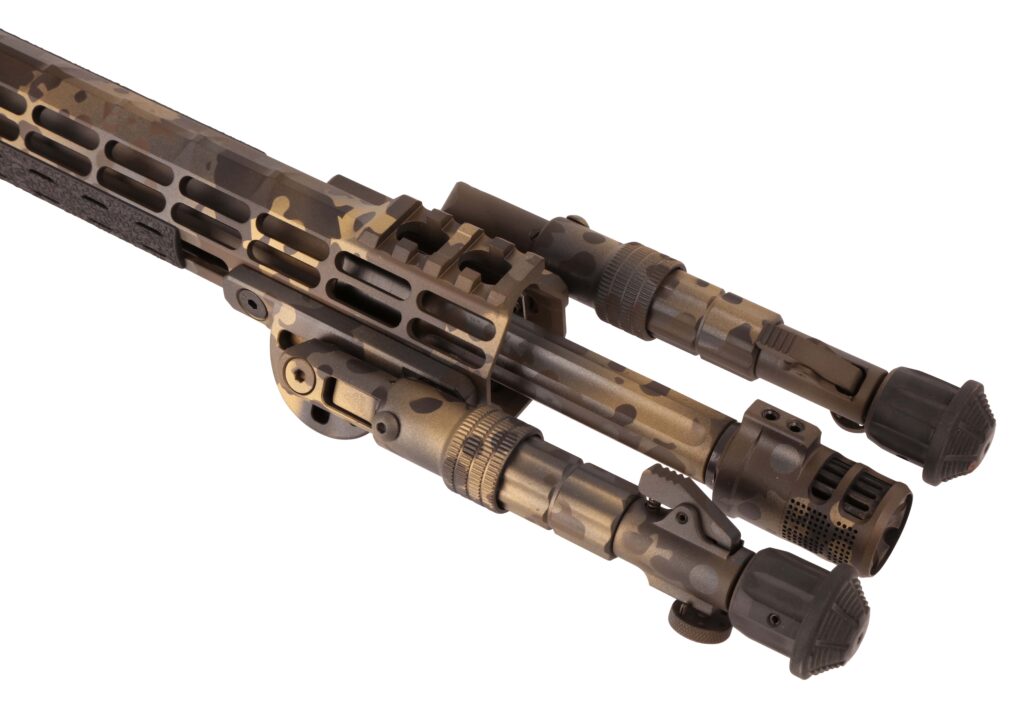 The 15-inch AR-15 Atlas S-One handguard is made by Aero Precision and is covered in M-LOK attachment points. The Atlas S-One is one of Paxton's favorite parts of the rifle. "It's slim, lightweight and has a continuous top Picatinny rail," he says. "I like the minimalist design, ease of installation and no extra useless stuff. It perfectly matches how I envision this build should be." To help stabilize the rifle, he chose to go with a UTG Recon Flex M-LOK Bipod. It mounts directly to the sides of the handguard and gives him 5.7 to 8 inches of adjustability. For BCG manipulation, he chose to go with another one of his favorites, a BCMGUNFIGHTER Mod 4 charging handle.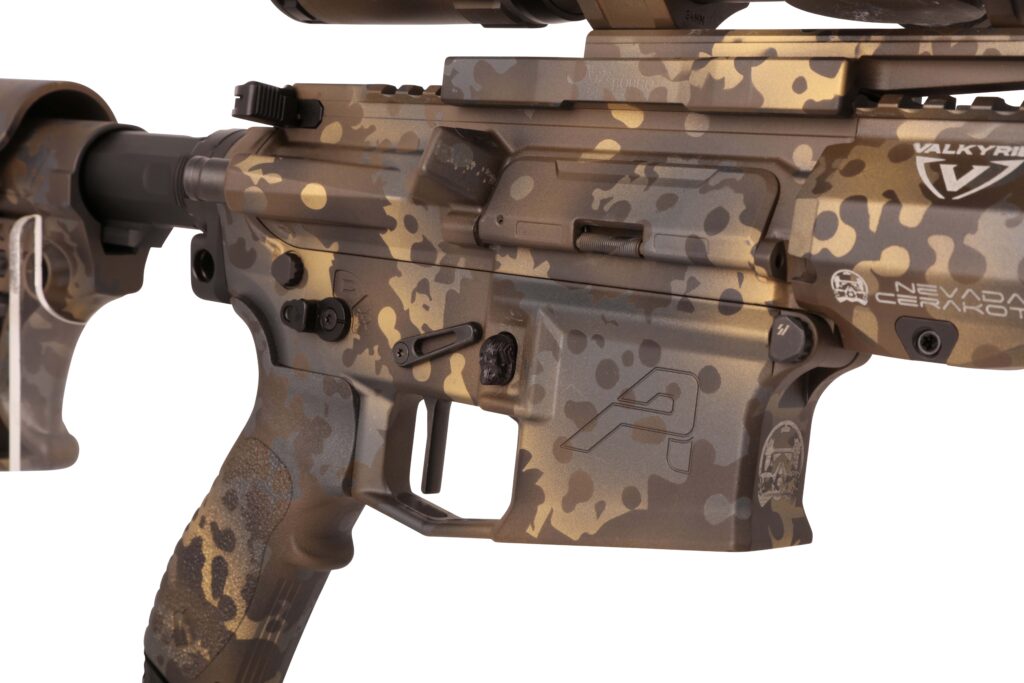 The lower half receives the same treatment as the top half, with plenty of quality parts to be found. An interesting piece is the MagnetoSpeed grip. It houses a monopod module that can be deployed at the push of a button to help stabilize long-range shots. Paxton chose this grip set up for its modularity, its functionality and because it was something new and different.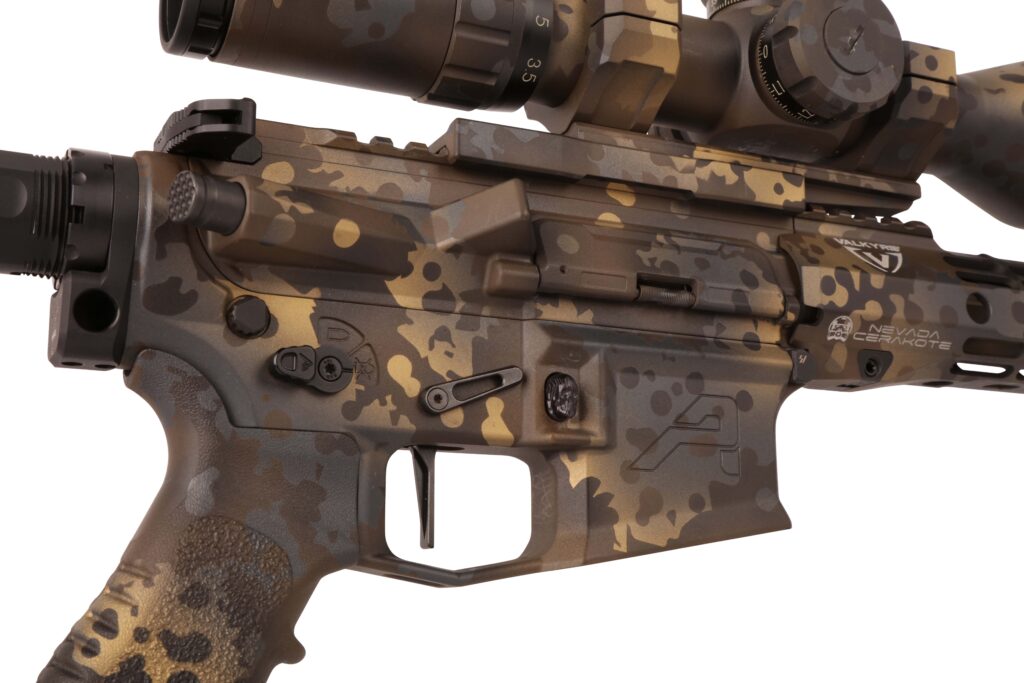 The rifle is equipped with one of our favorite triggers, a drop-in Timney AR Targa 2-stage. It is a perfect choice for this rifle's intended use. At the rear you'll find a Luth-AR MBA-3 carbine stock, which, with its many adjustment points, is a preferred stock for many precision shooters. Other parts that caught our attention for not only their enhanced function but nice looks include bolt and magazine catches made by Forward Controls Design, and a Rainier Arms 45-degree selector switch. We thought the High Speed Arms Valkyrie Tactical Skull shaped magazine release was a nice detail as well.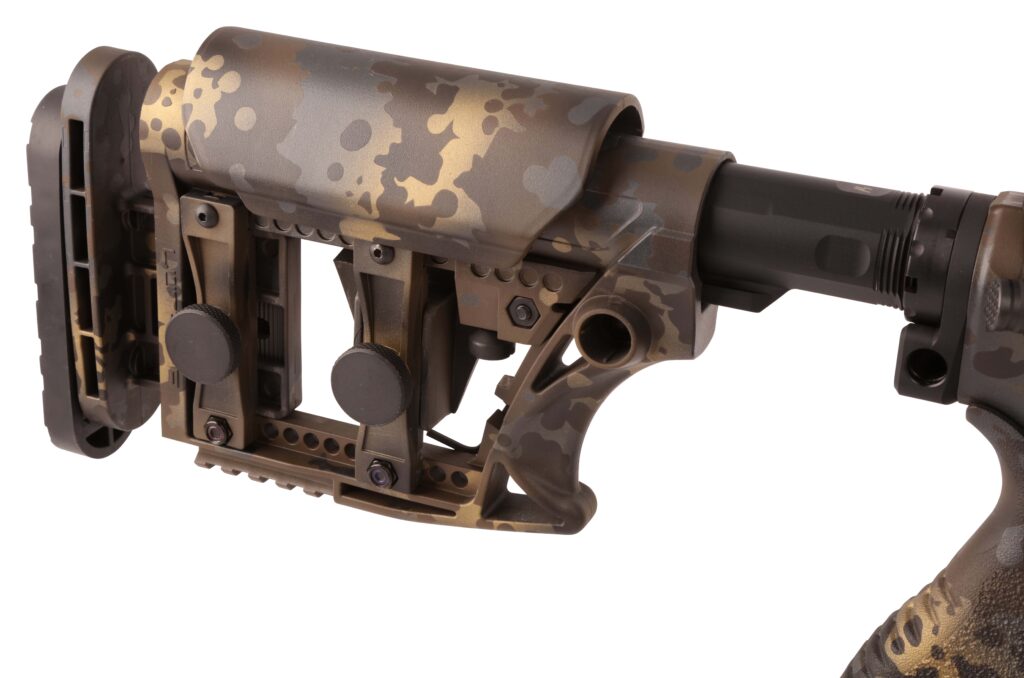 To maintain reliability, Paxton chose to install a Geissele Super 42 Braided Wire Buffer spring and buffer set. The uniquely designed spring uses three independent strands of wire. The idea behind these wires is for them to act as a harmonic damper and energy absorber that displaces excess energy by allowing the springs to flex separately from one another. This is said to decrease the possibility of spring failure and increase reliability.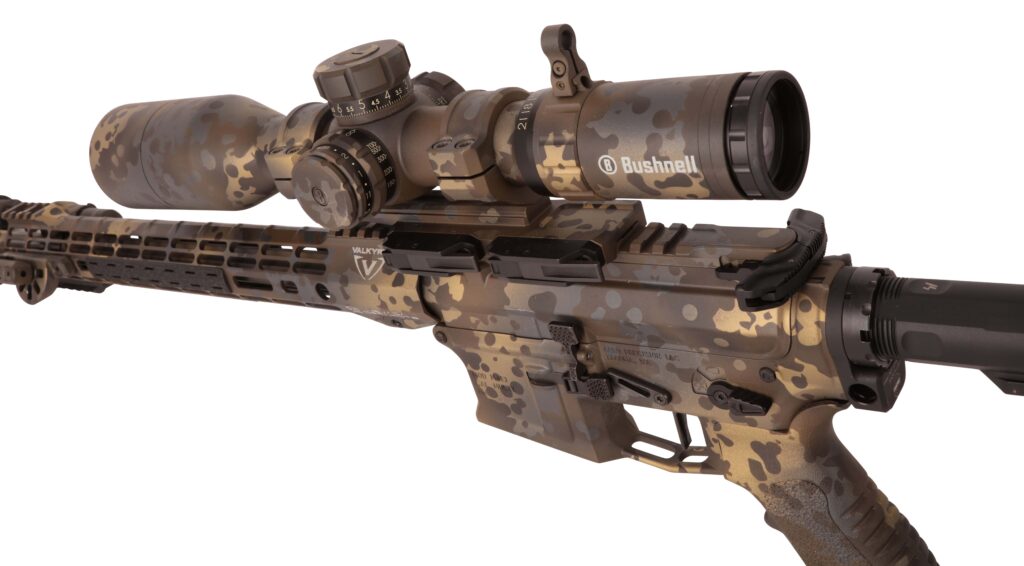 Assisting Paxton to accurately target steel gongs at 1,200 yards is a Bushnell Elite Tactical DMR-II 3.5-21x50mm scope. The feature-rich optic is equipped with Bushnell's ThrowHammer Lever. This built-in cattail throw lever makes magnification changes as quick as a flick of a finger and without any excess parts to buy. When asked why he chose this particular scope to go with, he replies, "Personally I can't think of many better options for what you get for the price you pay. The lifetime warranty is a plus when investing in a scope." The scope sits snuggly in a Bobro Engineering Dual Lever Precision Optic Mount. The mount's rings are sized at 34mm in order to accommodate for the scope's tube and feature a built-in 20 MOA cant to help the scope reach out further.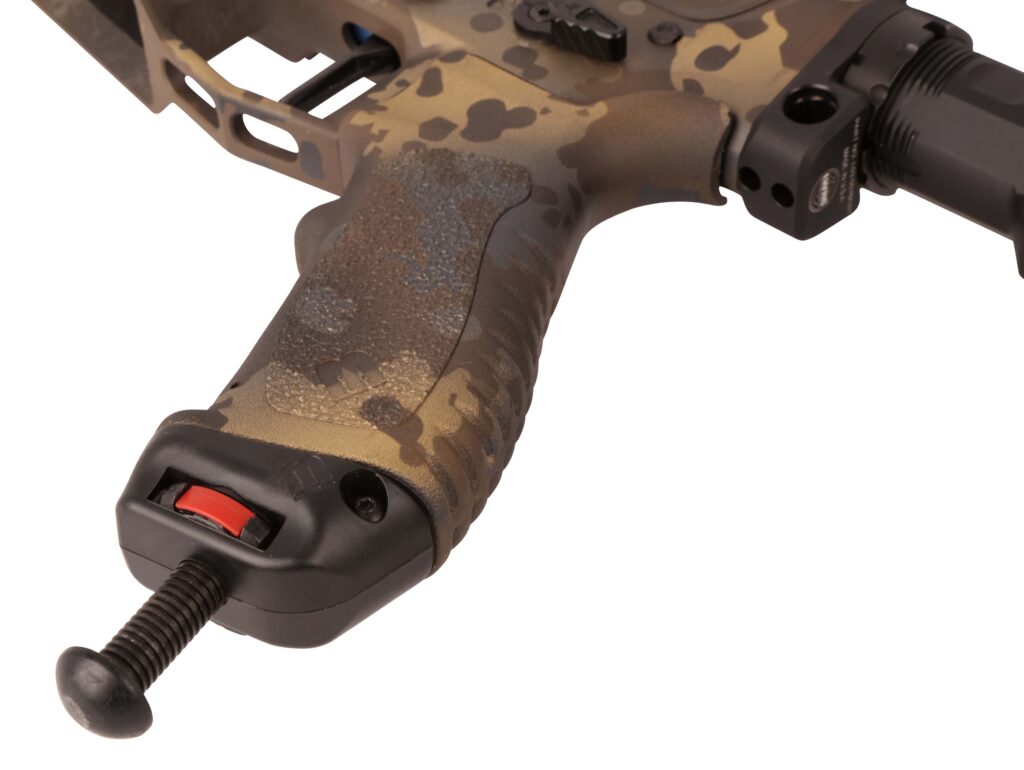 Since the assembly of the rifle, Paxton has taken it out more times than he expected he would. Shooting at ranges past 1,000 yards isn't something new to him, but it is new to him in a package as compact as his APOD Valkyrie. He's usually lugging around his Creedmoor rifle or other, heavier models and finds that the Valkyrie-equipped AR-15 to be much easier to handle and transport. He also appreciates that the ammunition is priced at about a dollar a round, and much lighter to hump to his preferred shooting spot.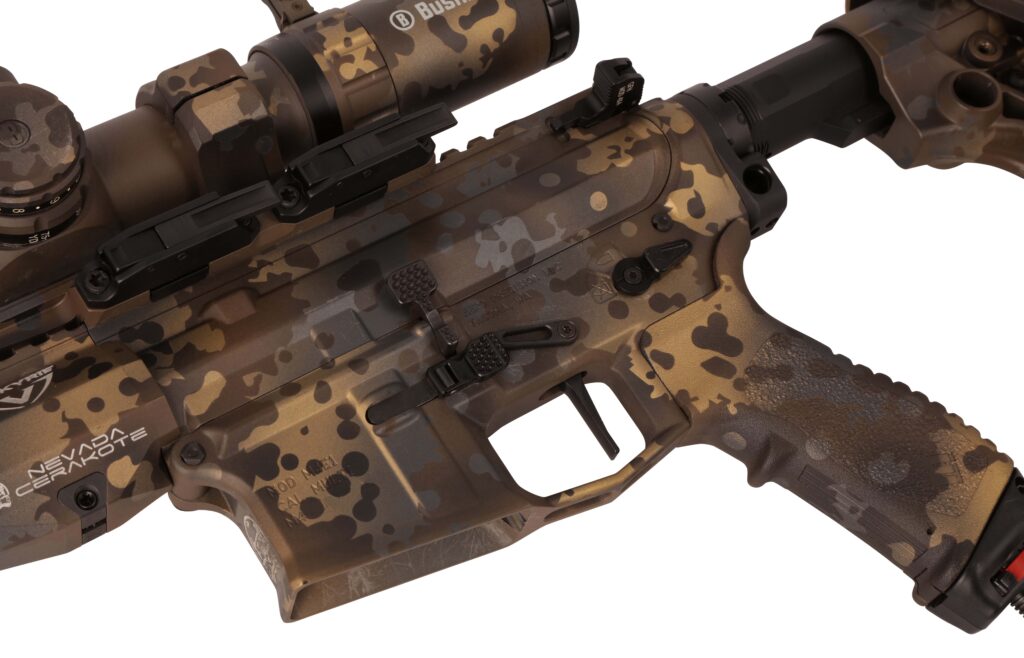 As for shooting impressions, he says that the accuracy from 100 yards out to 1,200, when taking into account the light recoil and lightweight package is something that he hasn't experienced before in a long range rifle. Is he glad he built it? Paxton says, "You bet I am. You know I'm already looking at converting another one of my 5.56 guns to .224 Valkyrie, right? And it probably won't be plain black either."
Text by James York and images by Michael Grey
Paxton's APOD Valkyrie
Caliber: .224 Valkyrie
Length: 36-39 in.
Barrel: 18″ .224 Valkyrie SPR Fluted Stainless Steel, Premium Series
Weight w/o magazine: 11 lbs., 3 oz.
Featured Accessories:
Optic: Bushnell ELITE TACTICAL DMR II-I 3.5-21x 50mm
Optic Mount: Bobro Engineering Dual Lever Precision Optic Mount 34mm Rings / 20 MOA
Upper Receiver: Aero Precision M4E1 Threaded Receiver Set
Lower Receiver: Aero Precision M4E1 Threaded Receiver Set
Handguard: Aero Precision AR15 Atlas S-One M-LOK Handguard 15"
Stock: Luth-AR MBA-3 Carbine Buttstock
Magazine: C-Products
Finish: Cerakote by Nevada Cerakote
Parts & Accessories: BCM MCMR Rail Panel Kit, BCM Picatinny Rail Section 3-in., Ballistic Advantage 6.8 SPC/.224 Valkyrie BCG, VG6 Gamma 556 EX, VG6 Cage Device, BCM BCMGUNFIGHTER Charging Handle Mod 4, Strike Industries AR Aluminum Ultimate Dust Cover, Forward Controls Design LDFA, UTG Recon Flex M-LOK Bipod, Timney Triggers AR Targa 2-Stage Long Trigger, KNS Precision Gen II Pins, Strike Industries Advanced Receiver Extension, Geissele Automatics Super 42 Braided Wire Buffer Spring and Buffer Combo, High Speed Arms Valkyrie Tactical Skull Magazine Release, MagnetoSpeed Grip, MagnetoSpeed Monopod, Forward Controls Design ABC/R V2, Forward Controls Design EMR-A, Forward Controls Design CNF, LWRCi Ambi QD Sling Mount, Rainer Arms Selector Switch
About the owner
Name: Paxton Clark
Occupation: Accountant
Special Thanks: Brian D., Stephen D., Jeff C., Russ B., Garrett K., Chris E., Paul B., Roger W., Ivan D., Ari B., Heather L., Gordon G., Mom, Dad and big sister Taylor.
PQs:
"Federal Ammunition debuted its .224 Valkyrie cartridge less than a year ago to much fanfare and anticipation. From all indications, the hype is very much real."
"Already an AR-15 fan, he didn't need much to get him to begin another build. The promise of a precision long-range AR-15 that could give larger caliber guns a run for their money was enough allure to get him going."
"Since the assembly of the rifle, Paxton has taken it out more times than he expected he would. Shooting at ranges past 1,000 yards isn't something new to him, but it is new to him in a package as compact as his APOD Valkyrie."
SIDEBAR
.224 Valkyrie Chronograph Results
Paxton took his 18-inch barreled APOD Valkyrie rifle to get chronograph readings for four different Federal Valkyrie loads. He used a MagnetoSpeed V3 Ballistic Chronograph to gather the results. Unlike older, unwieldy, multi-piece chronographs, the lightweight and streamlined MagnetoSpeed V3 ballistic chronograph kit attaches directly to the gun and can be used on barrels and suppressors from a half to two inches in diameter.

Fusion 224 Valkyrie Fusion Soft Point (90 gr.):
Listed: 2491 @ 100 yards
Max FPS: 2522
Min FPS: 2475
Avg FPS: 2495

American Eagle 224 Valkyrie Total Metal Jacket (75 gr.):
Listed: 2731 @ 100 yards
Max FPS: 2855
Min FPS: 2779
Avg FPS: 2817

Federal Premium 224 Valkyrie Nosler Ballistic Tip (60 gr.)
Listed: 2930 @ 100 yards
Max FPS: 3105
Min FPS: 3079
Avg FPS: 3089