Custom work by Alpha Dog Arms
Cajun Gun Works Trigger
Chambered in 9mm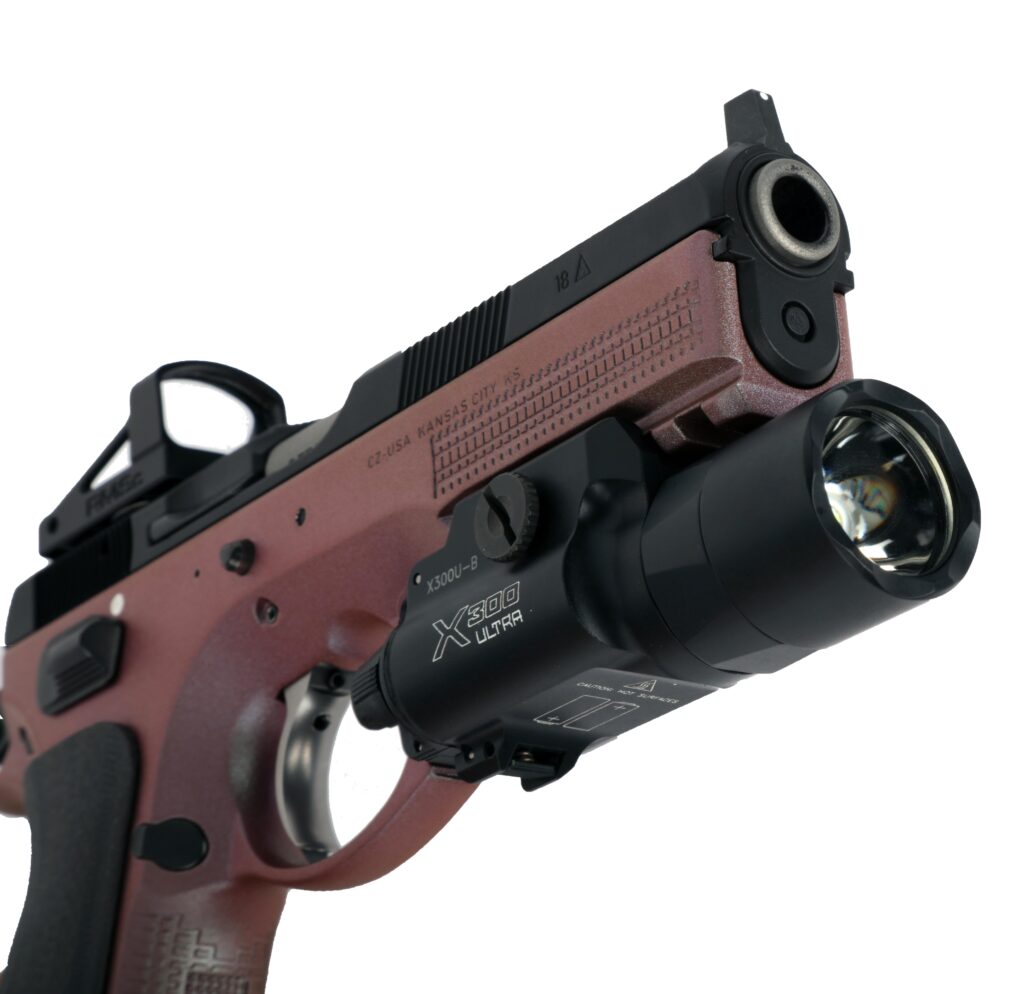 When one conjures up an image of a customized pistol in their mind, there's a likely chance that they end up picturing a modified Glock over any other type of pistol. Thanks to their tremendous aftermarket support, there's no disputing that Glock is the king of pistol custom-ability. It's for this reason that so many enthusiasts base their builds on the popular line of polymer pistols. It's also precisely why the owner of the featured pistol chose to go another route.
Not long ago, Tim Seargeant, Kriss USA marketing manager and owner of the CZ 75 SP-01 you see here, was afforded the opportunity to add another customized pistol to his ever-growing collection of firearms. Already the proud owner of a number of Glocks, he wanted to try to build out something different. He's always had a soft spot for CZ pistols and thought this new project would be a great opportunity, and a challenge for him to try to customize one. The inherent elegance of the pistol's design inspired Seargeant to push the theme even further and re-imagine it as a "gentlemen's pistol." To get it done, he would adhere to the theme of refined modernity.
Other than your typical off-the-shelf, drop-in upgrades, it's not often you see SP-01s modified to the level that Seargeant took his. The real challenge was finding customizers that he could depend on to carry out the vision he had. We have been fans of Alpha Dog Arms for a while now, quietly following them on Instagram and trying to come up with an excuse to work with them. Their custom Glocks are eye-catching to say the least, and their workmanship is some of the finest we've seen. We recommended Seargeant give Alpha Dog a ring, even though they are primarily known as Glock customizers.
Alpha Dog's capabilities are impressive. The company has more than 30 cumulative years experience in industrial design and another 20 in engineering products for manufacture. Combining that experience with the latest hardware and software technology allows Alpha Dog to provide services to creatives and visionaries large and small. Best of all, they aim to provide their services quickly and affordably. That sounded like the right kind of partner to help Seargeant see his project through. The only question was: Would Alpha Dog take his job?

Alpha Dog did not shy away from the challenge when it was offered. In fact, Alpha Dog founder and CEO Aaron Bethlenfalvy was enthusiastic in taking on something they hadn't done before—modifying and completely customizing a CZ SP-01 from ground up. Timing would be an issue however. Bethlenfalvy was headed out of country in less than four weeks, so the entire project needed to be completed before he left. Even with this time constraint, Seargeant and Bethlenfalvy moved forward with the endeavor.
Utilizing a 3D scanner, laser machine, and a CNC, Bethlenfalvy got to work. Over the phone, ideas were kicked around that included the idea of adding a window cut at the top of the slide and a provision for a red dot sight like a Trijicon RMR. Bethlenfalvy took it from there. He reverse-engineered the slide to uncover its internal workings and ascertain where he could make cuts into the slide for the window and red dot as requested.
Less than a week after he had the pistol in hand, Bethlenfalvy had a computer-generated rendering of the slide complete with requested modifications and more. He included the top window and added angles to match the style of the slide, a thoughtful detail to include. He also added three additional windows on each side. After examining the slide rendering, the idea of porting the CZ's barrel came up to Bethlenfalvy and he was on it without hesitation. Realizing that an RMR red dot would be too wide for comfortably fit on the slide, Bethlenfalvy recommended that Seargeant find a slimmer alternative.
The SP-01's slide width is similar to a Glock 43's and might be even skinnier. An ultra-slim Shield Sights RMSc red dot was the only solution that seemed to fit. As you can see, it worked out great. What's more, the RMSc comes equipped with a rear backup sight notch, which allowed for the red dot to be moved back as far back as possible. Due to time constraints, a CZ front suppressor height sight is temporarily mounted at the front of the slide. The sight is a tad too tall, but would still come in handy in a pinch in the unlikely event that the red dot goes down. A custom-made front sight with a calibrated height is Seargeant's next upgrade.
Proving that they can do it all, Alpha Dog took care of the pistol's Cerakoting as well. Seargeant wanted to do something completely different from what he's done before. In this spirit, he requested Bethlenfalvy finish the pistol in a color-changing, chameleon-style coating. Having never applied chameleon paint before, he was game to try it. Bethlenfalvy applied the protective top coat of Armor Clear with cyan/red/green chameleon additive to the SP-01 after covering it with Armor Clear Cerakote. The look is indeed eye-catching, especially at the range.
With so much going on with the slide, what about doing something special to the frame? From the factory, the SP-01's frame comes with a little patch of texture engraved on the front part of the frame's grip where your middle ring fingers would fall. Because Alpha Dog is also known for intricate laser work, Bethlenfalvy volunteered to do something more. He expanded on the factory's patch of grip checkering and took it further up on the front part of the grip as well as on the sides of the frame, which we've never seen on a CZ SP-01. We got to handlethe pistol and thought that the extra, subtle grip that the checkering provided was a welcome enhancement.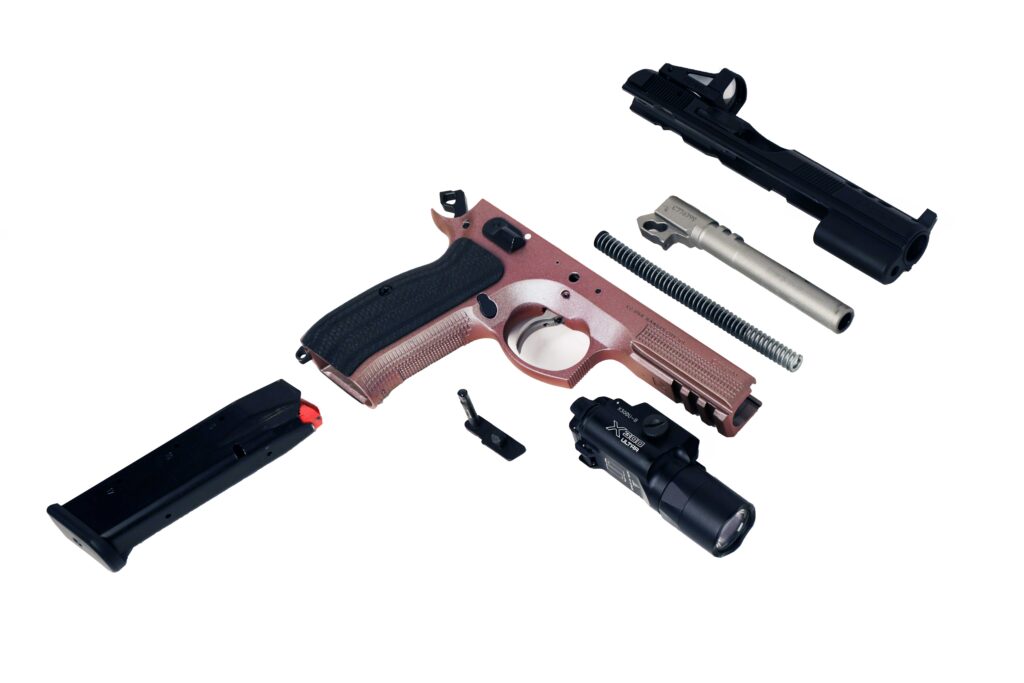 It is said that if you're going to tinker with a CZ, it's best to go to the experts at Cajun Gun Works. Seargeant found that to be a solid piece of advice. He opted to swap out his stock trigger assembly for Cajun Gun Works' 75 Series Pro Package trigger group. The package includes everything required to outfit the SP-01's with a reliable, high-performance trigger. It endows the SP-01 with an eight-pound double action and three-and-a-half pound single action trigger. It cuts the single-action reset by half, and the trigger is moved five millimeters rearward with the pistol's hammer down. Helping even out the size of the safeties, Cajun's left side safety size-matches the bigger CZ factory right side safety, as the one that comes on the CZ's left side is smaller.
To back up the build's refined theme, Seargeant went with VZ grips that are finished in carbon-fiber-look G10. We agree that the subdued yet modern look of the carbon-fiber pattern fits the pistol's theme quite well. Hanging on the rail of the SP-01 is a SureFire X300U-B. This weapon light was chosen for its legendary performance as well as its all-metal body, which matches the all-metal frame and slide of the pistol.
We'd say that the customizer rightfully completed the vision of the pistol's owner. Seargeant's SP-01 is a unique piece for sure. It's not often that you see these pistols with slide cuts, barrel ports, and custom framework to the degree that this one is completed with. We've got to give it to Bethlenfalvy and Alpha Dog, especially with this build. He not only tackled design and machining on an unfamiliar platform; he also applied a type of Cerakote he'd never used. We admire his bold willingness to try anything. He pulled it all together very, very nicely. Text by Martin Anders and images by Michael Grey.
Build Sheet
Tim Seargeant's Custom CZ 75 SP-01
Specifications
Caliber: 9mm
Capacity: 18
Barrel: CZ Cold Hammer Forged, Alpha Dog Ported (4.6 in.)
Overall Length: 8.15 in.
Weight Unloaded: TK
Coating: Cerakote by Alpha Dog
Slidework: Alpha Dog
Framework: Alpha Dog
Featured Accessories
Sights: CZ Front Night Sight 75/85 Suppressor Ready
Optic: Shield Sights RMSc (4 MOA)
Parts & Accessories:
Cajun Gun Works 75110 Pro-Package for 75 Manual Safety (Race, Black), Cajun Gun Works OEM Safety LH Shadow SP-01 (75 B), SureFire X300U-B, VZ Grips CZ 75 VZ 320 Carbon Fiber G10
About the Owner
Name: Tim Seargeant
Occupation: Kriss USA marketing manager
Special Thanks: To my wife Stacey and son Nathaniel for being in my life. All the guidance and support from Aaron @ Alpha Dog Arms, Danae @ CZ USA, Scott @ Cajun Gun Works, Ken @ Shield Sights, Andrew @ SureFire, and VZ Grips.