Grey Ghost Precision Slide
Based on a GlockStore SS80 Frame
Chambered in 9mm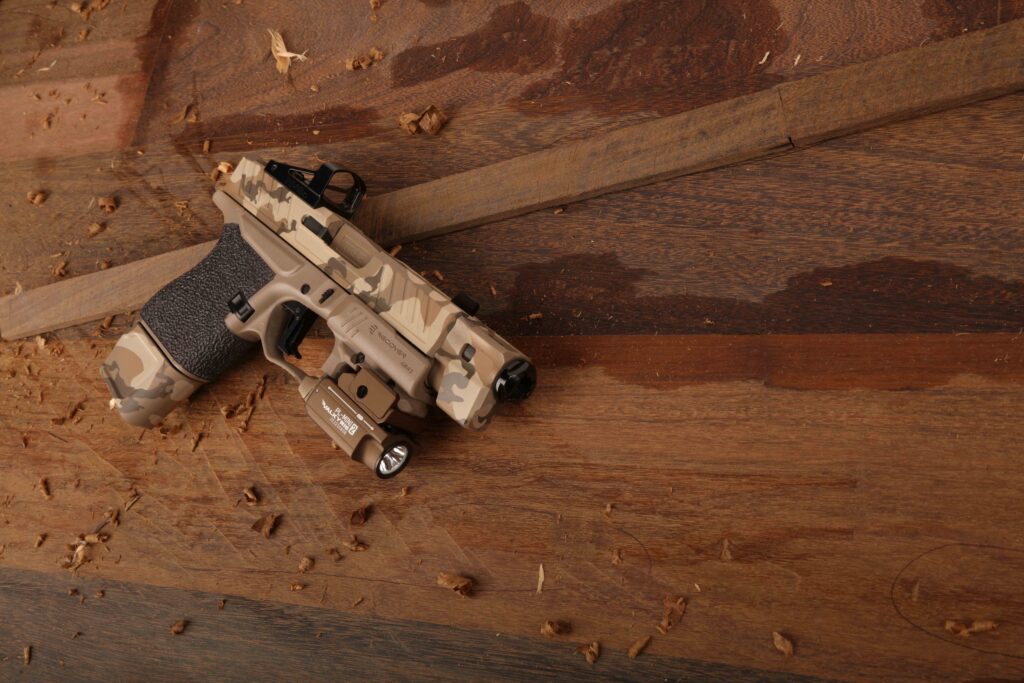 If you're going to carry a concealed pistol, you might as well do it with style. That's what Daniel Stark thought as he planned the build for his first subcompact pistol. The pistol had to be slim, lightweight, comfortable in his hand, and it had to be easy and familiar to use.
Stark has always been a Glock fan. For as long as he's been shooting, he's been flying the Glock flag high and proud. His collection of the venerable polymer-framed pistols, up until he built the featured subcompact G43, had exclusively included models that only had full-sized frames. "I never got comfortable shooting smaller guns such as subcompacts because of my meaty hands and body type," he explains. Stark stands 6 feet, 2 inches, weighs about 250 pounds, and has rather large mitts. He told us he hadn't had much luck fitting his hands on smaller framed pistols in the past, so he's generally avoided them.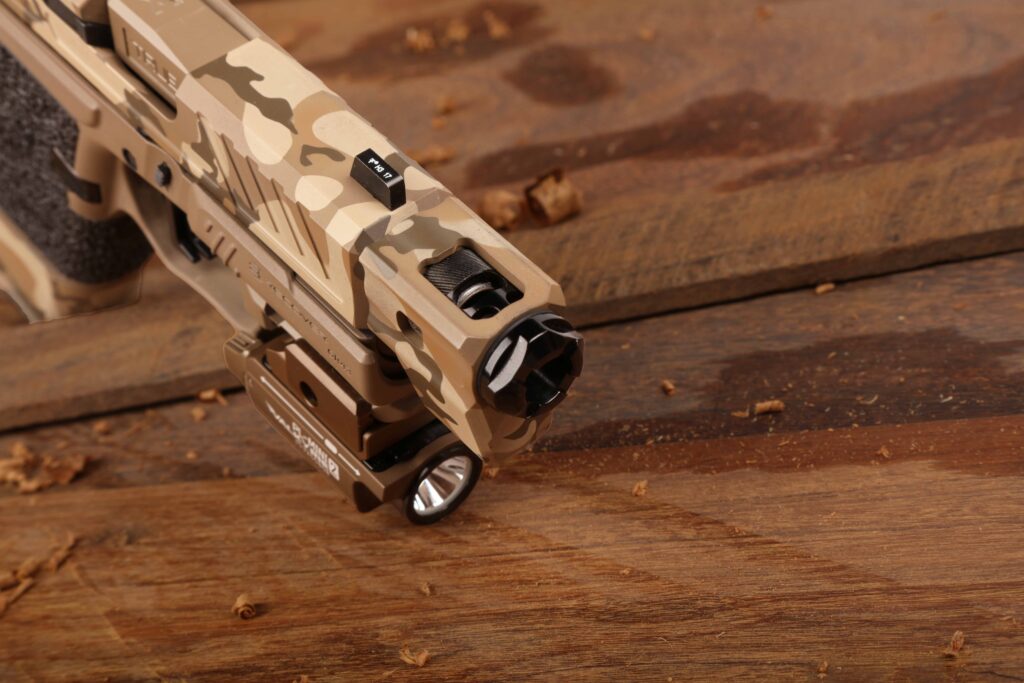 Being someone who enjoys using his hands to create, the bug of building 80% firearms really bit him hard. He first started with an 80% AR receiver and moved onto Polymer80's line of Glock-compatible pistol frames. When the Glock 43 was introduced, Stark was curious about its single-stack format. It didn't take much for him to talk himself into going all-in on the single-stack frame when he found out GlockStore came out with their own version, called the SS80.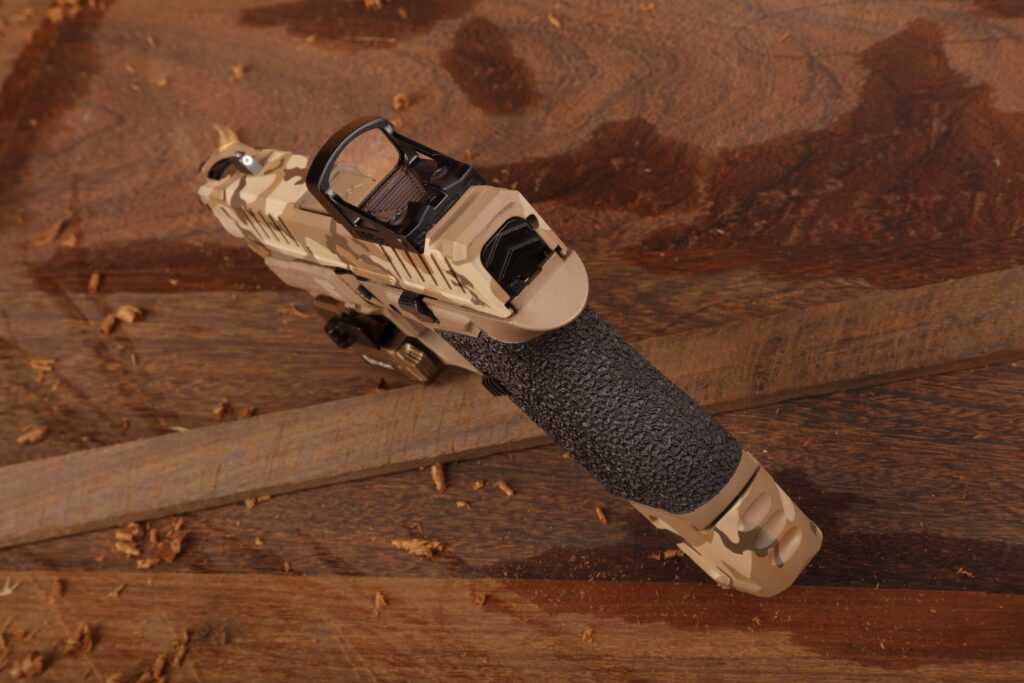 Stark promptly ordered one, along with a laundry list of parts to build his single-stack Glock 43-style pistol with. He said after completing the frame, which he reports required a separately available SS80 builder's tool set, that the SS80 was straightforward and a breeze to finish. He assembled the pistol to perform a function test and realized that due to the size of his hands the pistol would require a magazine extension so his ring finger and pinky had something to rest on. He would address that shortcoming in the form of an extended magazine, but we'll get back to that later.

Although he had many Glocks in his collection, not many have been fully customized. He's long admired those "pretty" Glocks that grace his Instagram feed and wanted one for himself. He thought that this SS80 project would be the perfect excuse to go down that road. He first contacted Alex at Tactical Arms & Manufacturing for Cerakote work. "I saw one of Alex's IG posts of a SIG SAUER P320 that he Cerakoted and fell in love with its MultiCam Arid pattern and the mixture of Patriot Brown, Desert Sand, Magpul FDE, and Troy Coyote Tan colors on the slide and the solid Magpul FDE on the frame," Stark says. "I loved it and had to have that same paint job on my SS80."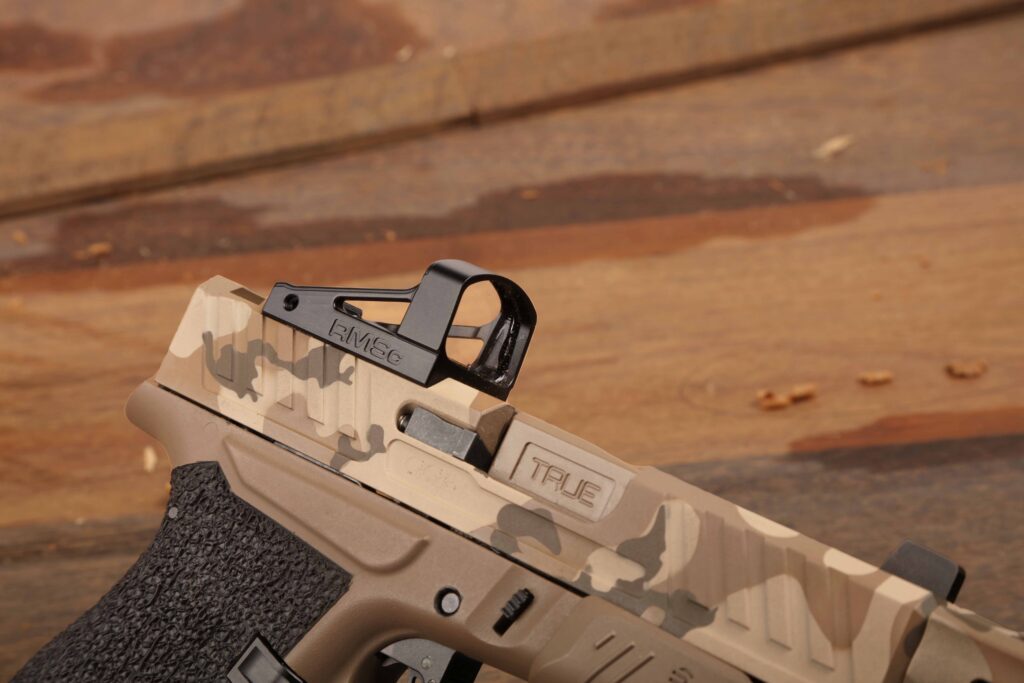 Next, he went with Dark Side Precision for their stipple work. He follows them on IG and didn't hesitate to call on them for frame enhancements. After a short wait, he got his frame back and couldn't be happier with the results. To make his large hands feel more at home on the pint-sized pistol, he elected to step up to a drop-in trigger by CMC. Of the Glock 43 compatible trigger, Stark says, "I was worried about my sausage fingers fitting on a small pistol, so I appreciate the L-shape of their signature flat Glock trigger. Its tactile shape helps me place where my index finger is so it's where it needs to be every time."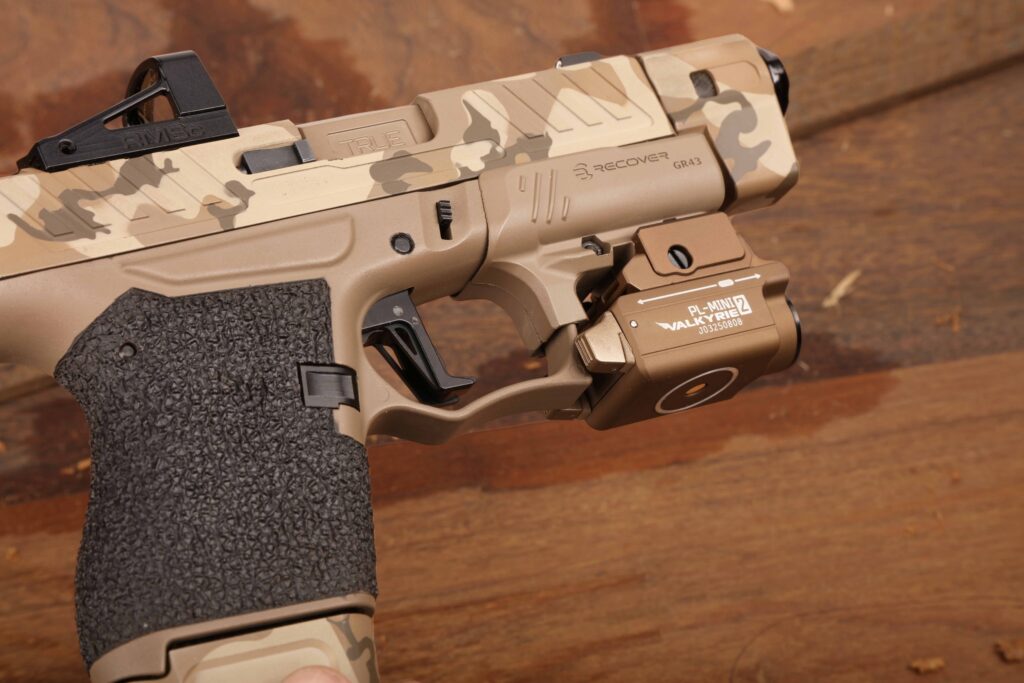 It was unheard of or at least rare to see red dots on carry pistols until a few years ago. Nowadays red dots seem to be all the rage, even on conceal carry pistols. Curious to try the setup for himself, Stark looked for a G43-compatible slide that was pre-cut for mounting his preferred red dot, the Shield RMSc. The Shield RMSc was designed specifically for use on the Glock 43. Due to the G43's slim profile, most if not all other micro red dots will not fit on its slide. "If I was to build an EDC gun with a red dot," Stark adds, "I had to have the smallest red dot and there is nothing smaller than the RMSc. I like how the RMSc has a rear backup sight built into it so all I would need is to pair a standard front sight with it." He completed his aiming set up with a tritium front sight by Warren Tactical.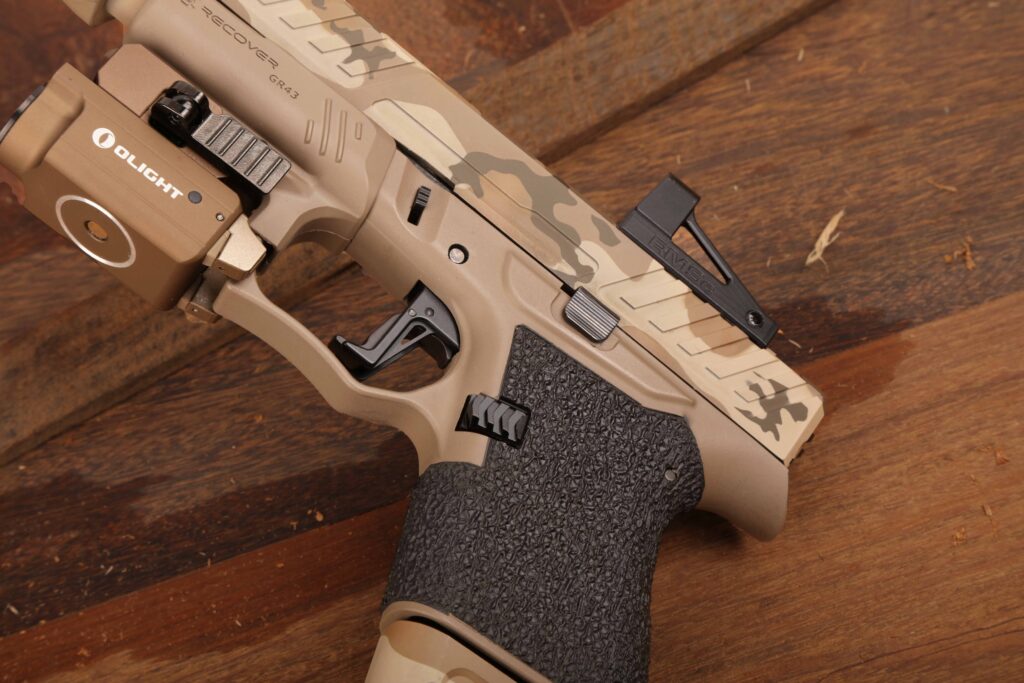 After a search for possible slides, he found that Grey Ghost Precision (GGP) is one of the only companies that makes G43-compatible slides that come with a provision for the Shield Sights RMS red dot precut. The SPG43-RMS slide he chose was milled with GGP's V1 slide pattern I it. The simple serrations look good while giving his hands some extra grip, and without being so aggressive that they might tear up his clothes. A V2 slide pattern is also available for those looking for something even more aggressive.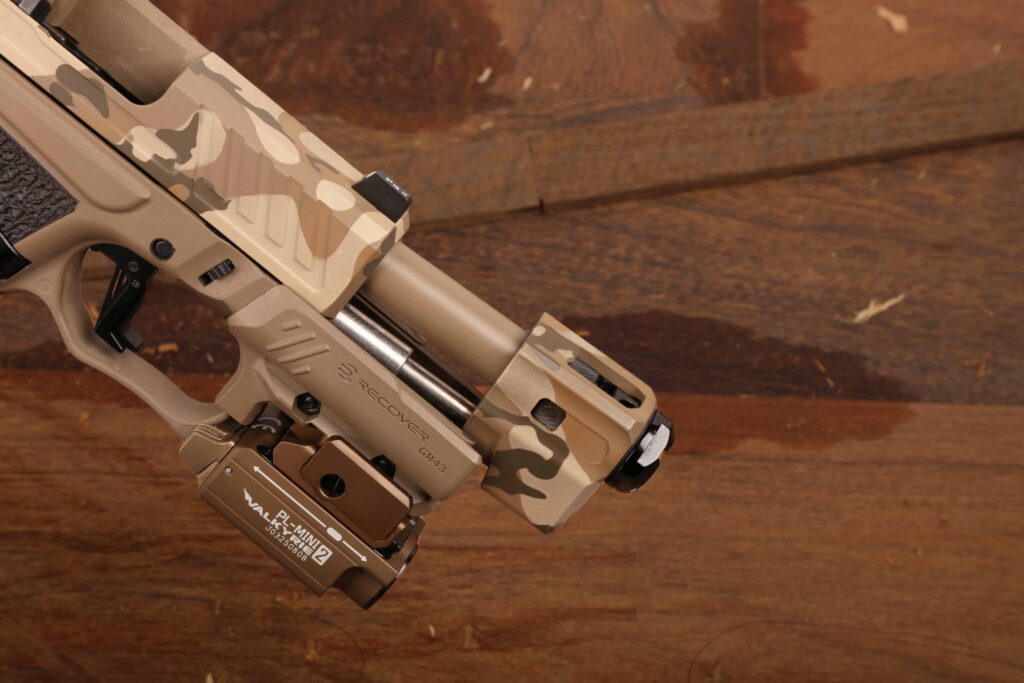 As you recall, this pistol was built to primarily serve as a concealed carry pistol. So why does Stark's gun have a compensator on it? Say what you will about comps on carry guns; Stark explained that his carry setup for this pistol actually does not include the comp. He uses a non-threaded GGP Match Grade barrel for carry and changes to a True Precision Stainless Threaded barrel with an attached Tyrant Designs T-Comp for range-time fun.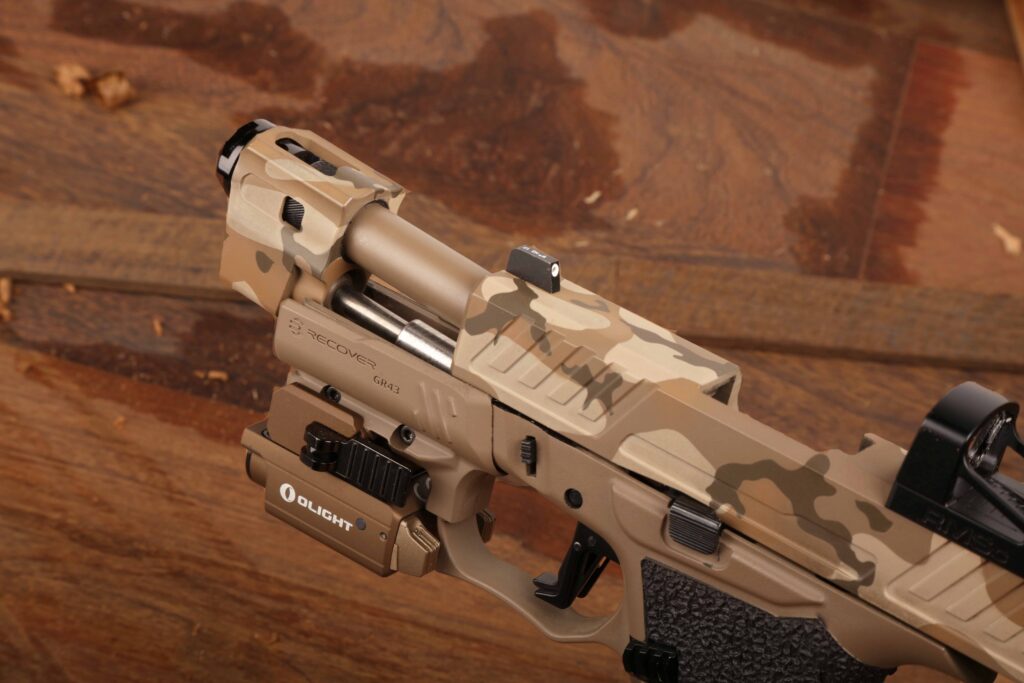 Of the two configurations, he says, "I have the option to carry with one setup and also have the option of a good time at the range with the other, because the T-Comp reduces muzzle rise and felt recoil and making for much quicker target re-acquisitions. I'm actually thinking about doing some steel matches in the open division with this bad boy just for fun."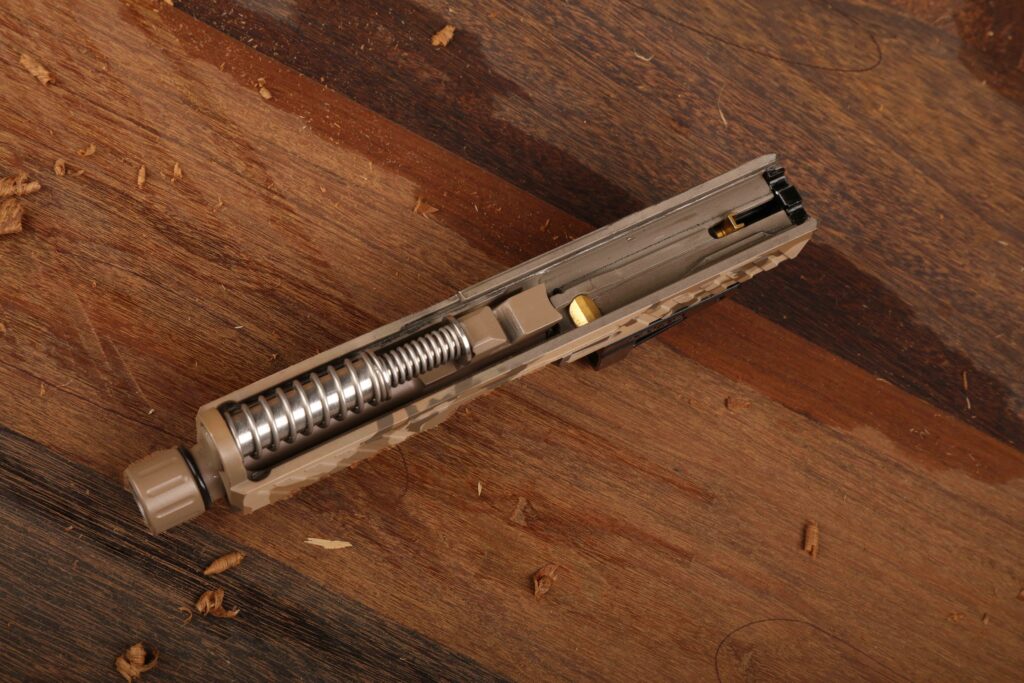 Surprisingly, both the factory Glock 43 and SS80 80% frame do not come with a rail provision for frame-mounted accessories. Leave it up to the aftermarket to come up with a solution. Recover Tactical's GR43 rail adapter for the Glock 43 frame isn't a 100% match with the SS80 frame but was close enough for Stark to slightly modify it to fit. After shaving parts of the rail adapter, he attached an Olight PL-Mini 2 Valkyrie light to it. The Olight unit seems perfectly match the lines and size of the G43, as many of the pistol's owners can attest. Stark explains one of his favorite features of the light: "When it's stored at night, the USB charging cable is easy to attach with its magnetic charging capability, just like an Apple Watch. It's so easy to charge, there's no reason the light shouldn't be charged."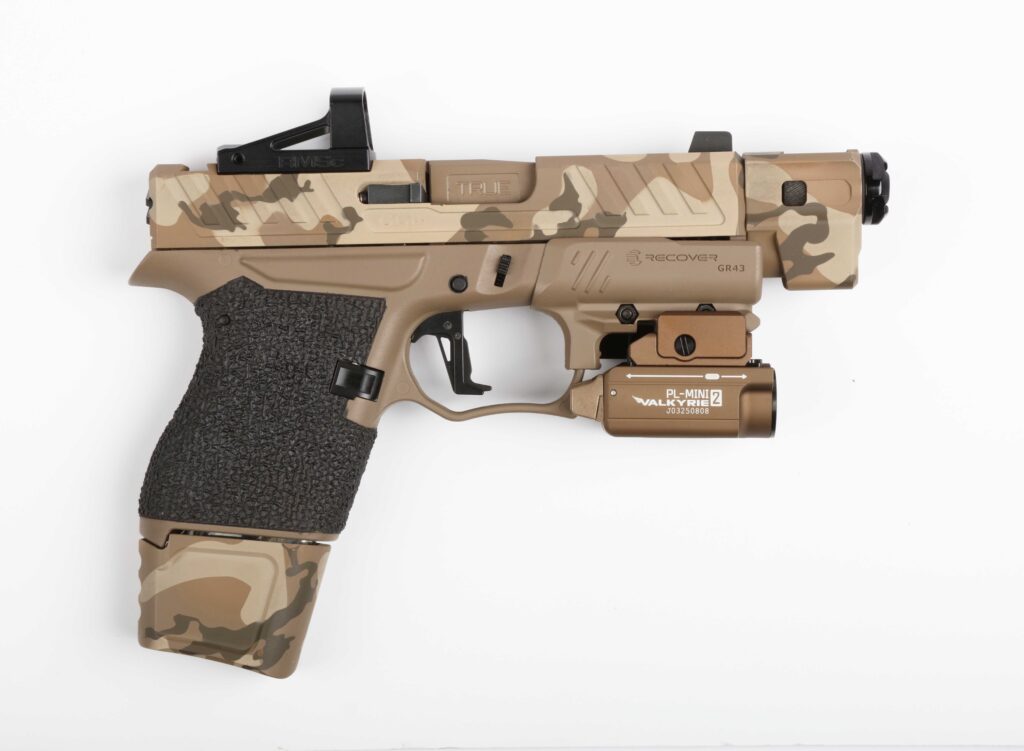 When it came to outfitting the guts of the pistol, Stark wanted to make sure that it ran reliably. "Having all the right accessories can make or break the feel of the pistol," he informed us. "A carry pistol may even be called upon to save a life. The magazine release, slide stop, and slide cover not only look better than an OEM Glock part, but also add texture and grip to give me better control over factory parts."
He continues: "Making sure the gun is reliable adds to peace of mind. Installing a GlockStore extended tip striker so there are never any light strikes matters to me. I hope to never have to make sure it works, but I also installed Ghost Inc. Turbo Maritime Spring Cups that allow the pistol to be fired underwater, just in case there's ever some underwater shooting situations." Now that's making sure your pistol is good to go in almost any scenario!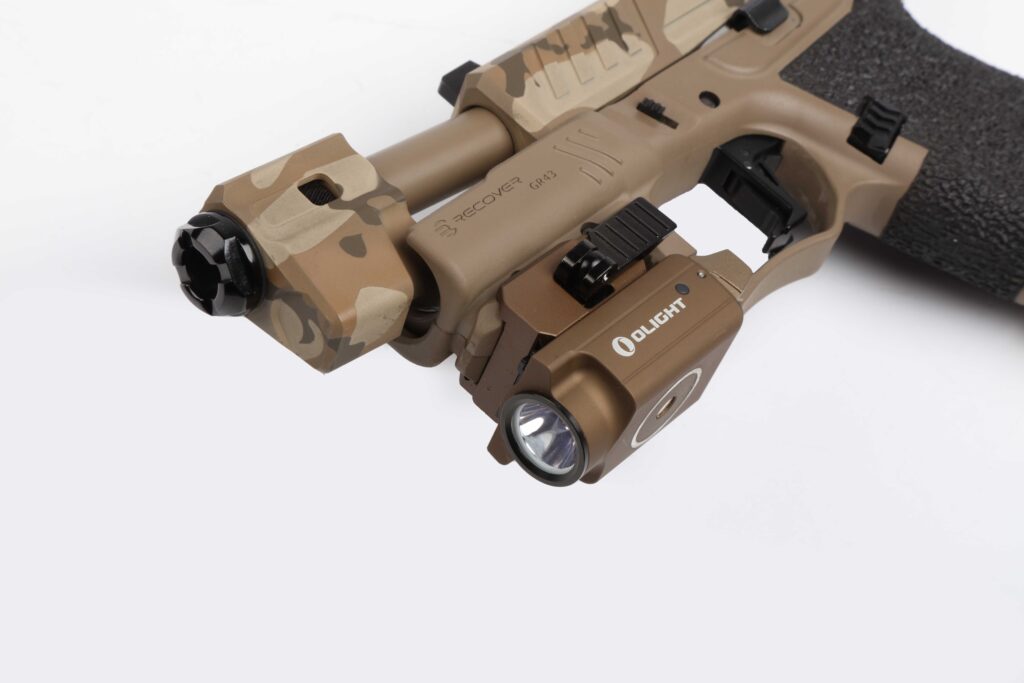 With a pistol this small, magazine and magazine extension choice is that much more important. Stark went with ETS 7-round mags because their clear bodies allow you to see ammo count at a glance. The mags also work the three different extensions he bought for this build, too. The Tyrant Designs magazine extension is the largest, gives three rounds of added capacity, and leaves plenty of room for larger hands. The extension by TangoDown adds a two-round capacity and leaves Stark with no fingers falling off it. The most compact extension, by Recover Tactical, has a nice clip for a pocket and has just enough real estate that his pinky doesn't go wild under recoil.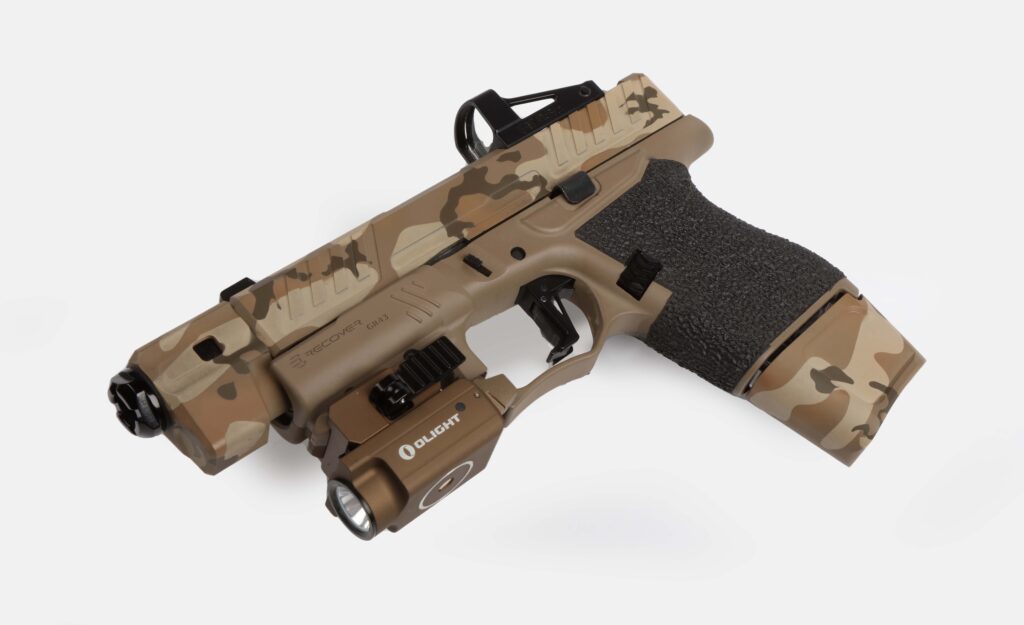 Stark says he's still getting used to the slim, single-stack size of the pistol, but he mentioned that the stipple job, along with the long magazine extensions and L-shaped CNC trigger, have helped his large hands control and manipulate the small pistol without any problems.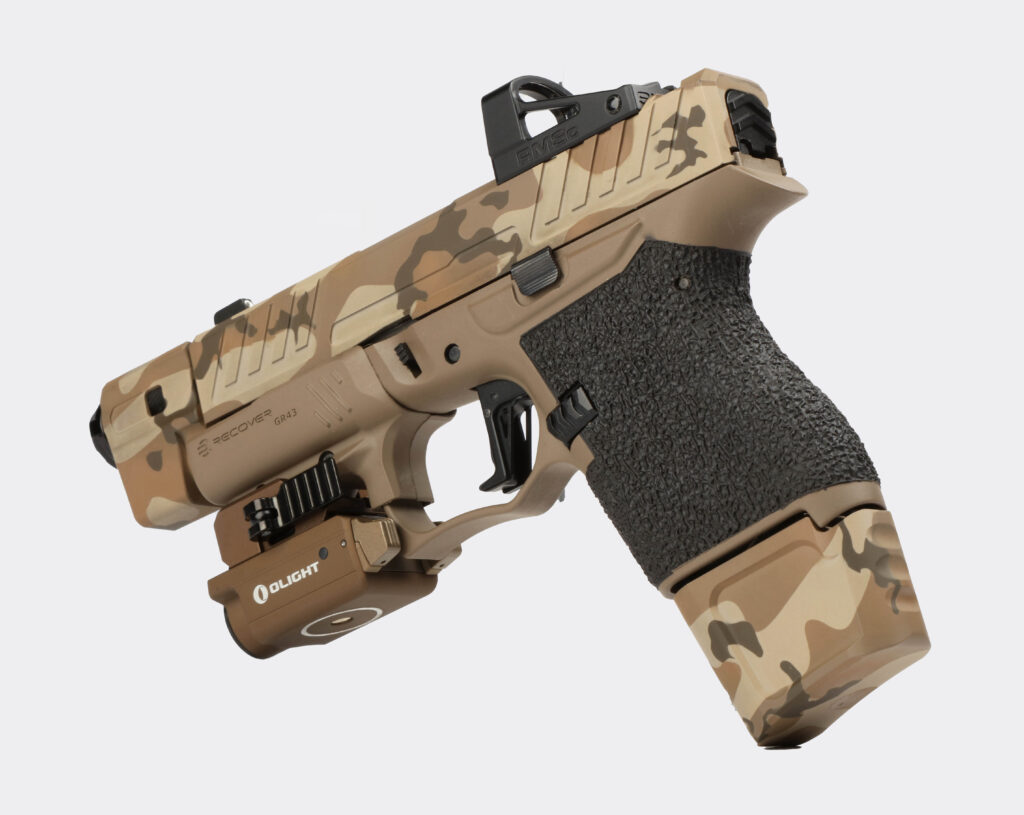 "I'm excited to break this puppy in and get comfortable with smallest pistol I've ever owned," Stark proclaims, visibly happy about how his concealed-carry pistol project turned out. "Now that I'm a bit more used to handling a subcompact pistol, I might try to customize a SIG Sauer P365 next if this G43 works out."
Text and Images by Jerry Tsai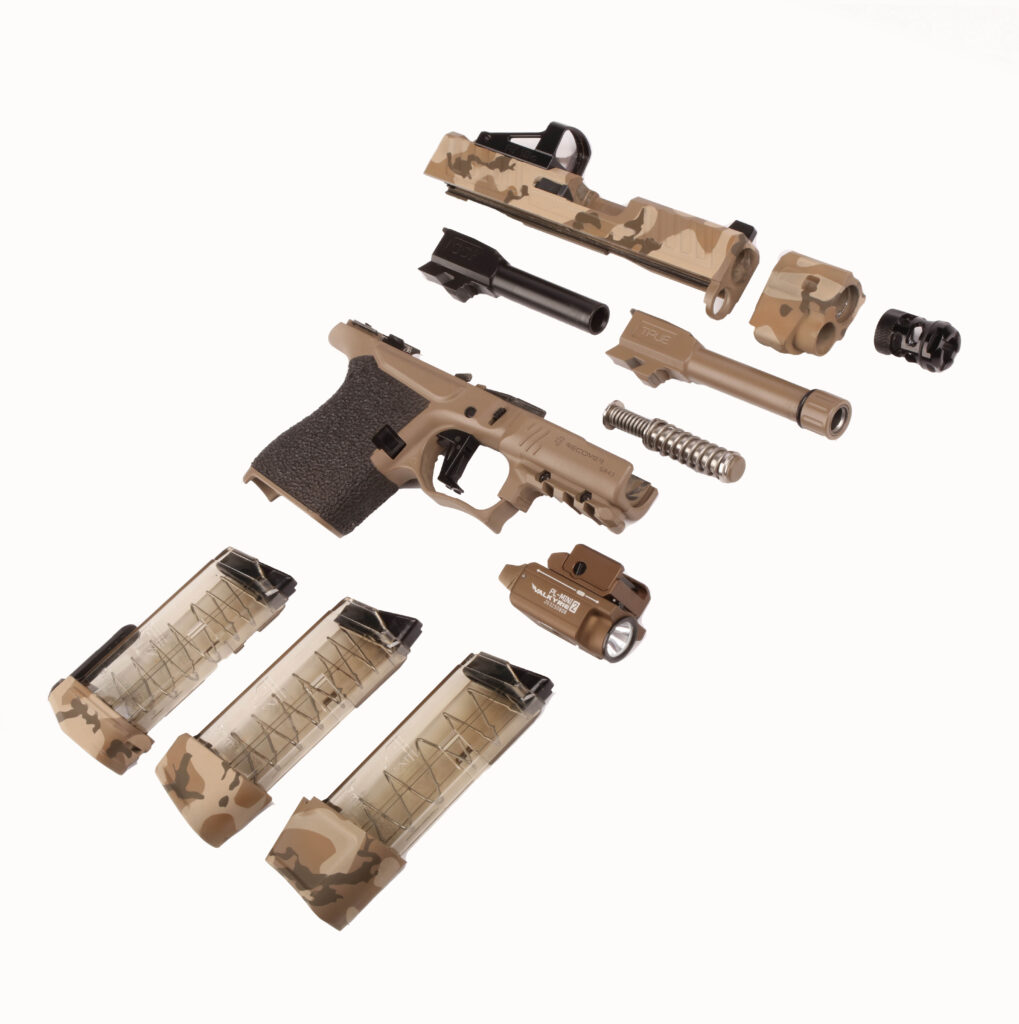 Build Sheet
Daniel Stark's Custom Glock 43
Specifications
Caliber: 9mm
Capacity: 7 to 10 + 1 (depending on the mag extension)
Barrel: GGP Match Barrel (3.41 in.) / True Precision Stainless Threaded (3.85 in.)
Overall Length: 6.5 in.
Weight Unloaded: 1 lb. 4.3 oz. (in carry configuration)
Coating: Cerakote by Tactical Arms & Manufacturing
Stippling: Dark Side Precision
Slide: Grey Ghost Precision SPG43-RMS V1
Frame: GlockStore SS80 80%
Featured Accessories:

Sights: Warren Tactical Series Glock 42/43/49 Tritium Front Sight
Optic: Sheild Sights RMSc (4 MOA)
Magazine: ETS 7 Round (9mm)
Parts & Accessories:
CMC Triggers Drop-In Glock Trigger (.9mm G43, G43x, G48/Black), Tyrant Designs CNC Glock 43, 43x, 48 T-Comp Compensator For Threaded Barrel, Olight Technology PL-Mini 2 Valkyrie (Desert Tan), Recover Tactical GR43 Rail Adapter, Elite Tactical Systems ETS 7 Round (9mm) Mag, Tyrant Designs CNC Glock 43 Magazine Extension (Black, Capacity 3), TangoDown Vickers Tactical +2 Magazine Extension, Recover Tactical MC43 Magazine Clip With Finger Extension, TangoDown Vickers Tactical Slide Stop, GlockStore Precision Extended Slide Lock, Tyrant Designs CNC Glock Slide Cover Plate, GlockStore Extended Tip Skeletonized Striker (Gold), GlockStore G43 Reduced Power Tungsten Guide Rod (Flat Dark Earth), GlockStore Titanium Coated Safety Plunger For Glock 43/43x/48, Ghost Inc. Turbo Maritime Spring Cups For Gen 1-5, X & 42/43, Tyrant Designs CNC Glock Extended Magazine Release, Command Tactical Complete Glock OEM Upper & Lower Parts Kit
About The Owner
Name: Daniel Stark
Occupation: Physical Therapist
Special Thanks: The wife and children. For all the help: Alex @ Tactical Arms & Manufacturing. Dan @ Glockstore, Ryan @ Grey Ghost Precision, Figg @ Dark Side Precision, Ken @ Shield SIghts, Brett @ CMC Triggers, Jason @ True Precision, Tom @ Tyrant Designs, Taylor @ Olight, Ron @ Recover Tactical, Erin @ Tangodown