Deadfoot Arms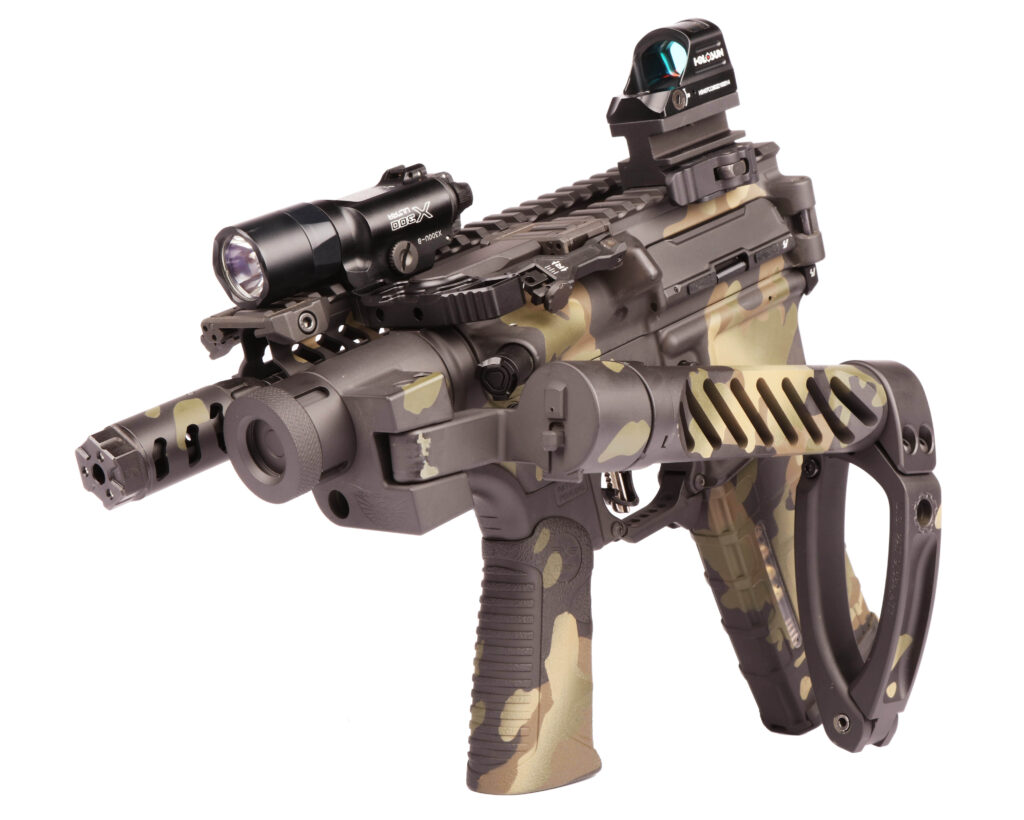 • Built from Deadfoot Arms FoldAR Double Folding AR-15 Builder's Kit
• Folds down twice for compact storage
• Chambered in .223 Wylde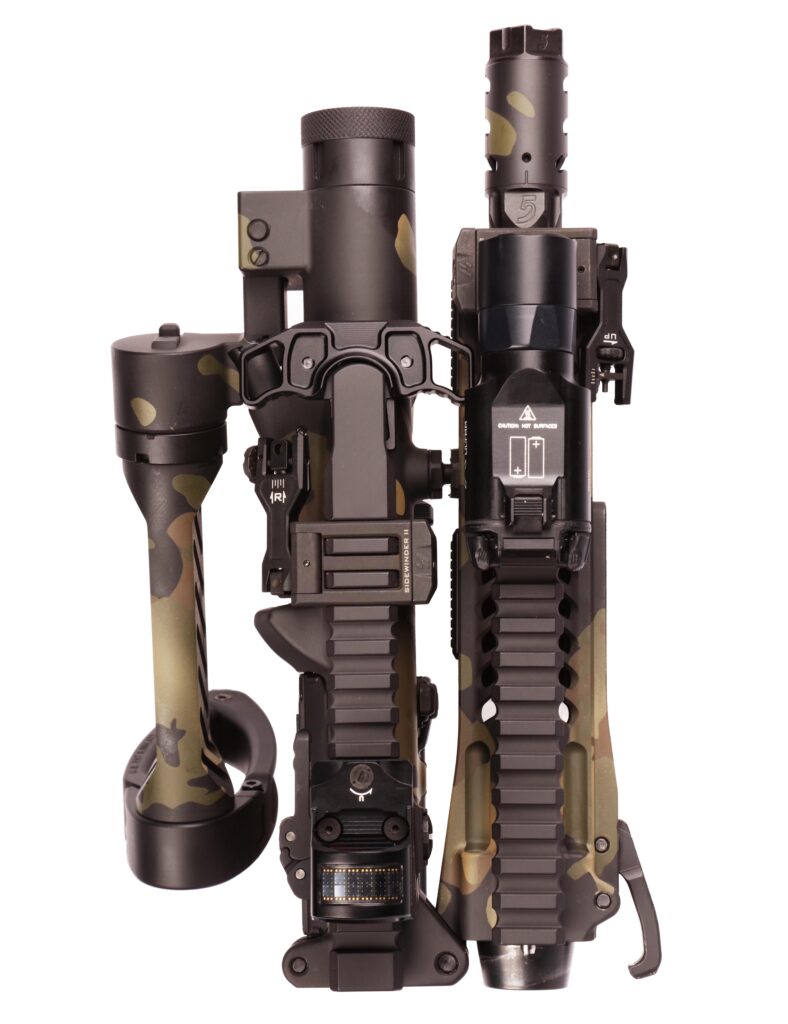 Within the pages of UN12, you'll notice that we have a unique take on firearms. On top of viewing them as essential tools and crucial defensive implements, we also look at them as artistic pieces that are to be admired as much for their technical achievements as their stunning beauty. The craftsmanship and attention to detail that goes into every firearm we feature is something to behold and appreciate. We also recognize that every gun has a story to tell.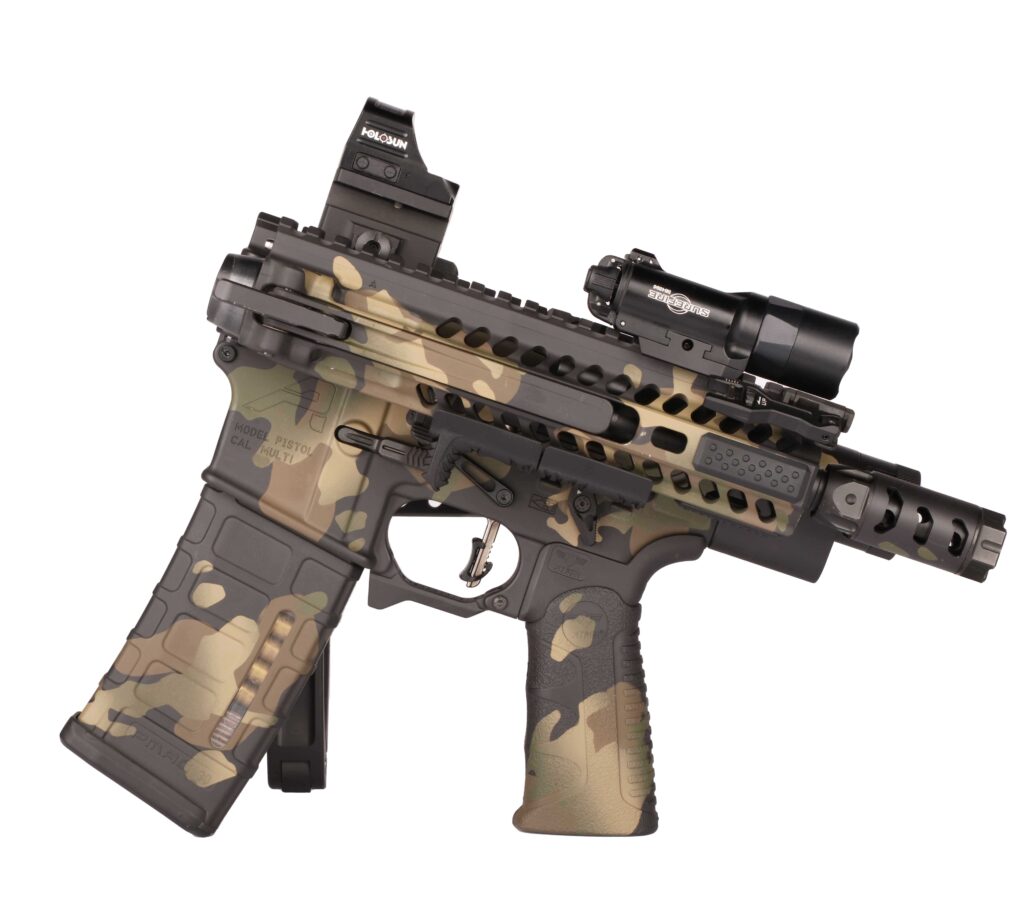 When we select a firearm to feature, our intention is to not only show the gun itself but also find out more about its story. Who is the owner? How did it come to be? Why was it modified in such a manner? We usually look far and wide for guns to feature including on our social media accounts (which is why it's important to tag us if you want your gun featured). But this time we had a blaster worth taking a closer look at right under our noses. Our Associate Editor, Danny Chang, built an AR pistol that's worth examining a little closer.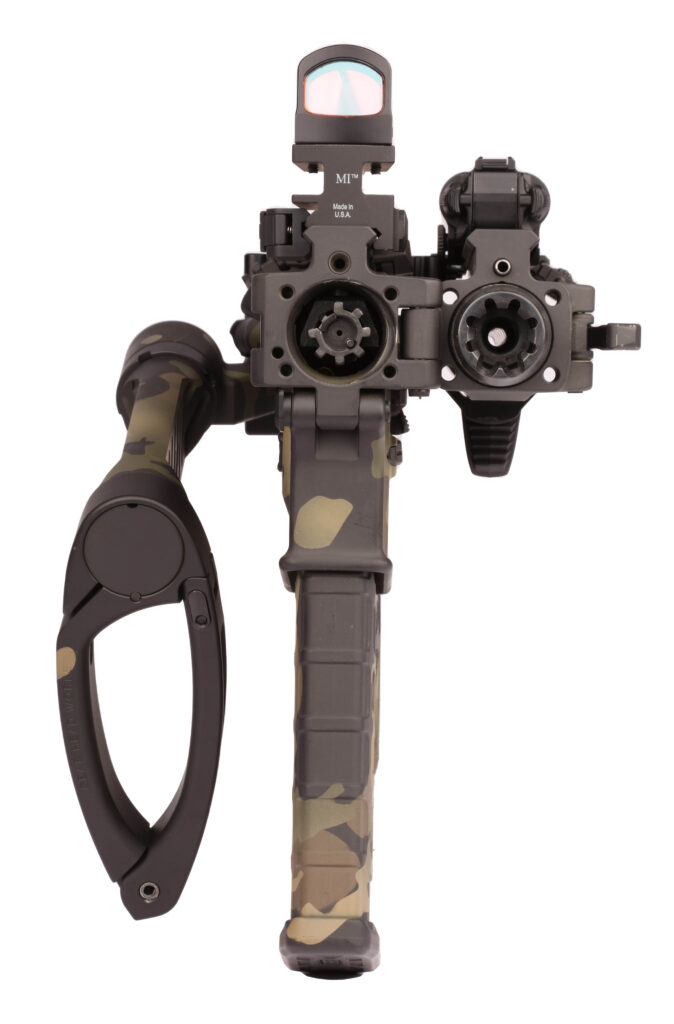 According to Danny, his AR pistol wasn't built with any particular use or theme in mind. The impetus for the build it came about when he first laid eyes on FoldAR's Double FoldAR15 at TriggrCon 2018. The memory of the truly innovative double-folding AR-15 was something he couldn't shake. His mind started racing with ideas for a build using this kit. "This thing is as unique and innovative as it gets in my opinion," he says, "and I can't deny its hot look."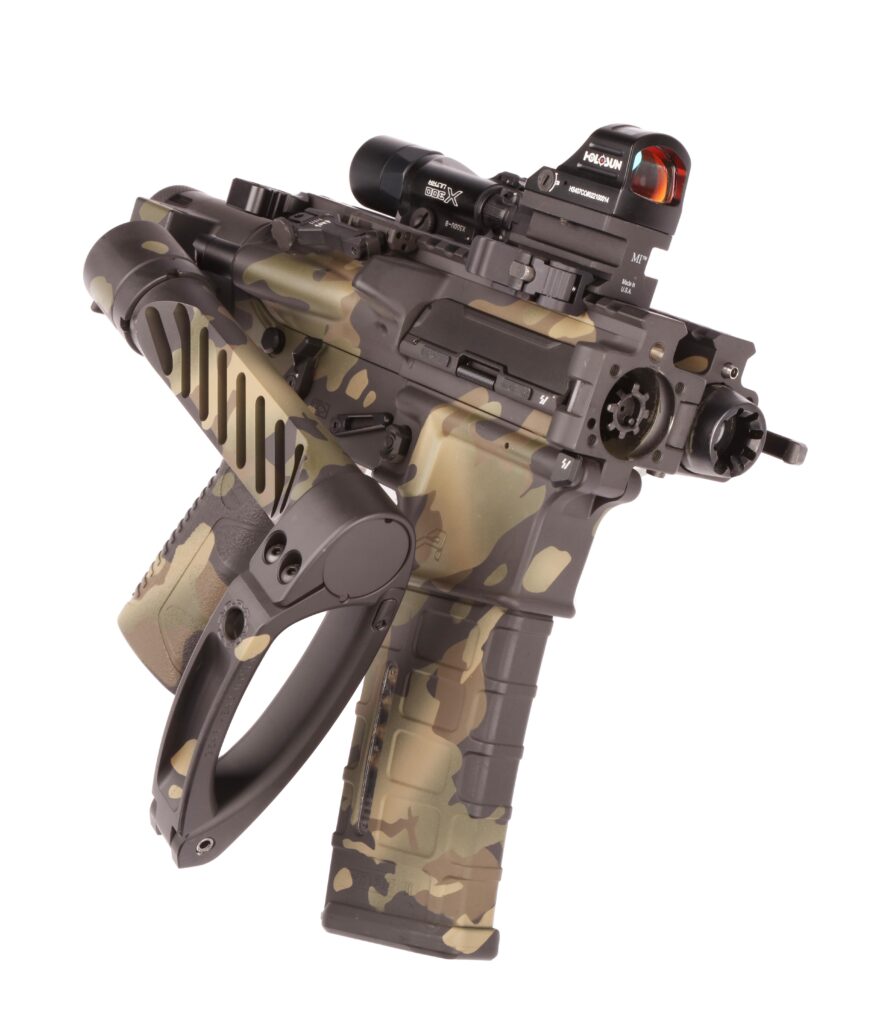 On how he discovered the Double FoldAR15, Danny informs us: "While attending the 2018 TriggrCon range day, I was doing my usual thing for UN12 and walking up and down the firing lines to get my hands on all the latest and greatest guns and gear. Walking past one table, something caught my eye. There was an AR fitted with a Dead Foot Arms (DFA) Modified Cycle System (MCS) folding stock adaptor, which is something that I'm already very familiar with, but something else about it made me do a double-take. The AR's handguard was folded under the upper receiver with the barrel pointing the wrong direction. Oddly cool looking; I soon realized that this wasn't your ordinary AR. Due to its folding mechanisms, the entire gun was only as long as the upper and lower receivers. I couldn't help but say out loud, 'That's fuck'n cool!'"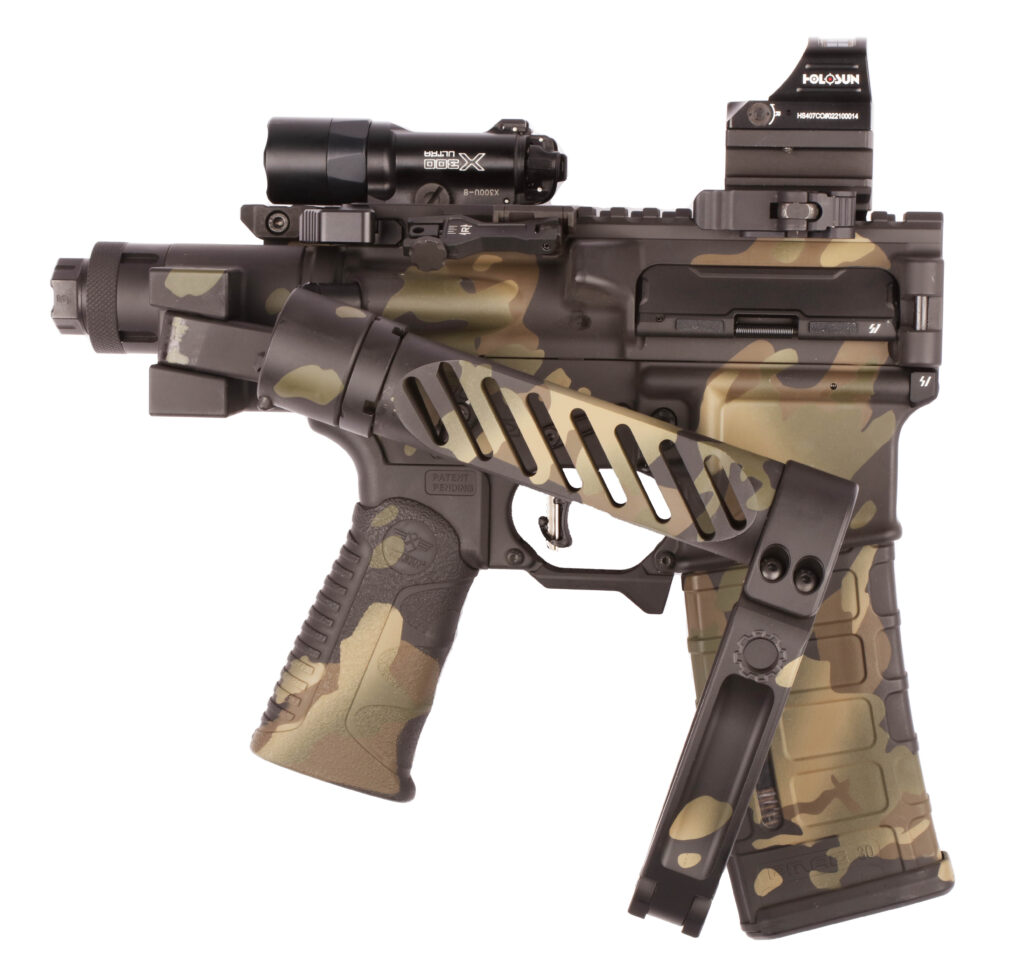 He continues: "Fast forward a few months later, I was informed by the guys at DFA that they now would be selling a FoldAR Double Folding AR-15 Builders Kit that incorporated DFA's MCS folding stock adaptor. Hearing that news, I became a hybrid of a drool and a smile emoji all rolled into one. I had to get one. I asked them to put my name in line for one in .223 Wylde. Understandably, due to its popularity, the kit was backordered for months. After waiting not-so-patiently over the course of a few months, I was informed that my order was finally shipping out. Thank you, Dead Foot Arms—I know these kits are in high demand and not easy to come by and rightfully so."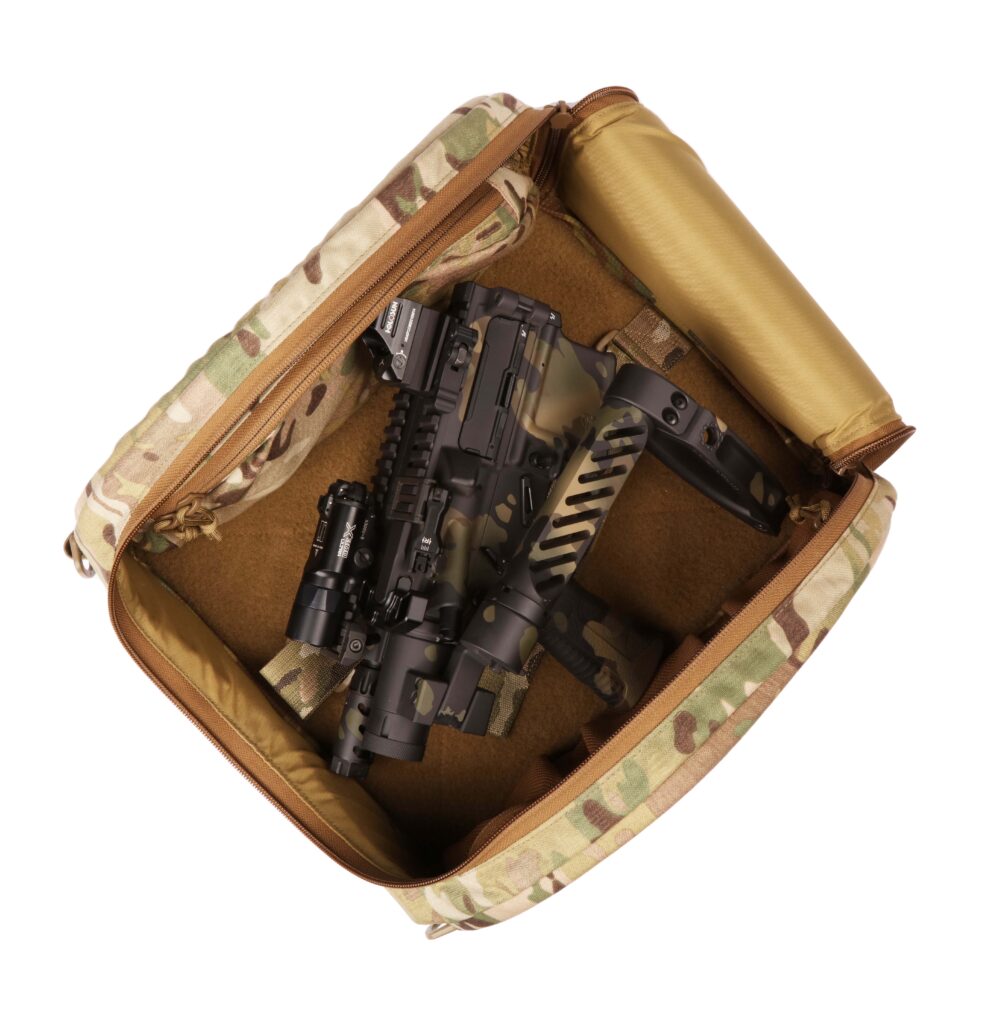 To say Danny loves to work on projects is quite an understatement. We're not talking about only guns either. If he's not further organizing his garage by building shelving units or tinkering on a car, you'll always find him doing something, even pulling tree roots out of the ground to install a fence. Of course, his first passion is the customization of firearms and related gear. "In my opinion, if you can rotate the tires on your car and perform an oil change, great, but if you can rebuild an engine or transmission, let's talk and hang out," he says. "#buildyourown and #doityourself is my motto in life."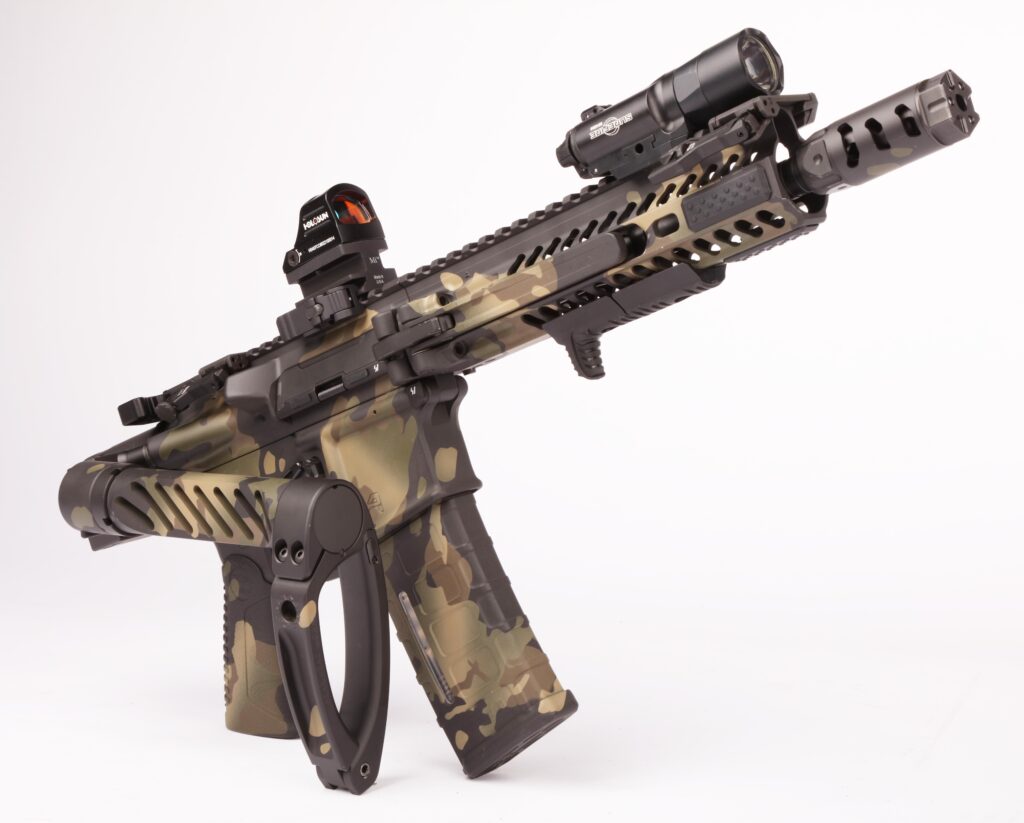 His drive to work with his hands and exercise his creativity is a big reason why the DFA Double FoldAR Builders kit really got his builder juices flowing. The kit comes with everything you need if you want to try to fit a complete AR-15 into your pocket. We jest—but it folds down so compactly that it sure feels like it could fit in a pocket. Because of the proprietary barrel and components required, parts for a complete upper are included in the kit. "I went with the 9-inch length barrel .223 Wylde caliber version," Danny says. "A 300 Blackout version is also offered. Along with the complete upper, you get Dead Foot Arms' popular MCS stock adapter kit. I believe the MCS is the only folding stock adapter that allows the AR to be fired while still in its folded position. Can't go wrong with that. This builder's kit is only missing a lower receiver, stock or pistol brace, and a lower parts kit and ammo to make it go bang."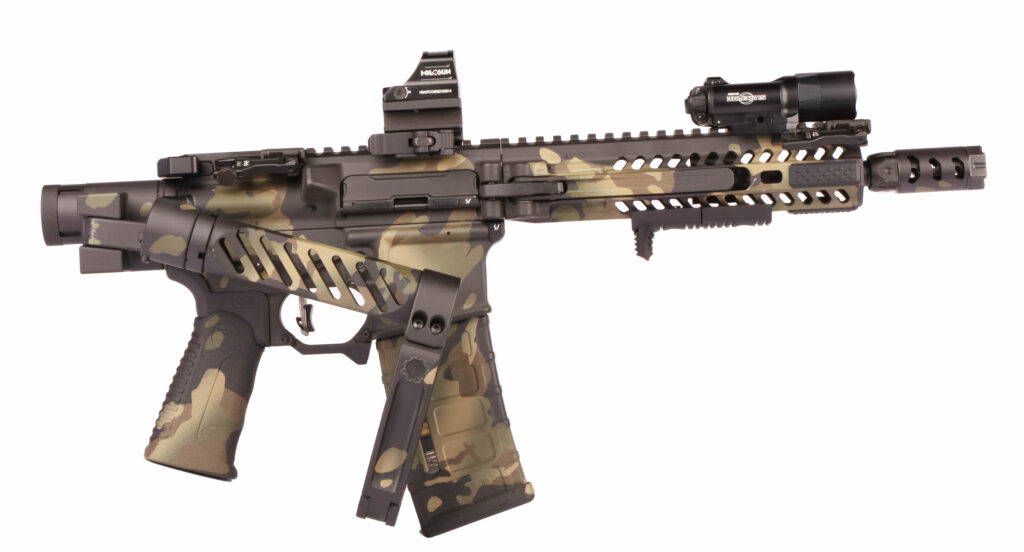 Regarding the lower receiver he chose to start with, Danny explains: "No bullshit, in my safes you will find more Aero Precision AR lowers than any other brand by far. My first-ever AR lower was an Aero I purchased back in 2001. I purchased a stripped Aero lower and my friend Chris sat down with me and taught me how to install a complete lower parts kit. What I learned that day was to never assemble an AR lower over carpet. Those springs and detents are probably still in the carpet! True story. For this project, I selected a 'Pistol' marked Gen 2 Aero stripped lower that I had in the safe, which I thought would be perfect for this build."
Keen on the latest and greatest, Danny looked into which pistol brace setup would fit the right look that he was going for. He didn't need to look hard, since DFA offered a new pistol brace, called the Komodo, that caught his eye. We don't blame him—it caught ours too. "Aesthetically speaking, it is a thing of beauty," Danny says. "There should be some weight savings with all the lightening cuts too. Finish it off with a Gear Head Works Mod 1 pistol brace and it looks like I have the perfect arm brace setup for this Double FoldAR pistol."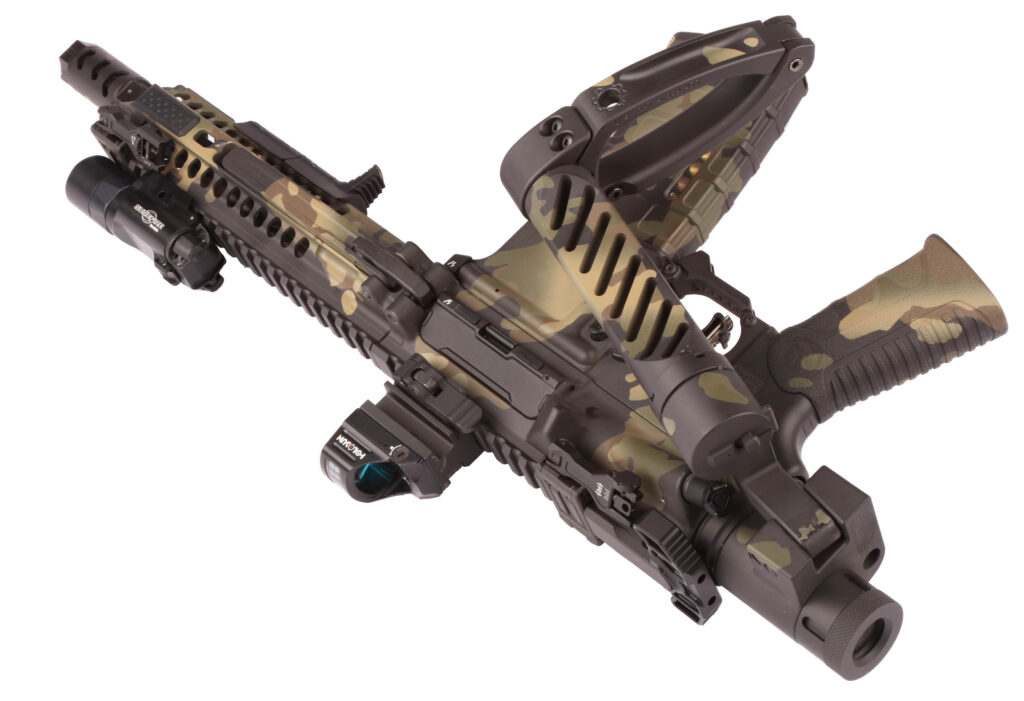 When he looked into Cerakoters, Danny did his research. In his own words: "Do a Google or social media search for #callahancam and you will see endless examples of a sharp-looking camo pattern called CallahanCam, which is created by Republic Rifle (Reprif). I've always admired AR builder sets, Glock slides, even AKs and others that I've seen in CallahanCam. Reprif is trusted by top brands like Aero Precision, Lantac USA, Meridian Defense Group, Cloud Defense, and many others. They have an Instagram page that's hot like fire… check it out (@republicrifle). Republic Rifle isn't a huge operation, which isn't a big deal. What does matter is that they get 'it.' In terms of aesthetics, quality of work, hitting deadlines, and keeping customers in the loop, they score straight As. What's also impressive is that the company is only manned by two dudes with occasional help from family and friends. The CallahanCam pattern used for my Double FoldAR is composed of olive drab, tan, brown, and black."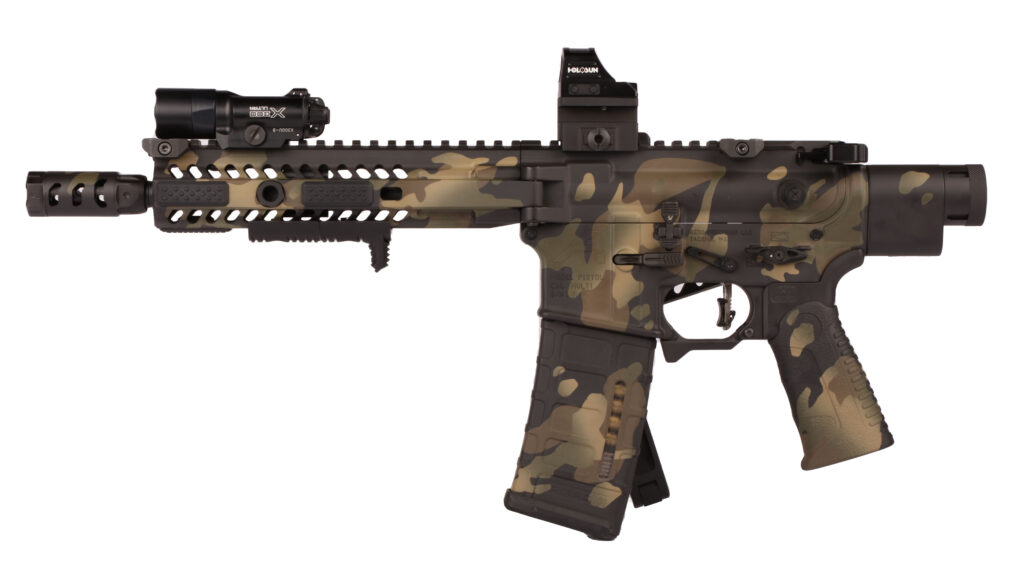 At the heart of the lower receiver sits a Hiperfire Hipertouch Eclipse trigger. For those who haven't seen the guts of a Hiperfire yet, you'll want to check out its unique adjustable spring system. You can choose from a variety of springs to adjust your trigger from under two to over three pounds of pull. It seems counter-intuitive, but the interesting thing is that if you want a lighter pull from the trigger, you actually choose a harder spring. Danny chimes in: "It's awesome what a super-light trigger without creep can do, and I love modularity and the option to tweak things. I now own an AR that has a lighter pull than some of my 1911s!"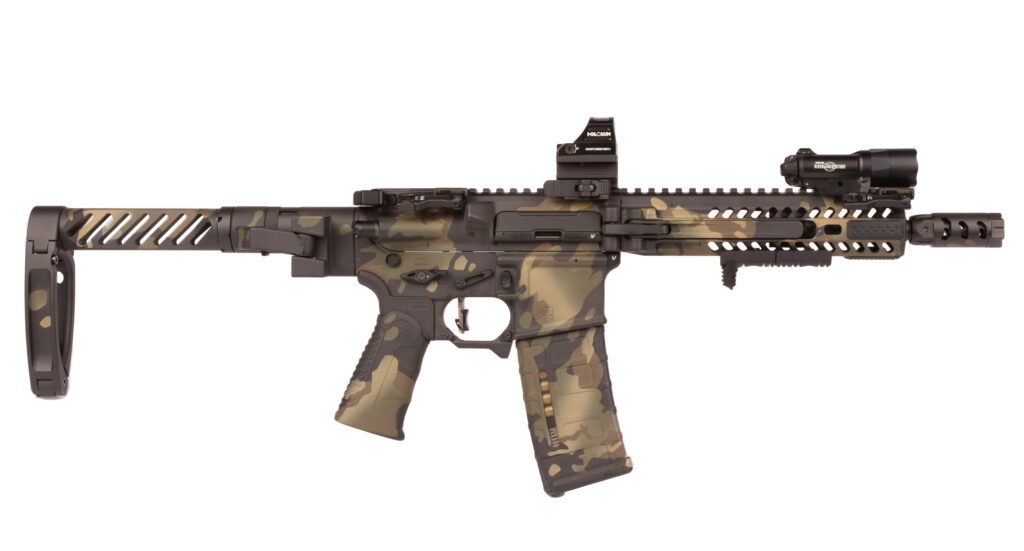 He continues: "The triggers on all my AR builds in the last couple of years have all been flat-faced whenever possible. I love the feel of a flat trigger. I installed Hiperfire's optional Hipershoe adjustable finger pad to the trigger, adjusted it to my liking, and wow, I kept placing my trigger finger over and over and I got consistent placements every time. The Hipertouch Eclipse is a trigger engineer's gift to shooters, with a lighter trigger pull and heavier hammer stroke. The heavier stroke increases reliability with less worry about light strikes, even on harder primers. For peace of mind I installed stronger KNS Precision anti-rotation trigger and hammer pins. I like to have my bases covered." An XTech Tactical ATG adjustable tactical pistol grip is also installed on the lower. It can be adjusted for grip angles of 17, 25, or 33 degrees. Subtle finger grooves, texturing, and backstrap give shooters extra comfort and control.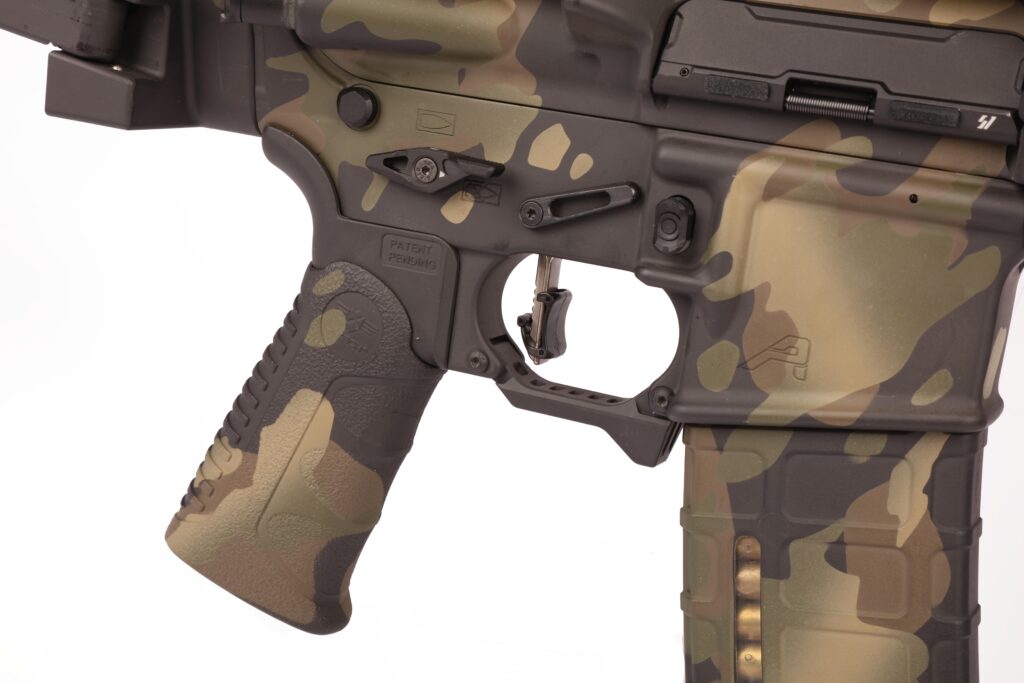 Battle Arms Development's (BAD) RACK ambidextrous charging handle is another innovative piece that found a home on this pistol. What makes it special is that there are no roll pins in it, so traditional charging handle weak points have been eliminated. What it does boast is slick operation and minimal wear, as the latch system slides parallel with the receiver notch. Another notable part that made its way onto this build is Odin Works ATLAS 5 muzzle brake. Odin Works does away with muzzle device timing with this latest brake. No shims or washers are needed to properly install it. The ATLAS is a 3-piece modular design with a titanium sleeve that can be adjusted for timing and tuning. "I'm going to do a serious session at the range and put a bunch of rounds down this thing to see what position I want the sleeve adjusted," he says, "so I can get the best felt recoil out of this little bad boy."
Many of us may be partial to certain brands when we build our guns, but Danny seems to have a borderline unhealthy obsession with Strike Industries (SI) parts. "Instead of sourcing parts from multiple manufacturers, I decided to go to Strike Industries for all the little stuff I needed," he explains. "SI just released their updated version of the Sidewinder 45-degree backup sights and I had to try them out. Tool-less adjustment dials, a low profile on the top rail, low snag, and now it's able to handle 5.56 and larger calibers, I'm in."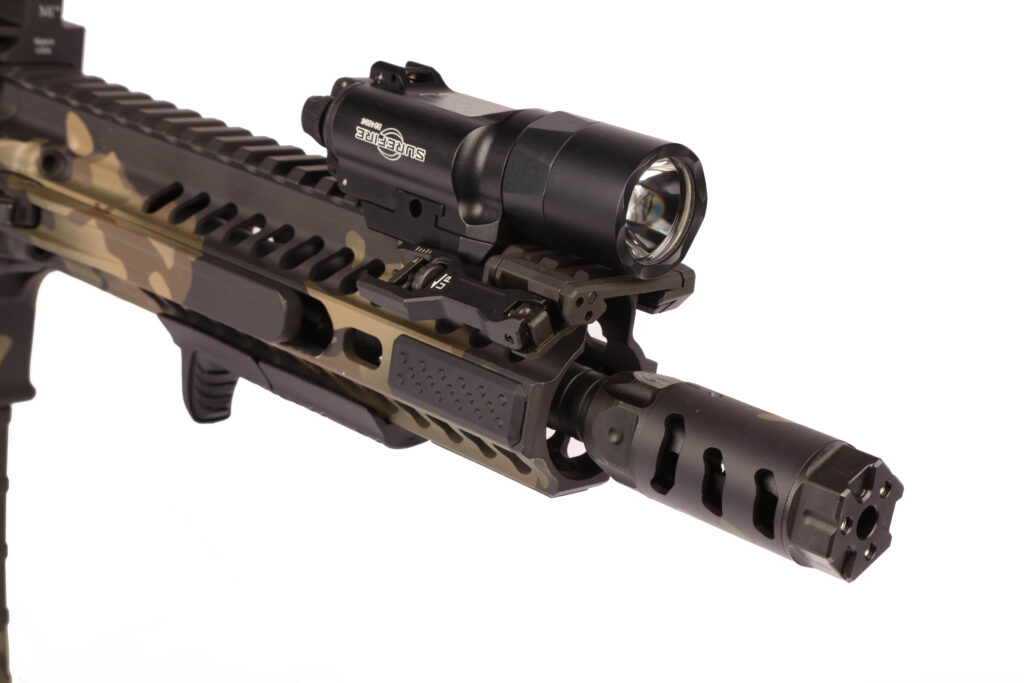 He continues: "Like my safe full of Aero Precision lower receivers that I use on various builds, I think my second most commonly used part is the SI dust cover. The one on this gun is their newer billet version that installs and removes within seconds thanks to internal captured springs and detents. No messing with tiny e-clips or having to removing the handguard to swap out the dust cover.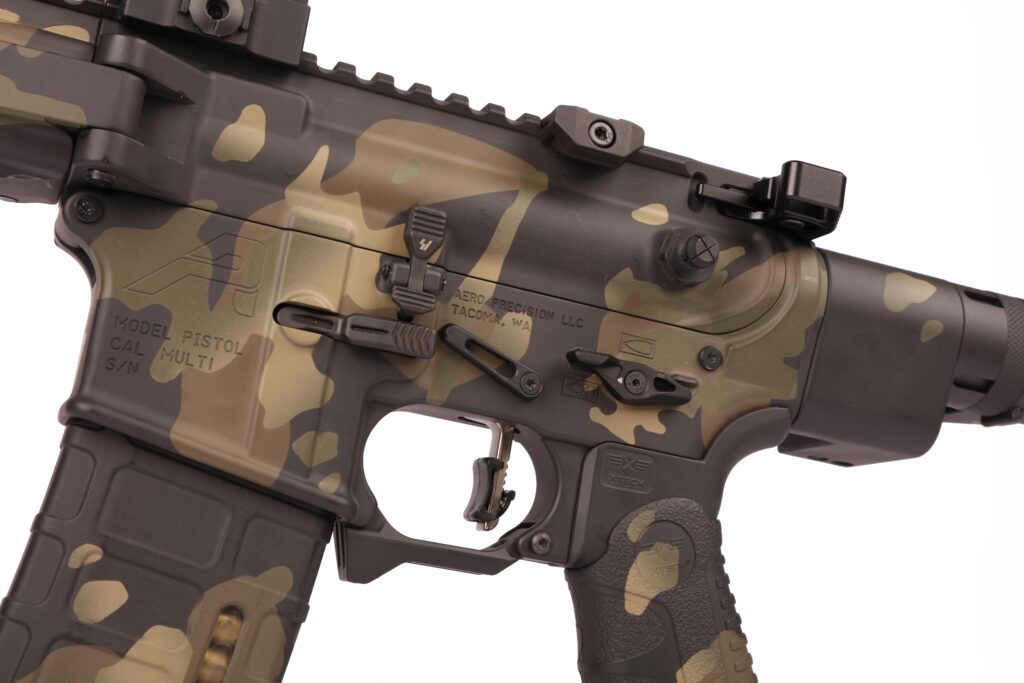 "The SI Strike Switch is a selector I have already used on other builds. With extended lever arms, I never have to alter my firing grip to engage the safety, and like all the other control parts, it's ambidextrous. The last SI part worth calling out is the Link Hand Stop Kit. It comes with three pieces for you to pick and choose how you want to situate it on your handguard. SI handguard accessories are nice because they usually all have the ability to work with M-Lok and KeyMod, so you don't have to decide before buying. It's so convenient."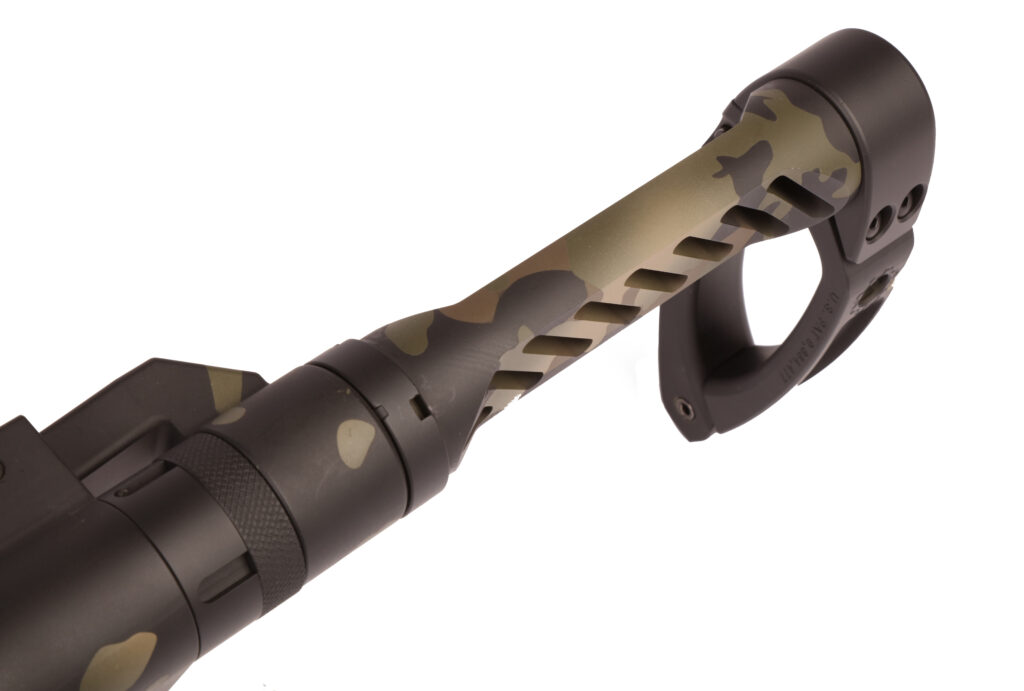 Optic-wise, Danny went with one of Holosun's latest offerings, the HS407CO. This red dot is from Holosun's Elite Series of optics, and with it's unique features it should be a formidable force in the red dot market. It comes with Solar Failsafe technology, which Holosun was the first to innovate. This tech gives the optic the ability to operate solely on any light source, natural or artificial. The unit's reticle has an 8 MOA outside circle with a 6 MOA circle inside of it—essentially a double-ringed open circle. This style of reticle looks like it'll work well for quick, close-distance target acquisition. The housing is made from robust 7075 aluminum, which should be able to withstand some major abuse. The red dot is mounted on a Midwest Industries mount made for Trijicon RMR, which is light in weight for its size. We noticed that the mount has one of the smoothest QD levers on the market.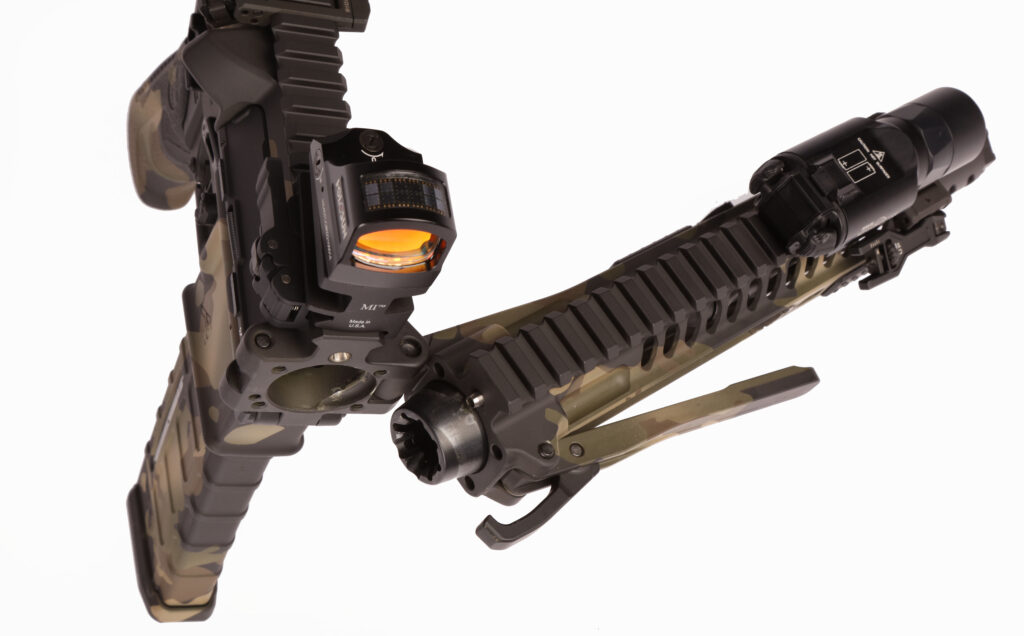 Sitting fore of the optic, Danny installed a SureFire X300U-B on the top rail because he found that it was a comfortable spot. Of it he says, "The front of the light nicely sits over the Strike Industries Sidewinder II front backup sight. I don't have much real estate on this short handguard so I need to make smart choices on positioning the accessories."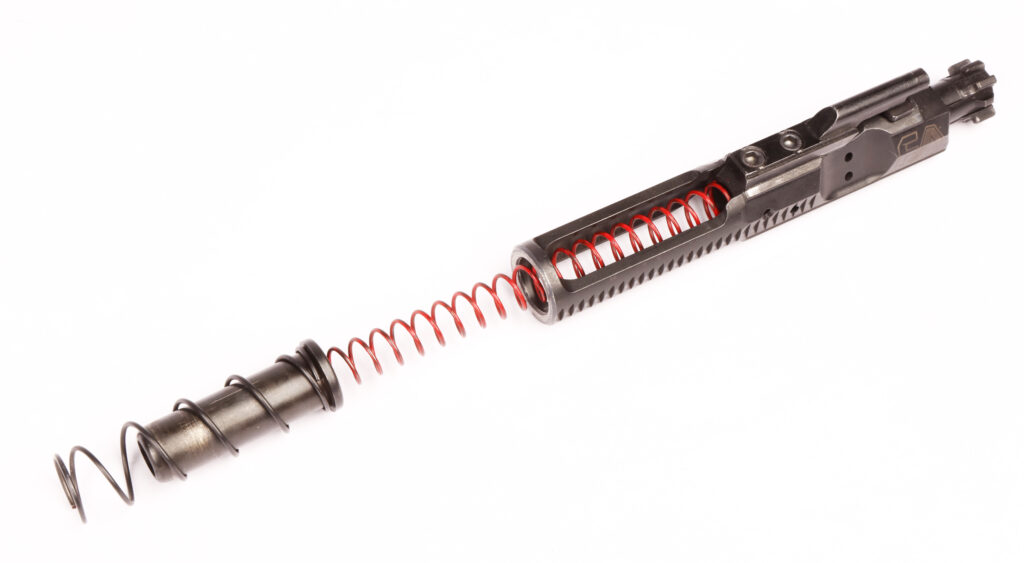 Let's talk about this AR's bolt catch retaining pin. Outside of the incredible engineering feats that went into the making of the Double FoldAR and even DFA's MCS, Danny also marveled at something smaller, much smaller. Being a tech junkie, he appreciates all the engineering that goes into a product, not matter how small it may be. For those who have traditional lower receivers that require a pin to be pounded in when installing its bolt catch, KNS Precision's bolt catch retaining pin is here to save you from the frustration. Installed by passing the pin through the receiver's bolt-catch pinhole, it's captured on the other side by securing a little C-clip. It's that easy. No more dropping the pin when hammering it, no more possibly marring the lower or your brand-new Cerakote job. Just set it and forget it.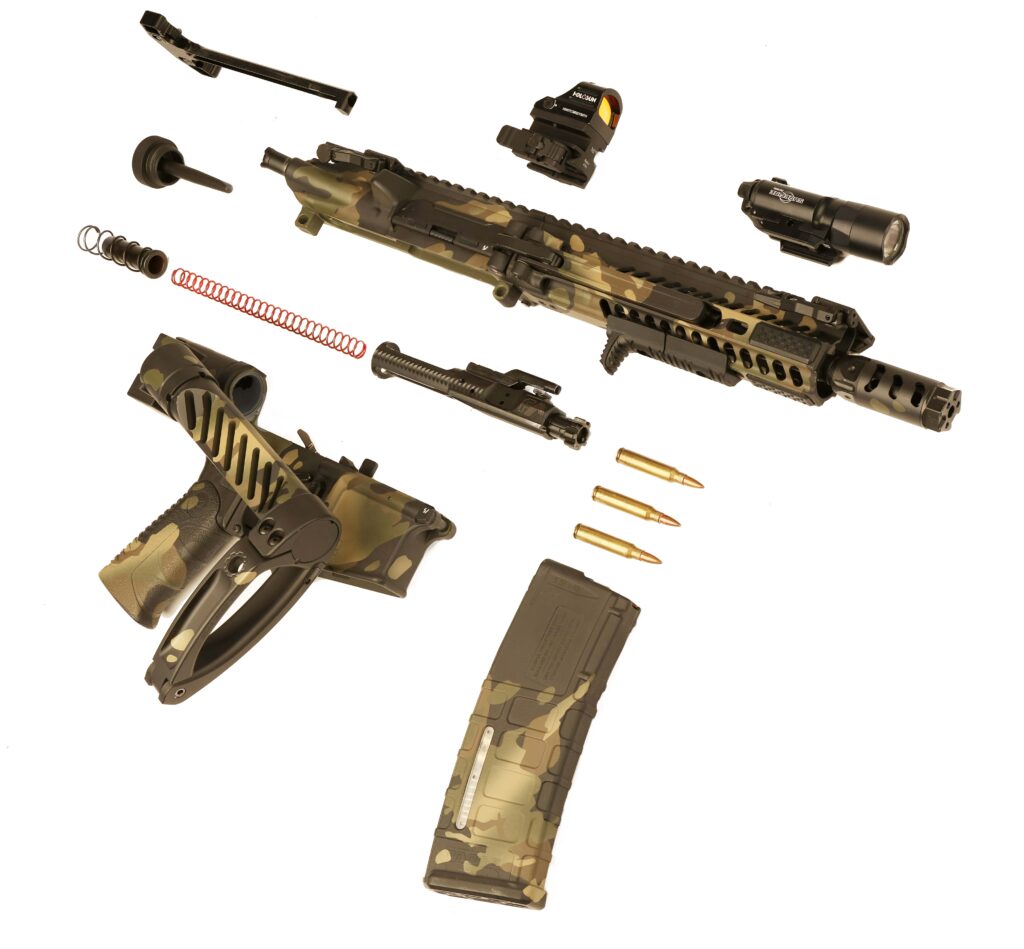 On what else he has planned for this AR pistol, Danny laments, "I don't have one yet for this little thing, but I have to get one of those custom foam cut hard cases, especially now that Pelican has their custom foam service (pelicanfoam.com) up and running. I know there are other companies who already have pre-cut foam for the FoldAR, but it just wouldn't be the UN12 way if I didn't personalize something for myself."
Text by Martin Anders and images by Michael Grey
It looks like he's already found another project to get started on.
Build Sheet
Custom FoldAR Double FoldAR15
Specification:
Caliber: .223mm Wylde
Length Folded: TK
Length Extended: TK
Barrel: FoldAR 9-inch
Weight Unloaded: TK lbs. TK oz.
Upper Receiver: DFA FoldAR .223 Wylde Double Folding AR-15 Builder's Kit
Lower Receiver: Aero Precision Gen 2 Pistol Marked
Coating: Cerakote by Republic Rifle (Reprif)
Featured Accessories:
Optic: Holosun HS407CO
Optic Mount: Midwest Industries QD Mount for Trijicon RMR Lower 1/3
Trigger: Hiperfire Hipertouch Eclipse
Pistol Brace: DFA Komodo Pistol Brace
Magazine: Magpul PMAG Gen 1 Window
Parts & Accessories: Battle Arms Development RACK Charging Handle, Odin Works ATLAS 5 – 5.56 muzzle brake, SureFire X300U-B, KNS Precision Gen JJ Build-A-Kit (1.54, Black JJ), KNS Precision Bolt Catch Retaining Pin, XTech Tactical TG AR15 Adjustable Tactical Grip, Strike Industries Sidewinder II, Strike Industries Billet Ultimate Dust Cover-223, Strike Industries M4 AR15 Fan Series Trigger Guard, Strike Industries Strike Switch, Strike Industries Ultra Light Pivot/Takedown Pins, Strike Industries Link Hand Stop Kit, Strike Industries Ambi Magazine Release, Strike Industries MLOK-Cover 5-pcs. V1
Special Thanks: To my wife Hien, daughter Taylor, son Paxton for allowing the time to do this. Russell and Ted @ Dead Foot Arms, Matt and Adam @ reprif, Louis and Sean @ Holosun, Andrew @ SureFire, Tim @ HiperFire, Brian @ Strike Industries, George @ BAD, Joaquin @ Odin Works, Jeff @ Aero Precision, Wendy @ Midwest Industries, Jeremy @ XTech Tactical and Gordon @ KNS Precision.