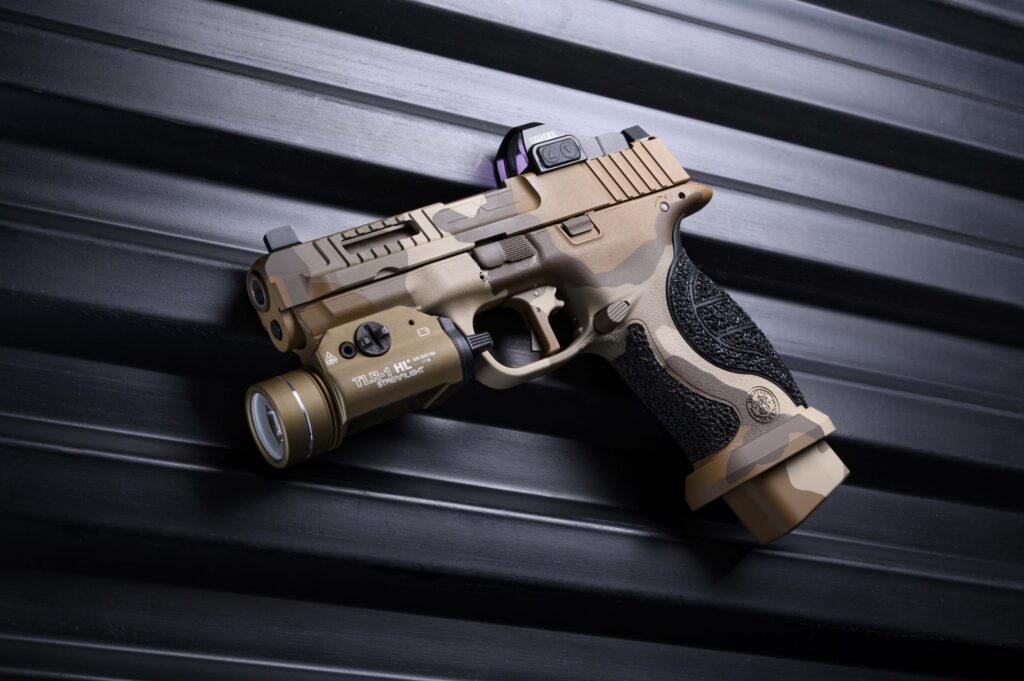 When Smith & Wesson first released its line of polymer striker-fire M&P pistols back in 2005, Glock was by far the reigning favorite among polymer pistol shooters. For perspective, we've got to remember the polymer pistol landscape was quite different back then. There wasn't another striker-fire polymer platform that gained such a dominant foothold as Glock, and options on modifying them were not as abundant as they are today.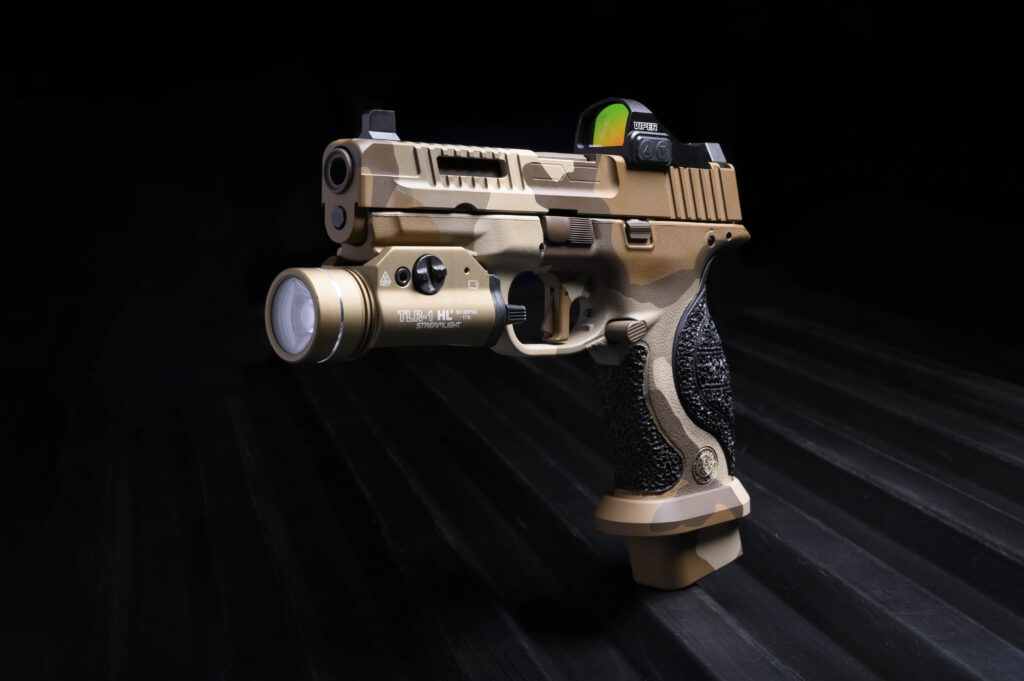 As happy as many were with the "Tupperware" gun, there were those who yearned for an alternative. For some, the Glock's grip angle and blocky feel left something to be desired. For others, they simply didn't have affinity for the brand. Whatever the reason, there were many that welcomed Smith & Wesson's innovative M&P with open arms. The M&P featured an ergonomically contoured grip and a grip angle that pleased most, as well as optional backstraps to help the owner configure the pistol to his or her liking.
After a few initial teething problems, the M&P pistol eventually found its groove and demand surged. Those who adopted it in its first few years found that modifying its trigger could be confusing. Unlike Glock, which had a few decades to refine its parts, the M&P seemed to use different trigger parts depending on when a particular pistol was produced. We imagine that this is probably due to mid-production refinements. Smith & Wesson has since figured it out, with parts used in post-first-generation models seemingly becoming as consistent as those of their competitors.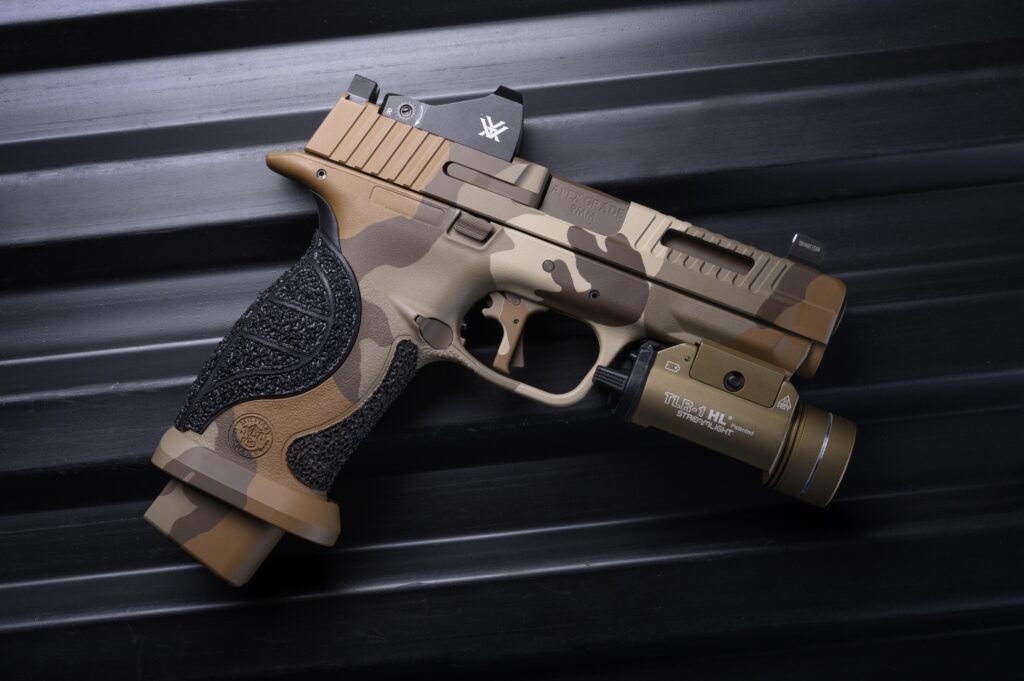 The newer M&P 2.0 pistols seem to be the go-to models now, but what of the original "1.0" generation pistols? Are they as customizable as their newer siblings? The M&P 9 you see here is actually one of those early pistols. It has been modified by its owner, Rick Diaz, to use for plinking and in tactical classes, as well as for the occasional shooting competition. His pistol started out as an M&P 9 Pro, which meant that it came from the factory as a long-slide model equipped with a 5-inch barrel. The M&P 9 Pro was popular with competition shooters thanks to its accuracy and long sight radius.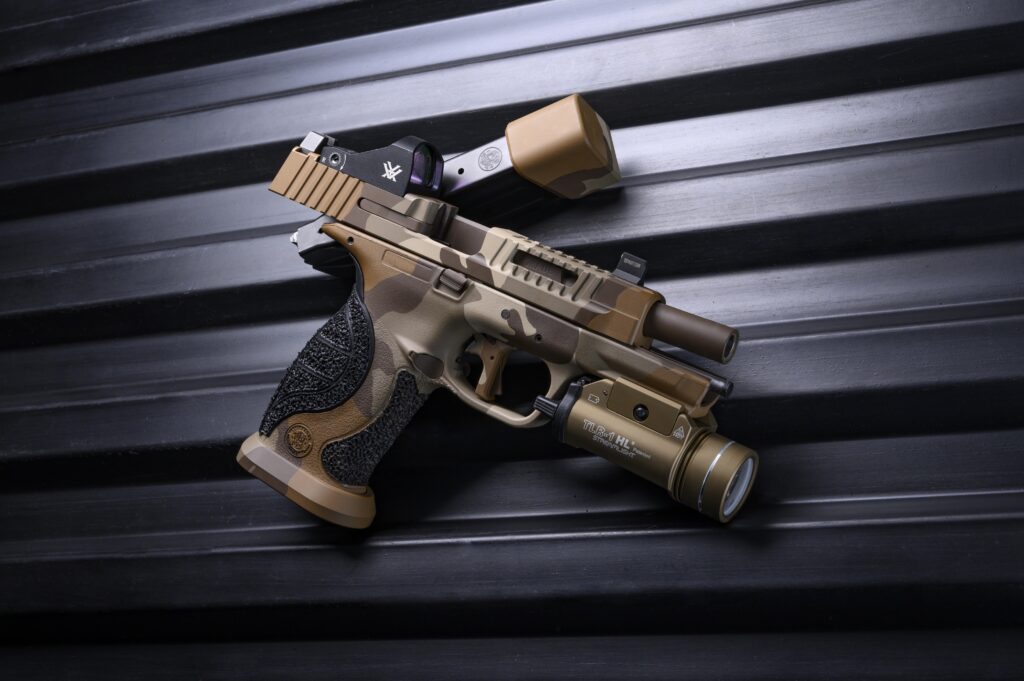 Diaz enjoys shooting his pistols at local competitions or whenever he gets a chance to attend a tactical or self-defense class. As the owner of a handful of modified pistols, he had always passed on modifying his M&P due to not knowing what parts would fit it. He got it years ago and remembers the confusion at the time about which aftermarket trigger parts would fit, so he decided to keep it stock. On top of that, Diaz points out, "As popular as M&Ps are, they haven't had as many readily available drop-in parts for them as with Glocks. I like having the option of using off-the-shelf parts in case I want to easily swap them out for newer parts down the line."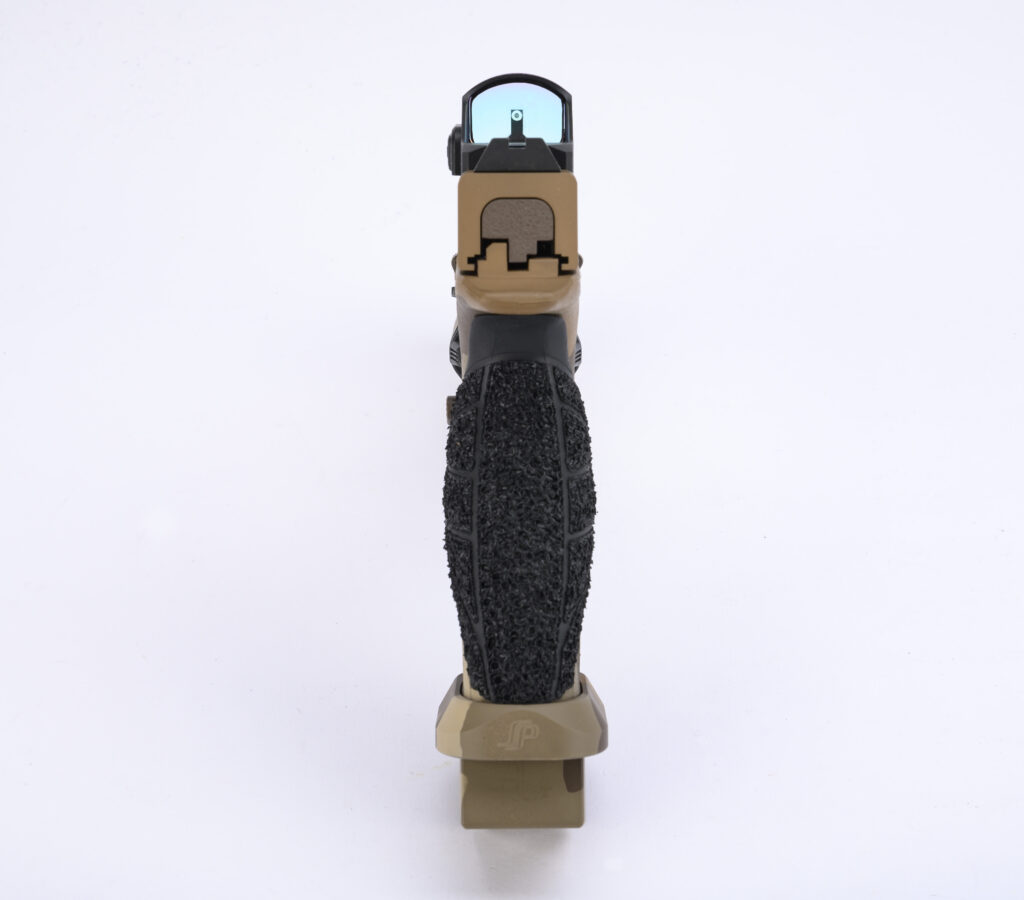 It wasn't until he saw that Faxon Firearms released a drop-in slide that he finally turned his attention back to his M&P 9 Pro. The Faxon Hellfire slide fits earlier M&P 1.0 frames and comes pre-cut to accept a red dot, has lightening window cuts to help reduce weight, and has front and rear serrations. The slide is also thoughtfully cut so that it can take Glock iron sights, a welcome feature since sights made for Glocks are so plentiful.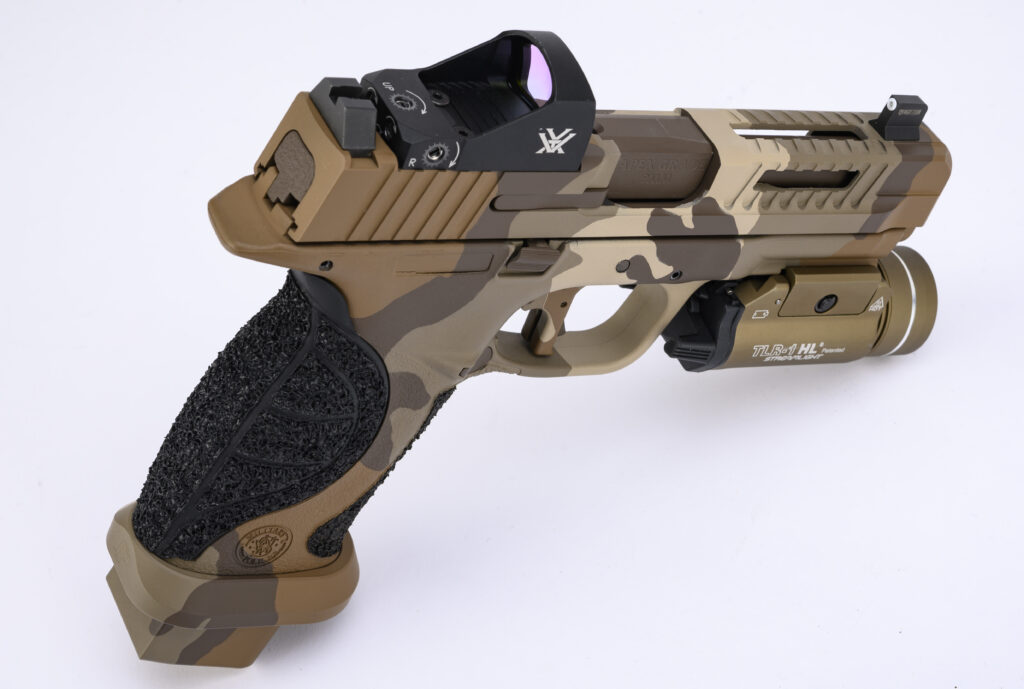 By switching his M&P to the Faxon Hellfire slide, however, he did sacrifice slide and barrel length. The slide is made to full-size spec, which takes a 4.25-inch barrel. He was fine with this, since he wanted the additional benefits of a red-dot-ready slide without having to send his slide out for irreversible custom work.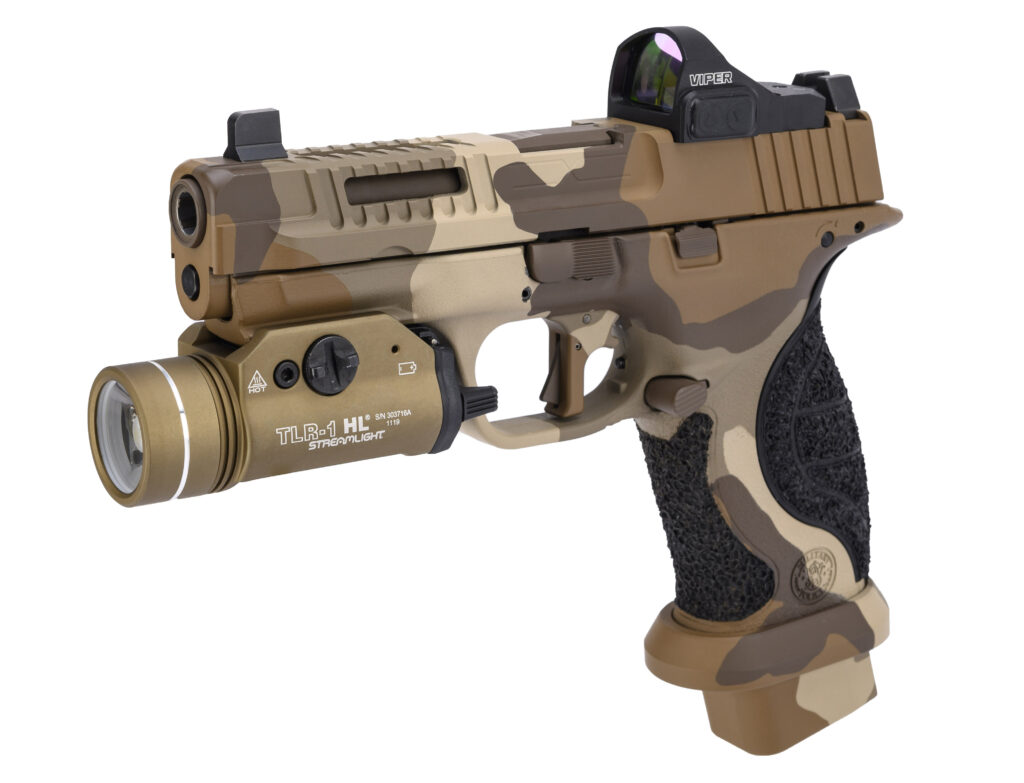 Upon further research, Diaz also found that Apex Tactical offered not only their famed trigger parts that would fit in his M&P 1.0, but a drop-in barrel as well. Apex's stainless steel barrel features a 1:10 twist rate and the company claims that its design increases accuracy, allowing the M&P to shoot as small as a 1.5-inch grouping at 25 yards. "On average it'll have the capability to shoot better than I can," Diaz says. "I'm sold!"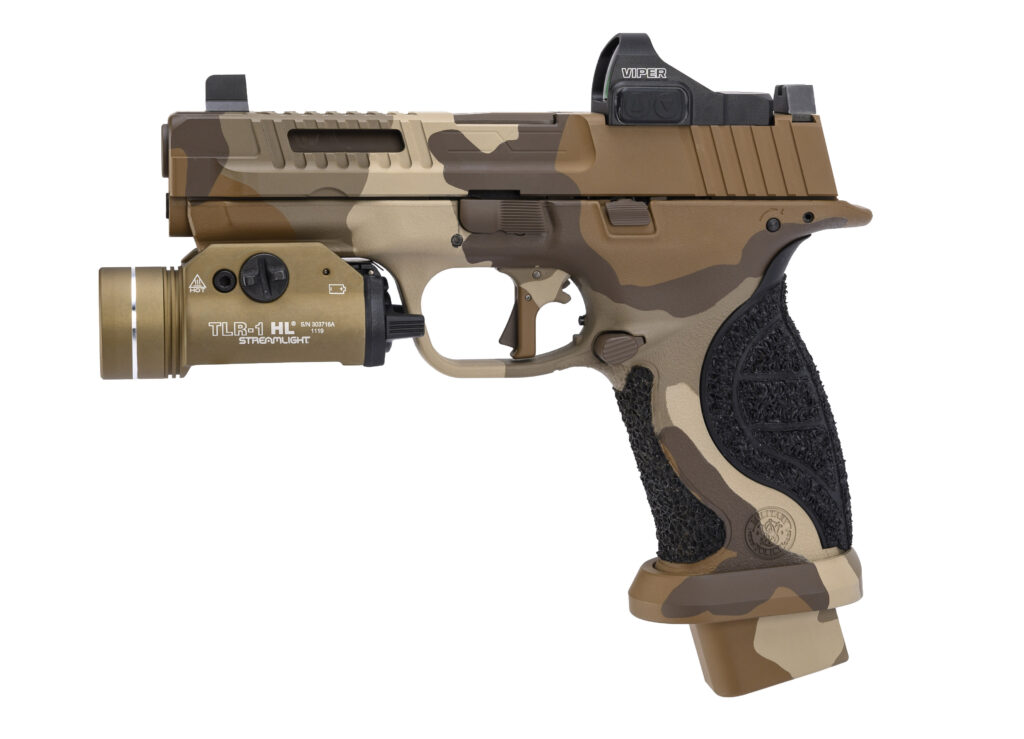 And in the years since he last looked, there are now many more aftermarket M&P parts available. Down the rabbit hole he went; he proceeded to look at everything else he could do to mod his pistol out. His search led him to Springer Precision, which specializes in high-performance upgrades for various firearms and offers an extended magazine release and magwell for the M&P, as well as M&P 140mm extended-capacity basepads complete with extra-power springs for reliable ammunition feeding. These modest-looking basepads up the ammo capacity from 16 to a respectable 22 rounds. He snapped all of that up and also made sure that he got some needed factory parts for his build, such as a slide-stop assembly and trigger bar assembly from Brownells.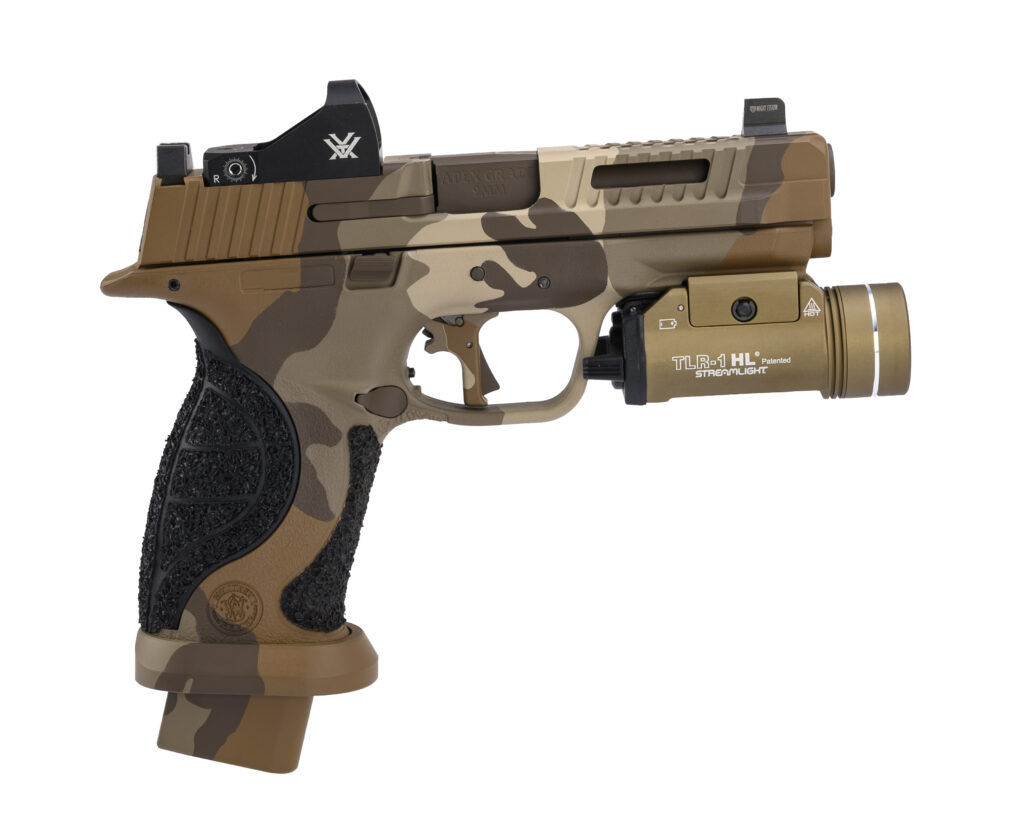 Diaz has a couple of modified Glocks with stippled frames in his collection. He likes the additional grip that the stippling gives him and its decidedly tactical look. So he decided he wanted a similar look with a less aggressive feel for his M&P, and he found a company called High Speed Arms that works on M&Ps along with other popular pistols. He sent his frame over for the company's C3 treatment, but asked them to only stipple the front and back straps. He felt that texturing those two areas would give him the extra grip he was looking for.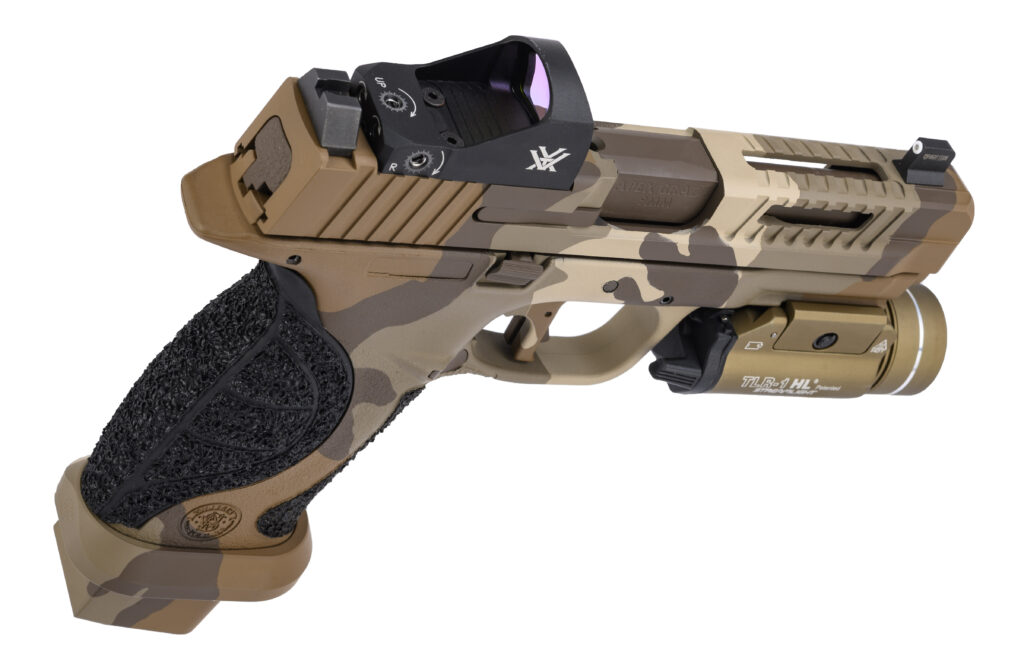 After a quick turnaround, he sent the pistol off to have it completely custom Cerakoted by the artists at Reprif. Diaz had seen their work in a previous issue of UN12 and wanted the outfit to work on his M&P. He chose what's called an M81 Arid pattern. The desert-themed coloring turned out exactly how he envisioned. "I thought to myself, now this looks like a proper custom pistol," Diaz says. He wasn't quite done with it yet, however.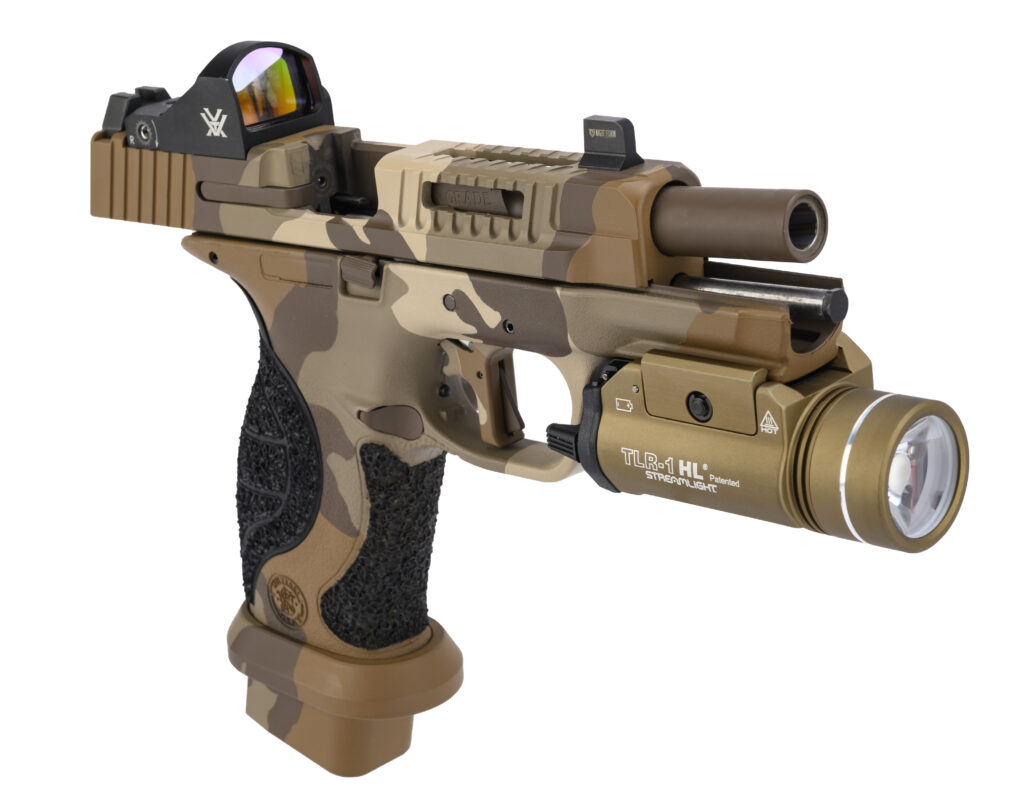 Diaz tries to outfit every one of his pistols with a weaponlight. He believes it's important to be able to see what you shoot in all environmental conditions, to include low- or no-light situations. He decided to go with a Streamlight TLR-1 HL and chose one anodized in FDE from the factory—a perfect match for the Reprif desert camo scheme.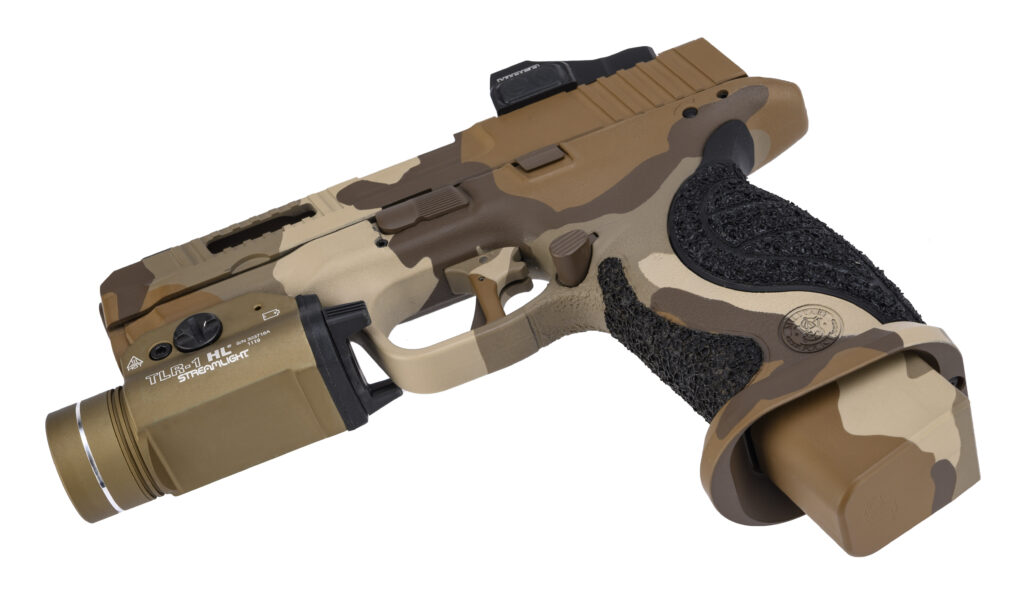 In order to take advantage of the Faxon optic cut, he also installed a Vortex Optics Viper red dot to the top of the slide. The robust red dot features a 6-MOA-sized dot and it sits low enough to clear a set of Night Fision suppressor-height iron sights.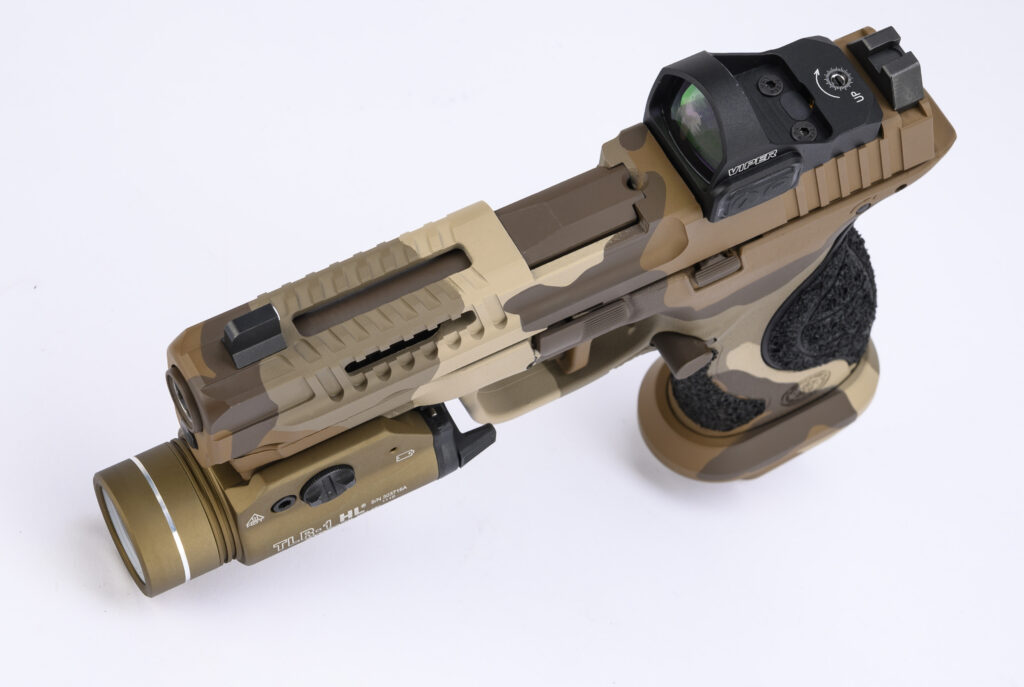 Diaz now wishes he had taken the time to figure out that his M&P 1.0 was no problem to modify years ago. "I would have built it much earlier than I did," he says. "The Apex trigger makes the M&P feel great to shoot, and I can't say enough about the other mods like the slide, barrel, and stippling. The pistol has gone from the back of the safe, where it sat for years, to always riding in my range bag." Text by John Scott images by Lauren Short
Build Sheet
Faxon Hellfire M&P 9 1.0
Specifications
Caliber: 9mm
Capacity: 22 + 1
Barrel: Apex Grade Semi Drop-In M&P Barrel – 4.25"
Overall Length: 7.75 in.
Weight Unloaded: 1 lb, 13.6 oz.
Coating: M81 Arid Cerakote by Reprif
Frame: C3 Stippling by High Speed Arms
Slide: Faxon Full Size M&P Hellfire w/ Multi Optic Cut
Optic: Vortex Optics Viper Red Dot
Featured Accessories
Night Fision Suppressor-Height Sights, Apex Tactical Specialties Flat-Faced Forward Set Sear & Trigger Kit, Apex Tactical Specialties Failure Resistant Extractor, Springer Precision M&P Extended Magazine Release, Springer Precision M&P 9/40 ESP Magwell, Springer Precision M&P 9/40 EZ 140mm Extended Capacity Base Pads (w/extra-power spring), Streamlight TLR-1 HL (FDE), Brownells Smith & Wesson M&P Slide Stop Assembly Gen 3, Brownells Smith & Wesson M&P Trigger Bar Assembly
About the Owner
Name: Rick Diaz
Occupation: Food service industry