Based on a Liong Mah Warrior 2 V.2
Personalized at home
Titanium and carbon fiber construction
If you're a knife aficionado, you've probably frequented the online forum Usual Suspect Network (USN) and know about its dedicated annual blade show, "The Gathering." This is where makers, designers, 'smiths and collectors converge to celebrate their obsession for sharp and pointy things. This year marked the tenth year of the popular show and it's where our featured personalized knife began its journey.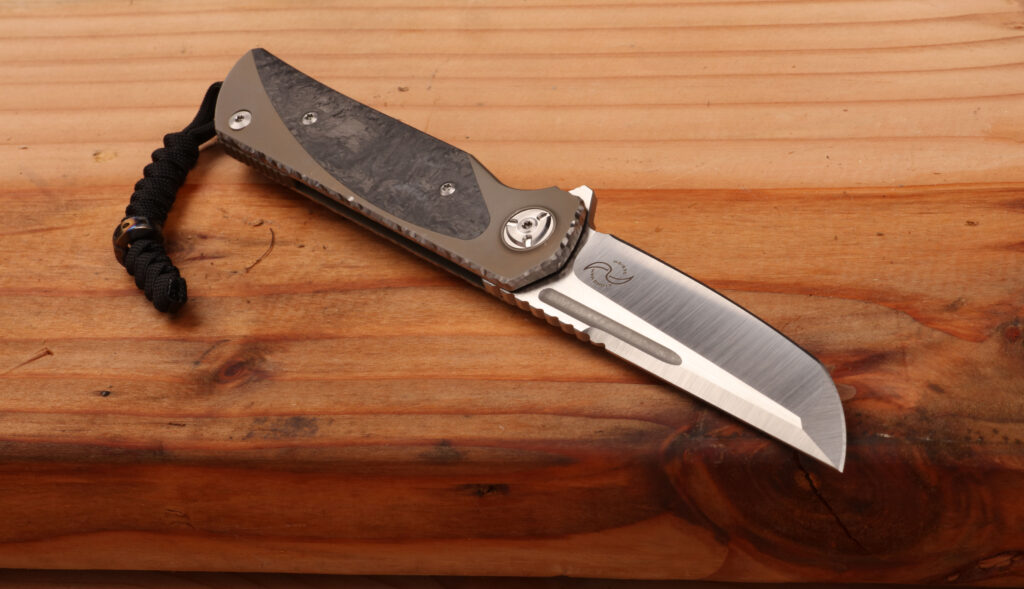 For the past seven years, Chris Q. and his friends have made the annual trek to USN's The Gathering and this year wasn't any different. While walking the show, he visited respected knife designer Liong Mah's booth. It didn't take long for a knife called Warrior 2 V.2 to catch his eye. He immediately recalled a Liong Mah Design knife that he previously admired called the Lanny, which had a sleek carbon fiber inlay in its handle as an option. He was too late to buy one of those but really loved the look of the carbon-inlaid handle.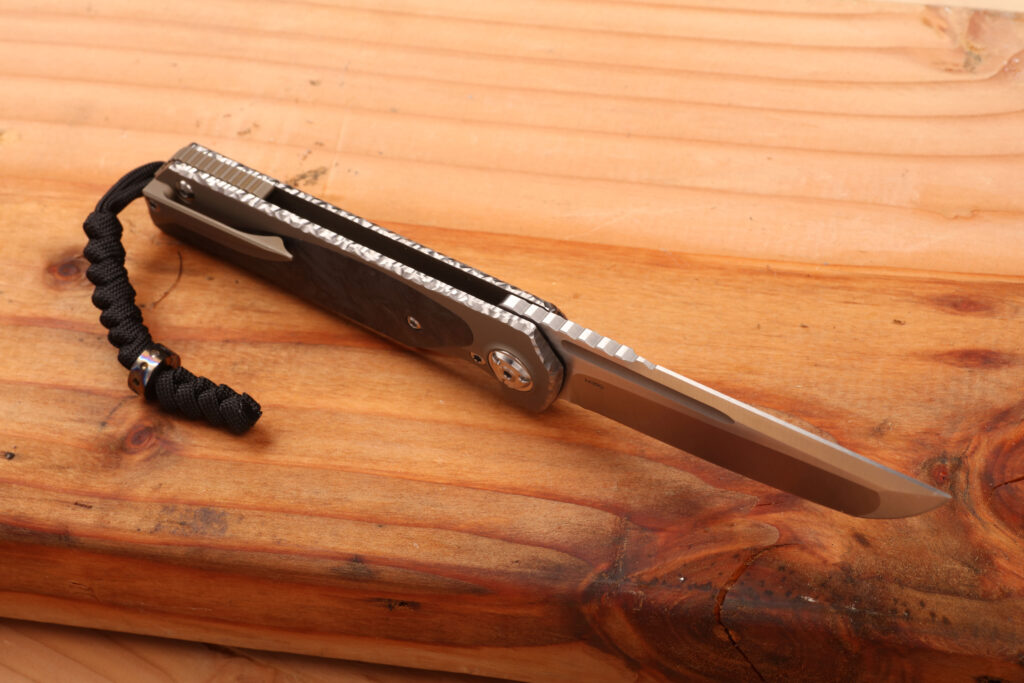 Chris inquired to see if Liong Mah would consider making a Warrior 2 V.2 with a similar handle treatment as the Lanny. To his delight, the legendary knife designer said that he not only already had them in the works, but also had in-progress pictures to show. Mah also showed Chris an upcoming Micarta version of the knife. Although Chris liked both versions, he had his heart set on the carbon fiber variant. He ordered his on the spot.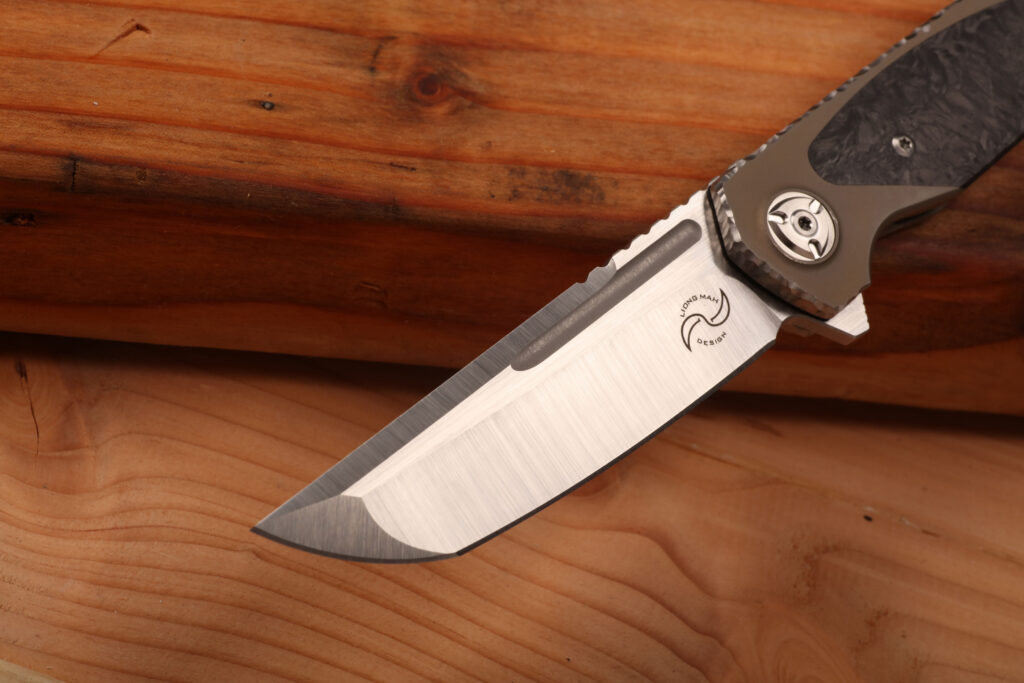 Sometime after the show, Chris received his carbon fiber equipped Warrior 2 V.2 and immediately started carrying it. After using it daily, he realized that he'd prefer a bit more traction in its grip. He wanted to personalize it with some more color as well, so he set off to personalize the Liong Mah design to suit his tastes even better.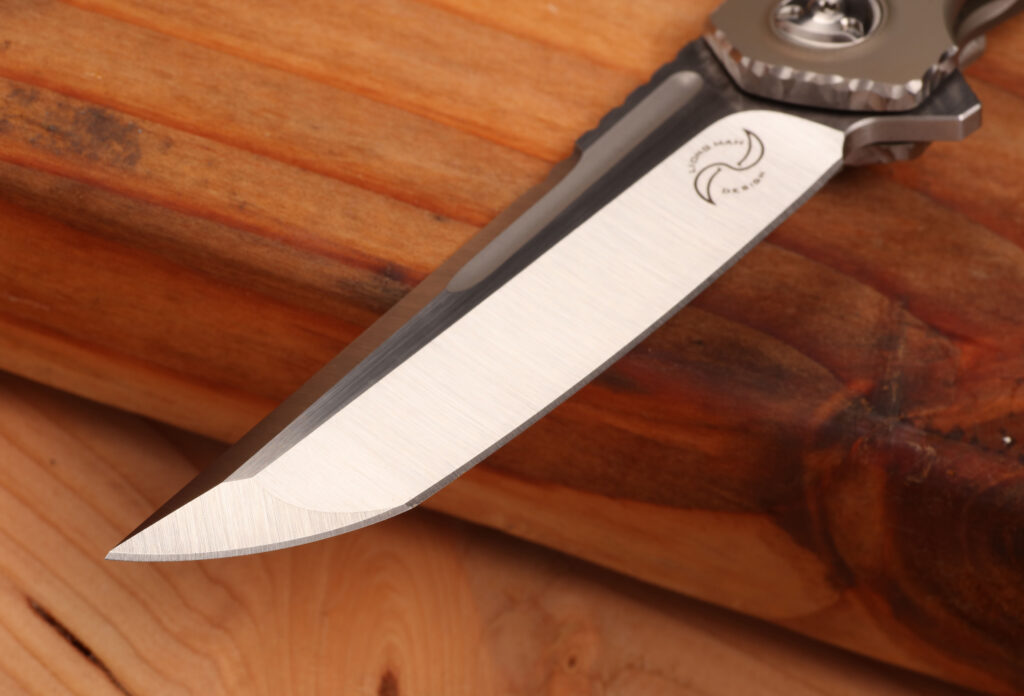 Using a Dremel rotary tool and sanding drum bits, Chris worked on texturing the edges of the knife's frame. He felt that the randomized texturing would add some grippiness, as well as give it a unique look. We couldn't agree more.
To give it a custom touch of color, he went about experimenting with anodizing for some of the knife's titanium parts. The knife originally came in a plain silver color; the earth-tone you see here is due to Chris's own handiwork. He admits that the process didn't go as planned, but after multiple attempts at dipping and stripping the color he feels that the final result turned out well. When asked if he could repeat the process, he said that the shade came about by happenstance, and he definitely could not duplicate the exact color.
Other custom touches include a flame-anodized titanium bead that's attached to a hand-braided lanyard. Also, each of the screws were satin finished to reduce their brightness and to better match he dark-colored carbon fiber scales. When asked what he would do differently if he could do it again, he said not a thing. He did mentioned that while he's still learning how to anodize different metals, he likes how this knife turned out.
Text by Danny Chang and images by Michael Grey.
Specs
Liong Mah
Model: Warrior 2 V.2
URL: liongmah.com
Designer: Liong Mah