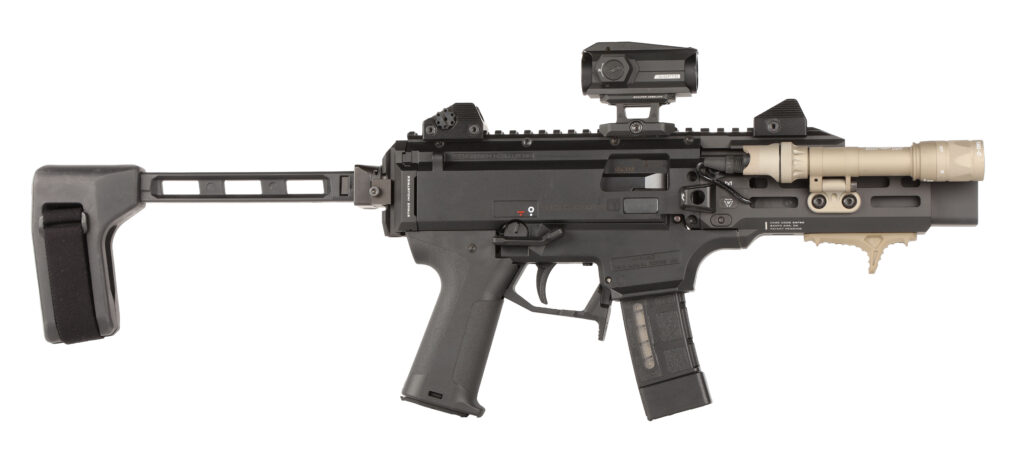 CZ's popular EVO 3 S1 pistol has received a complete makeover thanks to the masterminds at Strike Industries (SI). Leaving almost nothing factory-stock on this pistol rendition of the company's highly lauded 9mm-chambered subgun, the SI version of the 7.72-inch-barreled EVO 3 has been thoroughly upgraded from tip to tail. Let's take a deeper look at some of the major changes that grace this pistol.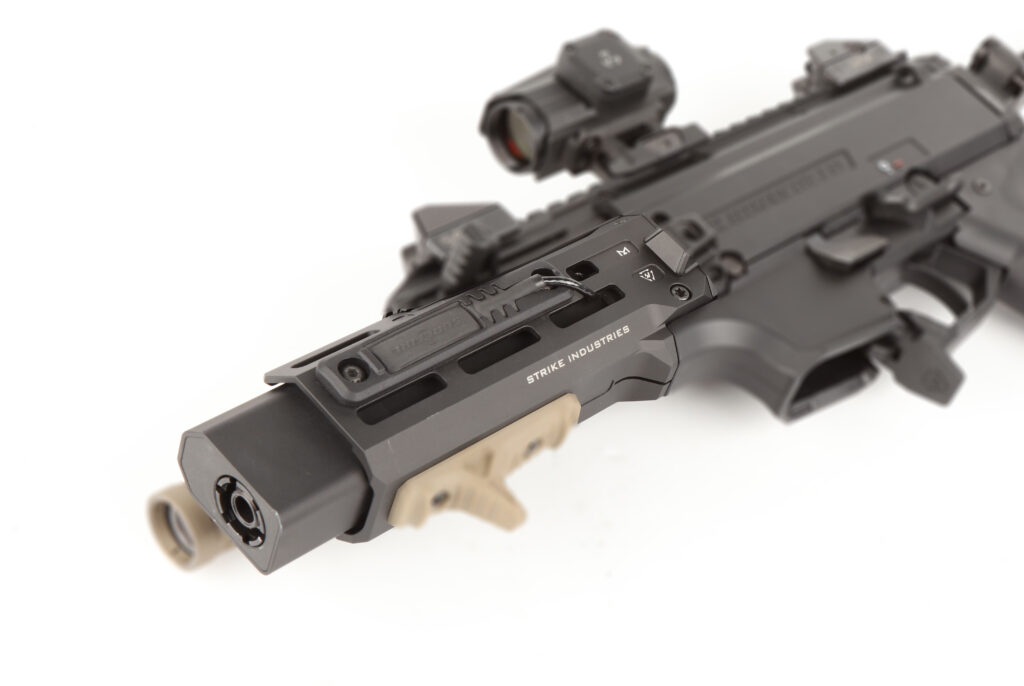 Handguard
Strike Handguard
MSRP $171
The Strike 6-inch handguard includes a dummy can, cap, nut, and tool to simulate the CZ Micro's faux-suppressor look and feel. M-LOK or SI LINK accessories can be attached and mounted along the rail at its 1, 3, 6, 9 and 11 o'clock positions. A SureFire Infrared Scout Light Pro is seen attached to the rail.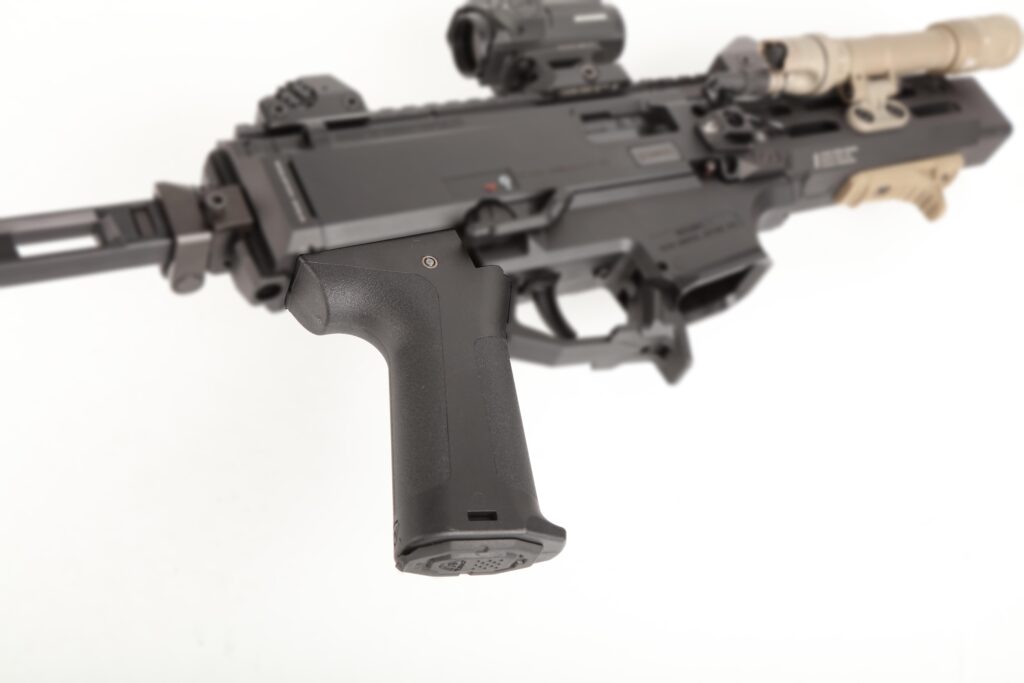 Grip
Pistol Grip
MSRP: $22
This grip is designed with a steeper 15-degree vertical angle for improved ergonomics over the CZ factory grip. It comes with textured palm areas for positive handling.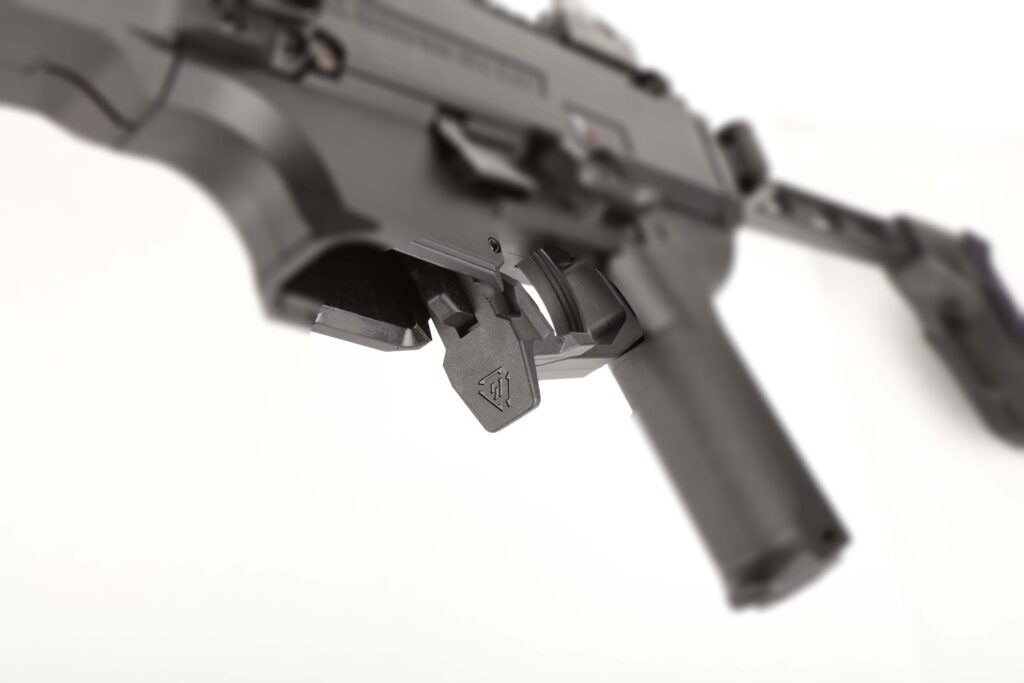 Release
Mag Release
MSRP: $20
SI's upgraded magazine release is a lightweight, high-strength polymer solution that enables the user to depress the magazine release using just one hand. Fins added on both sides of the trigger guard allow the shooter to use his or her shooting finger to hit the mag release.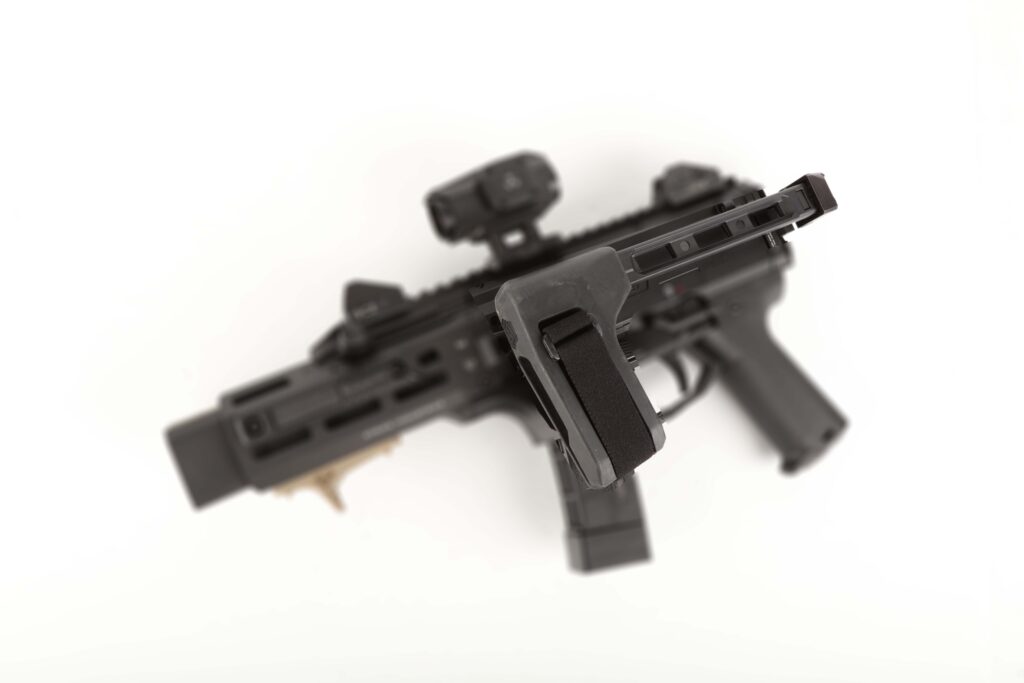 Brace
Stock Adapter Back Plate
MSRP: $44
The quick-detach stock adapter allows full height adjustability using three Picatinny sections. Also included is a quick-detach point for a sling to be mounted under the stock adapter. It's seen here with an SB Tactical FS1913 pistol stabilizing brace attached.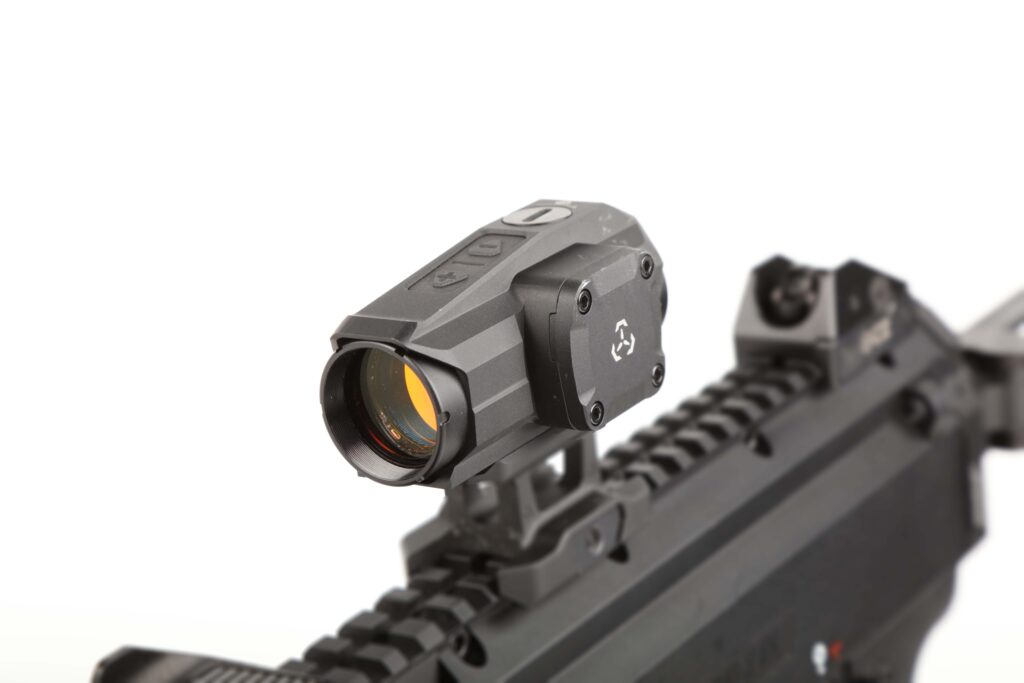 Red Dot
SI SIOPTO Scouter
MSRP: $250
The SIOPTO SCOUTER is the first optical sight to premiere from SI's SIOPTO line of products. This is a precision CQB/CQC aiming solution at a competitive price point that provides functionality needed to operate in austere conditions. The SCOUTER features no parallax, unlimited eye relief, and a wide 20mm field of view. It's 100% designed and assembled in the USA.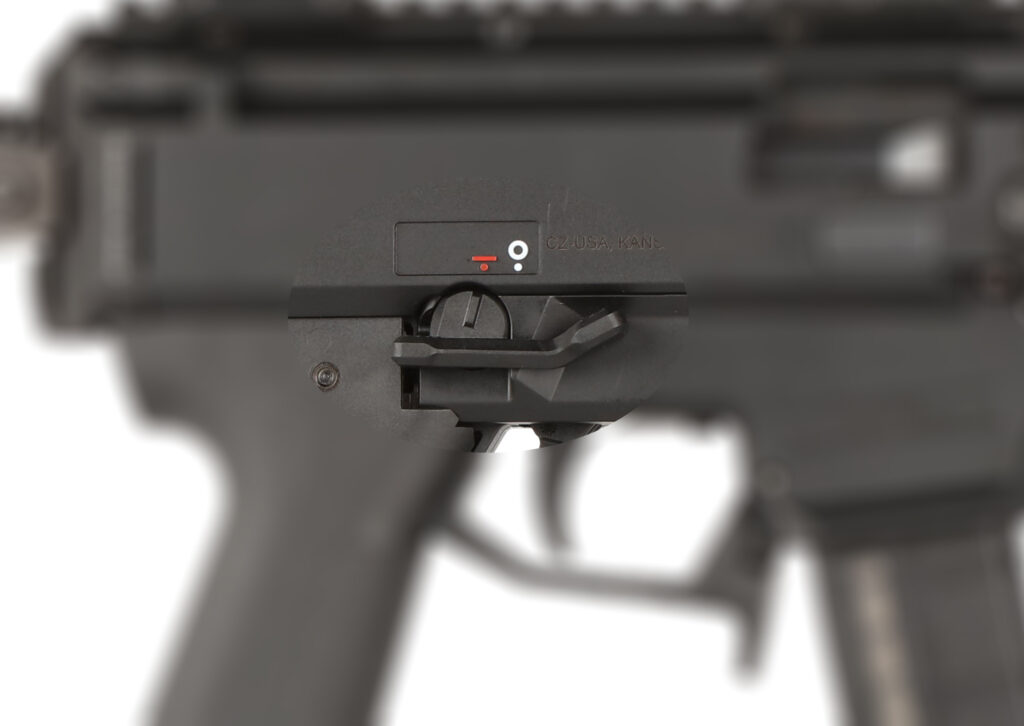 Safety
Extended Selector Switch
MSRP $22
The ambidextrous selector imparts easy-to-reach controls with the ability to manipulate the gun's safety with either your thumb or index fingers. The switches are extended in either direction for ease of manipulation.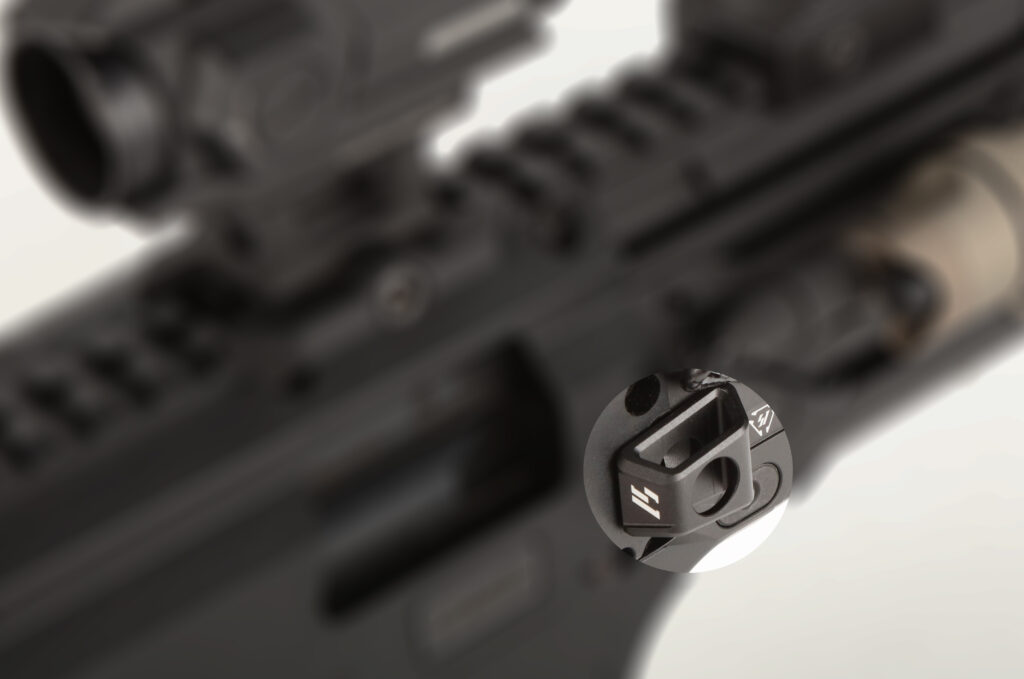 Sling Mount
Quick Detach
MSRP: $20
For those who prefer a QD sling attachment over CZ's stock swivel sling mount, SI presents a QD socket that's designed to fit into the dovetail cuts located on the barrel trunnion. It is ambidextrous and can be used on either side of the CZ Scorpion.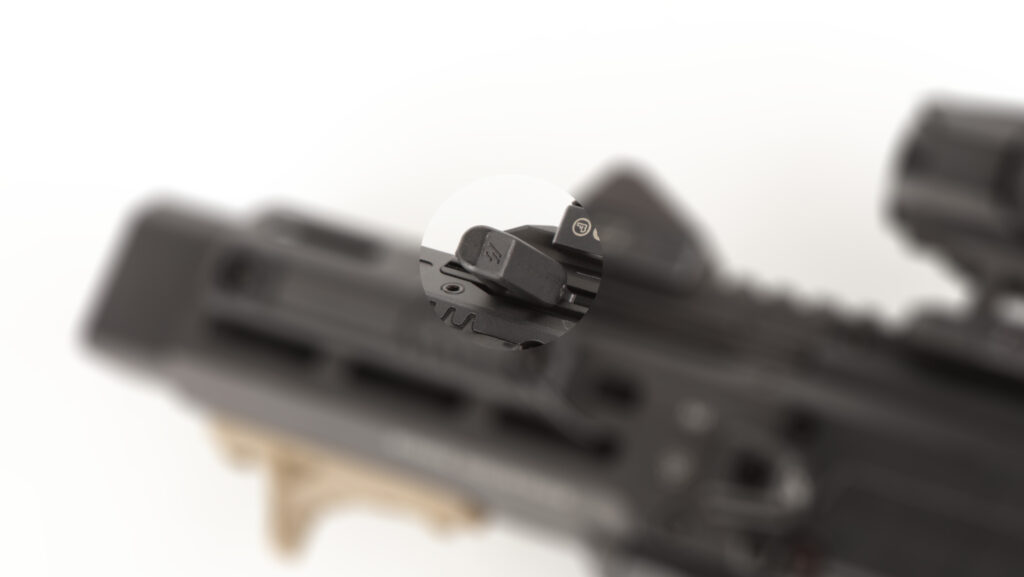 Control
CZ Scorpion EVO Charging Handle
MSRP: $18
This larger charging handle provides increased leverage when charging your Scorpion and helps you to avoid tearing up your knuckles against the edges of Picatinny rail.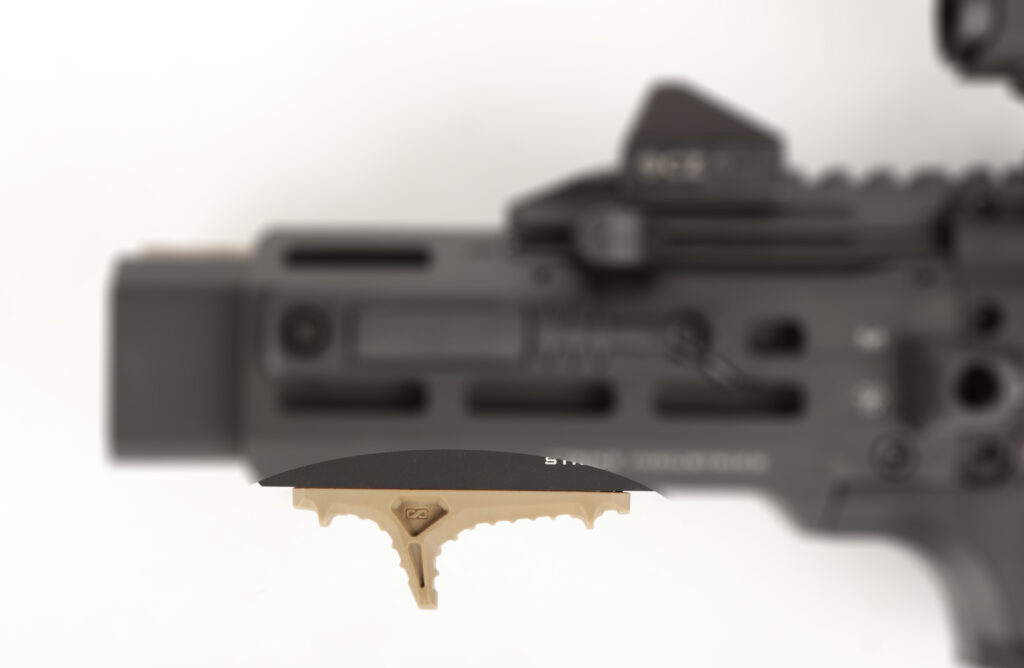 Handstop
Link Anchor Polymer Hand Stop
MSRP: $15
This low profile handstop is made from a heat-resistant polymer that allows comfortable grip and mounts via M-LOK or KeyMod mounting points. It is reversible, which allows for both "push" and "pull" grip styles.
Source
Strike Industries
strikeindustries.com
Text by John Scott
Images by Michael Grey