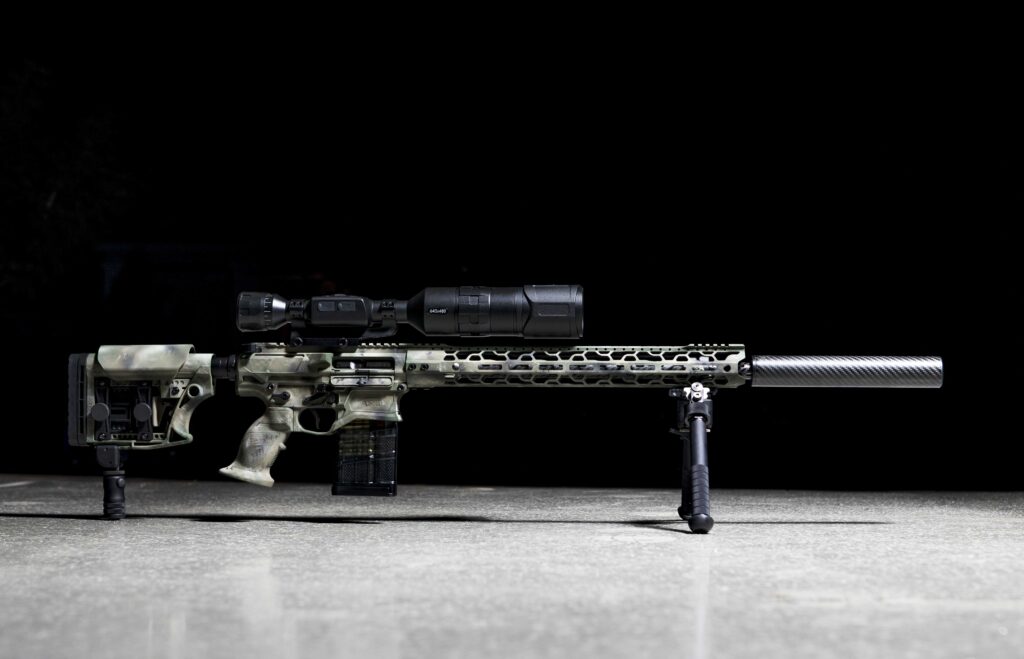 For a true firearms enthusiast, working in the industry—whether it's in manufacturing, marketing, media, or otherwise—might be seen as both a blessing and a curse.
Jay Canter is a man whose photography and gun builds have both graced these pages before. One of his avenues of work, that of commercial photography for a variety of firearm parts and accessory manufacturers, gives him access to a lot of the best hardware the industry has to offer—at least to handle and ogle for a short period of time. And the potential problem with that is that it tends to set your disposable income on fire in your pockets, to paraphrase an old cliché.
"I have been a professional commercial and editorial photographer for 25 years," Canter says. "Part of the appeal and curse of having so many awesome products come through the photo studio is just that—so many cool pieces tend to pass through my hands, and some get me really excited to incorporate into a build."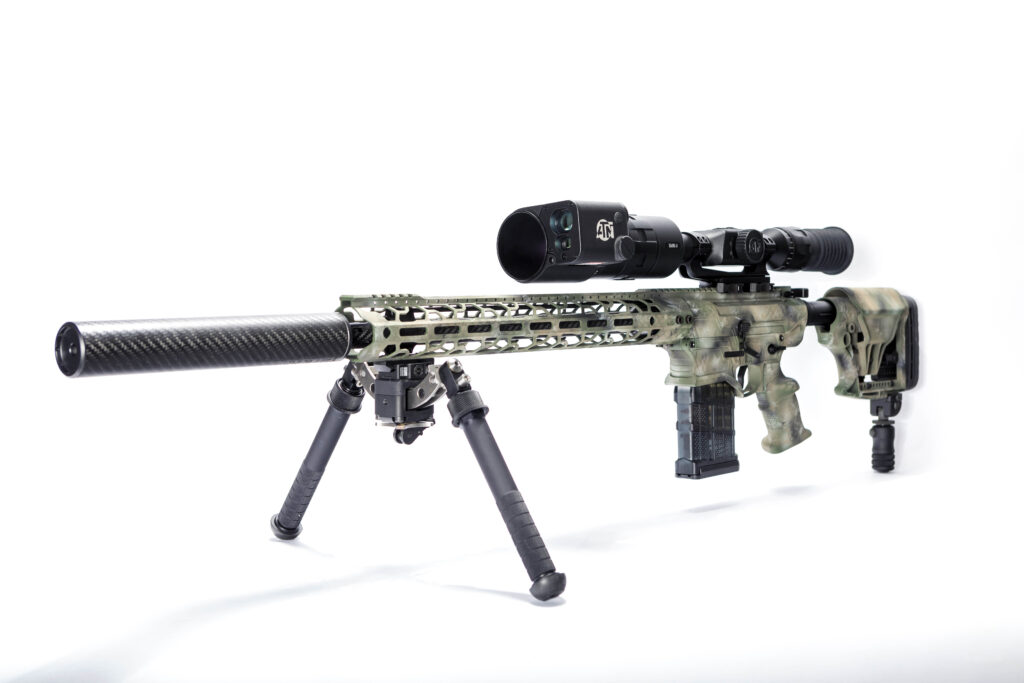 Having already done builds using all the "standard" calibers, he wanted to do something different from what he had done up to that point. "I wanted something I could use for the longer ranges; 6.5 Creedmoor is a logical and solid choice for that," Canter says. "As someone [for whom] part of day-to-day business is designing and putting together ground-up custom builds, I like to stick to companies that I know play well together and who are known for producing solid, quality components."

The basis for this particular build is a matched set of Quentin Defense (QD) billet receivers in the AR-10 pattern. Machined from 7075-T6 aluminum, the QD "ARQ" set features an ambidextrous bolt release and accepts many loose components from an LR-308—the "other" AR-10—such as the ejection port dust cover and lower small parts.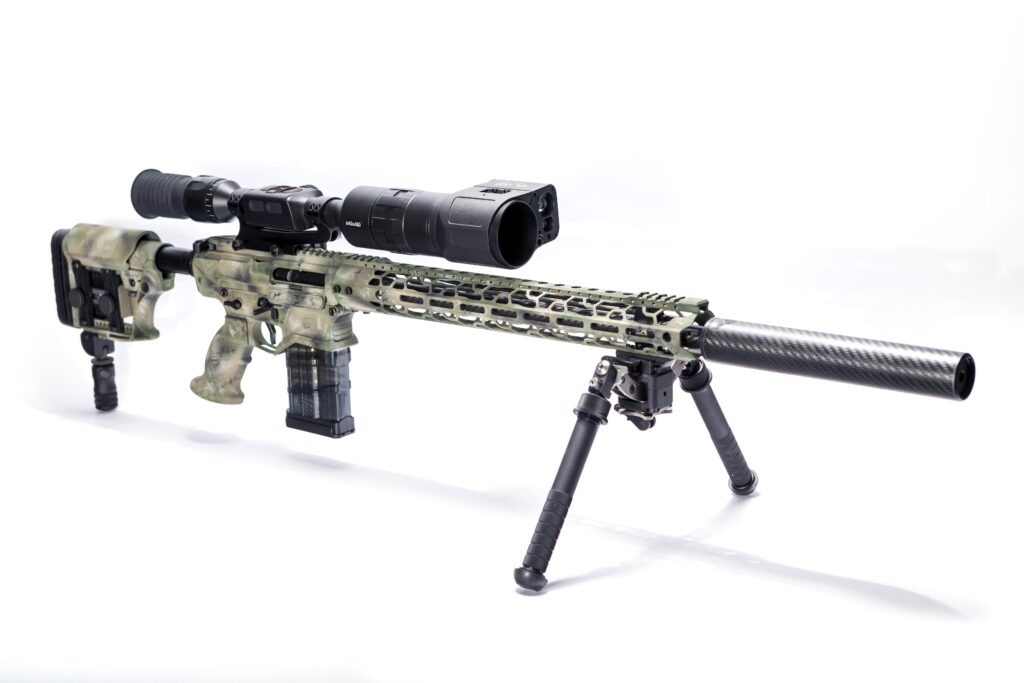 Canter's upper currently hosts a 2A Armament full-mass BCG and a Strike Industries .308 Ultimate Dust Cover. Direct from the CNC mill, Quentin Defense's lower boasts an integrated trigger guard, enlarged magwell opening, and QD's proprietary ARQ radius magwell ramp design. All told, the stripped components—upper and lower—weigh about 20 ounces. Canter put his bottom receiver together with parts from 2A Armament, including black titanium takedown pins, a bolt catch and magazine release from Forward Controls Design, and a V Seven Systems Hybrid 3-Gun ambi safety selector.
User controls include a POF-USA Enhanced Finger Placement (EFP) trigger group fitted with anti-walk pins, a POF-USA Strike Eagle charging handle for AR-10, and a Luth-AR "The Chubby Grip" pistol grip. The trigger features a signature bend toward the bottom of the trigger shoe for positive finger placement, a nice touch when operating in the sorts of low-light conditions this weapon was built for—more on that in a minute. The Chubby gets its name from the full palm swell and features like the trigger-finger, thumb, and palm rests that help promote rapid shooting-hand acquisition and proper placement—say, in total darkness.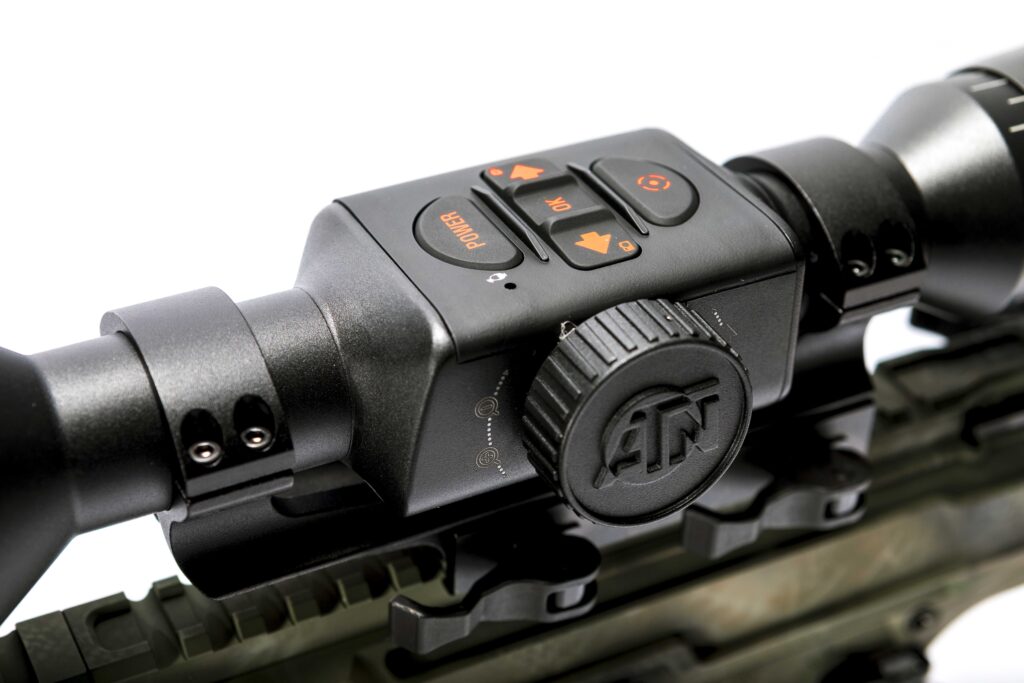 Along with the obvious desire for high performance, weight savings was a key interest in this build from the outset. One remarkable aspect of this build is the barrel assembly. The barrel itself is a 22-inch BSF fluted carbon-fiber unit. That is to say the metal barrel core is fluted on the outside and then covered with one slotted carbon jacket that runs from the barrel extension to the gas block, then another that runs from the gas block to the shank.
In contrast to other methods of carbon wrapping, BSF creates their barrel by jacketing the 416R stainless core with roll-wrapped carbon sleeves loaded under tension. There is actually air in between the metal of the barrel proper and the carbon sleeves to allow heat to radiate from the metal and then escape via slots cut into the carbon, eliminating the possibility of the carbon delaminating under heavy use, which could become an issue with traditional carbon-wrapped barrels. According to Canter, the 35.7-ounce BSF barrel is roughly a half pound lighter than an all-metal barrel of similar length.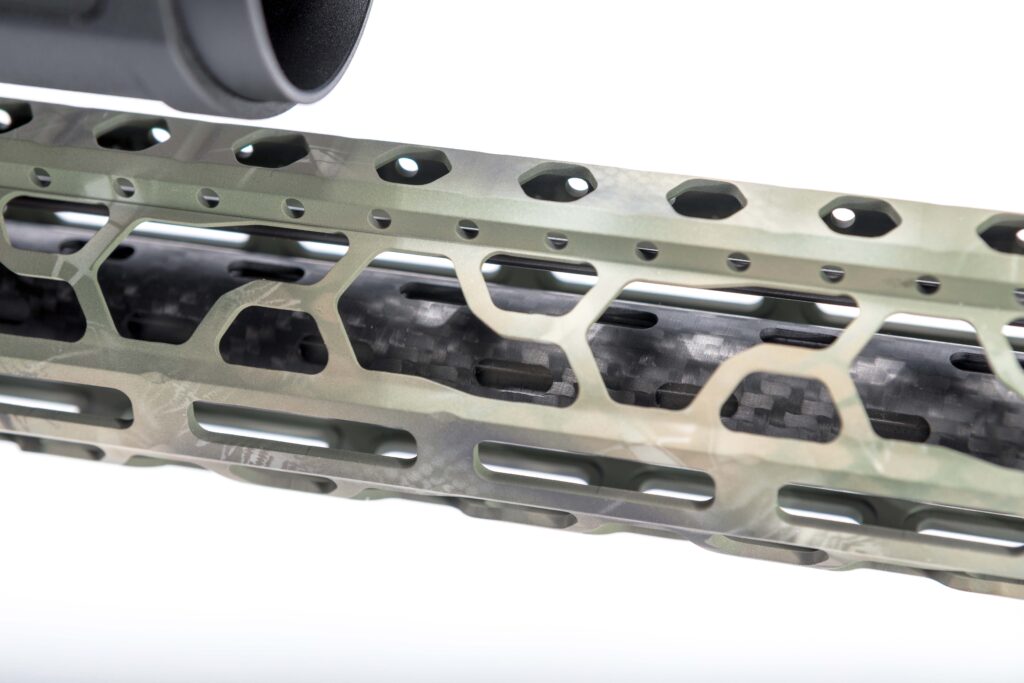 The other part of the barrel equation is the suppressor, an AMTAC Mantis-P for 6.5 Creedmoor. "A few SHOT Shows ago I was walking the isles and AMTAC stopped me in my tracks," Canter recalls. "I saw a carbon-fiber-wrapped suppressor sticking out the front of one of their demo guns. Come to find out they had done these custom high-end cans for precision shooting."
He filed that knowledge away for later reference, and when it became apparent that the 6.5 build was going to become reality, Canter says he knew this was just the suppressor he needed to mate to the BSF barrel. The Mantis-P is designed to thread directly to the barrel and features an "over barrel" chamber engineered to reduce gas blowback without adding additional overall length. The suppressor's length is just under 10 inches, but four of those inches slip over the barrel itself. AMTAC offers three standard finish options on its Mantis suppressor line, but the carbon wrap on this particular can was a special-order option.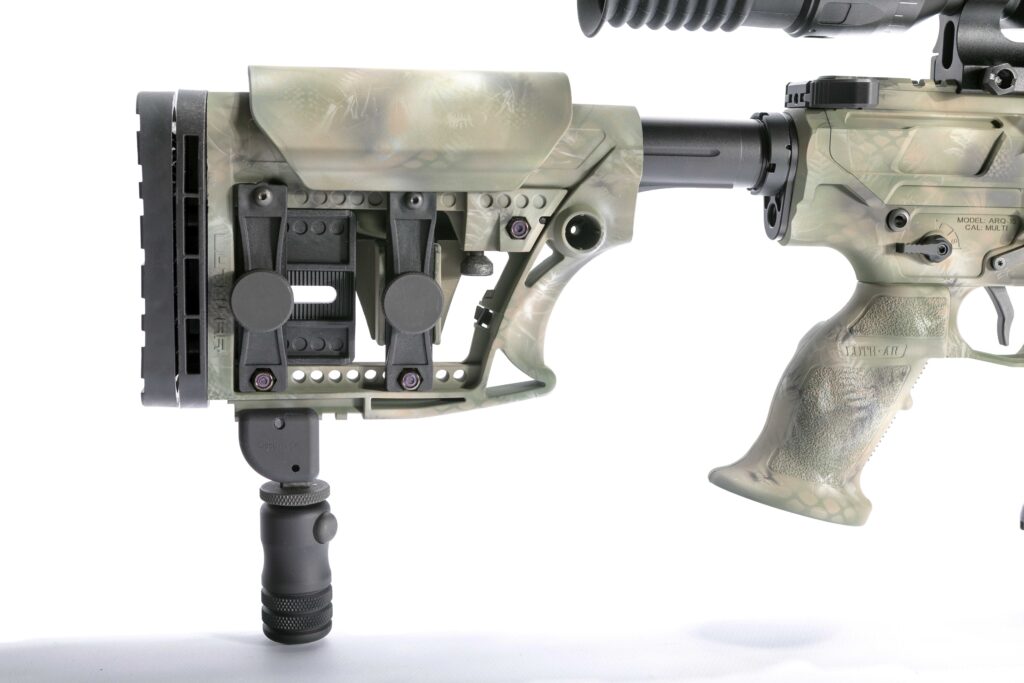 Toward the rifle's business end, a Superlative Arms adjustable gas block feeds a rifle-length Rainier tube in black nitride. The gas-feed system and high-tech BFA barrel are housed by a free-float Odin Works 17.5-inch O2 Light AR-10 handguard slotted for m-lok attachments at three, six, and nine o'clock. The handguard itself weighs around 10 and three quarters ounces. For forward stability on this long, long AR, a BT35-LW17 5-H Atlas bipod from Accu-Shot has been attached to the Odin guard about as far forward as it can go.
At the opposite end, a 2A Armament AR-10 buffer tube houses a Mil-Spec .308 spring and buffer that were supplied with the Luth-AR MBA-3 buttstock. The MBA (Modular Buttstock Assembly) features a 3-axis buttplate with length-of-pull, height, and lateral adjustment. An Accu-Shot BT12-QK monopod is affixed to the integrated rail cut into the stock's lower edge.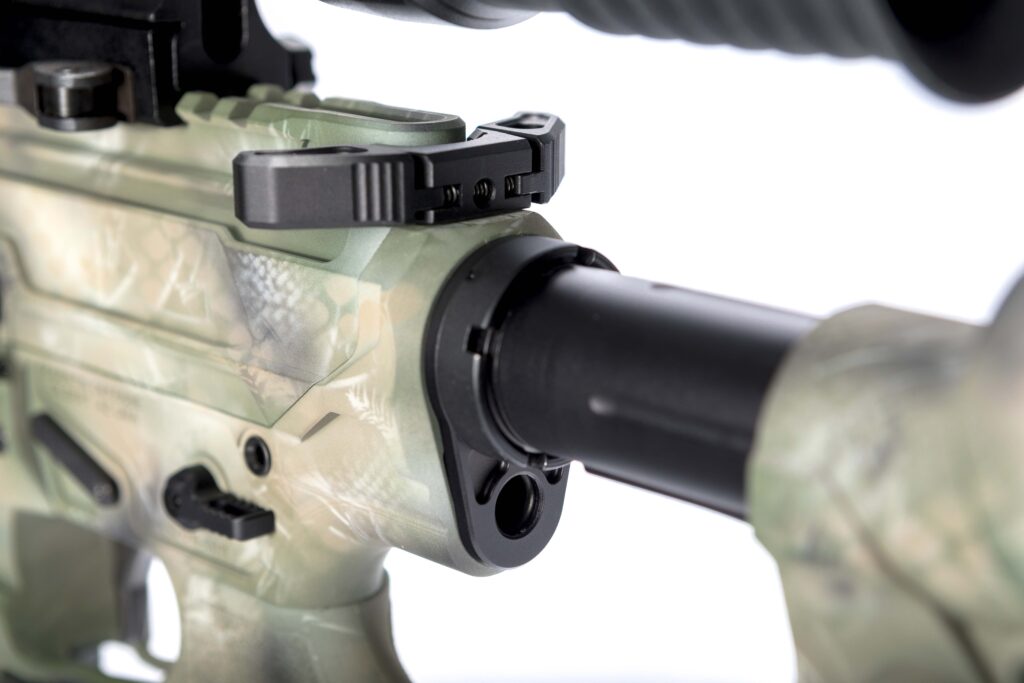 Of course, what good is a long-range precision instrument like this 6.5 Creedmoor without an equally impressive optic? The spyglass in question is an ATN Corp. ThOR 4 640 4-40x, what they call a "Smart HD" thermal riflescope. Scopes scarcely come more high-tech these days than this thing, which incorporates 4th-gen thermal sensors, a ballistic calculator, recoil-activated video, Bluetooth and wi-fi capability, and a slew of other features. An ATN Corp. Auxiliary Ballistic Laser 1500 rangefinder has been fitted to the scope's forward end and integrates seamlessly with the ThOR's onboard ballistic calculator. The whole sits astride the rifle on a quick-detach ATN 30mm mount.
"This is their 4th gen 640×480," Canter says of the riflescope, "which produces some super-clean images even in the darkest of conditions. Back in the day, seeing the film 'Predator' and how the thermal signatures were shown… I always thought that was pretty cool. This was sort of that same thought."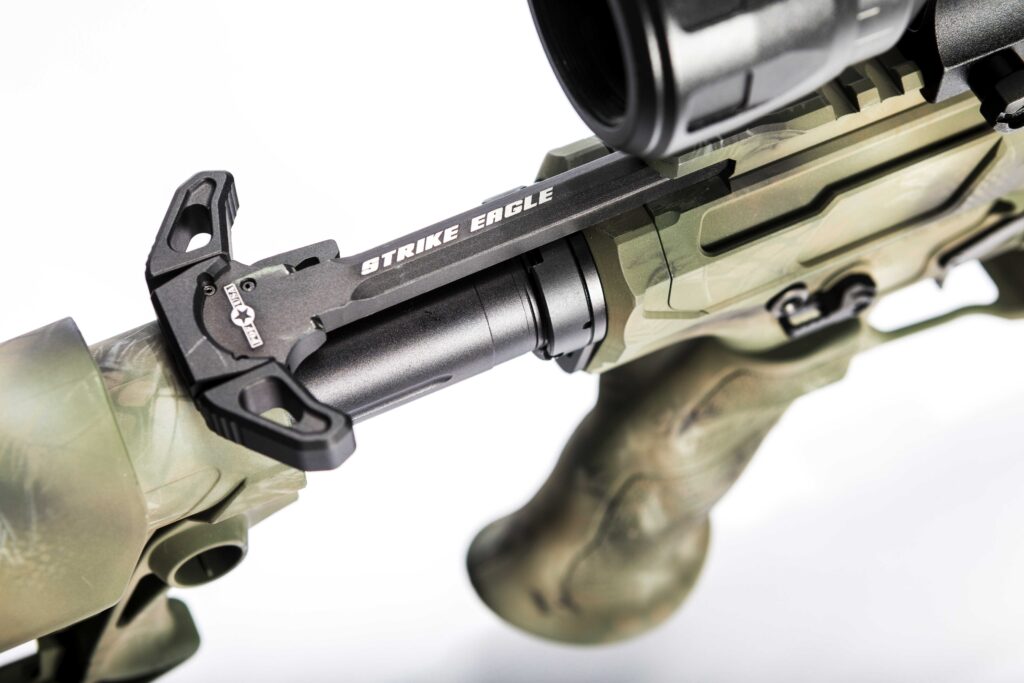 The ATN scope can display thermal images in black-hot, white-hot, or in color (the aforementioned "Predator mode"). The tradeoff is that the scope, while it's attached to the Creedmoor, makes this a hunting instrument for low-light, no-light, or poor-visibility conditions—not really for plinking. But Canter thinks it inevitable it'll soon fill this requirement, as he knows people involved with the nighttime culling of invasive species, and this seems just the tool for him to volunteer to help them do it.
For a high-end, custom build such as this, the final thing Canter wanted to do was create a high-end, equally custom color pattern. "One of my go-to [Cerakote applicators] that's local to me is Koted Arms," he says. "For this build I wanted to do something I had not really ever seen before on anything. So I went to them and asked, 'Are you able to take different camo patterns and make them look cohesive?' It took a bit of time to create, but I think it is an amazing result."
All that's left now is to take it out into the dark and let it light up the night.
Text by Roland Wilkes and images by Jay Canter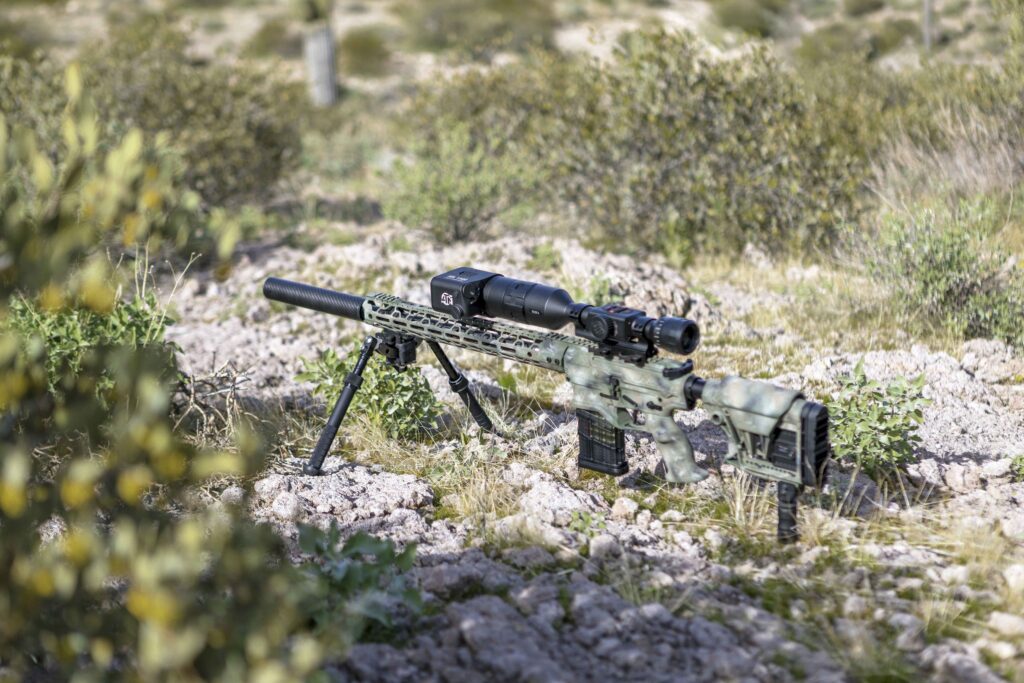 Build Sheet

Thermal Imaging Suppressed
6.5 Creedmoor AR
Specifications

Caliber: 6.5 Creedmoor
Overall Length: 45.5 in.
Weight Unloaded: 14 lbs, 8 oz.
Receivers: Quentin Defense
7075 billet AR-10
Barrel: BSF 22" fluted, carbon fiber jacketed
Coating: Cerakote by Koted Arms
Featured Accessories

Trigger: POF-USA Enhanced Finger Placement
Optic: ATN Corp. ThOR 4 640 4-40x Smart HD thermal riflescope
Handguard: Odin Works 17.5" O2 light AR-10
Suppressor: AMTAC Mantis-P 6.5 carbon fiber
Buttstock: Luth-AR MBA-3 w/Accu-Shot BT12-QK monopod
Parts & Accessories: 2A Armament AR-10 full-mass BCG, Superlative Arms .875-bore adjustable gas block, Rainier Arms gas tube, Strike Industries Ultimate Dust Cover, POF-USA Strike Eagle AR-10 charging handle, Accu-Shot Atlas BT35-LW17 5-H bipod, ATN Corp. Auxiliary Ballistic Laser 1500 rangefinder, ATN QD 30mm optic mount, 2A Armament titanium takedown pins, V Seven Systems Hybrid 3-gun ambi safety selector, Forward Controls Design ABC/R v2 7.62 bolt catch & EMR-C mag release, 2A Armament AR-10 buffer tube assembly, Luth-AR "The Chubby Grip"
About the Owner

Name: Jay Canter
Occupation: Photographer
Social: FB @Jay Canter Photography,
IG @jcanterphotography,
Twitter @JayCanterPhoto