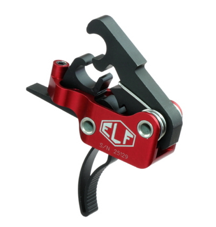 Elftmann Tactical
ELF Service Trigger
Details: Aerospace-grade sealed needle bearings for smooth operation and pull. Pull weight may be adjusted without removing the trigger assembly from the receiver. Components constructed from wire EDM A2 tool steel captured in an aircraft-grade aluminum housing.
Max pull weight: 4-7 lbs
Action: Single stage

MSRP: $259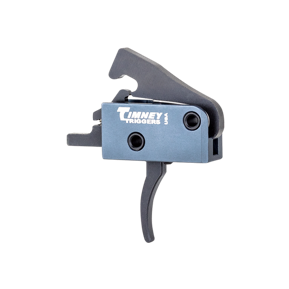 Timney
Impact AR
Details: Billet steel machined components captive in a lightweight aluminum alloy housing designed to drop into all Mil-Spec AR lowers. Hammer component produced via wire EDM from A2 tool steel and heat-treated to Rc 56-60 standards. Proprietary design to eliminate walk using existing pins. Lifetime warranty.
Max pull weight: 3 lbs
Action: Single stage
MSRP: $135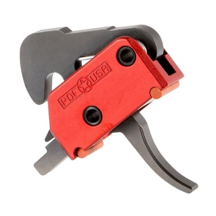 POF USA
Two Stage Trigger
Details: Includes custom-fit KNS Precision anti-walk pins for both standard AR and POF USA ambidextrous lower receivers. Trigger, disconnect, and hammer components are wire EDM cut from American-made A2 tool steel. Components heat-treated and salt bath nitride finished. Pre-assembled in an anodized aluminum housing with rubber urethane feet.
Max pull weight: 4.5 lbs
Action: Two stage
MSRP: $200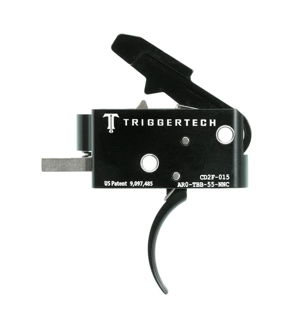 TriggerTech
AR15 (Diamond)
Details: Adjustable two-stage trigger available in four levels (Diamond, Adaptable, Competitive, Combat) for varying uses including 3 Gun, hunting, close-quarter engagement, home defense, and precision shooting. Components manufactured from 440C stainless with optional black PVD coating captured in anodized 7075 aluminum housing.
Max pull weight: 1.5-4.0 lbs
Action: Two stage
MSRP: $210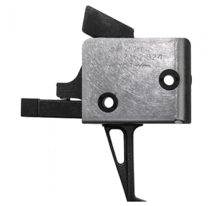 CMC
Single Stage Drop-in Trigger
Details: Critical sear-engagement surfaces produced with a proprietary machining process rendering superior dimensional control versus wire EDM (1-2 RMS vs. 32 RMS). CMC anti-walk pins included. Varying pull weights also available.
Max pull weight: 3.5 lbs
Action: Single stage
MSRP: $196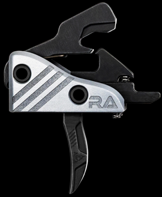 RISE Armament
Blitz
Details: Features a "hybrid" trigger blade designed to offer the best aspects of both curved and flat designs. Engineered for zero take-up. Components fashioned from black nitride finished S7 tool steel in an anodized 6061 aluminum housing. Anti-walk pins included.
Max pull weight: 3.0-3.5 lbs
Action: Single stage
MSRP: $199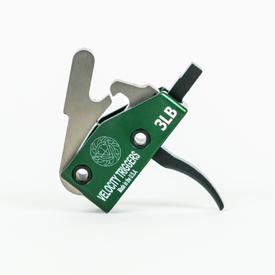 Velocity Precision Engineering
Classic AR Trigger (Curved)
Details: Components treated with ArmorLube DLC coating to eliminate the need for wet lubricants and maximize trigger durability and reliability. Pre-set factory pull weights available from 3 to 4.5 lbs (3-lb shown).
Max pull weight: 3 lbs
Action: Single stage
MSRP: $160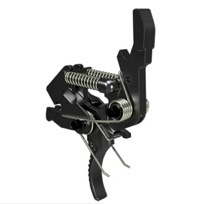 Hiperfire
Hipertouch Genesis
Details: Engineered to replicate Mil-Spec take-up/pre-travel and exceptionally short over-travel, with tradmarked Soft-Start Lock-up for pre-ignition stability and a hard-hitting hammer to ignite all types of ammunition. Designed to provide a positive reset you can both feel and hear.
Max pull weight: 2-2.5 lbs
Action: Single stage
MSRP: $200
hiperfire.com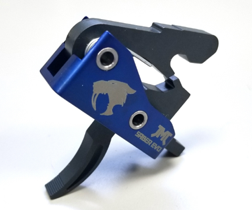 James Madison Tactical
Saber Evo
Details: Electro-polished 17-4 stainless components including hammer, trigger, and disconnect. CNC-machined 7075-T6 aluminum housing. Design incorporates skeletonized curved trigger with a grooved forward section.
Max pull weight: 3.5-4.0 lbs
Action: Single stage
MSRP: $100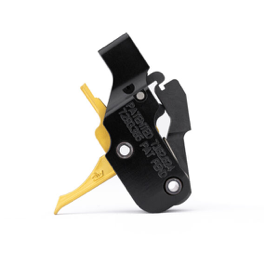 American Trigger Corporation
AR Gold Adjustable
Details: Designed to have the shortest reset among competing models. Engineered to be drop-safe. Used by competitive shooters including Jerry Miculeck and Daniel Horner. Factory pre-set 3.5-lb pull weight end-user adjustable. 30-day money-back guarantee.
Max pull weight: 3.5 lbs
Action: Single stage
MSRP: $279