Built for PCC Competition & Tactical Classes
Chambered in 9x19mm
Paired with a matching G17
The KRISS Vector has been out for just about a decade now and it still looks as futuristic a blaster as you'd see in any number of recent sci-fi flicks or videogames. Perhaps it's the unique shape or innovative operating system, or both, that keep it feeling and looking as modern as it does. Over its relatively short existence, the Vector has gone through a few evolutions since its debut to improve its performance and expand its capabilities.
The most current version of KRISS's carbine is designated the Vector Gen II CRB. It is available chambered in five different calibers, .45 ACP and 9x19mm being the two most popular variants. The carbine uses Glock magazines, convenient if you're already a Glock shooter. This was the case for Dan, the owner of the Vector you see here. Dan has been shooting Glocks for well over a decade now in local pistol competitions as well as just for fun. He's got more than a few Glocks, going as far as collecting different generations of the same models. As you can imagine, the guy is swimming in Glock mags, but we'll get back to this thought in a minute.
Over the past couple of years, the organizers of the local pistol match that Dan goes to have steadily added more carbine caliber shooting matches to their calendar. Always up for a challenge as well as an excuse to expend ammunition, he was compelled to partake in the events. A quick survey of his friends informed him that a great majority of the shooters shooting in the pistol caliber carbine matches are using AR-15 based rifles that were converted to 9mm.
After trying out the "AR-9" he though to himself that although it was fun to shoot, he also thought it was boring to shoot at the same time. AR fans may cry blasphemy, but that's how he felt. He already owned a few ARs and saw this as a chance to try out something new. After combing the internet and a half a dozen area gun shops, he finally decided on his competition weapon of choice—the KRISS Vector Gen II CBR chambered in 9mm and finished in black.

Like many, Dan was intrigued by the Vector's Super V Recoil Mitigation System, which uses a non-linear operating system that guides its bolt and associated reciprocating energy down and away from the shooter's shoulder into a cavity situated just behind the weapon's magwell. This push down towards the gripping hand instead of back towards the shooter's shoulder is said to reduce both felt recoil and muzzle climb, which in turn helps with faster and more accurate follow up shots. That's the theory anyway.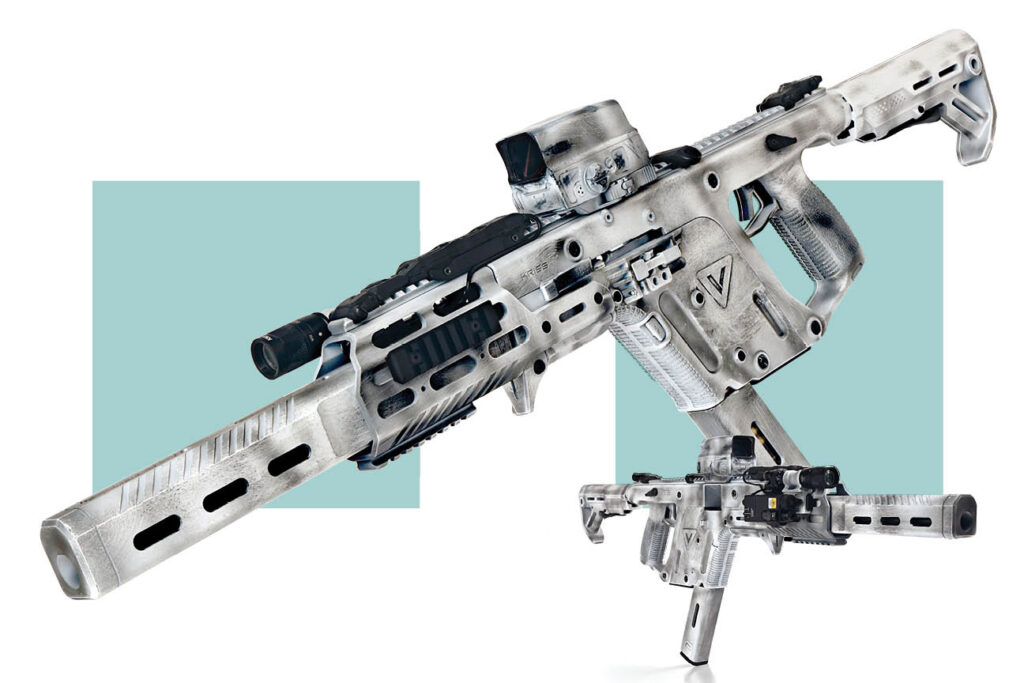 What sealed the deal for Dan was the fact that the Vector takes Glock magazines. As mentioned, Dan has been shooting Glocks for a long time and over the years and he's accumulated a bunch of Glock mags. He clung on to that line of reasoning and further theorized that since he wouldn't need to buy more magazines, he was actually saving money by buying the Vector. Whether or not that makes sense, we're glad he pulled the trigger on the purchase. The CBR checked all the boxes. It is a unique carbine with an innovative operating system that takes mags that he has in abundance—and on top of all that, it looks cool to boot.
Around the time he took delivery of the Vector, Dan received his Glock 17 back from gun customizers Dynamic Weapon Solutions (DWS). He previously sent one of his G17s out for a complete makeover that included frame stippling, slide cuts, Cerakoting and new accessories. He was so pleased with its new look and feel that he wanted the same treatment done to the Vector. The guys at DWS didn't blink at the request and were only too eager to get started.
Like the pistol, the CBR's lower receiver was stippled in a style that DWS calls Serrated Edge. The forward grip area as well as the grip is now endowed with an overly aggressive texture that we found to be quite harsh on the hands. We imagine gloves would be required for extended shooting sessions if you're the type that doesn't like your hands tenderized. Dan is made of sterner stuff than us, because he said that the rough texture didn't bother him at all.
The Vector's most eye-catching modification of all is probably its paint scheme. While the Vector does come in a white color called Alpine directly from KRISS, Dan's originally came in black. It wasn't until after he laid eyes on his G17, which was finished in a weathered white that he decided he wanted to same look for the carbine. DWS doesn't have a name for this color scheme so Dan made up his own. Of the color he says, "DWS doesn't have a name for this. They said if I could make one up, they would go with it. I jokingly call these guns Snow White since they are white and battle-worn, dirty looking. Snow White lived with 7 dwarfs so she must've eventually been a dirty girl." All joking aside, we're digging the battle-worn snow look.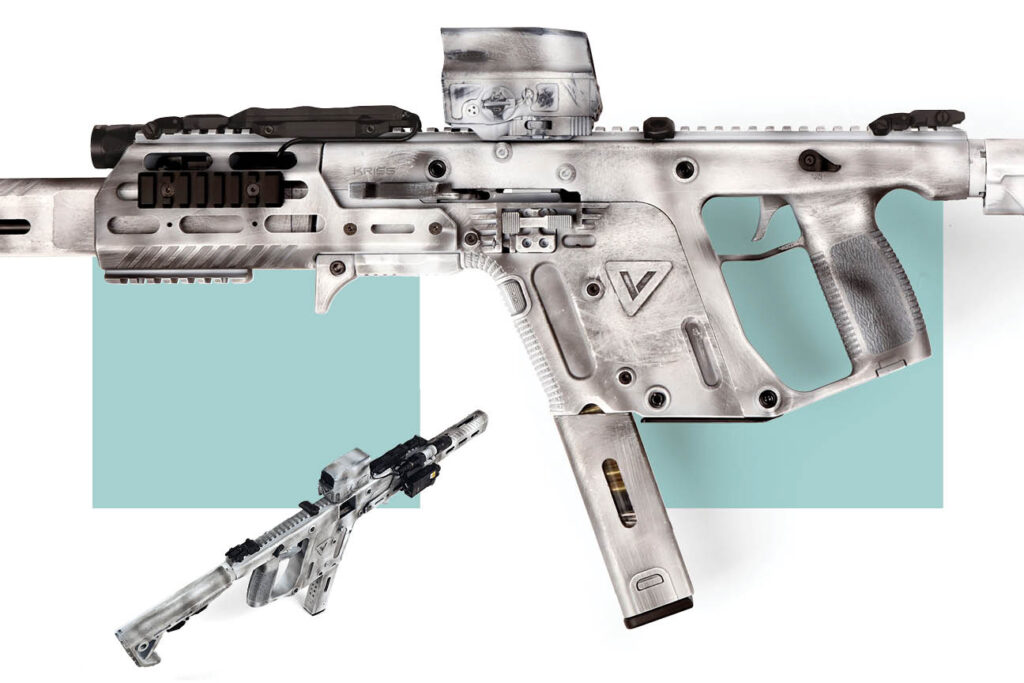 The Vortex Razor AMG UH-1 holographic sight that sits on top of the Vector was sent by Dan to DWS to coat along with the gun. DWS had reservations about baking a $700 optic in an oven as it's a part of the process to cure the Cerakote coating, but in the end he agreed to go ahead and do it. He had confidence in the Vortex optic's robustness and the risk paid off. The sight survived the curing process and still functions flawlessly, even after sitting in the oven in over 150 degrees F.
If you're familiar with the Vector, you'll know that it was originally designed to be a compact submachine gun with an overall length of only about 24 inches. The carbine version extends the SMG's original barrel length from 5.5 inches to a full 16 inches for an overall length of more than 34 inches. To cover up the unsightly look of the longer barrel, KRISS incorporated a barrel shroud that was reminiscent of a sound suppressor. The earlier versions of the shroud were cylindrical, while the newer Gen II models rock an improved, squared-off shroud. After Dan got his Vector back from DWS, he decided that he wanted to give his CBR another custom touch.
Inspired by his G17, which slide window cuts in its slide, he wanted to add window cuts into the barrel shroud too. Dan explains: "The shape of the barrel shroud reminds me of a giant Glock slide. Same as with my G17's slide, I thought it would be great to shed weight off the front end of the gun with some lightening window cuts. The improved look is a bonus."
On how he got the shroud's window cuts done, Dan continues: "My friends Chris and Frank have a milling machine set up in a home garage/workshop. It was something I wanted to try for fun. It shaved a little weight off and for aesthetics, we made sure to match the many similar oval shapes that the factory includes on the lower receiver and the Vector Mod-1 MK1 Modular Rail." The rail's shape was designed to closely follow the form of the Vector's body and is milled to reduce weight while still maintaining a rigid structure for support. Accessories found on the underside of the rail include a hand stop and rail cover, both made by KRISS.
When he isn't rattling steel gongs and poking holes in paper targets in competition matches, Dan tries to take tactical classes whenever time allows. He admits he hasn't taken as many classes as he wants to, but hopes to remedy that later this year. In the meantime, he went ahead and had DWS paint up a few tactical accessories to match his Vector for when he does make it out. Since he recently picked up a night vision monocular and helmet, he's hoping to take some night vision courses. In support of that, he fitted the KRISS with an IR-capable SureFire M312 Vampire Scout Light and a Steiner OTAL-C IR infrared aiming laser. A standard model Unity Tactical TAPS dual pressure switch controls both units.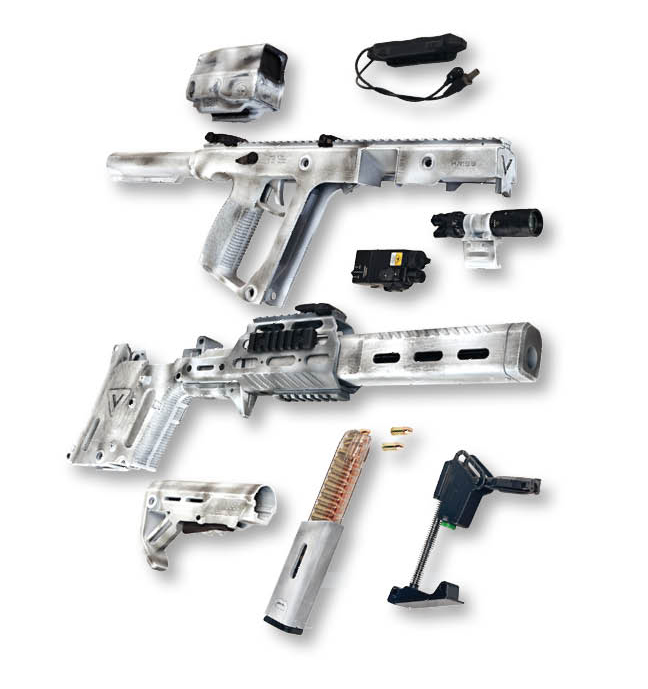 The KRISS MagEx magazine extension kit was originally made to extend standard-capacity .45 ACP G21 mags to over 25 rounds. Dan liked the look of the extended magazines but found that KRISS didn't offer a version of the kit for his 9mm carbine. Undeterred, he converted the MagEx kits to fit his ETS Glock G18 31 round 9mm magazines himself by using a belt sander and a Dremel rotary tool. As we examined the magazines, we noticed that he and his team of garage machinists took the Vector's oval theme and applied it to the carbine's magazines as well. The added benefit to the milled window cuts is that the magazine's capacity is now viewable through the clear ETA magazines. We agree that it's a nice touch.
In the rear, he opted to swap out the factory stock and extension for a Strike Industries Advanced Receiver Extension and Viper Mod-1 Stock. The extension features scalloped surfaces that according to Strike Industries decrease friction with tight-fitting stocks while saving weight and retaining strength.
After spending some more time with Dan, we figured he's not the type to let well enough alone. We asked him if had any more plans for his Vector. He said he's pretty much done with the CBR but did mention that he was interested in getting a pistol version of it and having it painted it Snow White style to match. Late in this issue's making, he surprised us with in-progress images of his Vector Gen II SDP pistol. You can read more about it in the sidebar.
Build Sheet
Dan's Snow White KRISS Gen II Vector CRB
Specifications
Caliber: 9x19mm
Length: 35.25 – 38.5 TK in.
Barrel: 16 in.
Weight w/o magazine: 10 lbs. 7 oz.
Accessories:
Optic: Vortex Optics Razor AMG UH-1
Stock: Strike Industries Viper Mod-1 Stock
Receiver Extension: Strike Industries Advanced Receiver Extension
Flashlight: SureFire M312V
Laser: Steiner OTAL-C IR
Sling Mounts: Magpul RSA QD
Handguard: KRISS Vector MK1 Modular Rail
Magazine: ETS Glock 18 9mm 31 Round / KRISS MagEx Kit
Control Accessories: KRISS Picatinny Side Rail Kit (7 Slots) / KRISS Picatinny Rail Cover Short / KRISS Hand Stop / Phase 5 Weapon Systems Single-Point Bungee Sling QD Connect
Owner: Dan
Occupation: Special Events Coordinator
Special Thanks: Chris, Frank, Tim, the crew at Dynamic Weapon Systems, my wife and kids.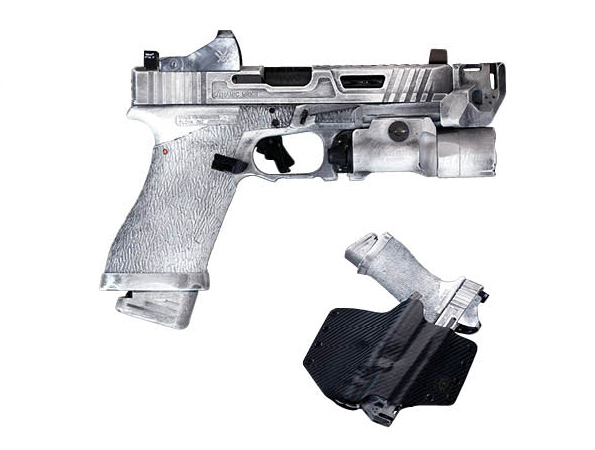 The Matching Glock 17
The companion firearm to the KRISS Gen II Vector seen here is Dan's Gen 3 Glock 17. Actually it's more than just a companion; it inspired the customization theme for the Vector. As on its bigger brother, Dynamic Weapon Solutions performed plenty of framework on the Glock as well as their MRK III slide package. The slide service includes chevron serrations and custom front beveling along with window cuts, as well as an optional cut for a Vortex Viper red dot optic.
Because the pistol is geared for competition, Dan installed an Apex Tactical trigger as well as performance-enhancing parts from Rainier Arms and Lone Wolf, and even a titanium striker from Lightning Strike Products. The barrel is a fluted model from Faxon Firearms and its magwell and mag extension are both from KE Arms. Dan pointed out that BlackPoint Tactical went beyond the call of duty when they created the holster for the G17. They customized the holster to fit the Glock with a SureFire X300U-B and brand-new Strike Industries Glock Gen3 G3 SlideComp based solely on two pictures the owner sent them. Without having the SlideComp to work with, they still got everything to fit perfectly and to him in a week.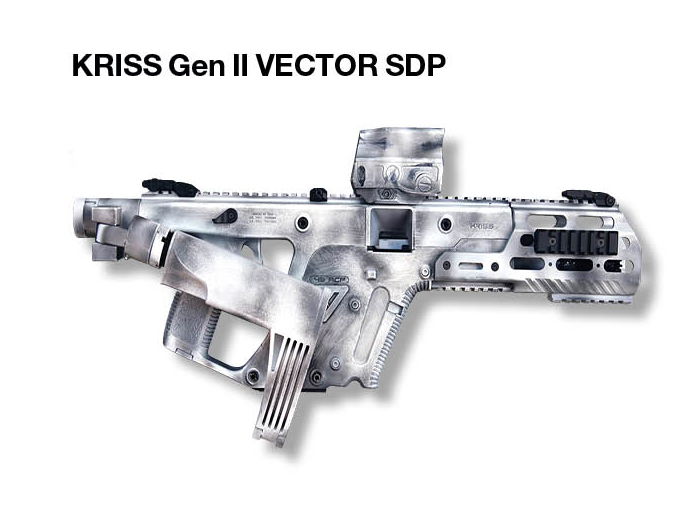 KRISS Gen II Vector SDP
As a last-minute addition to this article, Dan wanted to make sure that we caught a glimpse of his newest project, his Snow White Vector pistol. Since it's a work in progress, we don't know what the final result will be just yet. But from what we can tell, he has already got some work done with Dynamic Weapon Solutions and managed to custom fit a Dead Foot Arms folding stock adapter and also installed a Gear Head Works Tailhook Mod 2 pistol brace too. It's certainly a great start to a good-looking pistol build.
Text by Martin Anders and images by Jerry Tsai