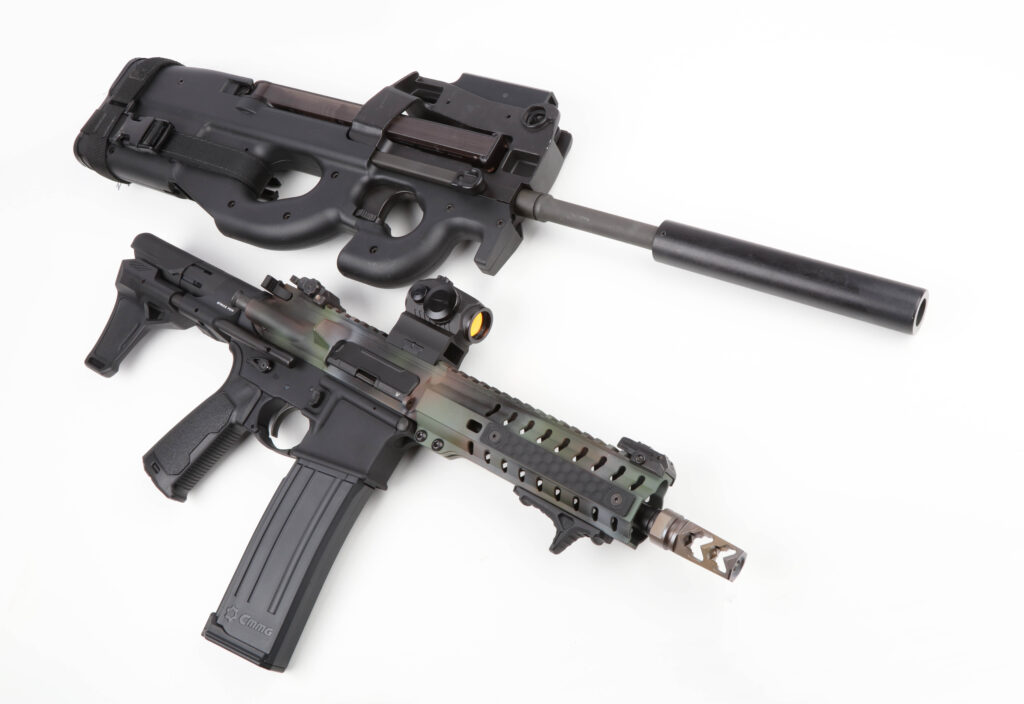 When it comes to personal defense weapons (PDW), the prevailing wisdom is the shorter, the better. Compactness affords greater maneuverability in tight spaces, better concealment, and increased overall control. For these reasons and others, many gun owners have flocked to pick up an SBR or pistol to fulfill their PDW requirements.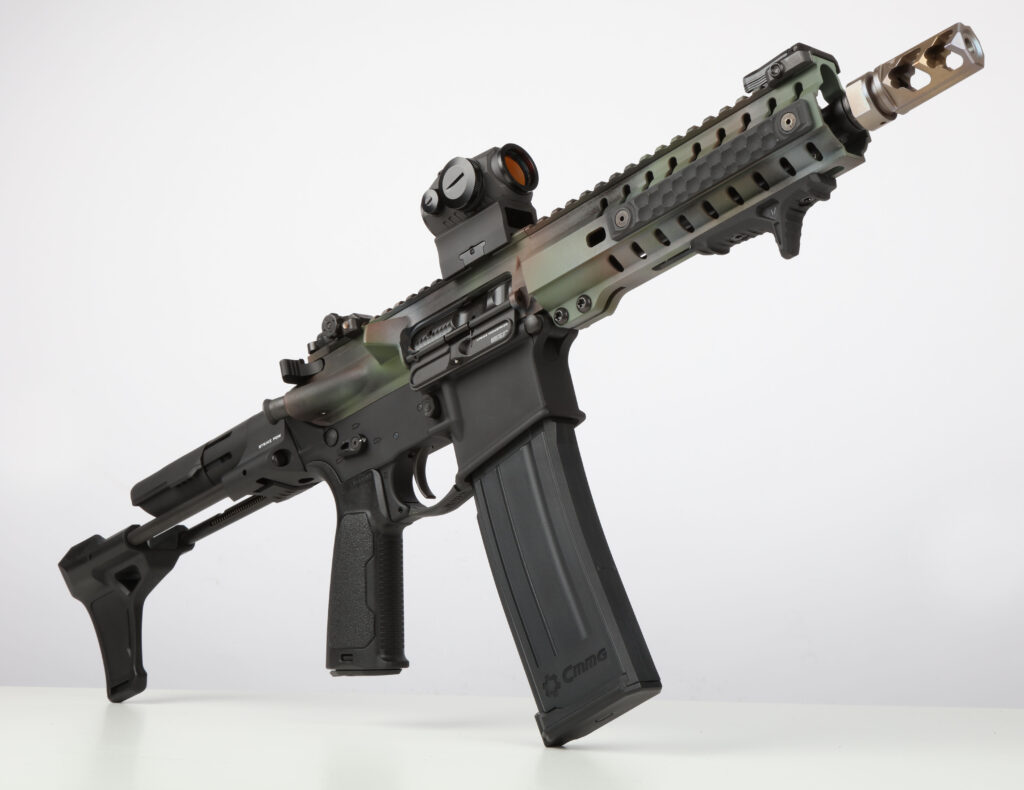 During this most recent pandemic-fueled gun buying spree, Mike M., owner of the AR pistol pictured here, quickly snapped up whatever he could get his hands on. In his case it was a Franklin Armory CA7, a complete AR pistol that was created specifically for the California market. It features a 5.56mm caliber 7.5-inch barrel, M-LOK compatible handguard, a foam-covered buffer tube, and, for California compliance reasons, has no gas port in the barrel and no gas tube. The pistol is manually cycled for each shot by pulling the charging handle. Yes—Mike thought this was lame, too, but it was all he could get his hands on at the time. Even though he doesn't live in California, he picked it up knowing he could change it to semi-auto configuration.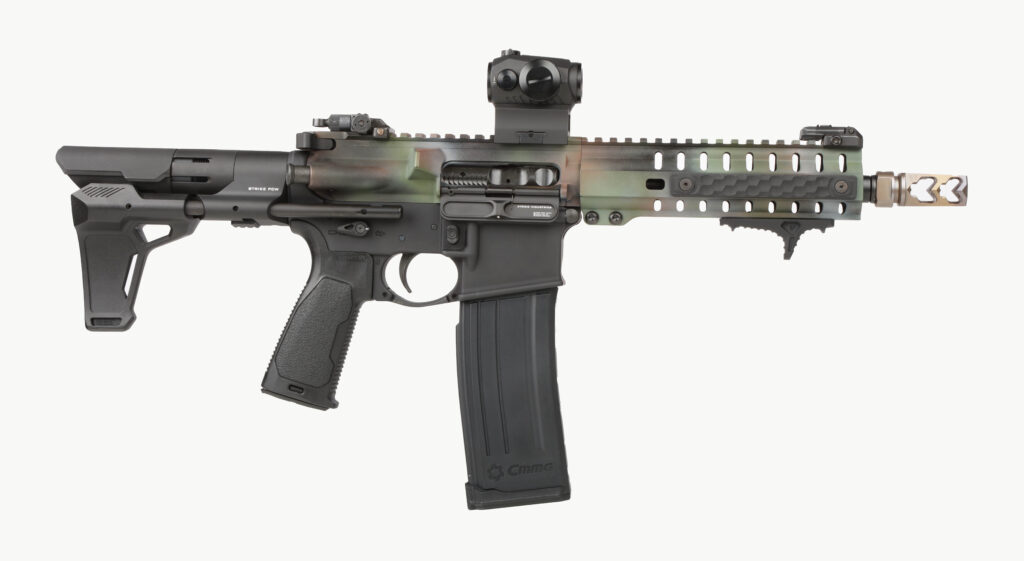 The CA7, like any other AR-15, can easily be modified by swapping out its complete upper receiver assembly. This was already something Mike knew he was going to do from the beginning. Weeks earlier he was eyeing (and ordered) CMMG's Banshee Mk57 AR conversion upper receiver kit. He already owned an FN PS90 and has been enamored with the 5.7x28mm round that it fires for well over a decade.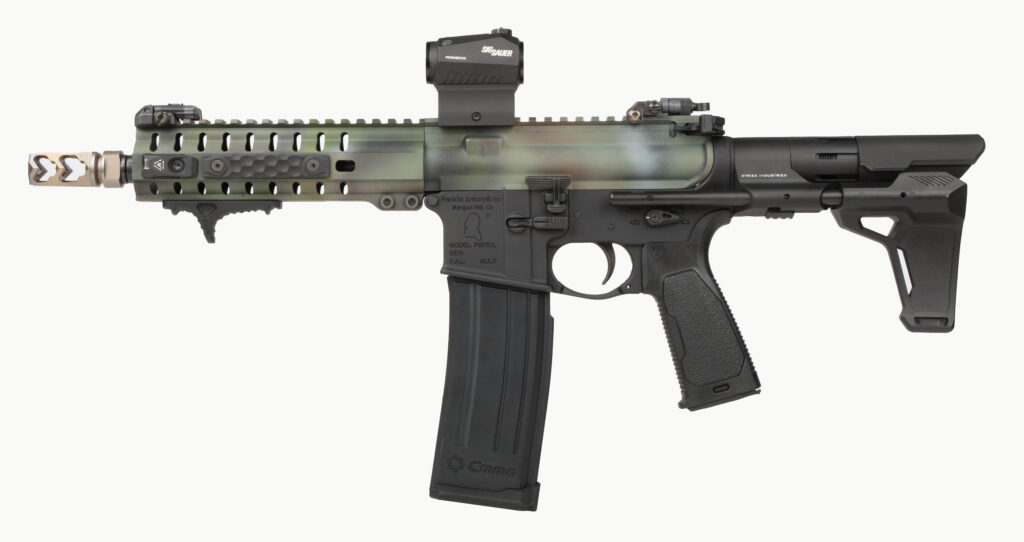 For one, he loves its flat-shooting and laser-accurate characteristics. On top of that, the reported stopping power with less over-penetration made it attractive for use in a home-defense role. One major thing going against it in the commercial world is that 5.7 ammo is much more expensive than other popular calibers.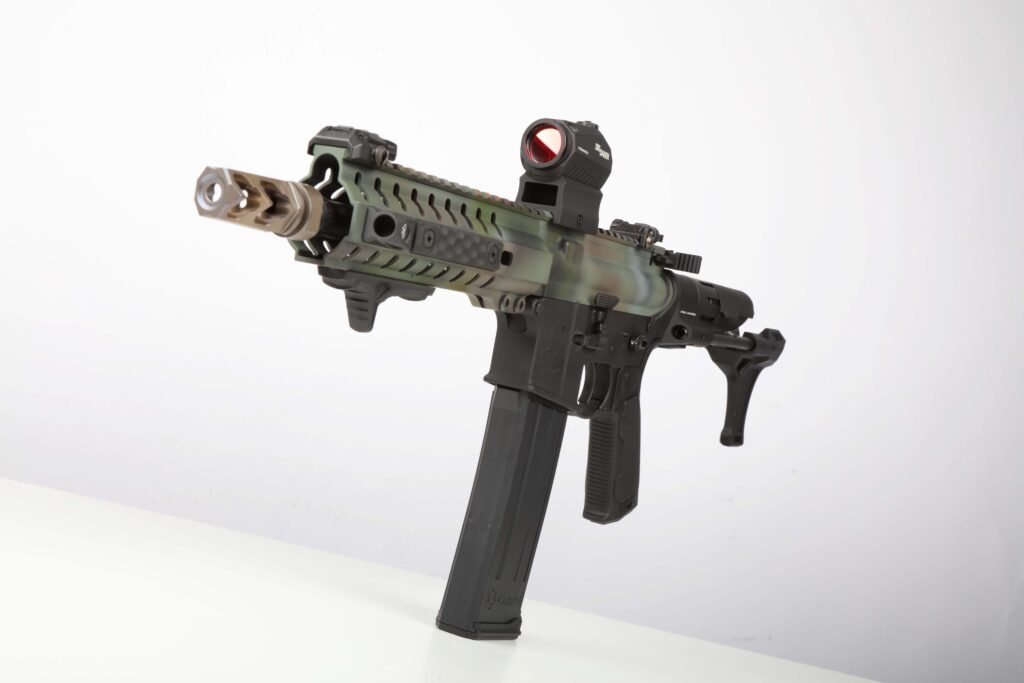 It's fortunate, then, that 5.7x28mm has seen something of a renaissance the past few years, with many new ammo and firearm releases being centered on this cartridge. CMMG, along with a few other big-name manufacturers, has decided to offer factory-built carbines, PDWs, and pistols in 5.7. As a result of its newfound popularity, ammo prices have dipped slightly as more companies have begun producing FN's once-proprietary round. Something else CMMG did was offer not only complete firearms chambered in this caliber, but conversion kits that allow you to turn any AR-15 style gun into one that fires 5.7.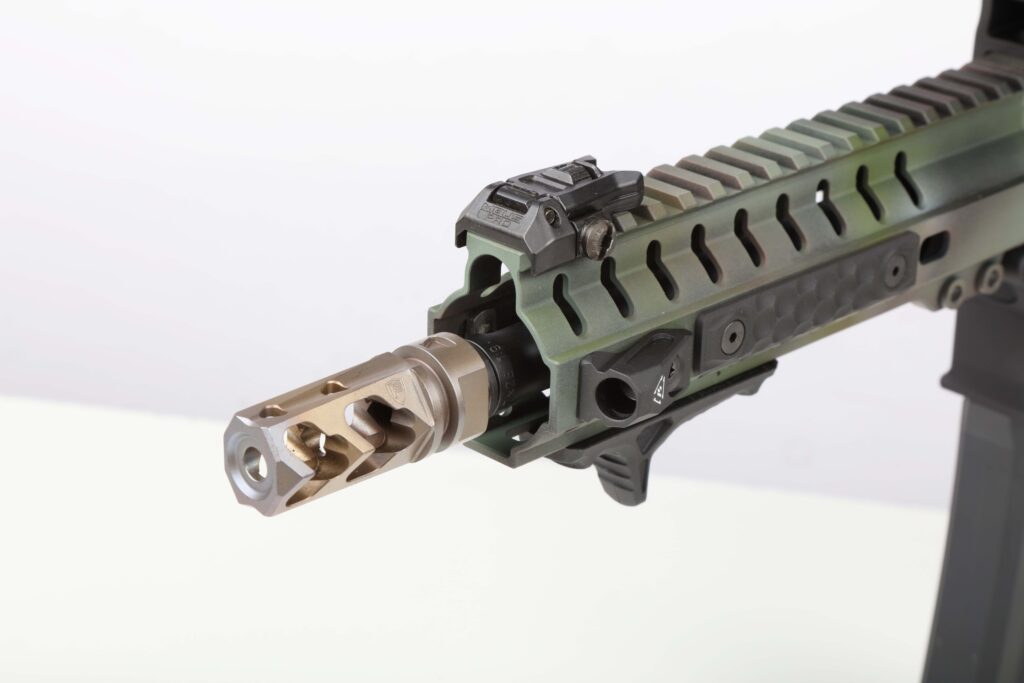 The first modification Mike made to his Franklin Armory CA7 was ejecting the "bolt-action" upper in favor of the CMMG Banshee 200 Mk57 upper group kit. This "drop-in" upper comes with a 5.7mm bolt carrier group and easily takes the place of the CA7's upper receiver. This restored the semi-auto functionality the pistol had originally lacked.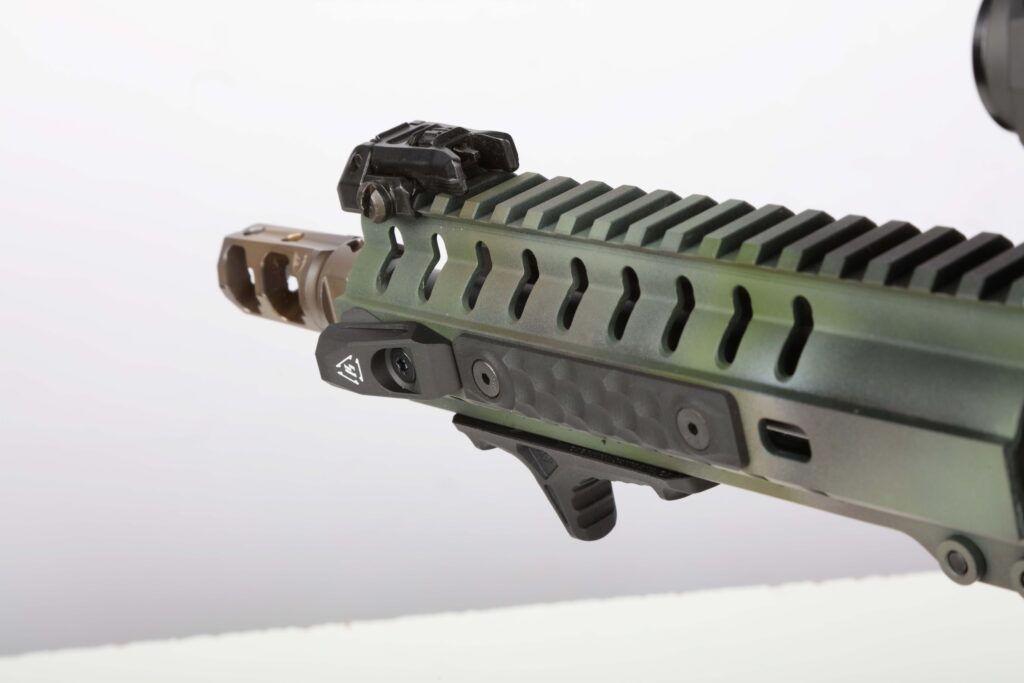 The CMMG Banshee 200 Mk57 upper group kit comes with a medium-taper, 416 stainless steel, 8-inch-long barrel rifled in a 1:9 twist rate. The barrel sits in a forged 7075-T6 aluminum M4-type upper and is shrouded within a 7-inch CMMG RML7 m-lok compatible handguard. As with other pistol-caliber uppers, the CMMG unit uses a blowback operating system that CMMG calls Radial Delayed Blowback. It's capable of reliably and smoothly sending 5.7x28mm rounds down the pipe without fail. A specific buffer or spring combination is not needed to run the 5.7 setup, so Mike was able to use the one that came with the pictured PDW-style brace. We'll address that upgrade in detail a little later on.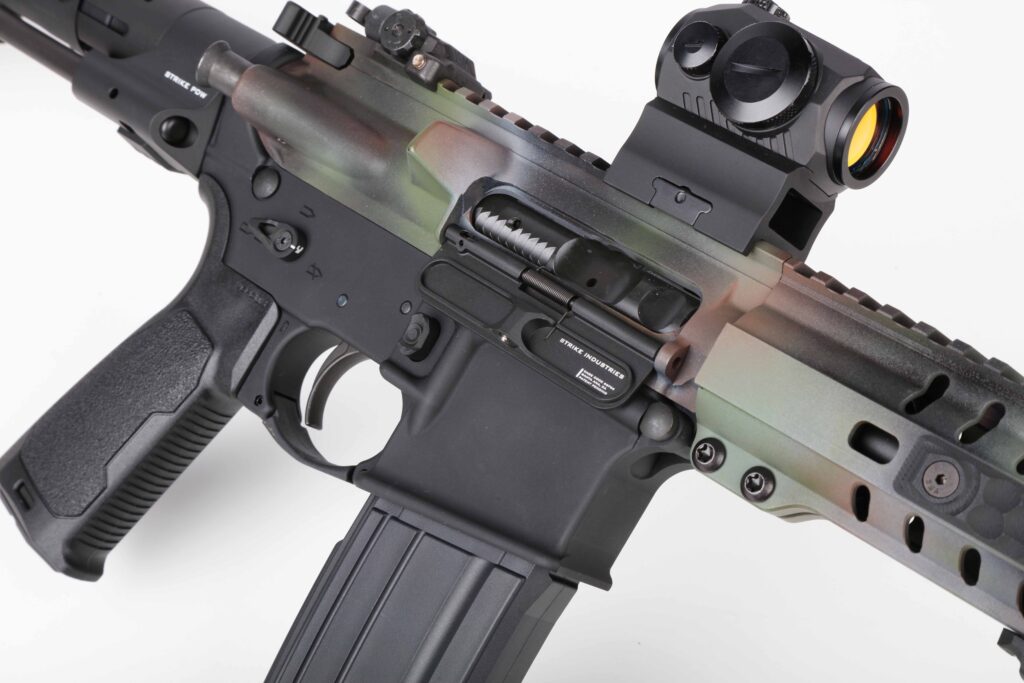 The CMMG conversion kit also came with two dedicated 40-round 5.7 magazines. The magazines are about an inch taller than a typical 30-round 5.56mm magazine, but also hold ten more rounds each. They fit into any USGI-spec AR-15 lower receiver. The magazine construction feels solid and Mike reported no issues loading them or getting them to function reliably.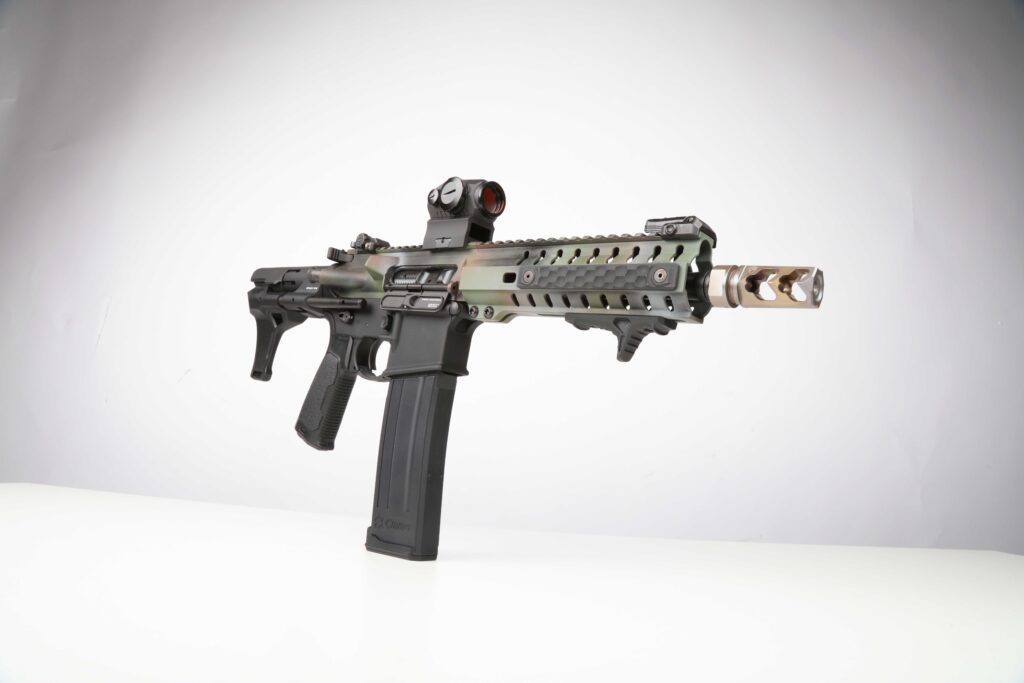 For an additional C-note, CMMG offers its upper receiver assemblies factory Cerakoted in ten different shades, including colors like Midnight Bronze, Bazooka Green, and even Storm Trooper White. Mike chose to leave his uncoated since he wanted to rattle-can a simple camouflage paint scheme to match the environs where he lives. After painting the CMMG upper with a few different shades of Rustoleum, he swapped out a few parts and added a few others to suit his needs.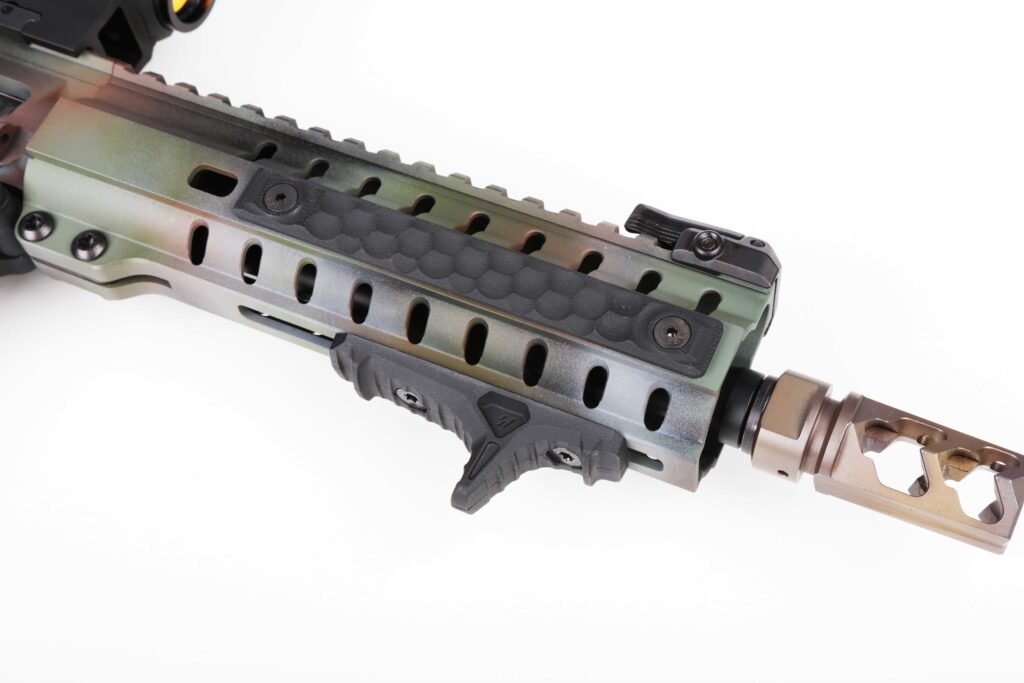 We noticed that he changed out the Mil-Spec dust cover for a billet model by Strike Industries called the Ultimate Dust Cover (UDC). He added RailScales handguard covers to the m-lok interfaces at the 3 and 9 o'clock positions. These ultra-grippy covers are machined out of durable G10 in RailScales' honeycomb pattern. On the left side he added an aluminum QD sling mount by Strike Industries called the Link AQD. This anti-rotation mount has a built-in 30-degree angle that allows the sling to cant away from the handguard.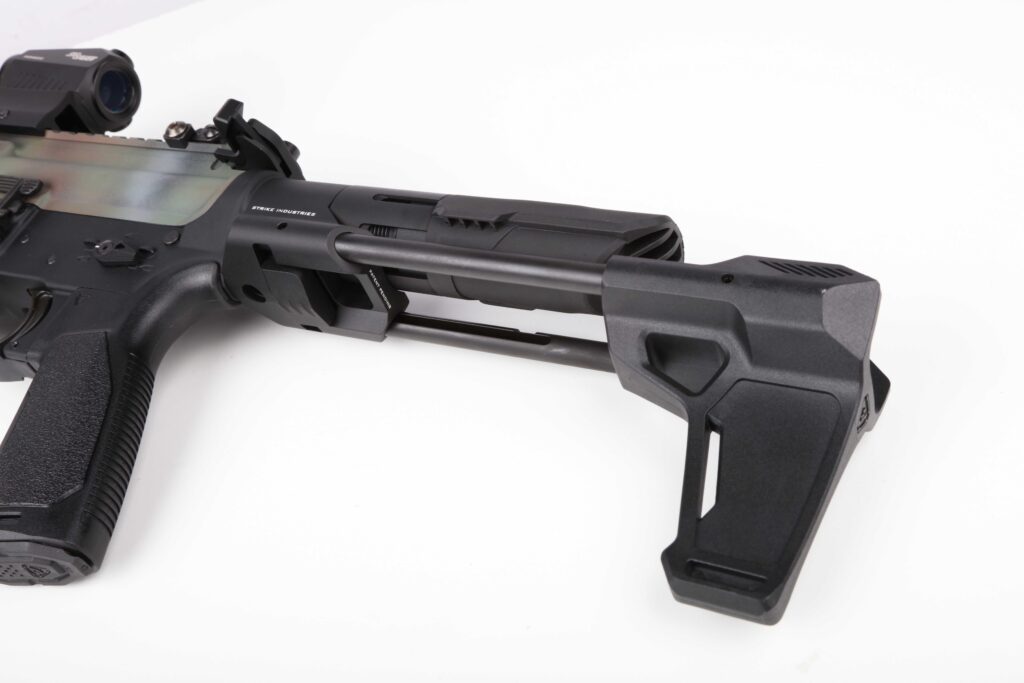 Slung under the rail at the 6 o'clock position is a Strike Industries Link Anchor polymer hand stop. Mike says with such a short barrel it's helpful and safer to have a tactile reminder of where to place his hand without having to look. Due to the 5.7's low recoil characteristics, he admits that swapping out the stock muzzle brake for one made by Fortis was more about style than performance. He bought a silver-colored brake and held it under a propane torch to give it the champagne tone that somehow looks just right on this gun.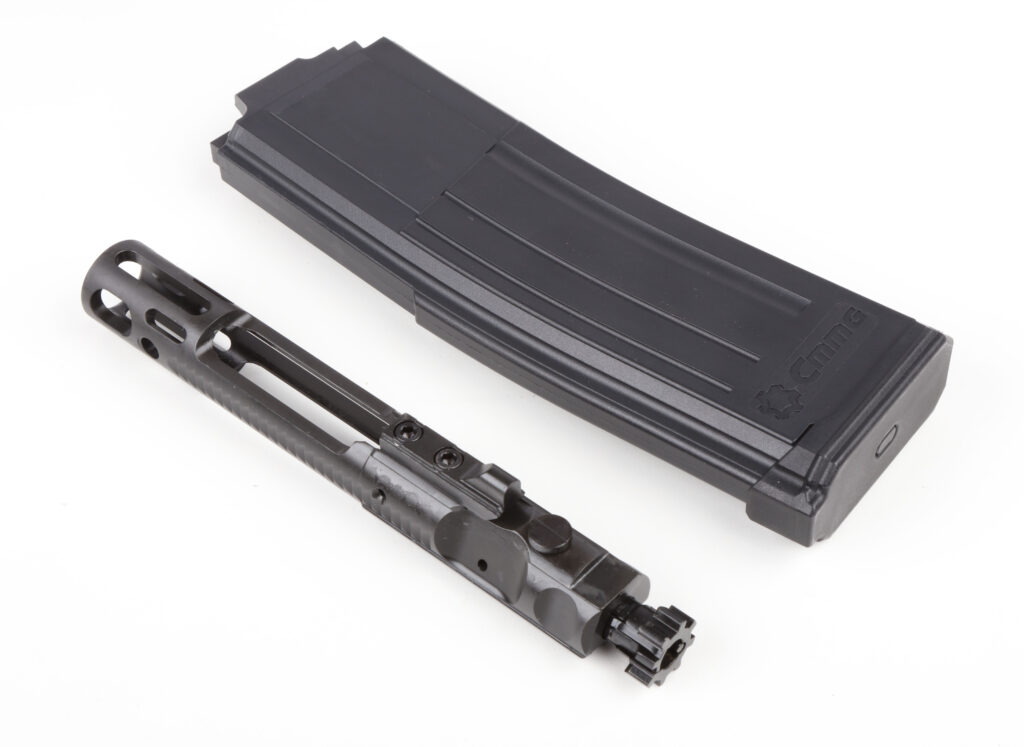 For targeting help, Mike went with a SIG Sauer Romeo5 red dot, scoring his for well under 200 bucks with the mount. It's bright enough even on the sunniest days and has a quick circle-dot reticle that he just loves. A folding Magpul MBUS Pro iron sight up front and a Knights Armament Co. 200-600m Folding Micro Rear Sight back the optic up.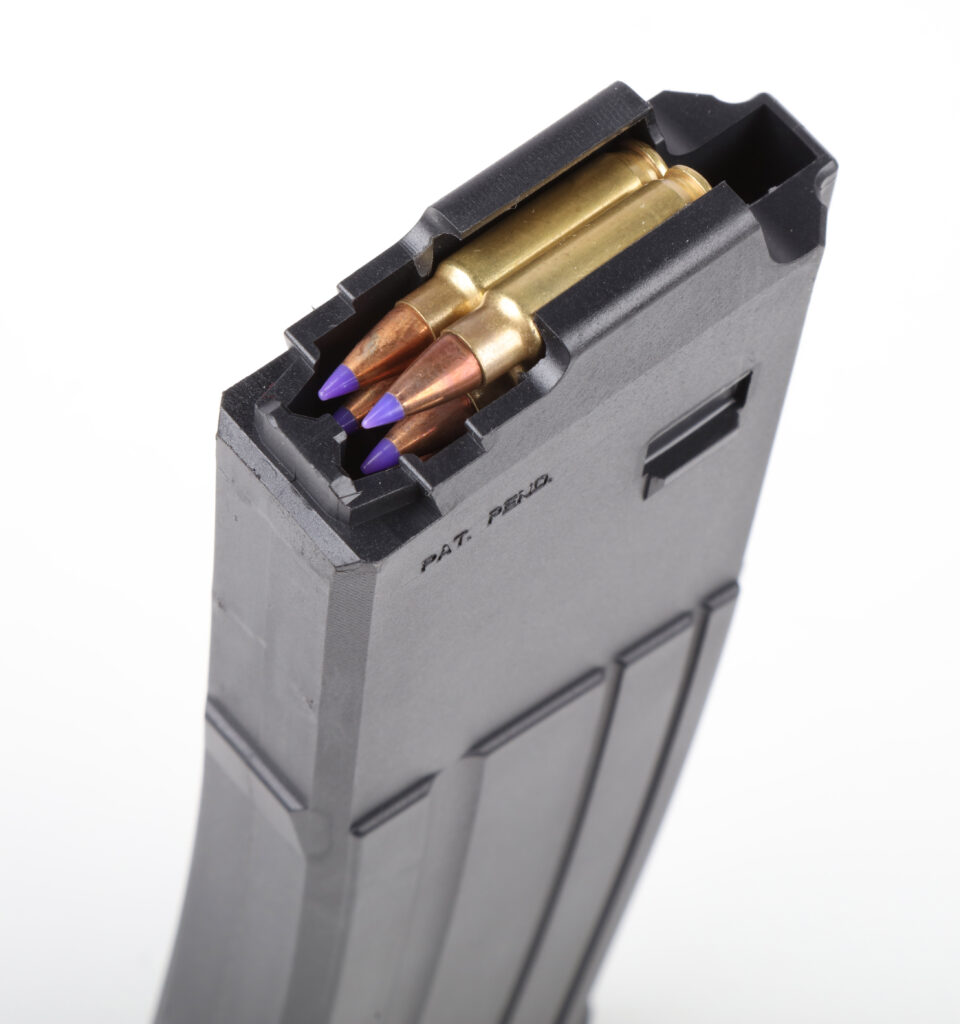 Mike chose more than a few parts from Strike Industries for the lower receiver, like Strike's Ambi Mag Release and XBC Extended Bolt Catch. To make the lower fully ambidextrous, he swapped out the standard safety lever for a Strike Industries Flip Switch. He also added a Strike Industries magazine release button, 15-degree pistol grip, and BCMgunfighter trigger guard.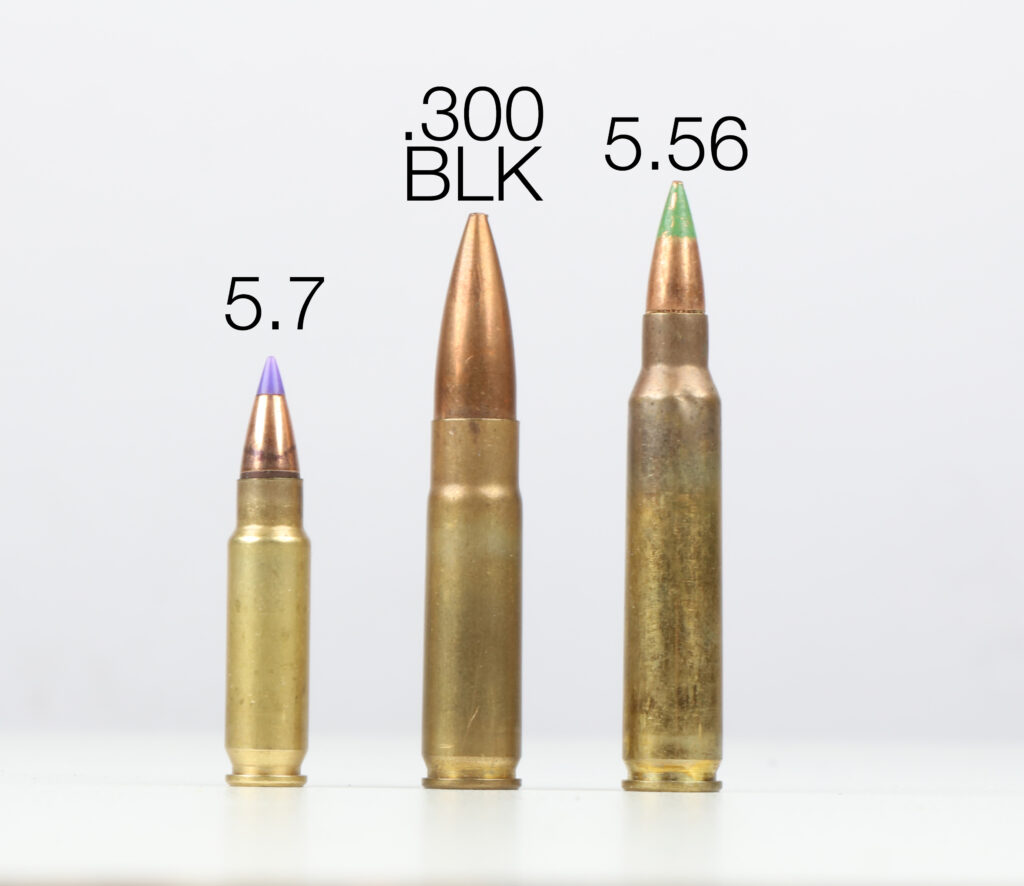 Probably the most eye-catching piece on the lower half of Mike's PDW pistol is the Strike Industries PDW Stabilizer. It helps maintain the AR's ultra-compact size but also rapidly deploys with the touch of a button. Pressing that button, located under the buffer tube, instantly deploys the brace to its extended position. The PDW Stabilizer comes with a more compact PDW-sized buffer and a special flat-wire spring that increases bolt load despite its shorter dimensions. Mike mentioned that this combination works well with the CMMG upper.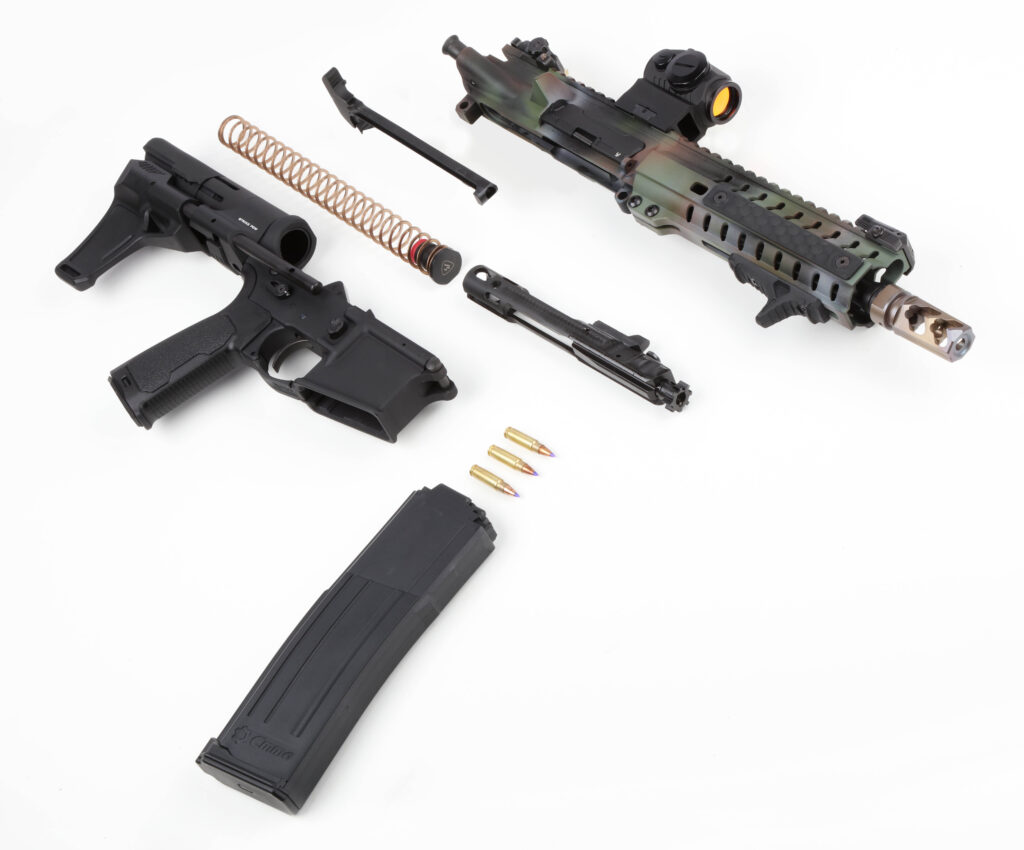 All in all, equipped with the CMMG Banshee 200 Mk57 upper, this Franklin Armory AR pistol is simple, effective, and fun to shoot. And at just under 24 inches in its shortest form, it certainly is a compact weapon. All this talk about 5.7 has us itching to go shoot some ourselves. To learn more about this unique caliber, turn the page. Text by Martin Anders and images by Jerry Tsai.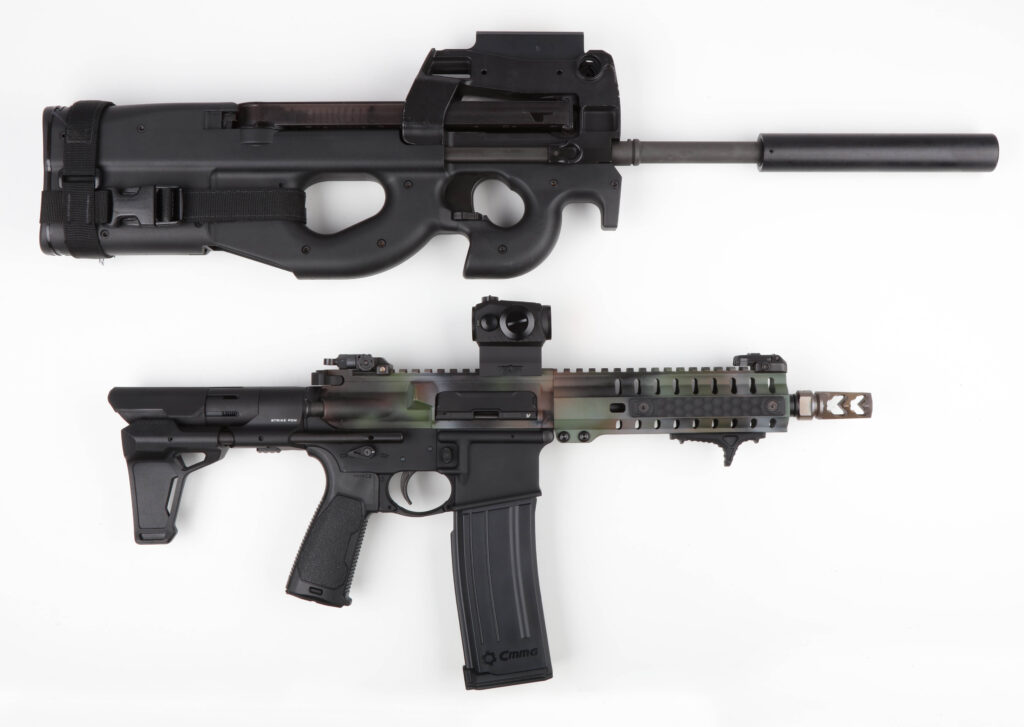 FN 5.7x28mm
9mm Parabellum's would-be replacement
Introduced in the early 1990s, FN Herstal's FN 5.7×28mm caliber ammunition was created in response to a NATO request for a cartridge aimed at improving upon and replacing the ever-popular 9x19mm Parabellum.
The new round would have increased range, improved accuracy, and enhanced terminal performance over the aged, but ubiquitous, 9mm. This new round was also to have body-armor-penetrating characteristics. With these requirements in mind, FN produced its proprietary 5.7x28mm, as well as the first two firearms that fed on it—FN's P90 PDW and Five-seven pistol.
The new cartridge would prove to be quite effective during NATO testing and has since been adopted by military and police in more than 40 nations. It is a physically small round that carries only two-thirds the weight of a typical 9mm cartridge. This means more ammo can be carried in the same space or at the same weight threshold. Non-commercial versions of the ammunition were proven able to penetrate a NATO CRISAT or Level IIIA Kevlar vests at 200 meters.
After a successful evaluation by NATO in many categories, the 5.7mm round was to be standardized for use by NATO countries and eventually supersede 9mm Parabellum. Unfortunately for FN—but fortunately for 9mm fans—the NATO delegation from Germany pushed for a rival round, Heckler & Koch's HK 4.6×30mm, instead, and rejected the standardization of FN's 5.7mm. As a result, both FN's 5.7mm and HK's 4.6mm cartridges are in use by various NATO members and 9mm lives on to fight another day.
Build Sheet
CMMG Banshee 200 Mk57/Franklin Armory CA7
Specifications
Caliber: FN 5.7x28mm
Overall Length: 23.75 in.
Weight Unloaded: 5 lbs, 5 oz.
Upper Receiver: CMMG Banshee 200 Mk57
Lower Receiver: Franklin Armory CA7
Barrel: CMMG 5.7x28mm, 8", 1:9 twist, medium-taper 416SS
Coating: Spray paint by owner
Featured Accessories

Optic: SIG Sauer Romeo5
Handguard: CMMG RML7 m-lok
Pistol Stabilizer: Strike Industries PDW Stabilizer
Parts & Accessories: SI Ultimate Dust Cover, RailScales Handguard Covers, SI Link AQD Mount, SI Link Anchor, Fortis Muzzle Brake, Magpul MBUS Pro, Knights Armament Co. 200-600m Folding Micro Rear Sight, SI Ambi Mag Release, SI XBC Extended Bolt Catch, SI Flip Switch, SI Magazine Release Button, SI 15-degree Pistol Grip, BCMgunfighter Trigger Guard
About the Owner
Name: Mike M.
Occupation: Customer service
Special Thanks: Jenny and Cooper